San Diego is a city that keeps us coming back with gorgeous weather, amazing family activities, and relaxing beach time. Over the years, Tower 23 has become our oceanfront home away from home because of its great location, helpful staff, and wonderful amenities. Take a tour of our Tower 23 ocean view queen queen room and see if this Pacific Beach San Diego resort is right for your next vacation.
Tower 23 Location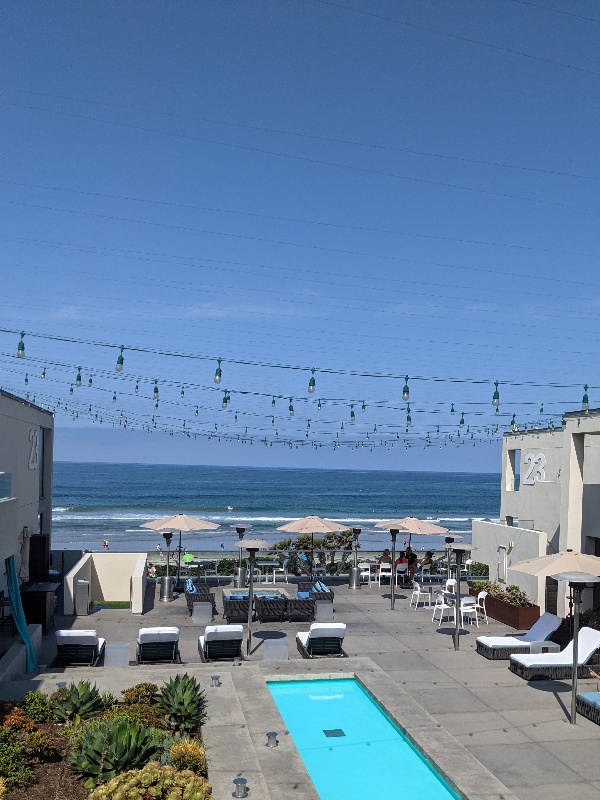 Located in the Pacific Beach area of San Diego, Tower 23 is a boutique resort steps away from the beach. San Diego's Pacific Beach caters to a younger crowd with some areas having a rowdy late night scene, but near Tower 23 the atmosphere is more relaxed and family friendly.
Tweens and teens will love having Urban Outfitters and Brandy Melville next door plus a short walk to surf lessons at Pacific Surf School. Everyone will enjoy cheap eats and the beach just steps away from Tower 23.
Parents like me adore Tower 23 keeping a supply of beach toys, umbrellas, chairs, towels, and boogie boards on site. Just request these beach essentials as needed and enjoy not having to pack all the bulky beach vacation supplies.
JRDN
Tower 23 has one on site restaurant, JRDN. JRDN is a popular spot in Pacific Beach for both hotel guests and locals with an elevated, trendy menu.
Dine indoor among sleek textured tile walls splashed with vibrant colors and a view of sushi being rolled fresh. Or opt for the large outdoor dining area with sweeping views of the beach enclosed in glass and warmed by patio heaters on chilly days.
Other Dining Near Tower 23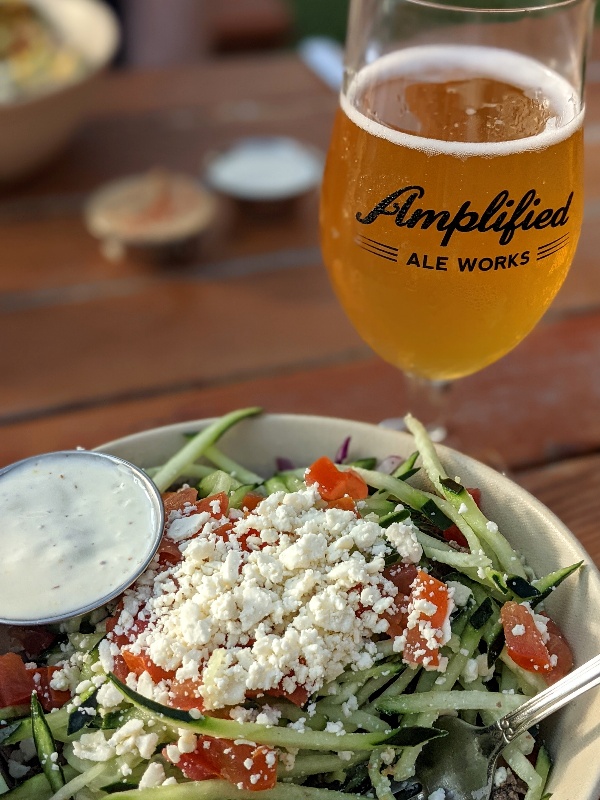 The beauty of staying at Tower 23 is an incredible assortment of delicious, and generally inexpensive, dining options nearby.
Want a filling breakfast? Head to Breakfast Republic for a good cup of coffee and some breakfast mac and cheese. Kono's Cafe next door to Tower 23 is perfect for an immense but cheap breakfast burrito; however, the coffee leaves much to be desired.
Looking for craft beer and a view with dinner? Amplified Ale Works and Pacific Beach Ale House are family friendly options within walking distance of T23.
Another family favorite dinner is carryout from Taco Surf PB after a long day at the beach. There's nothing better than delicious, overstuffed tacos on the beach while watching the sunset. La Perla is another great taco shop near Tower 23 which also has a tasty chilaquiles option for breakfast.
Last, but not least, Baked Bear custom ice cream sandwiches are an essential way to finish our day.
These are just a few of our favorites, but there are so many places to eat within a 10 minute walk of Tower 23 you'll be disappointed you can't try more.
Tower 23 Ocean View Queen Queen Review
We normally opt for a Tower 23 oceanfront room, but on a recent trip the only room with a view was an ocean view two queen room. Although initially disappointed, there was a lot we liked about this room compared to the oceanfront rooms.
Ocean View Bedroom Area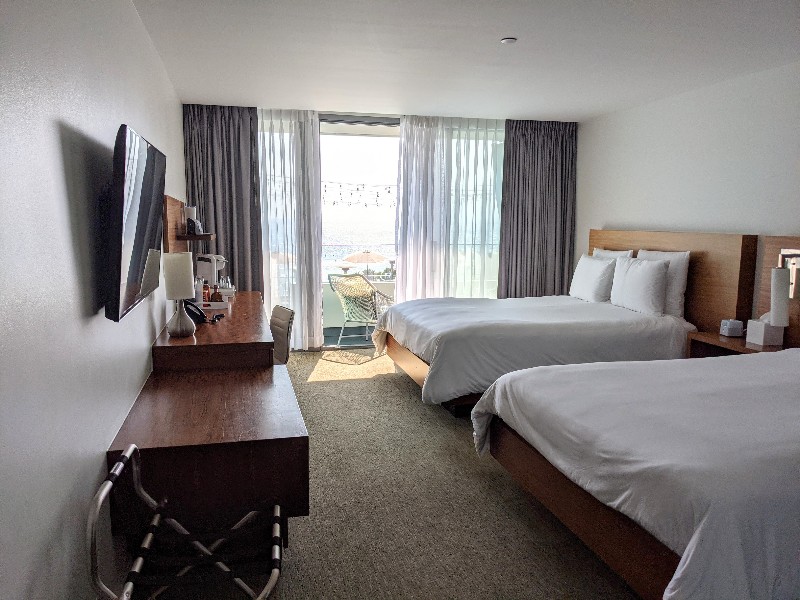 Walking into the ocean view room a large closet with a built-in safe has plenty of space to hang clothes. From there the hallway leads to a large bedroom area.
A long desk with a chair plus some storage takes up most of one wall. Unfortunately, drawer space is lacking which makes finding places to store our packing cubes challenging.
Tower 23 has a Keurig style coffee maker in the room, but no mini fridge for guests. Instead find a stocked mini bar below the desk and snacks for a fee above.
The crisp white linens and sleek wood headboards provide a clean, modern look for the room. A nightstand between the two beds has plugs for charging a couple devices, but there are more outlets near the desk.
Ocean View Bathroom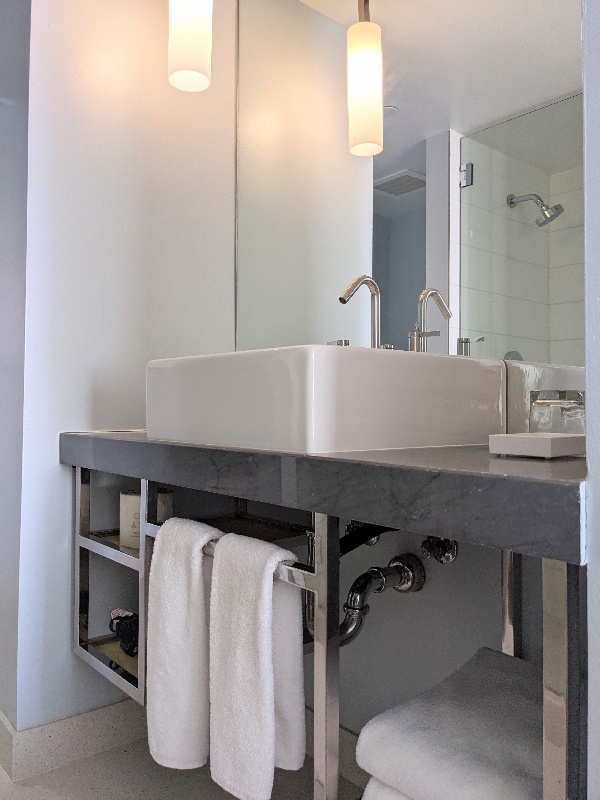 An opaque glass barn door separates the bedroom from the bathroom. The glass does a decent job providing privacy, but it is not as good as a solid door.
The large shower has plenty of space, but an unusually short showerhead. I'm only 5 ft 7 in and I felt like I had to crouch a bit to rinse my hair.
Despite the showerhead, we all loved the larger shower in our Tower 23 ocean view room. The oceanfront room has a large soaker tub we never use and smaller shower which feels more cramped.
The sink area is compact with limited storage underneath and a small amount of counter space. There was plenty of space for the three of us, but those who travel with a beauty arsenal may feel cramped.
Tower 23 Ocean View Queen Queen Balcony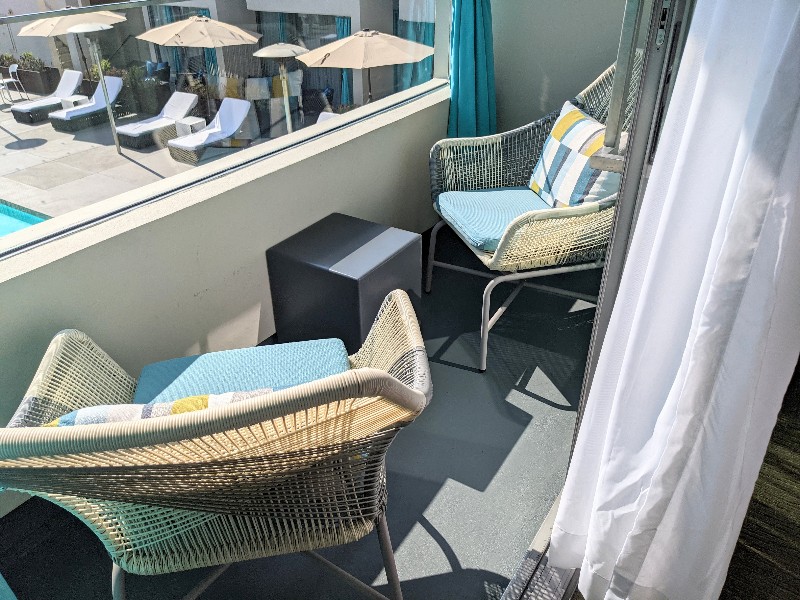 Let's talk about the real reason we are here. Tower 23's location on the waterfront is incredible with several rooms having gorgeous views.
While I do like the unobstructed view of an oceanfront room I was pleasantly surprised how much I liked the ocean view room.
Tower 23 ocean view rooms overlook an open air second floor patio stylishly decorated and strung with lights. Just beyond the patio are clear views of the ocean and the soothing sounds of waves.
A sound dampening sliding door opens out onto a small balcony with two chairs and a side table. Wraparound privacy curtains obscure views of nearby neighbors or provide shade in the late afternoon.
Tower 23 Parking
Tower 23 valet parking is included in your $25 per day resort fee and is incredibly convenient since Pacific Beach parking is difficult to find. The valets do leave at night so confirm with the concierge before planning a late night return.
Final Thoughts On Our Tower 23 Ocean View Queen Queen Room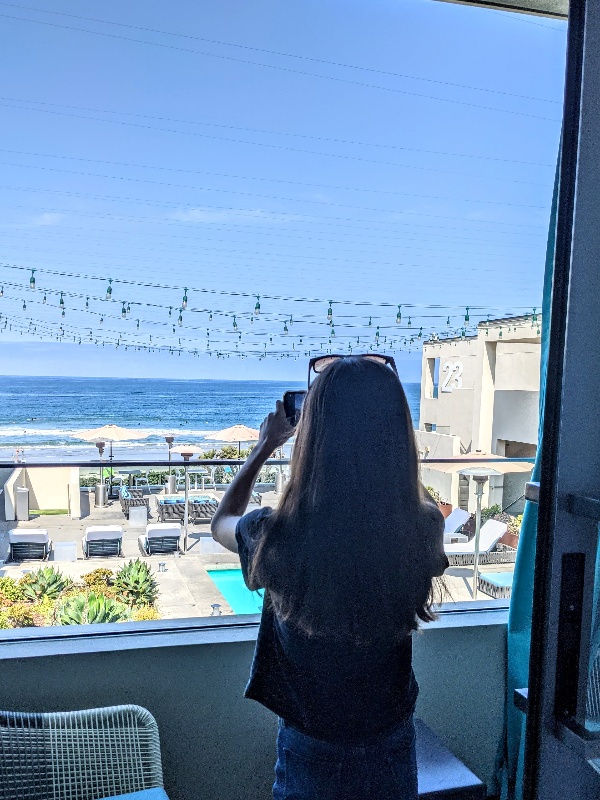 Although initially disappointed we wouldn't be in our usual Tower 23 room, the ocean view two queen room exceeded my expectation. I liked the privacy curtains for the balcony and felt the view was still very good at a lower price than the oceanfront room.
Our ocean view room also had a larger shower and more counter space than the oceanfront room which worked perfectly for our family.
While the views and location are a big part of why we come back year after year, the staff at Tower 23 is what makes this hotel special. Everyone we've encountered over the years has been extremely accommodating and helped us make great San Diego family memories.
Ready to plan your own San Diego family vacation? Use this guide for a great overview of activities and this article for the best of Balboa Park.
Pin it for later: