If you talk to people about wanting to visit Disney for the first time you will get all sorts of advice. People will tell you where to eat, what rides are best, and what you should see on your trip. However, the most hotly contested topic I've heard is the best age for a child's first trip to Disney.
Elizabeth turned 3 years old on our first family trip to Disney. I (of course) think just shy of 3 years old is a great age for a first visit, but I wanted to hear what other family travel bloggers thought based on their experiences.
Surprising Answers To "What Is The Best Age For A First Trip To Disney?"
View this post on Instagram
My fellow travel experts fell into two categories: the younger the better and wait until they are older. No real surprises there, but what I did find interesting was those who thought younger was better intended to return to Disney sometime in childhood. So really it looks like you should ask yourself this important question: Is this potentially a once in a lifetime trip to Disney for my child(ren) or will we plan on visiting again?
We Will Visit Disney Parks Again Someday
If you plan to visit a Disney park more than once in your child's life the experts say go whenever you please. Many of the family travel experts took kids under the age of three because the situation was favorable to go at that particular time.
We chose barely under three years old to avoid paying for park entrance and meal plan fees. Others waited until kids were closer to school age to reduce some of the height restriction limitations.
For the younger the better group here are some general pros and cons of the age bracket and specific examples of experiences at certain ages.
Infant to 3 years old
The overall response from those who took small children to a Disney park in this age range was that everyone had fun. Each family had at least one very special moment the parents will always remember.
Even these very young kids were enthralled with meeting the characters and able to enjoy a surprising range of attractions at the park. Kids under three also do not need a park ticket to experience the magic.
The main drawback were rides with height restrictions and a young child's lack of stamina. Many parents (including us) needed to go back to the hotel mid-day to allow children to nap. This age group also tended to miss out on nighttime fireworks and parades.
The other main downside is that the child will not remember the trip. I personally believe that just the experience in the moment for them and your memories are enough to justify a trip, but that is a decision each parent must make for themselves. Find out more of our tips for taking toddlers to Disney World.
11 months old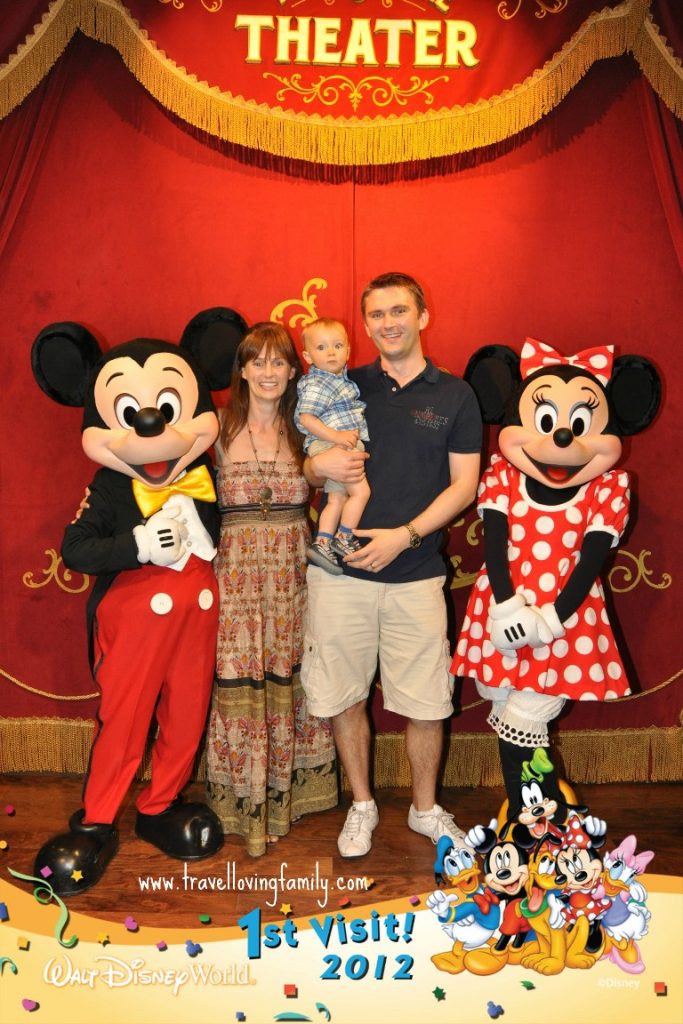 "We visited Disney World, Orlando when our son was just 11 months old. We were living in Savannah, Georgia at the time and were just about to leave to return to the UK after three years. Orlando was only a four hour drive away and so we obviously couldn't leave without introducing our son to Mickey and Minnie Mouse!
"Although he will never remember our visit it will be a memory my husband and I will treasure forever. He took his very first steps on the red pavements of the Magic Kingdom and when he saw Mickey Mouse for the first time he literally just bounced up and down on his legs with excitement! We were fortunate to be visiting with my parents who captured the moment on video, we have watched it hundreds of times."
18 months old
Evie at Mumpack Travel shares the following experience: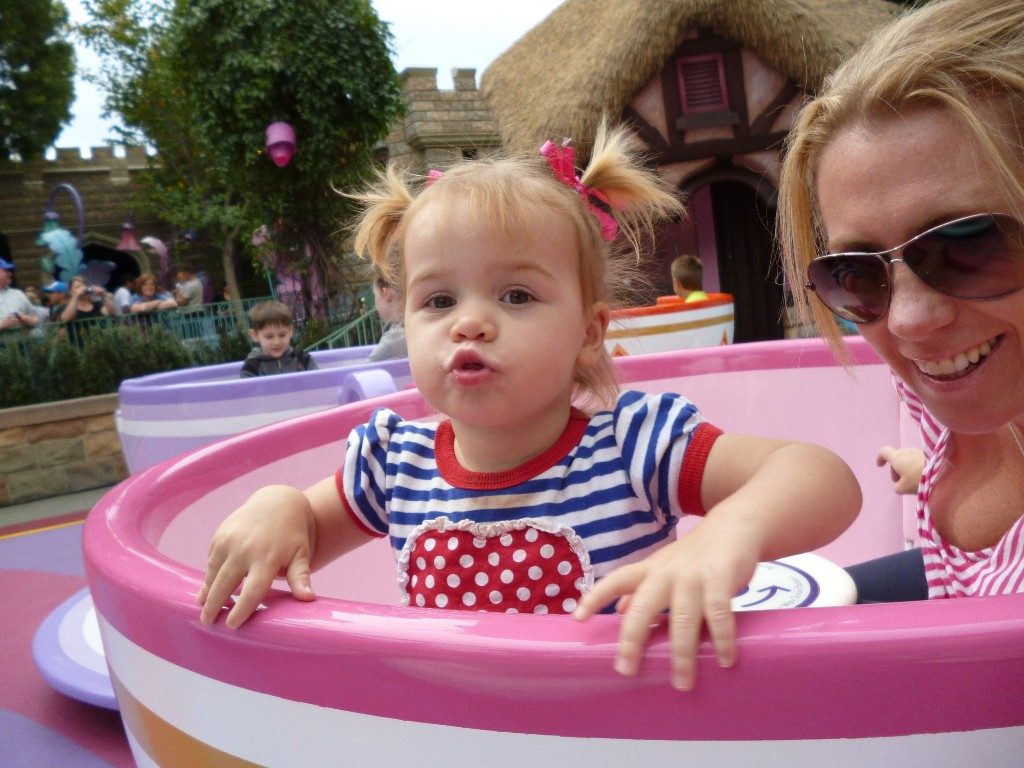 "My daughter Emmie was 18 months old when we first visited Disneyland, and those magical days started a love affair for both of us that sees us return to Anaheim at least once a year. Watching my toddling child mesmerized by princesses, hugging Mickey and Minnie Mouse and dancing with Tigger made me teary with happiness every day. It truly was a magical time for both of us, made so special because of her young age and the surprise and joy she showed at the fairy-tale surrounding her.

"It was so easy for us to navigate Disneyland with Emmie in a pram – parking stations are available at each ride. We stayed on-property at the Grand Californian which has an entrance straight into the park and makes popping home for afternoon nap time a breeze. While Emmie was too small for some of the rides it didn't take anything away from our experience – and parents can use the rider switch pass to take turns on the big people rides! Being together for our very first ride on the King Arthur Carousel, Dumbo the Flying Elephant and Peter Pan's Flight are special moments in time I will treasure forever."
Christine at Tapped Out Travellers echoes these positive experiences: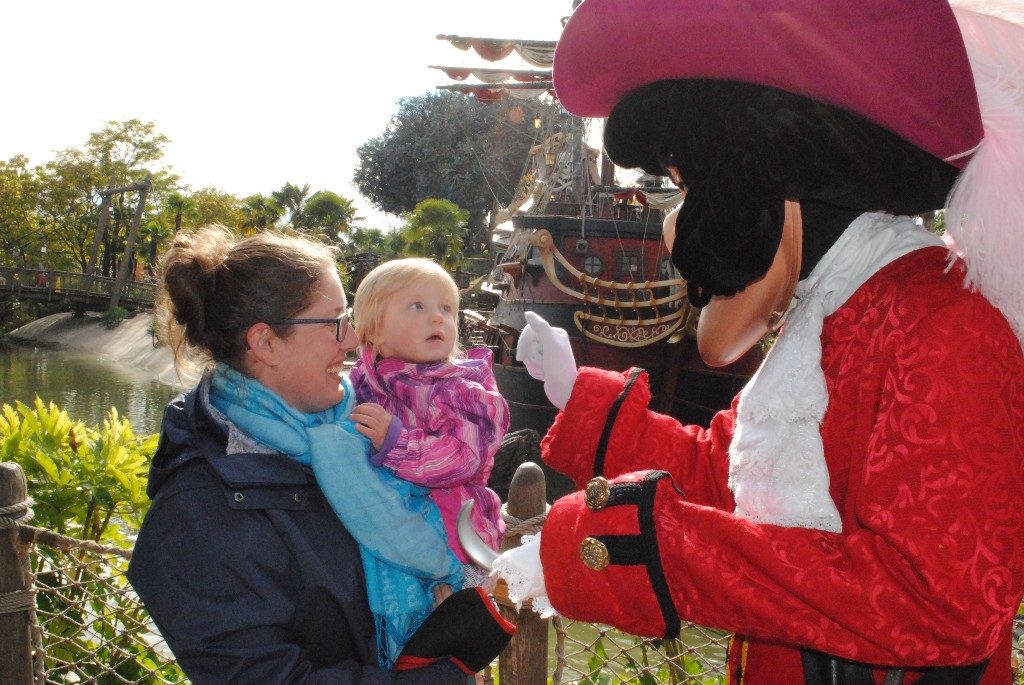 "Since I have every intention of taking them back when they are slightly older, and our time in Europe is limited, we felt 18 months was the perfect age to take our Baby Girl to Disneyland Paris. At 18 months, she was able to ride everything that her brother wanted to ride. Anything without a height restriction, she was welcome to join. I didn't have to worry about her sitting up next to me since she was big enough to sit with the bars down. She was old enough to understand that one sits in a moving vehicle. Through creative activities, we were able to keep her calm during the slightly longer lines for attractions – though picking the perfect time of year to visit Disney is also part of this strategy.
"Yes, she napped, but it was during parade time so we all needed a break from touring anyways. The best part about being 18 months old, was that she was free. I didn't have to pay for an entrance ticket or her meals at buffets or table service restaurants – just eat off our plates. Between the 3 others, there was always enough to make a plate for her. They also don't have much opinion, in terms of which rides to go on next or which character they want or don't want to visit. This is pretty great too, as opposed to their 5 year old brother, who is chalk full of things to say about our well-crafted plan. If you plan on visiting more than once in their childhood, 18 months was the greatest."
Age (almost) 3 years old
Christine K. at Adventure, Baby shares her daughter's first visit: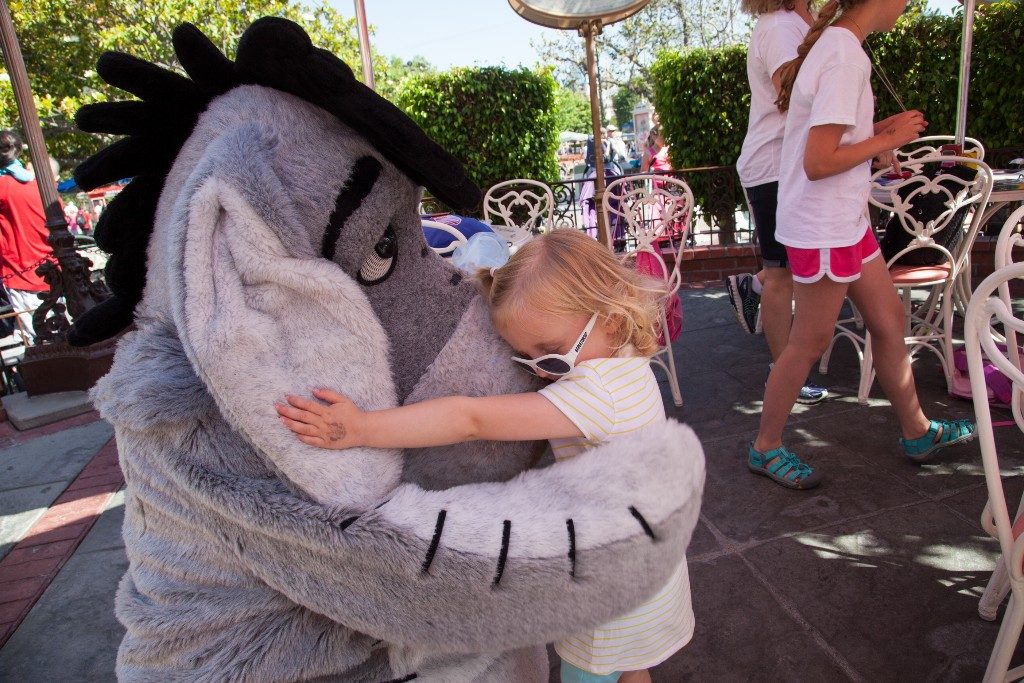 "My daughter's first trip to Disneyland California was at two months shy of turning three. It was such a special age! This is the time when the characters are "real," not people dressed up, when every little detail brings a smile to your child's face as they truly believe in magic. We always intended this to be a first visit of many, not the one and only trip of her childhood as we are in that part of the USA roughly once a year."

Christine does warn of challenges of visiting with a child this young:

Endurance: "Little kids get tired fast and often need naps. We had to leave the park in the middle of the day for a 2 hour nap which ate up a lot of potential park time! It was also too young for my daughter to stay up and see the fireworks. She was pooped by the parade."

Ride restrictions: "A lot of the rides are for older kids so there were lots that she couldn't do. It didn't turn out to be a problem though as there were plenty she could do and, when factoring in the shows, character breakfasts and meet and greets, we had our days more than filled up with fun."
Cristin at Smart Mouse Travel (hey that's me!):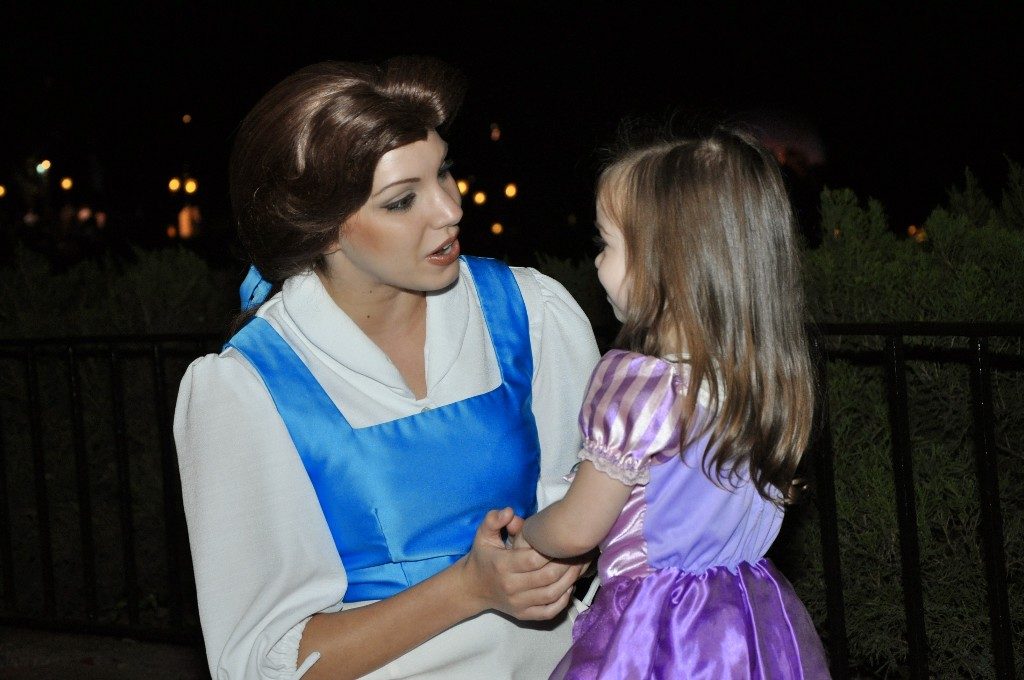 We celebrated Elizabeth's 3rd birthday in the middle of our first Disney vacation. This was by design. If we arrived before Elizabeth's 3rd birthday we did not have to pay for park tickets or a meal plan. And we all know that can add up!
She loved meeting the characters (except the princes) and was able to go on most of the rides at Magic Kingdom. There was a special magic we experienced this first visit. The wonder and excitement in Elizabeth's eyes made the trip far better than I had hoped. Our trip was so magical it started our Disney obsession (so be warned!).
There are so many wonderful memories from this trip for my husband and me. One of the most special experiences was with Belle. On Elizabeth's birthday we celebrated at Akershus Royal Banquet Hall. Belle is the featured princess who greets you before you are seated. The next day we saw Belle again in Epcot and Belle immediately recognized Elizabeth. Elizabeth was so excited that Belle remembered her. Elizabeth couldn't stop talking about how Belle knew her!
Pre-Schoolers (age 4-5 years)
Next up let's talk about pre-school age kids. This age fares much better in the stamina department and could make it through the day better than their younger counterparts. Children in this age bracket were generally taller and got to experience a few more attractions at the parks. They were still enthralled by character experiences and marveled at the wonder of the Disney experience.
The biggest downside is now you must pay for tickets and food. Another challenge is children this age were still not able to fully experience all the parks have to offer. Holly at Four Around The World shares that having a younger sibling meant that not everyone could ride all the rides together as a family.
Age 4 Years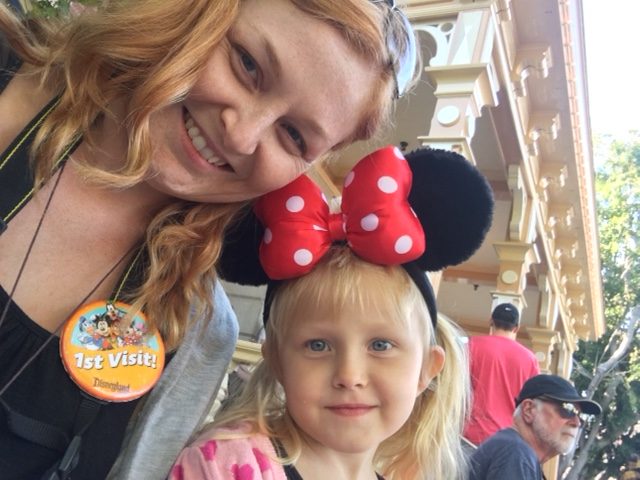 "We recently visited Disneyland with our two girls, aged 4 and 2. Both girls had a great time and Disneyland certainly caters to everyone, however our 4 year old got to experience so much more than her younger sister, which also influenced our visit as a family. From 4 (years old), many kids are old enough to ride most moderate thrill rides when accompanied by an adult. This meant pairing up most of the time so one of us had our younger daughter and the other got to enjoy the rides with our four year old. It definitely would have been great to enjoy all the experiences as a family.

"There is no doubt a day at a theme park is exhausting, whether you are 4 or 40! At 4 though, our eldest daughter coped far better than her little sister with all the excitement and stayed up long enough to enjoy the evening parade, although we watched the fireworks from our hotel as we were all worn out by that time. It was a magical time & a month later miss 4 is still talking about her favourite place – Disneyland!"
Age 5 Years
Keri at Our Globetrotters talks about her daughter's first visit: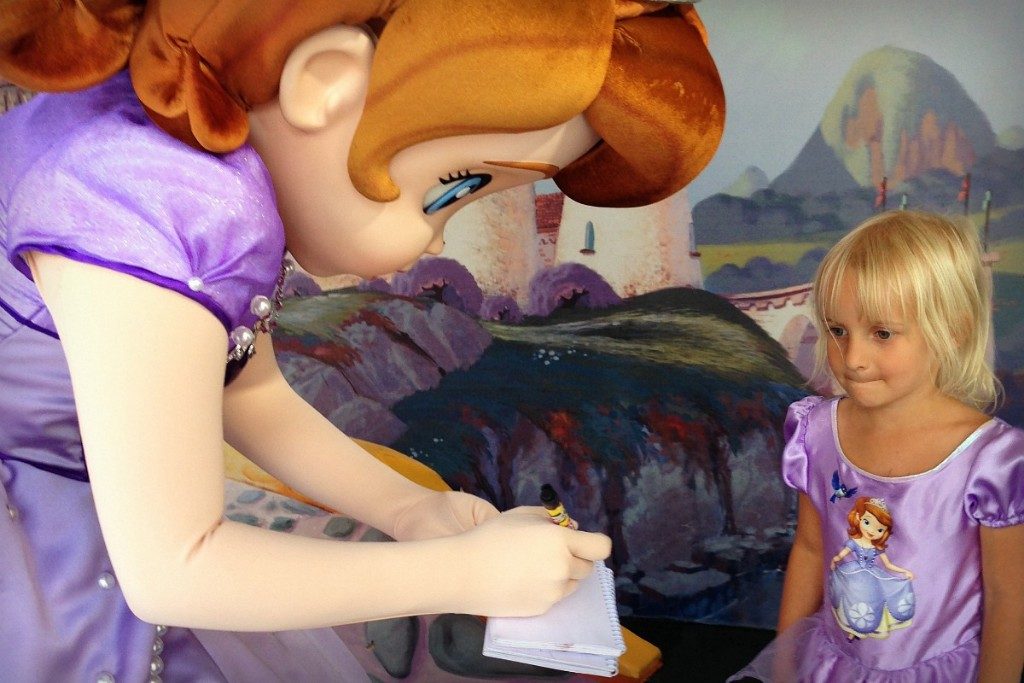 "At 5 years old, our daughter was at that magical age of complete understanding and able to express exactly what she wanted to see and do at Disney World. Going through a princess-obsessed phase she was so looking forward to meeting Elsa and Anna. As naive parents, more concerned about the 16 hour flight than what we'd do when we got there, we didn't think to plan these things ahead. Her disappointment at the long queues for everything in Magic Kingdom was clear (Plan, plan, plan parents!)

"Her disappointment, however, turned to absolute joy when dressed in her Princess Sofia costume she found her hero a few days later at (Hollywood) Studios. No queue was going to stop her from having that priceless one-on-one moment. Unlike her younger brothers, she remembers every part of this trip and enjoys regaling us with the finer details, even two years later! This will by no means be our last trip to Disney World. We have agreed to wait though until our youngest is much older, perhaps over 110 cm (44 inches) before our next return so they can all get the most out of the experience and maximize ride times – waiting for siblings when you are too small is never fun. We will also look to avoid any peak school holiday periods!"
Disney Is A Once In A Lifetime Trip
If you think that you will only go to Disney once during childhood the recommendations vastly change. And that makes perfect sense! This is a pricey vacation, and you want to get the most out of your experience. The main pros of taking an older child to Disney is the height restrictions are no longer a concern, you can manage long days at the parks, and they will better remember the trip over those taken at a younger age.
The main downside of waiting for a trip until your child is older is that some of the "magic" may be diminished. Your child may not have the same kind of joy at meeting Mickey or the princesses that a younger child would have. Or some of the classic rides will seem a little lame to your older child. Although I am over 18 and still absolutely love characters and classic rides!

In the once in a lifetime group, the general consensus was that 10 years old is about the perfect age for this extravagant trip.
Christine at Tapped Out Travellers shares her personal experience from her first trip to Disney: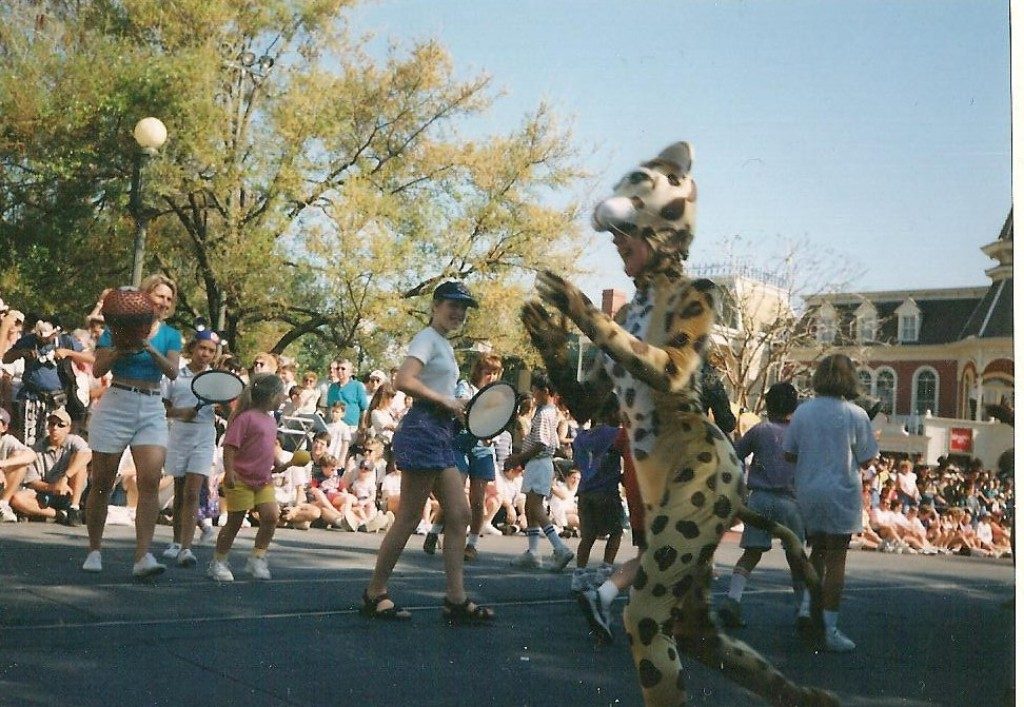 "We went to Walt Disney World when I was 10 years old. My parents felt, and I soon agreed, that this was the perfect age because I could ride EVERYTHING. There wasn't a single ride that I wasn't allowed on due to height restrictions or would be scared of. I was old enough to understand the safety protocols of being at such a large place with such big crowds. I was able to follow directions and therefore was selected to participate in the mid-day parade, unlike the many toddlers and preschoolers that desperately wanted to join me – simply because I was able to do it. I didn't need naps, I was able to keep my emotions relatively in check if something went wrong, waiting in lines wasn't nearly as horrible than someone waiting an hour for a ride with a small child. The Character meals felt better worth their money because we weren't such picky eaters and weren't afraid of the characters coming to see us.
"I don't remember everything that we did, but I also can't remember what I ate for dinner last week, but at least at this age, I had a better chance of retaining some memories, even if it was only through recognition in the photos. This was also the perfect age because they had no intention of taking us back to Walt Disney World. It was too expensive to make this journey again that they wanted to make sure they got the most out of it, and it worked. I am forever grateful that they waited until I could truly appreciate the gift that they had given us, and the sacrifices they made in order to make it happen."
Eileen at Families Go! had this advice:
"If you really want to do one Disney trip and that's it, I would say somewhere between 7 or 8 and 11. So you still get to see their eyes light up at all the magic but you can do more, have a longer day and enjoy more different aspects of the parks."
Tonya at Detail Oriented Traveler thinks older kids at the parks are best: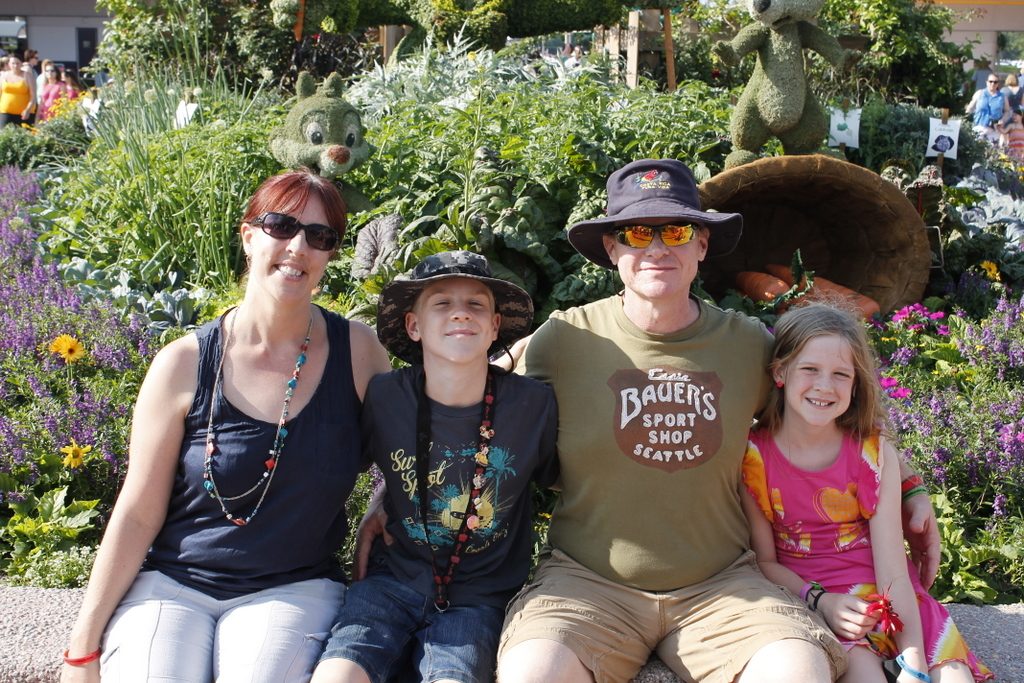 "I prefer visiting Disney with kids who are a bit older, ideally at least 10 or 12. Number one reason? No strollers! It's tiring on mama to push that around all day. Kids with a bit of independence are actually easier to keep track of than the ones who don't know any better. Additionally, no height restrictions means they get the full extent (and full value) of the park. They can stay up later too and experience more. Also, older kids appreciate the cultural value of Epcot and there's no need to waste time entertaining them at coloring stations. Finally, they're more likely to remember the vacation. Too little and they don't remember much. At 10, your daughter may not want to stand in line for a princess, but then again she might."
Some Additional Advice
"I love to visit with her at different ages as each time we go she is interested in a different element of the park."
Eileen at Families Go! had this to say: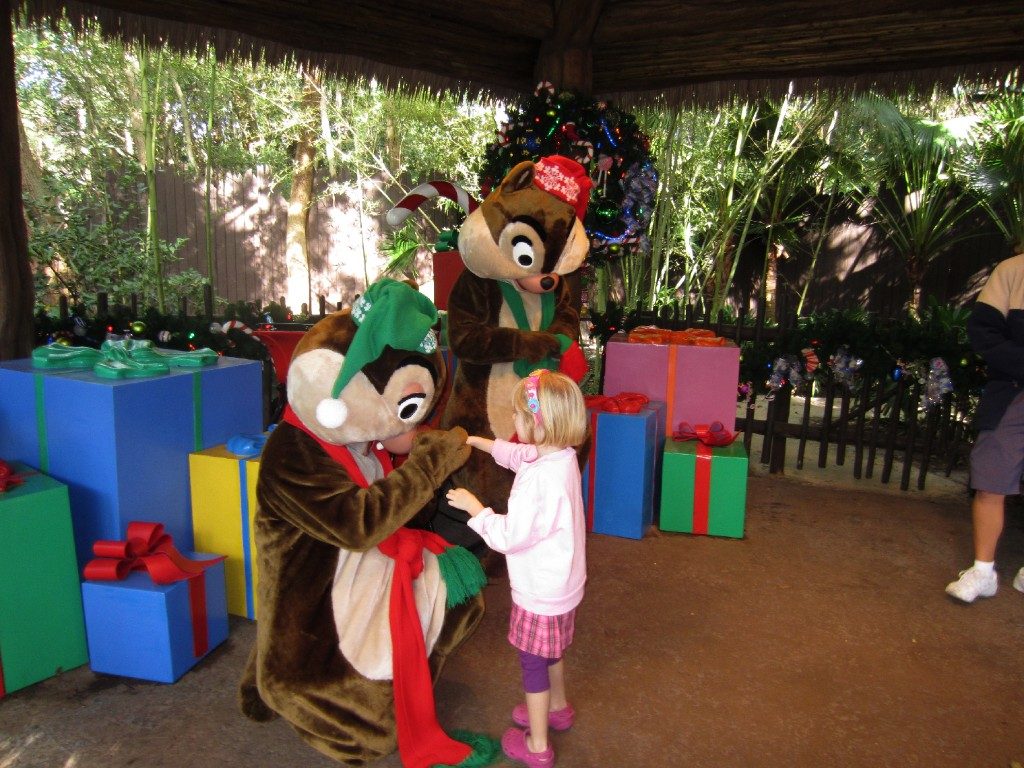 "We did Disney World at age 5 and Disneyland at age 8. Both great trips, very different. The first was primarily about meeting the characters and enjoying the hotel pool. There were a lot of rides and attractions my daughter couldn't or didn't want to do and we were aware of making sure there wasn't sensory overload and meltdown, which you see happen. At age 8 she still dressed up and meeting her favorite characters was still magical. She could do more things that we were interested in (like ride Soarin' or Pirates of the Caribbean), we took a learn-to-draw-Disney-characters class and she could follow the instructors and have her character come out pretty well. We could take better advantage of the many really good Disney restaurants because she could sit through a meal. We still took a pool break but then she could stay awake at night. We enjoyed both trips but the second one was more balanced in terms of enjoying things together vs. just enjoying her reaction to meeting Mickey, Cinderella, etc."
Here at Smart Mouse Travel this is what we think:
I have enjoyed every single trip to Disney. Our visits to Disney have been amazing regardless of Elizabeth's age. Each trip brings new memories and tons of fun in the moment. It certainly does get easier to visit the parks as they get older, but I would still go back in time and take that first trip at 3 years old all over again.
Final Thoughts
As I read through their experiences one thing came through from each of these families. Every single family had a magical trip regardless of age. Not one person responded that they were unhappy with the age they chose for a first trip to Disney. I think the most important thing when planning a trip to Disney isn't necessarily the age of the child, but to design the trip for your family. Read about the things I wish I had known prior to our first trip with Elizabeth.
I think Eileen at Families Go! sums it up best: "The thing about Disney Resorts is that they are built with families in mind in a way that is unique and clever. So you can make a Disney vacation work with any age child. And this is why every parent will tell you that the perfect age is whatever age their kids were when they took them. And to some extent they are right. But you are going to have a different experience in the parks depending on the age of your kids when you visit and need to plan your trip with different expectations."
I hope this article has given you some real life perspective about what to expect when taking a child for a first (or only) trip to Disney. Each age will have its own joys and challenges. Choose what is best for your family and plan around that. There is no wrong age for a first trip to Disney! Now get out there and get planning!
Do you need more help planning your Disney World trip? Check out other Disney World tips and tricks in my Disney World Guides.
Pin it for later: