Over the last few years I have overheard, been directly given, or seen the outcome of people following bad Disney World advice. Although it's generally given from a place of good intentions, believing self-sabotaging Disney advice makes Disney World meltdowns inevitable. Today I want to share common, but strict Disney World advice, and then share how a looser interpretation can avoid Disney World drama.
Ignore This Bad Disney Advice: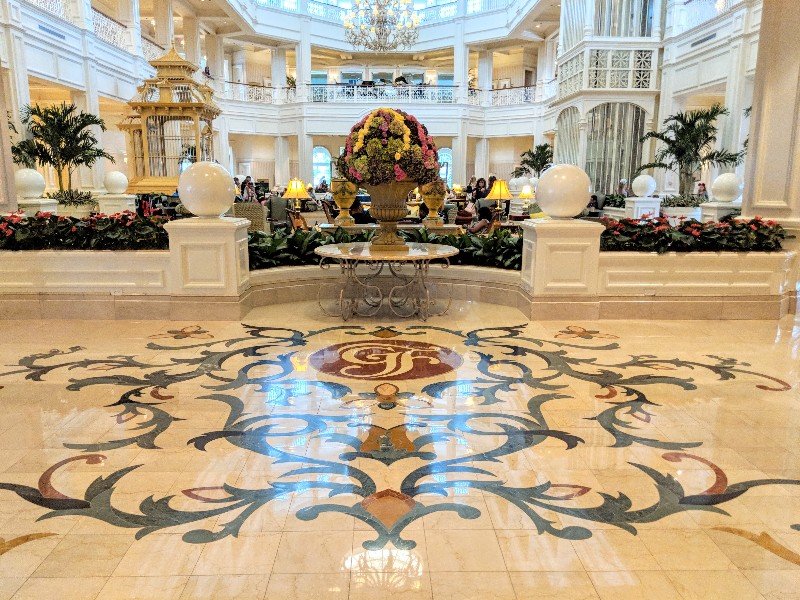 A Great Disney World Vacation Means Spending A Fortune
Disney World is a magical place full of up-charge options like special firework viewing dessert parties, princess makeovers, VIP tours, and more. If you would like to substitute extra money for a guaranteed firework viewing spot then by all means go ahead. However, none of these items is essential for a fun Disney World trip.
Some people even imply that a Disney value resort vacation is somehow less magical than one at a deluxe resort. I'm here to tell you that is absolutely not true. The various resort categories have different amenities on-site, but ultimately the minute you leave the hotel everyone's experience is pretty much the same. Don't feel like you need to overspend or risk a mediocre Disney vacation.
We've stayed in all different Disney World resort categories and had fun every time. Find our favorite Disney World resorts in each category here.
Another variation is thinking you have failed if your group doesn't have matching t-shirts or special outfits each day. Although matching shirts or Disney outfits make for a cute photo opportunity they are not essential to a Disney World trip.
Follow This Disney Advice Instead: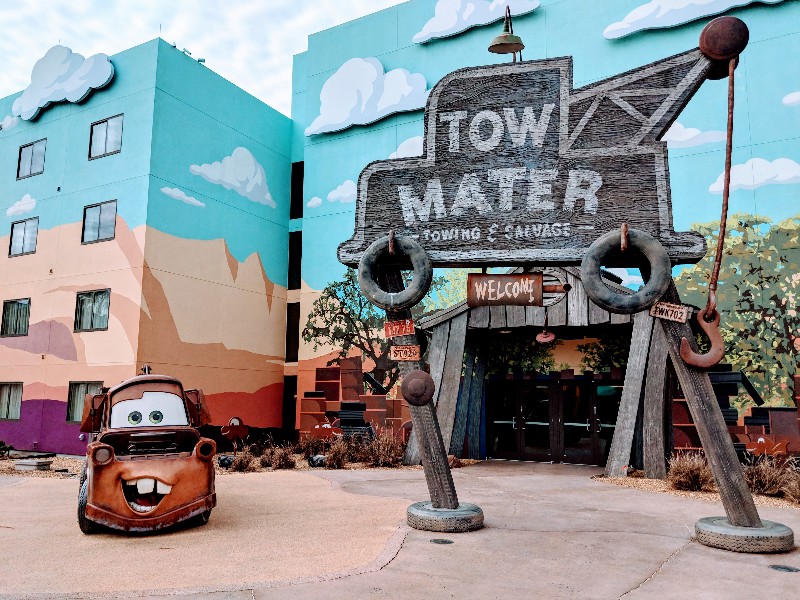 Carefully Pick And Choose Where You Spend
You know what you can afford when planning a Disney World trip. Don't let anyone push you to spend more than that. The base tickets plus value resorts are the least expensive option, but still give you access to Disney World on-site transportation and most importantly the parks. If you prefer a more luxurious resort and have the resources then go ahead and book it.
Another way to minimize costs while keeping the magic alive is by having Disney characters autograph pillowcases instead of a more expensive autograph book. These Disney autograph pillowcases are some of my daughter's favorite souvenirs, are low cost, and practical, too.
When it comes to matching Disney attire buy it if you want and can easily afford it. Our family doesn't do matching t-shirts and still has a lot of fun. The only exception is I will sometimes find cute items that work for a Disney bounding outfit if I think I would use them in regular life, too. For my daughter I usually opt for end-of-season Disney Store costumes or cute, inexpensive Disney inspired dresses from Amazon.
Ignore This: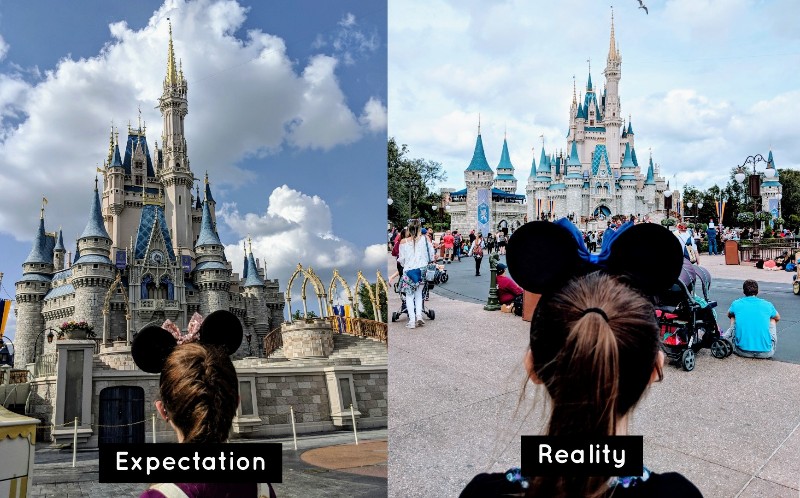 Instagram Disney World Expectations
I think we all realize that Instagram and other social media platforms show a highlight reel. However, I don't think we realize how this highlight reel makes for intensely unrealistic Disney World expectations. On trips in the last few months I have heard multiple people in the parks commenting how disappointed they were at Disney World because it wasn't what they expected from social media.
Follow This To Avoid Disney World Meltdowns:
Have Realistic Disney World Expectations
The reality is Disney World is a fun, magical vacation, but is also often crowded, hot, or rainy. However, you don't usually see these realistic pictures on Instagram and blogs.
To combat these unrealistic expectations I am showing more unfiltered images, especially when live documenting trips on Instagram stories. I also write candidly about our experiences both good and not so good, like when we've gotten sick at Disney or the time I had to reschedule a long planned trip to avoid a potential hurricane.
If you are properly prepared for the minor inconveniences of Disney World, like what to do when it is hot or the best things to do with toddlers, you'll have a great time.
The most important thing to pack for a Disney World trip is a positive and flexible attitude. A little bit of preparation and a good attitude will go a long way in avoiding Disney World meltdowns.
Ignore This:
Follow A Strict Disney World Itinerary
Disney World does reward planning. However, not every minute of your Disney World trip needs to be, or even should be, planned exactly. Over-planning your day makes a trip to Disney World feel like a race. I hated when I found myself rushing our family away from a fun impromptu experience because it wasn't on the itinerary.
Ask yourself this: If I accomplish everything on my detailed itinerary, but at the end of the day everyone is arguing or crying, is this really what I hoped for when planning our Disney World trip?
However, I do still suggest making some important reservations. Having dining reservations and FastPasses make for a more pleasant day at Disney World, especially when there are large crowds.
Follow This Disney World Advice: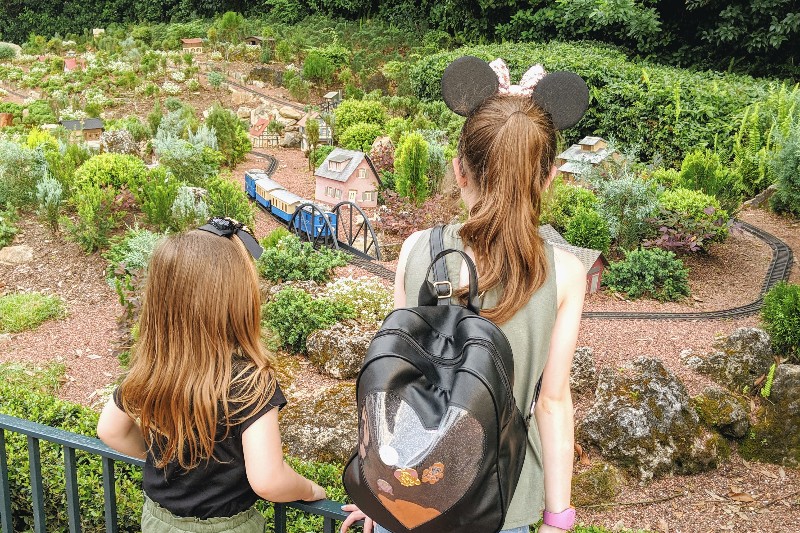 Make SOME Reservations
In our experience the only important advance planning is Disney table service dining reservations, three FastPasses per day, and if you have a princess in need of a makeover, Bibbidi Bobbidi Boutique. Other than this bit of planning I like to be flexible in what we do at Disney World. Then when the kids decide they want to watch model trains in Epcot I don't have to rush them off to something else.
Advanced Dining Reservations
There is a lot of debate around making Disney World dining reservations. Most of the angst comes from the fact the reservation window opens 180 days before your trip. I personally like having one sit-down meal per park day. A table service meal is a great way to relax and reset before heading back into the crowds.
I find if I do all quick service meals during the day I get frustrated from carrying trays and looking for places to sit over and over. A frustrated parent plus a tired family is the perfect recipe for a Disney World meltdown. Know your limits.
FastPasses
Booking three FastPasses per day seems like an obvious win to me, but not everyone does it. When booking FastPasses you pick an hour long window where you can skip the normal stand-by queue. Making three FastPass reservations to essentially skip a line is a great way to avoid Disney World meltdowns.
Bibbidi Bobbidi Boutique
If your little one has their heart set on a princess makeover definitely make reservations for Bibbidi Bobbidi Boutique well in advance, ideally 180 days before your trip. There is limited availability and spots go quickly, especially in the Magic Kingdom boutique.
If you can't get a reservation just have your child dress in a costume anyway. Cast members are excellent at greeting all kids in costumes, not just those who have had a formal makeover at Bibbidi Bobbidi Boutique or Pirates League.
Ignore This: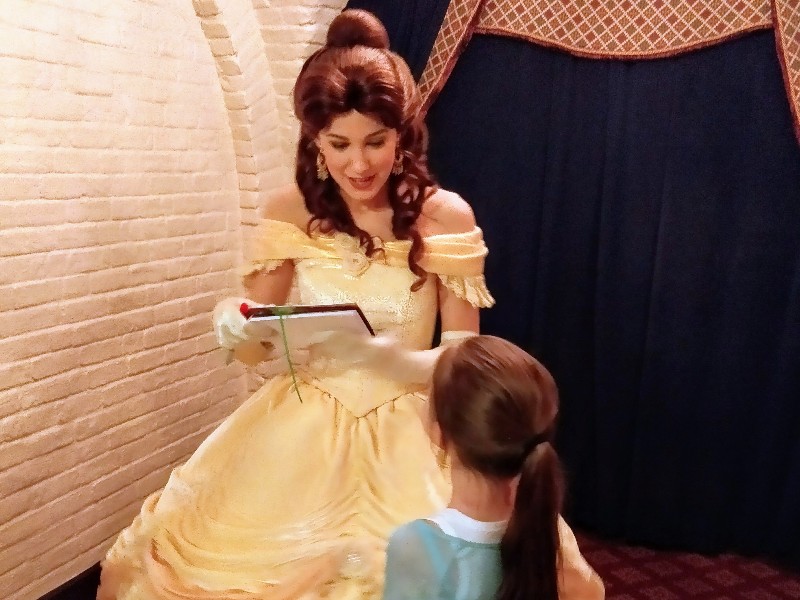 Our Trip Is Ruined Without The Perfect Dining Reservation Or FastPass
A popular ride or dinner is only a small fraction of what is available during your Disney World vacation. I used to be so upset if I couldn't get just the right reservation, but over time I realized that obsessing over this teeny part of the vacation did more harm than good.
Follow This Disney World Advice: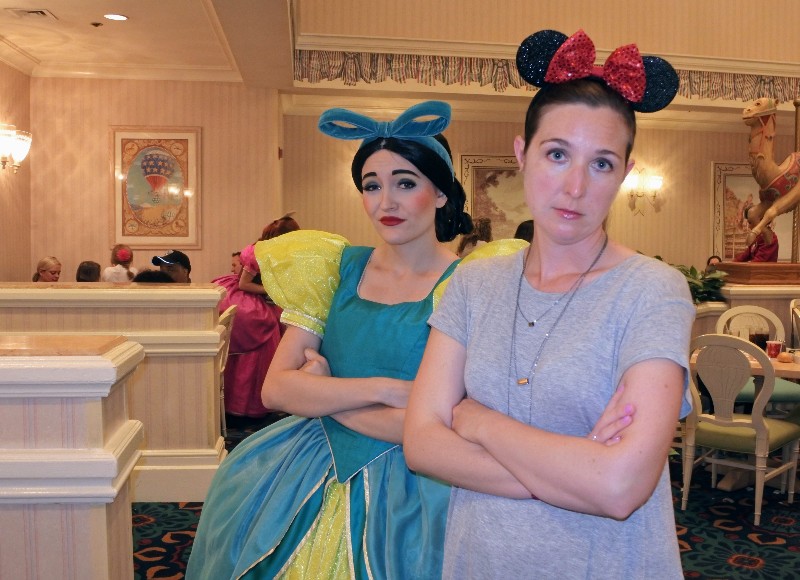 Find A Fun Alternative
Disney World has an overwhelming number of fun attractions and fabulous places to eat if you are open to less popular alternatives.
For example, you didn't get that coveted Cinderella's Royal Table Reservation. Don't despair. You can meet several princesses elsewhere in the parks. Just use the My Disney Experience app to find when and where each princess meets guests.
Then instead of being upset about Cinderella's Royal Table make a dinner reservation for 1900 Park Fare. At dinner there you'll meet Cinderella, Prince Charming, Lady Tremaine, and the step-sisters. A 1900 Park Fare dinner is a fun and completely different alternative to the traditional princess character meal.
Or meet some characters around the park before grabbing a delicious character-free meal at Jungle Navigation Co. Ltd. Skipper Canteen in Magic Kingdom. Just promise you won't tell anyone else about this restaurant. It's my favorite at Magic Kingdom and almost always has reservations available.
Ignore This: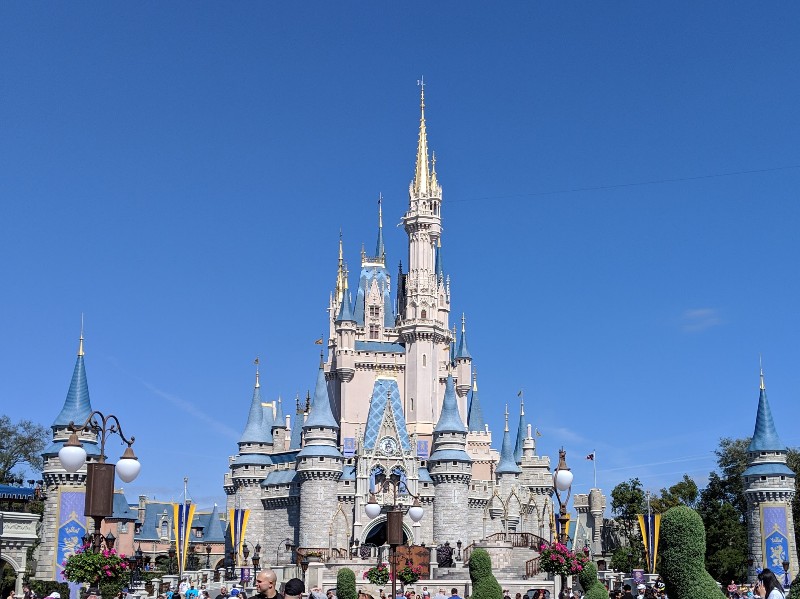 The Perfect Castle Picture Is a Must
I understand the desire for a perfect family castle picture. Every time I walk onto Main Street USA and see Cinderella's Castle at the beginning of a trip I tear up. It is striking, special, and an important icon of Magic Kingdom and Disney World.
So it shouldn't surprise you that lots of people want this special picture. Lines can be long for PhotoPass photographers on Main Street and other guests tend to be oblivious about accidentally photobombing your special moment.
Follow This: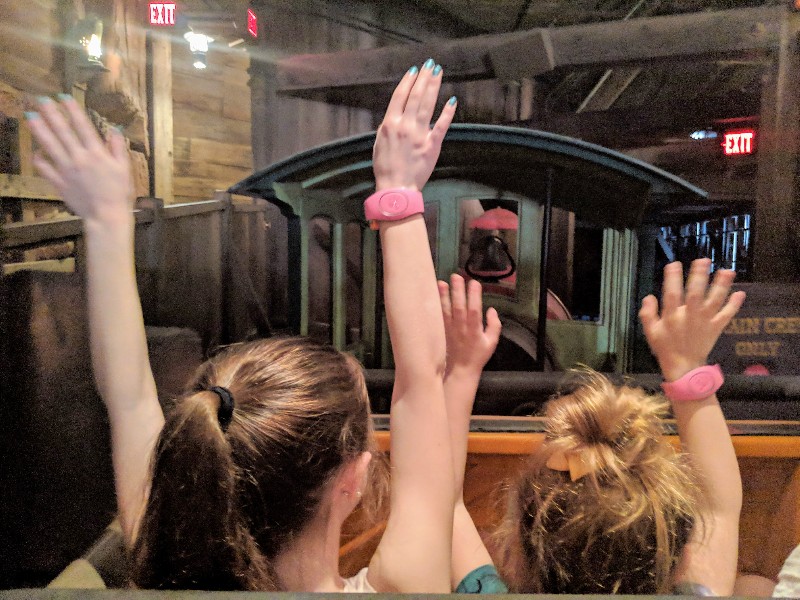 Impromptu Pictures Catch Joy In A Moment
Take pictures throughout your Disney World vacation. Do the normal staged ones and know that there may be some accidental photobombers. Or be like me and wait, sometimes forever, to catch a break in the crowds.
I also encourage you to take lots of pictures when your family isn't paying attention to the camera. These candid photos are the ones that really take me back to special moments on our Disney World trips.
If you can't resist the idea of a perfect castle photo head over to Disney Springs Photopass Studio. They have a green screen with lots of background options including the castle. This is the easiest way to get a great castle family picture.
Another tip for a great castle photo is to go close to the castle stage area and wait your turn to take a picture. Unfortunately you will have to do this yourself, which means no PhotoPass photographers to get the entire family.
Ignore This: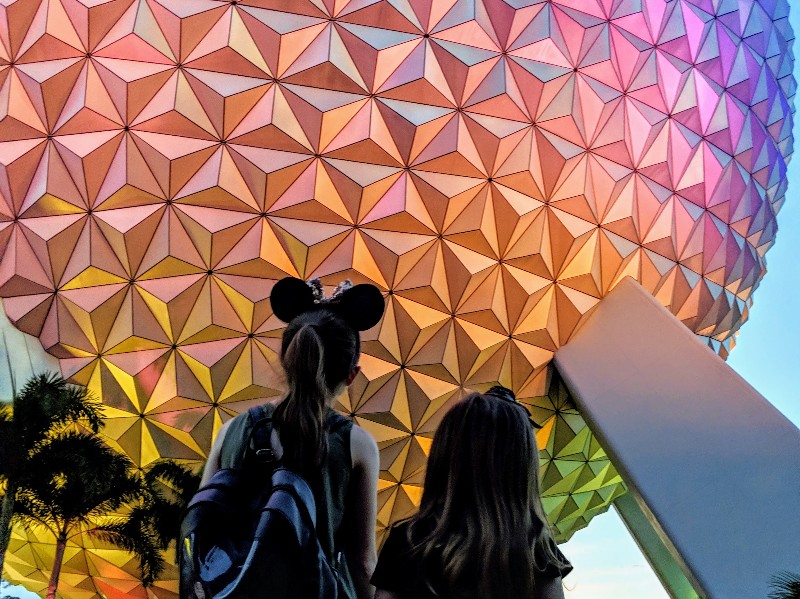 Rope Drop Is The Only Way To Enjoy Disney World
Truthfully, arriving for rope drop is a wonderful way to avoid crowds and long attraction lines. However, waking up your family early, getting them out the door quickly, and feeling the pressure to arrive at a certain time is a great way to have a Disney World meltdown.
Follow This:
Know Your Family
If your family are early risers, easy to get out the door, and otherwise chill then by all means make it for rope drop. You'll get a lot done. However, I've learned trying to rush my family only seems to make them slower and me more upset. Over the years I've learned that knowing your family is the best way to avoid a Disney World meltdown.
We tend to arrive a little later in the morning, but we enjoy staying in the parks late. The closer it gets to park closing some attraction waits will start to diminish. For us the slightly longer line but overall happier family is worth it.
If your family is a good candidate for a stress-free rope drop then check out this detailed strategy from Mouse Hacking.
Ignore This: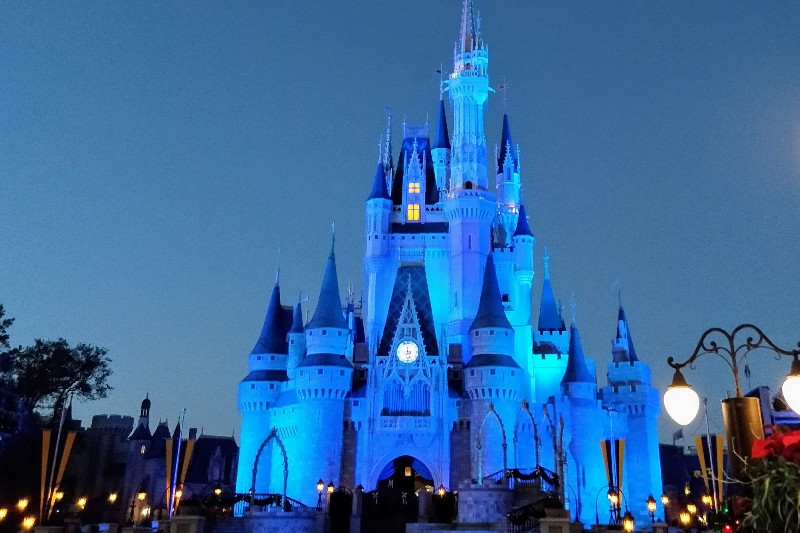 Stay At The Park All Day
A lot of people suggest that you spend all day at the parks to get the most out of your ticket price. While this may be good advice in theory, in practice a full day at Disney World can be exhausting.
Follow This:
Be Realistic About Your Limits
We walk an average of eight miles (13 km) a day when visiting Disney World, which is a lot more than an average day at home. This activity, plus weather conditions, and crowds can make you feel irritable and on the verge of a Disney World meltdown.
My daughter and nieces have never slept in strollers, much to our disappointment. We've found that a quick break in the afternoon for a nap is inconvenient, but makes for a much better overall Disney World experience.
If you or your group is getting frustrated or tired find a way to reset. Sometimes that may mean a mid-day break or leaving the park earlier than expected. Otherwise a fun day at Disney World could end in major arguments or meltdowns, and no one thinks that is magical.
Ignore This:
Large Groups Must Do Everything Together At Disney World
Large groups mean lots of personalities and preferences. We enjoy our large group Disney vacations, but large groups are prone to Disney World disagreements.
Follow This:
Set Honest Expectations
Discussing expectations and making plans together as a group is the most effective way to avoid a Disney meltdown. Some groups we've traveled with loved doing everything together, and other groups liked meeting just for certain activities. Either way can make for a fun Disney World group vacation. Check here for our full guide on surviving Disney World with a group.
Final Thoughts On Avoiding Disney World Meltdowns By Ignoring Self Sabotaging Advice
There is no "wrong" way to do a Disney World vacation. Realistic expectations and knowing your own limits will help you avoid Disney World meltdowns. I hope I helped you better understand that most bad Disney World advice is simply too rigid. In my opinion a good attitude, some planning, and being flexible is the best Disney advice out there.
Did I miss any bad Disney World advice you've been given? Share it in the comments below.
Pin it for later: