Disney's Contemporary Resort brings to mind pictures of monorails silently gliding through a multi-level lobby. However, the Contemporary Resort actually has rooms in two different buildings: the main tower and the garden wing. Disney's Contemporary Resort garden wing rooms are a great way to stay at the Contemporary Resort for less money than a main tower room or a Bay Lake Tower villa.
Location
The Contemporary Resort is considered a Magic Kingdom area resort and is located on the monorail loop.
Disney's Contemporary Resort Overview
The Contemporary Resort has a sleek, modern design. The main tower contains the lobby, several popular restaurants, meeting rooms, gift shops, and the Contemporary's monorail stop.
Disney's Contemporary main tower rooms are in the main building and overlook the fourth floor of the resort. The Contemporary Resort garden wing rooms have a modern style, but not The Incredibles remodel, and are located in a building next door.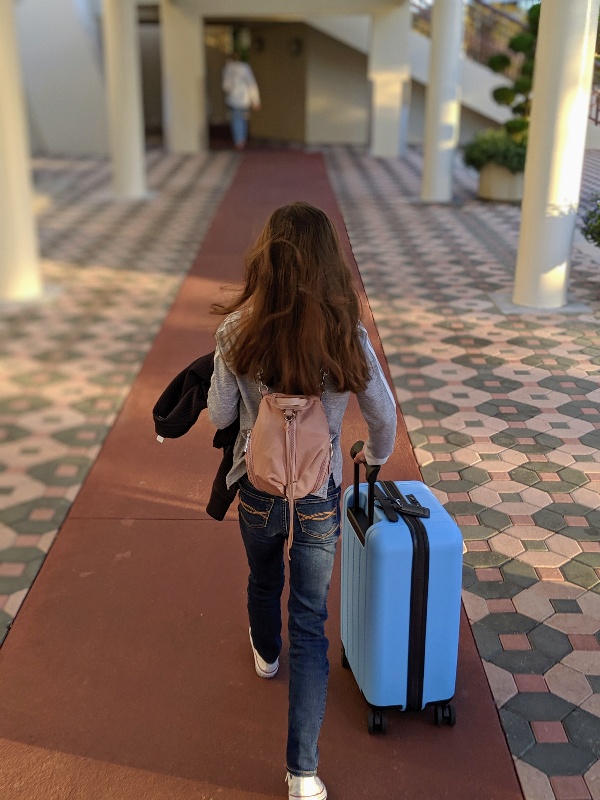 The main downside of the Contemporary garden wing rooms is they are in a separate building. The garden wing rooms are accessed via a covered main level walkway which adds some walking time to your transportation. Our room was one of the farthest from the lobby and it took us about six minutes to walk to or from the lobby.
Disney's Contemporary Resort Pools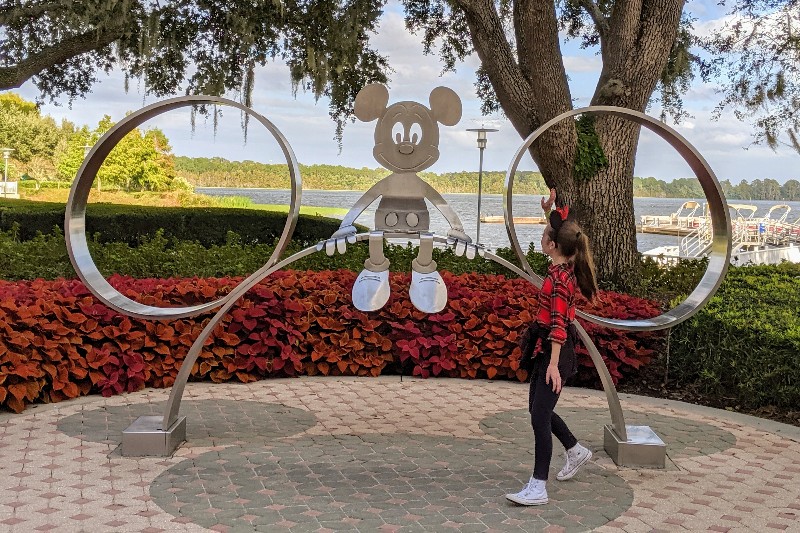 There is one main pool with a 17-foot (5-m) water slide at Disney's Contemporary Resort plus a small splash pad area. The leisure pool, where loud play is discouraged, is located closer to Bay Lake Tower.
I suggest stopping by the pool area even if you don't plan on swimming. This is because there are a couple of cute photo opportunities behind the Contemporary near the pool. One is a large silver Mickey head outline with Mickey sitting on it, and the other is a sorcerer's apprentice topiary.
Contemporary Resort Dining
Disney's Contemporary Resort has one of the most popular Disney World character dining options at Chef Mickey's. If you're looking for fine dining, make reservations at California Grill. For something more middle of the road try The Wave…of American Flavors. Find out more about Disney's Contemporary dining options here.
Disney's Contemporary Resort Garden Wing Room
The spaciousness of our Contemporary Resort garden wing room surprised me. The room door opens into a short hallway with the closets on one side and the bathroom on the other. There are two medium sized closets with a coffee station and mini-fridge in between. The counter with the coffee pot was a bit cramped, but the mini-fridge was a good size.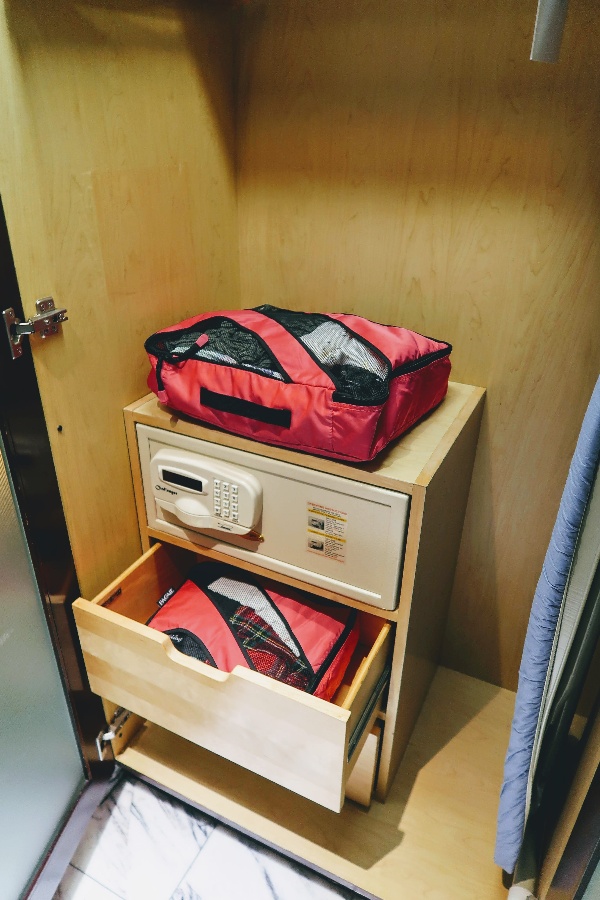 One closet has just a tall hanging bar while the other has a tall hanging bar, two drawers, and a safe. I felt like there was a reasonable amount of storage space in the two closets. There are also a couple of drawers next to the bed for additional storage.
Disney's Contemporary Resort Garden Wing Bathroom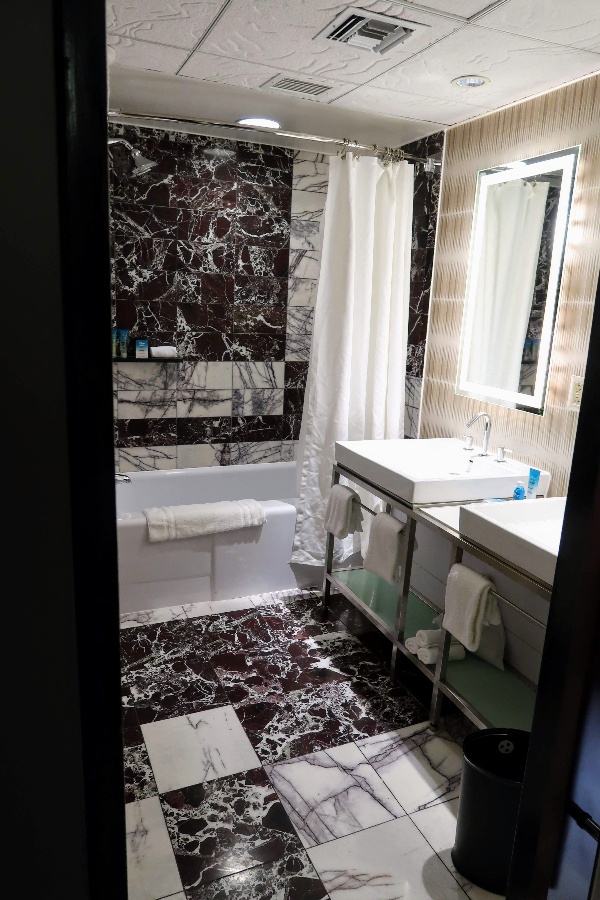 Overall, I liked the Contemporary Resort garden wing bathroom. The bathroom is closed off from the rest of the room by a sliding barn door with an opaque glass insert. The main bathroom area has dual sinks and a tub/shower combination. A small room with a wooden pocket door closes off the toilet from the rest of the bathroom.
I like the dual sinks and split bathroom arrangement of the Contemporary garden wing bathroom. However, there are a couple of minor inconveniences with the bathroom. One problem is there is limited counter space because the sinks are so large. The shelf underneath the sinks is also quite shallow, so it doesn't provide much additional storage space.
Another potential issue is the bathtub placement, which didn't bother us, but might be difficult for others. The shower/tub access is partially obstructed by the bathroom vanity. This makes climbing into and out of the shower a little challenging. I think it might also be difficult to give small kids a bath in the tub since the only open area is by the faucet.
Disney's Contemporary Resort Garden Wing Bedroom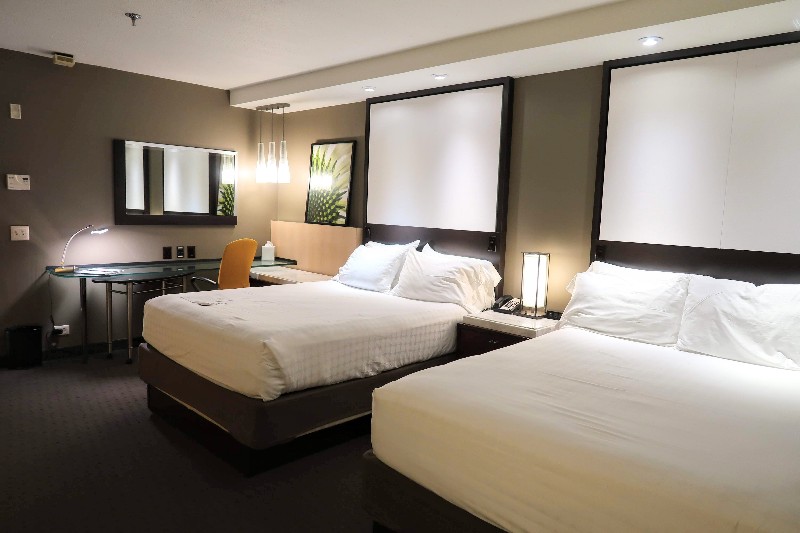 The Contemporary Resort garden wing bedroom feels very spacious. The decor is clean lines and sleek furniture, which I like. Those who want a detailed Disney theme might be disappointed in the decor.
Our garden wing standard view room had two queen sized beds, plus a couch that converts to a twin size daybed. Even with two beds and a couch the bedroom has plenty of space.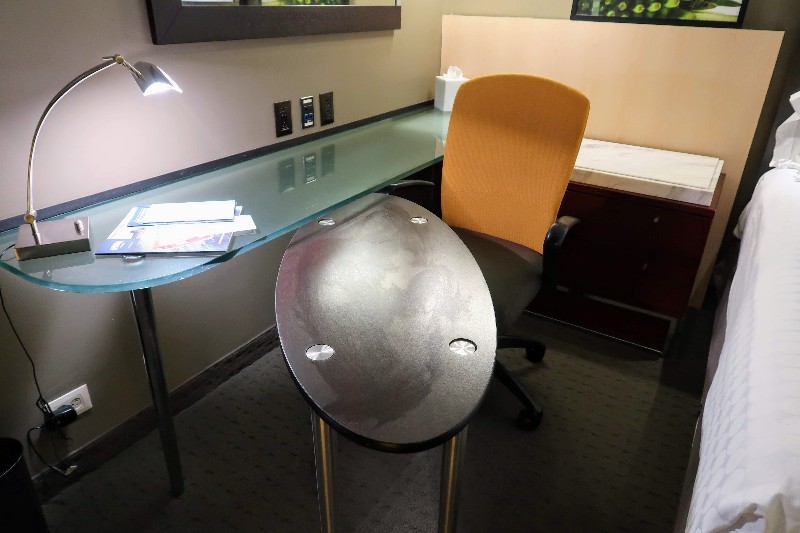 The room also has a built-in desk with a rolling desk underneath, and a comfy office chair tucked against the bedroom wall. The wall-mounted TV hangs above a small shelf which was perfect for storing our MagicBands and park bags when we were in the room.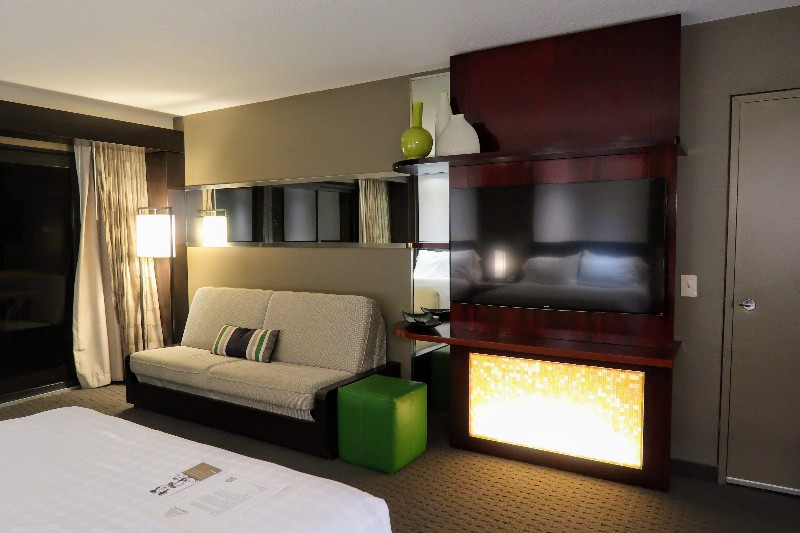 One disappointment about our Disney's Contemporary Resort garden wing room is its lack of a balcony. Most deluxe Disney World resorts have a balcony to sit and relax, but Contemporary does not. Guests staying on the first floor do have a small patio and chairs, but those on higher floors have sliding doors that open for air, but with no outdoor space.
Our Disney's Contemporary Resort Garden Wing room has the following great features:
Large room
Two closets
Standard room can sleep 5 people
Mini-fridge
In Room Safe
Split bathroom
Dual sink vanity
In Room WiFi
Disney's Contemporary Resort offers complimentary wi-fi to hotel guests as part of their stay.
Watch this video for a virtual tour of our Contemporary garden wing room:
Disney's Contemporary Resort Parking
Self-parking costs $25 per night while valet runs $33 per night. It is important to double check your final folio. We arrived via Tiffany Towncar limo service and did not have a car on-site. During our arrival the security guard mislabeled us as having a car. This meant we were charged the parking fee despite not having parked a car. This could have been a costly mistake if I didn't check my bill for accuracy.
Transportation To Parks
Disney's Contemporary Resort To Magic Kingdom
There are two ways to get to Magic Kingdom from Contemporary. The fastest and easiest way is to take a walkway from Contemporary Resort across the street, past the Magic Kingdom bus depot, before arriving at the park entrance.
The other option is to take the monorail from the Contemporary main tower to Magic Kingdom. This monorail loop also makes stops at the Transportation and Ticket Center, Polynesian Resort and Grand Floridian Resort.
Disney's Contemporary Resort To Epcot
To reach Epcot from Contemporary requires taking the monorail. Board the monorail at Contemporary and take it to the Transportation and Ticket Center (TTC). Exit and switch to the Epcot monorail line at the TTC.
Contemporary Resort To Animal Kingdom, Hollywood Studios, Disney Springs, and Water Parks
Transportation from Disney's Contemporary Resort to Hollywood Studios, Animal Kingdom, Disney Springs, and the water parks is via the Disney World bus system. The Contemporary bus stop is located between the main building and Bay Lake Tower.
Overall Impression Of Disney's Contemporary Resort Garden Wing Room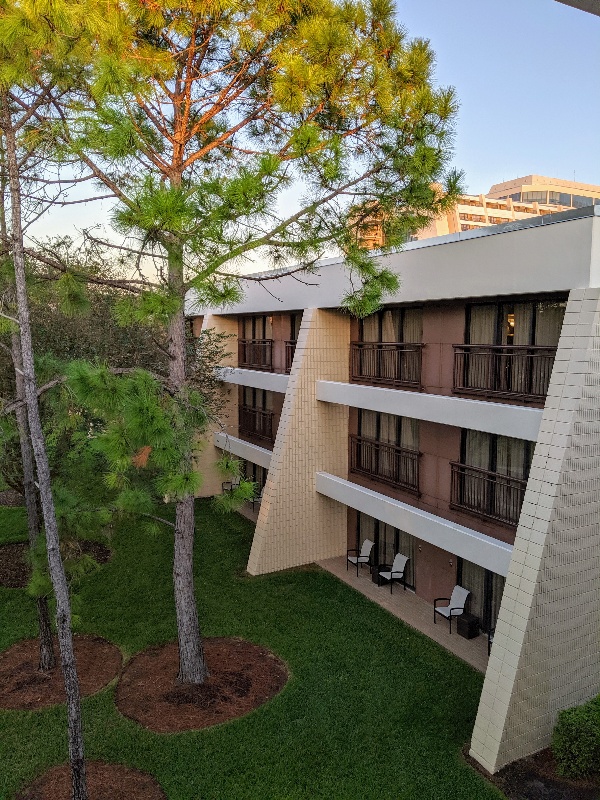 I thought that the Contemporary Resort garden wing room provided a spacious room and convenient location for less money than the Contemporary main tower or Bay Lake Tower villas.
The extra 6- to 10-minute walk from our room, which was almost the last one in the building, was a minor inconvenience that saved us several hundred dollars. Our garden wing room was spacious, comfortable, and we liked the minimalist design.
The ability to walk to Magic Kingdom in 10 minutes from the Contemporary lobby is another reason this resort is a great option for those visiting Disney World.
This quick access to Magic Kingdom from Contemporary is perfect for those with toddlers needing a mid-day nap or people wanting a quick escape from a late night event like Mickey's Not So Scary Halloween Party or Mickey's Very Merry Christmas Party.
Want to find out more about which Disney World Resort is right for your family? Here's our overview of each resort category and our favorite resorts in each.
Ready to book your own Disney World vacation? Find out why Get Away Today is our preferred travel partner.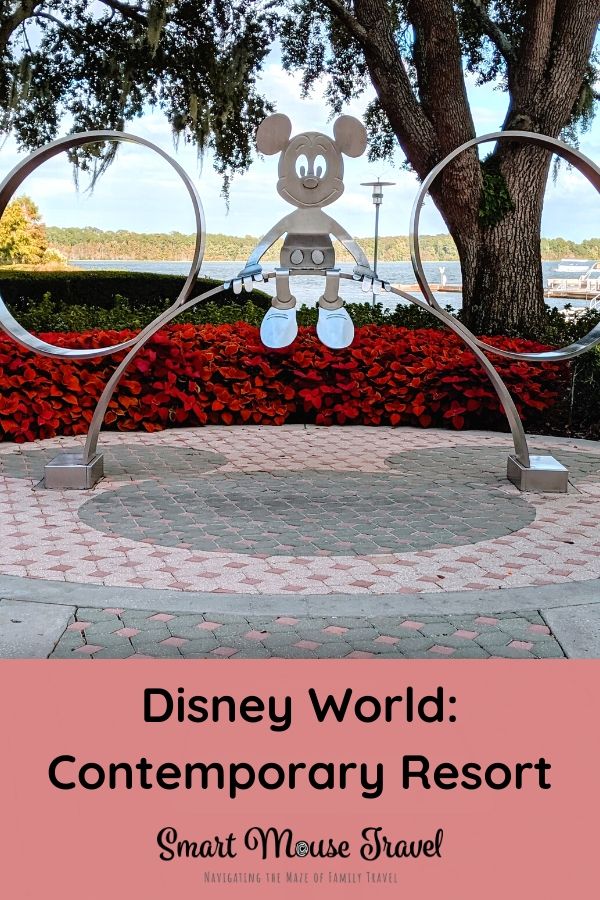 Pin it for later: