Let's be honest. I am a Disney girl at heart, but I love Harry Potter. I had no desire to go to Universal Studios Hollywood until The Wizarding World of Harry Potter opened. Once that happened Universal got bumped to the top of my list for our California trip. Was it all that I was hoping? The short answer is "Yes!", but let me tell you more about our experience.
If you are looking for The Wizarding World of Harry Potter at Universal Orlando try here instead.
I am not alone in feeling that The Wizarding World of Harry Potter is the real reason to make the trip to Universal and it shows. Although it was spring break the crowd levels felt very manageable around the rest of the park (unlike our days at Disneyland). Inside Hogsmeade and Hogwarts it felt much busier.
In this article I will provide an overview of all of the rides, shops, places to eat and the entertainment available in The Wizarding World of Harry Potter. This guide will also walk you through the confusing bag lockers that must be used on the Forbidden Journey ride.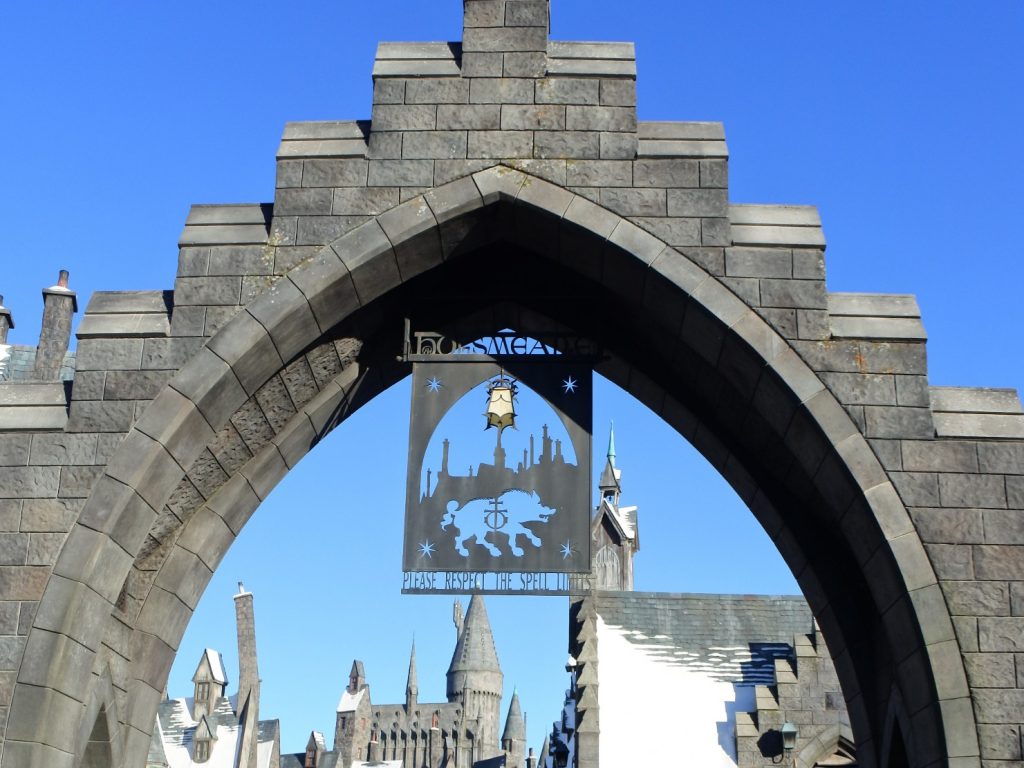 Hogswart Express:
Once you enter under the gates into Hogsmeade you will find a mock Hogwarts Express to the right hand side.  It is stationary unlike the one at Universal Studios in Orlando, but you may take pictures of it with a conductor. Pictures may also be taken in a mock train cabin for a fee. This paid photo opportunity can be found inside a building nearby the Hogwarts Express.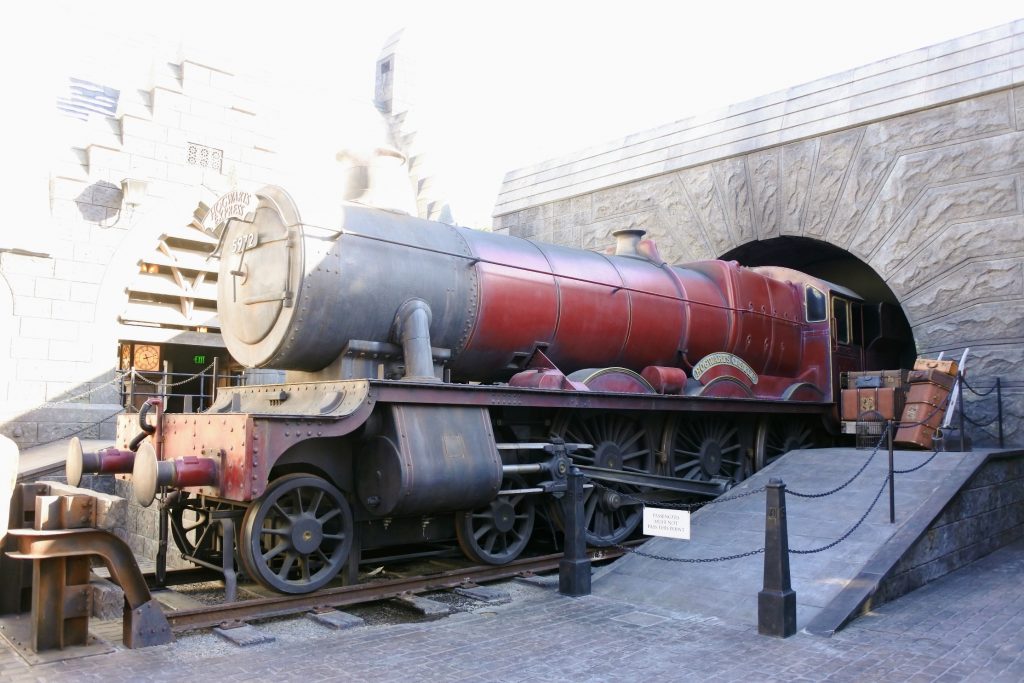 The Wizarding World of Harry Potter Rides:
Flight of the Hippogriff:
Height Requirement: 39 inches or taller
This ride is a short, mild roller coaster that I felt was similar to Barnstormer at Magic Kingdom. It was fun, but I would not spend more than about 30 minutes waiting since the duration of the ride is very short. It was fun to see Hagrid's hut and motorcycle with side car in the queue.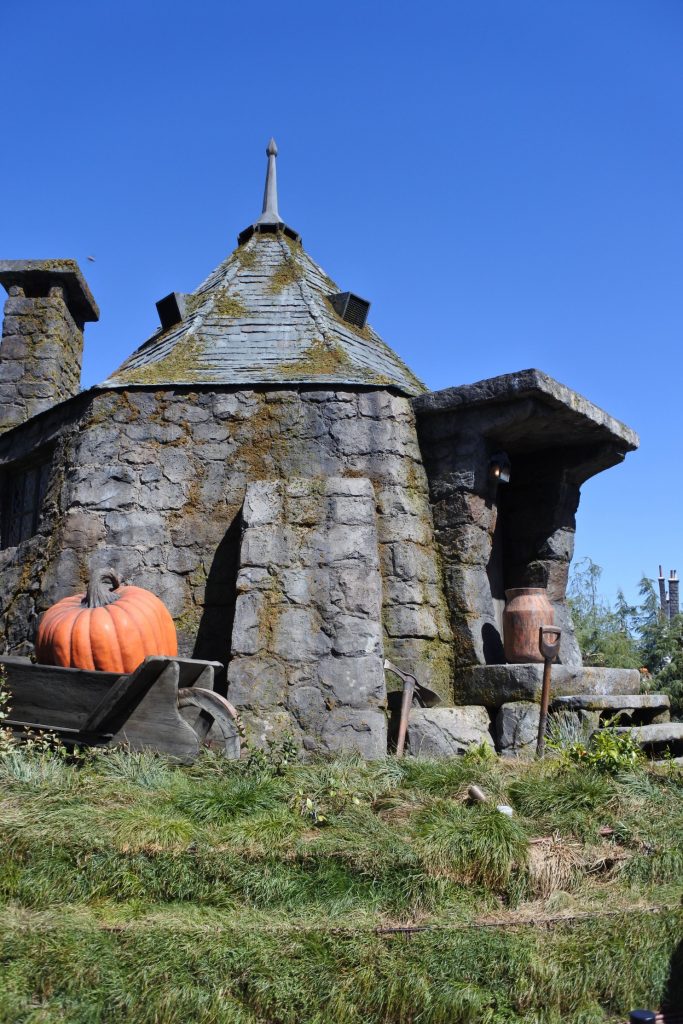 Harry Potter and the Forbidden Journey:
Height Requirement: 48 inches or taller.
This was our first stop of the day (at 10 am thanks to worse than usual LA traffic) and the posted wait time was 60 minutes. We hopped in the regular line (we were saving our Front of the Line use for later in the day) and first encountered the bag check lockers.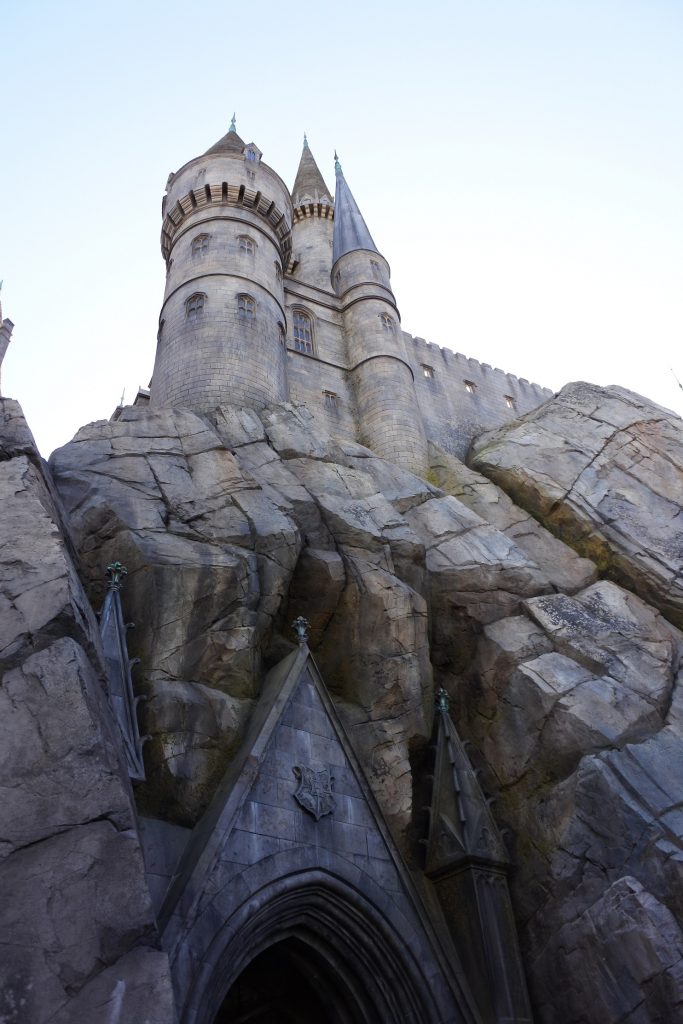 What are the bag check lockers you ask? Let me tell you so you are not ill-prepared like I was.
When you first enter the Hogwarts Castle you are directed to your right side to an area full of lockers if you have a bag. Bags and bulky items like purses are not allowed on the ride. The room was crowded and staff didn't really explain what was going on, so it felt very chaotic.
Here's what you do:
Pick a set of lockers (there were several banks of lockers to choose from).
Find the touchscreen located in the middle of the bank of lockers (only one screen per set of lockers).
Follow the prompts to request a locker to store your bag.
You will need to place your finger on a fingerprint reader to be assigned a locker.
Once your fingerprint is recorded a locker is assigned to you and the button on the locker will light up green to help you find it.
Place your items inside the locker, close the door, and push the green button to lock it.
Ride Harry Potter and the Forbidden Journey.
The exit of the ride drops you in Filch's Emporium of Confiscated Goods and the door back to the lockers will be on your right side.
Find the set of lockers you used.
Follow the prompts on the touchscreen and use your same fingerprint to unlock your assigned locker.
Get your stuff and go!
My park bag that I have used on countless Disney trips barely fit inside the locker because the back is slightly stiff padding. I nearly freaked out. However, I was determined to make it work and was able to coax the bag inside the locker (twice). I would recommend that you bring a backpack or bag that has some flexibility (and is maybe somewhat smaller) to increase the chances it will fit inside the locker without you panicking like I did.
The queue: The waiting area for Harry Potter and the Forbidden Journey was very immersive. First you wind your way through the greenhouse, then enter the castle where you make your way through the halls of Hogwarts including a hall of talking portraits (so cool!), the Defense Against the Dark Arts classroom (with a brief appearance by Harry, Ron and Hermione) and Dumbledore's office before passing the sorting hat to board the ride.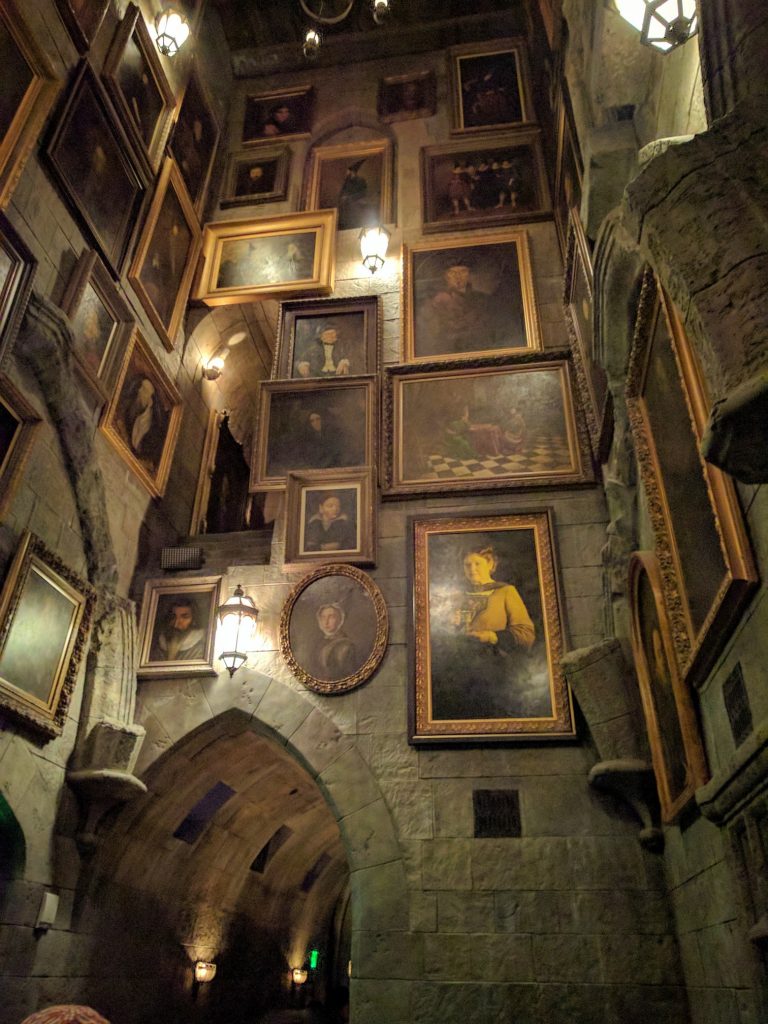 We lucked out and the wait was only 40 minutes (instead of the posted 60 minutes). And we were so entranced by the queue through Hogwarts it felt even faster.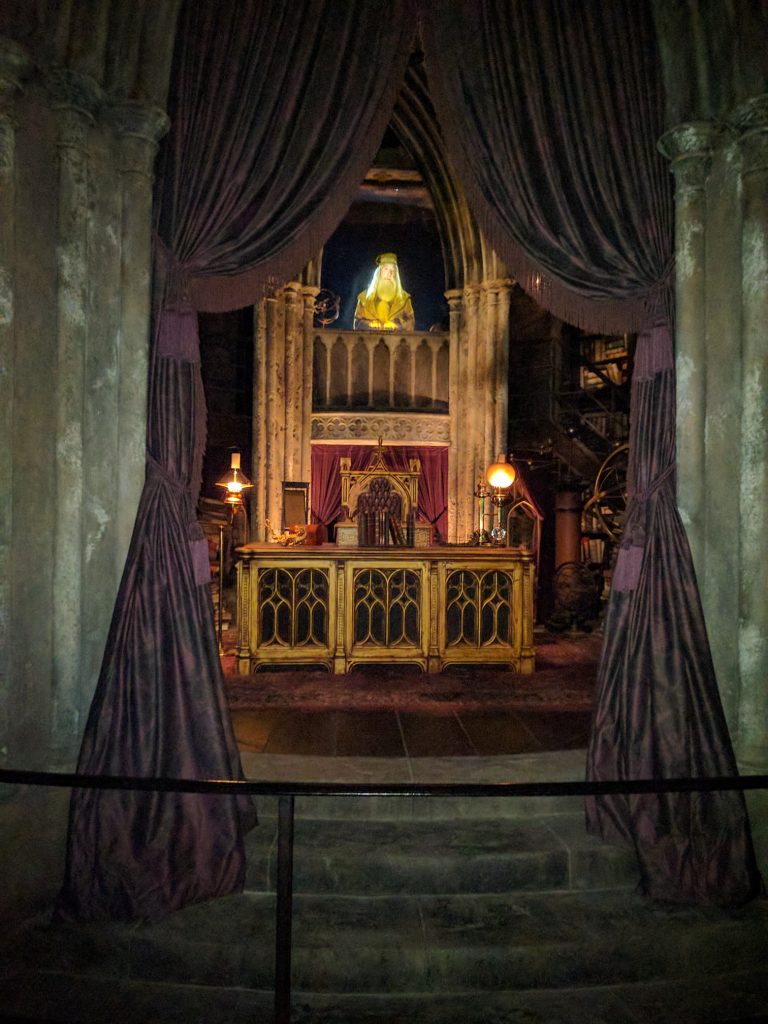 The ride: You are seated on a set of 4 side-by-side seats perched on a hydraulic arm. The harness is one that comes down over your head and locks your upper body into place.
Hermione sprinkles you with Floo Powder and you are whisked away to meet up with Ron and Harry riding their broomsticks in the Observatory. The journey brings you through the Quidditch field, around the castle, past Aragog, a Basilisk, the Whomping Willow and several animatronic Dementors before you are greeted as a hero by students and staff back inside the castle.
I thought I had prepared Elizabeth (and myself) for the Dementors, but I failed. I think since they were large, in your face and animatronic instead of on the screen it was spookier than I expected. Please make sure you prepare your children (and yourself) better than I did!
Hogsmeade Shops: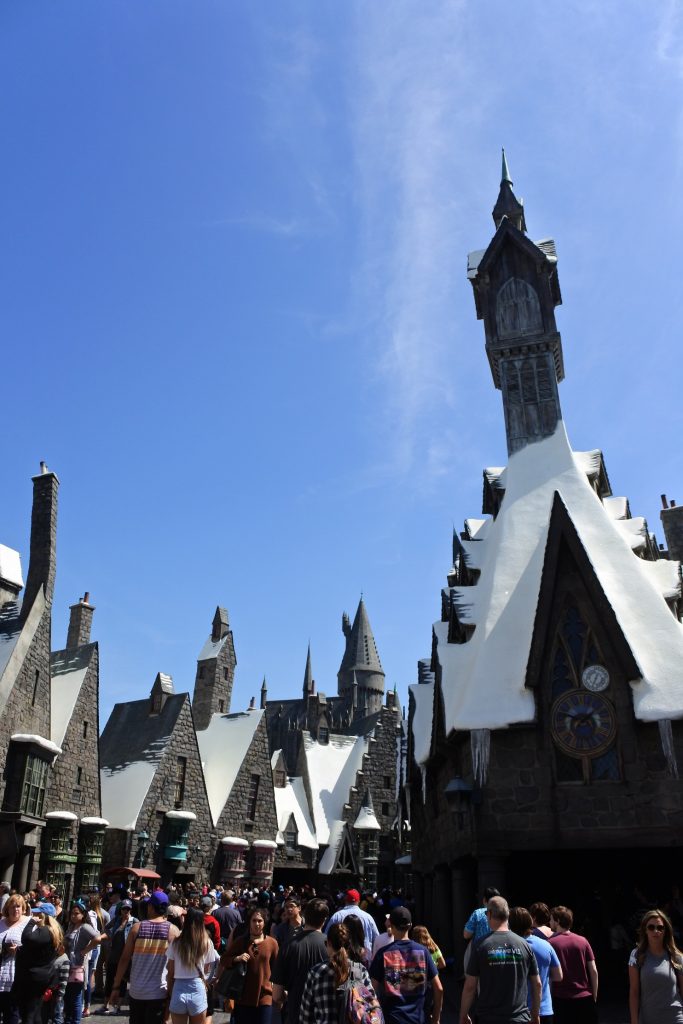 Ollivander's:
Is your wizard or witch in need of a wand? Then Ollivander's is the place. Here you have the option to enjoy an interactive experience of someone getting fitted for a wand or you may skip straight to shopping. We wanted to see what it was all about and we opted to wait in line to see the fitting. Our wait time was 25 minutes which wasn't bad. However, I did see the time climb as high as 45 minutes which I would not recommend.
Once you are allowed into Ollivander's you are ushered into a room packed floor to ceiling with wand boxes. After another brief wait you are welcomed into another room of the shop where you meet the clerk. The clerk chooses someone to have a wand fitting. Our clerk was super dramatic and made it feel like a very serious affair. I won't spoil the experience for you, but even though I did not want to watch a fitting I had a really fun time. I was so glad my family made me do it!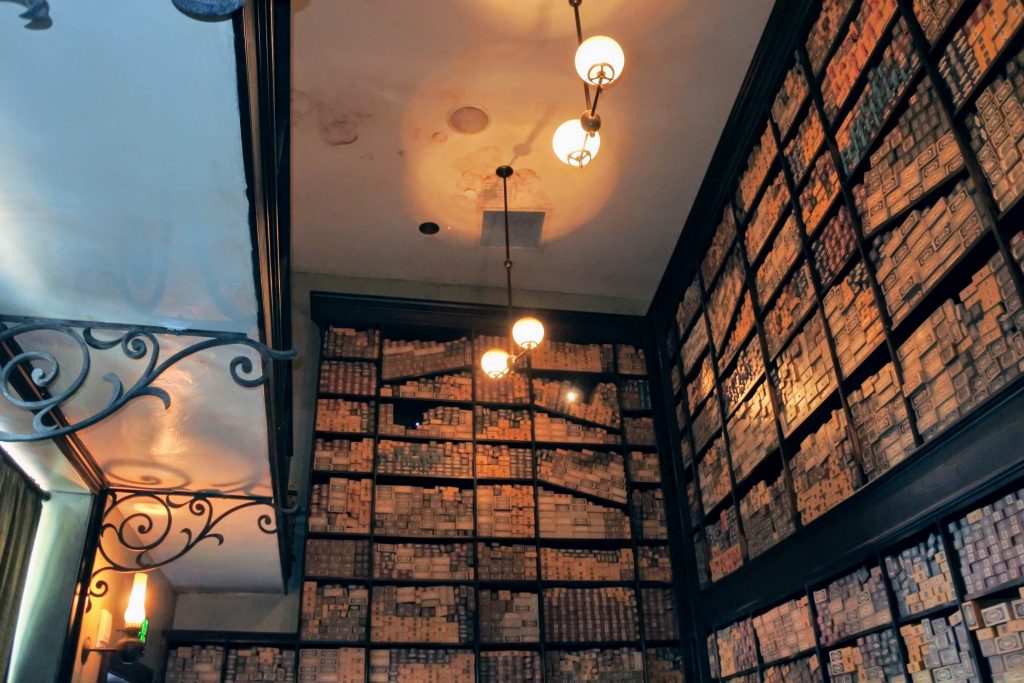 After the fitting is over you are then allowed into the main store where you may choose your wand. The store was mobbed and it was difficult to move around to explore the wand options. There are replica wands of characters from the books in addition to wands that are not tied to characters.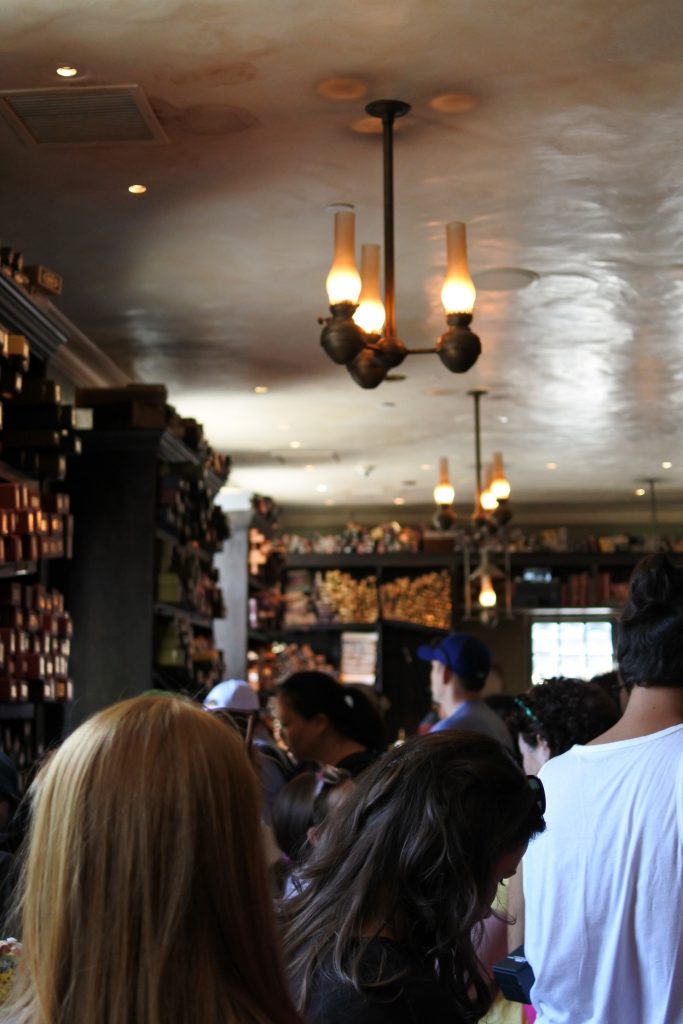 There are two types of each wand: one that is merely a replica or one that works magic in the windows of shops in Hogsmeade. We opted for the interactive wand. The wand came with a map of the shop windows where you can perform magic and the instructions on how to perform the spell.
We had a lot of fun with the wand in Hogsmeade. If you don't want to wait to see the wand fitting you may enter Ollivander's via a side door directly to the shop or purchase a character replica wand from a stand located in the streets of Hogsmeade near Ollivander's.
Owl Post:
You can send a letter from inside this shop and it will have a Hogsmeade postmark. You will also find stationery and plush owls for purchase.
Gladrags Wizardwear:
House robes and gear are found here. Elizabeth got a rhinestoned Hogwarts crest pin in this shop.
Dervish and Banges:
Apparel, house items and miscellaneous gifts.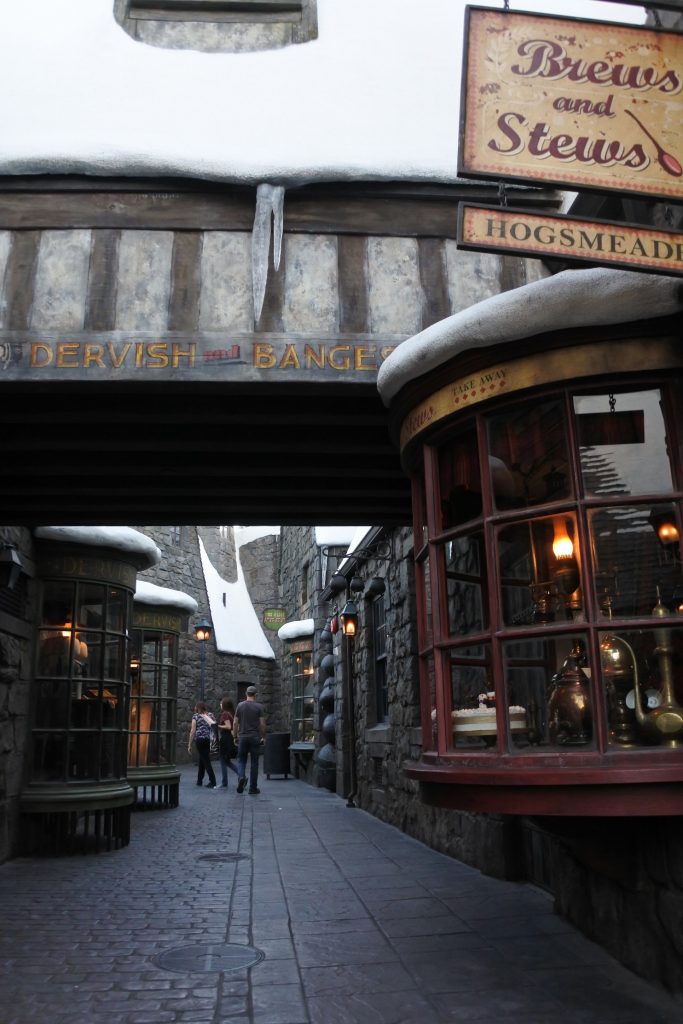 Filch's Emporium of Confiscated Goods:
Apparel, movie prop replicas, and more.
Wiseacre's Wizarding Equipment:
A wider selection of wizard "equipment" for sale in addition to house robes.
Zonko's Joke Shop:
Novelty items and toys.
Honeydukes:
Here you can find sweets popularized by the Harry Potter series such as Chocolate Frogs and Bertie's Every Flavour Beans.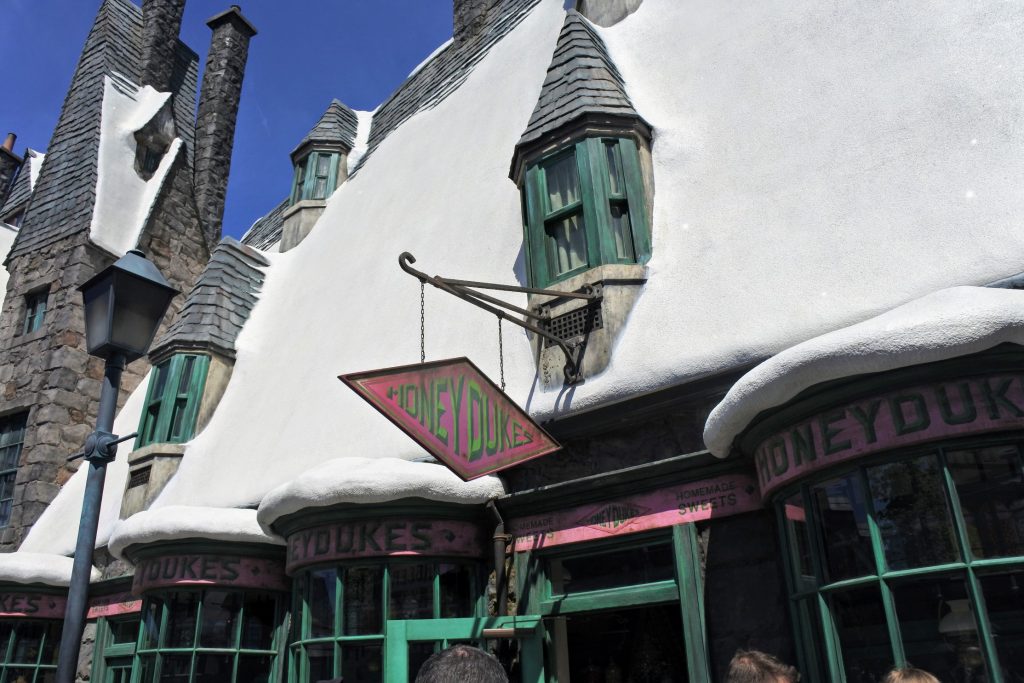 Hogsmeade Food:
Three Broomsticks:
This restaurant operates like a quick service meal. You wait, peruse a menu and then order at a cash register. Once your order is placed you are directed to a numbered window where your name will be called and your food provided on a tray. Now that you have your food you may find any available table to eat your meal.
I was pleasantly surprised at the quality of the food at Three Broomsticks. We had fish and chips, roasted chicken and Elizabeth had a chicken quarter with wedge fries.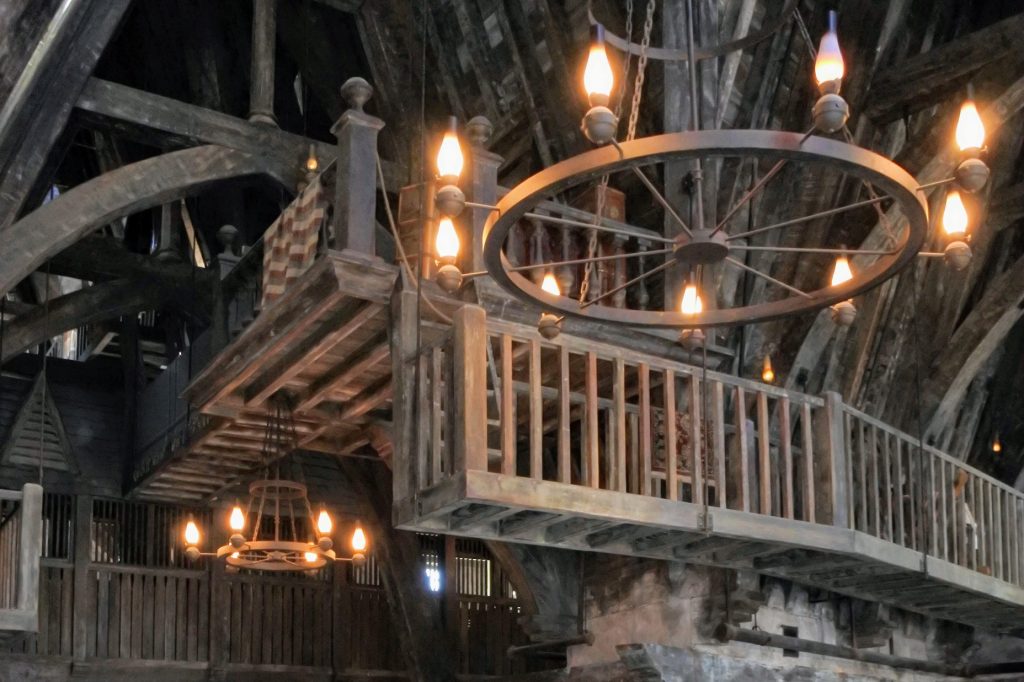 Hog's Head Pub:
Attached to the seating area of Three Broomsticks is Hog's Head Pub. Here you may purchase Butterbeer and Pumpkin Juice for everyone or alcoholic beverages for the grown-ups.
Butterbeer and Magic Neep Carts:
These carts are located on the streets of Hogsmeade to provide drinks and small snacks if you are not looking for a meal at Three Broomsticks.
Hogsmeade Entertainment:
Triwizard Spirit Rally:
Triwizard teams are introduced and perform some acrobatic/dance moves on a stage. There is an opportunity to meet with the performers after the show.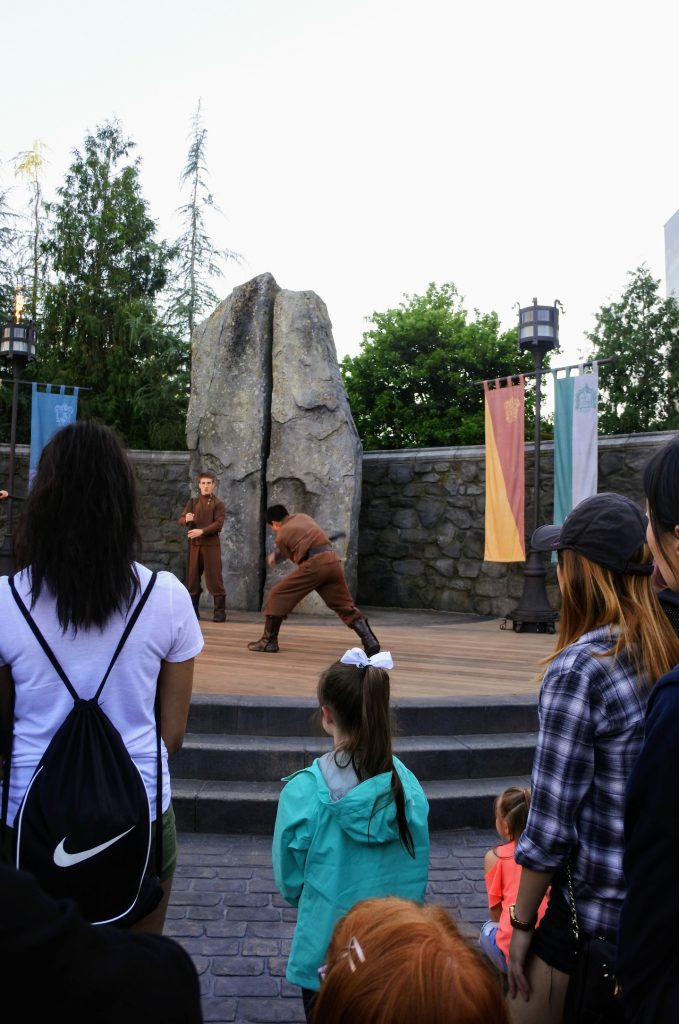 Frog Choir:
Croaking frogs sing some musical selections with the help of Hogwarts students on the same stage (but different times) as the Triwizard Spirit Rally.
The Loos:
So I know this is a little strange to include in entertainment, but even the restrooms carried on the themeing. Moaning Myrtle and rattling pipes could be heard in both the men and women's bathrooms.
Overall Impression:
As a Harry Potter fan I loved everything about this area. We spent 4 hours straight in The Wizarding World of Harry Potter, left to see other attractions at Universal and then returned to The Wizarding World for almost another 2 hours.
Harry Potter and the Forbidden Journey was a fun ride with a mix of screens, animatronics and a hydraulic arm system for the seats that made it a more exciting ride. Even the queue was beautifully themed. Our Three Broomsticks meal was a pleasant surprise. The food quality and portions we had were great. Ollivander's wand fitting and using the interactive wand around Hogsmeade was an awesome way to feel connected to the Harry Potter story. If you are a fan of Harry Potter I would highly recommend you take a day and visit Universal Studios Hollywood – it was just as fun as I had imagined!
I was in no way compensated for this review.