Updated August 22, 2017 – The Main Street Electrical Parade has concluded its run at Disneyland. If you are looking for dining package information for Disneyland's Paint The Night check here.
What is the Main Street Electrical Parade?
The Main Street Electrical Parade is a very popular nighttime parade that resumed its run at Disneyland after being at Disney World for some years. Originally opening at Disneyland in 1972 this parade holds a lot of nostalgia for many Disney fans. People line up hours in advance to secure a spot to watch this iconic parade. In fact, when we were there (over spring break 2017) there was an announcement almost 30 minutes before the parade start that stated all the viewing areas were at capacity. In all of my trips to Disney World and Disneyland I had never heard that before. It made me especially grateful we had decided to do a Blue Bayou Main Street Electrical Parade dining package.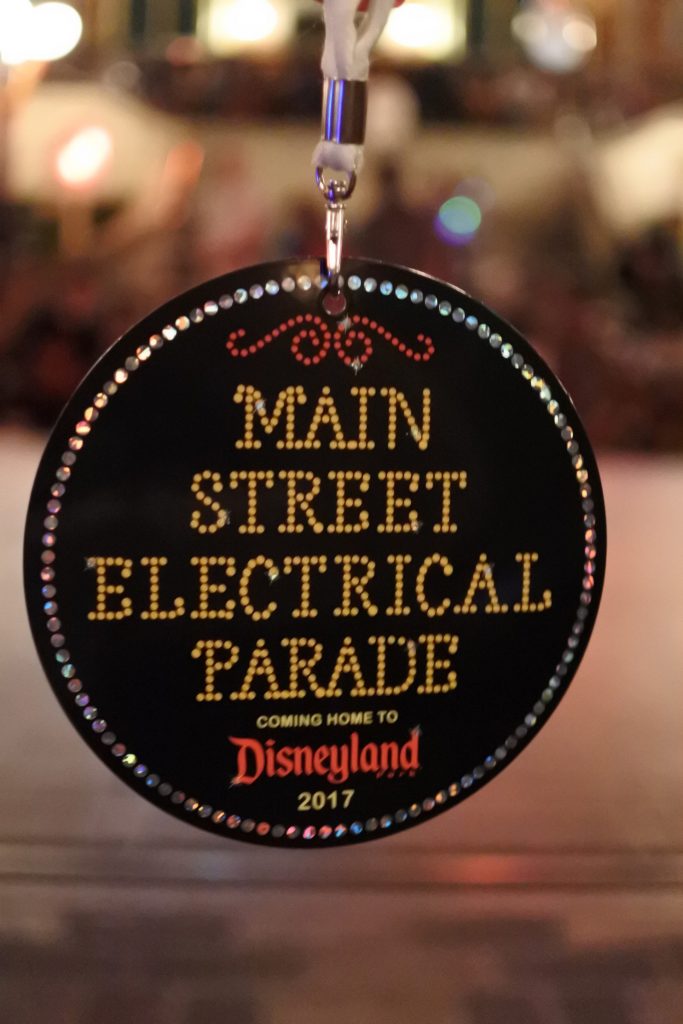 Why Do A Dining Package?
We had limited time at Disneyland and did not want to spend hours to stake out a viewing spot. Instead we opted to book a Main Street Electrical Parade (MSEP) dining package. There are two choices when making a dining package reservation. Blue Bayou is a sit down, 3-course dinner while Aladdin's Oasis is a quick service meal.
The dinner packages vary significantly. The viewing area for the Aladdin's Oasis package is in the back of the park near It's A Small World. The viewing area for Blue Bayou is located at the end of Main Street across from the train station in Town Square. This viewing area difference was the deciding factor for us. We knew that Disneyland would be super busy over spring break. I suspected that after the parade and fireworks were done we would want to leave the park. The idea of having to make my way through the post-firework crowds from the back of the park to leave swayed me toward the Blue Bayou package.
Warning: the MSEP Blue Bayou package is not cheap. In fact, I wrestled with the decision between Blue Bayou and Aladdin's Oasis for weeks. I had asked around Disney discussion boards and people overwhelmingly had good experiences with Aladdin's Oasis, too. We had previously done the Blue Bayou dining package (for Paint the Night in June 2016) so I knew it was a great option. If you would rather save some money (and don't mind the viewing area in the back of the park) the Aladdin's Oasis package may be the right choice for you.
When Should I Book The Dining Package?
Disneyland allows advanced dining reservations 60 days prior to arrival. However, since the dining packages are tied to parade performance times (and whether there will be one or two parades per night based on park hours) you may not be able to book until after the 60-day mark. Check back often if the packages haven't been made available right away.
Blue Bayou Restaurant Experience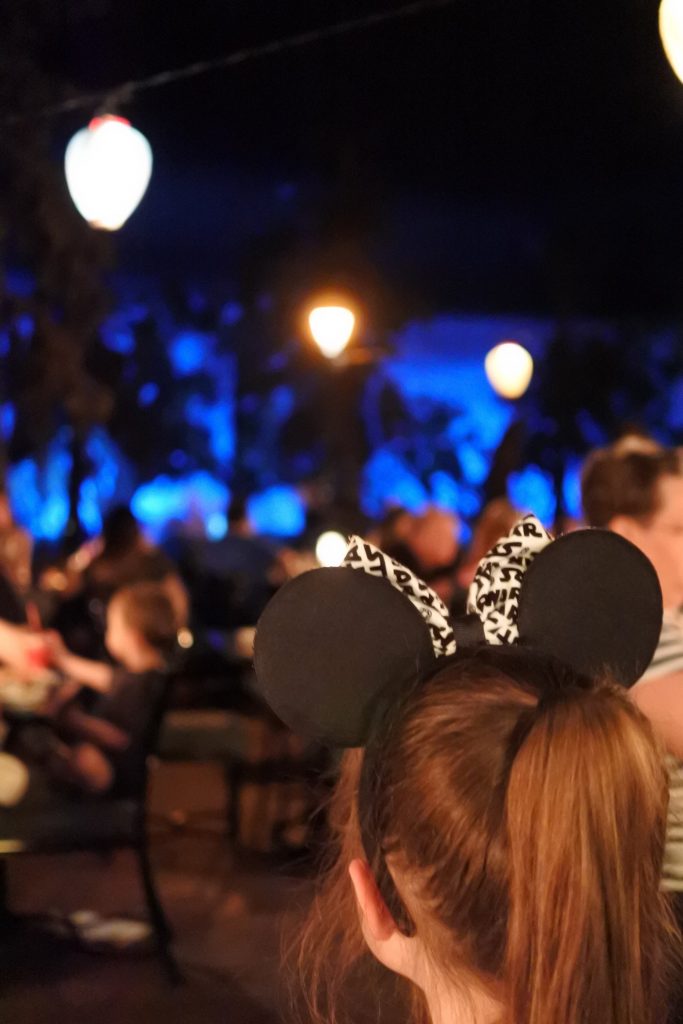 I made a 5:50 pm advanced dining reservation at Blue Bayou which gave us preferred viewing for the 8:30 pm parade. We checked into the restaurant at 5:45 pm at which point they confirmed Elizabeth's food allergy (find out more about dealing with food allergies at Disney).
The cool/weird thing about Blue Bayou is that is located within the Pirates of the Caribbean ride. Here is what the restaurant looks like from a boat in the Pirates of the Caribbean attraction.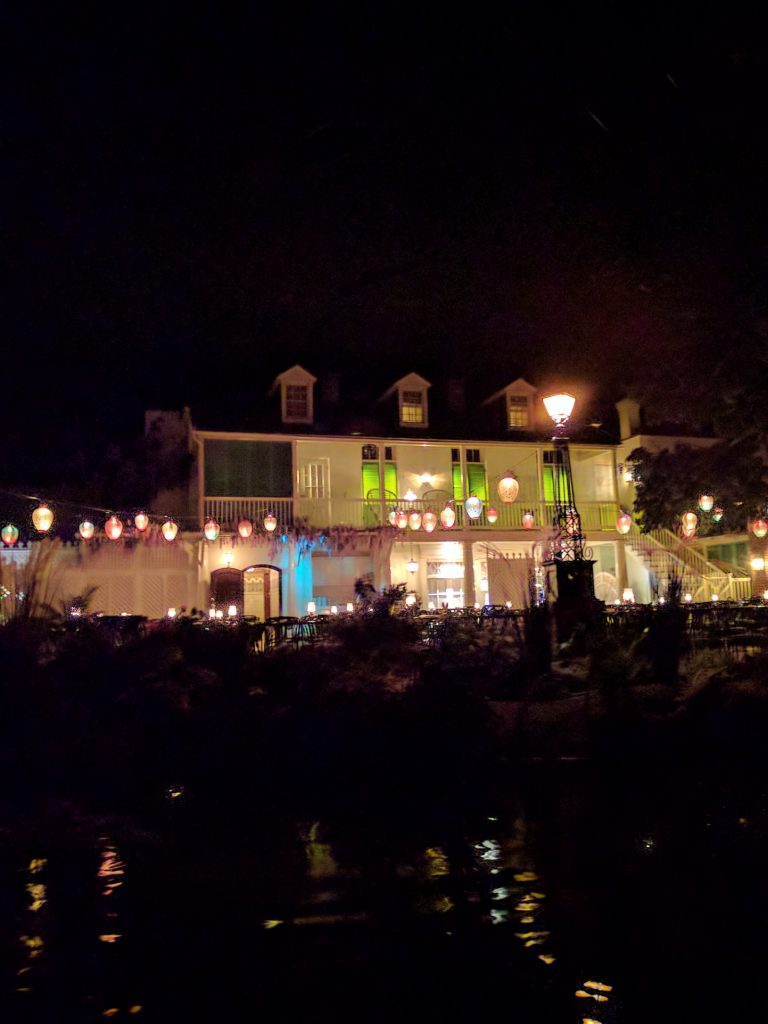 Mr. Smart Mouse didn't believe us that you forget all about the ride passing by while you are at dinner. After our meal he admitted the atmosphere of Blue Bayou was so much better than he had expected.
Once we were seated our waiter came to the table with menus and again confirmed the food allergy. It didn't take long for us to make our dinner selections. The menu was full of delicious choices.
Our meal
First Course
Elizabeth had vegetable crudités (which was the only choice on children's menu)

Mr. Smart Mouse had Louisiana spiced shrimp (this was the winner of the appetizers)

I had the house salad (my salad was actually quite good, but after a bite of the shrimp I deeply regretted my choice)
Main Course
Elizabeth had roasted beef strip loin with seasonal vegetable and fruit (which was safe for her food allergy even without modification). She said her food was amazing and ate almost every bite of a large portion.
Mr. Smart Mouse had jambalaya. He enjoyed his meal as well, but he couldn't quite finish his large portion either.
I had rack of lamb. My lamb was perfectly cooked and paired with mashed potatoes. I had no trouble eating my entire portion (it was smaller than the others). It was so good that if it had been socially acceptable I would have licked my plate.
Dessert
Elizabeth had a specially obtained fruit plate for her dessert. The chef had come to the table to consult about her meal and food allergy. Unfortunately, every single dessert option at Blue Bayou had corn as an ingredient in some form or another. The chef asked Elizabeth's favorite fruits and then managed to find many of them for her dessert. Elizabeth was over the moon with her fruit and was especially in love with the strawberry he crafted into a rose.
Mr. Smart Mouse had crème brûlée.

I felt compelled to have the Nighttime Magic Mousse since it was a featured dessert. This was a milk and dark chocolate mousse with cherries in the center. It came plated as the snail from the Main Street Electrical Parade which was so cute. It was very rich so I ended up eating about half of it. If we didn't have Big Thunder Mountain Railroad FastPasses that were set to expire I may have eaten a

little

bit more.
After we finished our meal and paid the bill our server brought us nifty light-up MSEP lanyards and the tickets for our preferred viewing section. We were told to arrive between 8:00 and 8:15 pm for the 8:30 pm parade, but we arrived earlier – tell you more in a bit.
The Parade and Fireworks Viewing Experience
After using our Big Thunder Mountain Railroad FastPasses it was about 7:15 pm. When we had previously done the Blue Bayou Paint the Night dining package (same viewing area as MSEP) you were allowed to enter right at 8 pm. We decided to make our way to the viewing area to see if that was still the case. When we arrived a little after 7:30 pm we found several people already in the reserved area. I was so glad we went earlier than 8:15 pm! I highly recommend that you check the area by 7:30 pm. It seems that when you are allowed to claim a spot in the reserved area depends on the cast member working each night so better safe than sorry.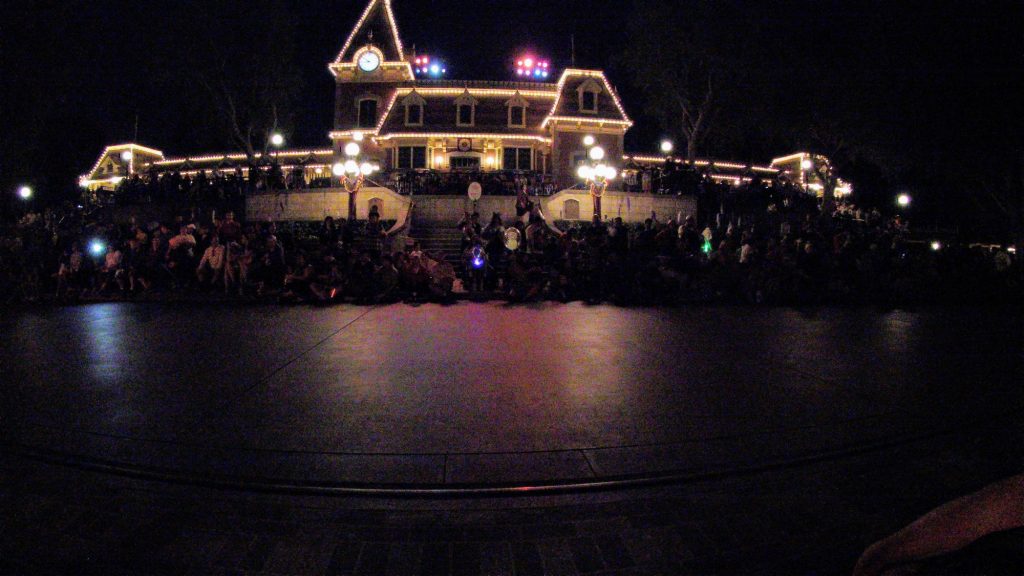 We were able to grab the last couple of spots right on the curb. I secured our place with my Matador blanket (affiliate link: buy it on Amazon). We had some time to kill so we took turns running to the restroom and making friends with the people around our spot. By the time 8:15 pm arrived the reserved viewing area was pretty full.
The announcement for the start of the parade came right about 8:30 pm. Since the parade starts in the back of the park it did not arrive to our area until 8:50 pm. Our view of the parade was fantastic. I couldn't have asked for a better spot to see the floats and performers!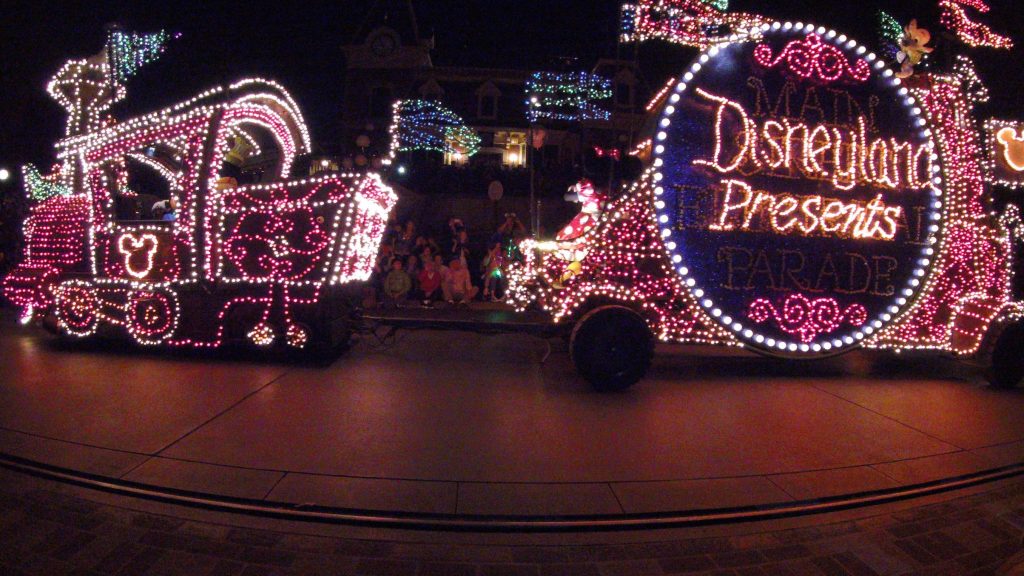 The parade ended at 9:10 pm and at that point everyone in our viewing area quickly gathered their items, turned around and walked a little bit back toward Sleeping Beauty's Castle to view the fireworks.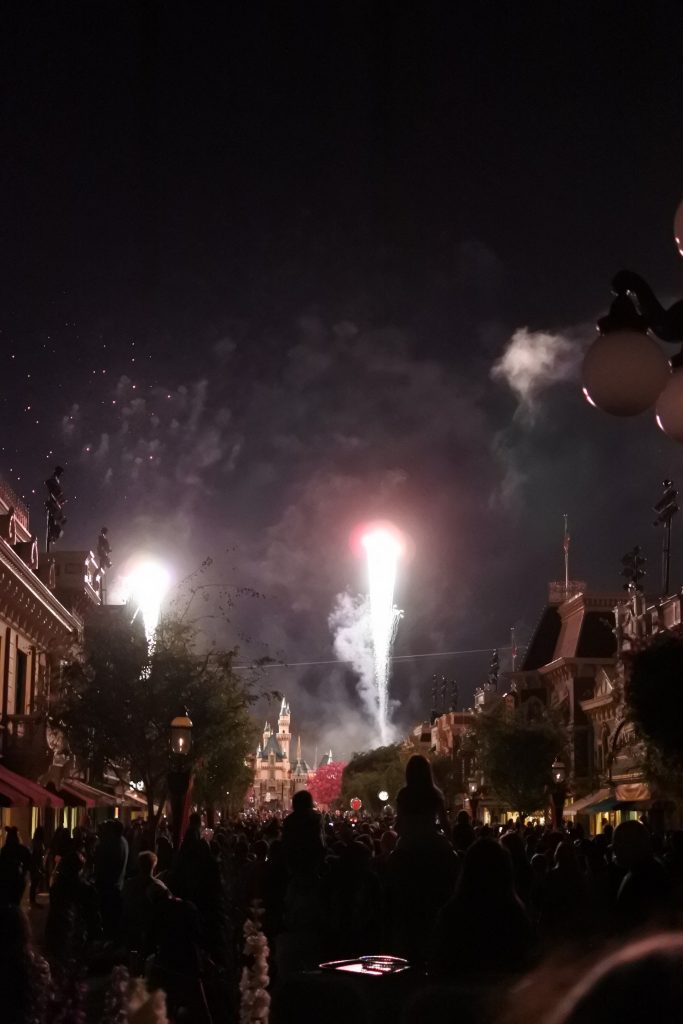 Right around 9:30 pm (the scheduled time) the fireworks started and lasted about 15 minutes. When they finished everyone cheered and most people turned around and exited the park with us. But as I had hoped, navigating the crowd from the front of the park to the exit was easily manageable.
And because Disneyland is so much smaller (and within walking distance to many off-property hotels) we were back in our room at the Courtyard Marriott Theme Park Entrance by 10 pm.
Final Thoughts
I absolutely recommend you obtain a dining package if you want to watch the Main Street Electrical Parade during it's limited run at Disneyland . Both Aladdin's Oasis and Blue Bayou provide a great experience, but if your budget allows I highly suggest you do the Blue Bayou Main Street Electrical Parade dining package. We really enjoyed both the meal and the reserved viewing area.
Ready to book you dining package? Use this link to explore both Blue Bayou and Aladdin's Oasis On-the-Go options.
I was in no way compensated for this review.