Disneyland Paradise Pier is a no frills hotel with a great location and perks of staying on-site at Disneyland. Currently under construction, Paradise Pier transforms into Pixar Pier Hotel with expected completion in spring or summer 2024.
Location
Disneyland's Paradise Pier Hotel is the furthest on-site Disneyland hotel from the parks, but is still within easy walking distance to the parks, other resorts, and Downtown Disney.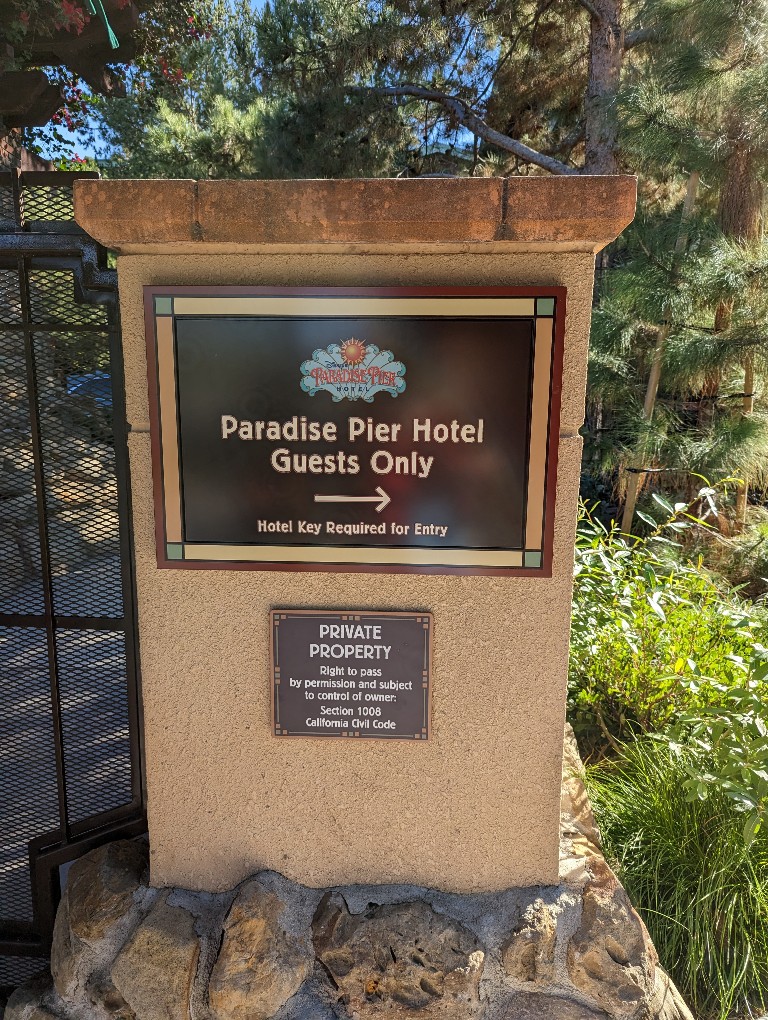 A huge improvement at Paradise/Pixar Pier Hotel is the addition of a dedicated walkway into Disney California Adventure.
Cross Disneyland Drive towards Grand Californian's main entrance and use your room key to access a gated walkway. Quickly go through security, scan in, and step into California Adventure across from Golden Zephyr.
Paradise Pier Hotel Overview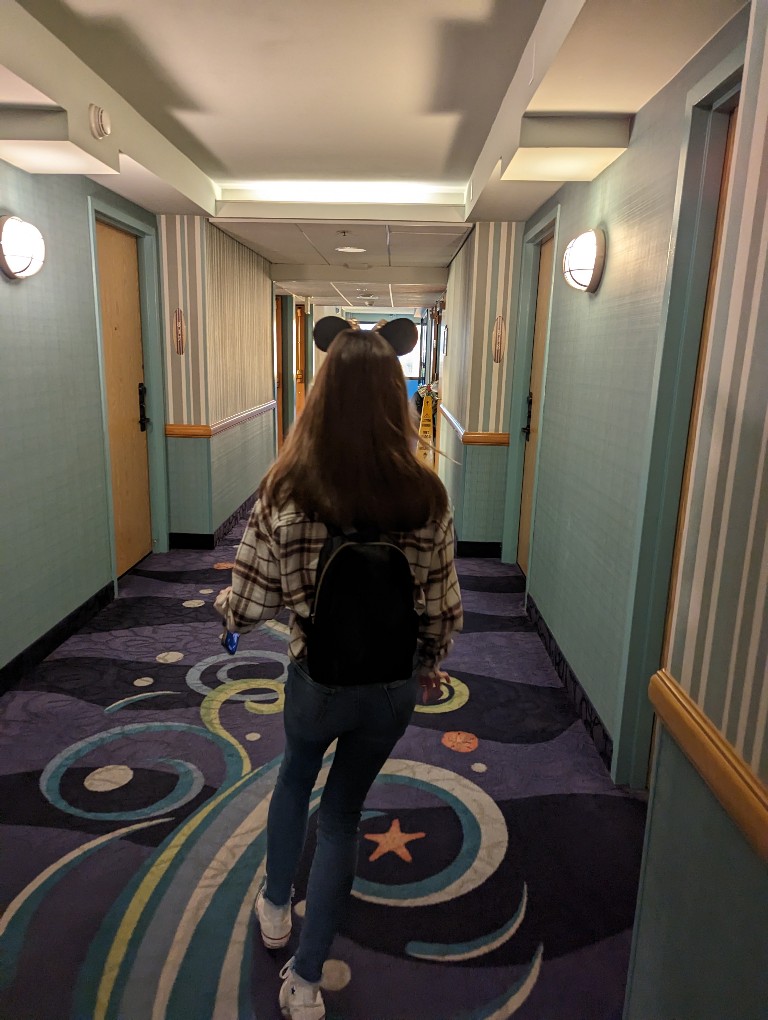 Disneyland Paradise Pier Hotel's relaxed, beachy decor is consistently found throughout the hotel and rooms. Originally built and opened by another hotel group, Disney re-branded the resort as Paradise Pier in 2000.

Artist renderings of the transition to Pixar Pier Hotel shows the addition of adorable details from popular Pixar films. I expect the theming to vastly improve when the conversion to Pixar Pier Hotel is complete.
During Pixar Pier Hotel construction, check-in is relocated to an unused ballroom that doubles as a lobby and makeshift gift shop. Although not particularly fancy, cast members were incredible and the atmosphere wasn't as terrible as recent reviews would lead you to believe.
Although a bit random, I want to tell you about the elevators at Paradise Pier Hotel. Instead of pressing an up or down elevator call button you actually choose the desired floor of the hotel before boarding.
The call screen provides an elevator letter for the correct elevator bay. Once you enter the elevator it takes you to the correct set of floors based on the occupants – no button pushing necessary.
Paradise Pier Hotel Pool Area
Paradise Pier's pool is currently closed and guests use Disneyland Hotel's amazing pool during construction. Either walk, or request a golf cart shuttle, to use the Disneyland Hotel pool.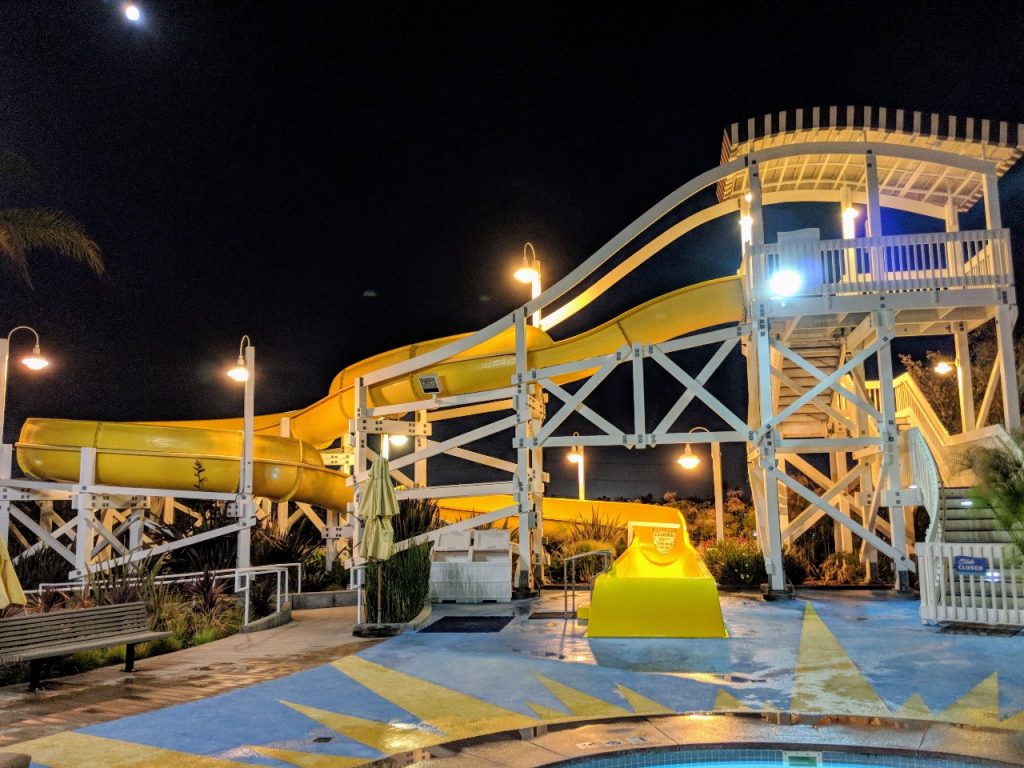 Paradise Pier Dining
While construction transforms the resort to Pixar Pier Hotel there is no on-site dining available. Fortunately Downtown Disney, Disneyland, and California Adventure are just steps away with several tasty options.
Don't want to leave the hotel? Order delivery from one of these Downtown Disney restaurants: Naples Ristorante e Bar, Tortilla Jo's, or Uva Bar & Cafe.
Paradise Pier Hotel Room Review
While recently visiting Disneyland for Christmas I splurged on a tour, several table service meals, Genie+ and Individual Lightning Lanes. To offset some of these extra expenses, I opted for a stay at Paradise Pier Hotel even though I knew it was under construction.
This resort switch saved a few hundred dollars versus a Disneyland Hotel stay which made me feel better about splurging on other things.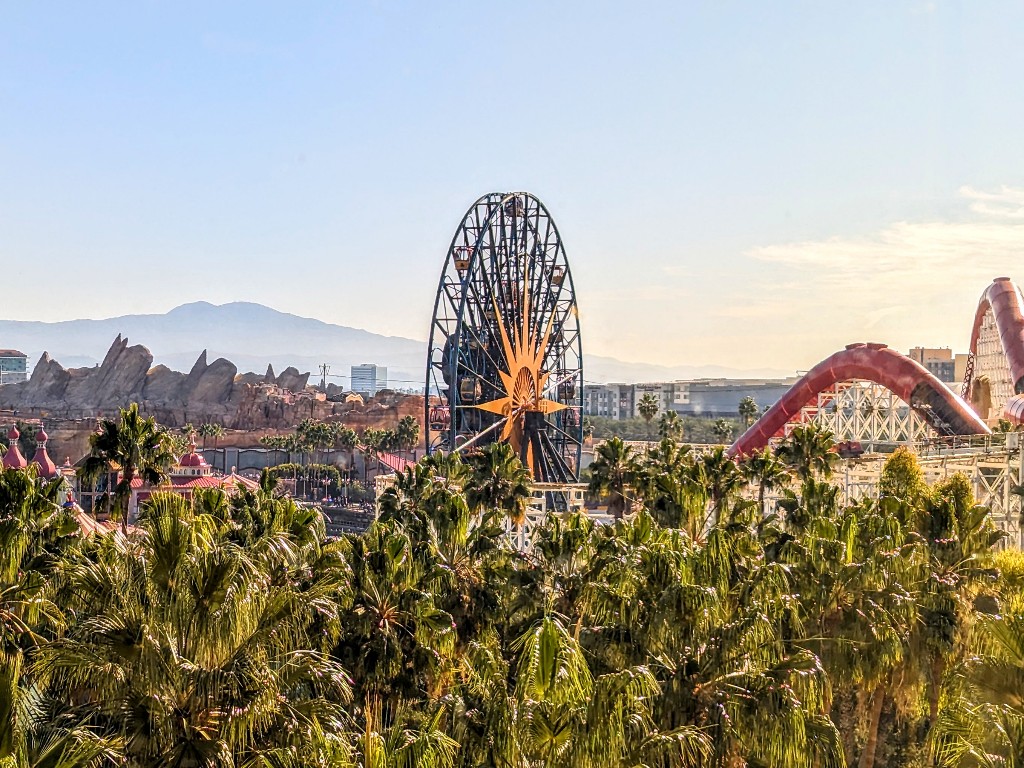 Paradise Pier Bedroom Area
Our Paradise Pier Hotel premium view room had two queen beds, a daybed, and a wonderful view of Pixar Pier at California Adventure. We've stayed in both premium and standard view rooms and despite the large amount of furniture, the rooms don't feel crowded.
The 2 Queen and 1 day bed rooms are the perfect configuration for trips with my Mom and daughter. Each of us has our own bed and there's a decent amount of storage space for the three of us.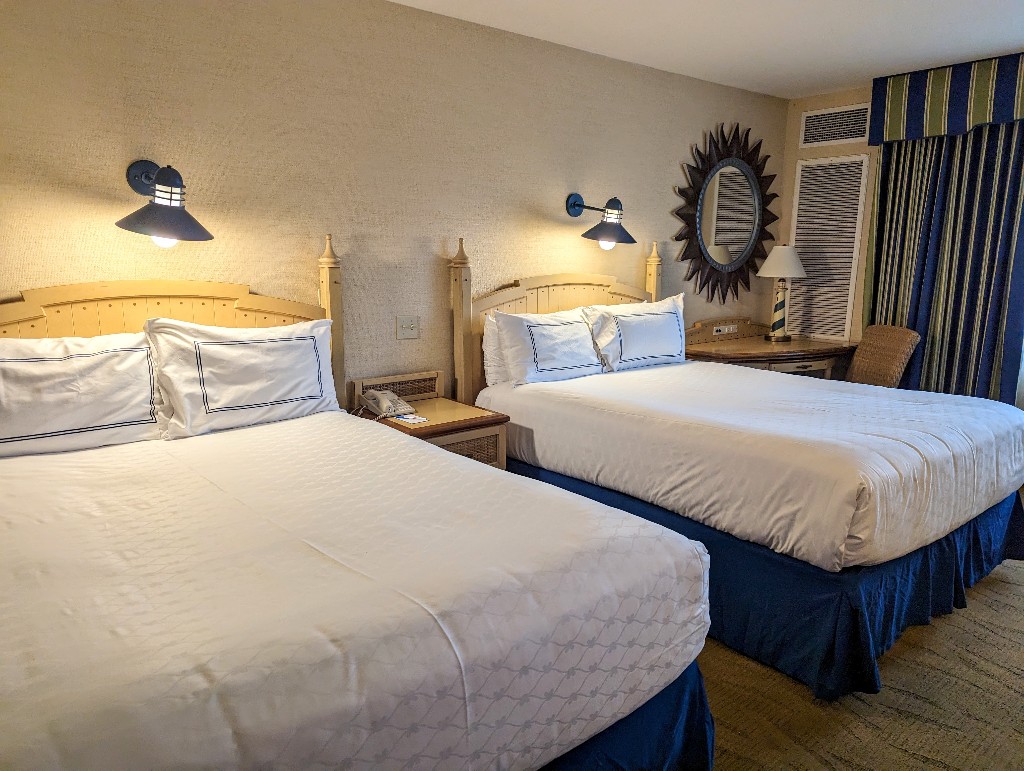 Please note: Standard rooms have one of the following configurations: 2 Queen beds and 1 day bed or 1 King bed and 1 Queen-size sleeper sofa. Premium view rooms have 1 King bed and 1 Queen-size sleeper or 2 Queen Beds plus 1 day bed.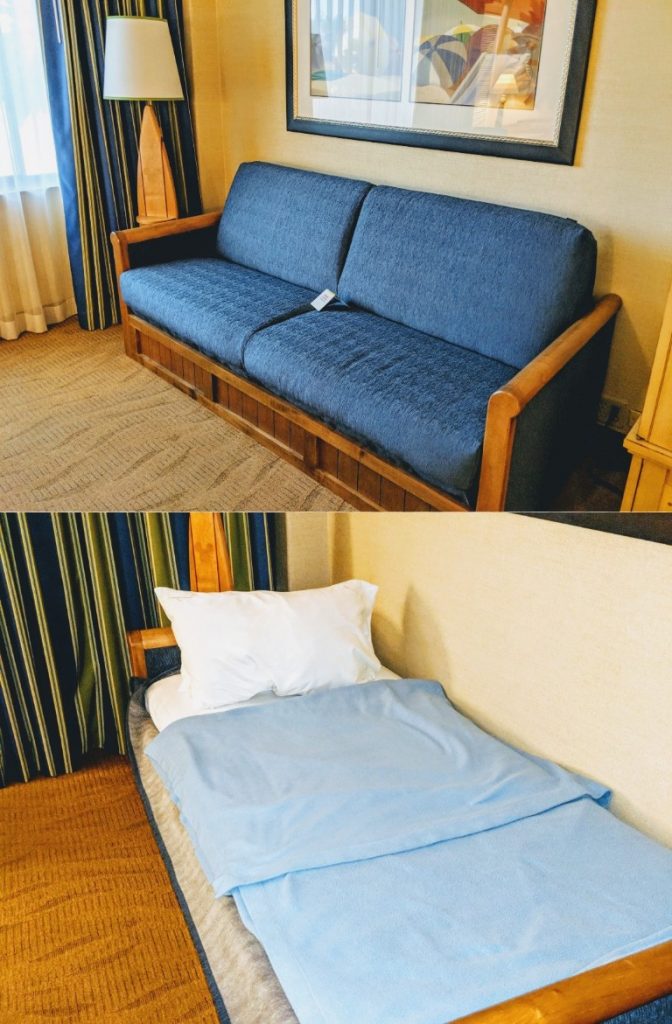 Between the bathroom and the bedroom area is a small counter with a coffee maker and supplies. We also used this counter to store the handful of food items we kept in the room for a quick breakfast.
The armoire holds a TV, has drawers for clothes, and a refrigerator hidden inside a cabinet. The mini-fridge isn't large, but we fit several bottles of water, a half-gallon of milk, and some yogurt inside.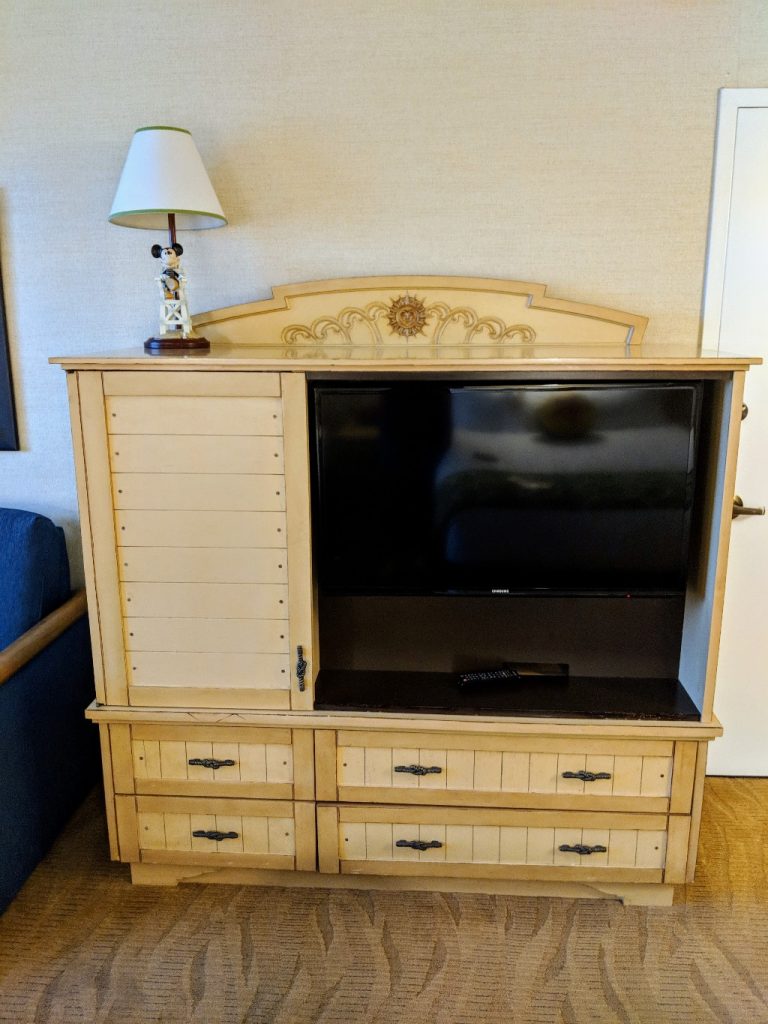 The desk at Paradise Pier Hotel has one of my favorite features of Disney resorts. Underneath the traditional large desk is a smaller rolling desk.
In the morning we roll this little desk out and over to the daybed. Two of us sit on the daybed while another person sits on the desk chair to comfortably eat our breakfast in the room.
Paradise Pier Bathroom
The bathroom remains basic, but well maintained. A long counter allowed all three of us plenty of space for getting ready plus hair and makeup storage.
Unlike the other on-site Disneyland resorts, Paradise Pier bathrooms are not split for privacy. This means the shower/tub, toilet, and sink are all in a single room. No split bathroom means getting ready with a big group is difficult.
The resort has also transitioned to shared toiletries. Find bulk body wash, shampoo, and conditioner secured to the shower wall.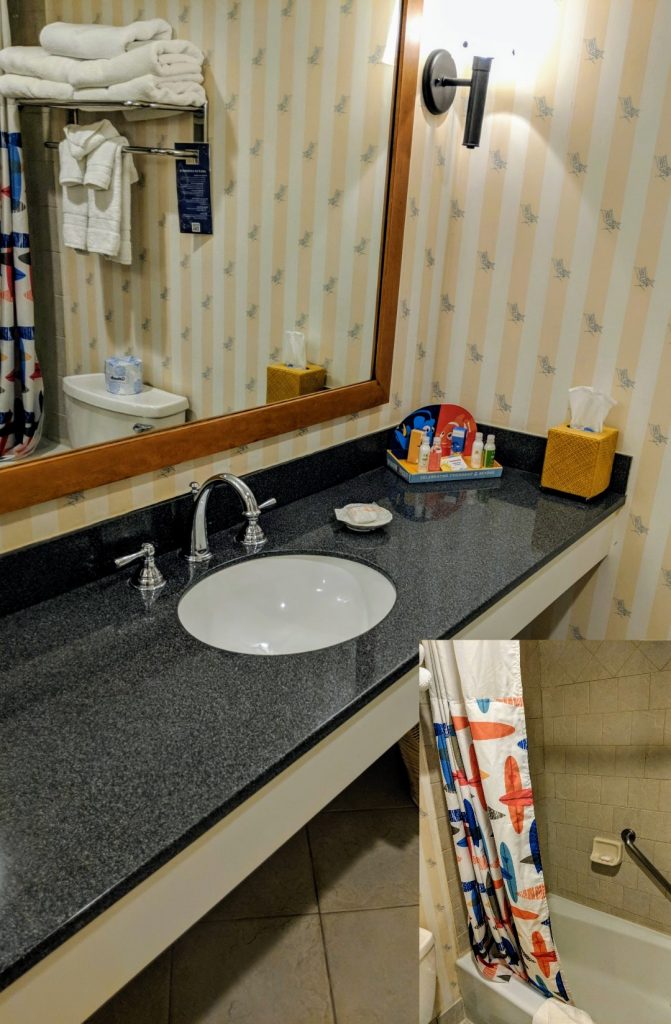 WiFi
Paradise Pier Hotel provides free WiFi for hotel guests.
Paradise Pier Parking
Self-parking for hotel guests is $35/night per vehicle. Valet parking is no longer available.
Paradise Pier Hotel Review Final Thoughts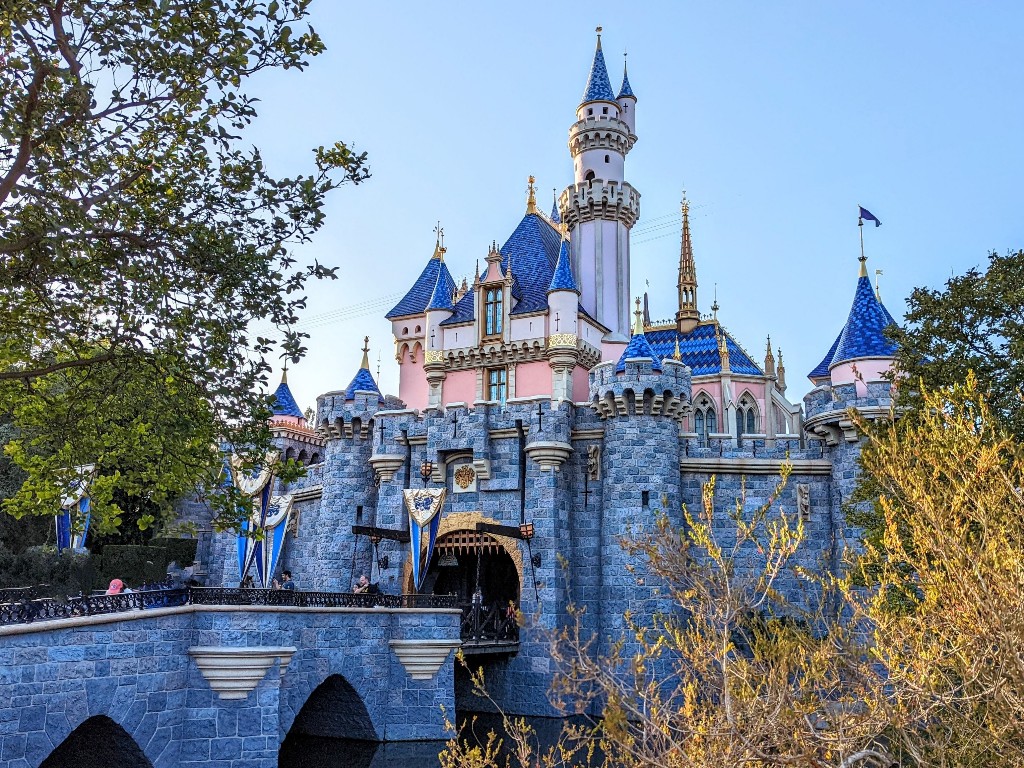 Paradise Pier provides the perks of staying on-site at Disneyland, without the price tag of Disneyland or Grand Californian. The rooms are simple, but comfortable for our stays. A dedicated walkway and entrance into California Adventure is a huge improvement to this basic resort.
The current theme at Paradise Pier is minimal, but I am excited to see the reimagined Pixar Pier Hotel in 2024. The lobby is currently being remodeled, while the first tower of rooms is set for construction sometime in January 2023.
We love the ease of Disneyland on-site resort security lines, access to the monorail, and close proximity to Downtown Disney for shopping and food options even if Pixar Pier styling is unremarkable. However, I'm hopeful that the transition to Pixar Pier Hotel will make this simple, but convenient resort resemble Disney World value resort designs like Art of Animation or Pop Century.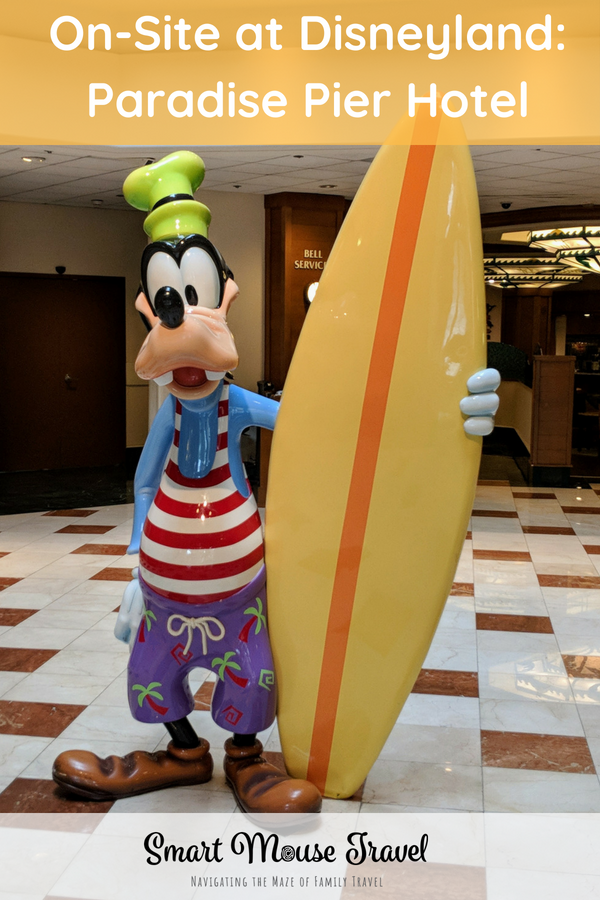 Pin it for later: