Universal Orlando has several incredible on-site hotels to choose from which makes it challenging to find the perfect resort for your visit. Having Express Pass included with our room is part of what encouraged us to stay at Universal Orlando Royal Pacific, but there is so much more to this beautiful oasis resort.
Loews Royal Pacific Location
Universal Orlando Royal Pacific Resort is located an easy 10 to 15 minute walk from Universal City Walk, Islands of Adventure, and Universal Studios Florida.
Loews Royal Pacific Resort Overview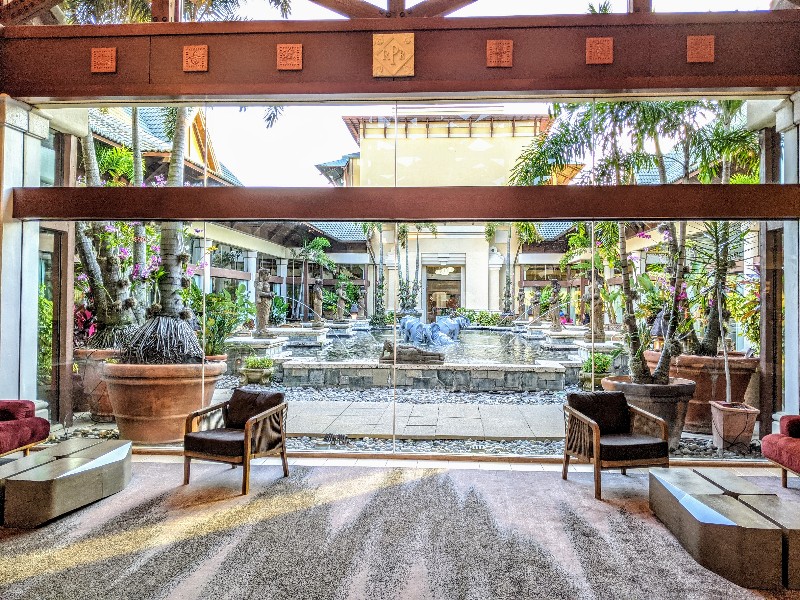 Loews Royal Pacific Resort at Universal Orlando is a welcoming island themed hotel. At check in employees drape faux flower leis over your head adding to the ambiance.
The large lobby has several comfortable seating areas that overlook a beautiful outdoor area with lush potted plants and an elephant themed water feature. The lobby is an inviting and a popular place for guests to hang around during the day.
Royal Pacific Pool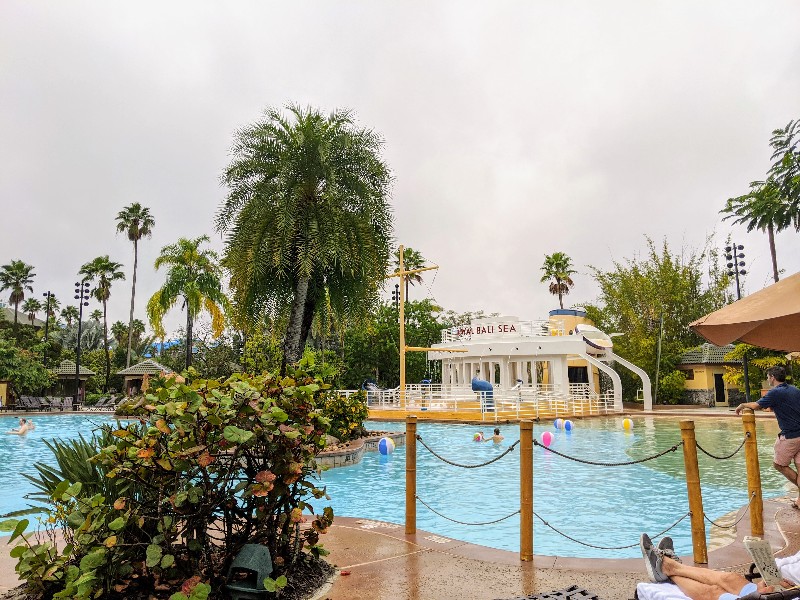 There is one large pool area at Royal Pacific Resort. This lagoon style pool has a white sand beach, two hot tubs, plus Royal Bali Sea which is a large kids' play area.
Loews Royal Pacific Dining
There are a couple of on-site dining options at Loews Royal Pacific Resort, but none of the restaurants worked well with my daughter's food allergy. However, a short walk or boat ride to City Walk or a quick walk to Sapphire Falls Resort provides tons of dining options.
City Walk has several sit down restaurants we like, for example Cowfish and Bigfire, or quick service places like Panda Express, Cinnabon, and Cold Stone. We also enjoyed the surprisingly good Amatista Cookhouse at Sapphire Falls.
Loews Royal Pacific Standard Room
A standard room at Loews Royal Pacific Resort has two configurations: two queen beds or one king bed. We opted for the two queen room for our stay.
Opening the door into our room revealed a small entrance hall with a closet on one side and the bathroom on the other. The closet is a good size for a short stay and has an in room safe.
Loews Royal Pacific Resort Bathroom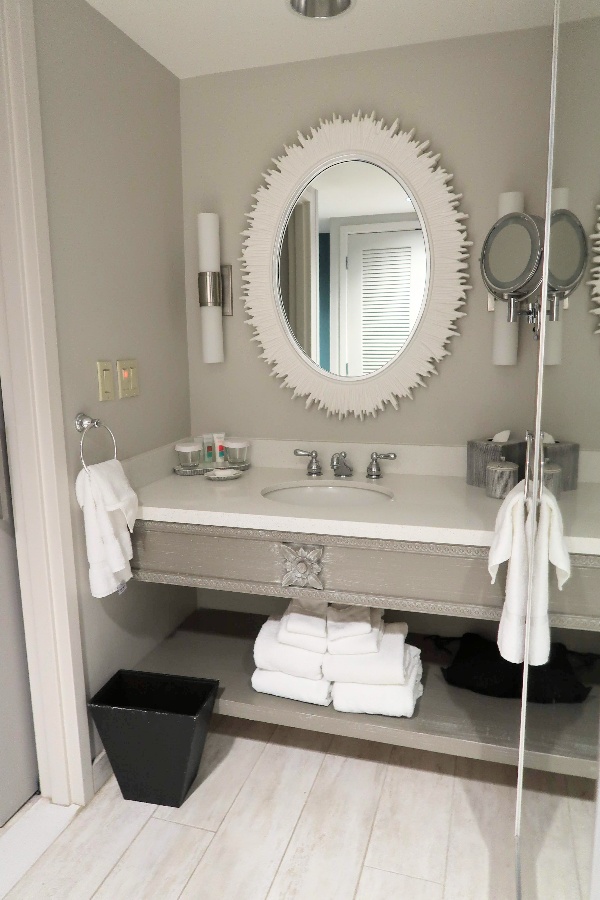 The bathroom vanity faces the closet across the entrance hall and is open to the room. Unfortunately, having the bathroom sink open to the rest of the room made it difficult to get ready without waking the rest of my family.
There is a storage shelf underneath the sink. Some of the under sink storage space is taken up by towels plus the hair dryer. However, we were able to keep our travel toiletry bags comfortably stored between the counter and under the sink area.
The toilet and shower are in a separate room with a sliding barn door with an opaque glass center. It is nice to have the sink separate so people can get ready simultaneously. The shower and toilet room was fine overall, but felt a little cramped with the door closed.
Loews Royal Pacific Resort Bedroom Area
Just past the closet and entrance to the bathroom is the bedroom area. A nice surprise is the spacious dresser which has six larger than expected drawers for clothes storage.
In the center of the dresser are two doors that open and reveal a small mini fridge, K-cup style coffee maker, and some basic coffee supplies plus glasses. Although the mini fridge is small it easily held several bottles of water, a half gallon of milk, a couple of yogurts, and a package of Jell-O snack packs during our stay.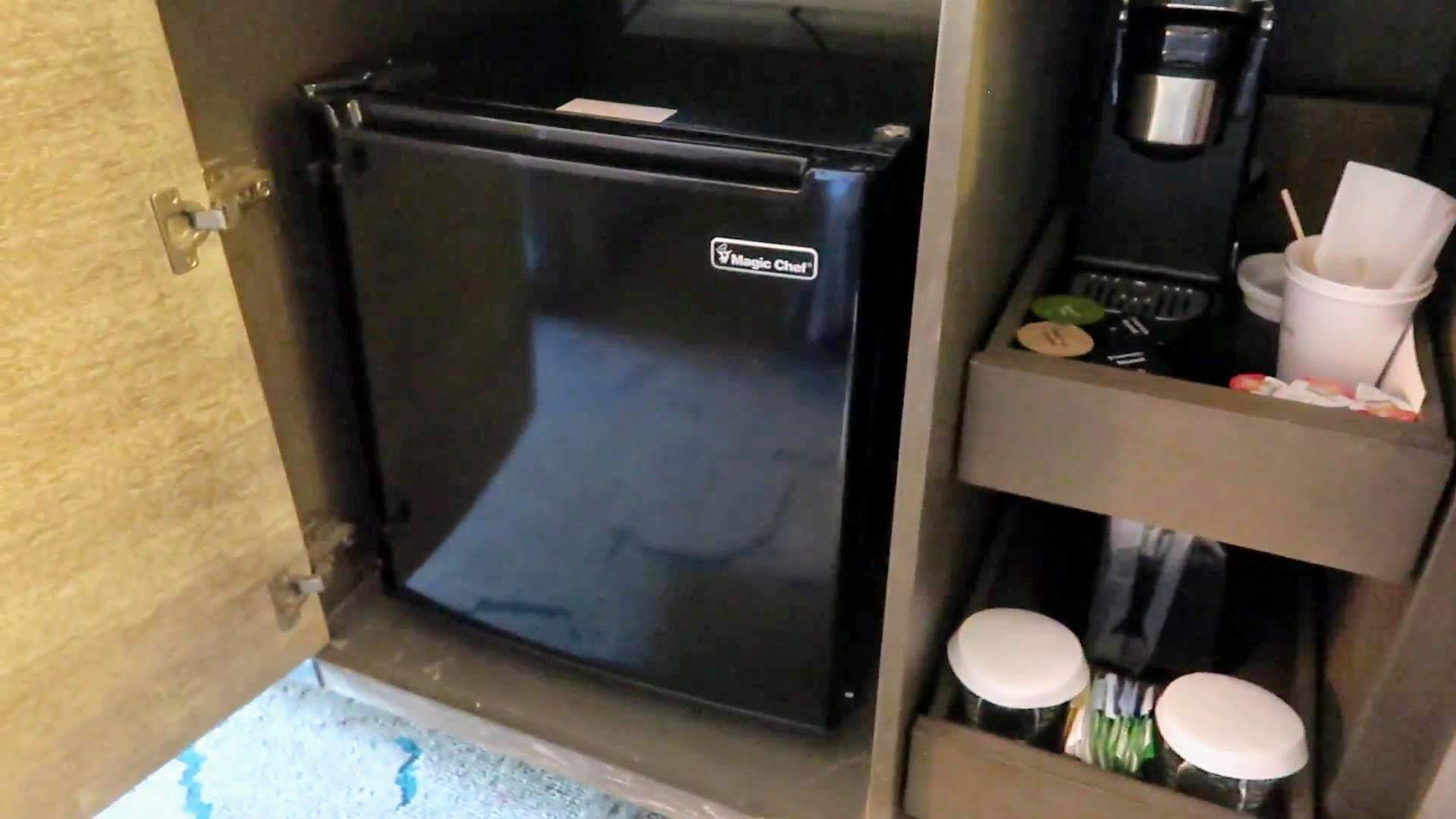 The two queen beds are located on the opposite wall with a side table and large light fixture between them. The basic rooms at Universal Orlando Royal Pacific Resort measure at 335 square feet and this means the bedroom area can feel a little cramped.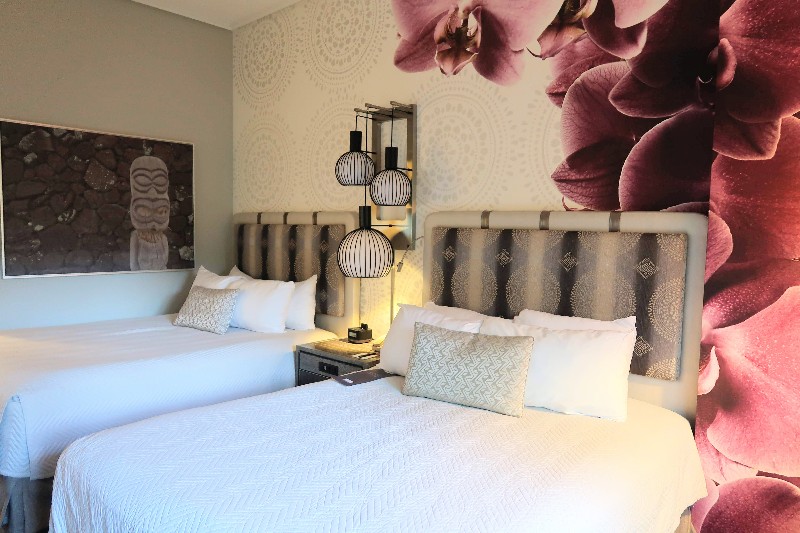 One of the beds had room to walk on either side, but the other bed was actually pushed against the wall. This worked fine for our daughter, but families with two kids may have had an issue with this set up.
The desk has several plugs which means everyone can recharge their devices at the end of the day. We found the lounge chair with a side table is also a great place to relax while in the room. I also used this small side table as a mobile nightstand since there wasn't one on my side of the bed.
How Many People Can Fit In A Royal Pacific Standard Room?
Both the king and two queen Royal Pacific rooms can accommodate a rollaway bed. This brings the total allowed guests to three people in a king or five people in a two queen room.
Although it is technically possible to accommodate five people in a Loews Royal Pacific two queen room, I would not recommend it. I think the room would feel extremely cramped and there would not be enough storage space for a large family.
Our Universal Resort Royal Pacific room had the following great features:
Mini fridge

Blackout curtains

Split bathroom

Lots of device charging outlets

K-Cup coffee maker

In room safe

Easy access to City Walk and Universal Theme Parks
Universal Resort Royal Pacific Express Pass Benefit
One of the main reasons we chose Royal Pacific is because Universal Express Pass is included as part of your hotel stay. Express Pass allows park guests at Universal Studios Florida and Islands of Adventure to skip the normal standby queue for a shorter wait, but can be an expensive add on.
There are three Universal Orlando Resorts that offer Express Pass as part of your hotel stay: Loews Royal Pacific, Hard Rock Hotel, and Loews Portofino Bay. Of the three resorts Royal Pacific usually has the least expensive room options which makes a stay here extra appealing.
Take A Quick Royal Pacific Video Room Tour
In Room WiFi
In room WiFi is included during your stay at Loews Royal Pacific. The quality of Royal Pacific WiFi was decent, but it seemed like we had to sign in frequently to use it.
Transportation To Universal Parks From Loews Royal Pacific
Royal Pacific To Universal Studios Florida, City Walk, and Islands of Adventure
One of our favorite transportation options at Royal Pacific are the shuttle boats that take you from the resort to City Walk. From City Walk it is a quick walk to either Universal Studios Florida or Islands of Adventure.
A pretty, winding walking path also connects Royal Pacific to City Walk and the two theme parks. The walking path is a great choice if lots of people are waiting for the boats. It is about a fifteen minute walk from the start of the path to the gates of Universal Studios Florida and even shorter walk to Islands of Adventure or City Walk.
If there is inclement weather the boat shuttles do not run. Instead you take a bus from City Walk back to Royal Pacific.
Royal Pacific To Universal's Volcano Bay
There is a dedicated bus route from Loews Royal Pacific Resort to the popular Volcano Bay water theme park.
Overall Impression Of Universal Orlando Royal Pacific Resort
The staff at Loews Royal Pacific Resort did a great job of welcoming us and resolving any little issues during our stay. We really liked the location of Royal Pacific and tropical oasis theme of the resort.
The Royal Pacific standard room is beautifully styled, but feels cramped compared to a Loews Portofino Bay Resort room. However, Loews Royal Pacific rooms are the least expensive option that have Universal Express Pass built in.
I think the Royal Pacific one king standard room would be a good choice for a couple. The Universal Orlando Royal Pacific two queen room is also fine for families who want to skip waiting in lines with Express Pass and won't spend a lot of time in the room.
Find out more about our favorite part of Universal Orlando with this complete guide to the Wizarding World of Harry Potter, tips for using interactive wands, and several more tips for a great visit.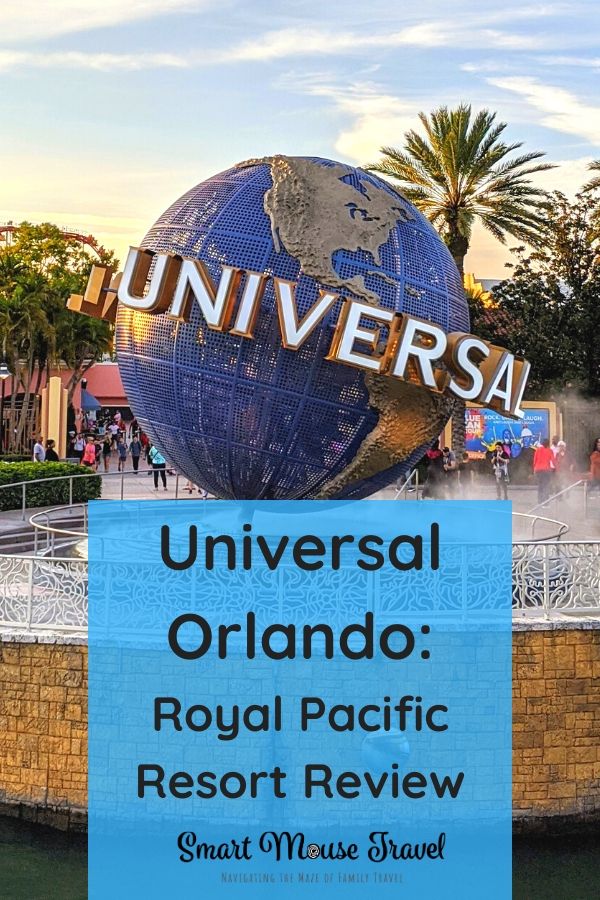 Pin it for later: