Visiting the Wizarding World of Harry Potter at Universal Orlando is a Harry Potter fan's dream. Both Diagon Alley and Hogsmeade are full of details from the movies and books, but one of the best ways to feel like a wizard is by casting spells. After several experiences using our Universal Orlando Wizarding World of Harry Potter interactive wand I'm sharing our best tips for using the wands, the best place to buy them, and where to find secret spells at the park.
What Is A Wizarding World of Harry Potter Interactive Wand?
There are two types of wands at the Wizarding World of Harry Potter: interactive or non-interactive. Non-interactive wands are modeled after character's wands, but will not perform magic at Universal Orlando. To do magic you need an interactive wand, which has a small reflector on the tip.
Where Can I Buy An Interactive Wand?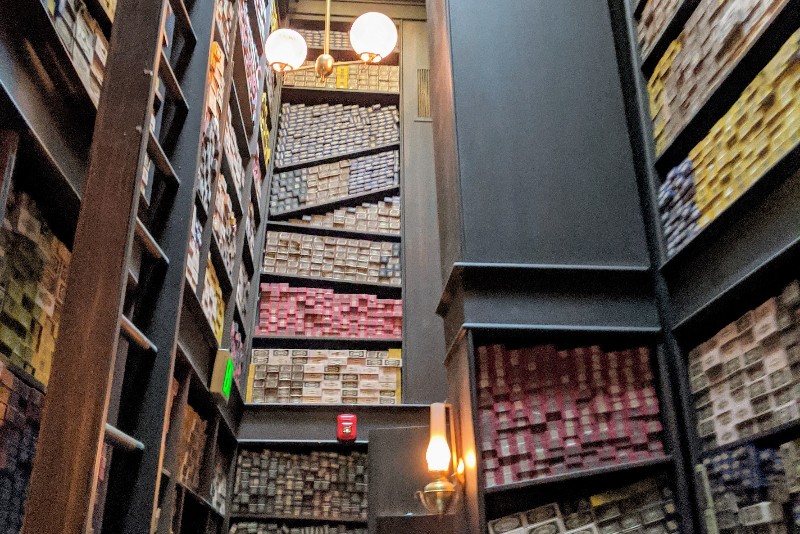 You can buy interactive wands all around Universal Orlando, however I highly recommend you go to Ollivanders to purchase your interactive wand. There is an Ollivanders shop in Diagon Alley and Hogsmeade village.
Pro tip: The Ollivanders in Diagon Alley seems to have a shorter wait than the one in Hogsmeade.
Ollivanders is so much more than just a shop at Universal. There is a full show at Ollivanders that brings the magic to life. Groups are ushered into a small room stacked with thousands of precariously perched wand boxes on each wall.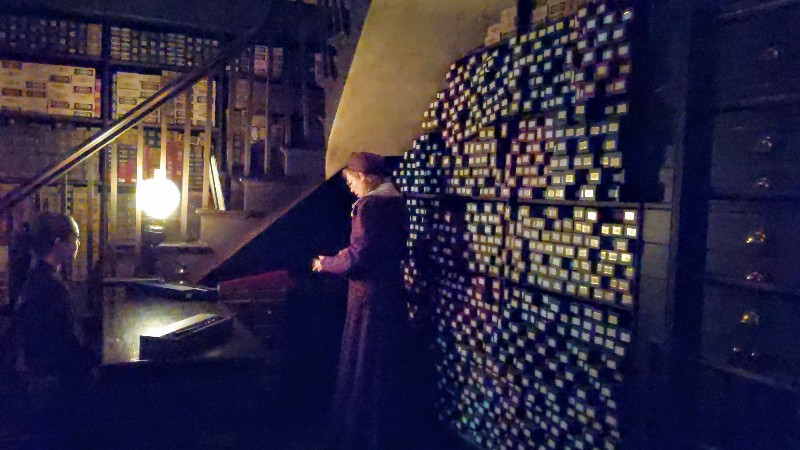 Once everyone is inside the room, the wand keeper chooses one witch or wizard for a wand fitting. The selected person then tries out spells with several wands until just the right wand chooses the wizard.
We've seen this show many times, but still love the dark ambiance and interactive show. If you are lucky enough to be chosen for the wand fitting, you are presented the wand but are under no obligation to buy it. If you don't want the wand just return it to any clerk at the store.
After the show is complete, you are ushered into Ollivanders where you can peruse the various wands available for purchase. There are interactive wands that look like those of popular characters like Voldemort, Harry Potter, Hermione Granger, and more. Or you can choose an interactive wand not featured in the movies based on the type of "wood" used to make it. Some examples are birch, ivy, and willow, plus there are many more options.
How Much Is A Wizarding World Of Harry Potter Interactive Wand?
At time of publishing an interactive wand at the Wizarding World of Harry Potter costs $59. Each interactive wand comes with a beautiful box to safely store your wand and a map of all the interactive magic spots within the Wizarding World of Harry Potter. Check current prices and available options here.
Where Can I Use The Interactive Wand?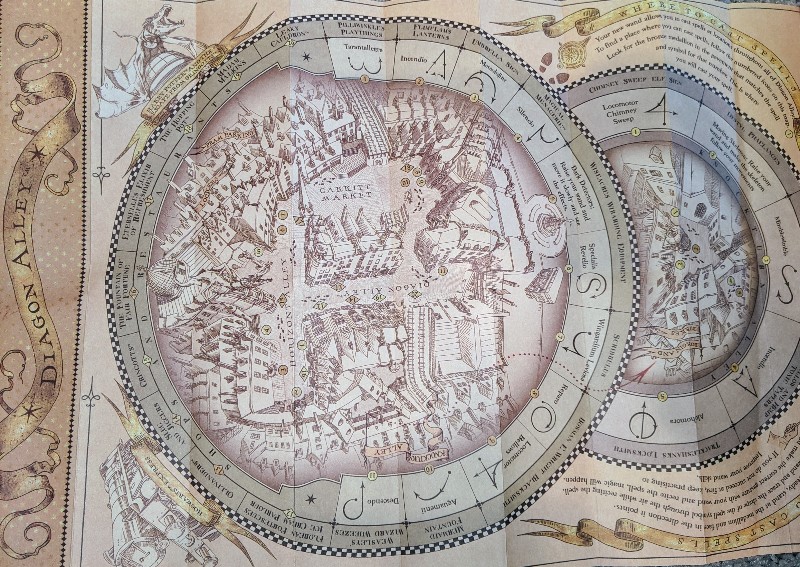 There are nine places to perform magic in Hogsmeade, sixteen places in Diagon Alley, plus two "secret" spots in Diagon Alley.
Tips For Casting Spells With Your Wizarding World of Harry Potter Interactive Wand
Handle Your Wand Carefully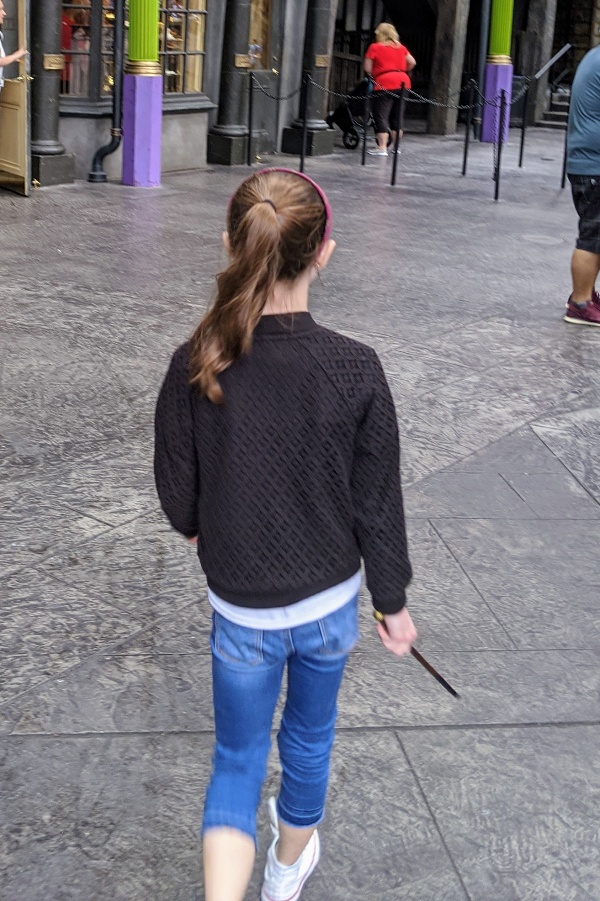 The tip of the interactive wand is where the magic comes from, but unfortunately it is very delicate. A small scratch or bump can cause your wand to stop working magic in the Wizarding World of Harry Potter.
There is a soft built-in wand pocket in the Hogwarts robes from Universal. This is a great way to have your wand safe, but easily accessible. If you opt to skip the robe, or it is just too hot to wear one, keep the wand in the protective box when not in use.
If Your Wand Stops Working Bring It Back To Ollivanders
Sometimes despite your best efforts your wand gets damaged. If your wand stops casting spells at multiple spots head back to Ollivanders. Here a wand keeper can evaluate the integrity of your wand. If your wand is damaged they will "repair" it for free.
Find The Right Spot To Cast Your Spell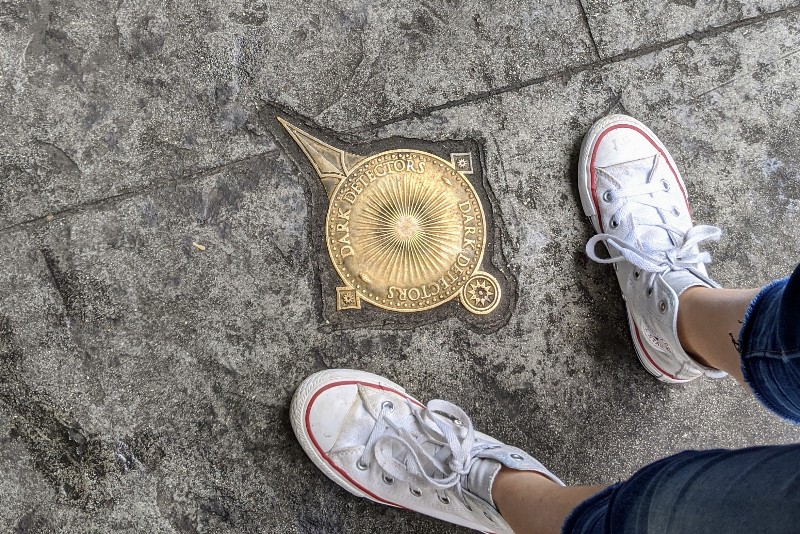 There are small bronze plaques in the ground to help you find places to cast spells with your Wizarding World of Harry Potter interactive wand. There is a small arrow on the plaque to indicate where you should aim your wand and also the wand movement needed to cast the spell.
Spoiler alert: I'm going to talk about the way the magic occurs, so skip this part if you want to maintain the illusion.
Each spell area has a round, black sensor a couple of inches in diameter. The sensor has red lights surrounding it. When you cast a spell the light bounces off the end of your interactive wand and causes the magical interaction.
Finding these sensors helps you properly direct your wand movements for more successful spell casting. If you see the red lights turn off that indicates your spell worked.
Use Small Spell Motions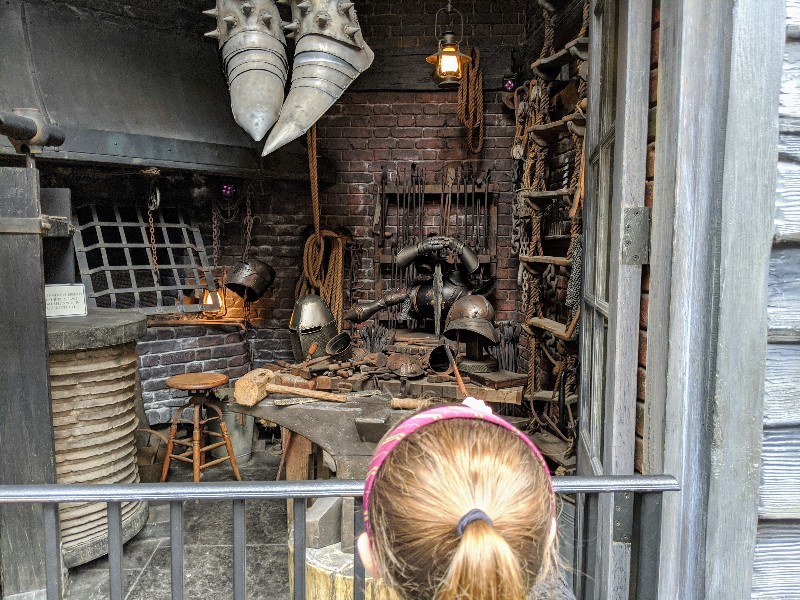 The biggest mistake I see when people are casting spells with their interactive wands is exaggerated arm movements. Pointing your wand in the right direction and making clear, but small wand motions is the best way to successfully cast a spell with your interactive wand.
When casting spells through windows avoid wand movements across multiple window panes. The wooden segments between windows interfere with spell casting.
Be Patient When Using Your Interactive Wand
Very few wizards are as amazing as Hermione, so don't be discouraged if it takes some time to get the hang of performing spells. If you are having trouble doing a spell, take a deep breath and try again after you've made sure you are facing the correct spot.
If that doesn't work and a line is forming behind you, step out and let the other wizards try while you wait in line again. Often times watching others perform the spells correctly will help you when your turn comes back around.
Secret Interactive Wand Spell Locations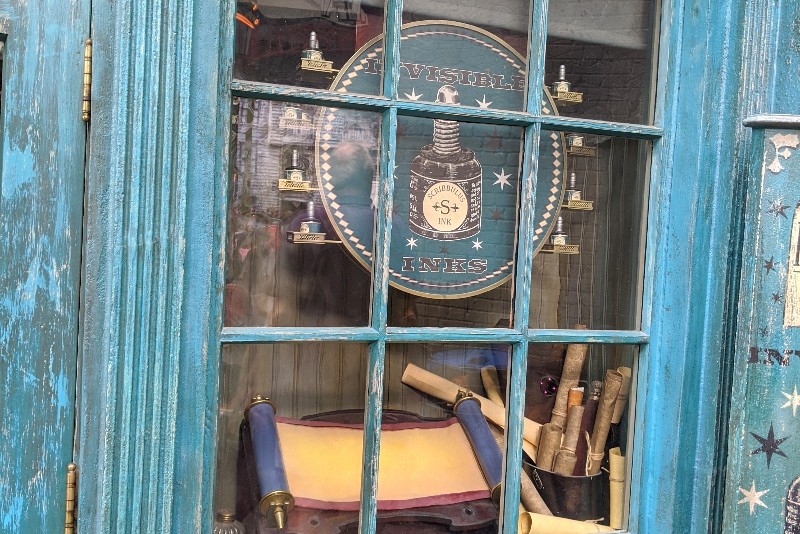 There are two secret spell locations in Diagon Alley. The first secret interactive wand spot is near Scribbulus Ink shop. There is a marked interactive spell in the window to the left of the shop entrance. In the window on the right hand side is a sign for invisible ink. If you use your wand to 'write' over the blank parchment secret messages appear.
The other secret interactive wand location is in the right side window of Slug & Jiggers Apothecary. Wave your wand in a few small circles in this window and the large bucket will swell plus release the smell of smoke. You may not want to get too close though, as this smell is meant to represent dragon droppings.
Final Thoughts On Wizarding World of Harry Potter Interactive Wands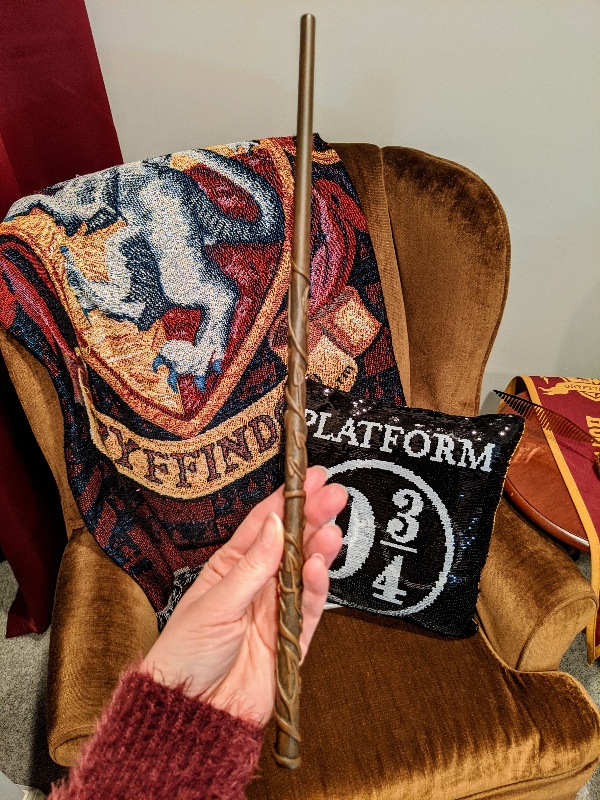 The Wizarding World of Harry Potter at Universal Orlando has lots of fun rides, shops, and activities that make you feel like part of the story. However, if you ask my daughter the activity she looks forward to most is using her Wizarding World of Harry Potter interactive wand in Diagon Alley and Hogsmeade. In fact, it is not unusual for interactive wand spell casting to take up much of our day at the parks.
I hope these tips help you have a great time casting spells with your own Universal Orlando interactive wand. Check here for more tips on the Wizarding World of Harry Potter or here for a complete guide to everything Harry Potter at Universal Orlando.