The Biltmore in Asheville, North Carolina is known as the largest house in America, but there is much more to see and do than just tour the house at Biltmore Estate. In fact, our Biltmore family vacation was the surprise hit of our summer travel. After spending three full days just on the Biltmore Estate, I'm excited to share our tips for visiting the Biltmore with kids.
Tips For Visiting Biltmore With Kids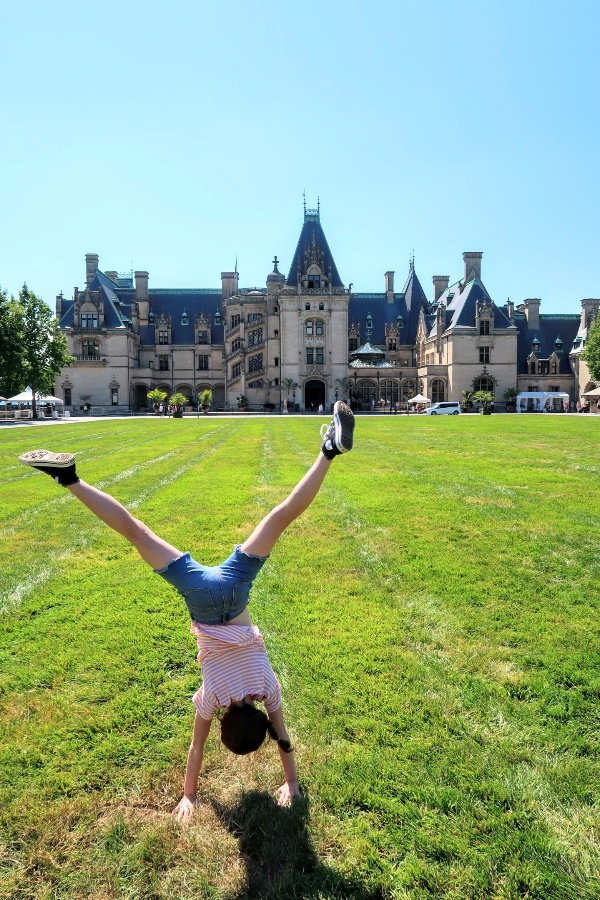 There Is No Air Conditioning In Biltmore House
Biltmore House, for all its impressive comforts for the time, does not have air conditioning. The house has fans set up throughout to help circulate the air on a hot summer day, but certain areas still get extremely warm.
Metal Water Bottles Have Special Rules
Stay hydrated at Biltmore House by bringing bottled water. The house rules allow visitors to bring clear plastic water bottles. However, I was not allowed to bring my metal water bottle inside unless I emptied it before entering. This made for a hot and thirsty walk through Biltmore House with kids.
Wear Good Walking Shoes
The self-guided and basic guided tours only take you through a portion of Biltmore House. Even that is incredibly large and includes several flights of stairs. I was glad we were wearing comfortable walking shoes on our tour.
Tour the Biltmore Gardens And Conservatory With Kids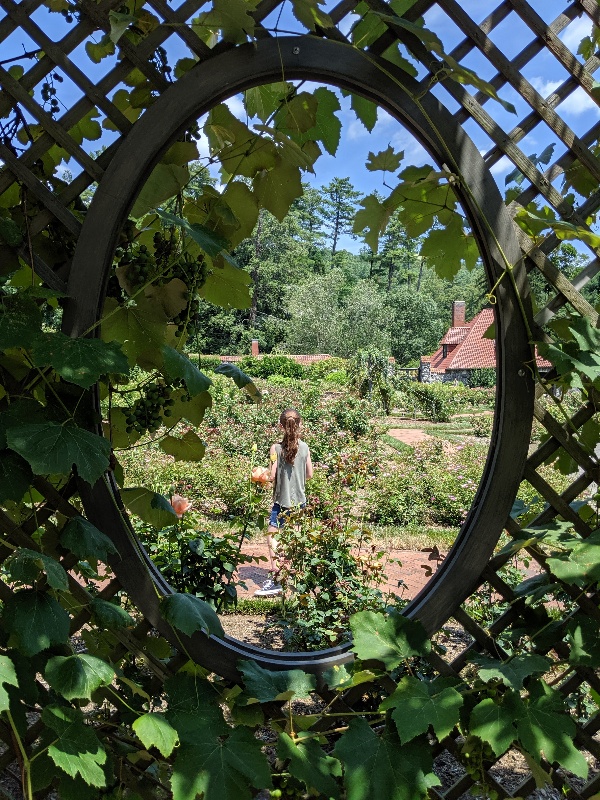 From the Biltmore House there are several walkways through the gardens. My daughter loved walking through the rose garden and exploring the garden paths.
At the bottom of the garden paths is the Biltmore Conservatory which houses impressive rotating horticultural exhibits. The exhibit we saw used real plant items to build replicas of Biltmore Estate buildings and model trains on tracks ran throughout the Conservatory. Lots of kids were fascinated by the displays and endless blooming plants.
Please note the conservatory is essentially a greenhouse. There are fans inside, but during hot weather it is extremely warm.
Do An On-Site Activity When Visiting Biltmore With Kids
Some of the most fun we had at Biltmore Estate was doing things other than touring Biltmore House. There are several on-site tour options like specialty guided tours of the house, Land Rover off-roading, horseback riding, and even a falconry experience.
On our family vacation to Biltmore we did a guided horseback ride, the falconry experience, a basic tour of the house, and an Antler Hill Village winery tour. Each of these events gave us the opportunity to really enjoy the Biltmore Estate.
Biltmore Falconry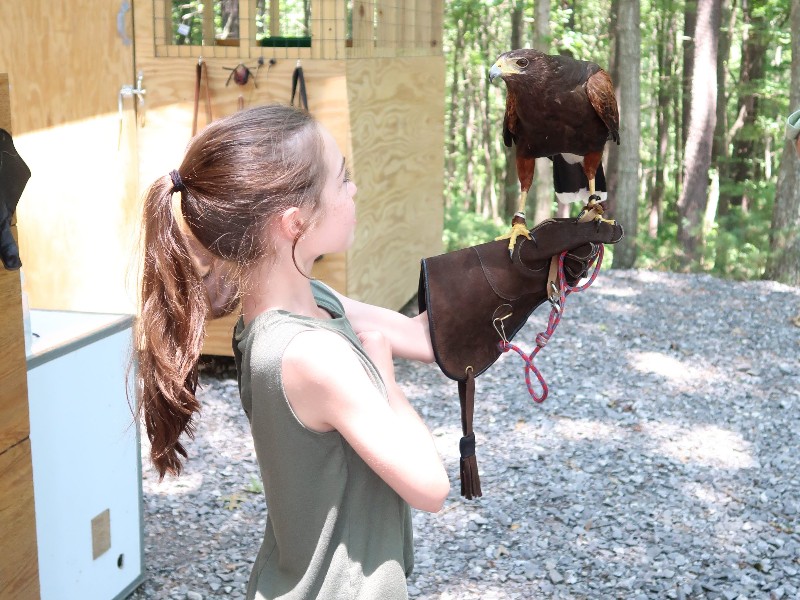 Our absolute favorite activity was the Biltmore Falconry experience. Our falconer did a great job educating us on the ancient art of falconry. After learning about how the birds are trained and what to expect when handling a hawk, we each took turns having hawks free fly to us. Check here for a full review of the falconry experience.
Guided Trail Ride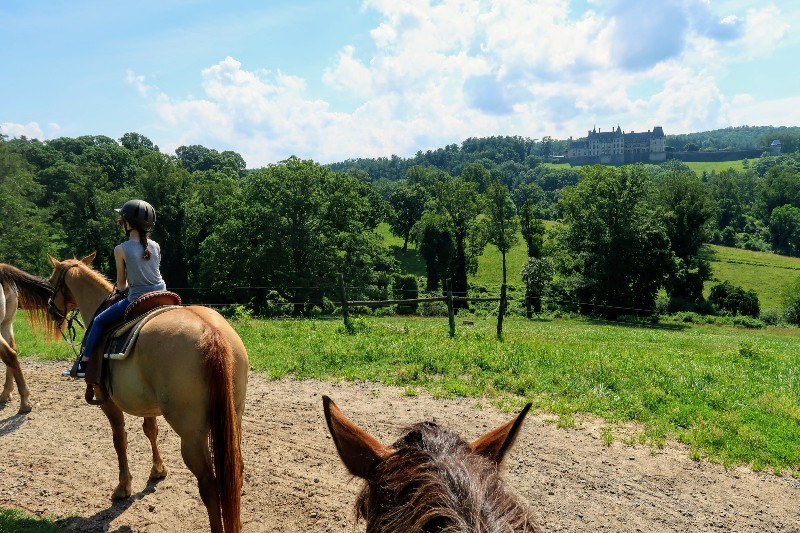 We also enjoyed the beginner focused guided trail ride. My daughter had been asking to go horseback riding for a long time, and this was a fun way to introduce her to the experience. As a bonus, those on a guided trail ride are treated to a unique view of Biltmore house not normally seen by visitors to the estate. Here's a link to our review of the guided trail ride.
Biltmore House Tour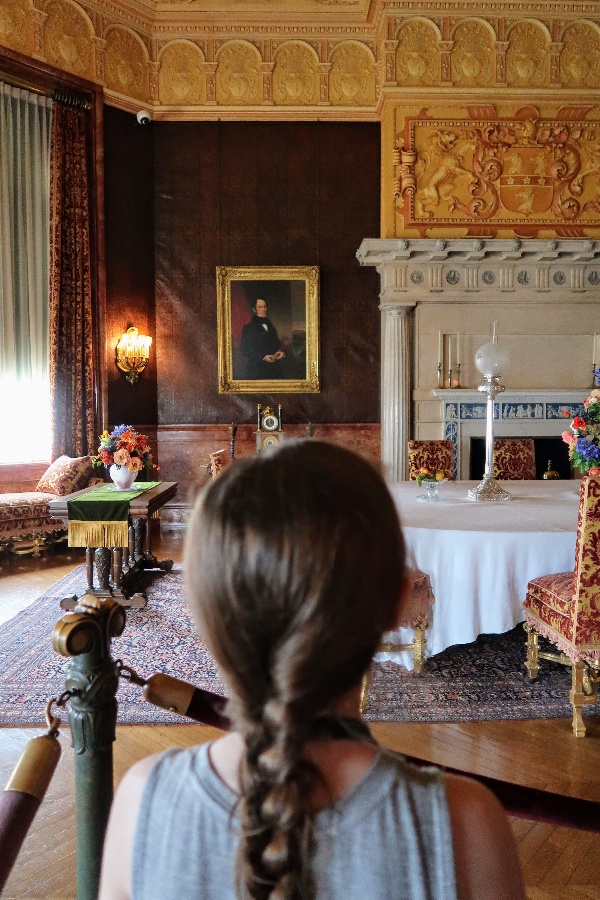 The guided house tour takes you through the same rooms as the self-guided tour, but with a live guide sharing information through a headset. The guide was good, but I felt like the tour group was too large for one guide. If I could do it over again, I would do the self-guided audio tour of Biltmore House and add a specialty guided tour for places you can't see on the regular house tour.
Winery Tour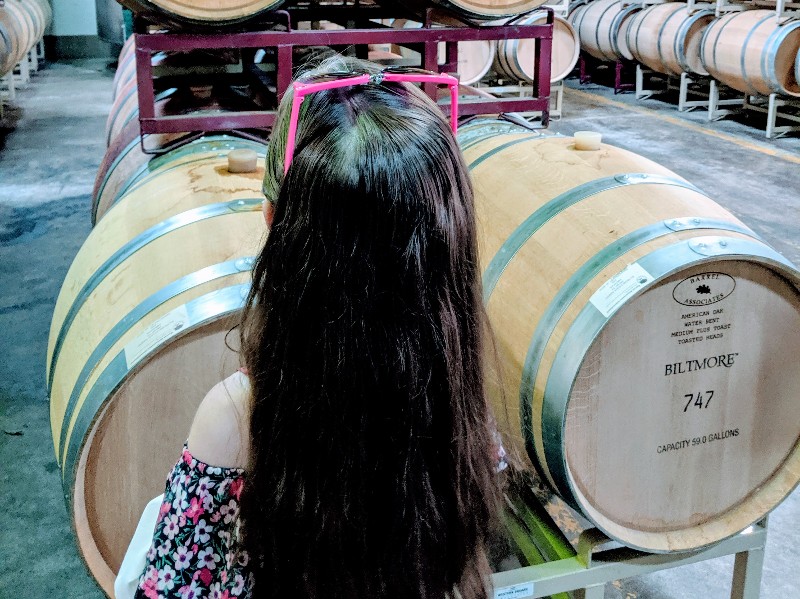 Elizabeth had a great time on the winery tour because we had an incredibly fun tour guide. Each time we moved to a new area of the tour he would give her the answers to the questions he later asked the group. It took the rest of our tour group a while to figure out how a 10-year-old knew so much about wine making!
Even if you don't do a wine tour, stop by the winery for a complimentary wine tasting. The kids can hang out near you while you imbibe, or they can rest on the many benches in the tasting room for tired kids.
Explore Antler Hill Village With Kids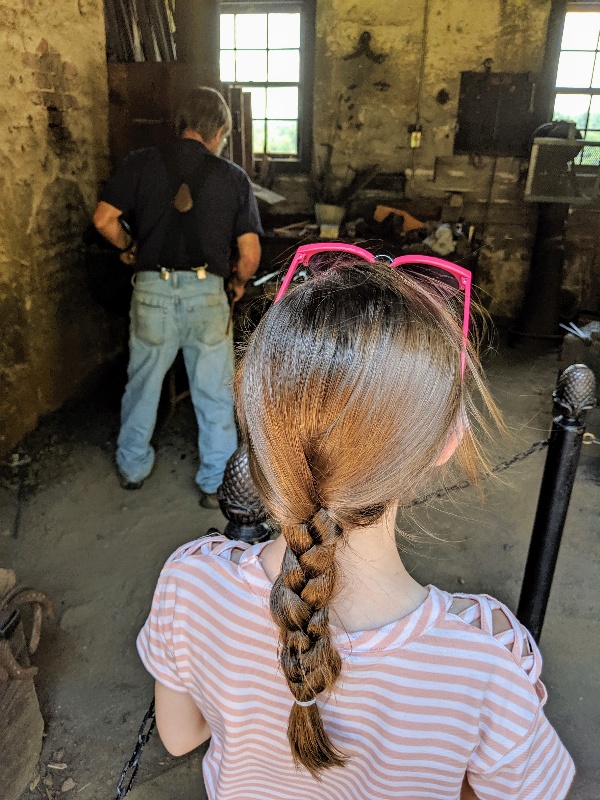 Antler Hill Village on Biltmore Estate seems to be an underappreciated part of visiting Biltmore with kids. Antler Hill Village has several restaurants, a winery, walking trails, a barn, a farmyard, a playground, and Biltmore museum.
We spent a lot of time at Antler Hill Barn during our stay. Take a step back in time and watch blacksmiths, woodworkers, and basket weavers hard at work. Each of these craftsmen and women joyfully shared their craft, how it was important during the early days at Biltmore, and they answered every question Elizabeth asked.
Antler Hill Barn also has old-fashioned toys for kids to explore and crafting stations for kids at certain times of day. By the end of our family trip to Biltmore we had gotten pretty good at playing "game of graces," a game from the 1800s.
The Biltmore Farmyard has live animals, and staff educate visitors about the role of animals on the estate. Check the Biltmore mobile app for information on seasonal hands-on activities at the farmyard.
Take Advantage Of Free Activities At Biltmore
There are many free on-site activities for kids and adults at Biltmore Estate. Antler Hill Village has tons of free activities for kids visiting Biltmore like blacksmith demonstrations, crafts, games, learning about animals at the Farmyard, hiking, and live music. For the adults, make sure you stop by the Antler HIll tasting room for a complimentary wine tasting, too.
The Biltmore Legacy is a museum in Antler Hill Village with a curated collection of Vanderbilt family artifacts. You can also watch a movie that details the building of Biltmore, more about the Vanderbilt family, and how Biltmore Estate is cared for today.
Your admission to Biltmore Estate includes the Conservatory and gardens at no additional charge. Take time to explore each of these areas around the Biltmore House.
Stay On-Site When Visiting The Biltmore With Kids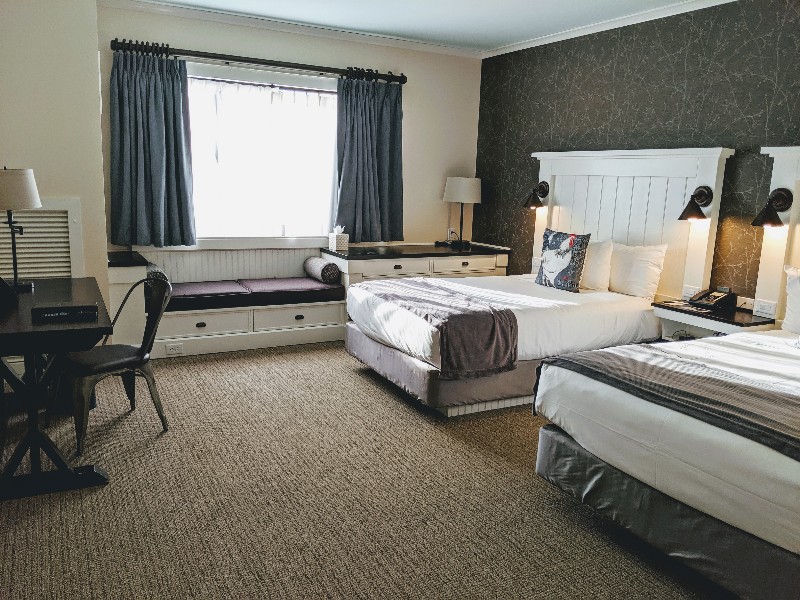 On-site guests have access to the Biltmore Estate grounds each day of their stay. This means you have plenty of time to explore Antler Hill Village and the entire Biltmore Estate. We loved being in Antler Hill Village at the end of the day when the crowds had left. It was a peaceful experience, and we even got to catch fireflies in the Village Green on a couple of nights.
Another perk of staying on-site is that I parked once outside Village Hotel and didn't use the car for two days. Instead we explored the grounds using the Biltmore on-site bus transportation or walked depending on the distance.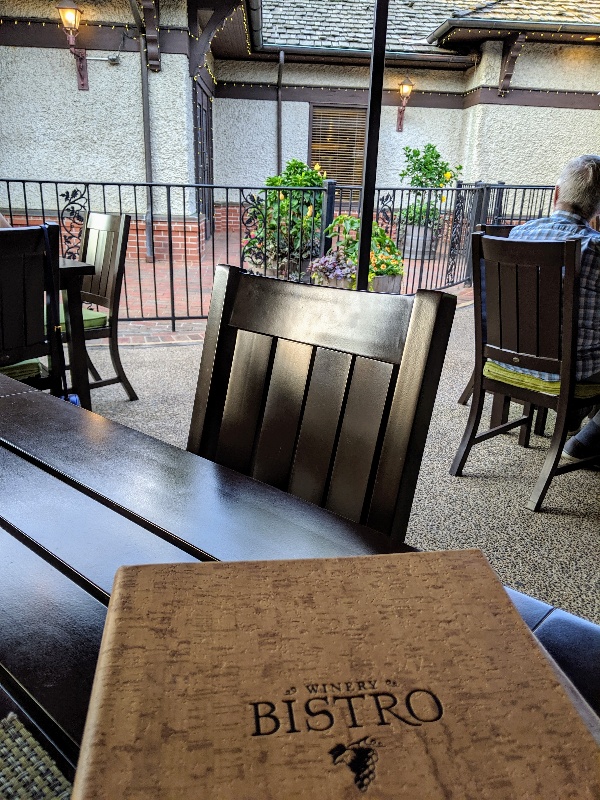 There are also several restaurants within Antler Hill Village. It was nice to be able to walk to dinner and then back to our room at the end of the night. Our favorite dinner was dining al fresco at Bistro. Bistro uses estate and regionally sourced ingredients to make delicious meals. They even make their own ice cream, which is rich and delicious.
There are two on-site hotels at Biltmore: Village Hotel or The Inn. We opted for the less expensive but extremely welcoming Village Hotel.
Take A Day Trip From The Biltmore To Blue Ridge Parkway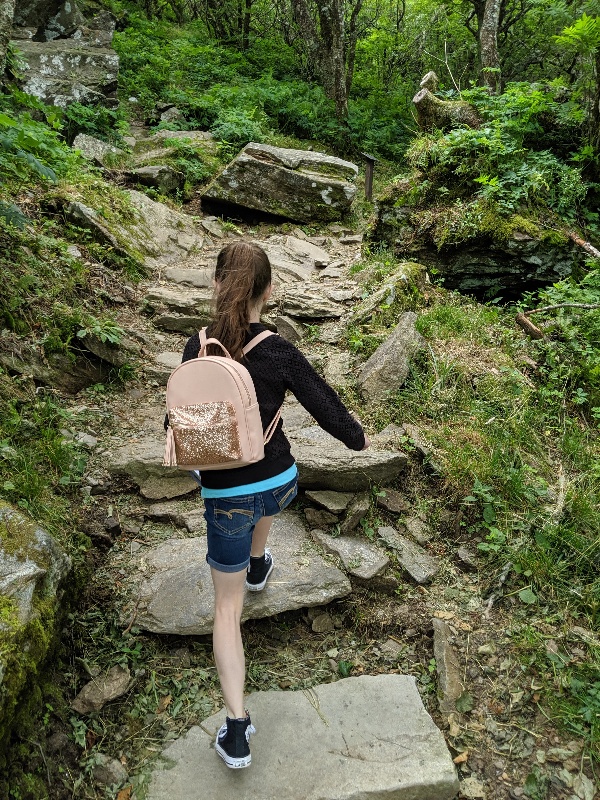 Blue Ridge Parkway has stunning views along its 469 miles (755 km), and some of the Blue Ridge Parkway is only a short drive from the Biltmore. A large Blue Ridge Parkway Visitor Center is about a 15-minute drive from Village Hotel on Biltmore Estate. The Visitor Center has several educational displays, a large annotated map of the Blue Ridge Parkway, and a park ranger on site to answer questions.
Our main destination on the Blue Ridge Parkway near Biltmore was Craggy Gardens. The drive to Craggy Gardens Visitor's Center is a beautiful, winding, two-lane road that takes you into higher elevations. I expected it to be cooler at Craggy Gardens than on the lower elevations, but it was more than 20°F (10°C) cooler.
When we arrived at Craggy Gardens, fog was rolling across the road and gave the overlook a stunning but slightly eerie feeling. The hike along the Craggy Gardens Trail was definitely challenging, but we saw lots of people making the trek. The trail is not well marked, uneven, and changes elevation, but hiking it was an amazing experience.
I recommend taking a half-day to drive part of Blue Ridge Parkway and hike along one of its many trails. This was a great add-on activity during our Biltmore family vacation.
Know The Difference Between Biltmore Estate And Biltmore Village
This is a really confusing bit of trivia when visiting the Biltmore with kids. Biltmore Estate includes the Biltmore house and all the property still owned by the Vanderbilt family. Biltmore Village is located outside the entrance gate to Biltmore Estate and is a cute area full of shops and dining. If you want to stay on the Biltmore property you need to pick a hotel in Antler Hill Village which is within the Biltmore Estate.
Tips For Visiting Biltmore With Kids Final Thoughts
Our family vacation to Biltmore was a surprise hit of our summer travel. The Biltmore House is what brought us to North Carolina, but everything else on the Biltmore Estate is what will bring us back. Visiting Biltmore with kids provides a fun, educational, but also relaxing family vacation. Add the Biltmore to your family travel bucket list and give yourself two or more days to explore all the Biltmore Estate has to offer.
Pin it for later: