Finding a hotel around Biltmore Estate in Asheville, North Carolina can be a little confusing. Biltmore Village is just outside the gates of the Biltmore Estate and has several hotel options. However, I knew I wanted to stay at one of the two on-site hotels at Biltmore Estate. Based on location and price we chose Village Hotel on Biltmore Estate, and I was extremely happy with this choice.
Check here for tips on visiting Biltmore Estate with kids.
Location
The Biltmore Estate is extremely large and currently encompasses about 11 square miles (28 sq km) of land. Village Hotel on Biltmore Estate is located in an area of the property known as Antler Hill Village. This area has many shops, restaurants, the winery, hiking trails, and several activities. Antler Hill Village is about a 5-mile (8-km) drive from Biltmore House and Gardens.
Village Hotel On Biltmore Estate Overview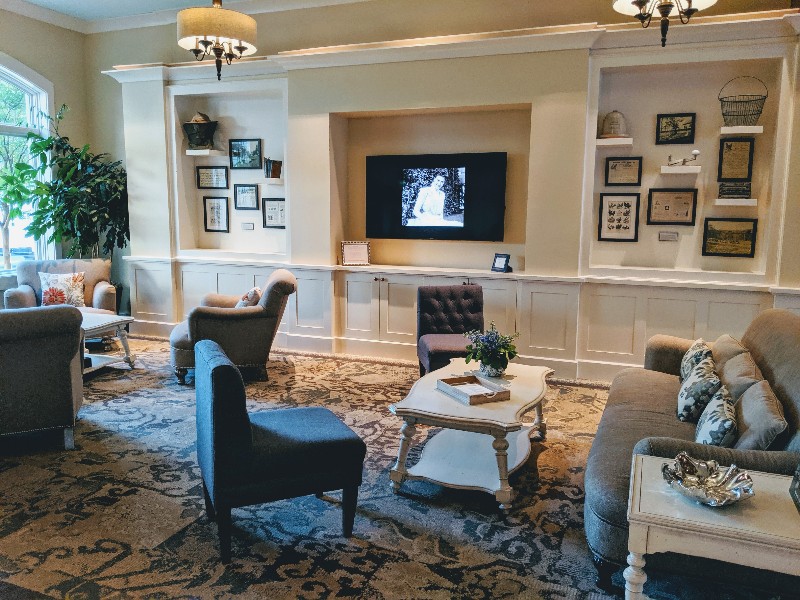 Village Hotel on Biltmore Estate is an adorable, welcoming hotel with tons of farmhouse charm. From the minute we entered Village Hotel we felt like welcome guests of the Vanderbilts. The lobby has lots of comfortable seating near the check in desks and looks like someone's home. 
A little past the lobby is the Kitchen, a quick service place for breakfast, lunch, or snacks. On Friday and Saturday nights the Kitchen offers bingo games in the seating area. Bingo was a lot of fun, provided at no charge, and had some awesome prizes. Elizabeth won a stuffed Cedric, the favorite St. Bernard of the Vandebilt's, and I got a coffee mug. 
Behind the Kitchen is an outdoor alcove. This outdoor area had two sets of bags, also known as cornhole, available for anyone to play. There is also seating available to hang out, enjoy a drink, or just relax.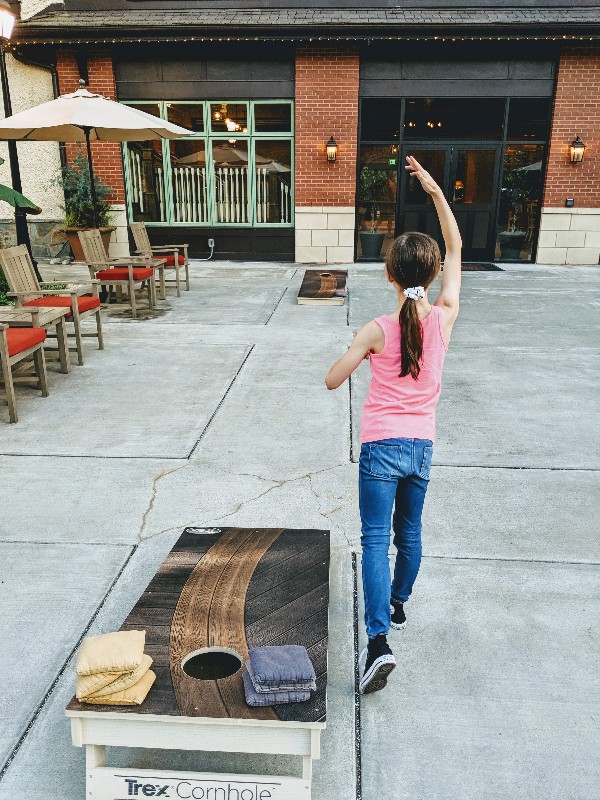 Pools
There is one outdoor pool at Village Hotel on Biltmore Estate which is open seasonally.
Dining
There are many dining options within a short walk of Village Hotel and a couple of options within the hotel itself. One of the things we liked best about Village Hotel on Biltmore Estate is the winery and three sit-down restaurants are located just feet away from the hotel.
We enjoyed our dinner at The Bistro best, but Village Social was a close second. This plate is actually a half portion of the rib eye meal Elizabeth and I split.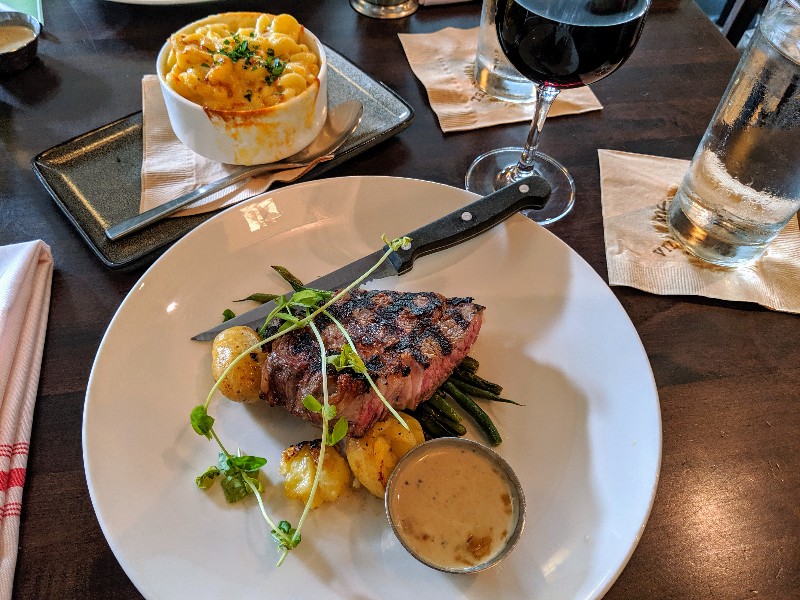 Village Hotel on Biltmore Estate Room Review
During our visit to Asheville we opted for a Village Hotel on Biltmore Estate double room. The online pictures showed how cute the overall design of the room was, but I was quite surprised at the spaciousness.
Village Hotel Bathroom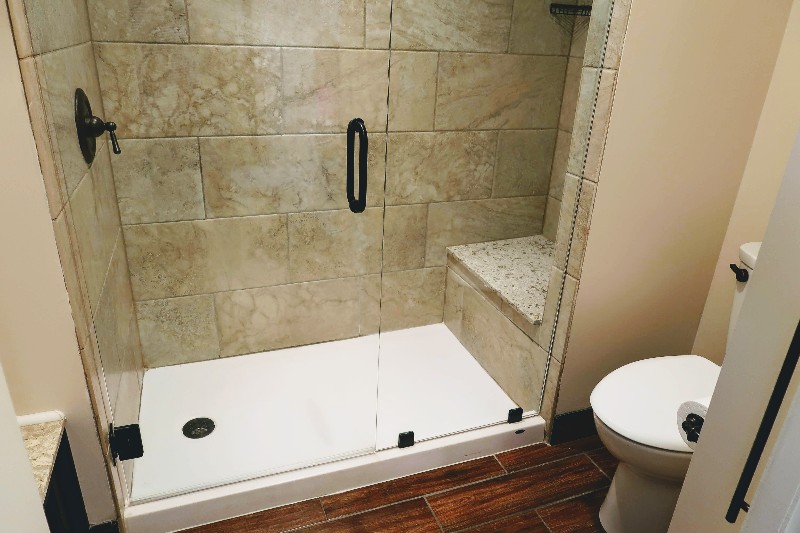 The split bathroom is located just inside the entrance to the room. The large walk-in shower and toilet are in a dedicated space with a sliding barn door that actually closes well and provides privacy. 
The bathroom sink and shelving are obscured from view from the bedroom area by a wall, but unfortunately the light above the sink reflects off the full length mirror on the wall into the bedroom. This meant I had to get ready with just the help of a nightlight if Elizabeth was sleeping.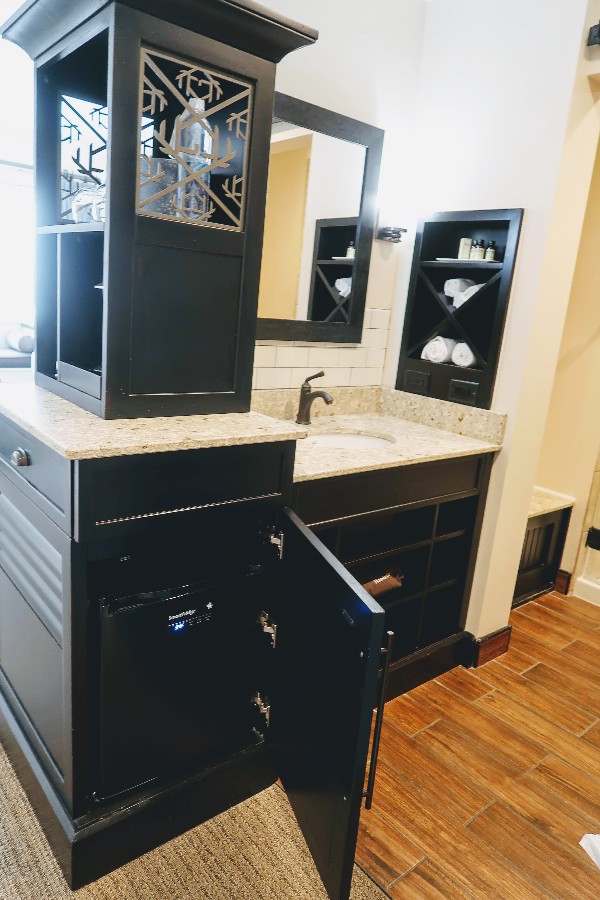 The room at Village Hotel on Biltmore Estate has a small cabinet area attached to the bathroom sink. This cabinet holds coffee cups, wine glasses, an ice bucket, Keurig coffee maker, and a concealed mini-fridge.
Village Hotel Bedroom Area
When moving into the bedroom area from the entrance there is a large open space, a desk with chair, a window seat with several drawers, and two double beds with a nightstand between the beds. There is another popular Village Hotel room option with the same setup and a king sized bed. 
The room decor kept the same comfortable, yet stylish, farmhouse chic vibe as the rest of the hotel. I especially loved the window seat in our room. In fact, I wrote this article about our Biltmore guided trail ride experience sitting on that window seat.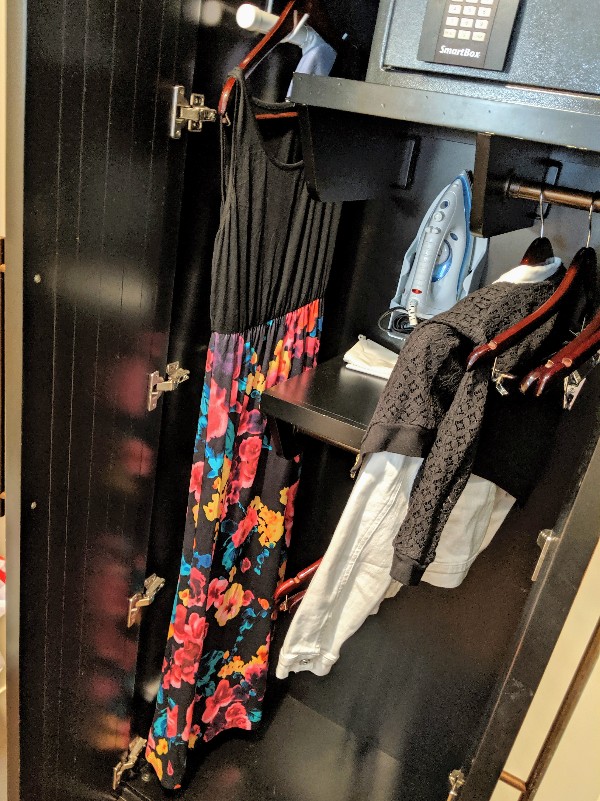 Overall, I felt there was lots of storage and space in our Village Hotel on Biltmore Estate room. The only disappointment in the room was the incredibly small closet. The closet was very small and my maxi dress was too long to hang on the rack. I had to instead rig a hanger on the ironing board hook so the dress didn't pool at the bottom of the closet.
Our Village Hotel room had the following great features:
Large bedroom area
Comfortable and cute window seat
Mini-fridge
Split bathroom
Plenty of storage (except for the small closet)
Great location in Antler Hill Village
Village Hotel In Room WiFi
Free wi-fi is found around much of the Biltmore Estate. Hotel guests and visitors can easily connect to wi-fi.
Village Hotel On Biltmore Estate Parking
Registered guests of Village Hotel receive a special parking pass. This parking pass allows free overnight parking at the hotel for the duration of your stay.
Benefits Of Staying On-Site at Village Hotel on Biltmore Estate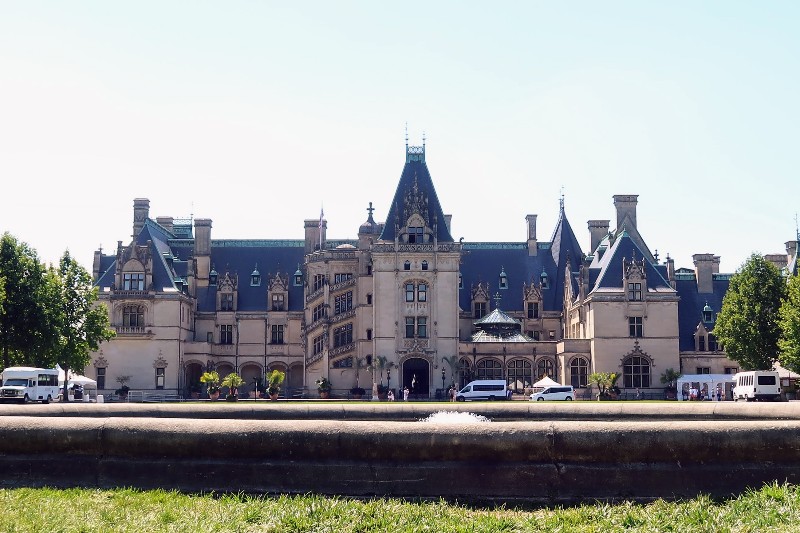 Free Transportation Around Biltmore Estate
There is a free shuttle service that connects the large Biltmore Estate property. However, this free shuttle is only available to resort guests. We used the shuttle constantly since it made getting to the Biltmore House, Carriage and Trail Ride Barns, Biltmore Gardens, and back to Antler Hill Village very easy. 
Access To The Biltmore Estate Grounds
Registered guests at Village Hotel and The Inn have access to the Biltmore Estate grounds during their stay at no additional charge. You must still purchase admission to visit the Biltmore House, but access to Antler Hill Village, the trails, and even the Biltmore Gardens are included with your resort stay.
Village Hotel On Biltmore Estate Overall Impression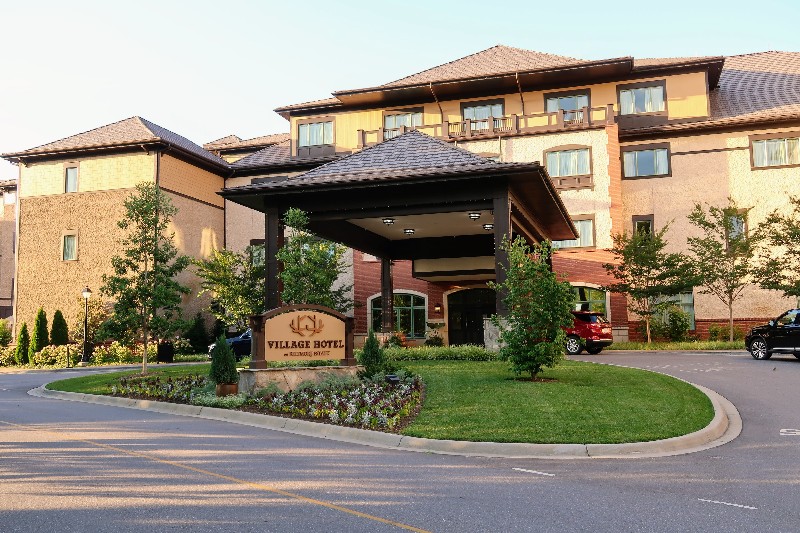 Village Hotel was the perfect home base for our trip to visit the Biltmore. We were surprised how spacious and comfortable our room was at Village Hotel and loved that restaurants, the farm, and winery were all just a short walk from our hotel room. 
Our stay at Village Hotel was enhanced by the fun weekend night activities like Bingo and bags which were provided at no additional charge. The staff also went a long way toward making our experience at Village Hotel a happy and memorable time.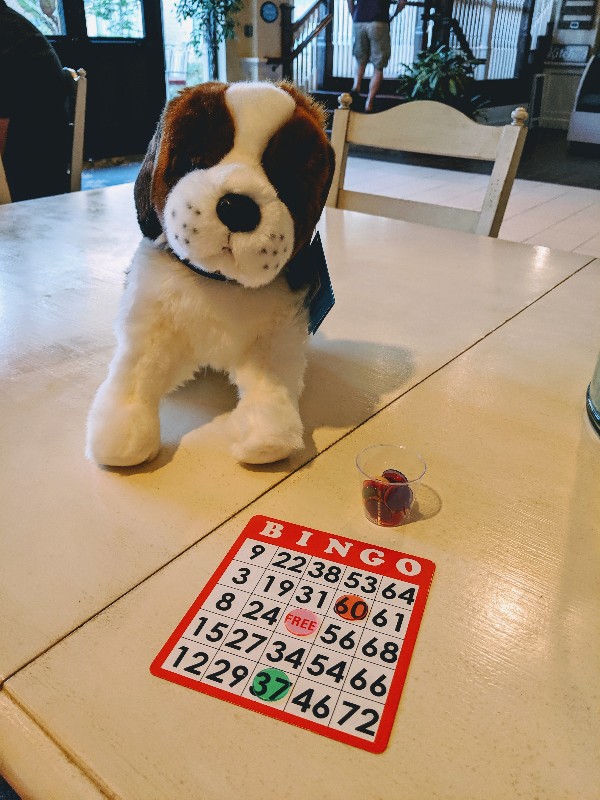 We did explore the Inn on Biltmore Estate during our visit, since I was torn about which to choose when I initially booked our trip. The Inn certainly has a more luxurious feel with incredible views, but is located on top of a hill overlooking Antler Hill Village. This means if you stay at The Inn you must take a steep walking path or use the free on-site shuttle to reach everything Antler Hill Village has to offer. 
The great location steps away from Antler Hill Village, a spacious room, and the welcoming staff are a big part of the reason we loved our stay at Village Hotel on Biltmore Estate. 
Pin it for later: