Caring for Giants is a 60-minute guided tour at Disney's Animal Kingdom theme park. This unique experience takes you behind-the-scenes to learn all about elephants, their care, and fun anecdotes about their personalities.
Animal Kingdom Caring For Giants Tour Review
Tour Check-In
Start your tour experience by checking in at the Curiosity Animal Tours kiosk at Animal Kingdom.
The easiest way to find the tour kiosk is by following a map, app, or signage to Kilimanjaro Safari. The kiosk is located to the left and a few feet away from Kilimanjaro Safari's entrance.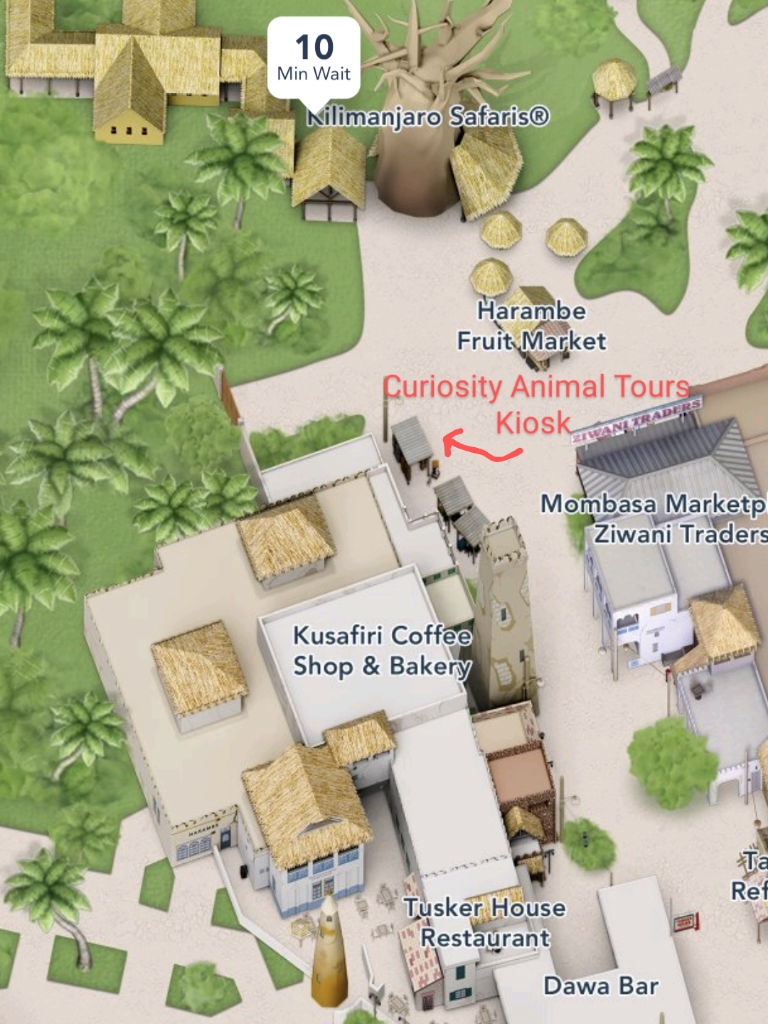 Arrive 10 to 15 minutes before your tour to sign waivers, get your name tag, and take a last minute bathroom break. Caring for Giants tours start right on time and you may be left behind if late.
Tour guides greet guests and engage the group in some small talk before guiding you backstage.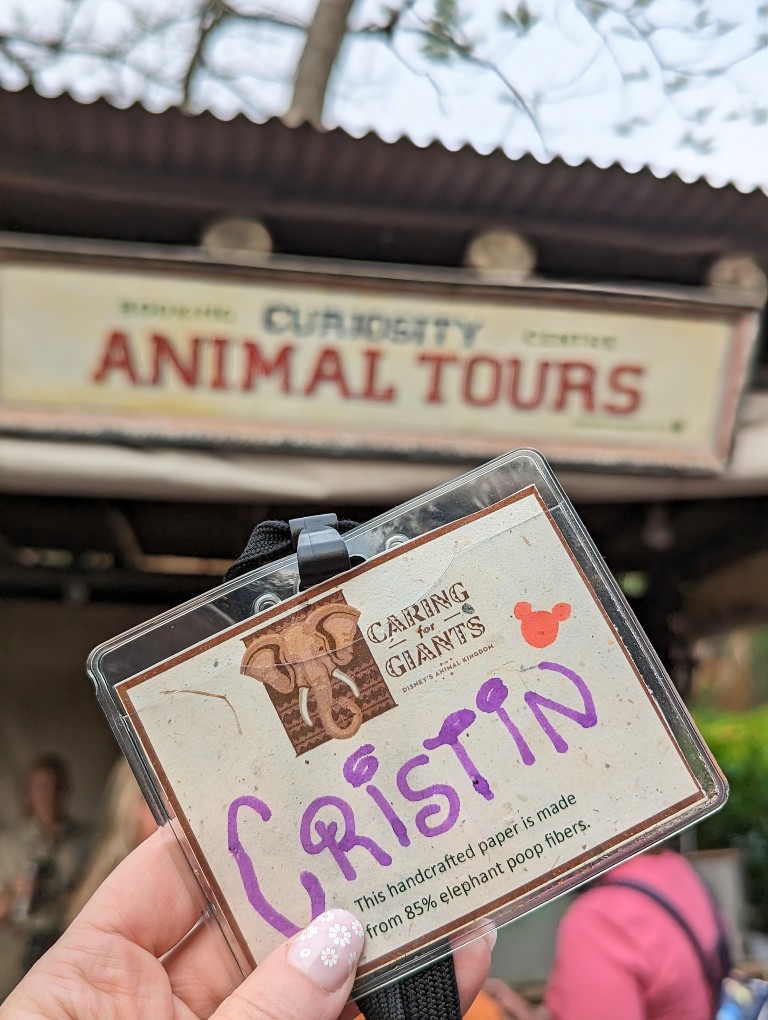 Backstage Area
Follow the guide behind a wall via a private access door and enter some of the rarely seen Animal Kingdom backstage areas. This area is normally reserved for cast members, but tour guests get a peek while walking to the bus parking lot.
Climb aboard the small air-conditioned tour bus for the 15 minute drive to the elephant berm. Along the drive, tour guides point out noteworthy backstage areas like a grazing field the size of Magic Kingdom and Imagineering offices.
Guides also spend the drive to and from the berm talking about the elephants, Disney's conservation mission, and answering questions.
Please note: Guests are not allowed to take any pictures in Disney backstage areas.
Elephant Berm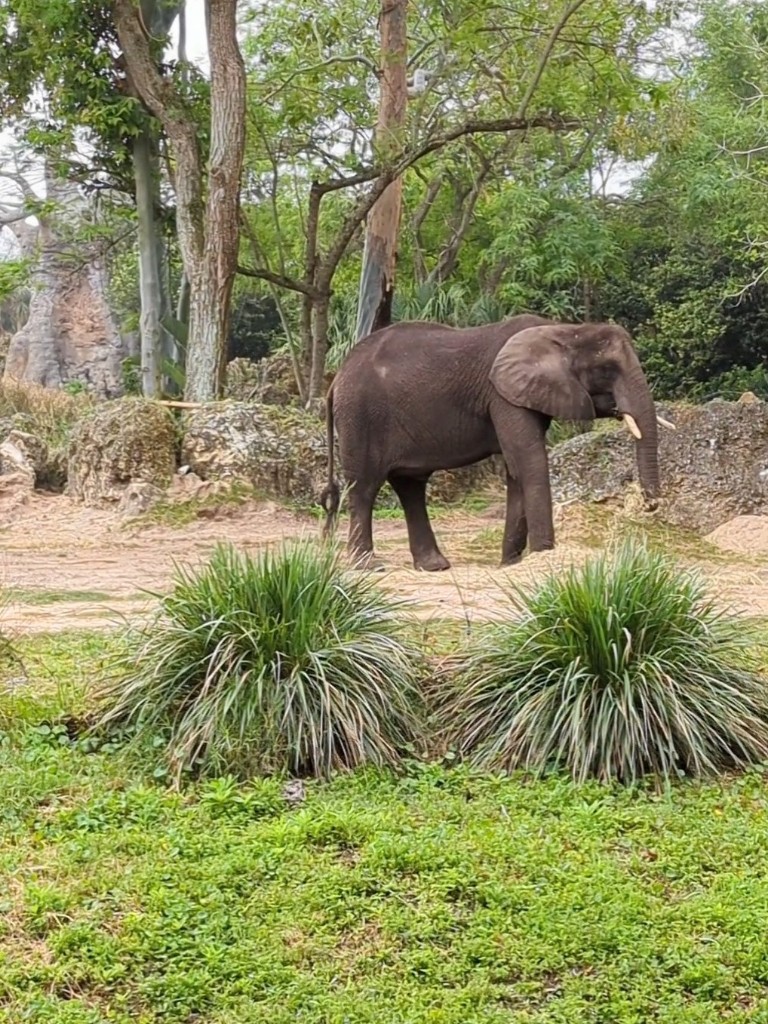 Exit the bus, walk up a ramp, and find yourself looking out at Kilimanjaro Safari. Watching safari trucks rumble by while learning about the elephants is a unique experience
Tour guides share anecdotes about the elephants while you watch them in their habitat. You'll also get the chance to see and touch an elephant tooth, some of their tail hairs, and a sanitized piece of elephant poop.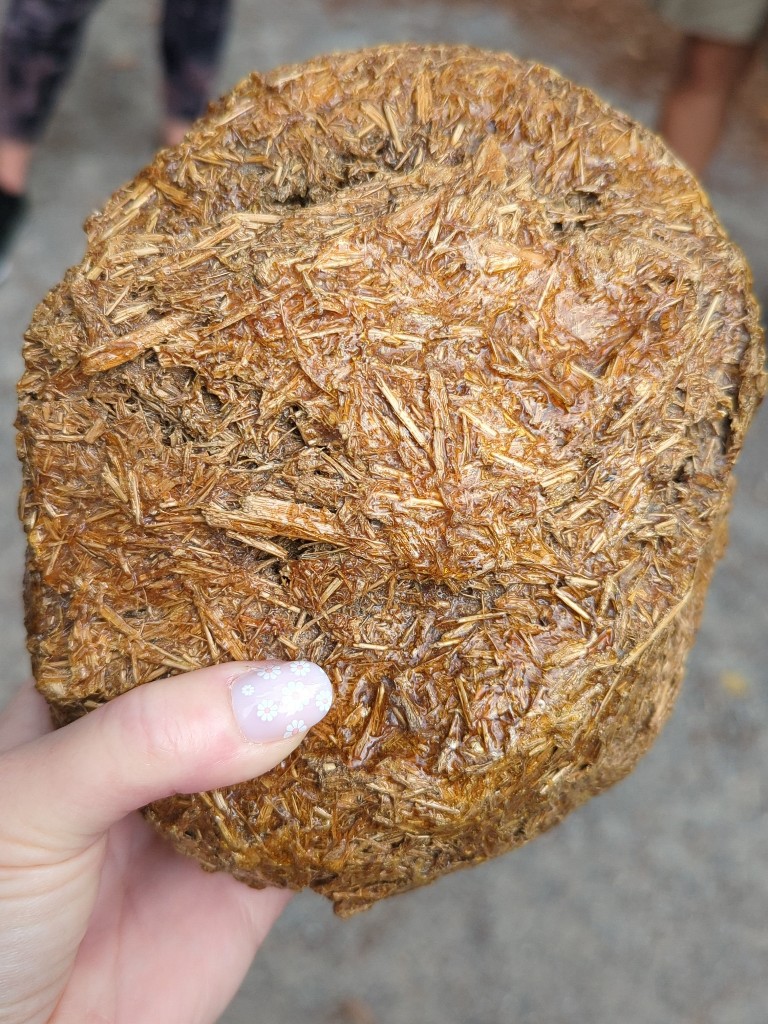 Expect to spend about thirty minutes watching and learning about the elephants. There's also time to take plenty of photos while visiting the berm.
When time is up, climb back aboard the tour bus and take the fifteen minute ride back. Ask last minute questions before returning to the on-stage part of Animal Kingdom.
How Much Does Caring For Giants Cost?
Caring for Giants is $35 per person plus tax. Disney World annual passholders get a 15% discount which brings the price down to $29.75 per annual passholder.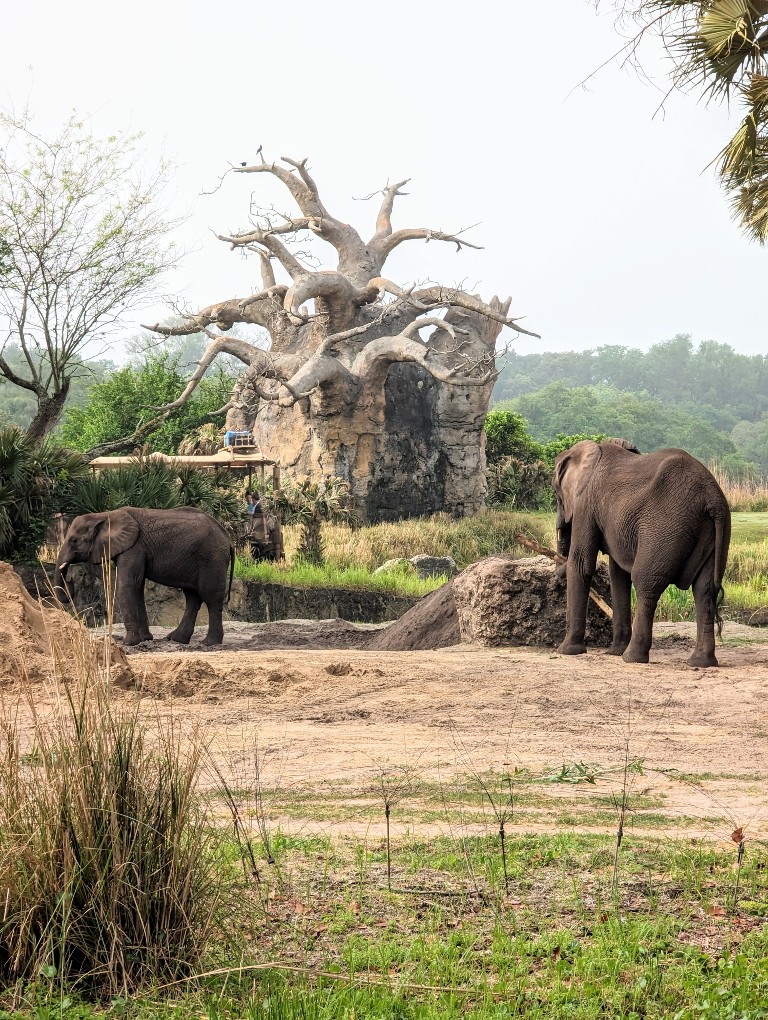 How Do I Make Caring For Giants Tour Reservations?
Reservations are available 60 days prior to your Animal Kingdom visit. Book online 60 days before your trip for the best tour time options.
Caring For Giants Tour Tips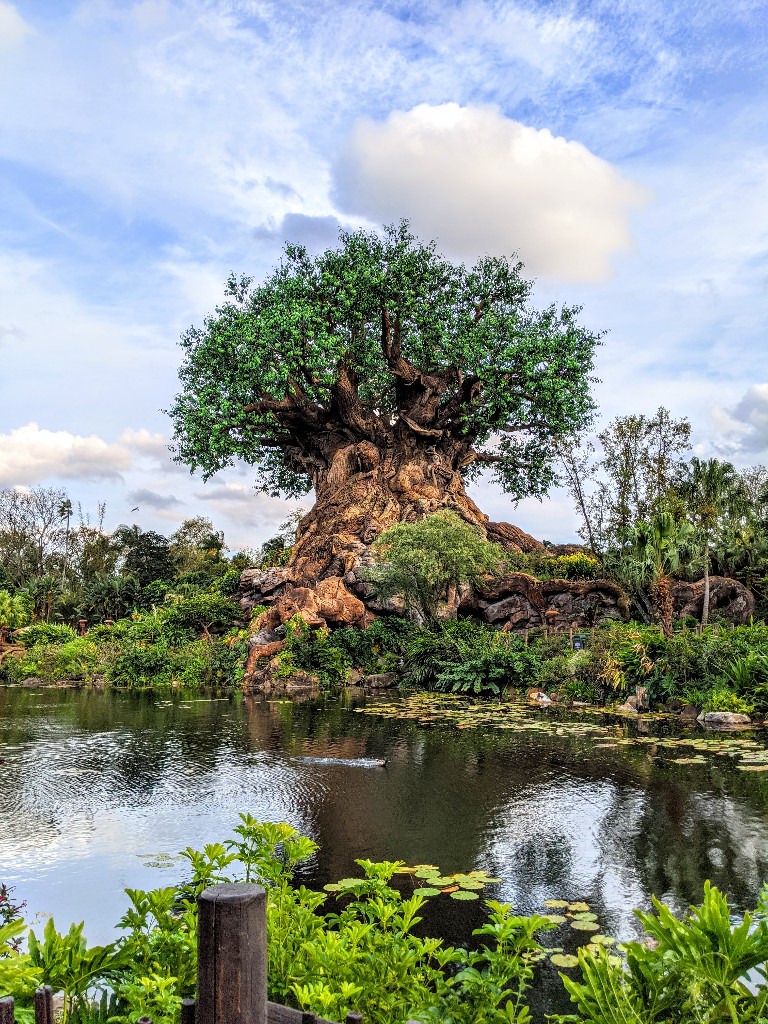 You Need Park Tickets and Park Reservations To Take Caring With Giants Tours
Guests must have a valid theme park ticket PLUS Animal Kingdom park reservation to attend Caring for Giants tours. The tour price does not include admission or guarantee access to Animal Kingdom.
Arrive Early
Tours begin exactly at the scheduled time and late guests are generally not accommodated. Arrive early to sign waivers, run to the bathroom, and be ready for your behind-the-scenes tour by the official start time.
Book A Morning Caring For Giants Tour
Caring for Giants is generally offered four times per day, two morning and two afternoon sessions. The elephants tend to be more active in the morning, especially during hot summer days.
Make Smart Genie+ Selections
Genie+ can be a valuable tool when visiting Disney World. Because we had a morning Caring for Giants tour time I knew we wouldn't be able to rope drop top attractions.
Because of this, I purchased Genie+ at 7am. I then booked Kilimanjaro Safari for a Lightning Lane return time that perfectly matched the end of our tour time. When we returned from our tour Kilimanjaro Safari was just steps away.
I also splurged on an Avatar Flight of Passage Individual Lightning Lane since we couldn't rope drop this fun, and extremely popular, attraction.
Animals Are Unpredictable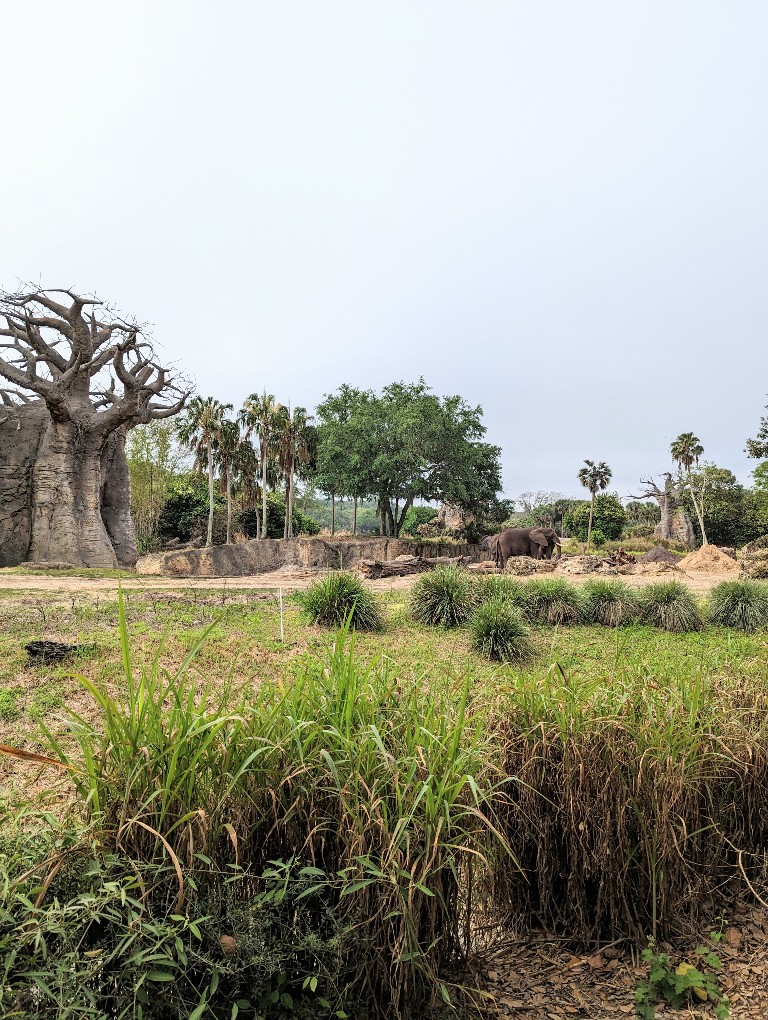 Disney's website states guests will be "approximately 80 to 100 feet away" from the elephants on the tour. While this may be true most of the time, nothing is guaranteed.
On our Caring for Giants tour the elephants were further away, but active. We felt watching them as they played and ate made up for them not being as close as expected.
Not Everyone Can Take The Caring for Giants Tour
Guests must be four years or older to participate in Caring for Giants and those under 18 years must attend with an adult.
Those using an ECV are welcome to participate, but must leave their equipment "onstage". Guests unable to transfer from a wheelchair can be accommodated, but must contact Disney World at (407) 938-1373 to confirm availability.
Is The Caring For Giants Tour at Animal Kingdom Worth It?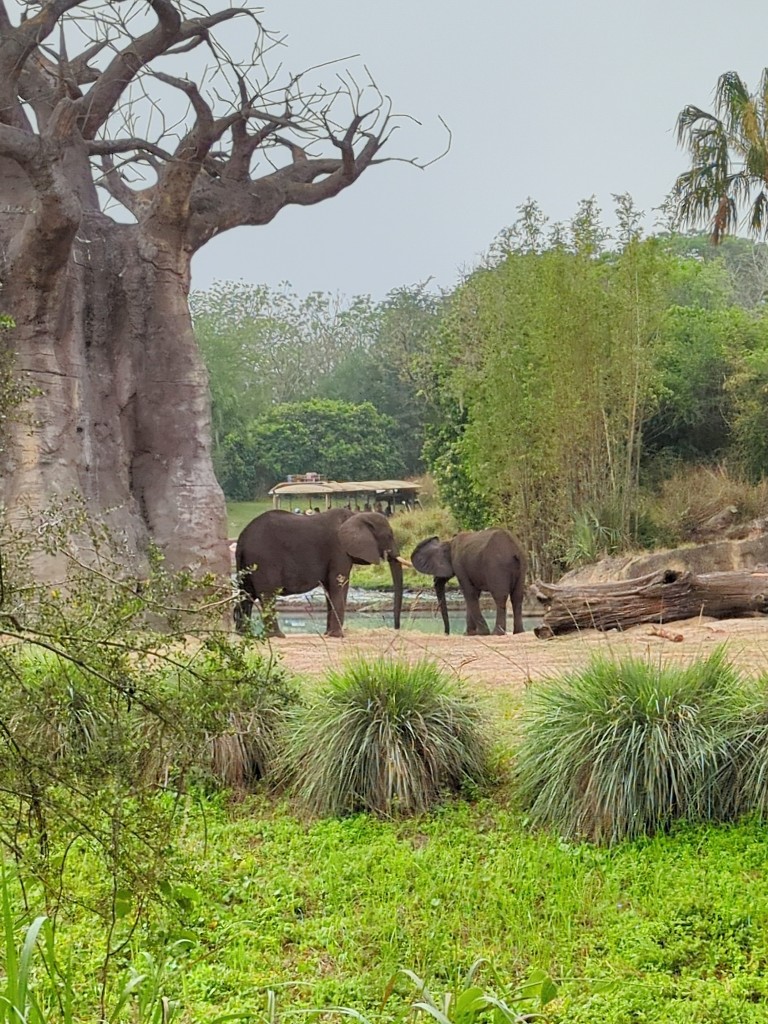 If this is your first Disney World trip I would skip Caring for Giants. Use your limited Animal Kingdom time for rides, shows, and a character meal at Tusker House.
For those who've visited Disney World before, and are looking for a new experience, I think Caring for Giants is worth the modest tour price. We enjoyed the chance to learn more about Animal Kingdom's elephants and the work Disney Conservation does to protect wildlife around the world.