Disney's Polynesian Village Resort is one of the most serene and beautiful resorts in all of Disney World. The newly remodeled Polynesian standard rooms meant we had a great excuse to stay at this lovely resort again. Take a tour of our beautiful, new Disney's Polynesian Resort Moana room.
Disney's Polynesian Village Resort Location
Disney's Polynesian Village Resort is considered a Magic Kingdom area hotel. This hotel is one of only three resorts at Disney World on the Magic Kingdom monorail loop.
Currently the monorail station at the Great Ceremonial House is undergoing construction. This means a quick walk to the Transportation and Ticket Center (TTC) for monorail access.
Disney's Polynesian Resort Overview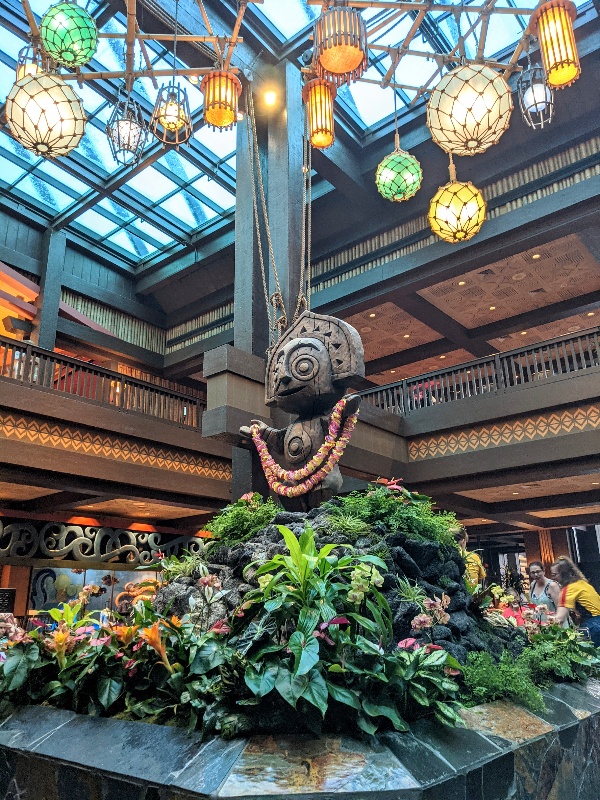 The ambiance of Disney's Polynesian is a perfect oasis after a busy day at Disney World. We love the lush palm trees, torchlight-lined paths, and relaxed atmosphere of the Polynesian. Incredible Magic Kingdom fireworks views from the beach make a Disney's Polynesian resort stay even more special.
Check this article for more information on the Polynesian pools, dining, and multitude of Disney World transportation options.
Disney's Polynesian Moana Standard Room Review
Entering a Disney Polynesian Resort standard room you are immediately whisked away to a bright and playful place. The new Moana themed rooms incorporate family favorite characters throughout the room in a fun, but tasteful way.
Polynesian Moana Room Entrance Hall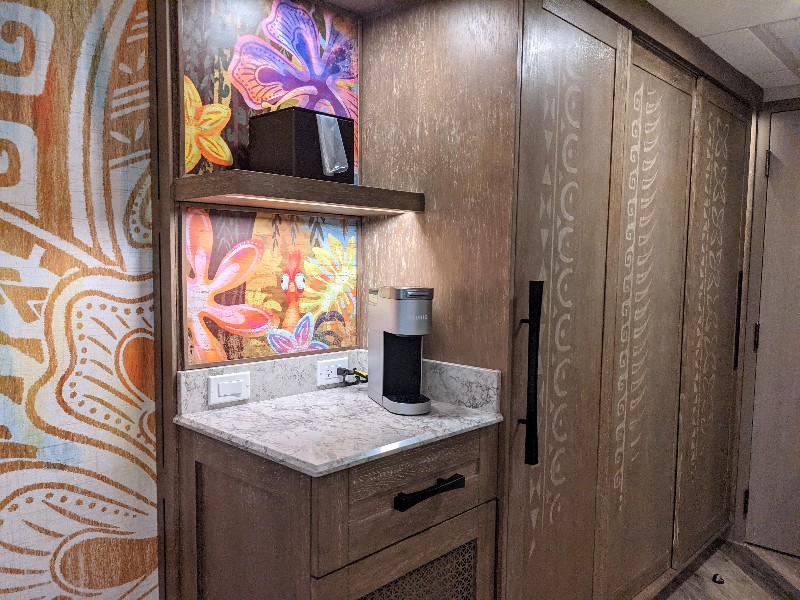 The entrance hall has a large built-in closet plus a coffee prep area and mini fridge. The closet is broken into three sections. First, there is a space with a high hanging rod perfect for dresses. The next closet has a hanging rod for shorter items like shirts since there are two large drawers below. The last section has four shelves plus the in-room safe.
Adjacent to the closet is a countertop with a Keurig coffee pot. A small shelf above is perfect for storing some groceries we purchase from Garden Grocer. A beverage cooler is under the countertop, concealed by a metal mesh door.
The beverage cooler is smaller than a traditional mini fridge. We nearly filled it several bottles of water, a half-gallon of milk, a couple of yogurts, and a package of strawberries.
Polynesian Resort Standard Room Bedroom Area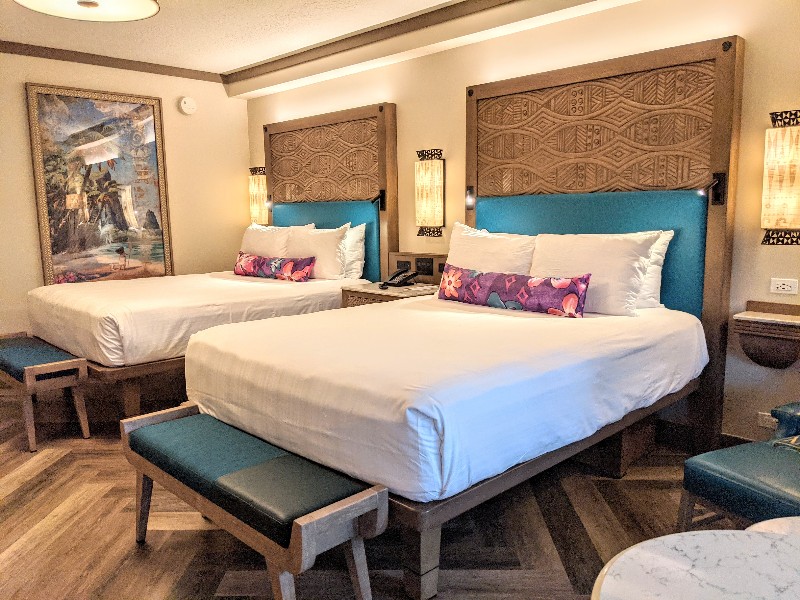 The new Polynesian Moana rooms are a huge improvement over the old Polynesian Village Resort standard rooms. Intricately carved light wood headboards, crisp white bed linens, and laminate floors make the room feel large and airy.
There are tons of beautiful details in the Polynesian Resort Moana rooms. The longer we stayed, the more fun things we found. A large Polynesian inspired mural covers one entire wall of the room. Check the mural for Maui, Moana, and hidden Mickeys which are all incorporated into the beautiful designs.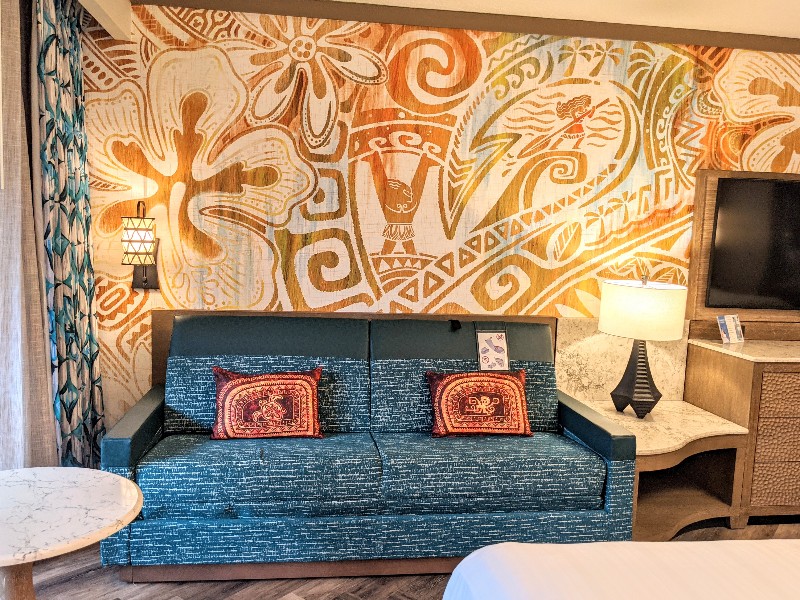 Look for characters elsewhere in the room. A friendly Hei Hei greets you from behind the coffee pot. A lampshade over the corner chair also has many lovable Moana characters.
The Disney Polynesian Resort standard room has two different configurations and can sleep up to five people. We had a two-queen room with a daybed. There is also a Polynesian Resort standard room option for three people with a king bed plus daybed.
The Polynesian standard bedroom area is spacious despite the amazing amount of furniture. A couch and chair with ottoman are both comfortable when hanging out in the room. These spots are also a great place to have breakfast or work when combined with the moveable pedestal tables.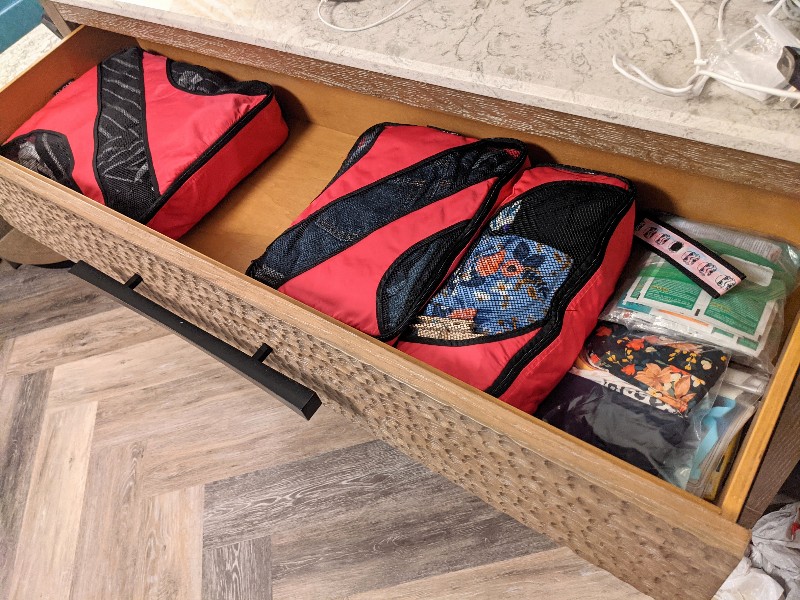 A large dresser below the TV has tons of storage. We fit all of our clothes from our two carry-on suitcases into just one drawer. This means this room that is supposed to have up to five guests can actually store everyone's stuff.
We also loved the seemingly limitless electrical outlets in our Polynesian Moana room. The dresser and nightstand each have several outlets.
There are even more outlets are on the side tables on each outside edge of the beds. All these outlets mean no arguing over who is going to charge their phone, tablet, or laptop first.
Polynesian Resort Standard Room Bathroom
The best change in the new Polynesian Resort standard rooms is the bathroom remodel. The large bathroom is now split into separate areas which helps everyone get ready faster.
Open a heavy pocket door to reveal the beautiful new Polynesian bathrooms. Double sinks nestled into stunning countertops have limited storage above and below.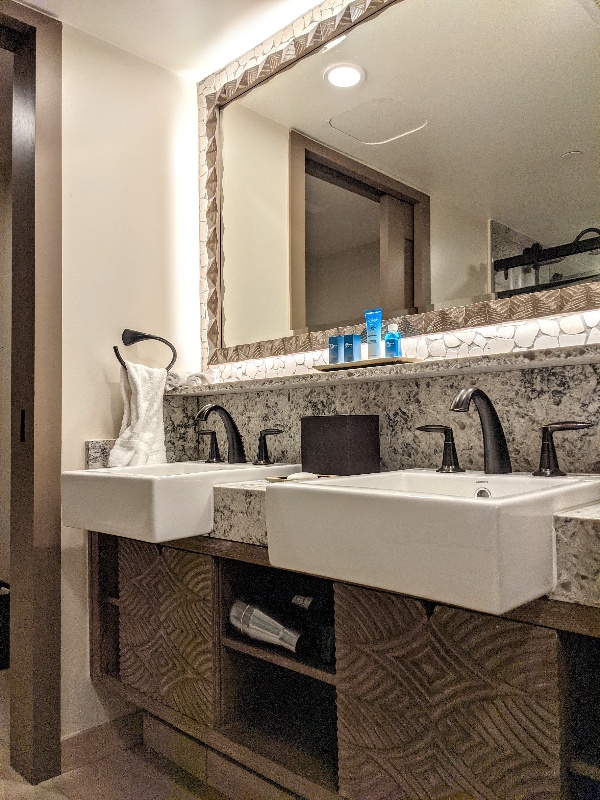 The shower has both a handheld and rain head option plus tile that at first seems like a simple gray. However, in the shower you'll notice subtle Polynesian inspired designs in some of the tiles.
As Disney moves to be more eco-friendly, individual toiletries have been replaced with built-in shared bulk shampoo, conditioner, and body wash. A built-in nightlight completes the features of this part of the bathroom.
Another pocket door closes off the toilet area for privacy. This means someone can use the bathroom while others put on makeup or brush their teeth. Another nice feature is the bathroom doors are all soft close.
Polynesian Resort Standard Room Balcony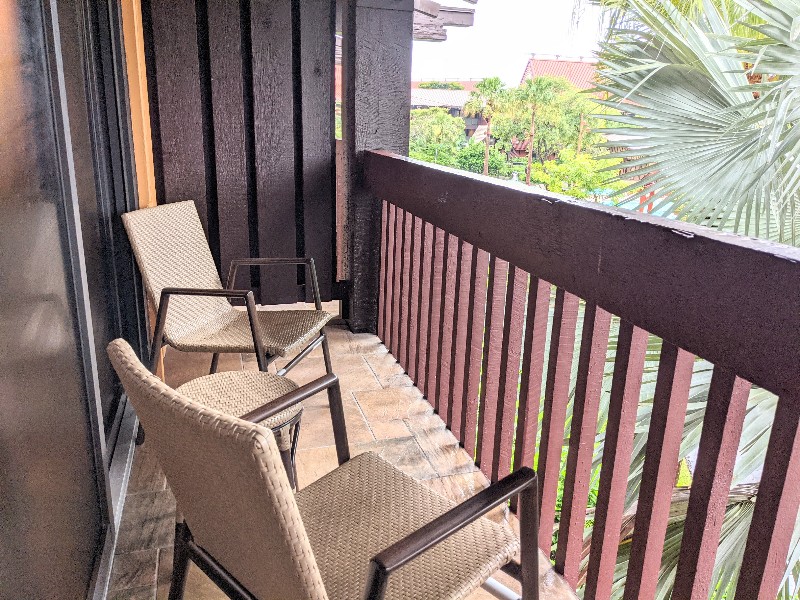 Most Disney World deluxe resorts have a balcony with two chairs and a side table. These balconies are one of our favorite things about Disney World deluxe resorts. When planning your trip to Disney's Polynesian Resort Moana rooms it's important to know not all rooms have a balcony.
Disney Polynesian Moana rooms have a balcony on the third floor of buildings. Rooms on the first floor have a patio. Second floor rooms generally do not have a balcony, just a sliding door.
To increase your chance of having a balcony, request one by phone or through your travel agent, like Get Away Today. At check-in, ask again if there is a balcony or patio room available for your Polynesian Village Resort stay.
Our Disney's Polynesian Resort standard room had the following great features:
Spacious room that sleeps up to five people
Three closets plus drawer space for ample storage
Mini-fridge
Large, split bathroom with dual sinks
Soft close doors in the bathroom
Laminate floors
Blackout curtains
A short walk to Polynesian beach for incredible Magic Kingdom firework views
Disney's Polynesian Resort In Room WiFi
Wi-Fi is included in your Disney World resort stay. Our Polynesian Village Resort room Wi-Fi was a little sketchy. Sometimes we could stream video, make video calls, or work while other times the Wi-Fi barely worked at all.
Disney's Polynesian Resort Parking Cost
Parking is complimentary for resort guests while valet parking costs $33 per night at Disney's Coronado Springs Resort.
Transportation To Parks
Another reason I love Disney's Polynesian Village Resort is it has the most transportation options to get around Disney World.
Currently, work is being completed on the Great Ceremonial House monorail line. This means the Monorail loop to Magic Kingdom is not functional. Walk to either the Transportation and Ticket Center (TTC) or Grand Floridian to grab a monorail to Magic Kingdom.
Check this article for exactly how to get from your Polynesian Resort room to anywhere at Disney World.
How Does A Polynesian Standard Room Compare To A Polynesian Studio Villa?
The Polynesian studio villas and Polynesian Moana rooms have a lot of similarities. Both are spacious, can sleep up to five guests, have a great island inspired feel, and share the same great resort amenities. However, the Polynesian Resort studio villa has a couple advantages over a standard room.
Polynesian Studio Villa Advantages
The first advantage Disney's Polynesian Resort studio villa has versus a Polynesian Moana room is the studio has a second partial bathroom. This partial bathroom has a shower and sink which really helps if you have 5 guests in the villa.
Another advantage of a Polynesian Resort studio villa over a standard room is the kitchenette. The studio villa kitchenette has a sink, cabinets, better coffee pot, some basic kitchen supplies, a toaster, and a microwave. The Polynesian Resort Moana room only has a mini-fridge and a small Keurig coffee maker.
Polynesian Resort Moana Room Advantage
Polynesian Resort Moana rooms are newly remodeled which means they are brighter and have better styling. The studios will look more dated and worn by comparison.
Which Polynesian Room Should I Choose?
Often there is a limited difference in price between a Polynesian Resort studio villa versus a standard room. If you need the second partial bathroom, kitchen amenities, or want a higher chance of a balcony, I would suggest a Polynesian Resort studio villa.
If you prefer clean, crisp decor and Moana themed design the Polynesian Resort Moana rooms are a wonderful choice.
Final Thoughts On Our Polynesian Resort Standard Room
The newly remodeled Polynesian Resort Moana room exceeded our expectations with the bathroom improvements and stylish, clean design. We would absolutely stay in a Polynesian Moana room again.
Spacious rooms, the ability to sleep up to five guests, good dining options, great transportation options, close proximity to Magic Kingdom, and the relaxing ambiance of the resort will keep Disney's Polynesian Village Resort at the top of our preferred Disney World resorts.
Pin it for later: