Disney's Grand Californian combines stunning rustic decor with a high end experience within walking distance to both California Disneyland theme parks. Take a tour of our Grand Californian standard room and see how it compares to Disney's Grand Californian studio villa.
Disney's Grand Californian Location
Grand Californian is one of three on-site Disneyland hotels and has the best location of all three resorts. Disney's Grand Californian has a dedicated entrance directly into Disney California Adventure and another entrance into the center of Downtown Disney.
Disney's Grand Californian Overview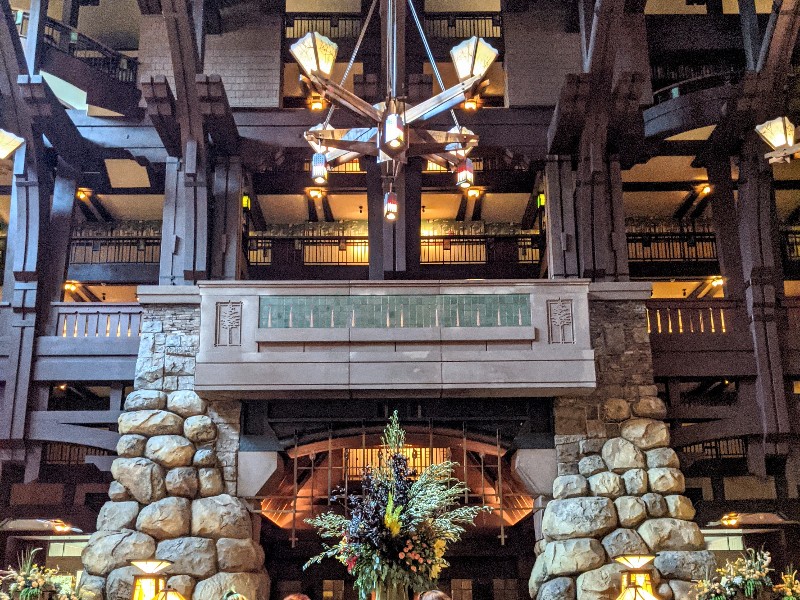 Walk through the incredible stained glass sliding doors into the large, high ceilinged lobby. Dark wood and craftsman style chandeliers invite you to relax and have a seat on one of the soft couches in the spacious lobby.
Soft music permeates the lobby, and we were incredibly happy to see a live pianist back at Grand Californian Hotel for part of each day. The live music adds an extra special touch to the overall Grand Californian resort experience.
Disney's Grand Californian Pools
Nestled in the center of the resort property are Disney's Grand Californian resort pools. There are three separate pools at Grand Californian each with a seating area surrounding it.
Redwood Pool has a waterslide while the two other pools do not. However, the Grand Californian pool area is small enough you can easily access Redwood Pool even if you are seated near Fountain or Mariposa pools.
There are several cabanas at Disney's Grand Californian which seem to limit regular seating. Finding a lounge chair can be difficult so be prepared to share a chair with a friend or family member when heading to the pool.
Disney's Grand Californian Dining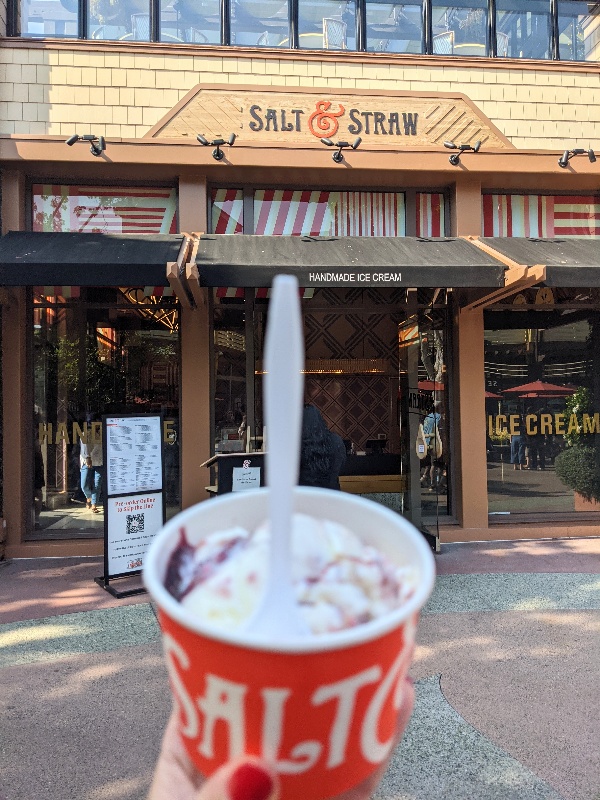 There are several on-site dining options at Disney's Grand Californian from character dining at Storytellers Cafe to high end dining at Napa Rose to quick service at GCH Craftsman Grill.
One of the best things about Disney's Grand Californian dining is that Downtown Disney is right outside the gates. This means there are tons of additional dining options within a short walk of Grand Californian.
Disney's Grand Californian Standard Room Review
Walk down the soft, carpeted hallways before entering your Grand Californian standard room. Directly inside the entrance hall is a wall mounted coat rack. These racks are the perfect place to leave your park bag, hats, or jackets to grab important items on your way to the parks.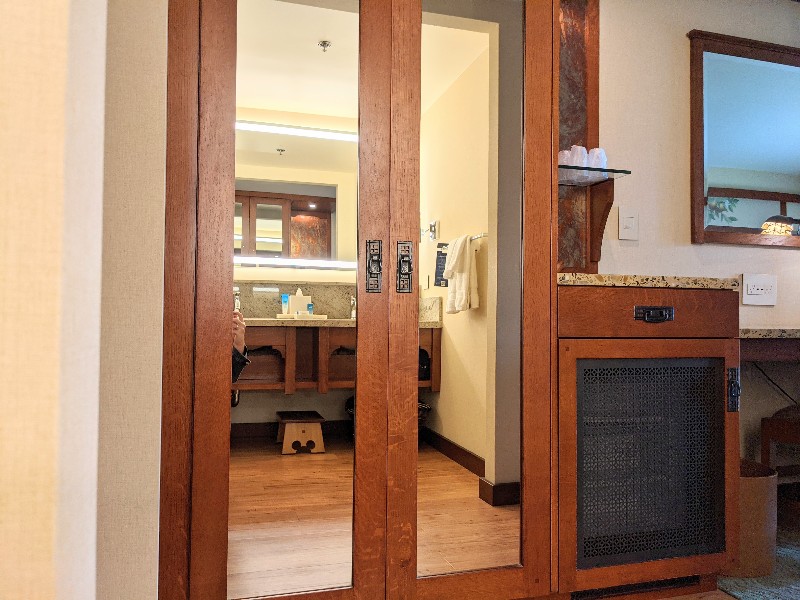 Next up is the closet with two full length mirrors on the doors. More like an armoire, there is limited space to hang clothes inside. The in-room safe, spare blanket, and extra pillow are also located in the closet.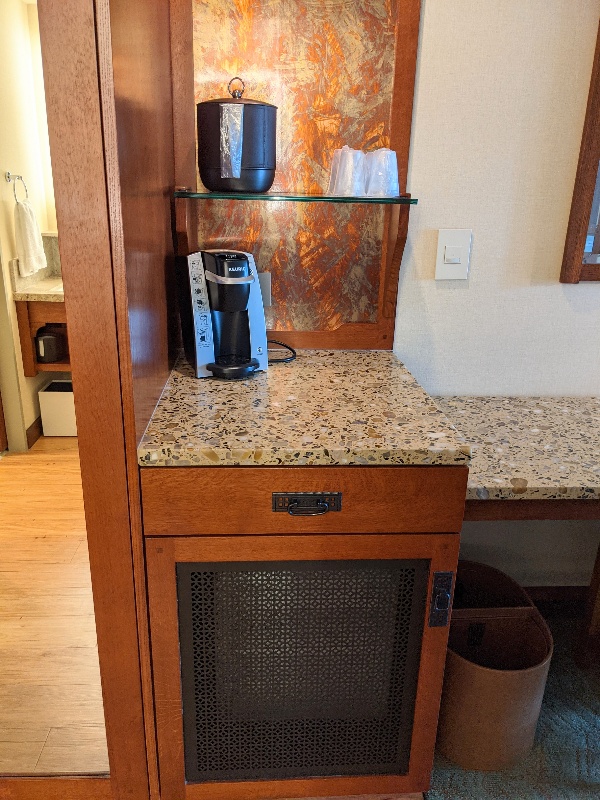 Finishing up the entrance into the Grand Californian resort room is a small shelf with a Keurig coffee pot, a shallow shelf above, and a small mini fridge tucked behind a mesh door underneath.
Disney's Grand Californian Bathroom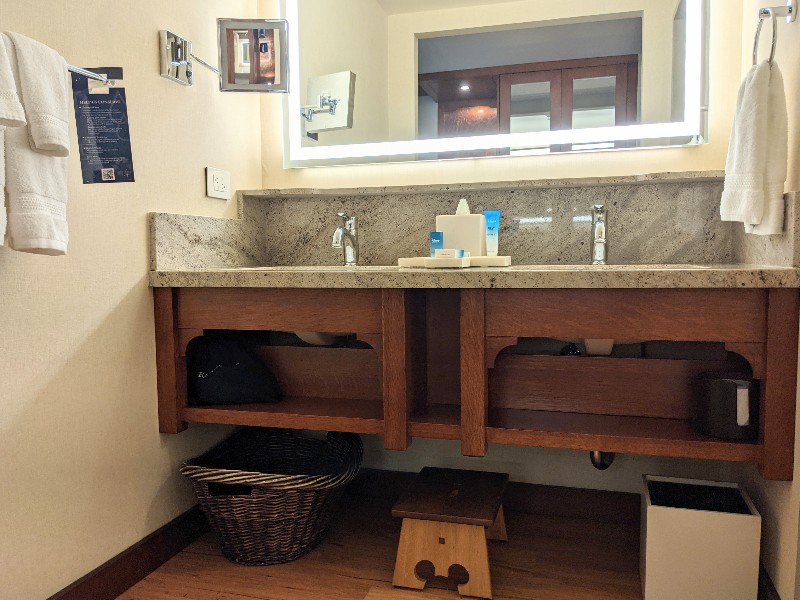 Across from the armoire, two sinks with a large mirror make getting ready with multiple people easier. The vanity storage space is okay overall with some shelving above and below the sink countertop.
There is a pocket door that closes off the bathroom sink area from the toilet and shower area. Unfortunately, there is no door from the sinks to the main bedroom area. This means letting part of the group sleep in while you get ready is challenging.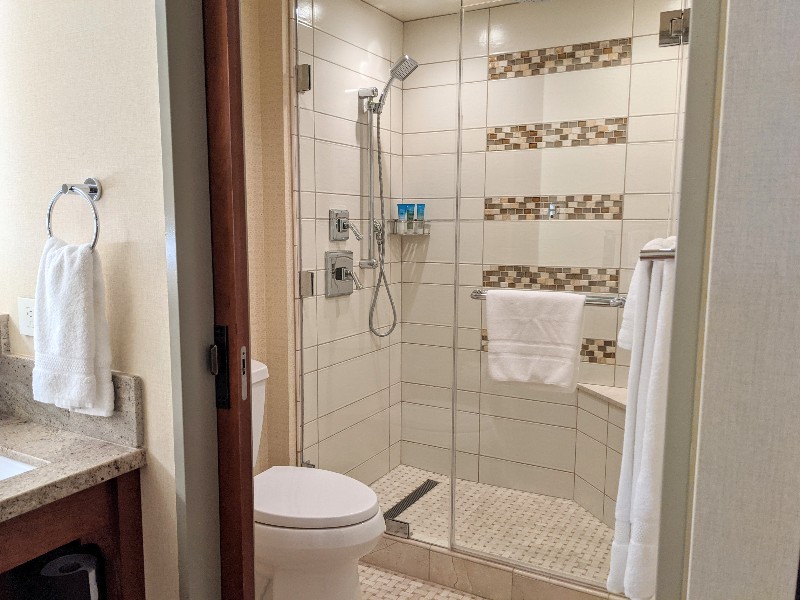 The shower has both a handheld plus rainhead shower option that can be easily switched based on personal preference. Our Grand Californian bathroom standard room only had a shower option, no tub for little ones.
Disney's Grand Californian Bedroom
Grand Californian has a shocking number of potential bedroom layouts. Our room had a traditional two queen configuration, but there are five potential standard room types.
Disney Grand Californian standard room has the following bed and layout options:
1 king bed and 1 twin size sleeper chair
2 queen beds
2 queen beds and 1 day bed
1 king bed, 1 day bed and 1 twin size sleeper chair
2 queen beds and 1 twin size sleeper chair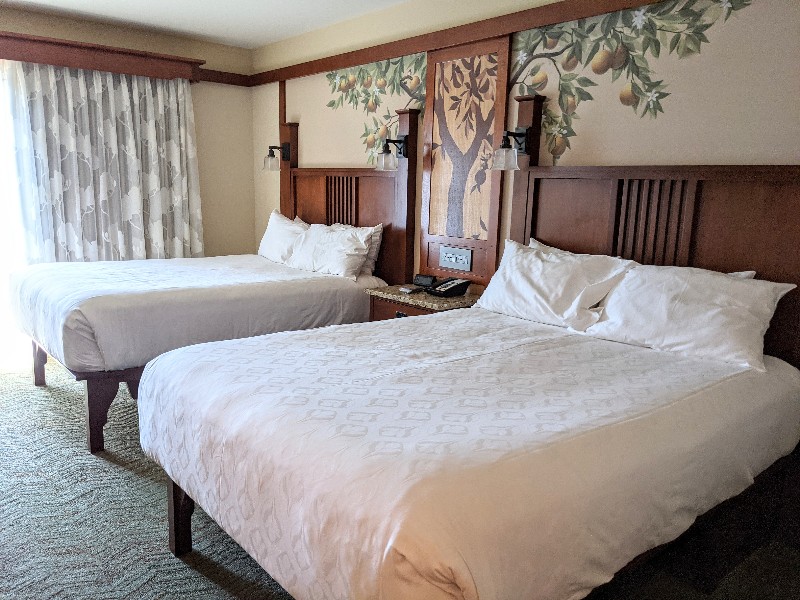 A large mural of orange tree branches full of fruit adorns the wall behind the headboards. Look closely to spot some favorite characters in the mural.
A nightstand full of plugs makes charging your phone overnight a breeze. Find several more plugs above the large dresser. With six spacious drawers we had more than enough space to store eight nights of clothes for the three of us.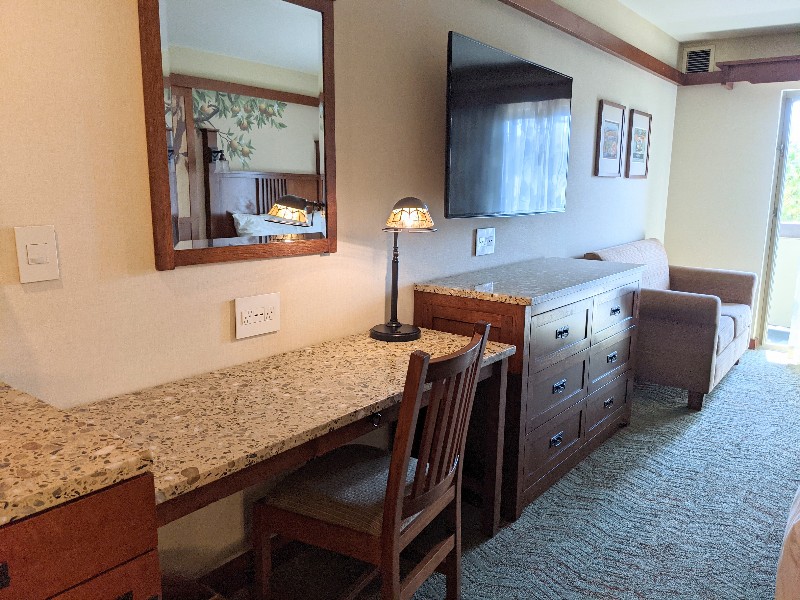 A built-in desk plus chair and a small loveseat rounded out our Disney's Grand Californian standard room furniture.
Disney's Grand Californian Balcony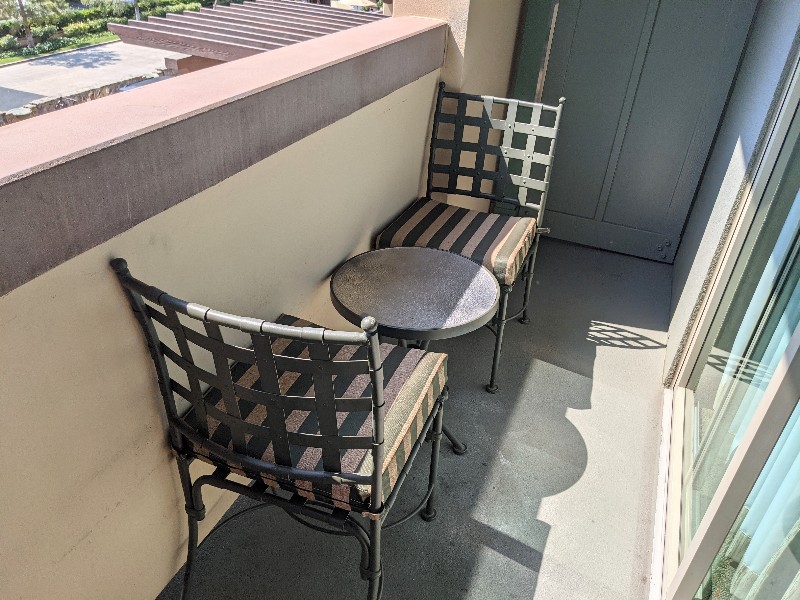 I'm a sucker for a balcony. They are a great place to enjoy the beautiful California weather with a cup of coffee, a cocktail at night, or for my daughter to video chat with friends when taking a break from the parks.
The Disney's Grand Californian standard room balcony has two chairs and a small side table. The balcony also has privacy walls separating each of the balconies.
The Grand Californian standard room has the following great features:
Incredible location within easy walking distance to Disney California Adventure, Disneyland Park, and Downtown Disney
Tons of outlets
Dresser with good storage space
Split bathroom
Mini fridge
In Room WiFi
Disney's Grand Californian in room WiFi is included in your hotel stay. We were able to work, check social media, and video chat with ease.
Grand Californian Parking Rates
Self-parking runs $25 per night per vehicle at Grand Californian while valet service is $35 per night. Oversized vehicle parking is also available, but at a higher fee of $30 per night.
If heading to Disney's Grand Californian for on-site dining without a hotel stay, get three hours of free parking from Storytellers Cafe or 5 hours free parking from Napa Rose with validation.
Transportation To Parks
Disney's Grand Californian Hotel & Spa is perfectly situated for easy access to the entire Disneyland property. Disney California Adventure is directly next to Grand Californian with a dedicated entrance into the park from the hotel.
Use the entrance from Grand Californian into Downtown Disney to hit shops or restaurants. From the same entrance take a short walk to reach the front entrance of both Disney California Adventure and Disneyland Park.
Grand Californian Standard Room Versus A Studio Villa
Disney's Grand Californian standard rooms and studio villas are similar in size, but the studio villas only have one room layout: a king bed plus fold out couch. This makes the studio feel a little bigger if the fold out is closed, but just as small once the bed is unfolded.
Both rooms have a split bathroom, but the Grand Californian standard room has double sinks while the studio villa only has a single sink. The studio does have a bathtub which is an advantage over the standard room when traveling with young kids.
The main advantage a Grand Californian studio villa has over a standard room is the small kitchenette. The studio has a larger mini fridge, microwave, toaster, and traditional coffee pot while the standard room only has a small mini fridge and Keurig.
Read our full studio villa review to help you choose the right room for your Disneyland trip.
Overall Impression Of Our Disney's Grand Californian Standard Room
The Craftsman styling, posh lobby, and cute in room Disney details make the Grand Californian standard rooms a charming place to stay while visiting Disneyland. The Grand Californian Hotel location is the best of the Disneyland on-site options which keeps this popular hotel on the top of many people's Disneyland bucket list.
We always enjoy our stays in a Disney's Grand Californian standard room, but it is worth looking into Disneyland Hotel for your trip, too. Disneyland Hotel is less luxurious with a slightly longer walk to the parks, but the rooms are more spacious than those at Grand Californian. Having extra space may be worth the extra walk depending on your exact group.
Pin it for later: