Have you watched all the Marvel movies in order? Do you know all the heroes and villains? Do you just like doing fun things and know nothing about the Avengers? Then you are in luck! Disney California Adventure Avengers Campus is incredible fun for both casual and super fans with rides, characters, and amazing atmosphere.
Avengers Campus Rides
There are two Avengers Campus rides: WEB SLINGERS: A Spider-Man Adventure and Guardians of the Galaxy – Mission: BREAKOUT!
WEB SLINGERS: A Spider-Man Adventure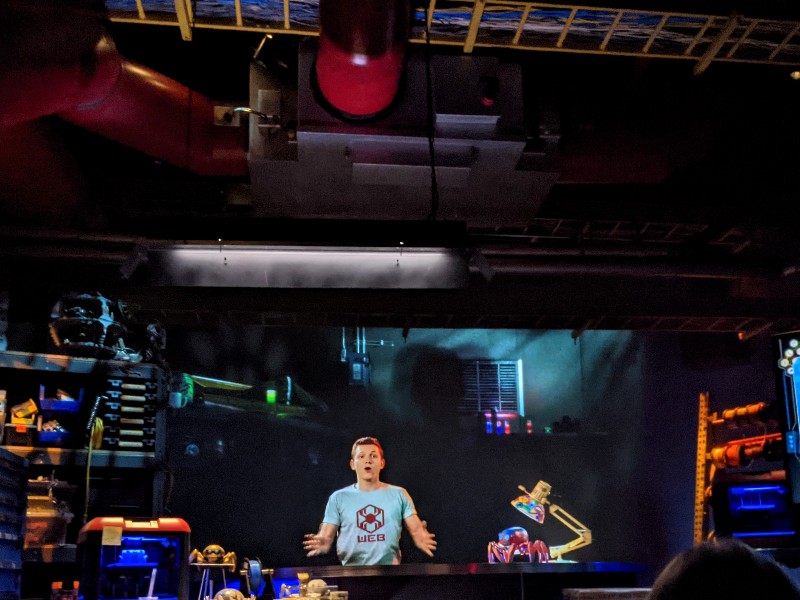 WEB SLINGERS is a signature attraction that debuted during the Avengers Campus opening. A brand new ride vehicle and interactive experience incorporate guests into the attraction like never before.
WEB SLINGERS: A Spider-Man Adventure Ride Experience
On your way into the Worldwide Engineering Brigade open house, Peter Parker's spider bots get stuck in self-replication mode. Spider-Man needs help stopping the out of control spider bots to save Avengers Campus and this is your chance to be a hero.
Board the WEB SLINGER vehicle and gesture with your arms to shoot webs to trap, smash, or otherwise destroy spider bots. Each guest has an individual score plus bonuses when the team works together to knock out larger bots. The pre-show queue plus ride interaction make WEB SLINGERS an incredibly fun ride for all ages, since there is no height requirement.
WEB SLINGERS: A Spider-Man Adventure Virtual Queue and Standby Information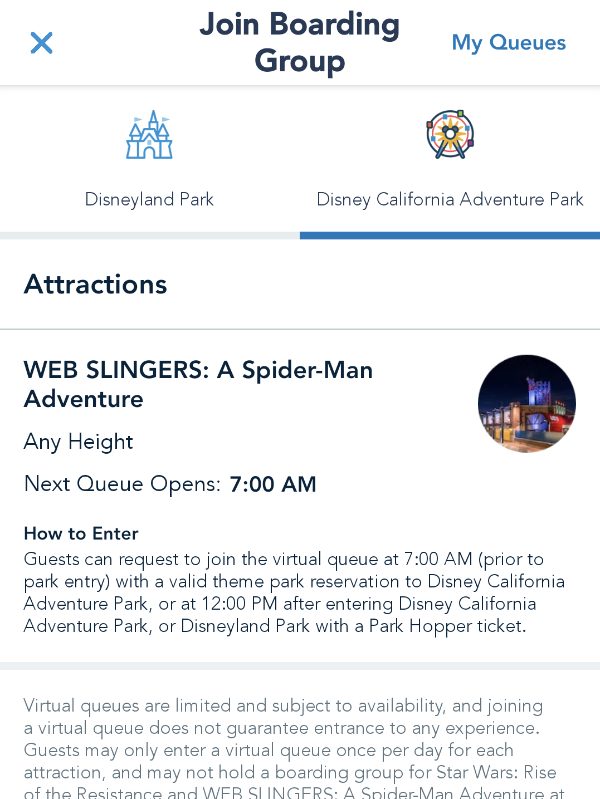 Riding WEB SLINGERS: A Spider-Man Adventure has gotten a little easier, if you don't mind waiting in line. Originally this attraction used a virtual queue system like Rise of the Resistance, but is now primarily a standby queue.
However, don't go to Disneyland assuming WEB SLINGERS will be standby on your vacation. Disneyland's website states "WEB SLINGERS May Require Guests to Join a Virtual Queue". Because WEB SLINGERS can be either a standby or virtual queue it's important to understand how to register for the virtual queue before arriving for a Disneyland vacation.
Using these techniques below, I was able to snag WEB SLINGERS boarding groups number 1 and number 3 on two different days when visiting Avengers Campus the first time.
Here's how the virtual queue works if you have Disney California Adventure theme park reservations:
The WEB SLINGER virtual queue opens at 7am on the day of your Disney California Adventure theme park reservation. A few minutes before 7am have the app open and ready. Refresh until the "join" icon shows up.
Then select who will ride the attraction and click confirm. Your boarding group number will appear, and you can keep track of approximately how long it will be until you're called using the Disneyland app. When it is time for your boarding group to ride, you'll get a push notification on the app and have 1 hour to return and ride.
If you fail to snag a WEB SLINGER boarding pass at 7am, you can try again at noon if you are inside Disney California Adventure.
Starting your day in Disneyland? This is what you do if you have Disneyland theme park reservations with a park hopper ticket:
Starting your day in Disneyland is similar to above, but your only opportunity to get a WEB SLINGER boarding pass is at noon.
Follow the same routine as above. Make sure you have the Disneyland app updated and ready to go a few minutes before noon. A minute before noon, start refreshing the app until the "join" button appears. Click join and see what boarding group number you get.
Can I get boarding passes for both Rise of the Resistance and WEB SLINGERS in the same day?
Yes, but there are a couple important things to know about trying for both virtual queues in the same day. The most important thing is you can only hold one virtual queue place at a time.
If you got a Rise of the Resistance boarding pass at 7am, but your group hasn't been called before noon, getting a new pass for WEB SLINGERS will cause you to lose your Rise pass.
The opposite is true, too. If you have a WEB SLINGERS boarding group and haven't entered the physical queue by noon you cannot get a Rise of the Resistance pass without losing your WEB SLINGERS slot.
Guardians of the Galaxy – Mission: BREAKOUT!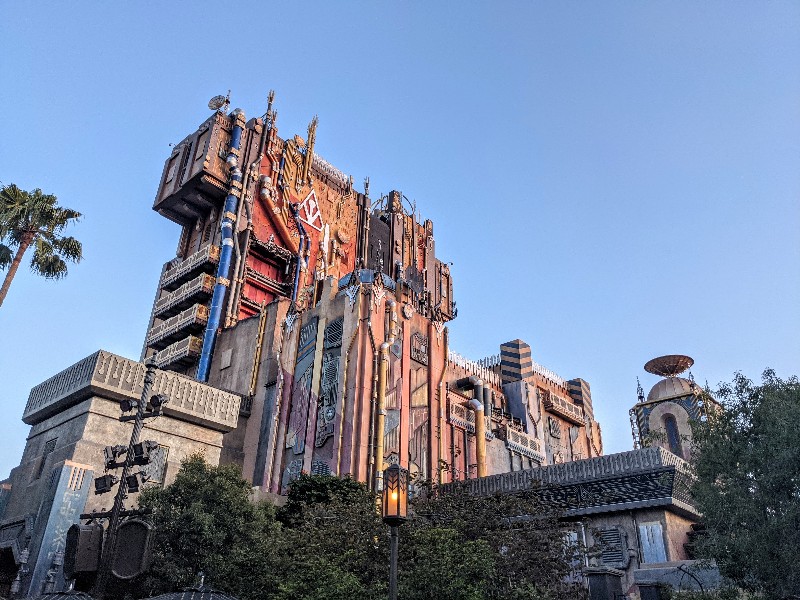 The Guardians have been captured and are on display in Tivan's collection. As usual Rocket escapes, but he needs your help to break the rest of the Guardians out of containment. During the breakout your gantry lift rises and falls at alarming speed.
Enjoy the unpredictable ride, which varies based on the song Rocket plays on Star Lord's beloved Walkman. The styling, brief scenes featuring the Guardians, and peppy soundtrack makes this one of my favorite attractions in all of Disneyland or Disney California Adventure despite not loving Tower of Terror at Disney World.
Avengers Campus Characters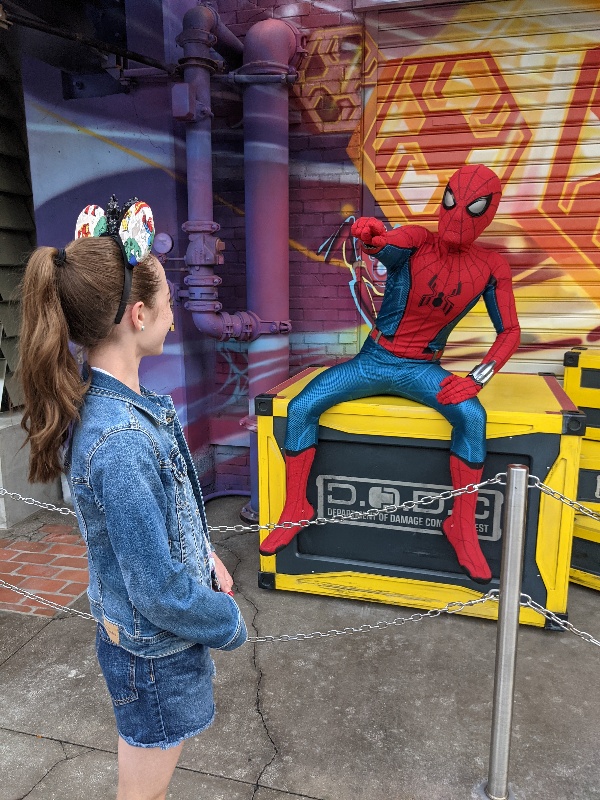 Seeing the Avengers around campus is fun for all ages. Several live shows feature Avengers like Spider-Man, Dr. Strange, Black Widow, Black Panther, Dora Milaje, and Star Lord. These engaging shows are one way the stories come to life in Avengers Campus.
Characters also freely roam the campus, patrol Avengers Headquarters, and climb down buildings to interact with guests at Disney California Adventure. Find out more about seeing Avengers Campus characters in this full guide plus our best tips.
Avengers Campus Food
Pym Test Kitchen
The most popular dining in Avengers Campus is Pym Test Kitchen for new eats and Pym Tasting Lab for craft brews or cocktails. Pym Test Kitchen serves breakfast, lunch, and dinner daily.
Lunch is the busiest time at Pym Test Kitchen with mobile order queues quickly filling up well into early afternoon. Breakfast, late afternoon and dinner time are much less crowded if you're dreaming of a Quantum Pretzel or Not so Little Chicken Sandwich without the crowds.
We tried several items at Pym Test Kitchen and were really impressed with the overall taste and quality of everything we ate.
Pym Test Kitchen Breakfast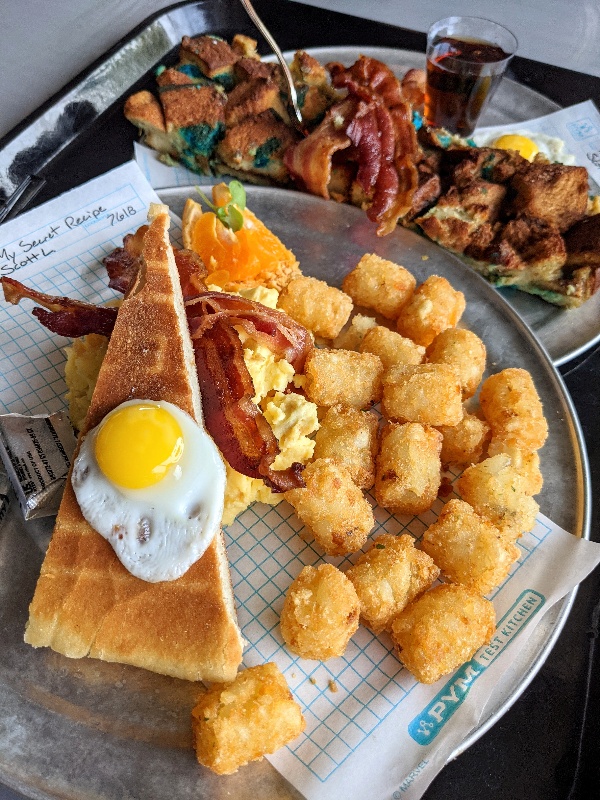 I tried Calculated Breakfast = E X 2 + (B+P)/T which is an awkward way to say scrambled eggs, bacon, tater tots, and focaccia toast. An adorable sunny side up egg perches atop the focaccia toast and generous pile of scrambled eggs. Overall my breakfast was simple but well done.
My husband opted for Ever-expanding Cinna-Pym Toast. The large slab of cinnamon toast reminded me of monkey bread, but with a harder crust in some areas. The Cinna-Pym Toast comes with a tiny sunny side up egg and bacon, too.
The kids menu has smaller versions of these items, and Elizabeth chose Nano Eggs-periment. A divided tray perfect for kids holds scrambled eggs, a mandarin orange, drink of your choice, and turkey bacon. The turkey bacon was a little chewy, but the rest of the meal was good.
Pym Test Kitchen Lunch/Dinner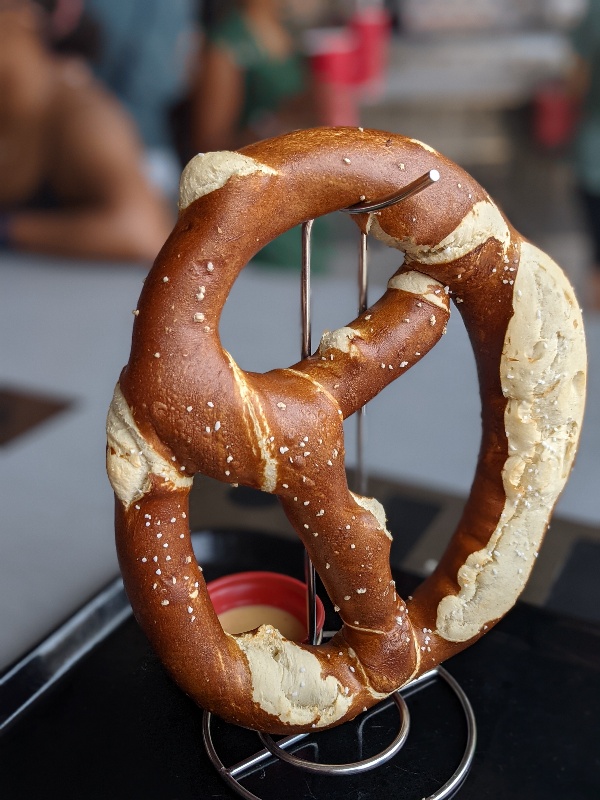 The lunch/dinner menu at Pym Test Kitchen is what most people are excited to try. In particular, the most popular items are the Quantum Pretzel and Not so Little Chicken Sandwich. The Quantum Pretzel is large enough that two of us shared it, and there was still plenty leftover. The pretzel is delicious, and the beer cheese sauce has a good hint of beer without being overpowering.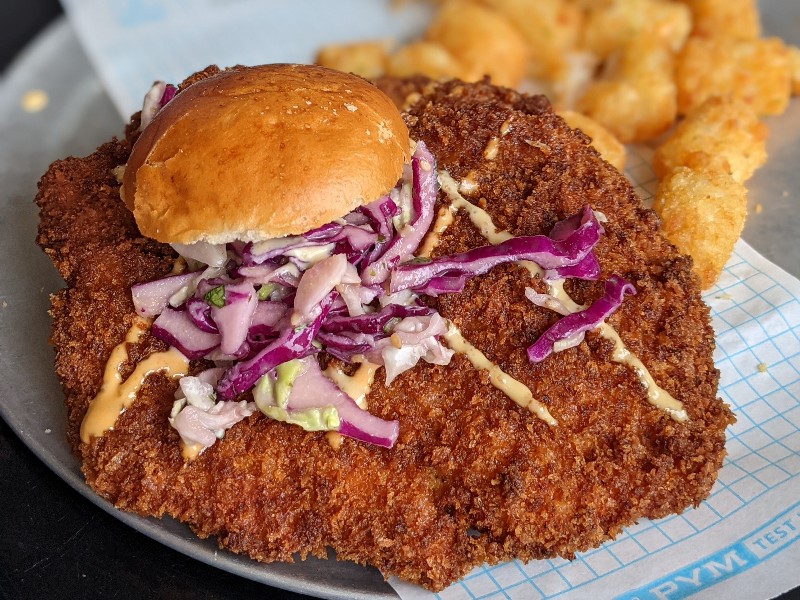 I was worried that the Not so Little Chicken Sandwich would be overhyped based on its Instagram-worthy appearance. Thankfully it exceeded expectations and is quite good. Eating it with that tiny bun is a challenge so we opted to use a fork and knife. It was large enough to split and with the tater tot side plus pretzel we left Pym Test Kitchen happily stuffed.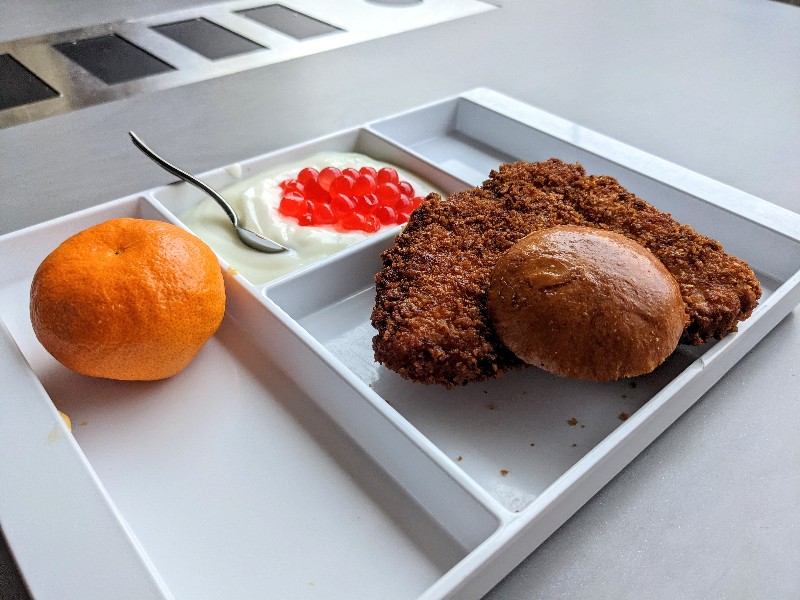 If you want a Not so Little Chicken Sandwich in a more manageable size and without sauce, the kids Subatomic Chicken Sandwich is the same bun with a smaller version of the fried chicken. Just know the kid's version comes with a mandarin orange and yogurt instead of tater tots.
Tips For Pym Test Kitchen
Mobile Ordering Saves Time
Pym Test Kitchen offers mobile ordering all day. We found it easy to make mobile orders for breakfast with an immediate pickup time.
When Pym Test Kitchen switches over to lunch the mobile ordering queue fills up into early afternoon almost immediately. If you get in the standby line around 11am the wait isn't too bad but grows quickly.
Seating At Pym Test Kitchen Can Be Difficult To Find
The seating area directly attached to Pym Test Kitchen is extremely small and almost always full, but there is additional seating at the "Field Research Center". This mostly shaded area across from Guardians of the Galaxy – Mission: BREAKOUT! has tons of seating and is only a short walk from Pym Test Kitchen.
Avoid Lunchtime at Pym Test Kitchen
Breakfast, late lunch, and dinner time at Pym Test Kitchen are much less crowded. If you can, avoid peak lunchtime for a more relaxed experience.
Shawarma Palace
Good news! You don't need to defeat the Chitauri to earn some food at Shawarma Palace. With two locations in Avengers Campus it's easy to grab a quick shawarma or falafel wrap on the go. The breakfast and lunch/dinner wraps are made ahead of time, so no changes or substitutions are available at these stands.
Avengers Campus Photo Ops
The details at Avengers Campus are incredible and seem to be everywhere you look. There are tons of Avengers Campus photo ops from the obvious Avengers Headquarters or Avenger characters to the subtle details like old Strategic Scientific Reserve logos.
Avengers Campus Ancient Sanctum Photo Spots
There are two great photo spots in the Ancient Sanctum. The first is the sanctum building's stunning doors. This photo op is only available early in the day. Once Dr. Strange: Mysteries of the Mystic Arts shows start this area is blocked off between shows.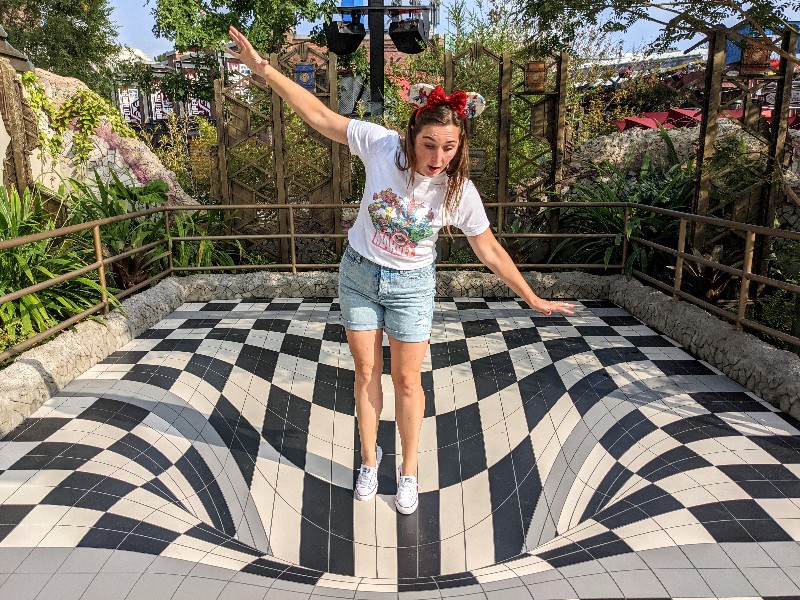 A second staged Ancient Sanctum photo op is on a path to the right of the sanctum doors. The painted ground doesn't look like much in person, but when a photo is taken the ground looks like it is dropping. Stand close to the gray line and then have some fun pretending to fall or jump out of the hole.
Avengers Headquarters Photo Ops
The Quinjet high above Avengers Headquarters with a backdrop of Guardians of the Galaxy – Mission: BREAKOUT! is a stunning sight made even more picturesque at sunset.
Avengers wander the headquarters near the Quinjet and around the upper walkways for quick photos. Several Avengers also come out to ground level for fun photo ops with guests.
Details Everywhere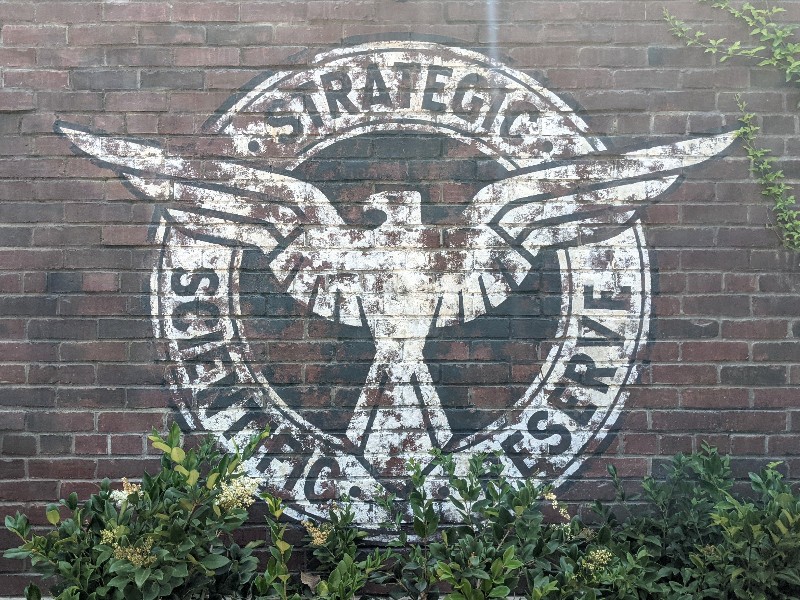 Dedicated Marvel fans can joyfully snap pics of subtle details for unique Avengers Campus photo ops. Several walls have the old Strategic Scientific Reserve or Stark Automotive logos which are distressed to look like they've been there for decades.
Final Thoughts On Disney California Adventure Avengers Campus
Avengers Campus seamlessly integrates Marvel characters, cool styling, and unique Avengers Campus rides into Disneyland. Both Avengers Campus rides are incredibly fun and since WEB SLINGERS doesn't have a height requirement everyone can enjoy it, if you snag a boarding pass using my tips above.
Galaxy's Edge was the first step in making an immersive land at Disney and I think Avengers Campus has improved upon the design. It feels true to the stories and the characters feel like a natural part of the campus. I can't wait to see how Avengers Campus evolves when the new Marvel movies and series are released.
Ready to book your Disneyland vacation? Check out our travel partners at Get Away Today!
Pin it for later: