Weekend trips to Disney World can be a lot of fun and a great option for those unable to manage a longer trip. A 3- to 4-night Disney vacation gives visitors a glimpse of the Disney magic and is perfect for packing light. Did I really just suggest packing light for Disney World? Yes, I did. You really can pack light for Disney World using carry-on luggage only. Today I'll share with you how I pack light for Disney World (including a runDisney weekend).
I am a participant in the Amazon Services LLC Associates Program, an affiliate advertising program designed to provide a means for us to earn fees by linking to Amazon.com and affiliated sites.
General Advice For Packing Light For Disney World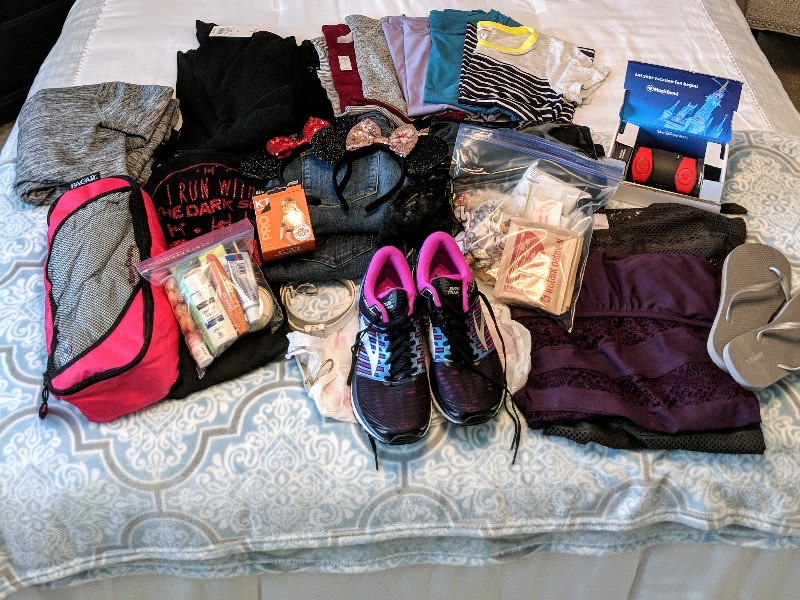 Coordinating Color Clothes and Accessories Are Key
I always pack clothing in a coordinating color scheme. This allows easy mixing and matching of all tops and bottoms. Packing necklaces and/or a thin scarf provides variety to my outfits without needing much suitcase space. It is shocking how easily an accessory changes an outfit!
Make Some Careful Choices
You must be ruthless when packing shoes and toiletries in a carry-on when packing light for Disney World. Shoes are a huge space waster in a carry-on suitcase. I like to wear my main shoes for the trip on the plane (Converse All-Stars are my favorite).
I also pack a pair of sandals or flip flops for dinners at the resort or going to the pool. The only time I have packed a third pair of shoes was when it was absolutely necessary for my runDisney event.
The Transportation Safety Administration (TSA) has very specific rules about liquids carried by travelers in the United States. For TSA compliance each of your liquids, gels, and creams must be less than 3 ounces and all containers fit within a 1-quart resealable bag. Find out more about the requirements here. The TSA uses the mnemonic "3-1-1" to help you remember "3 ounces, 1 bag, 1 quart."
I ordered a set of 1-ounce bottles from Amazon (affiliate link: buy on Amazon) and found they are the perfect size for this length trip. I don't bother packing shampoo, conditioner, or body wash when packing light for Disney World, but instead use what's supplied at the resort. You can bring your own solid bar of soap if you prefer, since that doesn't count toward your liquid limits.
Please note: Value resorts do not provide body lotion, so definitely pack your own.
I usually need one carry-on roller bag per person. I have fit all of my and Elizabeth's items in one roller bag for a 3 night trip in hot weather, but that is not the norm even for us. You may be able to use one bag for 2 young children since their clothing tends to be smaller.
My General Packing List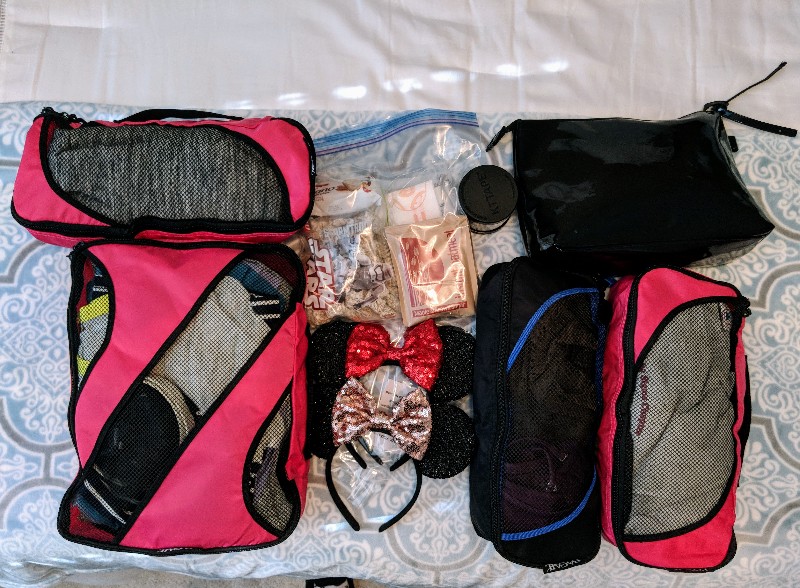 Clothing (per person)
Tops (1 for each day plus 2 extra)
Bottoms (1 for every two nights plus 1 extra)
Cardigan or light jacket
Socks (1 for each night plus 2 extra)
Undergarments (1 for each night plus 2 extra)
Pajamas and slipper socks
Lightweight scarf, necklaces
Swimsuit and cover-up
Flip flops or sandals
runDisney Add-Ons
Running shoes
Sports bra
Running top
Socks
Running pants/shorts
Food (I wasn't sure what breakfast options would be on race day)
I also packed KT Tape and a golf ball to help with my plantar fasciitis therapy on the road
Toiletries/Extras
It is possible to fit all of these items in my carry-on roller bag. I still use a Chester Minima bag, but they are no longer available. Choose a similar carry-on with two open sections that meets your airline's carry-on requirements. Knowing carry-on rules for your airline, and following them, avoids last-minute issues at the gate.
Here is a link to an expensive bag we've used in the past (affiliate link: buy on Amazon). It is a good carry-on, but it only meets the Southwest Airlines carry-on bag size requirements.
Entertainment for the plane such as books, magazines, phone, laptop, and headphones get added to my park bag which doubles as my personal item for the plane. Make sure you review my park bag packing to avoid forgetting important Disney park essentials.
Pro tip: I place my bag with liquids inside my personal item park bag for easy access when going through security. Once I am done I then move the 3-1-1 bag into my roller bag.
How To Pack Light For Disney World
Packing cubes make it a lot easier to fit all of these items into your carry-on luggage. Carefully fold your items so that there is no wasted space in each cube. You will fit a lot more than you think into each cube!
Using packing cubes is also a great way to organize items. For example: pajamas, undergarments, and socks go in one cube, clothes in another, and all our swim gear in another. Then you know exactly where to find the things you need. These are the packing cubes we consistently use for our trips (affiliate link: buy it on Amazon).
Game time! Now it is time to play suitcase Tetris! You may have to try different configurations to find the one that uses the space in your bag most efficiently.
Watch the full video of my packing light for Disney World here:
Final Thoughts
I have grown really fond of packing light for Disney World in just a carry-on. Packing light can save money (if your airline charges for checked bags), time (if you are collecting your own baggage), and hassle (less luggage means easier travel).
However, there is no shame in needing to check a bag. In fact, I have an extremely comprehensive Disney World packing list that you can use (with a free printable) if you don't think packing light for Disney World is for you.
Will you be team carry-on or checked bags or your next Disney trip?
Do you need more help planning your Disney World trip? Check out other Disney World tips and tricks in my Disney World Guides.
Pin it for later: