I have wanted to do a runDisney event for the last couple of years. However, as a non-runner I was afraid that this bucket list item would be unattainable. After lots of research (and encouragement from those who have done runDisney events) I registered for my first runDisney race: the Star Wars Dark Side 5K. Find out the most important tips I learned as a runDisney beginner when completing my first runDisney 5K.
I am a participant in the Amazon Services LLC Associates Program, an affiliate advertising program designed to provide a means to earn fees by linking to Amazon.com and affiliated sites.
Things To Do At Home
Register For The Race
runDisney 5K events are extremely popular, especially for runDisney beginners. These 5K races often sell out quickly. There are also 10K, half marathon, full marathon and challenge options for experienced runners. Different race lengths are available on different runDisney race weekends.
I recommend registering for your event as soon as it opens. Registration often occurs several months in advance of a race. To find registration dates, check rundisney.com and choose the specific race weekend you plan to attend. Note that Disney World Annual Passholders can register early.
Train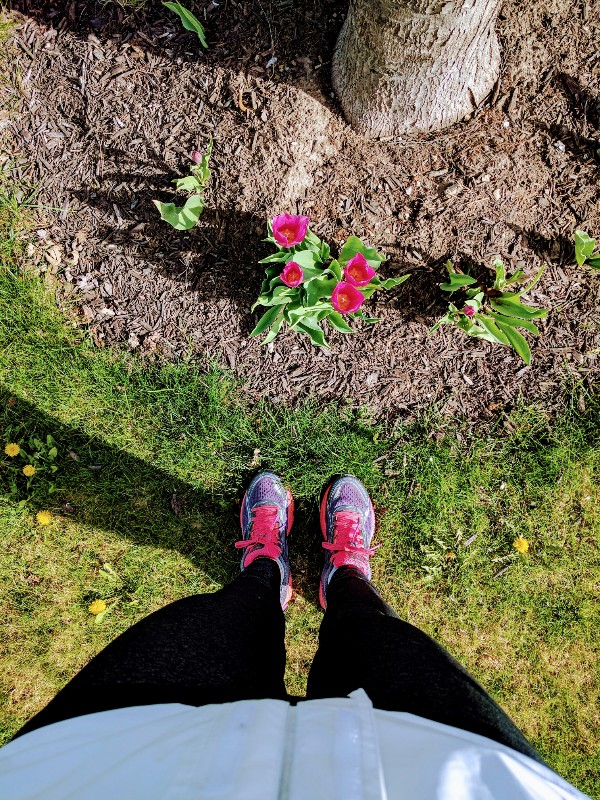 Former Olympian Jeff Galloway has compiled several race training regimens for those running a 10K race or more. There are also many couch-to-5K options available online and as mobile apps to help you train.
Don't be discouraged if you don't think you can run. Lots of people walk the 5K! We average 6 to 10 miles of walking per day on a Disney Parks vacation. If you are ready for that you are probably ready to walk a runDisney beginner event like the 5K.
Read The Email
A runDisney pre-race email message should arrive a few days prior to the event with an overview of what to expect during race weekend.
runDisney Race Weekend
Expo
It is important to arrive at Disney World early on the day before your race (or even two days before). Only registered runners are allowed to pick up their runDisney bibs. No official bib means you do not get to participate in the runDisney event, so it's important to plan ahead. Buses are available to bring you from on-site Disney World resorts to the runDisney Health and Wellness Expo at the ESPN Wide World of Sports Complex.
First, pick up your bib which required a drivers license and signed waiver. We found printing the waiver was super easy. You only need to type your last name and date of birth into one of several computers, and the waiver prints out automatically.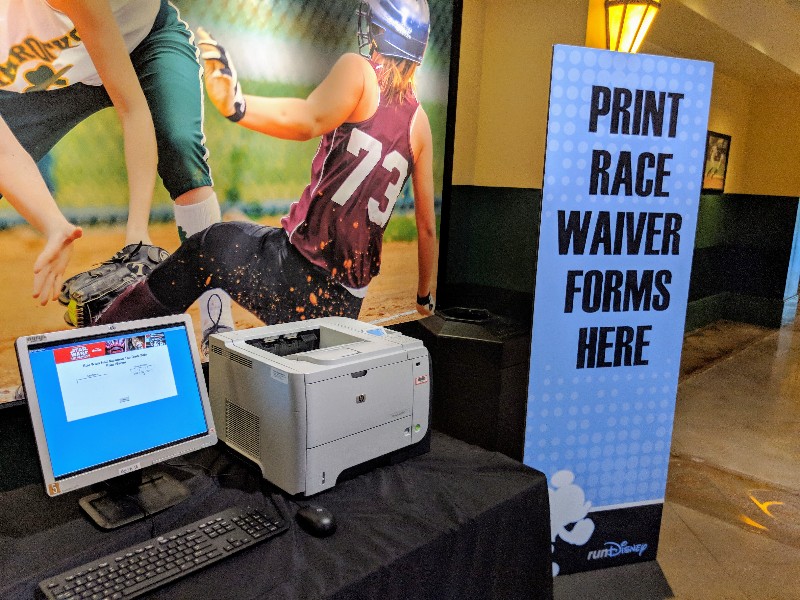 Next, take your signed waiver to the proper booth based on your bib number (found on the bottom corner of the waiver). You will need to show your driver's license and sign a log book to confirm you have picked up your official runDisney bib.

After picking up your bib head into the expo center to get your official race shirt, which is included in the price of your race registration. In this area there are many booths with race related gear and clothing. We made a great impulse buy here – a SPIBelt (affiliate link: buy on Amazon). This running belt comfortably held my phone, lip balm, and some gum on race day while being barely noticeable while running.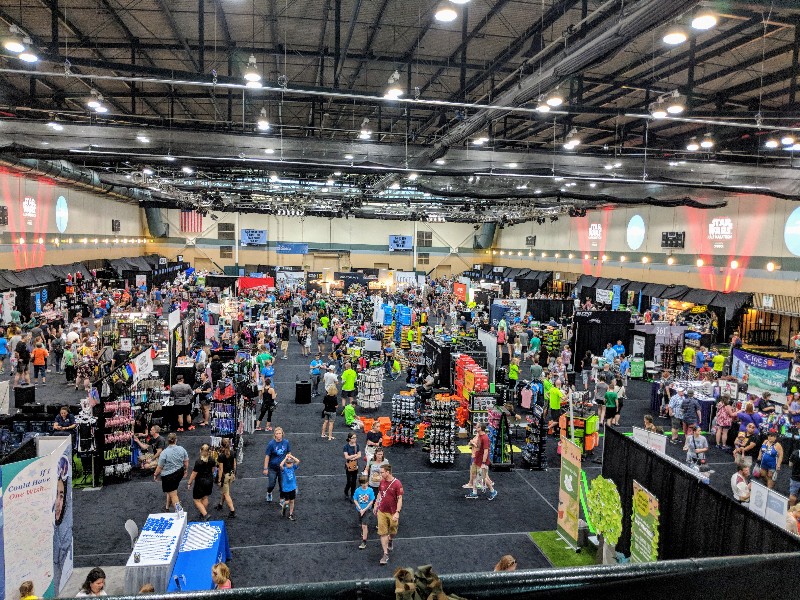 Official runDisney gear is found in a different part of the ESPN Wide World of Sports complex. By the time we arrived on Thursday afternoon some of the more popular items were already sold out.

You can sometimes also meet characters at the expo. We took pictures with two Stormtroopers and a replica Jabba the Hutt. There was also a fun probe droid photo opportunity outside one of the expo entrances.
Race Day

Getting to the race from a Disney Resort
Race mornings start very early (our alarm went off at 2:45am). Give yourself some time on the morning of race day to get ready, get to the bus, and arrive at pre-race activities. We purchased yogurt, fruit and granola parfaits the night before and stored them in our in-room mini fridge. This was a great quick breakfast for us before taking the bus at 3:30am.

Buses run continuously before the race from 3:30am until 5:00am. The official information for our Star Wars 5K stated we had to be on a bus no later than 4:00am to ensure we arrived on time. The buses drop you off quite a distance from the pre-race activities, so don't be surprised if you end up doing more than a 5K when you factor in pre- and post-race walking.
Please note: Check your official race weekend times guide to confirm your required bus time arrival. We got the Star Wars 5K times guide from hotel check-in and the guide lists lots of specifics about bus times, where to find the bus stops, race times and hours for the health and wellness expo.

Before and During the Race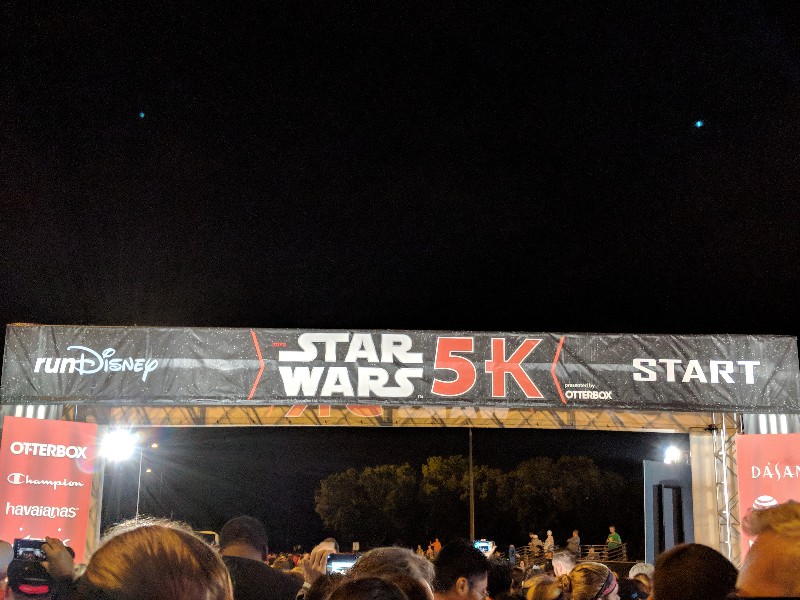 There is a DJ, some character meet and greet opportunities, and emcees on video screens keeping the crowd energetic while everyone waits for the race to begin.

Our Star Wars Dark Side 5K officially kicked off at 5:30am, but there were several corrals of runners and each corral had about four mini-waves to help separate the participants. We were corral E, mini-wave 3, and we officially started the race at 6:05am.

It can be chilly in the morning before the race starts, depending on the season. If you would like to wear a layer but don't want to run with it you have an interesting option. As you approach the starting line there are white boxes (that look like garbage receptacles) where you can discard any unneeded layers. These discarded clothes are then donated by Disney.
I bought a cheap sweatshirt, and my friend brought an old windbreaker. As we neared the start we removed the layer and left it in the bin. This worked out well for us since pre-race it was nice to have the warmth, but once we started running no longer needed it.
The 5K really is a fun run. There is no official time kept for participants of the 5K, and tons of walkers participated. Unlike the 10K, half-marathon, and marathon where you must maintain a certain pace to avoid being swept the 5K has no such restrictions. For runDisney beginners please note "swept" means you are taken off the course, put on a bus, and driven to the end of the race.

I had hoped to run the whole 5K except for character stops, but there were many times we were hemmed in by walkers and ended up walking. This goes to show why the Star Wars Dark Side 5K is a great event for runDisney beginners.
Character Information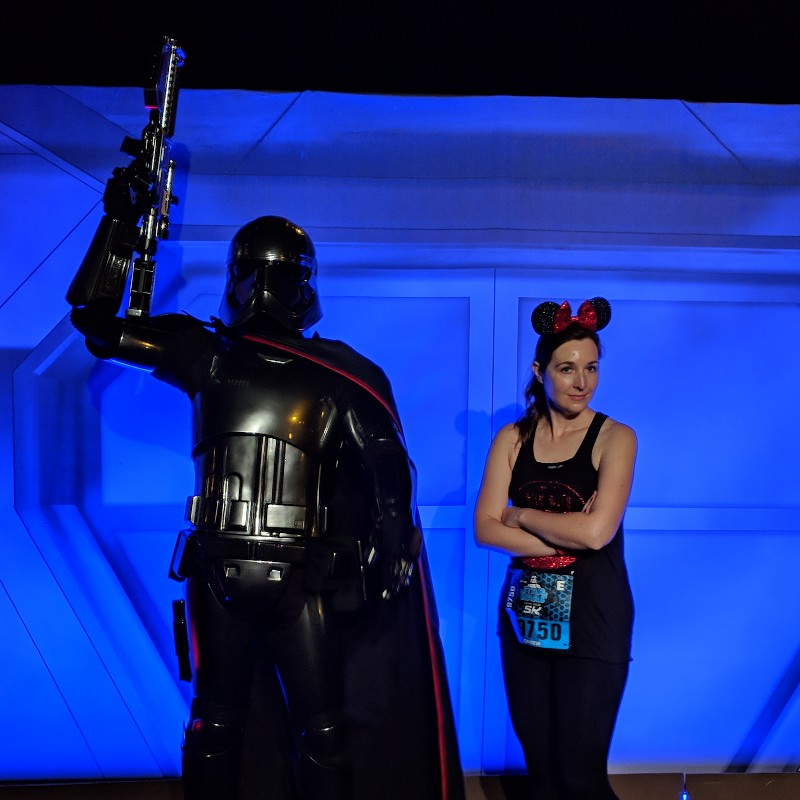 If you are a fan of Smart Mouse Travel you probably know that I love meeting characters. This opportunity to meet rare characters during the Star Wars 5K was what I was most excited about. Before the race there were lines to meet Boba Fett, Darth Vader, Kylo Ren, Captain Phasma, and BB-8. There was also a Jabba the Hutt replica available for photos (the same one as at the expo).
During the race there were several character meet and greet opportunities. We saw R2-D2, Chewbacca, Sabine and Ezra from Star Wars Rebels, and Stormtroopers (they were on a stage and you could take photos in front of them). Toward the end of the race there was a section where people from a Star Wars fan club were in full costumes. We saw several types of Stormtroopers, an ewok, some Jawas, Jedi, Count Dooku, and another Sabine.
If you didn't get to see a character in the morning before the race we found they were still available after our run for photos. We were able to meet Boba Fett and BB-8 before catching the bus back to our hotel.

Race day photos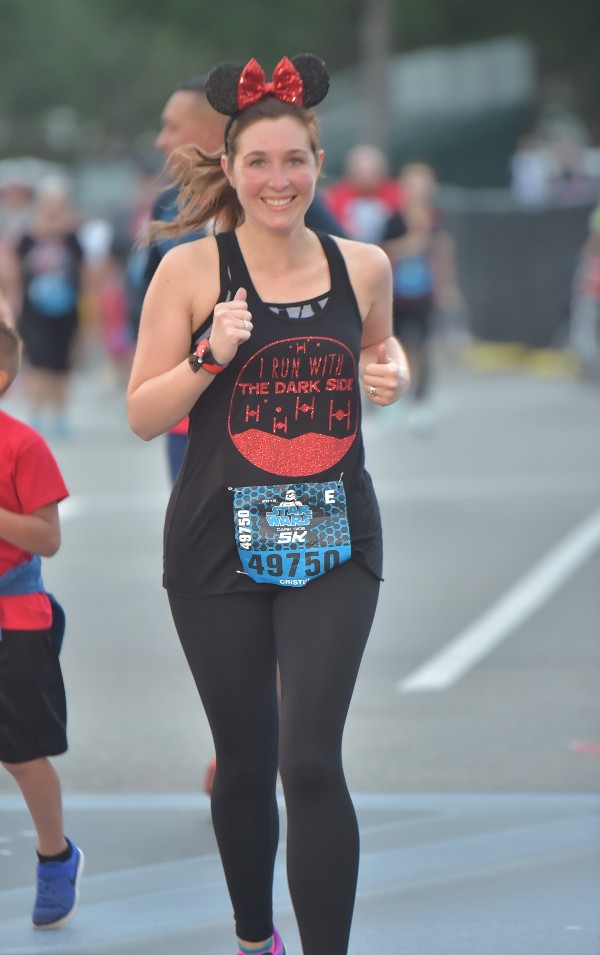 PhotoPass photographers are all along the race route. They take lots of candid photos of you as you pass. Instructions for linking your bib number to a PhotoPass account are on the back of your bib, and photos appear in your My Disney Experience account about 12-24 hours later.
There are also several stations after the race where PhotoPass photographers take a post-race photo of you with your medal. Take advantage of the opportunity even if you think you look like a mess. It will make for a great memory!
Pro tip: Make sure your bib number is clearly visible as you run. Your bib number links your photos to your PhotoPass account.

After the race

Just a short distance from the finish line volunteers will hand you your race medal.

Race volunteers also pass out Powerade, bottled water, bananas, and a post-race snack pack on your way back to the pre-race activity area and bus transportation. Our post-race snack pack contained Love Your Fruit fruit snacks, tortilla chips and cheese, a GoGo squeeZ pack, and Oreo cookies.
Be aware of the time. Race transportation ended at 8:30am the day of our race. We cut it really close, since we were meeting characters post race.
Final Thoughts
I loved my first runDisney event and can see why people participate in lots of them. My only regret is that I let my own insecurity about not being able to run a full 5K stop me from participating sooner. The Star Wars Dark Side 5K was a great way to get started as a runDisney beginner. Now if you'll excuse me, I need to go plan my next race weekend.
Need more help planning your Disney World trip? If you still aren't ready for an on-site runDisney event find out more about at-home 5K options.
Pin it for later: