Toy Story Land at Disney World's Hollywood Studios is officially open! This much anticipated addition to Hollywood Studios has an immersive theme that starts the minute you walk into the area. There are two new Toy Story Land rides that join a fan favorite attraction, as well as character interaction options, and a new quick service spot for food.
Fun Details In Toy Story Land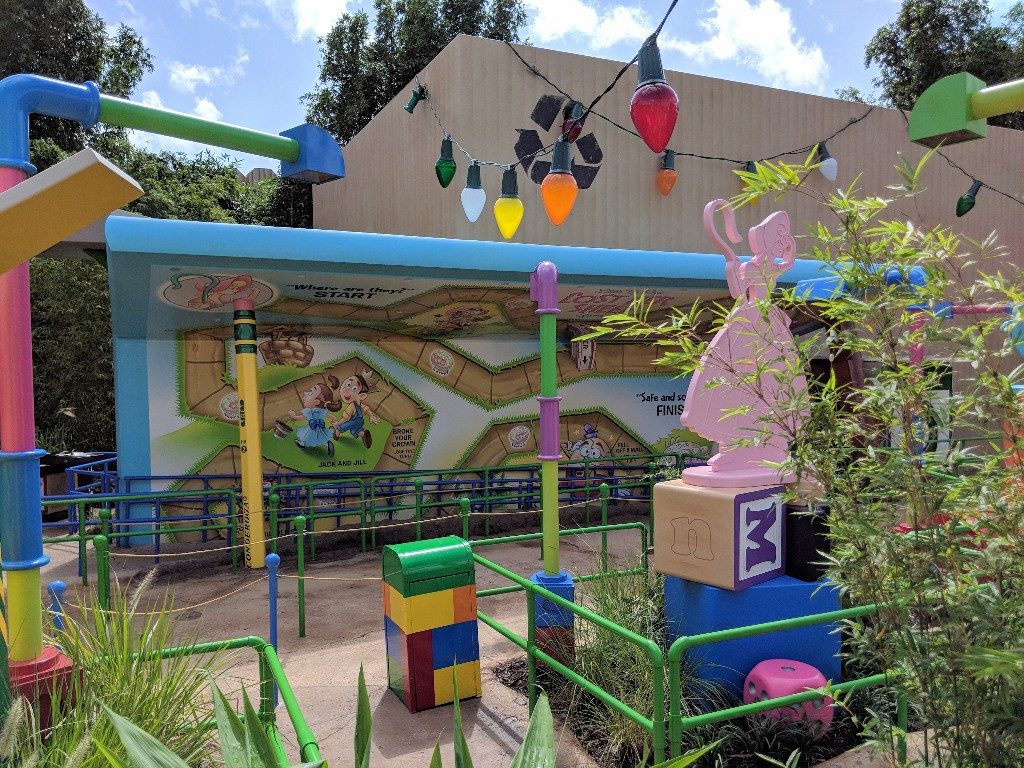 Toy Story Land's premise is that you are shrunk down to the size of a Green Army Man when you enter Andy's backyard. Everything that Andy has built is seen from a toy's perspective.
The Toy Story Land rides and characters are a lot of fun, but one of our favorite things was looking at all the great details around us.
Tinker Toys and pencils hold Christmas lights across walkways. Old cardboard boxes form the loading areas for Toy Story Mania! and Slinky Dog Dash. Scrabble tiles spell out "restroom" above the Toy Story Land bathrooms. These are just some of the fun details we noticed on our first morning.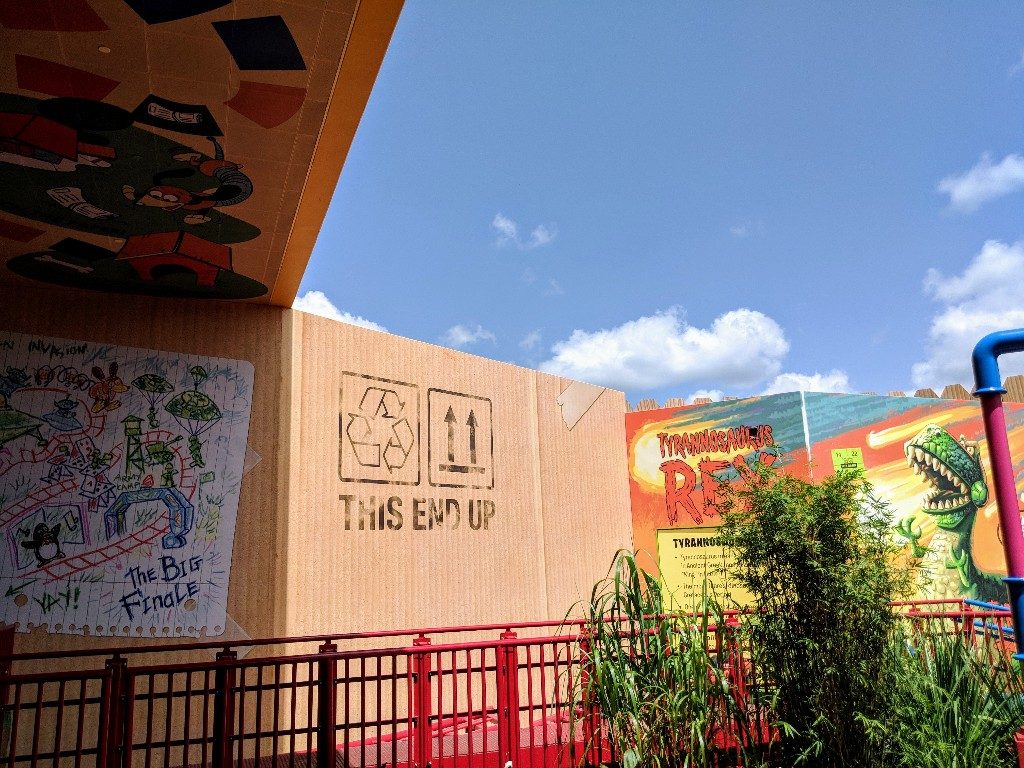 A friend met us later in the day and pointed out some other neat details that I would have missed. My favorite one is how the foliage around blocks near Slinky Dog Dash look like large blades of grass from our toy-sized perspective.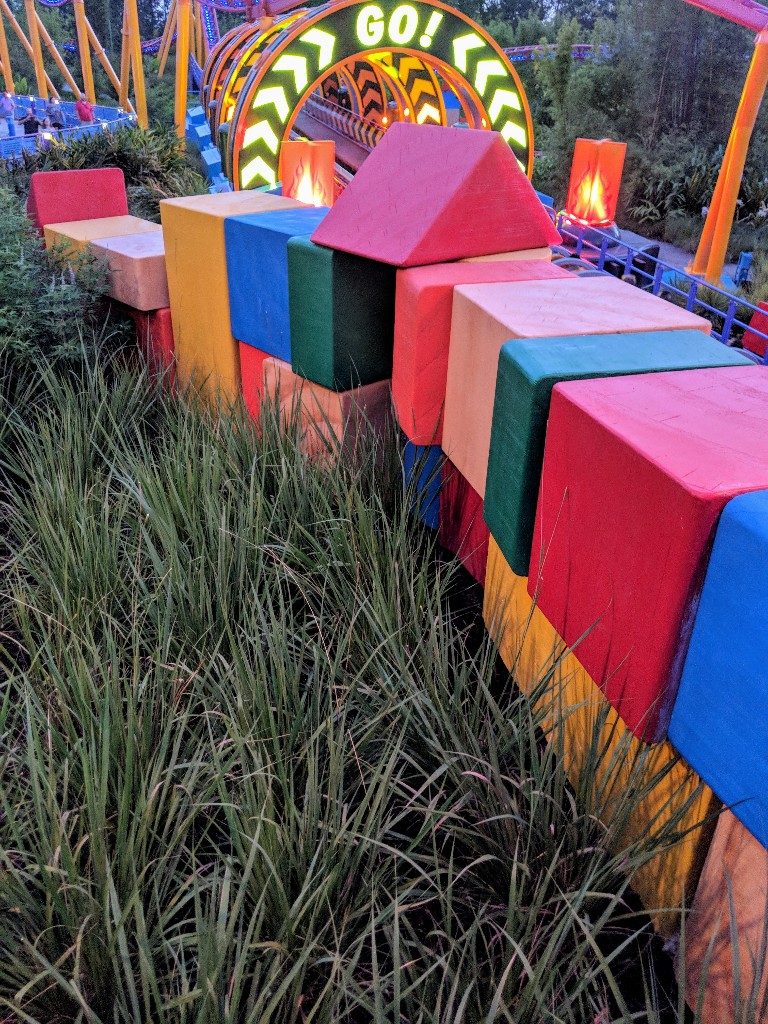 Another thing she pointed out was Andy's humongous shoe prints in the walkway near the entrance of Toy Story Land. The shoe print is subtle, but extremely detailed once you notice it.
I highly recommend visiting Toy Story Land rides and attractions during both the day and night. The daytime shows all the bright primary colors and design details. Nighttime washes Toy Story Land in a soft, colorful glow from the strands of Christmas lights wound through the air along the walkways.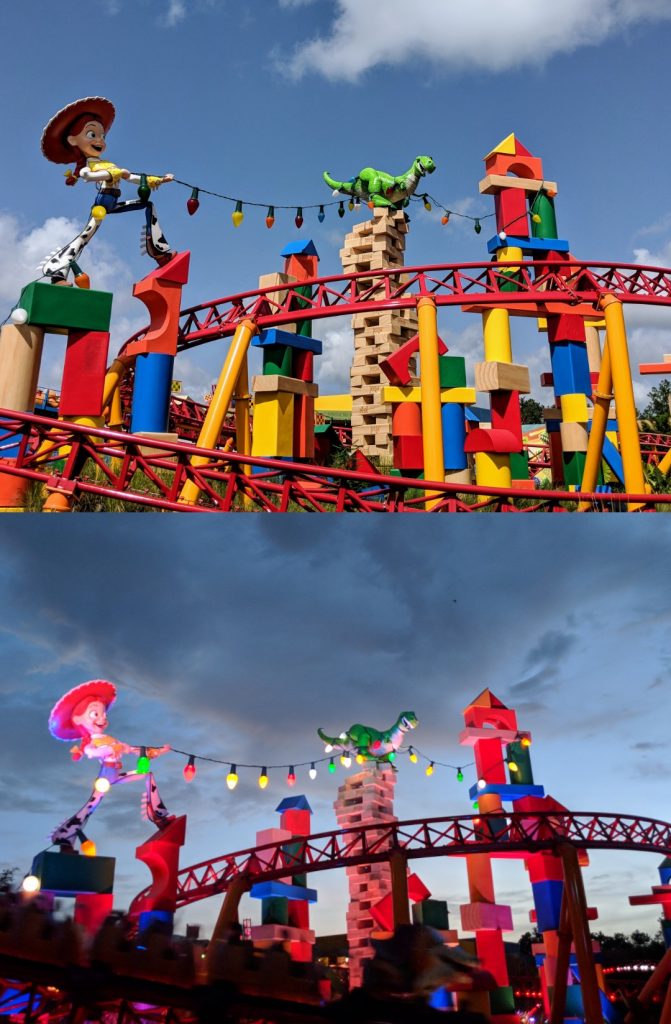 Toy Story Land Rides
There are three Toy Story Land rides: Slinky Dog Dash, Toy Story Mania!, and Alien Swirling Saucers.
Slinky Dog Dash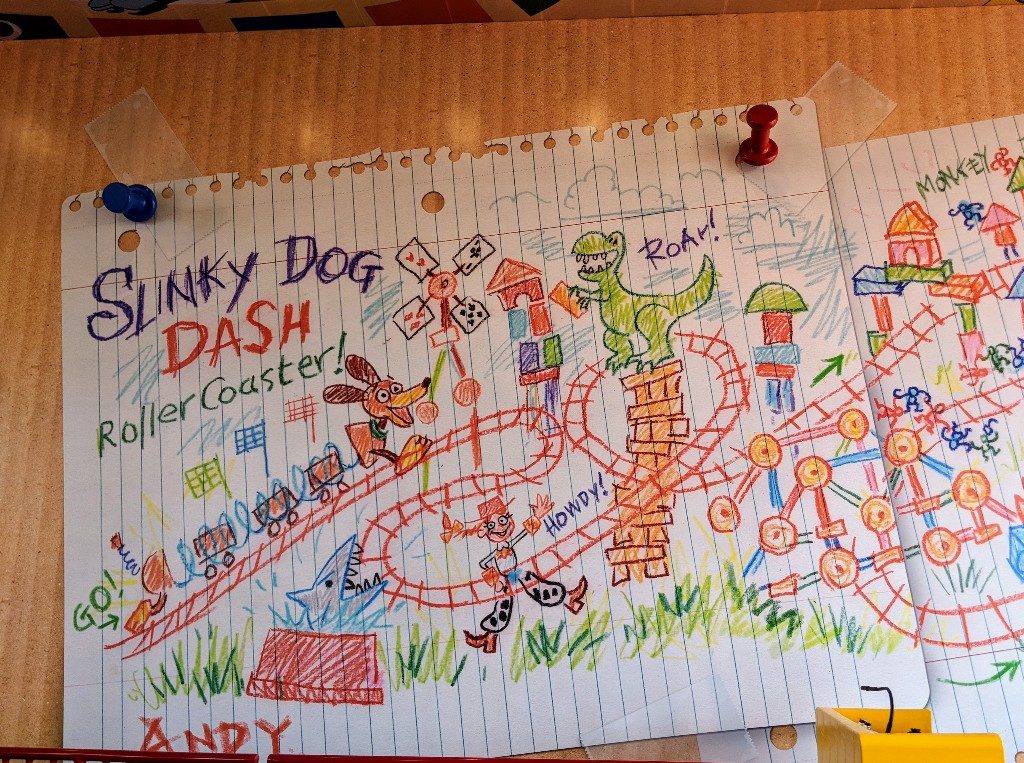 Height requirement: 38 inches (97 cm) tall
The ride experience: Slinky Dog Dash is a roller coaster meant to entertain both kids and adults. The ride takes you along a track that Andy has designed with dips, turns and some mogul type hills through his backyard.
The coaster was fast and fun, but did not have any extreme drops or loops. Slinky Dog Dash rises high over Toy Story Land and gives a great view of the area below.
The Slinky Dog Dash coaster stops about halfway through the ride and then slowly eases backward on the track before launching you through the rest of the ride. We really enjoyed Slinky Dog Dash and the cute theming found along the track.
Watch the full Slinky Dog Dash ride:
Important notes:
This Toy Story Land Ride is extremely popular. I highly recommend obtaining a FastPass+ for this ride. We consistently saw stand-by wait times between 60 and 90 minutes throughout the summer days we were in town. The stand-by queue is only partially shaded, so make sure to wear sunscreen and keep hydrated.
Fun tip: Behind the loading area for Slinky Dog Dash look for the crayon "blueprint" Andy drew for the ride.
Alien Swirling Saucers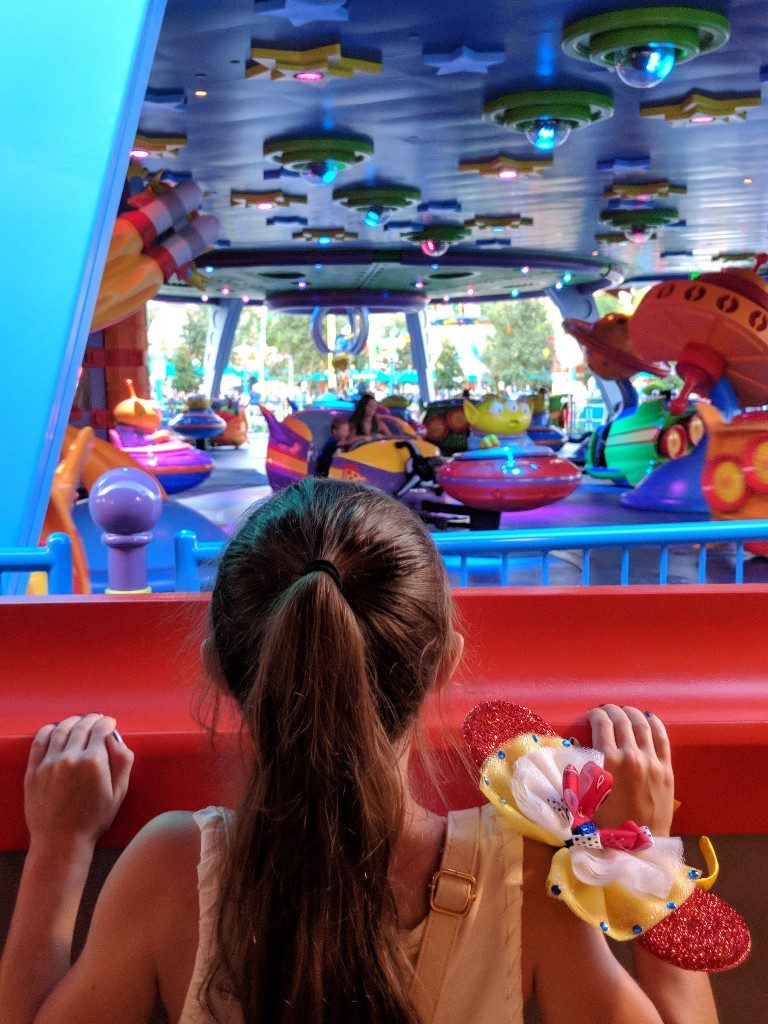 Height requirement: 32 inches (82 cm) tall
The ride experience: Alien Swirling Saucers is a highly themed modified spinning ride. I don't love fast spinning rides because they make me motion sick, but Alien Swirling Saucers is different. This ride has a front car and you sit in a trailer behind the car. The ride rotates along a wide circle path and then periodically changes direction to swing you in a different direction.
If you have ever ridden Mater's Junkyard Jamboree in Disneyland's California Adventure Park, Alien Swirling Saucers uses the same ride mechanism.
Important notes:
The ride area for Alien Swirling Saucers has lots of bright colors and a ceiling covered in stars. We made sure to ride Alien Swirling Saucers in the evening because the lighting on the ride is really impressive.
Pro tip: If you are riding with someone a lot smaller than you make sure you brace yourself for turns. I accidentally smooshed Elizabeth on one of the sudden direction changes.
Toy Story Mania!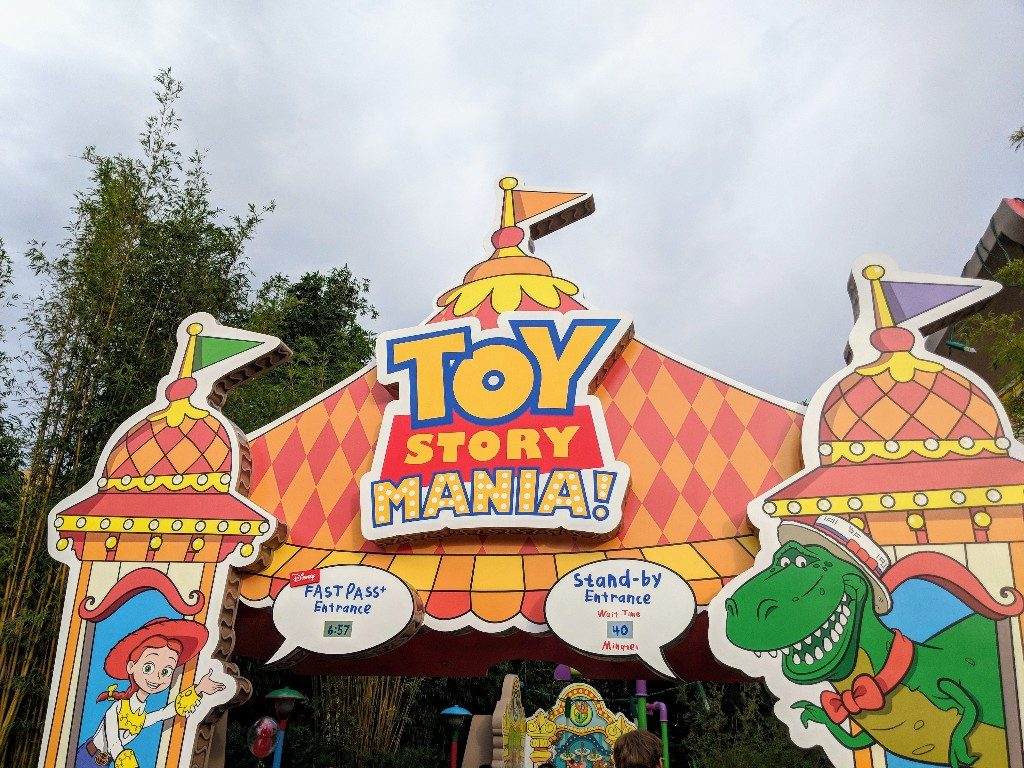 Height requirement: None
The ride experience: Toy Story Mania! pairs you up with a friend to shoot virtual targets in a 4-D carnival style game. There are several different target challenges that feature favorite Toy Story characters. The ride vehicle whisks you through the different challenges with an occasional spin or fast direction change.
Each vehicle has two spring-action shooters that are simple to use even for the littlest of kids (or tech challenged adults). At the end of the ride your score is tallied and displayed on your ride vehicle screen.
Important notes: The ride vehicle can usually accommodate 3 people if someone doesn't mind not playing the game. This Toy Story Land ride stand-by queue is shaded and much of it is inside an air conditioned building.
Toy Story Land Characters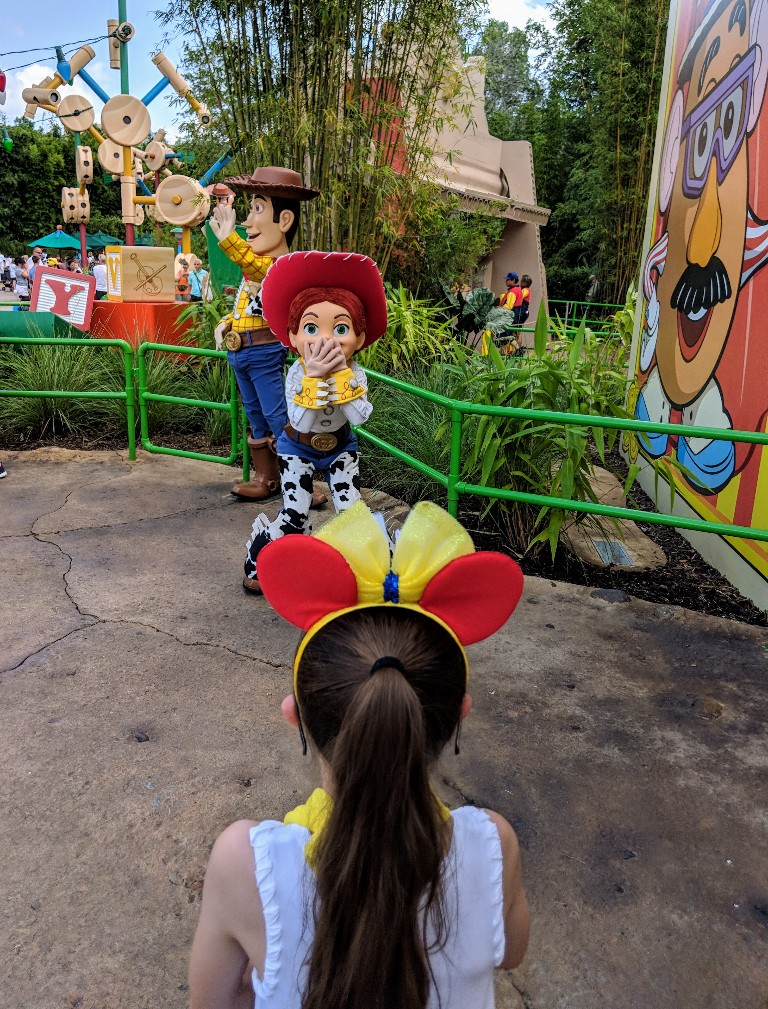 Finding characters at Disney World is usually pretty well advertised either through signs at designated buildings (like Princess Fairytale Hall in Magic Kingdom) or by using the My Disney Experience app character location filter. For some reason, the app is not showing character meet and greet opportunities in Toy Story Land.
Leading up to our trip I thought there might not be characters in Toy Story Land. However, once we got into Toy Story Land it was easy to find some classic Toy Story characters.
Buzz Lightyear
View this post on Instagram
Just past the HUGE Toy Story Land sign with Sheriff Woody, but before reaching the Slinky Dog Dash track is where you find Buzz Lightyear. The line to meet him varied in length through the day so keep your eyes open for an opportunity to meet this Space Ranger.
Jessie And Woody
Further into Toy Story Land and to the right of the Toy Story Mania! queue is where Jessie and Woody meet fans. Since Elizabeth was Disneybounding as Jessie we really wanted to meet her.
Although the line was a little long and only partially shaded, it was worth the wait. Jessie immediately realized that Elizabeth was representing her and excitedly gave her a big hug. When Jessie realized I was Disneybounding as Buzz Lightyear she made a heart symbol with her hands.
Green Army Men
The Green Army Men were not doing a traditional character meet and greet when we were in the area, but we saw them several times. The Green Army Drum Corp does live drum shows during the day. A different set of Green Army Men also march around Toy Story Land with over-sized crayons and balls to play games with potential cadets.
Toy Story Land Photo Spots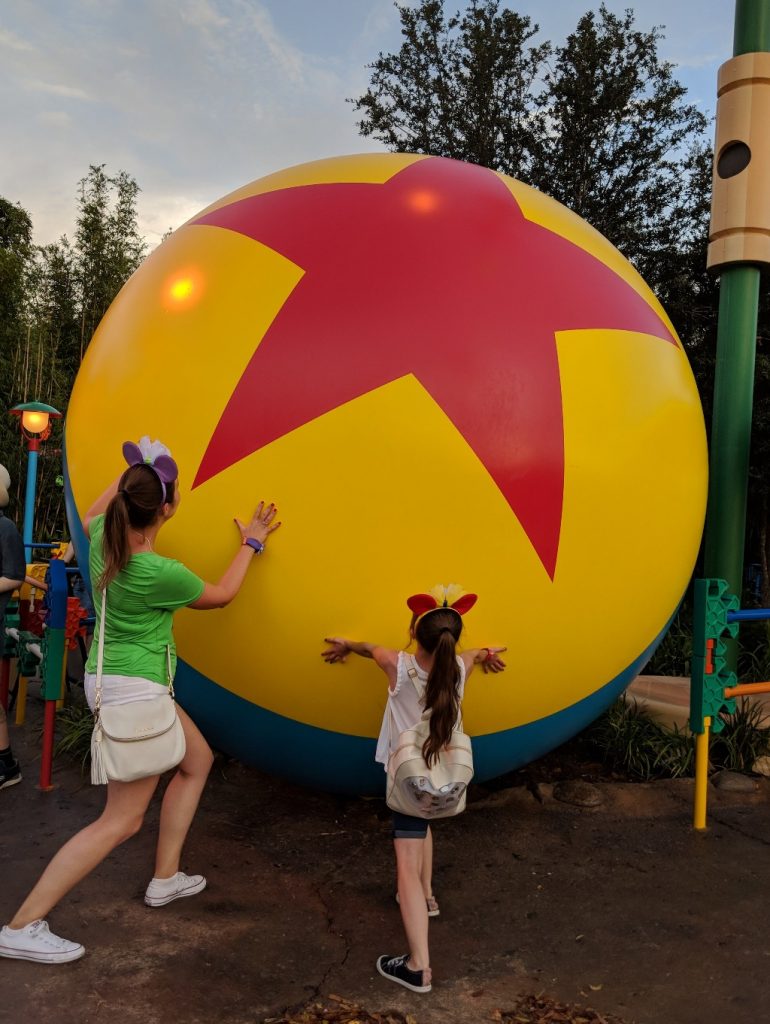 It seems that Toy Story Land was built with photography in mind. There are numerous colorful wall backdrops in Toy Story Land. For example, when exiting Toy Story Mania! there is a popsicle stick wall and a checkerboard wall. And just past the exit is an enormous Luxo ball where we took some fun photos.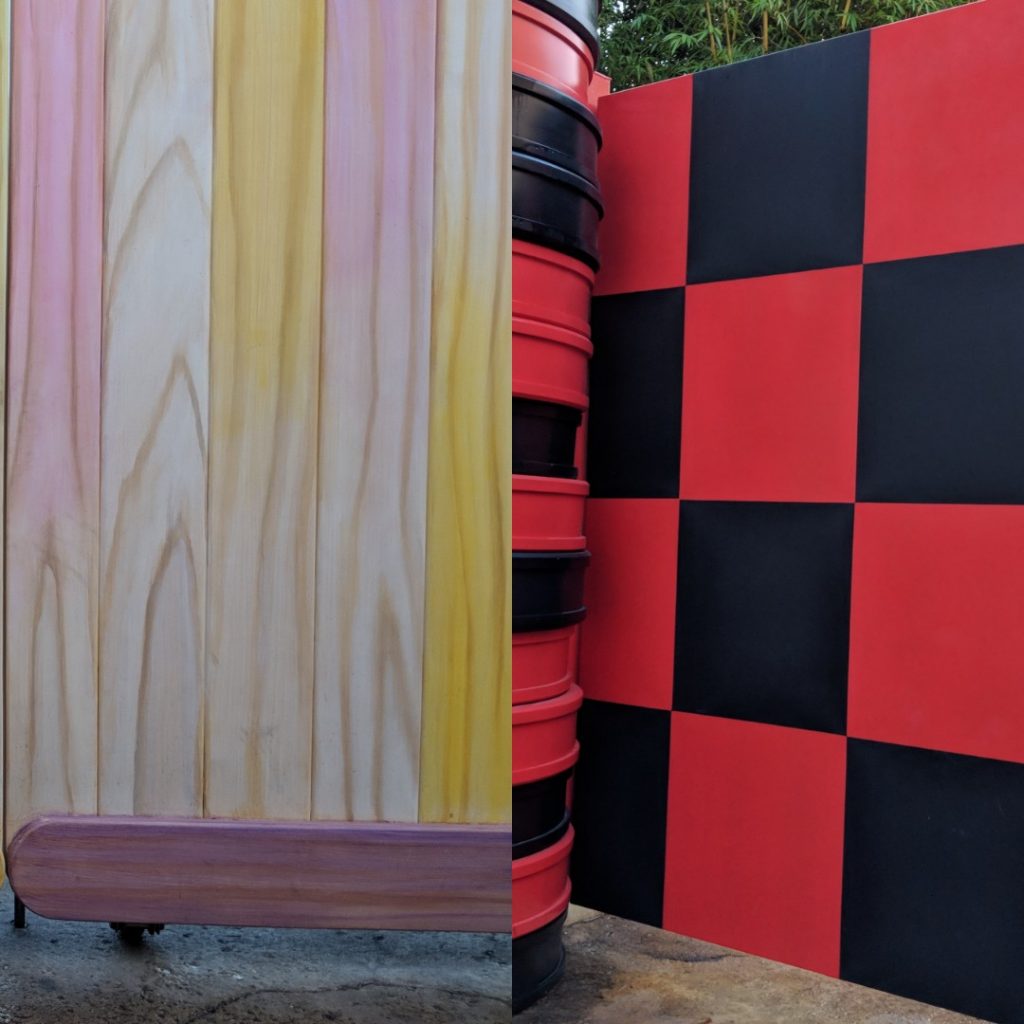 The entrance sign to Toy Story Land is also a great photo opportunity. There is even a Disney PhotoPass photographer at the entrance sign when we visited. These PhotoPass opportunities let everyone get in the picture.
Another great photo spot is in front of the Slinky Dog Dash track. Here you find a colorful backdrop with Jessie and Rex for your picture. If you time it just right you can even have one of the Slinky Dog Dash coasters zooming through your picture.
Woody's Lunchbox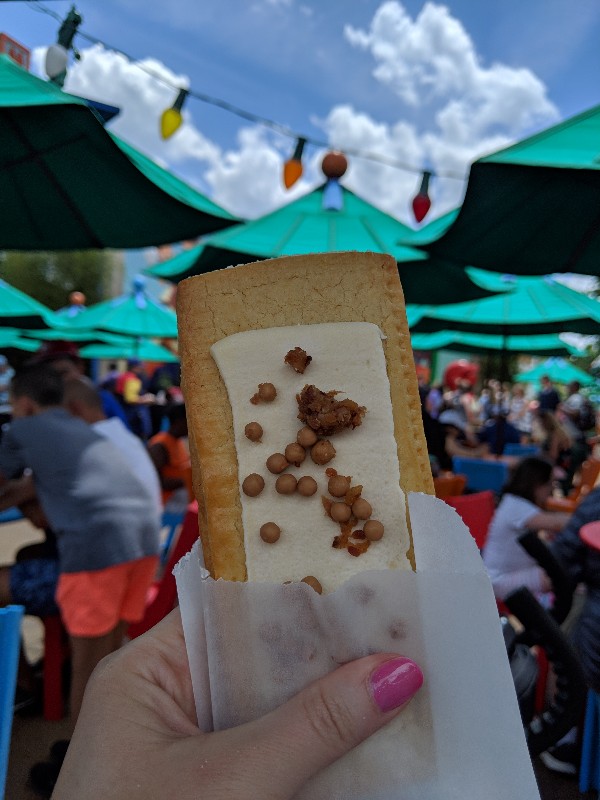 If you get hungry while visiting Toy Story Land look no farther than Woody's Lunchbox. This quick service spot serves breakfast, lunch, and dinner daily. For a quick lunch I had some Totchos while Elizabeth opted for a healthy turkey sandwich.
Remember a stop at Woody's Lunchbox isn't complete without trying a signature Lunch Box Tart. We opted for the Chocolate-Hazelnut variety with bits of crumbled bacon. This Lunch Box Tart was flaky, just the right amount of sweet, and overall delicious.
Final Thoughts On Disney World Toy Story Land
All three Toy Story Land rides offer a different fun experience for fans of all ages. We enjoyed the clever details throughout Toy Story Land and look forward to noticing more details for many trips to come. Since there are so many great photo backdrops available at Toy Story Land make sure you are picture ready when you visit this new area of Hollywood Studios!
Do you need more help planning your Disney World trip? Check out other Disney World tips and tricks in my Disney World Guides.
Pin it for later: