Our vacations are usually one extreme or another with our family hitting the hiking trails or aggressively exploring theme parks. Although these vacations are very different, they do have one important thing in common. A durable, inexpensive, packable backpack is essential for both.
Why Pick A Packable Backpack?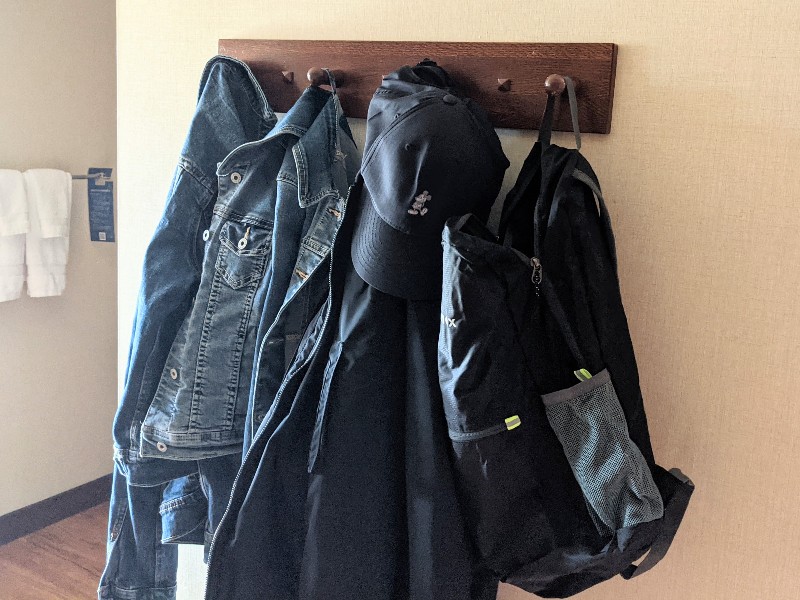 Packing is tough, but finding useful items that don't take up tons of space make any trip easier. This is true if you check bags or do carry-on only trips.
Although not for everyone, I love carry-on only vacations. The number one reason is carry-on suitcases are guaranteed to arrive since they stay with you. Not checking bags also avoids wasting time waiting at baggage claim and can save money depending on your airline.
Since carry-on space is limited, packing the essentials efficiently is extremely important. When hiking or heading to Disney I want a medium sized backpack because dragging a huge backpack all day gets annoying.
However, I need the extra space of a large backpack for my personal item on longer trips. This left me with either a backpack that was great for the plane or my destination, but nothing that worked for both.
After testing several different suitcase and personal item variations, I found the best way to maximize my carry-on and personal item. For my suitcase I use a Chester Minima which holds an unbelievable amount of stuff, but unfortunately is no longer made.
This TravelPro suitcase (Affiliate link: Buy on Amazon) is very similar to the Minima and is a good back-up option. Our TravelPro luggage has been reliable over years of travel, too.
My personal item is a large tote bag that meets airline size restrictions. I simply tuck my folded Amazon packable backpack into one of these bags and use it as my Disney park bag or hiking bag upon arrival.
Amazon Packable Backpack: Gonex Ultralight Pros
Mesh Bottle Holders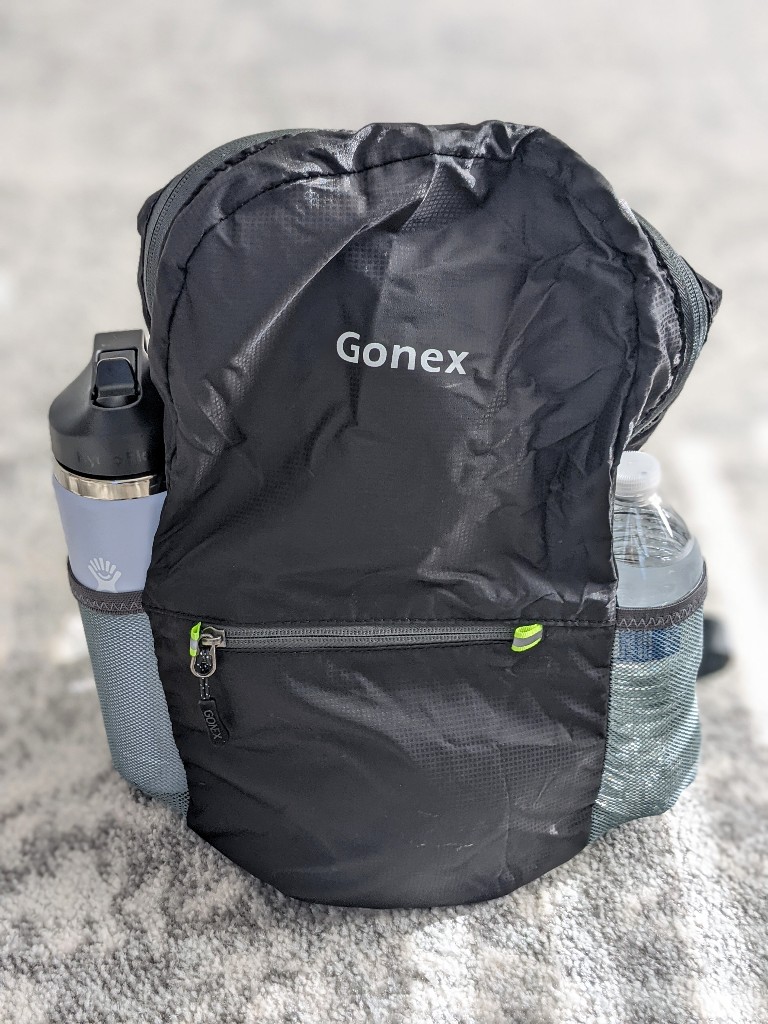 Staying hydrated is super important when hiking or spending the day at Disney, but not all packable backpacks have outside pockets to hold water bottles. The Gonex Ultralight side pockets easily hold a disposable water bottle, 20 ounce Hydroflask, or similar size container.
Having side pockets leaves the center compartment open for other items and decreases the risk of spills inside the bag.
Folds Up Small, But Holds A Lot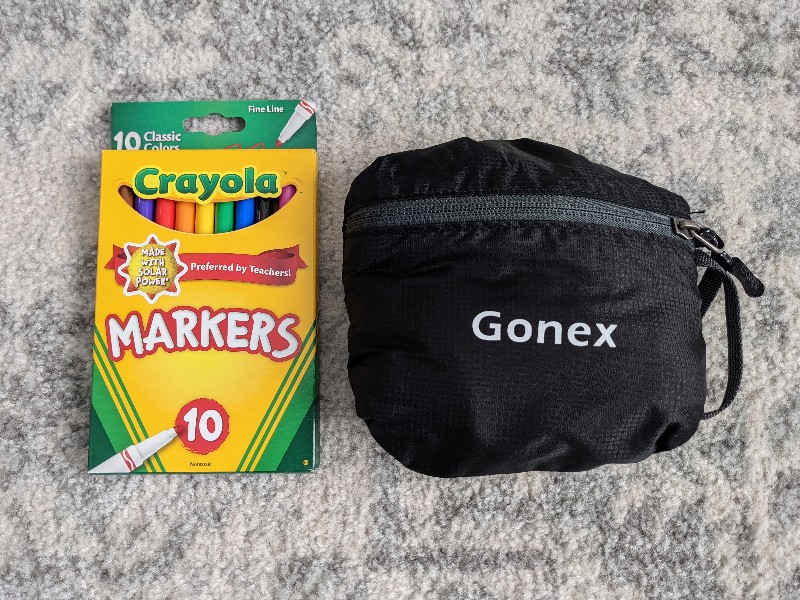 The most important feature of finding the right packable backpack is the combination of small when folded, but capable of holding a lot when in use. The Gonex Ultralight fits both of these requirements well.
When folded up the Gonex packable backpack is roughly 6.5 inches (16cm) square. Once opened the bag can hold an impressive 20 liters.
Durable
After 6 months of extensive use at Disney, hiking, and other travel, our Gonex Ultralight looks almost as good as new. There are only a couple small scuffs on the black fabric.
Considering I toss this bag on the ground, in cars, and rollercoaster floorboards without a thought, I would expect it to look much worse. Our Gonex Ultralight bag has no frayed straps, places where fabric is wearing thin, or other signs of distress.
Inexpensive
After spending more money than I would have liked trying to solve this packing problem, I was hesitant to buy another product that might disappoint. However, I figured for under $15 I would try one last option.
The Gonex Ultralight packable backpack (affiliate link: buy on Amazon) usually runs about $15 and at this point my cost per use is pennies. The quality to cost ratio of this bag far exceeded my expectations.
Lightweight
Carrying a heavy backpack all day gets tiring so it's best if the bag itself is light. Our packable backpack weighs less than 7 ounces (0.2kg) when empty compared to my Northface Borealis which weighs 2 pounds (0.9kg).
Several Color Options
We opted for basic black, but there are several colors of Gonex backpack colors available on Amazon.
If you intend to abuse your packable backpack like I do tossing it on the ground and all over Disney I would stick with a dark color. Otherwise dirt and other scuffs are more likely to show quickly.
Amazon Packable Backpack: Gonex Ultralight Cons
Packable Backpack Doesn't Hold A Shape
By design the backpack is made of thin fabric. This makes it light and easy to pack, but also means the bag is super slouchy.
One Big Storage Area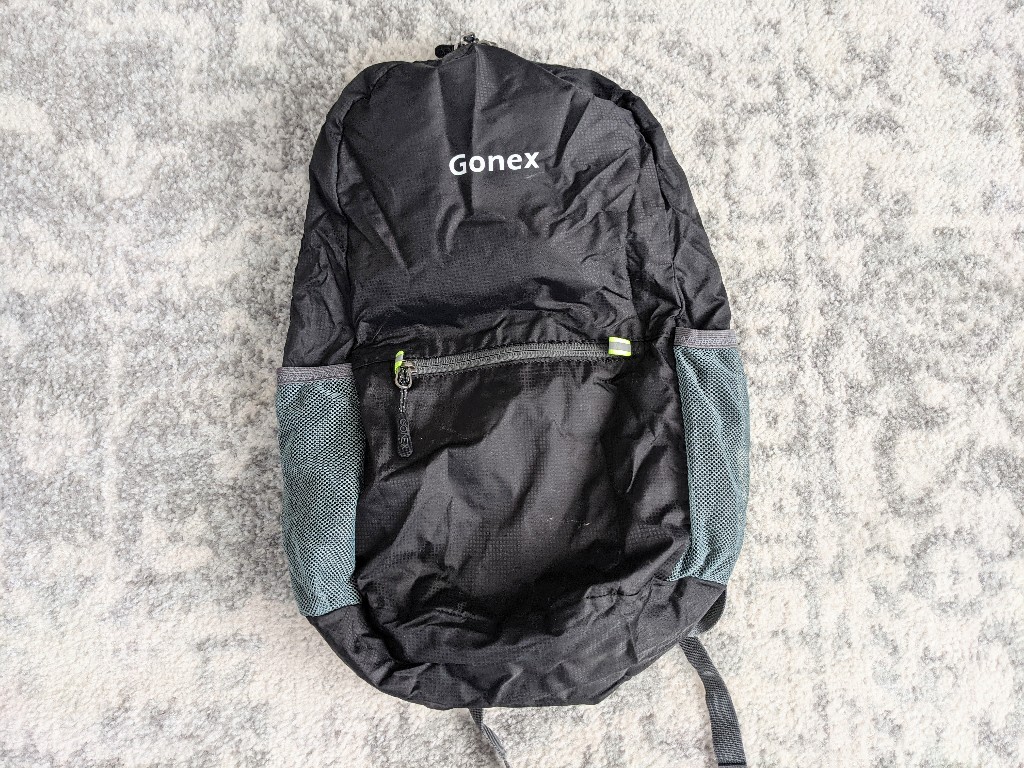 There are two small zippered pockets on the packable backpack, one on the front and one inside the top of the bag. The rest of the backpack is one large compartment.
This means you can put a lot into the bag, but it might be difficult to find items later as things shift and settle. Use zippered bags to keep your backpack organized.
Not Great For Carrying A Laptop
Although my Chromebook fits in the Gonex Ultralight, the thin fabric provides no cushion to protect a valuable laptop. Even with my protective carrying case I don't feel comfortable using a packable backpack to carry my laptop.
Final Thoughts On Our Amazon Packable Backpack
Our Gonex Ultralight packable backpack has exceeded my expectations after several months of use. This backpack folds up tiny, opens to hold a ton, and only costs $15. It easily solved my carry-on only packing dilemma and works perfectly for my Disney park bag or a day of moderate hiking.
Do you have a larger family and need a little more space in your packable backpack? Try this 30L Gonex packable backpack (affiliate link: buy on Amazon) with the same features we love in our current bag, just a little bigger!
Pin it for later: