Is there a Harry Potter fan in your life who would love their own Gryffindor common room? Use our DIY Gryffindor common room and gift list as design inspiration for your own cozy Harry Potter inspired room.
What Inspired Our DIY Gryffindor Common Room?
We have a funny little area under the stairs leading into our basement which immediately made me think of Harry Potter's original bedroom on Privet Drive. Although not large, this secluded spot makes a perfect place for our DIY Gryffindor common room.
One of the best things about the Gryffindor common room in both books and movies is it is described as worn, but welcoming. We decided to use this to our advantage to keep our DIY Gryffindor common room inexpensive.
Use Existing Furniture To Save Money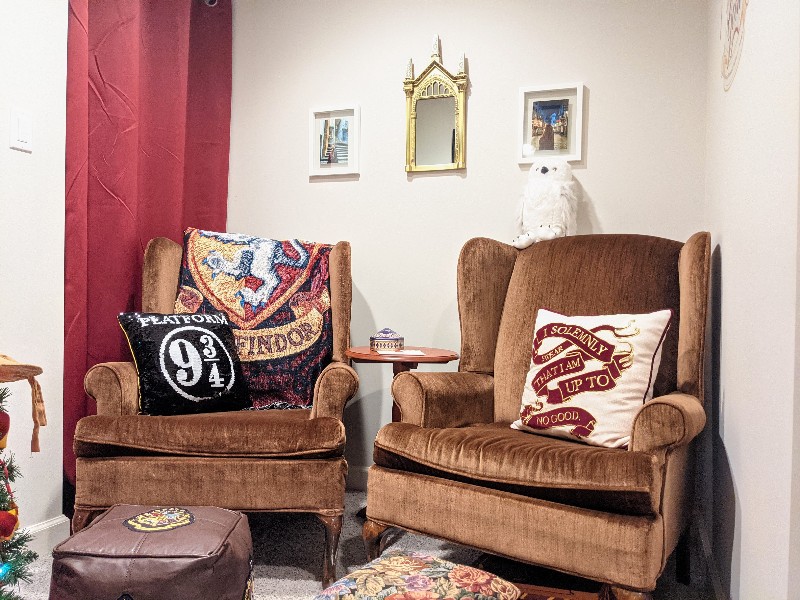 The first step in our room makeover was repurposing two brown wingback chairs. These two chairs plus a small side table we had in storage make the perfect conversation seating area.
The storage shelf is also repurposed from a kid's play area that was no longer needed. We replaced pink and purple bins with inexpensive brown bins from Target to better keep with the DIY Gryffindor common room theme.
Before Christmas Is A Great Time To Start Planning Your DIY Gryffindor Common Room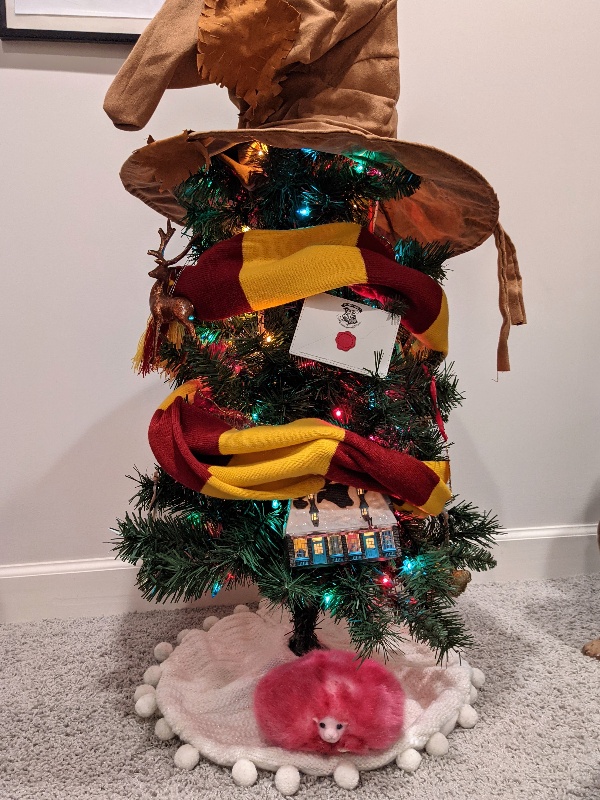 Many of the more expensive items in our common room are gifts from friends and family over the last couple of years. Gorgeous ornaments, clocks, pennants, and pillow covers from Pottery Barn and Amazon are amazing gifts that work perfectly in the space.
There is also fun memorabilia like Elizabeth's Hogwarts acceptance letter proudly displayed in a simple frame and a Nimbus 2000 tucked into a corner near the shelves.
Souvenirs From The Wizarding World of Harry Potter Make Great Decor
We travel a lot and I generally don't buy many souvenirs. Visiting the Wizarding World of Harry Potter is a big exception to my normal rule. Notebooks that look like Hogwarts textbooks and Elizabeth's collection of interactive wands get extra use as decor at home in the Gryffindor common room.
A Gryffindor scarf that was purchased and worn on a cold visit is lovingly draped around our year round Harry Potter Christmas tree. Several ornaments on the tree are exclusively found at Universal, too.
Use Your Wizarding World of Harry Potter Vacation Memories As Decor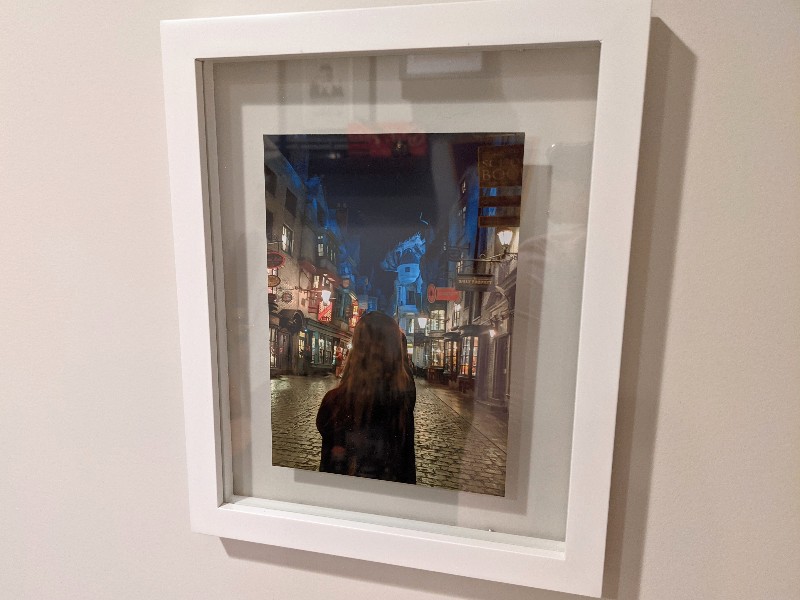 Some of my favorite pieces in Elizabeth's Gryffindor common room are pictures I took of her in the Wizarding World of Harry Potter. Decked out in her Gryffindor robe on the streets of Diagon Alley, these portraits fit the decor, were inexpensive, and remind us of fun times as a family.
Find Harry Potter Pieces That Inspire You
Part of the fun of designing your own Harry Potter room is finding pieces that speak to you. Although ours is styled as a Gryffindor common room, easily switch it to your favorite Hogwarts house with some key details and colors.
Much of our Harry Potter decor is not house specific so it can be used for any Hogwarts house. Pottery Barn and Amazon also have some great pieces representing Slytherin, Hufflepuff, and Ravenclaw.
Harry Potter Gift Ideas and DIY Gryffindor Common Room Shopping List
Here are links to some of our favorite Harry Potter inspired pieces in the Gryffindor common room. Hopefully having these links to quality products we like makes designing your Harry Potter room easier. I don't make any money from Pottery Barn links, but as an Amazon Associate I earn from qualifying purchases.
Pottery Barn Common Room Decor
Snitch Clock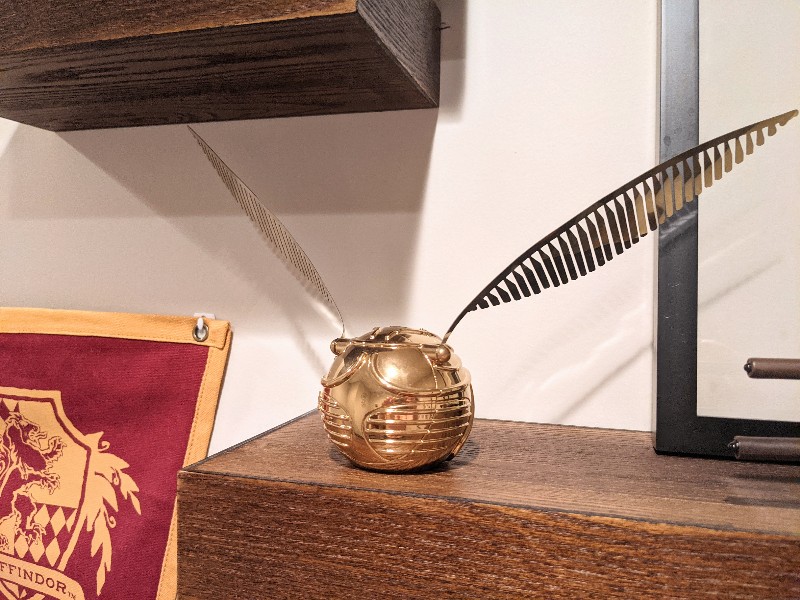 Although larger than a real Quidditch snitch, this striking golden clock has a clock face hidden by a sliding panel. Open it when you want to know the time or keep it closed as a cool piece of decor.
Hogwarts House Pennant
Give your Hogwarts common room house pride with a house crest pennant.
Marauder's Map Throw Pillow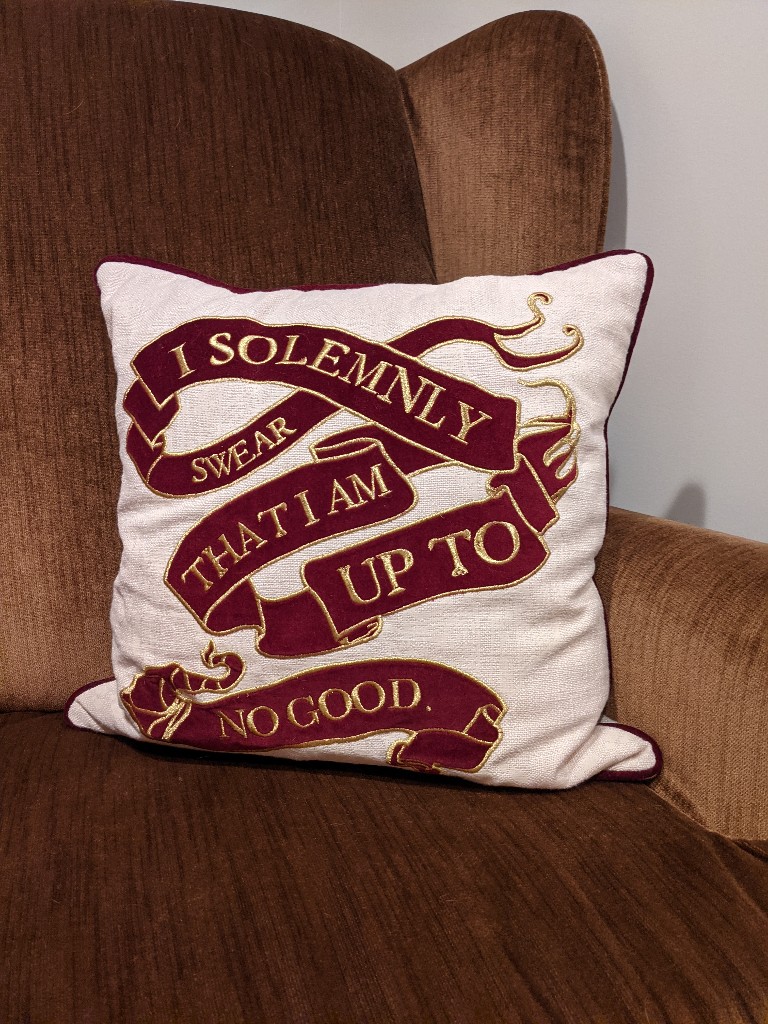 This cute throw pillow is embellished with the famous quote "I solemnly swear that I am up to no good". This pillow gets even better when the lights are off and an image of the Maurader's Map glows in the dark.
Antique Gold Harry Potter Ornaments
We have several of these antique gold ornaments. Each one is heavy and beautifully detailed. As a bonus we see them year round on our Harry Potter Christmas tree.
Some of you may be wondering why we have a year round Harry Potter tree in the DIY Gryffindor common room and that's a fair question. Hogsmeade in the Wizarding World of Harry Potter looks snow-covered year round so I've agreed to my daughter's request.
Amazon Harry Potter Gift Ideas
As an Amazon Associate I earn from qualifying purchases.
House Wand Stand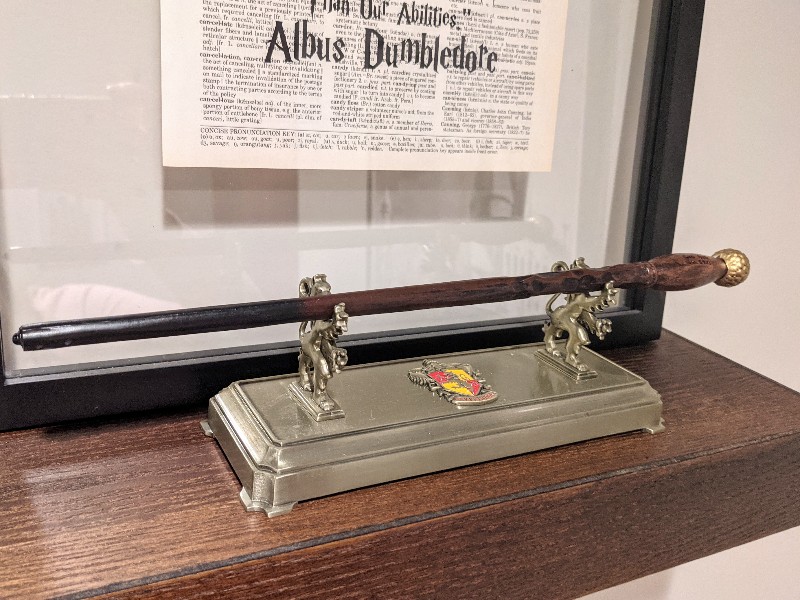 We opted for an ornate Gryffindor wand stand, but this gorgeous stand is available for all four Hogwarts houses. (affiliate link: Buy on Amazon).
Hogwarts House Blanket
Drape one of these woven tapestry-style throws over a chair in your DIY common room to show off your house pride. These pretty blankets are reasonably priced and available in all four house colors and crests (affiliate link: Buy on Amazon).
Maurader's Map Wall Decal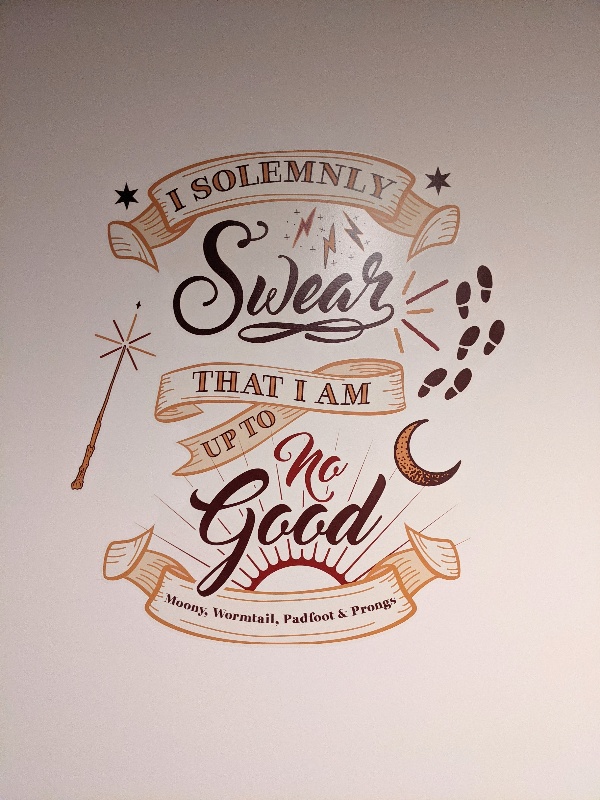 A random blank wall in our common room needed a little something extra. This removable decal set is super cute and can be adjusted to fit different size areas (affiliate link: Buy on Amazon).
Harry Potter Lego Sets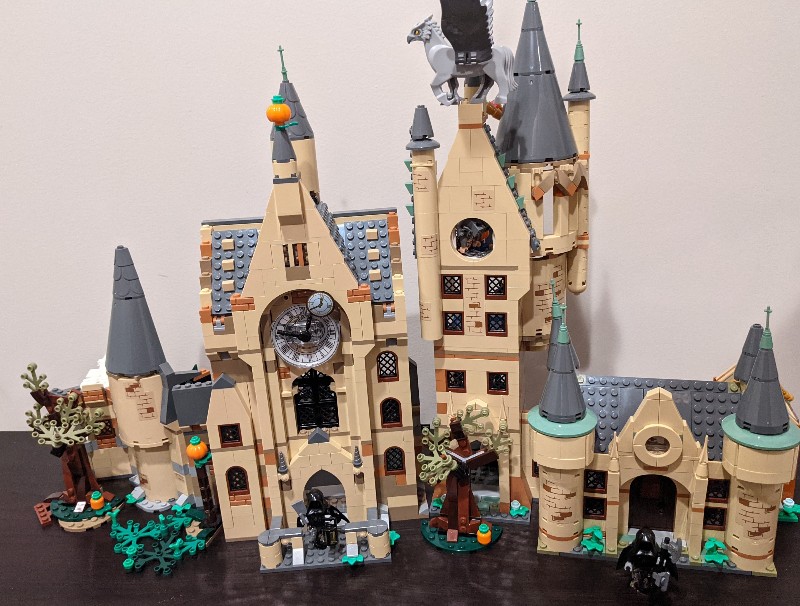 We have a few Harry Potter Lego sets on display in the Gryffindor common room. These sets are fun for Elizabeth to build and work well as decor when displayed.
The large one on top of her bookcase is actually a combination of Hogwarts Astronomy Tower (affiliate link: Buy on Amazon) and Hogwarts Clock Tower (affiliate link: Buy on Amazon).
Elizabeth also loves these smaller Harry Potter Lego sets which are miniature replicas of Hogwarts classrooms. The best part is they fold up to look like a book on a shelf (affiliate link: Buy on Amazon).
Final Thoughts On A DIY Harry Potter Room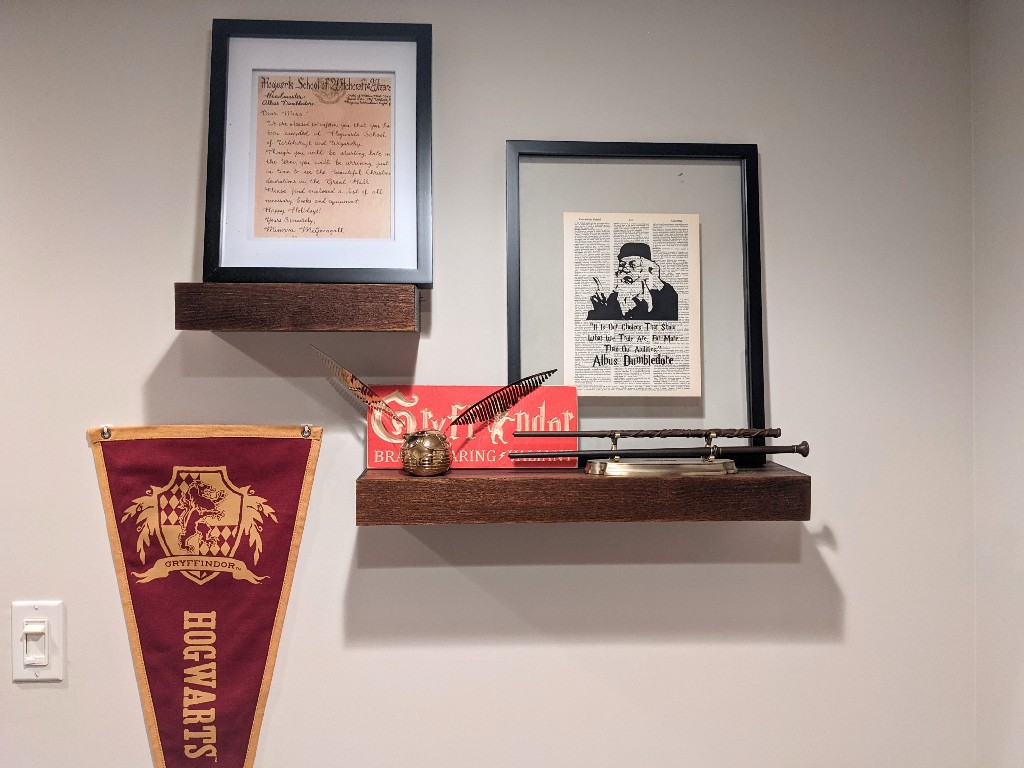 Designing our Gryffindor common room has been a labor of love. Although designed for my daughter, I find myself sneaking down to our Harry Potter room to work in the cozy atmosphere.
There is great, reasonably priced Harry Potter home decor available and we've shared several favorites from Amazon and Pottery Barn. Hopefully this has inspired you to design your own Hogwarts common room and provided you some great Harry Potter gift ideas, too.
Looking to visit the Wizarding World of Harry Potter? Use our tips for a great visit and these tips for using interactive wands like a pro.