Disneyland has an amazing array of activities to celebrate the holiday season. A Holiday Time at the Disneyland Resort tour is a great introduction to special details and unique holiday offerings at Disneyland. Experience lots of holiday fun plus guaranteed A Christmas Fantasy parade viewing and "it's a small world" Holiday access on the 2023 tour.
Check here for more information about Disneyland at the holidays.
What is Holiday Time At The Disneyland Resort Tour?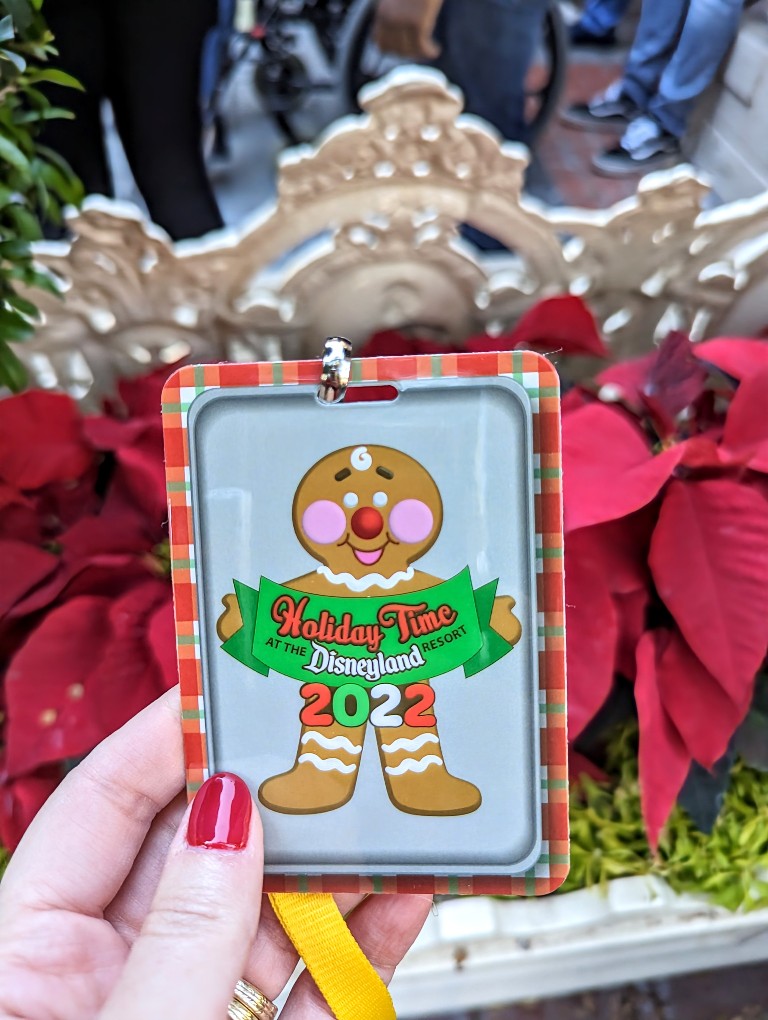 Holiday Time At The Disneyland Resort is a popular guided walking tour available seasonally. This 2½-hour group tour takes you to both Disney California Adventure and Disneyland Park to learn how Disneyland celebrates the holiday season.
The 2023 Holiday Time at the Disneyland Resort Tour also includes a ride on "it's a small world" Holiday plus reserved viewing for A Christmas Fantasy Parade.
Expect two treats and a souvenir mug of cocoa during the tour. The last souvenir is a gorgeous, unique pin/ornament which is a wonderful keepsake.
Full Holiday Time At The Disneyland Resort Tour Review
Tour Check-In Procedure
Arrive at check in about 20 minutes prior to your tour start time and check in at Tour Gardens.
When entering Disneyland Park go through the left side opening under the train tracks. Tour Gardens is a small white building located just past the tunnel immediately on the left.
While checking in for your tour, guests are asked about food allergies. If someone in the group has allergies you'll be offered vouchers for replacement treats. Use these vouchers to find allergy friendly treats before or after your tour.
Find out more about dealing with food allergies at Disneyland here.
Holiday Time At The Disneyland Resort Tour Agenda
Each year the tour has a slightly different mix of information and tour stops. However, this review should give a good idea of what to expect on the 2023 tour.
Before Starting The Tour
A few minutes before the scheduled tour start time, guides began passing out headsets to everyone in the group. These headsets provide a great experience since the parks are loud and there are usually 20 guests per tour.
After everyone has their headsets, it is time to start. The tour begins in Disney California Adventure and the whole group walks across with a tour guide in the lead. At California Adventure cast members open a side gate allowing quick entry instead of waiting in the regular line.
Disney California Adventure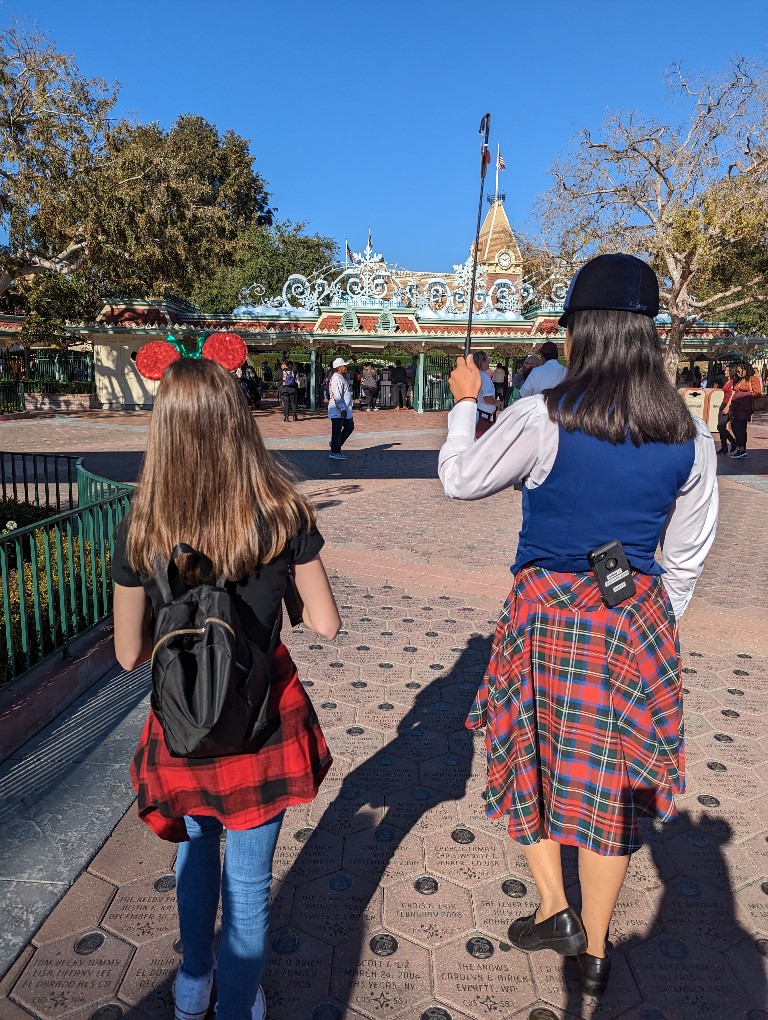 The 2022 Holiday Time at the Disneyland Resort spent a lot less time in California Adventure than our previous experience. Once inside Disney California Adventure, our guide showed us special details around Buena Vista Street.
Our guide discussed why the Buena Vista decorations are special. It's because the decor is representative of what Walt would have experienced in the LA area during the 1920's and 1930's.
From here we moved up Buena Vista Street to admire the signature Christmas tree near Carthay Circle. Learn about the significance of the tree's decor before heading to Trolley Treats where everyone is given a chocolate cake pop.
Next is a quick stop at Julius Katz storefront window. This window ties in with the guide's brief explanation of Hanukkah history and traditions before returning to Disneyland.
Disneyland Park
Main Street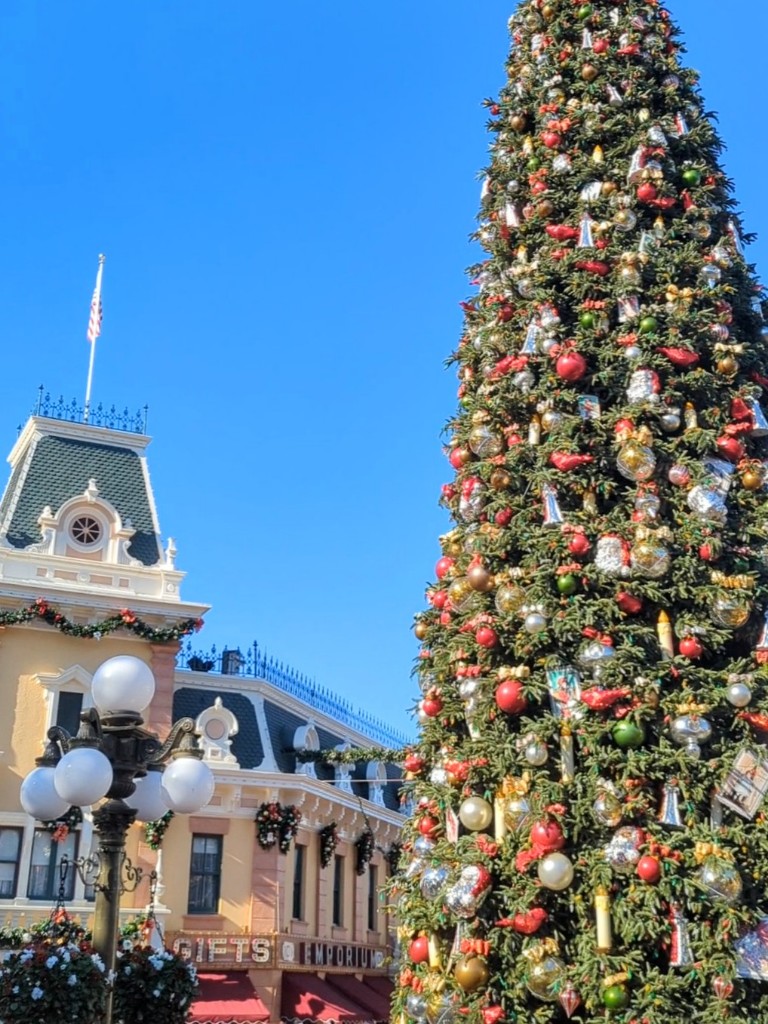 Upon returning to Disneyland our first stop is Walt's apartment above the Disneyland Fire Department. Walt and his family used this apartment as a home away from home whenever they were in town.
Walt was a huge fan of Christmas and cast members honor his memory with a Christmas tree. This tree stays lit in the apartment window all day and night throughout the season.
A recording of Walt sharing a special Christmas memory is then played through the headsets. Disney fans will immediately recognize this special memory is commemorated in a classic Disney film.
Next, the focus shifts to the massive 60-foot (20-meter) Christmas tree and decor located throughout Main Street. The tree uses smaller ornaments at the top for forced perspective. This trick of smaller ornaments up high makes the tree seem even taller than its already impressive height.
The Disneyland tree is such an iconic part of Disneyland that the area is called Christmas Tree Point year round. This is true even when the iconic Mickey pumpkins reside there.
A short walk up Main Street leads to Plaza Point which is a new seasonal store at Disneyland. Here guides discuss history and traditions of both Diwali and Kwanzaa before heading to Adventureland.
Adventureland
From Main Street walk to an area near Jungle Cruise. Although the Jungle Cruise Christmas overlay is now only at Disney World, hints of jungle Christmas decor remain. A jungle inspired Christmas tree made of palm fronds and adorned with banana garland suit the Jungle Cruise atmosphere perfectly.
At this point guides allow a "comfort break". Use this short time to grab a drink, quick snack, or use the restroom before resuming the tour.
New Orleans Square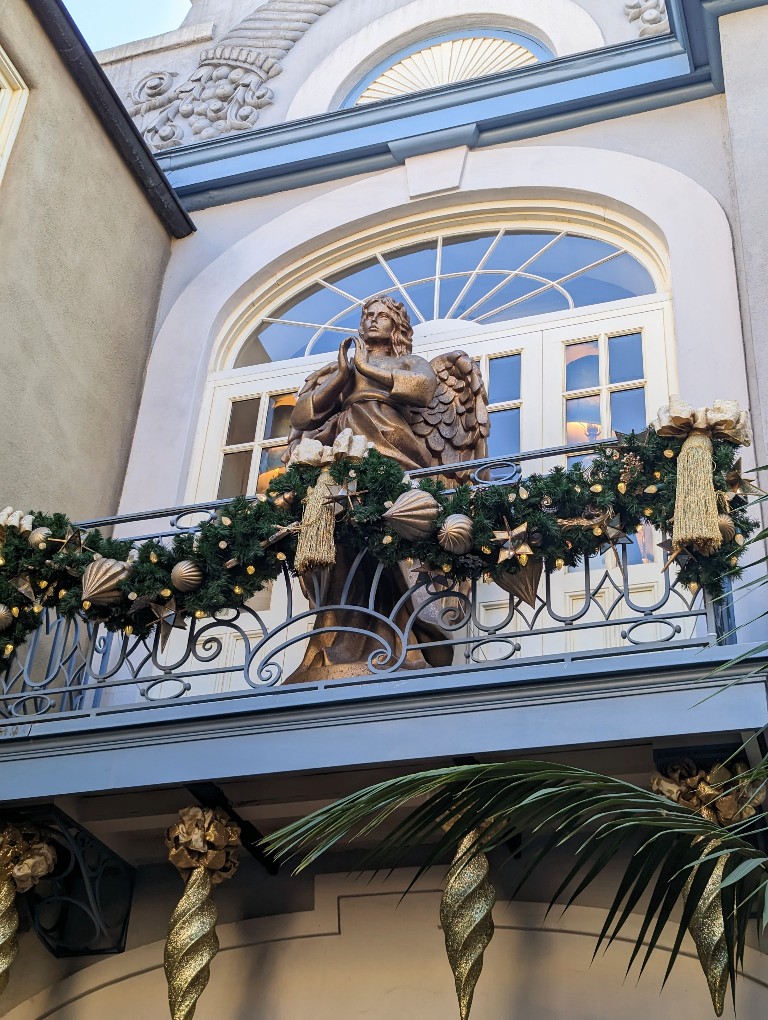 Learn about the Haunted Mansion Holiday overlay, but return on your own to ride. Haunted Mansion Holiday is not included on the tour.
Admire New Orleans Square decorations and hear the tale of Papa Noel, the Cajun version of Santa Claus.
From New Orleans Square, walk as a group past Frontier Land before stopping at a small rest area. Hear a recording of Panchito sharing Los Posadas traditions before continuing to Fantasyland.
"it's a small world" Holiday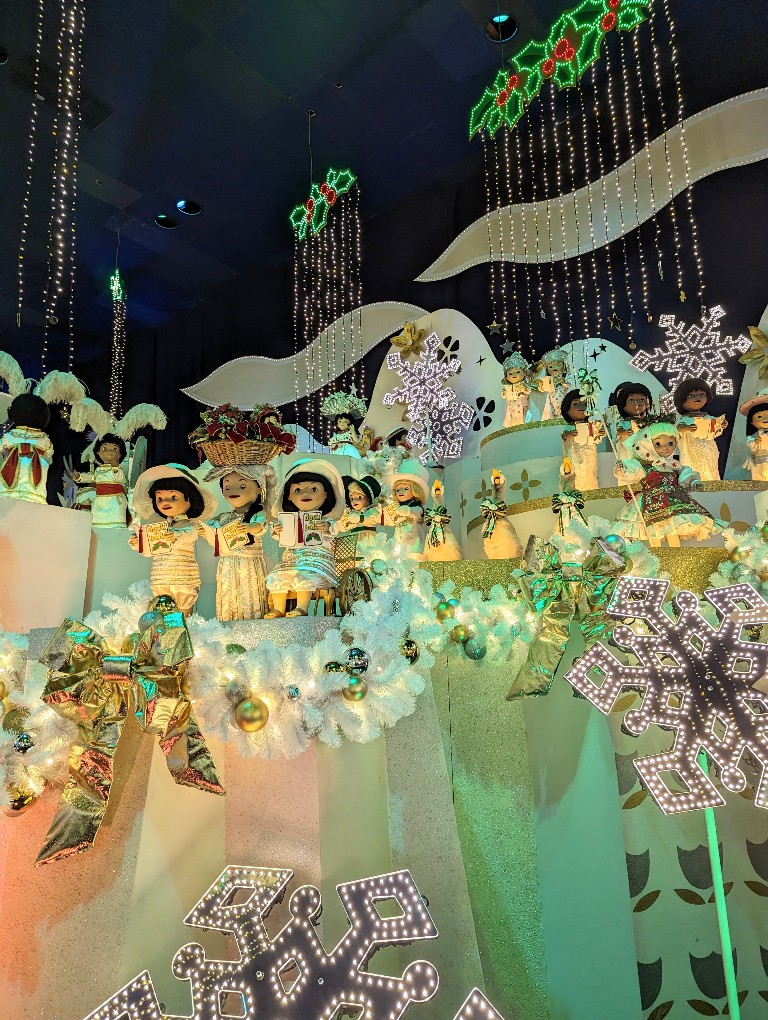 Holiday Time at the Disneyland Resort tour guests use the Lightning Lane entrance for this iconic holiday ride. Culturally appropriate holiday outfits, thousands of twinkling lights, and fully decorated trees make "it's a small world" Holiday an essential Disneyland holiday experience.
A Christmas Fantasy Parade Reserved Viewing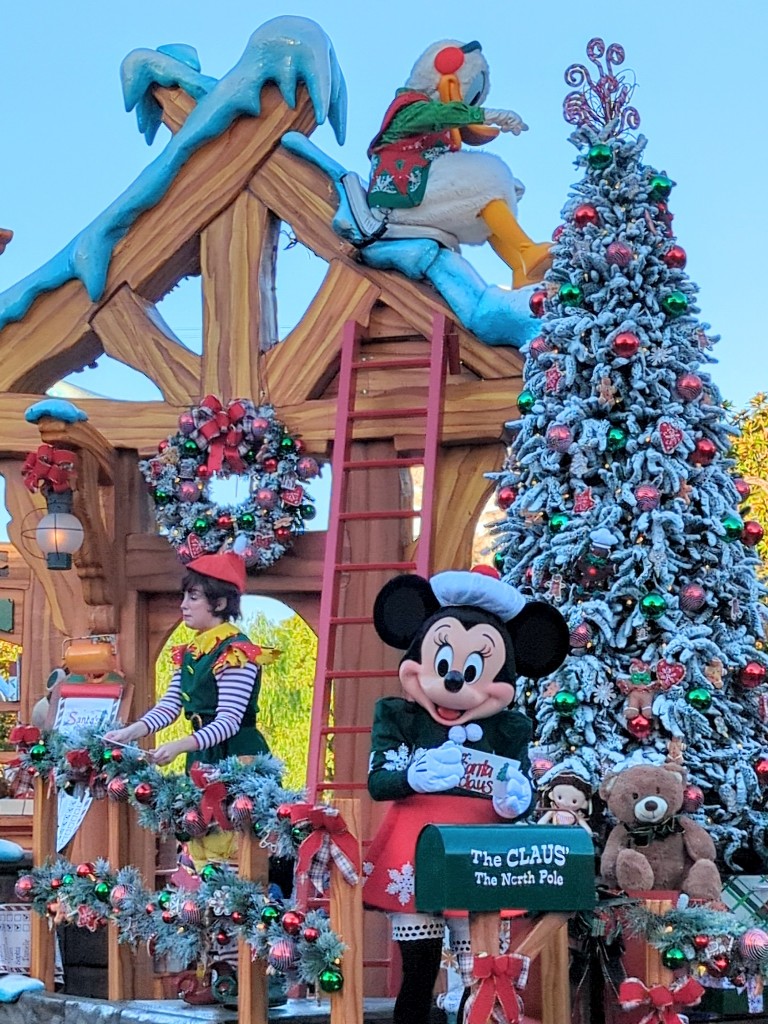 Rejoin your guide after exiting it's a small World Holiday. Guides then lead the tour group all the way back to Main Street for A Christmas Fantasy parade reserved viewing.
Upon arrival get gingerbread loaf and hot chocolate in a souvenir mug to snack on while you wait. Also get my favorite item, a Holiday Time at the Disneyland Resort pin which is also an ornament.
Although the viewing area is now standing room instead of seated, the location is ideal. Views of the castle along Main Street make the Holiday Time at the Disneyland Resort spot a great place to watch the parade. This is especially true if you are one of the first groups along the front.
Tips For Holiday Time At The Disneyland Resort Tour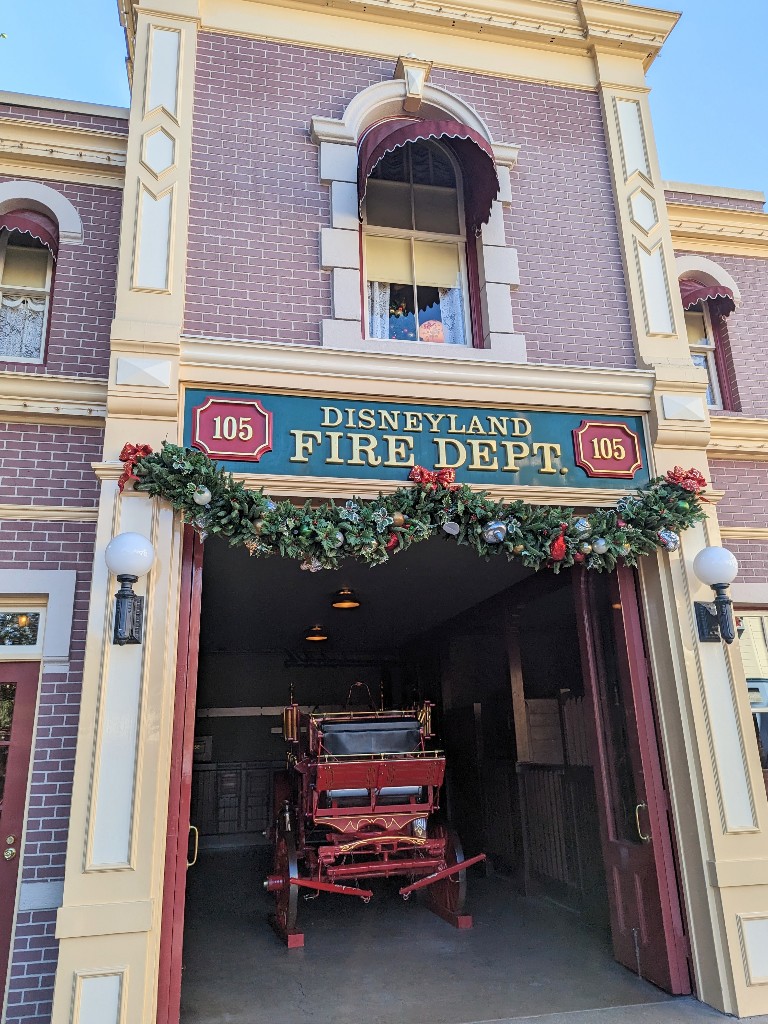 Bring Your Own Headphones
Based on our previous experience, I packed comfortable, but basic wired earbuds for my daughter in my park bag. These earbuds plugged right into the receiver and fit her better than the ones provided.
Those without their own wired headphones are provided an earpiece that sits over one ear. Although a bit awkward at first they work fine for most guests.
Pack Snacks For Those With An Uncommon Food Allergy
If someone in your family has a food allergy, buy snacks before the tour starts. Cast members provide food to attendees very quickly during the tour.
I used vouchers to pre-purchase items and was glad I did. Treat stops are so fast there isn't time to buy allergy-safe snacks on the tour.
Have Space In Your Park Bag Or A Locker For Items You Receive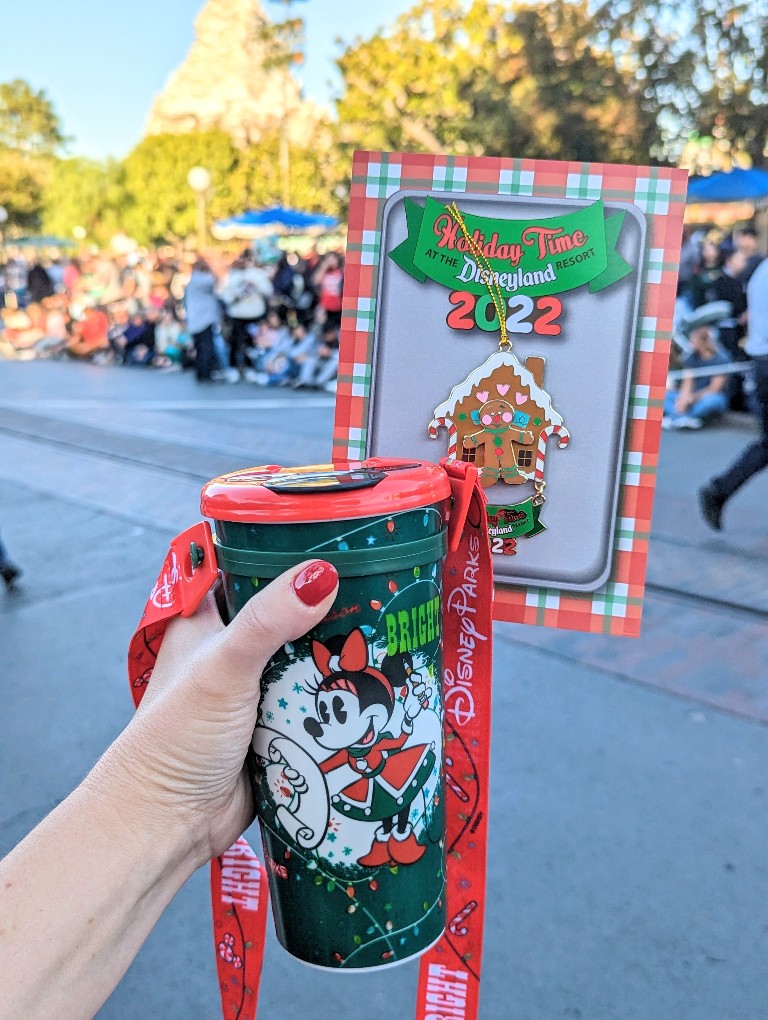 Although the treats, souvenir mugs, and pins are a wonderful part of Holiday Time at the Disneyland Resort tours, they can be cumbersome once you are done.
Have extra space in a bag, rent a locker, or plan on running the items back to your hotel.
Wear Good Walking Shoes
The Holiday Time tour requires considerable walking and standing so comfortable shoes are a must.
Buy A Park Ticket and Book Theme Park Reservations
Admission to Disneyland is not included in the 2023 Holiday Time at the Disneyland Resort Tour price. Guests must have a valid theme park admission AND make theme park reservations to attend the tour.
I accidentally booked our tour, which started at 1:20pm at Disneyland, on our Disney California Adventure park day. Thankfully our park hopper tickets allowed us access to Disneyland at 1pm.
Unfortunately I didn't realize how long the park hopper entrance lines would be. Arriving on time for our tour was tighter than I expected.
Pro Tip: Make Disneyland park reservations for your Holiday Time at Disneyland Resort tour day to avoid any issues entering the park.
Book The Tour Early In Your Disneyland Vacation
If possible, take your Holiday Time at the Disneyland Resort tour early in your vacation. This gives you the best chance to get an overview of the special decorations and activities, plus time to explore on your own later.
How Do I Book A Holiday Time At The Disneyland Resort Tour?
Book tours 60 days in advance via the Disneyland website for the best chance of taking this popular tour.
How Much Does The Holiday Time At The Disneyland Resort Tour Cost?
During the 2023 season, a Holiday Time At The Disneyland Resort Tour costs $110 per person for those age 3 years and older. Please note you must also have a valid park ticket and theme park reservation to take the tour.
Final Thoughts On Holiday Time At The Disneyland Resort Tour
The Holiday Time at the Disneyland Resort tour remains a great way enjoy Disneyland seasonal decor while learning about different holiday traditions.
Premium access during a 2023 Holiday Time Disneyland Resort guided tour is a huge time and hassle saver. Skipping the "it's a small world" Holiday queue and having reserved viewing for A Christmas Fantasy Parade is a relief especially on crowded days.
While the tour is open to all ages, some young children might not enjoy the history aspect of the tour. Smaller kids in our group got antsy while the guide was talking. You know your child best so carefully consider before booking your own Holiday Time At The Disneyland Resort Tour.
We always enjoy our Holiday Time at the Disneyland Resort guided tours and will likely keep this Disneyland tradition. The tour changes some each year which means there's usually something new to learn or experience.
Pin it for later: