Saratoga Springs is a beautiful, sprawling, and often overlooked Disney World Deluxe Villa Resort. Recently refurbished and surrounded by Disney's Lake Buena Vista Golf Course, our Saratoga Springs 1 bedroom villa exceeded expectations.
Disney's Saratoga Springs Resort Location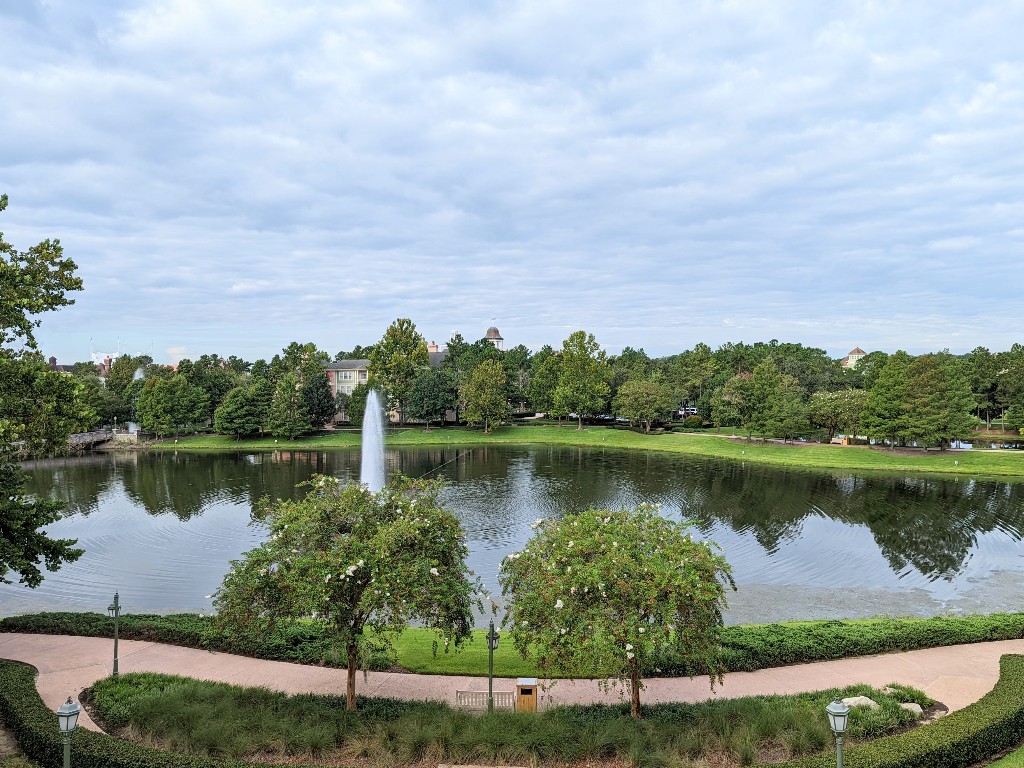 This immense Disney World resort is considered a Disney Springs area hotel. In fact, many Saratoga Springs rooms are within walking distance of this popular dining and shopping area.
Saratoga Springs Resort Overview
Inspired by picturesque Saratoga Springs in New York, this resort honors a city known for thoroughbred horse racing.
Gorgeous Disney horse paintings adorn several walls in the lobby. These paintings incorporate Saratoga Springs' horse racing history with a fun nod to Disney characters like Maximus from Tangled.
Warm yellows, rich blues, and crisp white wainscoting update the lobby while maintaining a chic and classic style.
Disney's Saratoga Springs Dining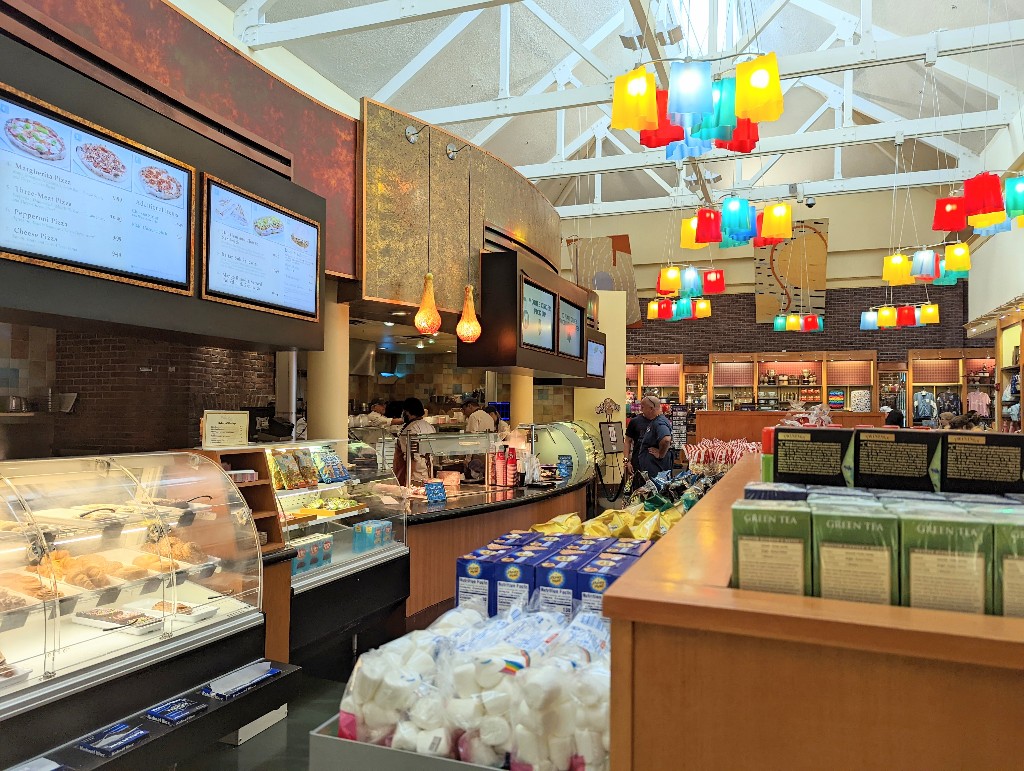 Saratoga Springs dining options are limited considering the size of the resort. However, since the resort is so close to Disney Springs there are still plenty of good table and quick service restaurants nearby.
The Artist's Palette is a traditional quick service location just off the lobby and also acts like a convenience store with frozen food, breakfast items, and snacks. Artist's Palette is Saratoga Springs' Resort gift shop, too.
The Paddock Grill, located at the Paddock pool, serves simple breakfasts, lunches, and dinners. Backstretch Pool Bar also has some limited lunch and dinner options.
The Turf Club, located near Lake Buena Vista Golf Course clubhouse, is the only table service location at Saratoga Springs. The lounge serves drinks and a couple food items, while the restaurant serves American fare dinners with views of the golf course and resort grounds.
Saratoga Springs Pools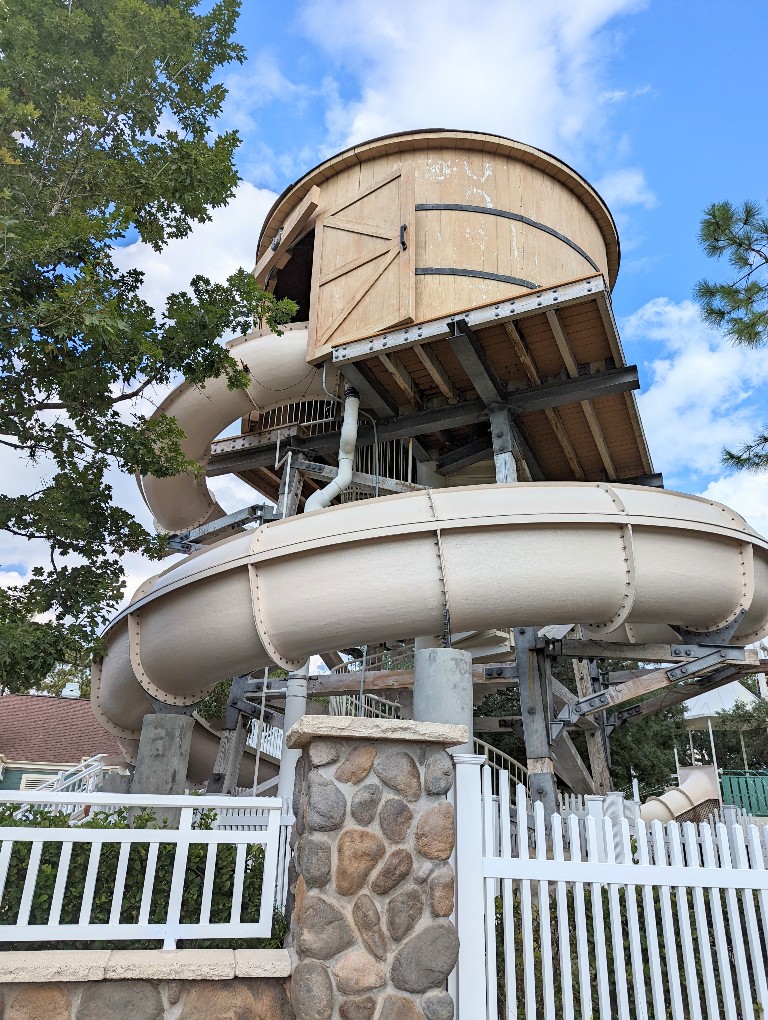 There are five pools spread throughout Disney's Saratoga Springs Resort. High Rock Spring Pool (near The Springs) and The Paddock Pool (in The Paddock area) both feature zero entry, big and little water slides plus splash play areas.
Treehouse Villas, Congress Park and The Grandstand each have small leisure pools for a quick dip. Congress Park and Grandstand also have playgrounds helping kids burn off extra energy near your room.
Saratoga Springs 1 Bedroom Villa Review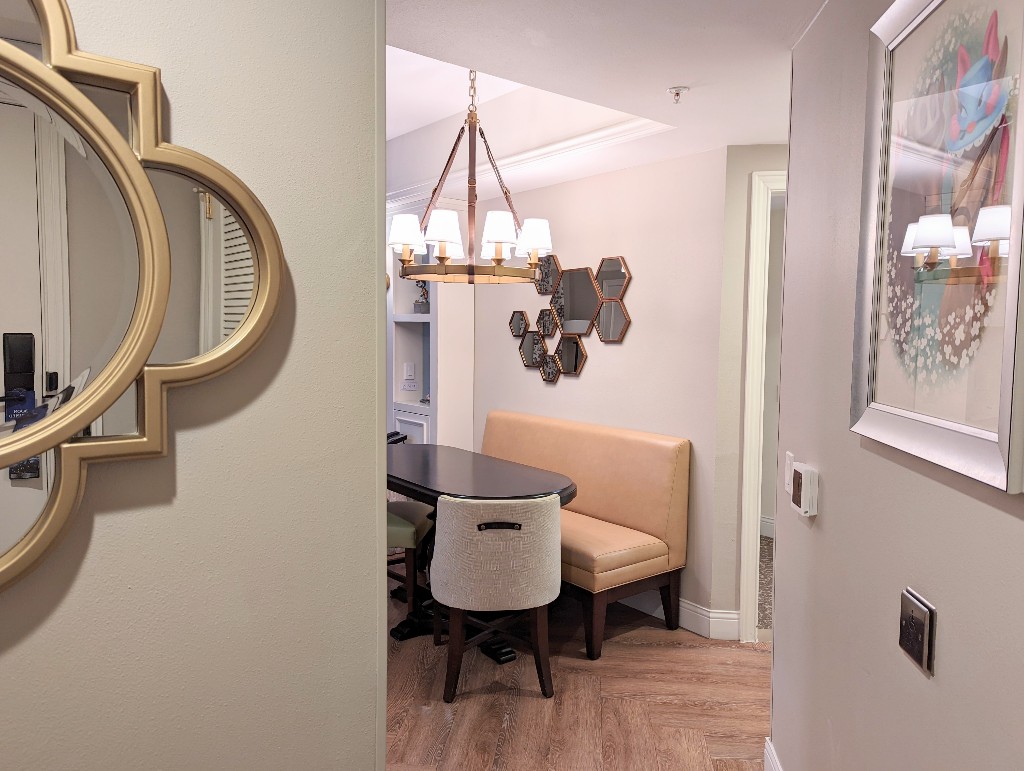 Walking into my Saratoga Springs 1 bedroom villa I was immediately impressed with the pale wood laminate floors, gold accents, and warm neutrals. Look for a hidden Mickey in the geometric mirrors as you enter for an extra bit of Disney fun.
Saratoga Springs 1 Bedroom Villa Kitchen
Disney's Saratoga Springs 1 bedroom villas have a fully equipped kitchen with a refrigerator plus freezer, range with oven, mounted microwave, and dishwasher.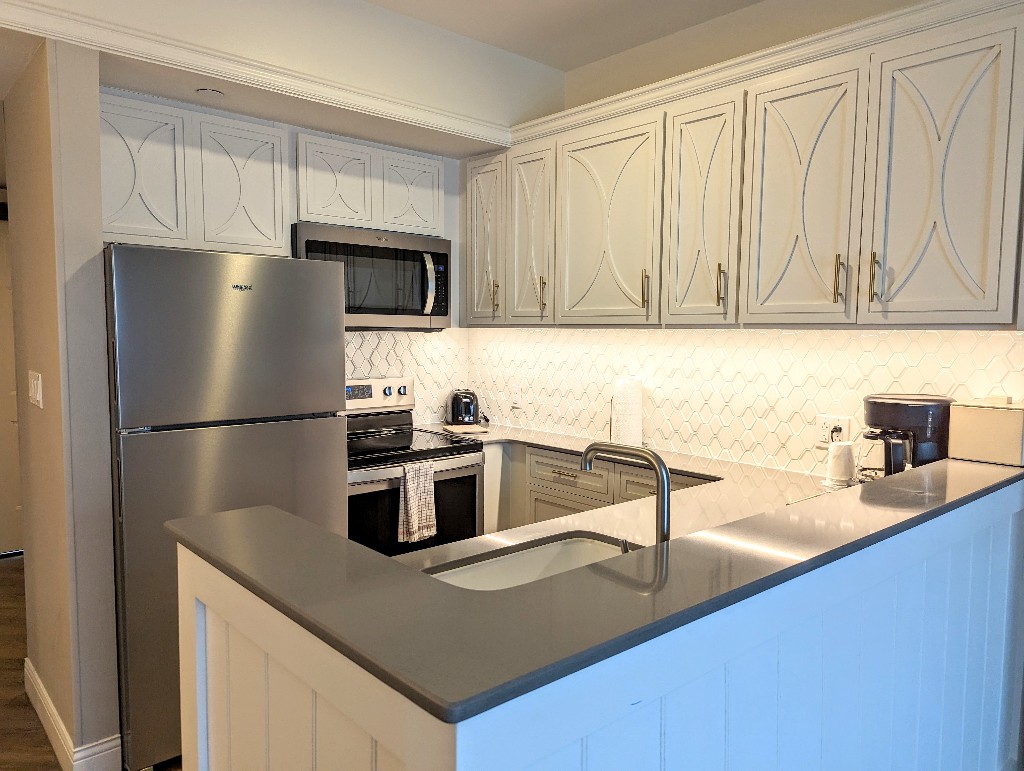 The U-shape kitchen features a peninsula and a decent amount of counter space.
Find a toaster and full 10 cup coffee maker on the counter. Some dishwasher detergent, dish soap, sponges, towels, and paper towels are all supplied at the start of your stay.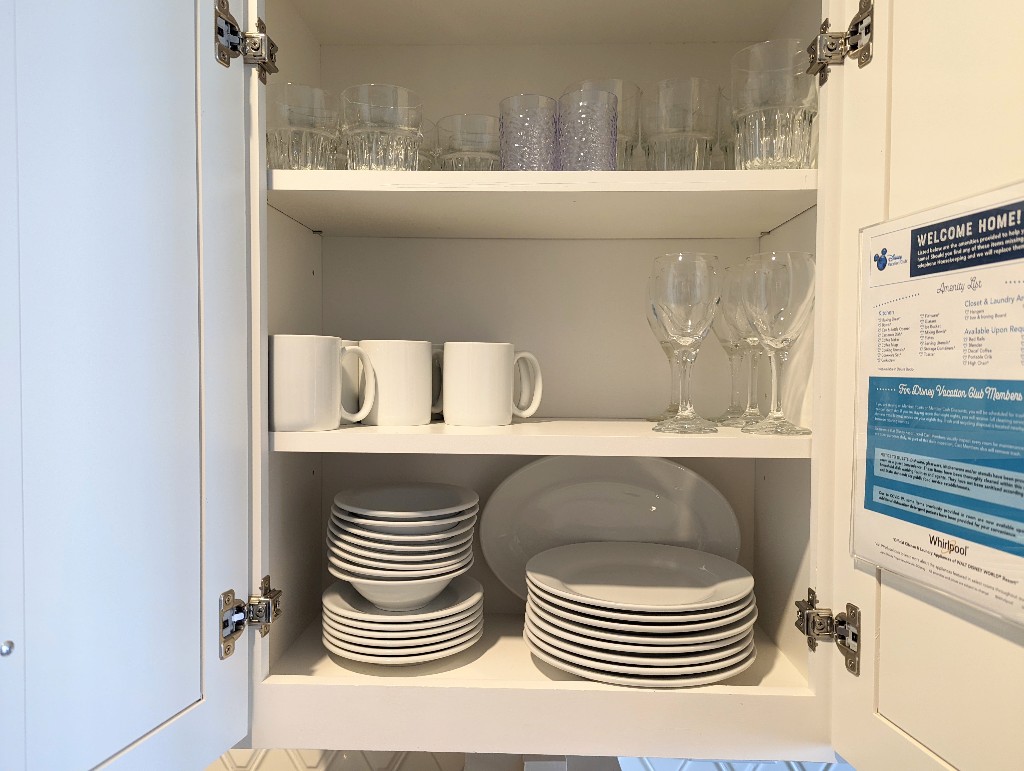 Cabinets are stocked with dishes, glasses, utensils, pots, and pans. Enjoy a leisurely breakfast in the room or even cook a full meal with this well stocked kitchen.
Lastly, an oval table is the perfect place to enjoy a meal in the Saratoga Springs 1 bedroom villa kitchen. The bench seat accommodates 2 to 3 people and two additional chairs mean there's room for everyone.
Disney's Saratoga Springs 1 Bedroom Villa Living Room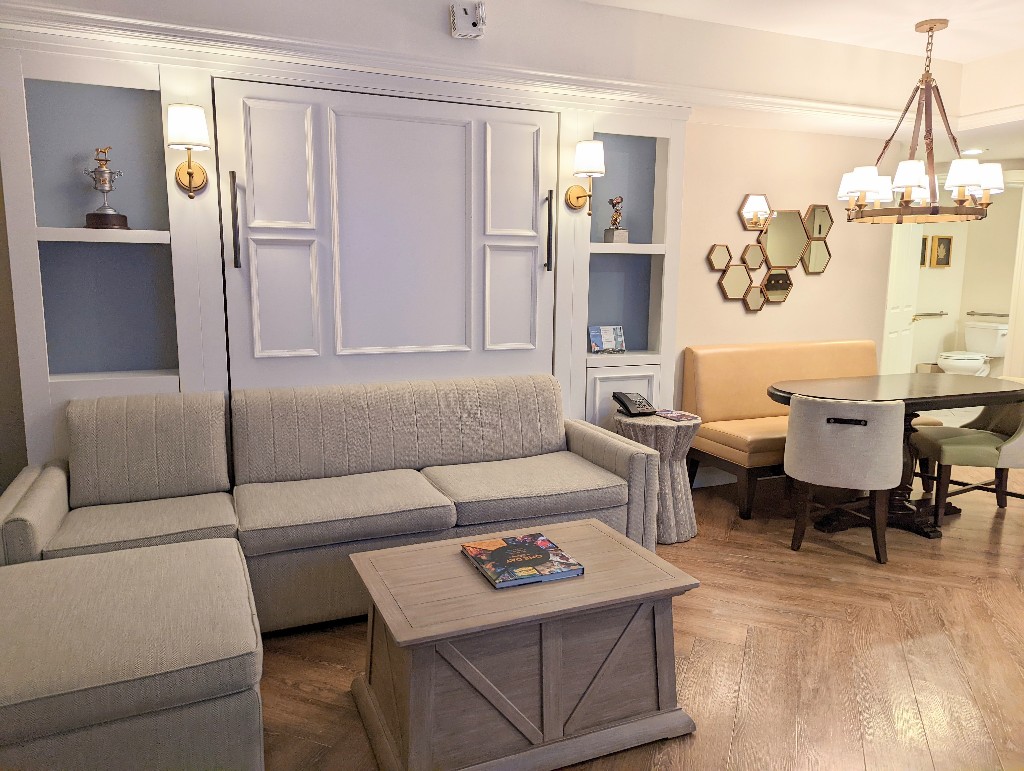 The kitchen is open to the living room which is spacious and bright. An inviting beige couch with movable ottoman is a great place to relax after a long day.
Look for cute details incorporating Saratoga Springs, New York into the resort. For example, trophies adorn built-in shelves on either side of the couch.
Need to sleep multiple people in your Saratoga Springs 1 bedroom villa? Grab the handles on the white wainscoted wall above the couch and pull down to reveal a queen size platform bed.
Above the queen-sized fold down bed a mural brings extra whimsy to the room decor. Donald and Daisy cozy up on a Victorian home's porch while Mickey and Minnie relax in the yard.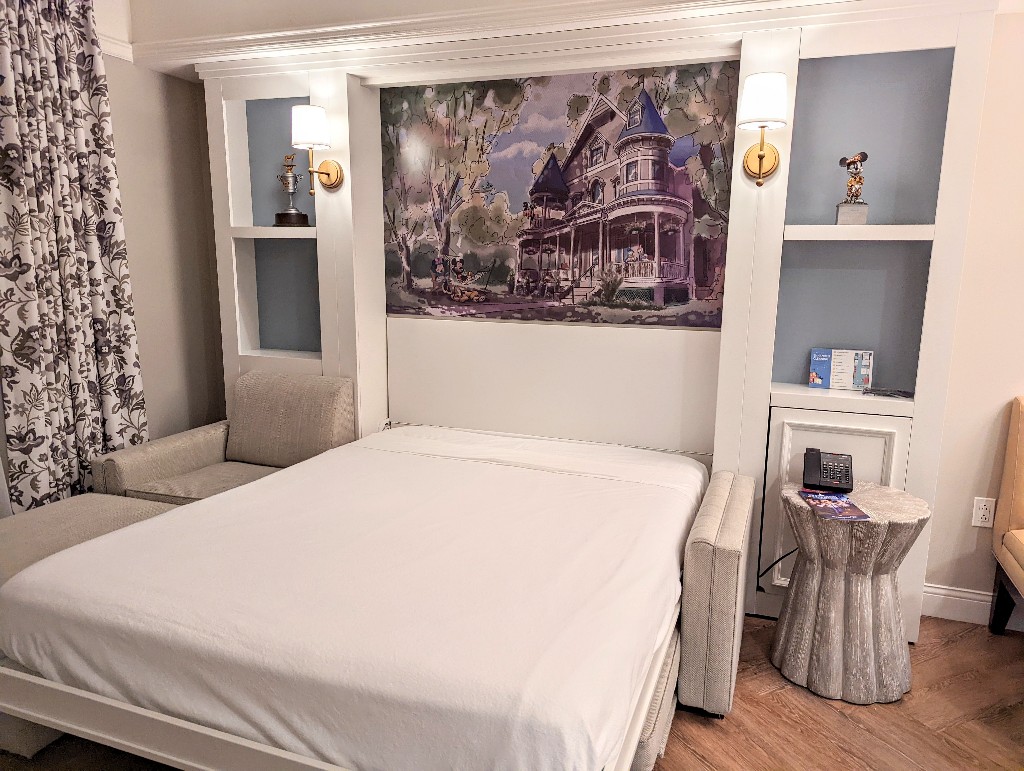 These murphy style beds are a huge improvement over the usual fold out couch and are surprisingly comfortable. Built-in shelves on each side of the bed have two electrical outlets plus two USB charging plugs. These charging stations are extra important with the addition of MagicBand + which needs charging verus original MagicBands.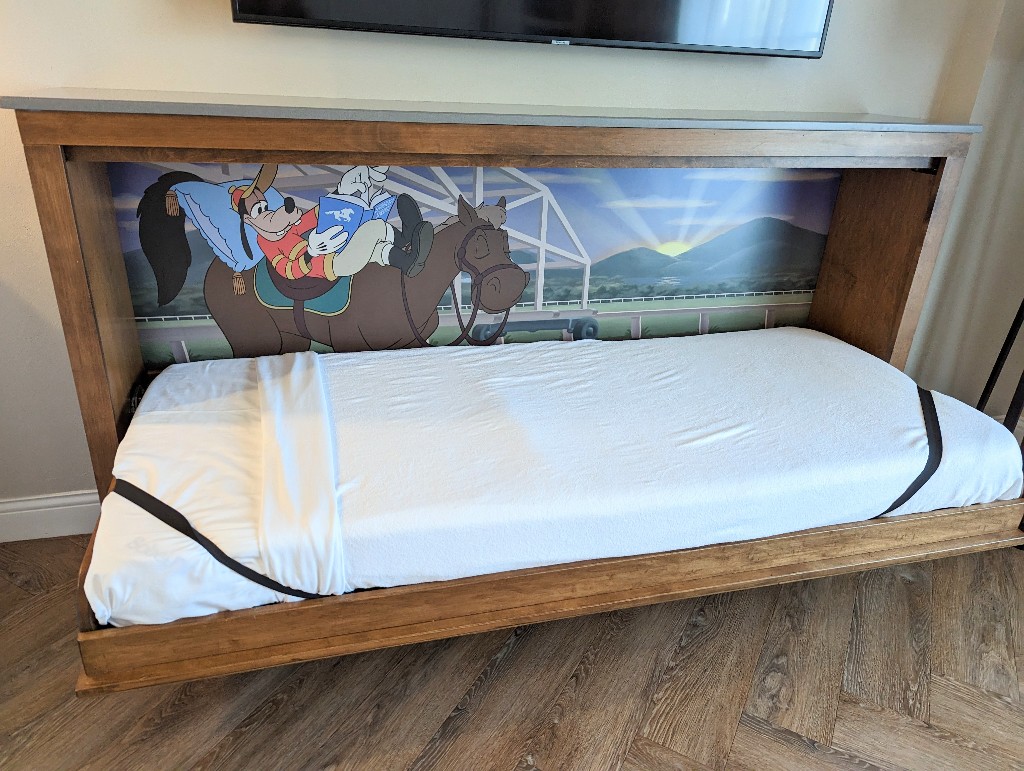 Saratoga Springs 1 bedroom villas have a 5th sleeper twin size fold down bed in the living room under the large TV. Look for Goofy reading a book during his race once the bed is opened.
Saratoga Springs 1 Bedroom Villa Bathroom
Split bathrooms make getting ready with a group easier. Saratoga Springs 1 bedroom villas have a large soaking tub plus a sink in one bathroom area while the other section has a toilet, shower, and sink.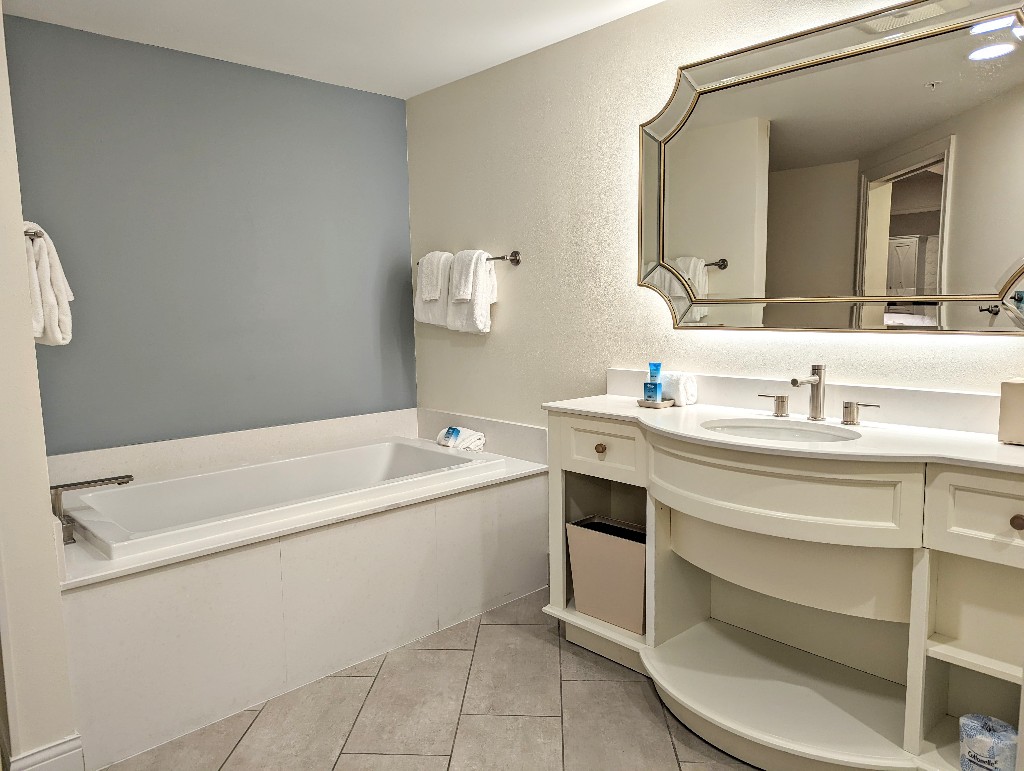 The luxurious tub is designed for either a relaxing soak or giving kids a quick bath. The sink has spacious countertops and a small amount of storage space below, too.
In the second bathroom area, find a small vanity with a sink and a small corner shower unit. The toilet is hidden in its own room just off the center bathroom area. The doors close and lock between these bathroom sections for privacy.
I love the functionality of a split bathroom, but found the center bathroom section difficult to manage. Three doors, two of which open into this small area, made it feel cramped.
The shower is also narrow and oddly shaped which took some getting used to during my stay.
Disney's Saratoga Springs 1 Bedroom Villa Bedroom
Adorable photos of Mickey and friends touring Saratoga Springs, New York hang above the king-sized bed. Nightstands, each with charging and lamps, flank both sides of the bed.
A dresser provides additional charging plus storage during your Disney World vacation. Unfortunately, although the dresser looked large the drawers were shallow and short making it nearly impossible to fit our large packing cubes inside.
Saratoga Springs 1 Bedroom Villa Balcony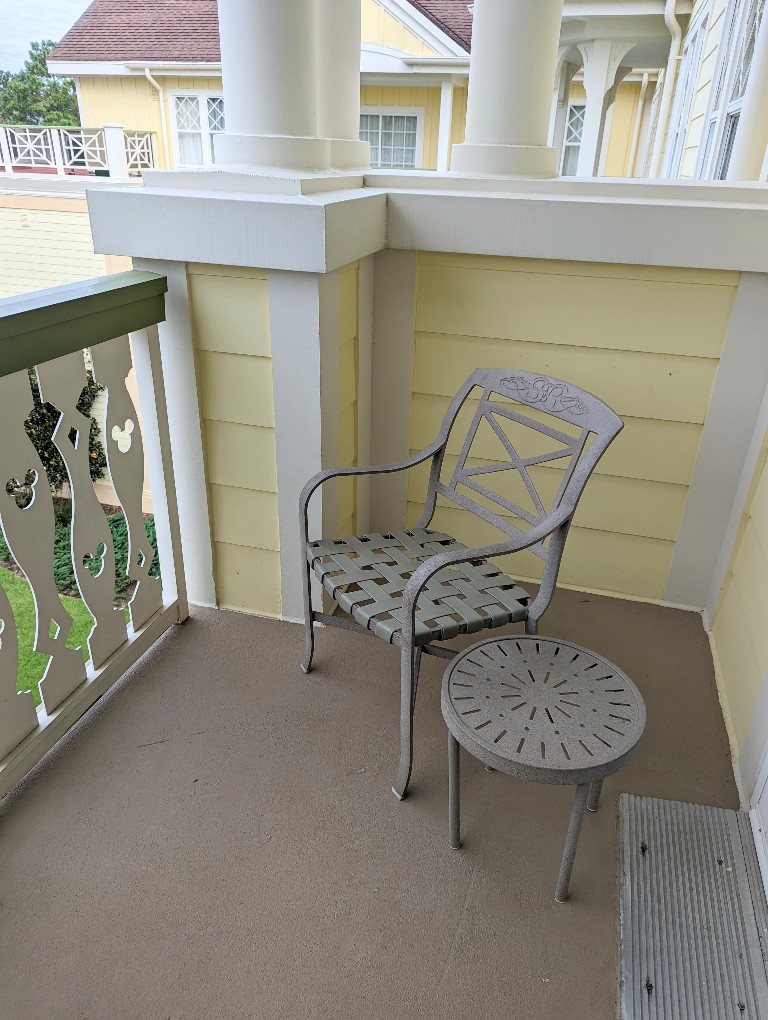 Exit the living room area onto a private balcony, complete with two chairs and a side table. Our view was quite pretty with a bubbling fountain and walking path, but each room's view varies.
Disney's Saratoga Springs 1 Bedroom Villa Laundry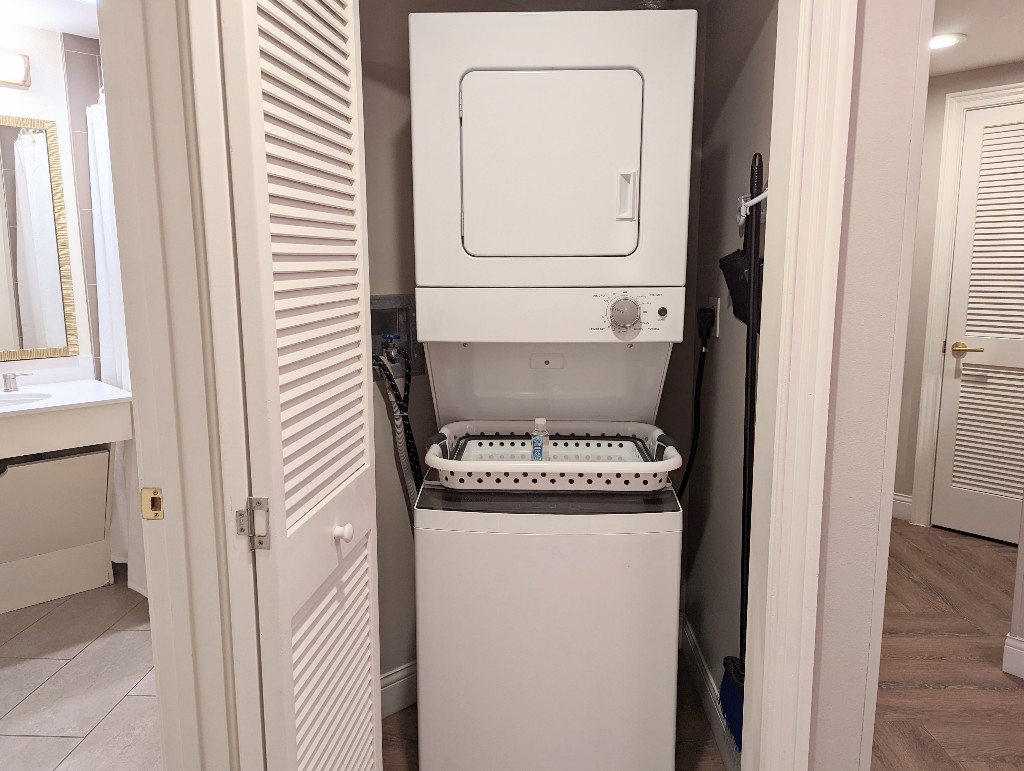 Tucked inside a small closet just outside the bathroom, find a stacked washer and dryer. A laundry basket plus small bottle of detergent make washing clothes convenient while staying in a Saratoga Springs 1 bedroom villa.
Saratoga Springs 1 Bedroom Accessible Villa
On my first visit to the newly remodeled Disney's Saratoga Springs Resort I stayed in one of several accessible 1 bedroom villa options. Here's a quick overview of some of the accessible features that could be helpful for some Disney World guests.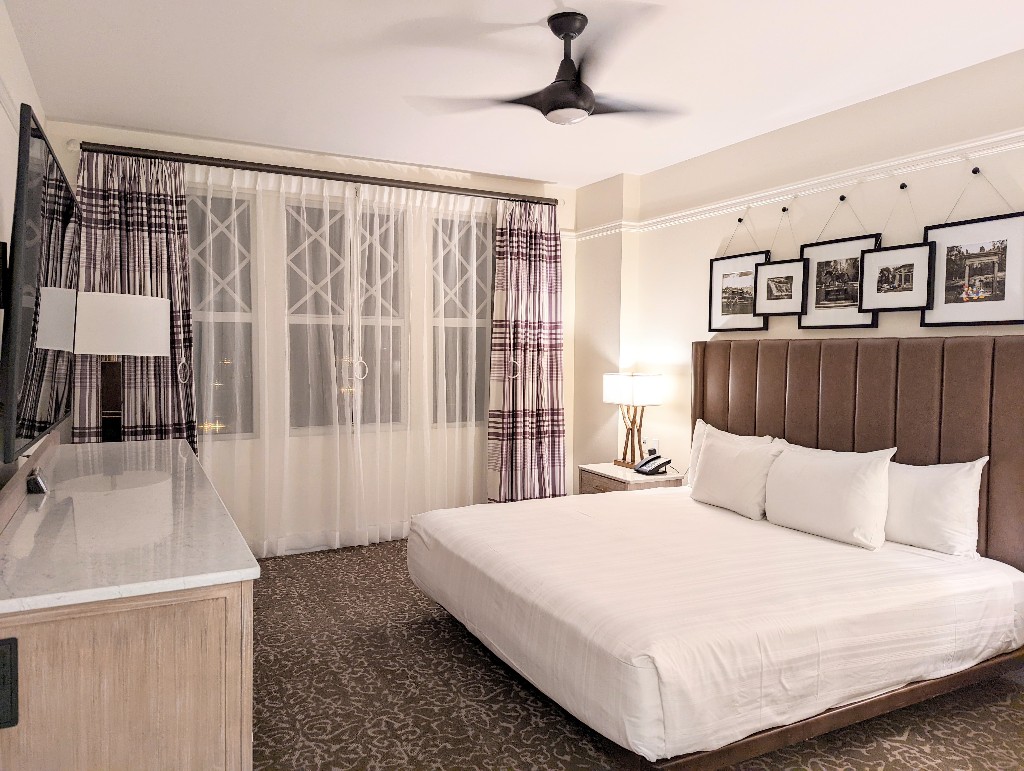 The first accessible feature I noticed is the bed is lower to the floor. This makes transferring into bed from a wheelchair easier than with the higher platform beds.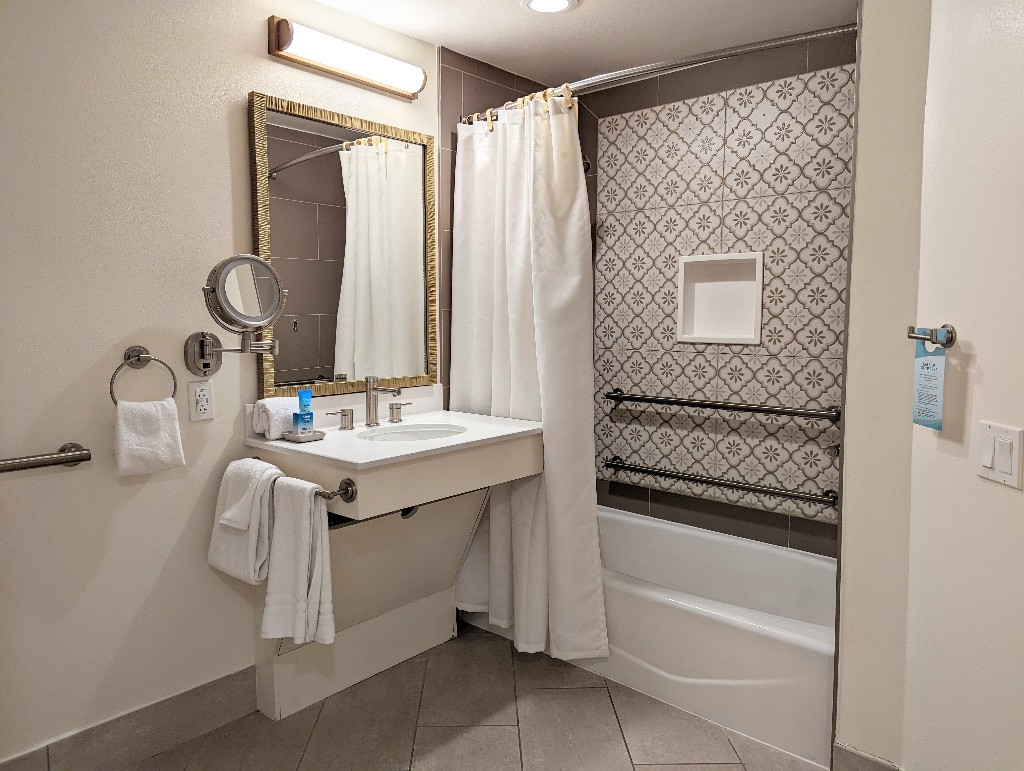 My accessible bathroom featured a roll up sink and grab bars near the toilet and inside the shower/tub combo, but no roll in shower. The bathroom design was also more open than that of a traditional Saratoga Springs 1 bedroom villa.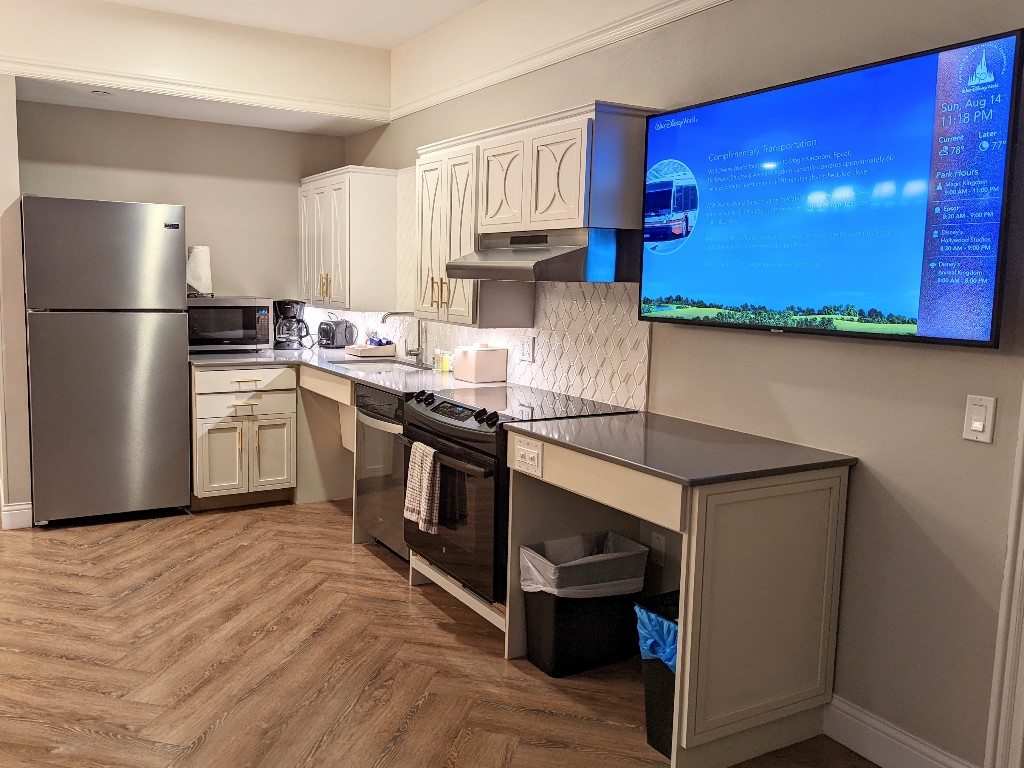 This Saratoga Springs 1 bedroom accessible villa also featured a large L-shaped kitchen instead of the usual U-shaped design. This open design plus a roll up sink makes navigating the kitchen with a wheelchair or walker much easier.
Our Saratoga Springs 1 bedroom villa had the following great features:
Laminate floors
Fully equipped kitchen
Split bathroom
Fold down bed
Private balcony
Blackout curtains
Lots of charging stations
In Room WiFi
Disney's Saratoga Springs WiFi is free and ours worked pretty well for online work and streaming videos. However, some areas have less consistent WiFi coverage.
Disney's Saratoga Springs Parking
There are a handful of parking spots near the lobby for checking into Saratoga Springs. Use these upon arrival and then move to your resort area after room assignment.
Parking is complimentary for resort guests while valet parking costs $33 per night at Disney's Coronado Springs Resort.
Saratoga Springs Transportation To Parks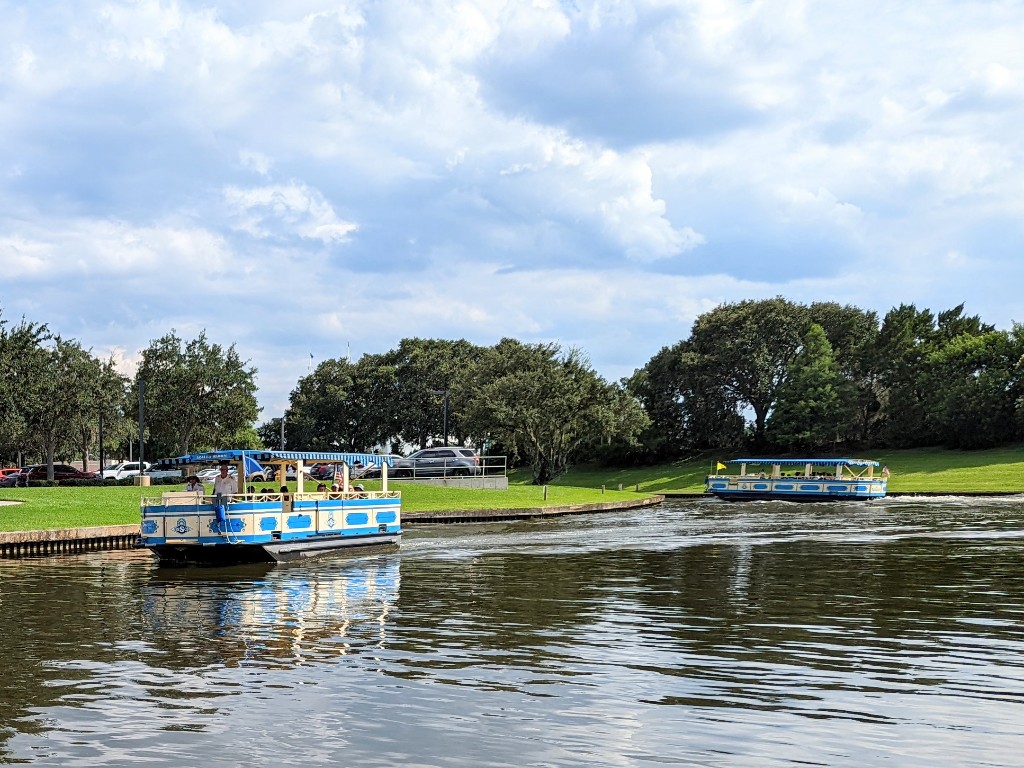 Disney's Saratoga Springs uses bus transportation almost exclusively. There are four bus stops at Saratoga Springs where you grab a shuttle to Magic Kingdom, Hollywood Studios, Epcot, and Animal Kingdom.
Because Saratoga Springs bus transportation is slow, I also use Minnie Vans and regular Lyft rides often during our Saratoga Springs stays.
Those staying at Saratoga Springs Treehouse Villas must also take a separate shuttle to and from the main bus loop.
Walk from several areas of Saratoga Springs to Disney Springs or opt for a leisurely boat ride.
Disney's Saratoga Springs Map And Description Of Resort Areas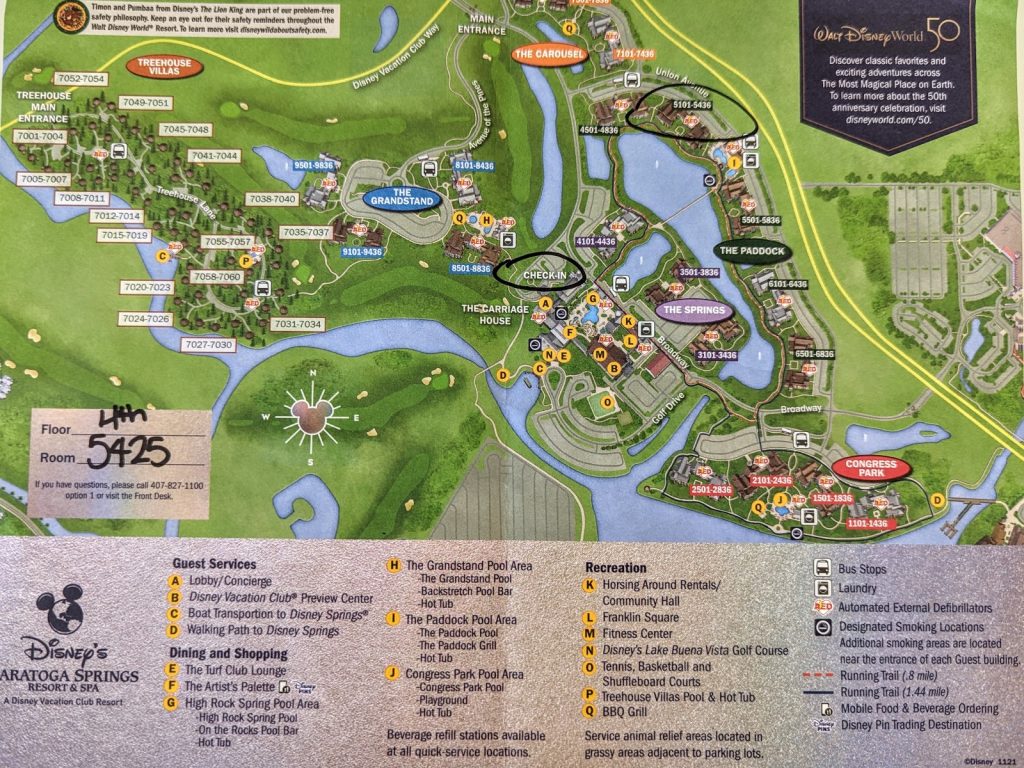 Despite staying at some of Disney World's larger resorts like Port Orleans Riverside and Coronado Springs, I was still unprepared for how large Saratoga Springs feels.
Disney's Saratoga Springs is divided into six distinct sections with several buildings in each area.
A "preferred room" at Saratoga Springs puts you in either Congress Park (close to Disney Springs) or The Springs (near Saratoga Springs' lobby, main pool, and dining).
The remaining sections are The Grandstand, The Paddock, and The Carousel which are all further from these convenient Saratoga Springs areas. I stayed in The Paddock and didn't mind the distant location as much as I expected.
The last section of Saratoga Springs are the Treehouse Villas. While the treehouses are lumped in with the rest of the resort, they are quite different in location, style, and transportation.
Treehouse Villas are unique 3 bedroom accommodations which are cool, but extremely isolated. These villas require a bus ride to and from Saratoga Springs plus a transfer to reach the theme parks.
Guests dropped off by black car or other transportation services before checking in can ask for a ride to their room. This is extremely helpful when checking in with large bags or when your assigned room is far from the lobby.
Overall Impression of Disney's Saratoga Springs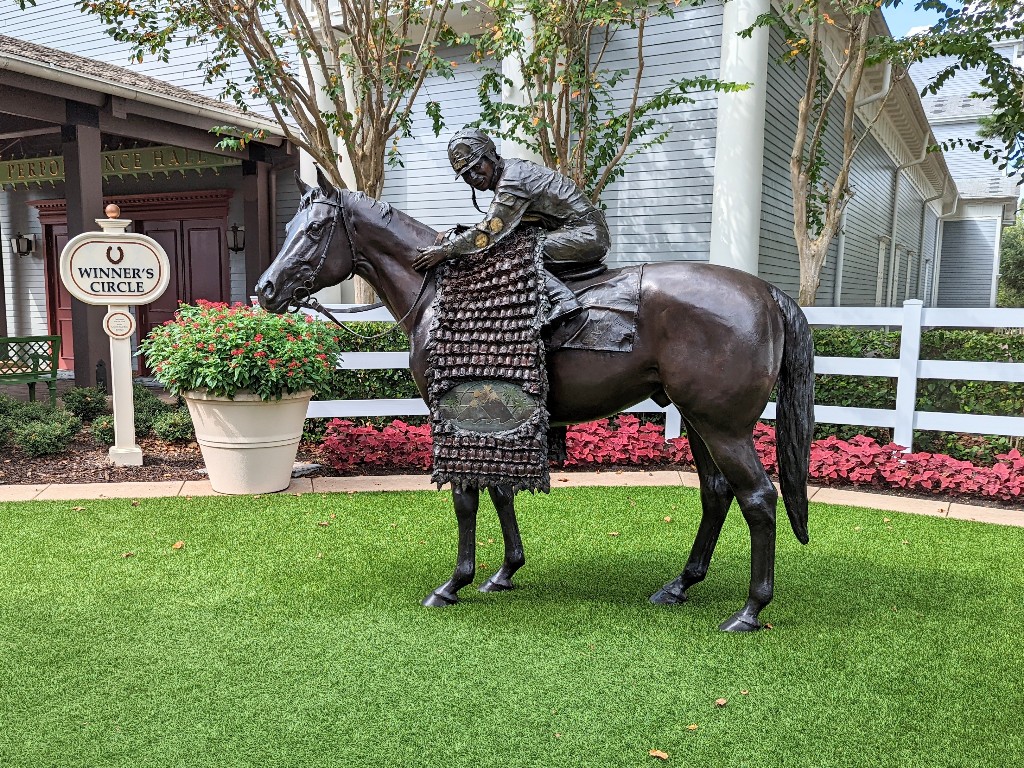 I had avoided staying at Saratoga Springs for years because the rooms seemed dated and the transportation slow. After staying in a newly renovated Saratoga Springs 1 bedroom villa I have a new appreciation for this beautiful resort located near Disney Springs.
Although I don't love multiple bus stops making a slow trip to and from the parks even longer, the room and overall relaxed atmosphere are great for a slow paced Disney World vacation. Those spending a lot of time at Disney Springs, golfing, or with access to a car may find Saratoga Springs villas a great value compared to other Disney World deluxe villas.
However, for short Disney World trips I recommend staying at a resort within walking distance of a theme park, like the Contemporary, or a smaller resort, like Port Orleans French Quarter, to minimize transportation times.
Pin it for later: