Sea Island is a private island on the coast of Georgia famous for its on-site amenities and activities. One of the most exciting and unusual options is the Sea Island Hawk Walk. See raptors up close and have them fly right to you during this excursion.
When planning our Savannah and Golden Isles trip I had a lot of trouble finding Hawk Walk reviews and information so I'm going to try to answer all the questions I had before our visit.
Where Is Sea Island?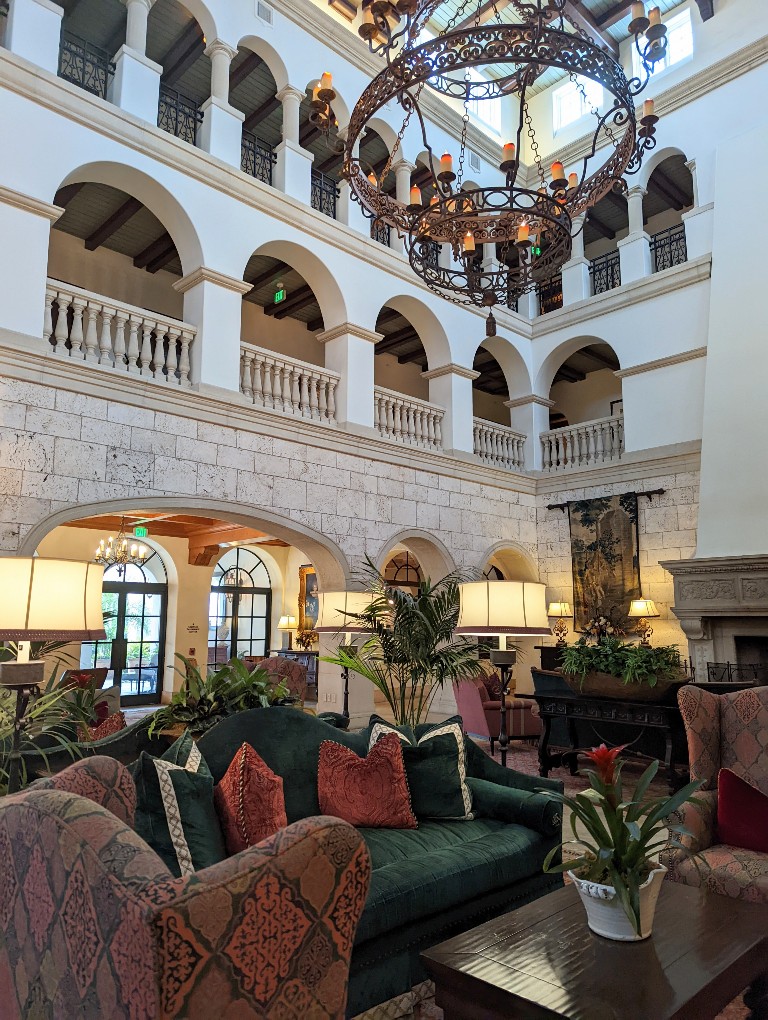 Sea Island is a private island accessed via St. Simons Island, Georgia. It's an easy drive to Sea Island, about 90 minutes from either Savannah or Jacksonville Airports. We paired our trip to Sea Island with a visit to Savannah which we loved exploring.
Sea Island is extremely exclusive. Only guests of The Cloister, The Lodge, and Cottages able to step foot on Sea Island or book activities there. Unfortunately, a recent change means guests at the Inn at Sea Island can no longer pay for resort access.
What Is The Hawk Walk?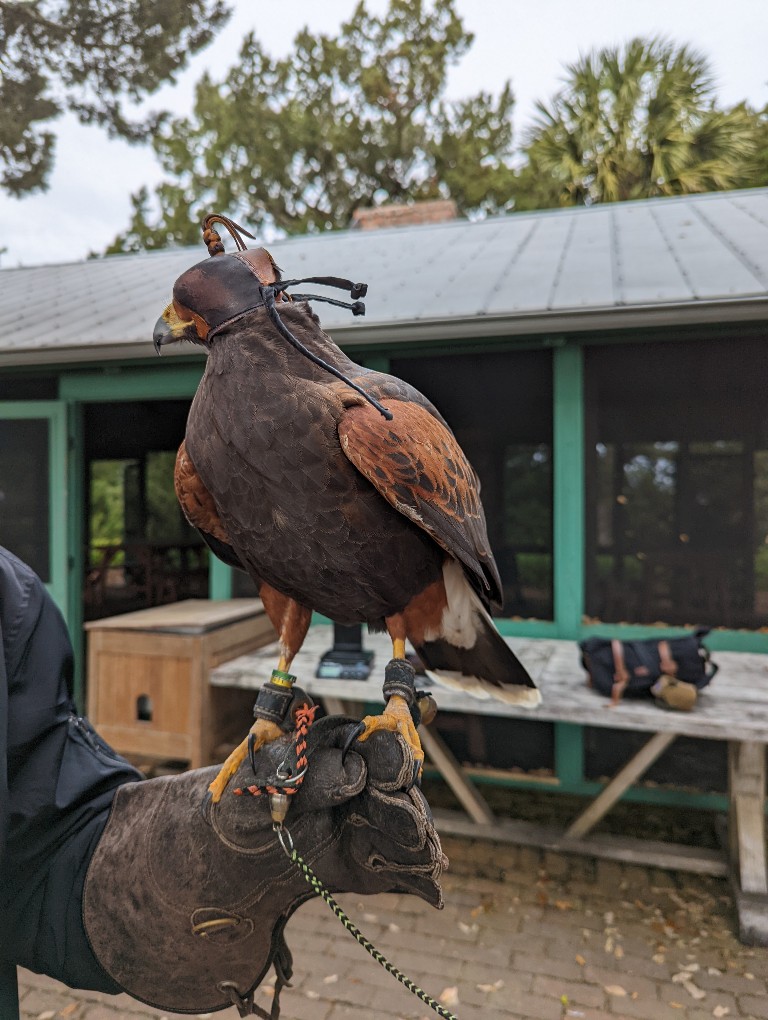 Learn about the ancient art of falconry and have a Harris hawk fly to your hand in this 90 minute small group experience.
Sea Island Hawk Walk Review
My daughter and I have previously done a falconry experience at The Biltmore, but this was a brand new for my husband. Online information was sketchy so we weren't quite sure what to expect on the Sea Island Hawk Walk.
The new Sea Island Falconry center is located at Rainbow Island, which is actually a small section of St. Simons across the water from Sea Island. The narrow road to Rainbow Island's boardwalk is relatively easy to find and ends at a small parking lot. We used this address and Google Maps found it without a problem.
Hawk Walk Welcome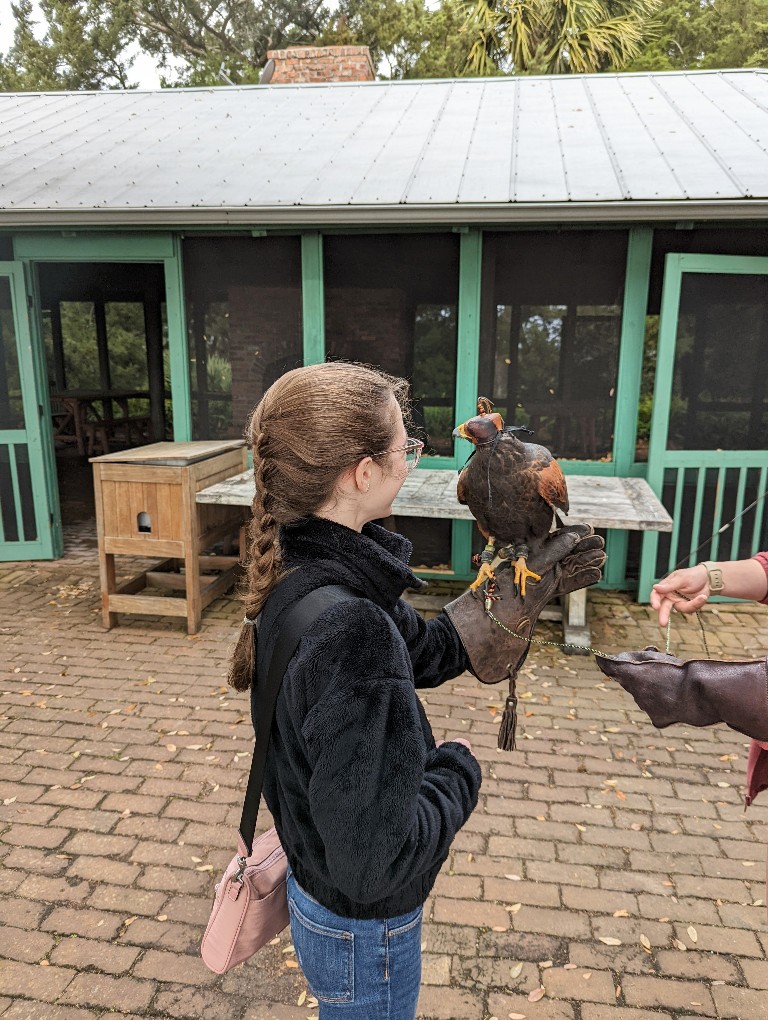 Our falconer, Paige, cheerfully greeted us upon arrival. We learned a little about her background and interest in falconry as we waited for the other group.
As soon as everyone arrived, we followed Paige to officially start our Hawk Walk. First she brought out Mikey, a surprisingly charismatic hawk.
After talking about how Mikey is trained, each member of Hawk Walk is invited to don a special glove and hold Mikey, or another Harris hawk if he's got the day off. Although this can be intimidating at first, everyone enjoyed holding and seeing a hawk up close.
Next Paige weighed Mikey. His weight gives her a good idea how interested he'll be in hunting, flying, and eating. Then she placed a small tracker on his leg and it was time to let Mikey free fly.
Raptor Free Fly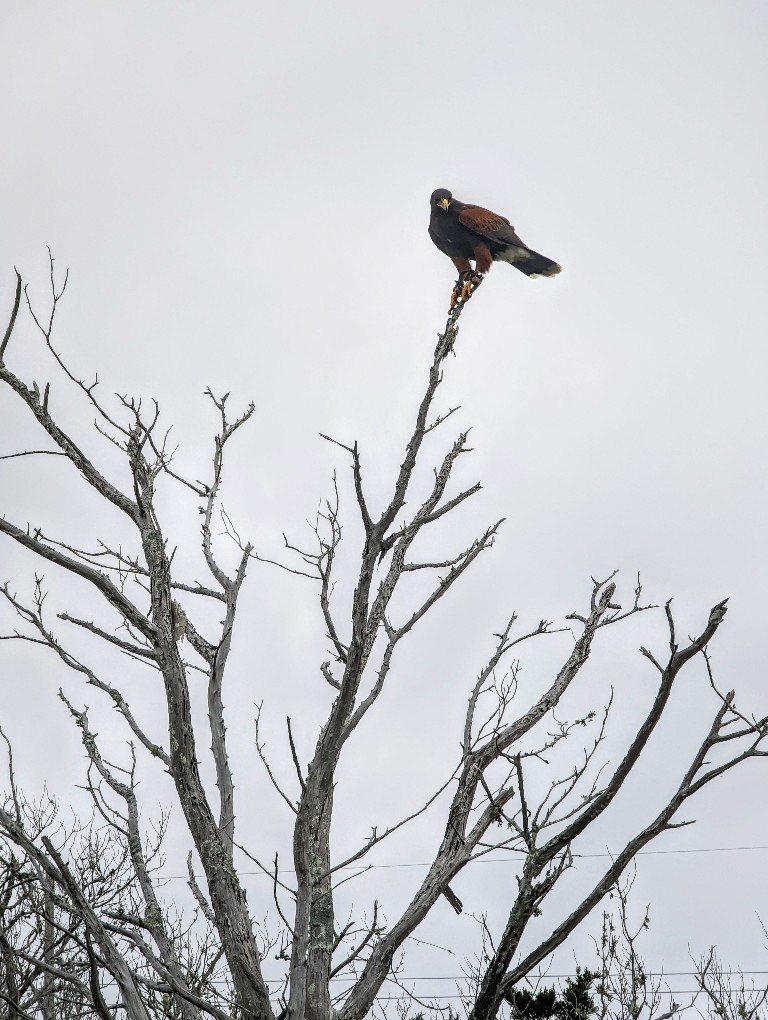 As soon as he had permission, Mikey flew off to some nearby trees on the path and watched us intently as we walked. This trained hawk is smart and knows that some tasty treats are in his future.
Paige dug around in her bag for the first snack and after tucking it into her glove Mikey swooped down, grabbed the food, and contentedly nibbled. Once he was done he flew off to a nearby tree and impatiently waited for his next flight.
Now that the falconer had demonstrated how to hold the food and what to expect, Mikey took turns flying to us. Even the initially nervous members of our group quickly embraced the experience.
As everyone takes turns the falconer answers questions about the hawks, training, or falconry in general. The free fly time felt like it went quickly. Once we all had Mikey fly to us a couple times it was time to head back.
Hawk Walk Conclusion
Arriving back at the center, Mikey got a well deserved rest and Paige's other Harris hawk came out to visit. Betty was more vocal, but just as happy to see us. 
Anyone who wanted to hold Betty could put on a glove and have another up close experience. Our falconer even offered to take photos of the groups so everyone could be in the picture with Betty.
By then the 90 minutes was over. After some goodbyes our Sea Island Hawk Walk experience was complete.
Hawk Walk Tips
The Sea Island Hawk Walk is extremely popular. Book your Hawk Walk early to avoid missing out. 
Hawk Walks are canceled for inclement weather since heavy rain or winds are difficult for the birds.
The path is a mix of sand and dirt so wear old shoes or ones that you can easily clean.
Arrive about 10 minutes before your scheduled time.
There is a small gravel lot near Rainbow Island Boardwalk where you can park during Hawk Walk.
Are you squeamish? Don't look too closely at the food in your glove. Hawks eat everything, including fur, so the food's appearance is rather unappealing.
Are There Other Sea Island Falconry Experiences?
Sea Island has a few other falconry options at certain times of year and may be a good backup option if Hawk Walk is full. 
A less intense option is the Falconry Meet and Greet which lets you meet with raptors and a falconer. Guests can handle a raptor, but won't have the free flying experience.
See falconry as a traditional hunting sport during the Falconry Experience at Broadfield. This experience is a half-day outing when both a peregrine falcon and Harris hawk hunt gamebirds, squirrels, and quail.
Lastly, although not raptors, learn about owls at Owl Prowl at the Sea Island Nature Center. Dissect an owl pellet and meet owls with a Sea Island falconer.
Final Thoughts On Sea Island Hawk Walk
Our Sea Island Hawk Walk was incredibly fun, exciting, and informative. We loved learning from our falconer and the opportunity to have Mikey fly to us.
Hawk Walk is well run and Paige did an incredible job getting even the most nervous person comfortable with handling the hawk. I would definitely recommend booking a Hawk Walk during your Sea Island vacation.
Pin it for later: