Jekyll Island is a popular vacation destination on Georgia's coast. Best known for Driftwood Beach, a unique spot popular for photos, Georgia Sea Turtle Center is an underappreciated and often overlooked Jekyll Island attraction.
What Is the Georgia Sea Turtle Center?
Georgia Sea Turtle Center is a hospital and rehabilitation center for turtles, tortoises, reptiles, and some species of birds. The center is not a zoo or aquarium, but acts as an educational center in addition to a hospital.
Where Is the Sea Turtle Center?
Find Georgia Sea Turtle Center in the center of Jekyll Island about 10 minutes from Driftwood Beach or 3 minutes from Jekyll Island Club Resort.
Georgia Sea Turtle Center Review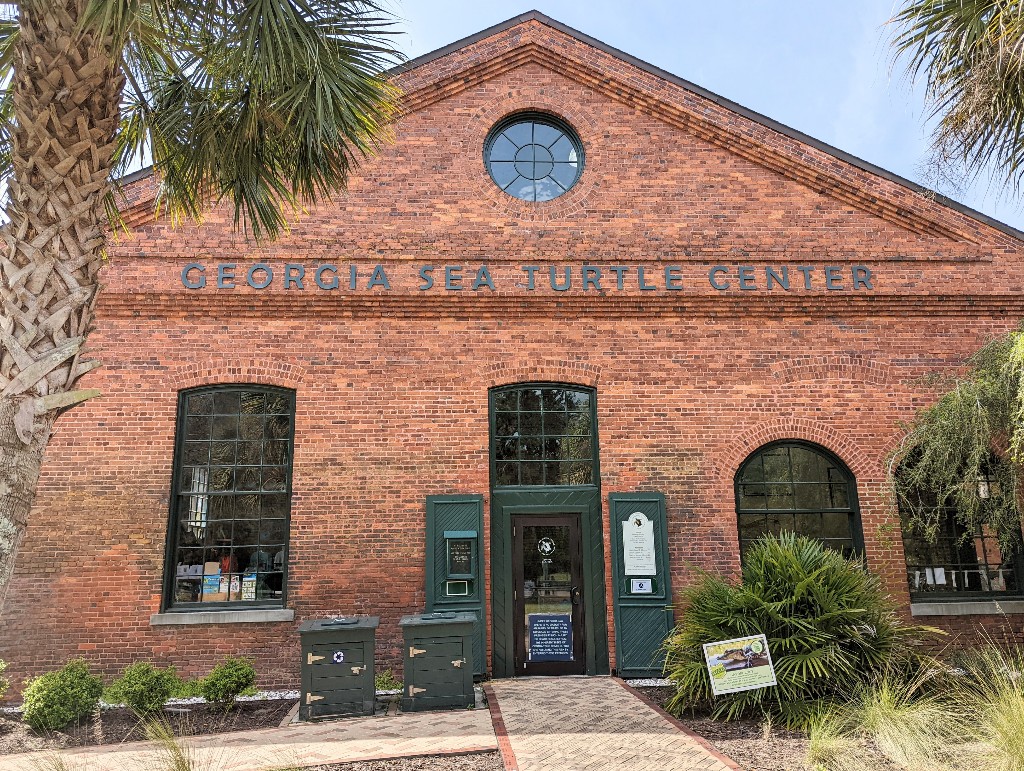 Gift Shop and Ticket Counter
Enter Georgia Sea Turtle Center's gift shop and purchase admission from any of the registers. While buying your ticket look behind the registers. A large board there lists available programs for the day.
On the day we visited several field trips had already been onsite. This meant limited programs for regular visitors as not to overtax the animals. I tried calling ahead, but unfortunately there is no way to check demonstration times or availability without stopping by the Georgia Sea Turtle Center.
Hospital Area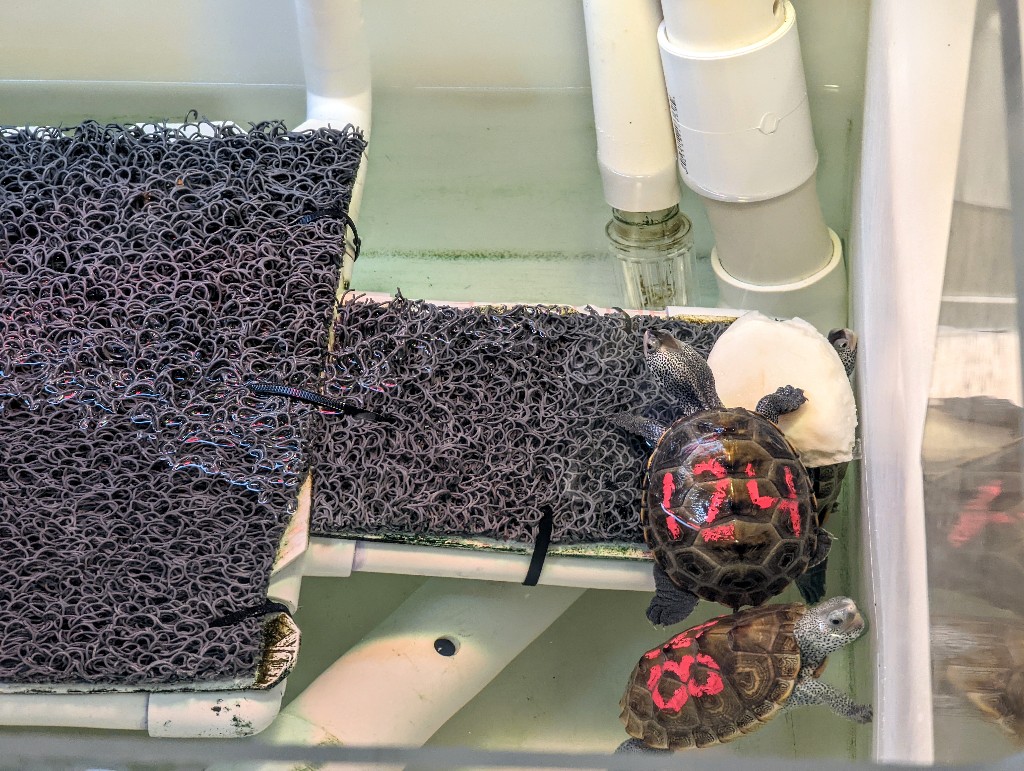 Since seeing an educational talk was important to us we skipped the learning center upon arrival. Instead we went directly to the hospital area to wait on the next Patient Feeding Session.
While waiting we watched the injured turtles swim and read about them on small signs posted near the tanks. At the end of the walkway we found two aquariums full of rescued Diamondback Terrapins. These cute babies adorably explored their habitat and we couldn't get enough of them.
Most visitors arrived about 10 minutes before the feeding session and the area got crowded. Spending time in the hospital was a good way to entertain ourselves while waiting, but also provided a good viewing spot.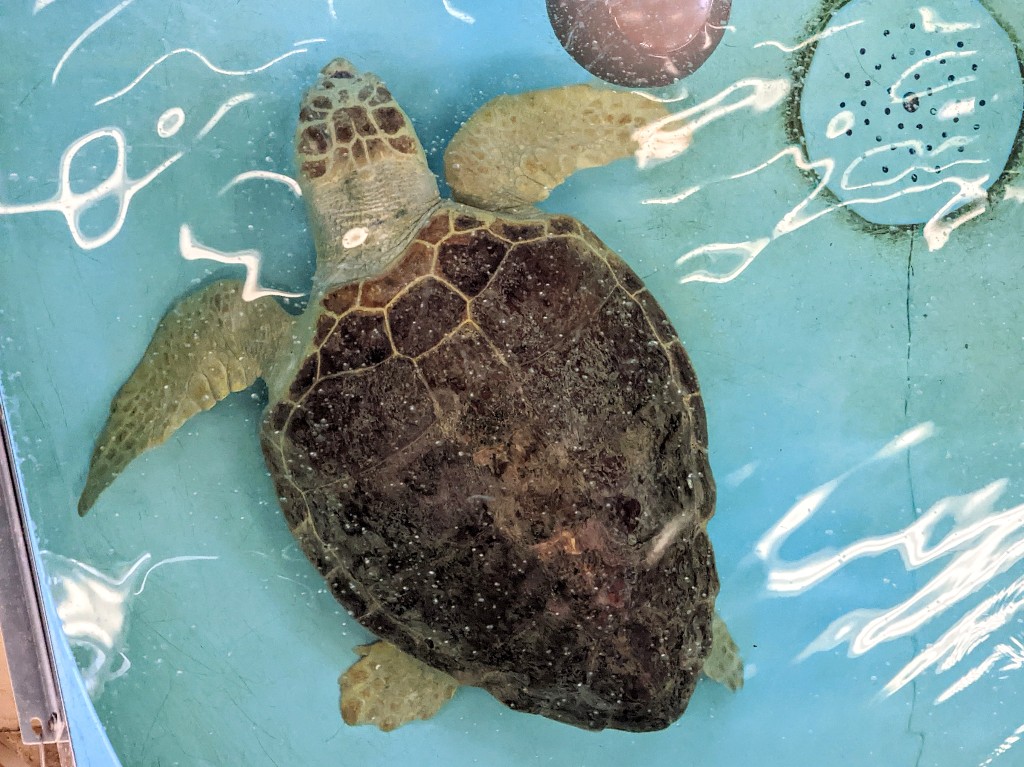 Our Patient Feeding Session lasted about 15 minutes and was extremely interesting. We "met" a sea turtle, learned about her injury, how she was treated, and their hopes to release her back to the wild. 
During the feeding session we also learned a lot about sea turtles. A staff member educated us on the different species of sea turtles, their habitats, and diets.
The presenter even talked about how they rehabilitate the rescued animals at the center. Then she fed a large Loggerhead turtle her meal and answered visitor questions.
We spent about forty minutes in the hospital watching the feeding session and exploring on our own. Even though we visited on a cool day the hospital got really warm and it was a relief to head into the Learning Center.
Learning Center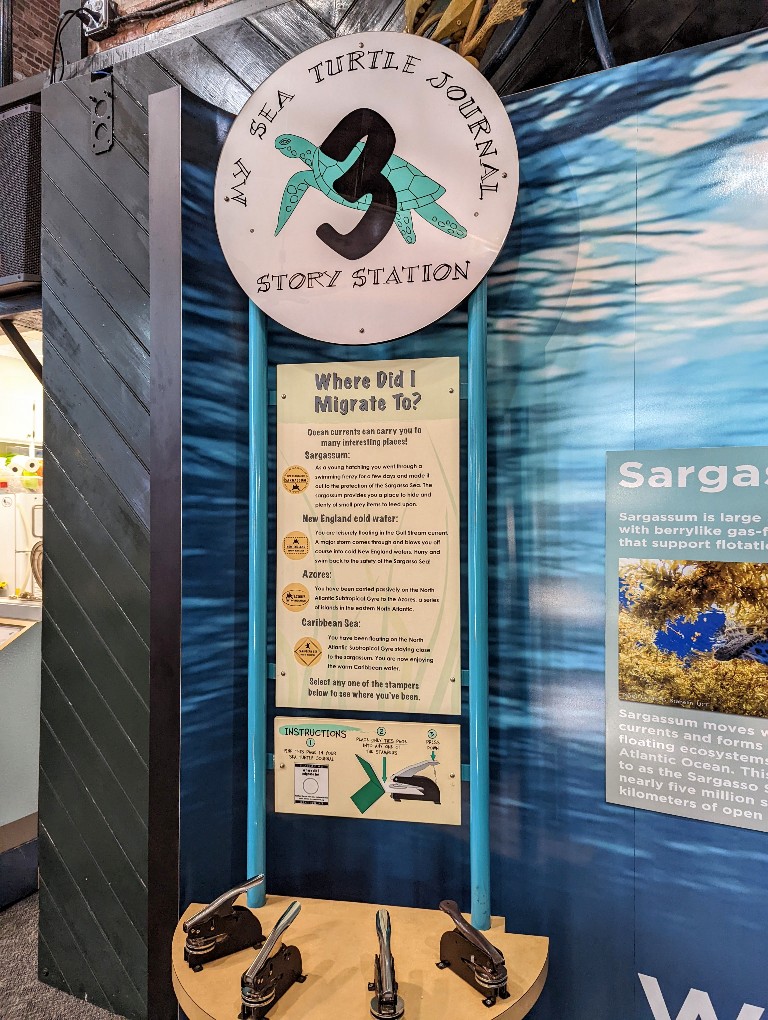 The Learning Center is just one room, but has a self-guided five step tour. This tour shows the life cycle of sea turtles and the dangers they face in the wild.
Each station has printed information, videos, or interactive components to teach visitors about sea turtles. Stamp your card at the end of each station to see how your turtle handles the dangerous conditions.
After completing all five stations go to a final interactive video station. Choose if your turtle made it to one, fifteen, twenty-nine, or sixty years old. Based on your turtle's age you'll see a video talking about what their life was like. Although sad to find out how few sea turtles make it to adulthood, it was extremely interesting.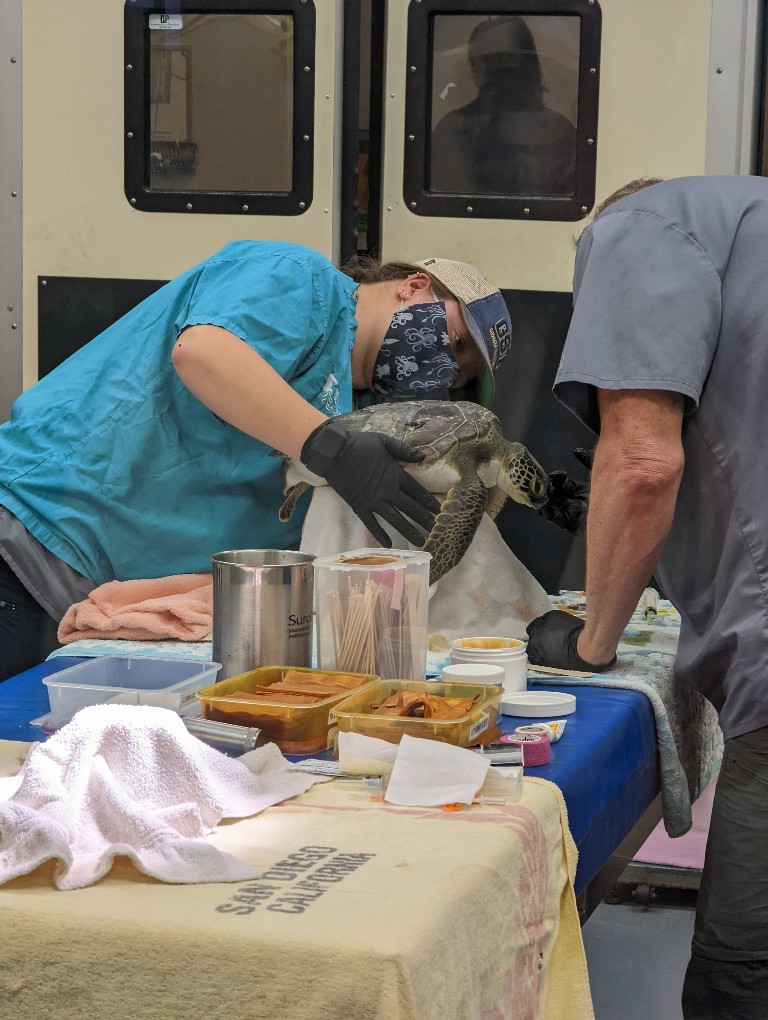 While still in the learning center stop at the giant glass wall. Watch veterinarians and vet techs treat minor injuries on rescued animals. During our visit we saw an injured turtle with several cuts get cleaned and treated.
How Much Time Do I Need For Georgia Sea Turtle Center On Jekyll Island?
We spent a little over an hour at the center. We split our time between the feeding demonstration, touring the learning center, and watching turtles in the hospital area.
You could easily see everything in about 45 minutes or spend more time if there are multiple demonstrations.
How Much Does Georgia Sea Turtle Center Cost?
Children under 3 years are free while kids age 4 to 12 years pay $8 each. Kids 13 years and older pay the adult admission fee of $10, but seniors (62 years and older) pay a discounted rate of $9 per person.
Jekyll Island also has a separate entrance fee of $8 per day or $12 per day for oversized vehicles. The good news is there is no parking fee for the center.
Final Thoughts On Georgia Sea Turtle Center
Although the Georgia Sea Turtle Center was smaller than I expected, we had a great experience. Seeing the turtles eat, learning about their life cycle, and watching the veterinarian at work was a unique experience.
The price of the center is a bit expensive for the amount of time spent there, but I felt good knowing our admission helps these animals get care. The Georgia Sea Turtle Center seems geared towards adults, older kids, and teens, but even younger kids like seeing the live turtles swimming in the hospital.
Pin it for later: