Gatorland, formerly known as Gatorland Zoo, is a hidden gem in Orlando, Florida perfect for a Disney World rest day. Many years ago my family enthusiastically visited Gatorland Orlando and made fun memories. Now that we have our own kids we couldn't wait to share the Gatorland experience with them.
What Is Gatorland Orlando?
Originally opened in 1949, Gatorland Orlando is a mix of zoo, educational center, and adventure park all combined for a unique experience. This 110-acre facility is home to over 2000 alligators plus many other animals, up close encounters, live shows, and daring Gatorland zip lines.
Best Activities At Gatorland Orlando
Visit Gators and Crocodiles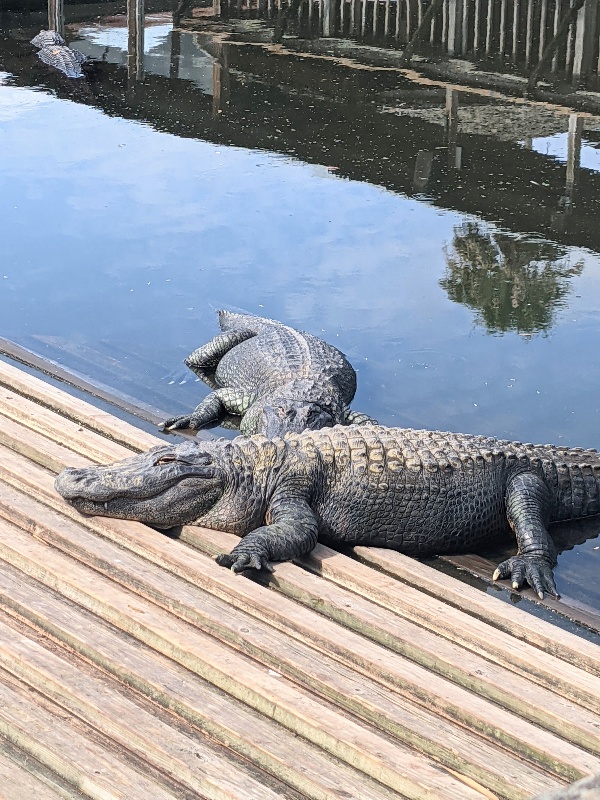 The minute you enter Gatorland you are immersed in a land full of alligators, crocodiles, and other wild creatures. One of the first things you see is a large pond with dozens of full grown alligators sunning themselves.
There is no shortage of alligators and crocodiles to admire while at Gatorland, but there are a couple special stops you should make. The White Gator area is a smaller pond with Albino alligators, who have white skin and red eyes, and Leucistic alligators, those with partial loss of pigment.
Alligators rely on their dark skin to hide and hunt in murky swamp water. Albino or Leucistic alligators have a difficult time surviving in the wild, so Gatorland is a welcome home for them.
Another fascinating spot is Baby Gator Marsh. Here the smallest alligators plus hatchlings have a chance to grow in a secure environment. It was fascinating to see how tiny the alligators start compared to the full grown ones in the park.
Gatorland Live Shows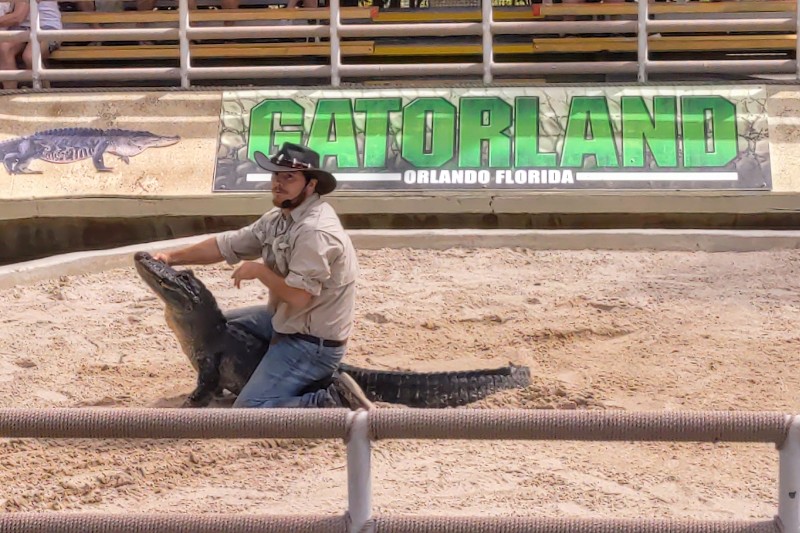 There are several live shows at Gatorland each day. These shows use entertainment and daring stunts to make education fun.
For example, in Alligators: Legends of the Swamp, a handler enters an enclosure with several 6- to 8-foot-long alligators surrounding them in a moat. One alligator becomes the star of the show when brought up to the sandy stage.
Fascinating and scary, the handler mixes tricks, like holding the alligator's jaw shut using only his chin, with education, discussing the anatomy and muscle structure of alligators. The 15-minute show is captivating and we all learned amazing facts about alligators.
Wild Cats
Although not normally a fan of wild cats in captivity, those living at Gatorland came here as a place of refuge.
A pair of Florida Panthers, several Bobcats, and a Serval call Gatorland home. Seeing them up close and learning more about each of these special wild cats was very interesting.
Snakes of Florida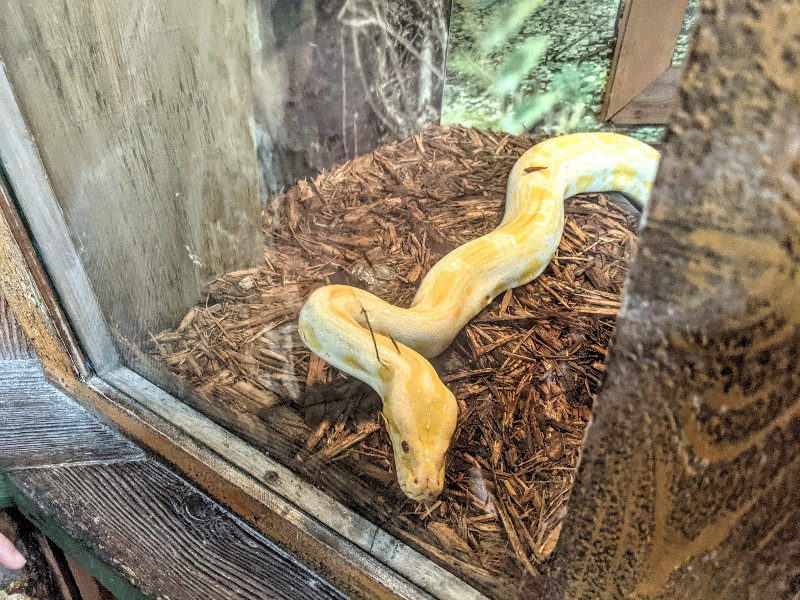 Burmese Pythons, Southern Copperheads, and Eastern Diamondback Rattlesnakes seem to alternate between resting and creepily evaluating you for a snack. If seeing snakes without the glass is more your speed then head to the Gator and Snake Photo area.
Gator and Snake Photo Op
My oldest niece is extremely interested in insects and other creepy crawlies. She was beyond excited to hold a snake for a picture. This option is an additional fee, but seeing the snake up close and learning more was a highlight of her Gatorland visit.
Please note: guests can either pose with a snake or a baby alligator in this photo spot.
Gatorland Junior Jumparoo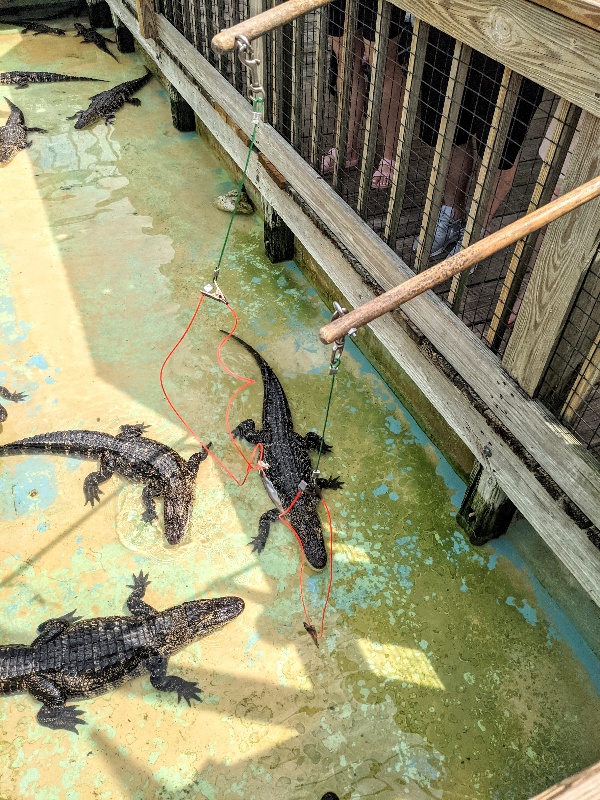 Gatorland Jumparoo is an iconic experience at Gatorland. During this live show raw chickens are slung across a zipline and alligators jump out of the water to snag their snack.
Junior Jumparoo is a mini version where you are the one feeding juvenile gators. Spear a dead fish on a plastic filament line attached to a long pole. Then send your line out over dozens of small alligators eager to snatch the fish off of the line.
Pro tip: grab some napkins from the nearby snack station to hold the fish while skewering them onto the line. It'll cut down on some of the mess and smell. Afterwards use the perfectly located hand washing station to fully clean up.
Screamin' Gator Zipline
Looking for something even more exciting than feeding gators? Then the Screamin' Gator Zipline is for you. A two-hour adventure, Screamin' Gator has an introductory safety course before launching you across hundreds of feet and up to 30 miles per hour (50 km/h) over live alligators and crocodiles.
Parrot Playground
Noisy and colorful, kids will love taking a short stroll through Parrot Playground. The beautiful birds squawk and talk which entertained our kids for longer than I expected.
Children's Playground and Splash Pad
If the kids need to get out some extra energy, Gatorland has a kids playground and splash pad.
How Much Time Do I Need For Gatorland?
Budget at least two hours to see all the animals, watch a live show, and feed gators at Junior Jumparoo. If you want to do special activities, like Screamin' Gator zipline or Gatorland Stompin' Gator Off-Road Adventure, budget extra time based on how many activities you add.
How Far Is Gatorland From Disney World and Universal Orlando?
It's only a 20-minute drive from Disney World to Gatorland Orlando or 25 minutes from Universal Orlando to Gatorland. This short drive time, plus free parking at Gatorland, makes Gatorland a perfect Universal or Disney World rest day.
Final Thoughts On Gatorland Orlando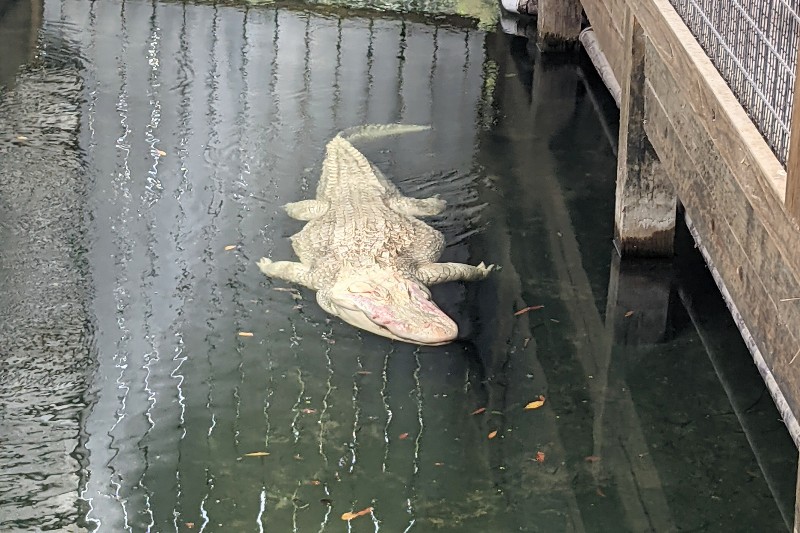 Sometimes our childhood memories of a place turn out to be a disappointment when you return as an adult. I'm happy to say that was not our experience at Gatorland Orlando.
The educational, entertaining mix of zoo, live shows, and hands on experiences was better than we remembered. From adults to toddlers everyone in our group had an incredible Disney World rest day at Gatorland.
I highly recommend taking the short drive from Disney World or Universal Orlando to experience this unique place for yourself.
Pin it for later: