Santa Fe, New Mexico has one of the highest numbers of artists per capita anywhere in the United States. Meow Wolf House of Eternal Return puts this artistic talent to use in an entertaining, interactive art exhibit unlike anything we've seen before. These are our best tips for visiting Meow Wolf Santa Fe, but won't spoil the fun of discovering hidden secrets when you visit.
What Is Meow Wolf House of Eternal Return?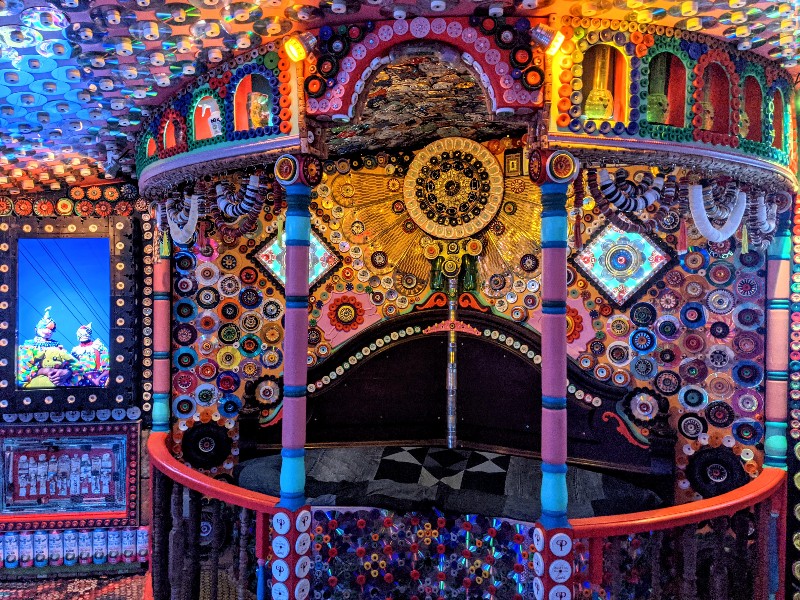 Meow Wolf Santa Fe is a 22,000 square foot interactive art installation with over 70 unique rooms inside an old bowling alley. The House of Eternal Return was lovingly crafted by an art collective and partially funded by Game of Thrones author George RR Martin.
The minute you arrive at Meow Wolf's parking lot you know you are in for a special experience. A tall red robot holding a purple flower blinks and his beating "heart" makes you feel instantly connected and curious to see more.
What Is It Like Visiting Meow Wolf House of Eternal Return?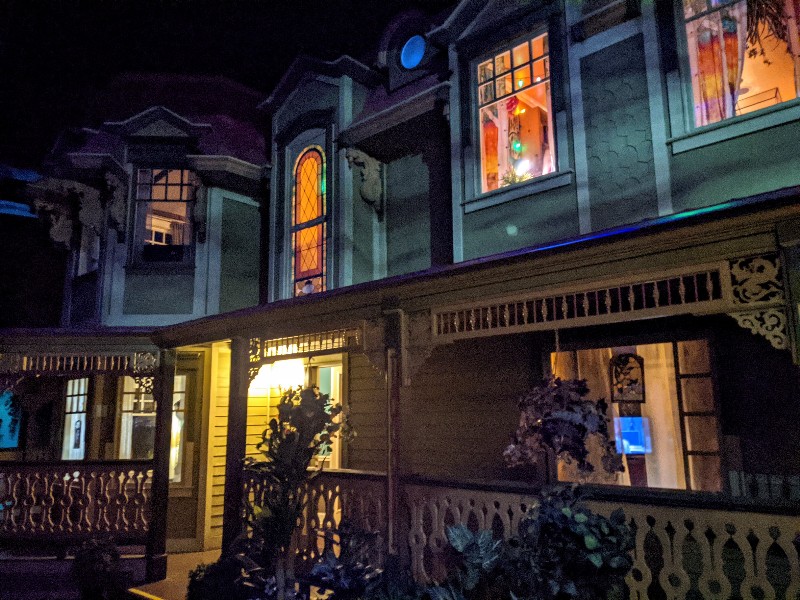 Meow Wolf House of Eternal Return is both an interactive art installation and puzzle solving experience. If riddles aren't your thing, rest assured, there is no wrong way to experience Meow Wolf Santa Fe.
Wandering through the house you learn about the family that lived there. Clues scattered throughout the house give a deeper insight into the family's story and the otherworldly events that happened there. Intricately woven in both the real world and places in the multiverse, the story of House of Eternal Return is fascinating but requires an open mind.
We made sure to collect clues and solve some riddles, but saved the progress on our phones. That helped us feel less rushed than if we had tried to puzzle through every detail while at Meow Wolf. We have since been able to go back and look through the clues and story at our own pace. This has extended the fun for several hours even after leaving.
If sleuthing is not your cup of tea, don't worry. Meow Wolf House of Eternal Return is just as fun as an immersive sensory experience. Moving through the house, finding odd rooms, and exploring the interactive nature of the art is truly incredible.
My favorite part was finding all the seemingly boring parts of the house that are actually entries into the multiverse. Stepping through from the real world into the unknown was joyful fun for someone like me normally rooted in the mundane.
Tips For Visiting Meow Wolf Santa Fe
When Exploring Don't Assume Anything About The House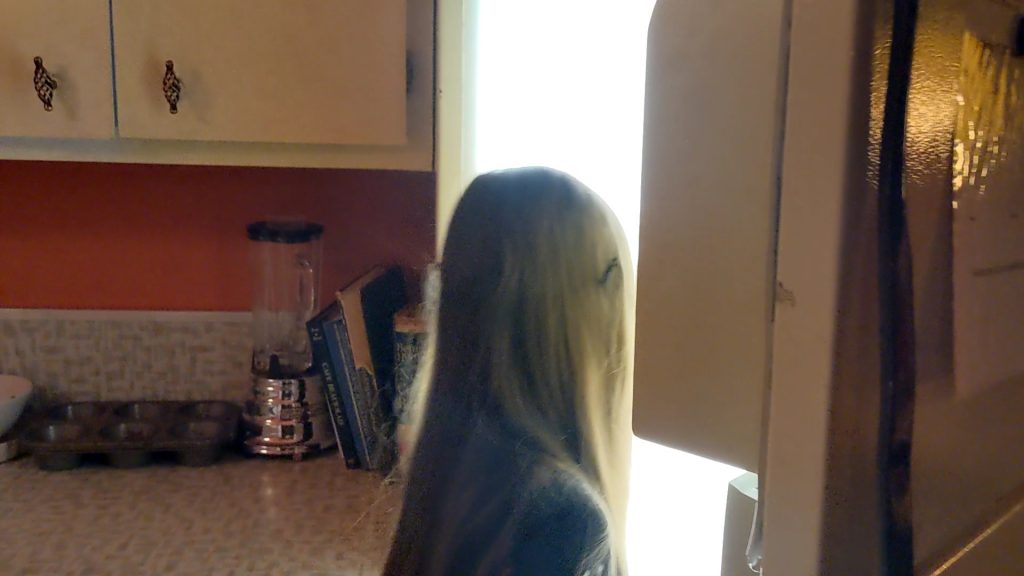 Surprises are found throughout the house, if you are willing to explore. Open closets, peek in the refrigerator, and read notes left around. It adds to the fun and odd vibe of the experience.
We saw several people quickly look at a room and then leave. They missed opportunities to find the unknown just on the other side of a door.
In fact, after we thought we explored every bit of the house we took one last spin through Meow Wolf. To our surprise we found a few more rooms, including an intense multiverse dance party.
Give Yourself At Least Two Hours To Visit Meow Wolf Santa Fe
We spent a little over two hours exploring the exhibit. If you plan on solving riddles for the story in real time, budget at least an additional hour to visit. We also spent about a half-hour choosing our extra special souvenirs from the very unique gift shop.
Meow Wolf Has Free Parking
There is a large, free parking lot for Meow Wolf Santa Fe, but it does fill up quickly. We had tickets for the second entry of the day and were able to easily find a spot. When we left close to 1:00 pm people were circling the lot looking for parking.
There is also some free street parking nearby Meow Wolf. Just make sure to read the signs carefully to avoid parking in a restricted places.
No Backpacks or Strollers Allowed
I was glad I checked the Meow Wolf FAQs the night before our visit. When originally planning I had somehow missed the no backpack rule. Thankfully I had a smaller purse to use for our visit.
While waiting we saw tons of people sprinting across the parking lot running backpacks back to the car. For more security there are also pay lockers inside to store backpacks.
There Is No Re-Entry At Meow Wolf Santa Fe
Once you have entered Meow Wolf, explore and play until your heart's content. Although there is no time limit for your visit, there is a strict no re-entry policy. Once you step out of the doors you are stuck in the real world.
Where Do I Buy Meow Wolf Santa Fe Tickets?
Find Meow Wolf tickets on their website. We ordered ours ahead of time and got email confirmation right away. The ticket barcode is easily added to Apple Wallet or Google Pay for those whose email inbox is a disaster like mine.
Final Thoughts On Meow Wolf House of Eternal Return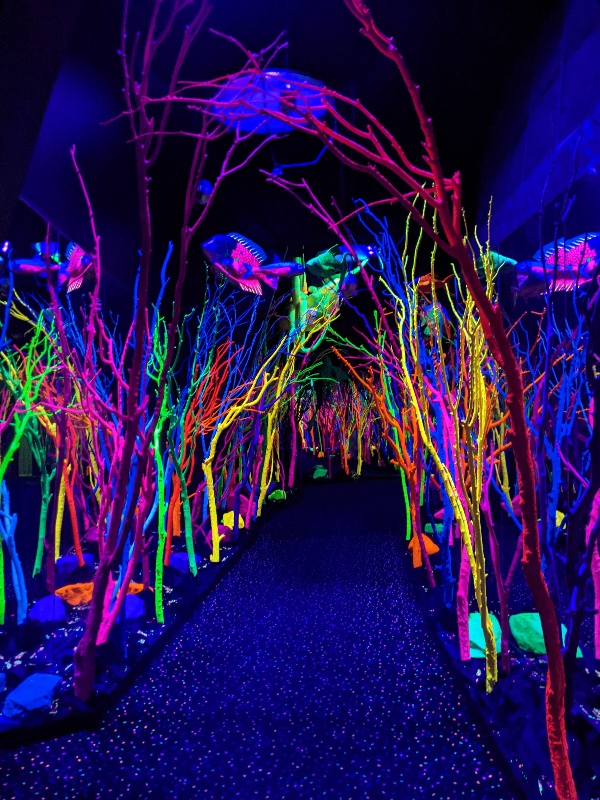 Meow Wolf House of Eternal Return was the highlight of our Santa Fe trip. It's an experience unlike anything we've done during our 50-state challenge. We especially liked taking the experience to-go by solving riddles and scanning clues with our mobile phones while there and completing them later.
People of all ages seemed to enjoy Meow Wolf. Families exploring with young kids to elderly friends laughing at the surprises around every corner, all ages had fun. Our visit was so incredible we can't wait to try Meow Wolf interactive art installations in Las Vegas and Denver.
Pin it for later: