Surrounded by lush forest and a lobby full of rough hewn wood decor, Disney's Wilderness Lodge is a relaxing and rustic retreat after a day at Disney World. Come take a tour of this unique resort and our Disney's Wilderness Lodge nature view room.
Location
Wilderness Lodge is a Magic Kingdom resort but does not have access to the monorail.
Wilderness Lodge Overview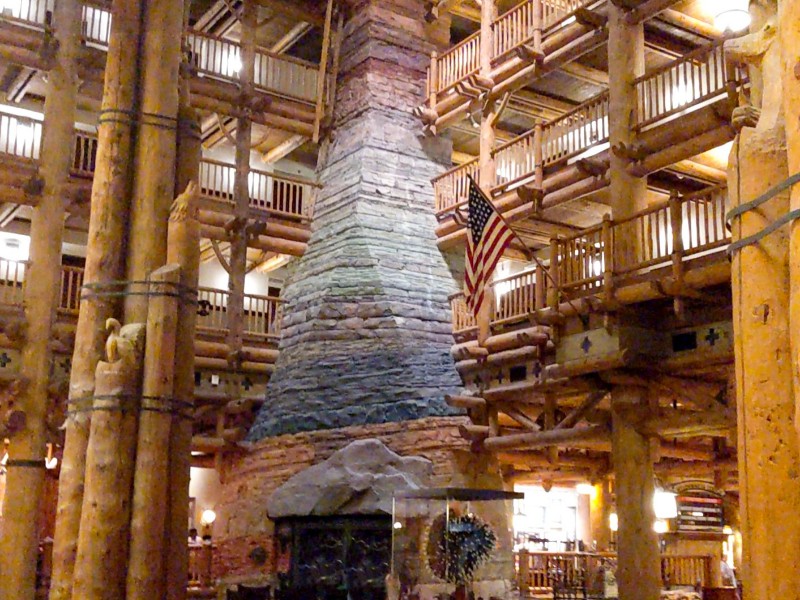 Disney's Wilderness Lodge is a combination of three different resorts: Wilderness Lodge, Copper Creek Villas, and Boulder Ridge Villas.
Entering into the Disney's Wilderness Lodge lobby it's difficult to know where to look first. A multistory fireplace honoring the Geologic Fireplace at the Grand Canyon usually catches my attention first. Heavy iron grates and an eternally burning fire with comfortable rocking chairs in front is a perfect place to relax while waiting for your room.
The open air lobby also has two incredible 55-foot totem poles, one on each side, stretching towards the high ceilings. Support beams that look like tree trunks lashed together with hidden details like carved animals maintain a whimsical feel at Wilderness Lodge.
Kids of all ages will adore crossing a real bridge over water in the lobby. Running water gurgles below the bridge and adds to the enchanting, outdoor feel of the resort.
Disney's Wilderness Lodge Pools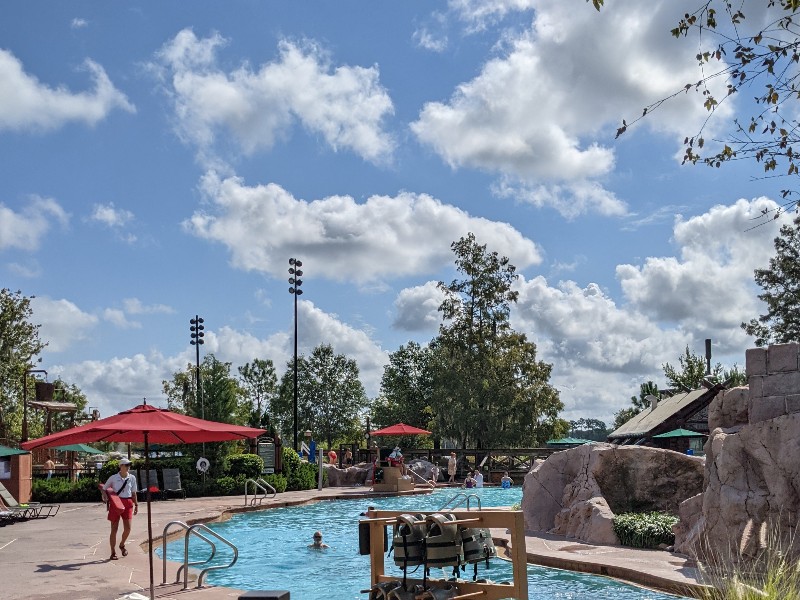 There are two pools at Disney's Wilderness Lodge. Copper Creek Springs Pool, the main pool, is located just outside the lobby in between Wilderness Lodge and Copper Creek Villas.
Copper Creek Springs Pool even has a nearby activity play area perfect for younger kids. One downside of the Wilderness Lodge pool is a tame 67-foot (20-m) water slide. This slide is much smaller than many other deluxe resorts. 
Another pool option is Boulder Ridge Cove Pool which, not surprisingly, is located closer to Boulder Ridge Villas. This zero depth entry pool is a more relaxed destination, since there is no water slide or play area.
Disney's Wilderness Lodge Dining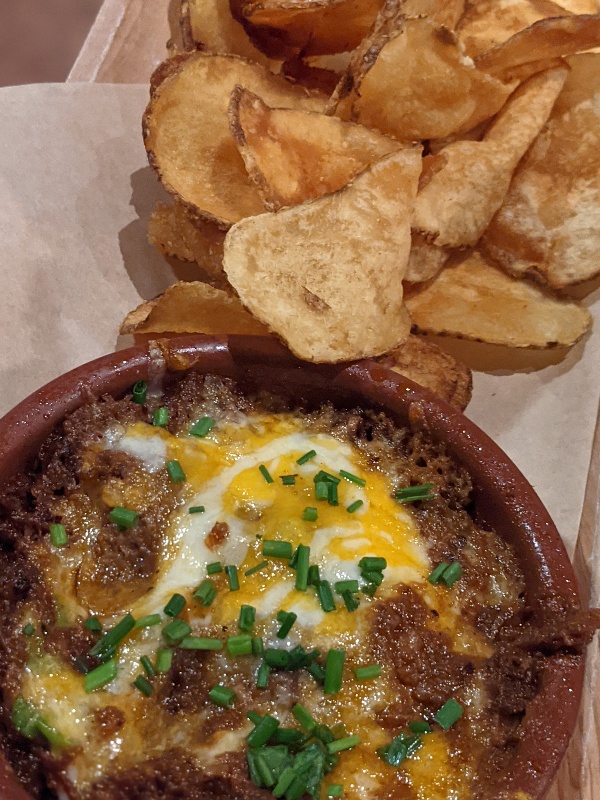 There are several on-site dining options at Disney's Wilderness Lodge. Looking for a side of sass with your all you can eat skillet? Whispering Canyon Cafe is perfect for you. Once I took a picture of my cute Mason jar water glass and was loudly chastised by cast members across the room. The food is pretty tasty, and the experience is fun.
Although not currently available, I cannot wait for Story Book Dining at Artist Point with Snow White to return. This character dining experience has delicious food and some unique characters.
Geyser Point Bar & Grill has open-air seating, a surprisingly upscale menu, and is open late. It was a tasty and relaxing option for our arrival night since our flight was delayed.
Lastly, Roaring Fork is a quick service option at Disney's Wilderness Lodge open for breakfast, lunch, dinner, and grab and go snacks.
Disney's Wilderness Lodge Nature View Room
I splurged on a Wilderness Lodge nature view room, but was pixie dusted with a Wilderness Lodge nature fireworks view room. Waking up with views of Cinderella Castle, Space Mountain, and Disney's Contemporary Resort framed by woodlands is an unforgettable experience.
Wilderness Lodge Entry Area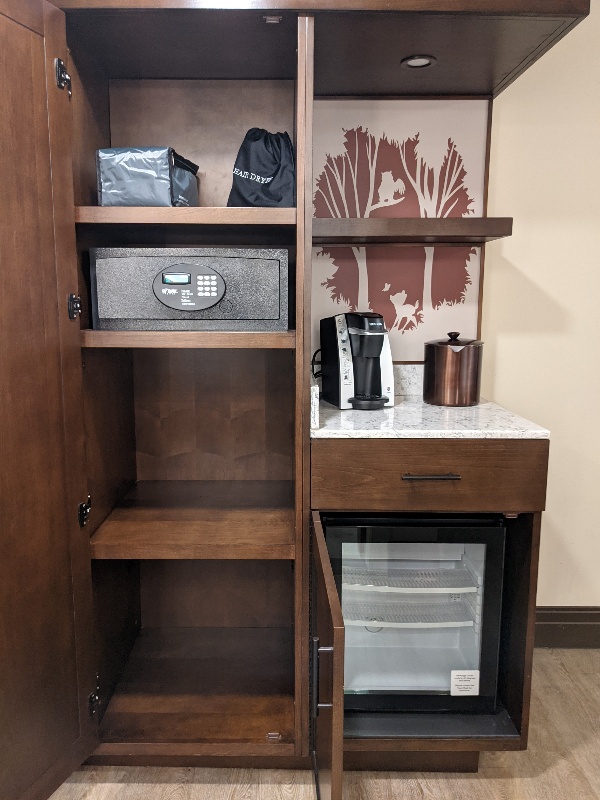 Open the door to your room and find the closet on one side of the hallway and a doorway into the bathroom on the other. The closets have three sections, two with large hanging areas and one with shelves plus the in-room safe.
Next to the closet is a beverage station with a Keurig coffee maker, a storage shelf above, and a mini fridge hidden in the cabinet below. Find all of your coffee supplies neatly tucked into the drawer between the coffee maker and beverage cooler.
Wilderness Lodge Bathroom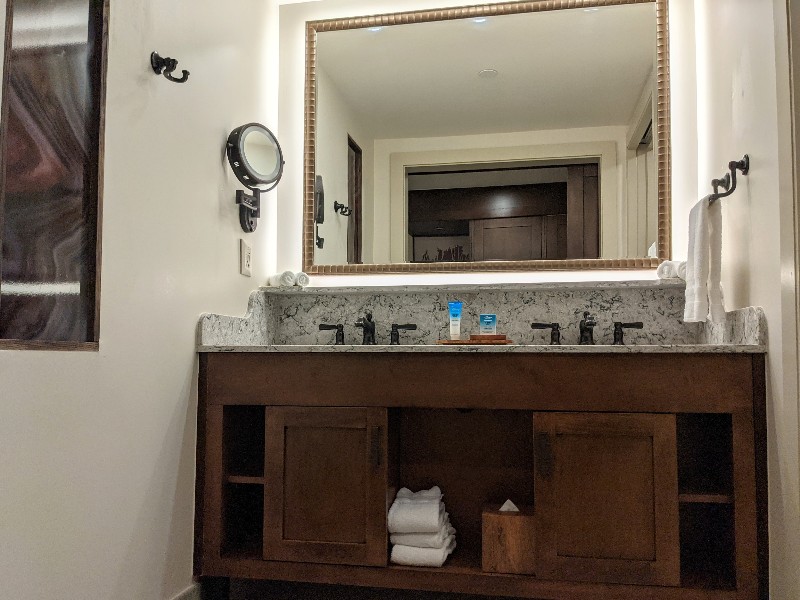 Across from the closet area is a large doorway into the bathroom. Right away I was happy to see that Disney's Wilderness Lodge has a door closing the bathroom off from the rest of the bedroom.
Double sinks in a beautiful granite countertop make it easy for multiple people to get ready at once. There is some storage above and below the sinks, but not a large amount. The storage is perfect for two people, but with four guests it may feel cramped.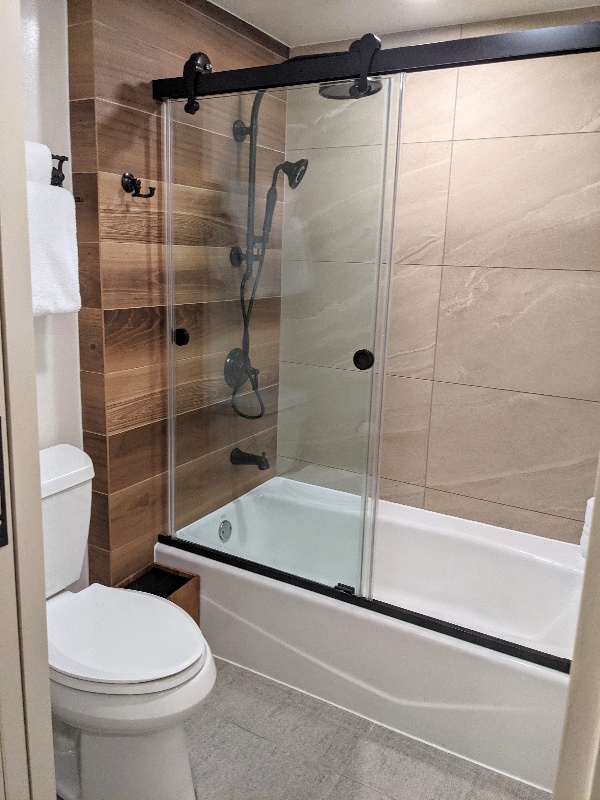 Another pocket door separates the sinks from the shower and toilet area. The shower is nestled in a full-size tube with two oil rubbed bronze showerhead options. 
Neutral tile on the largest shower wall is accented by a wood grain tile that looked so much like real wood I had to touch it. The back wall has a small built-in shelf and shared toiletries refilled throughout your stay.
Disney's Wilderness Lodge Nature Fireworks View Bedroom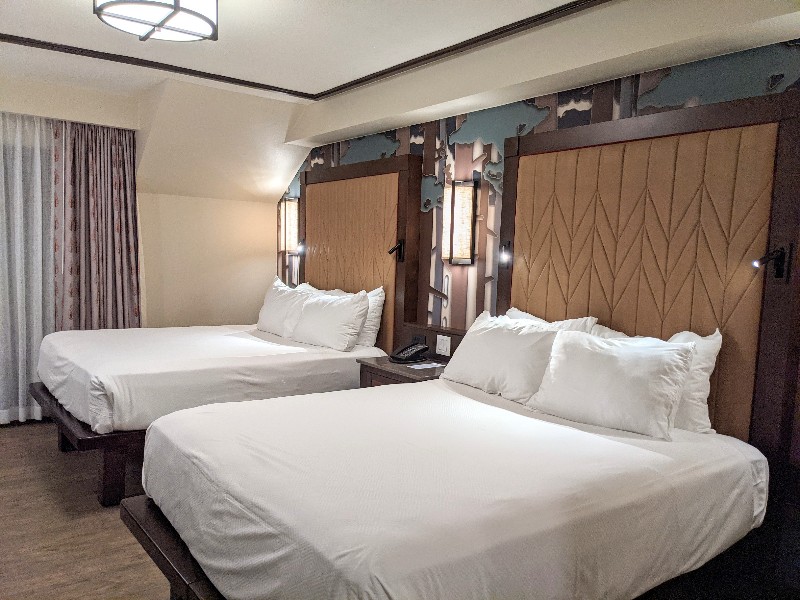 The Wilderness Lodge standard bedroom area is one of the smallest of all the deluxe resorts unlike the spacious rooms at Disney's Polynesian Village Resort.
However, space is used well in Disney's Wilderness Lodge rooms with thoughtfully designed pieces that don't overwhelm the room. Two queen sized beds with tall headboards are against a wall designed to look like a stylized outdoor scene including Chip and Dale. 
Under the wall mounted TV, a medium sized dresser can store a moderate amount of clothes. Next to the dresser are two upholstered chairs with a nesting table between them.
This nesting table arrangement can extend for dining or a workspace and then the smaller table is stored beneath when no longer needed.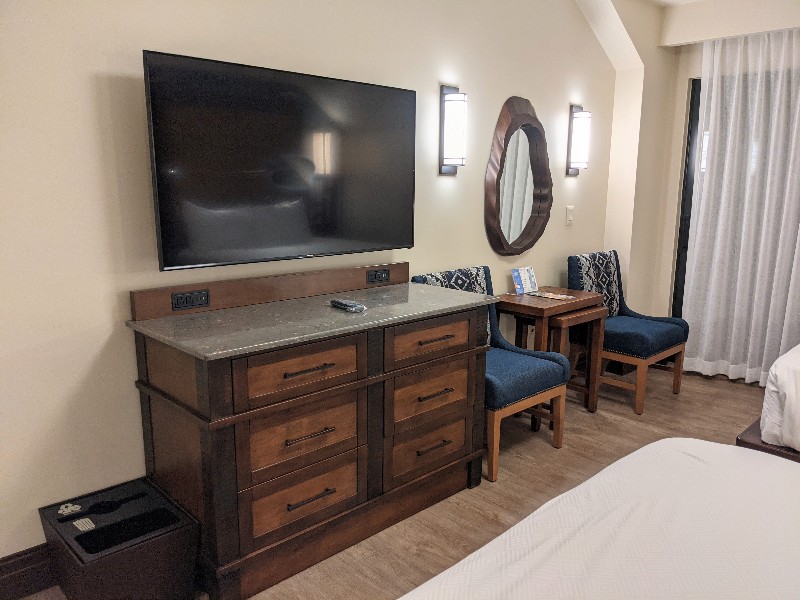 With ample outlets and USB charging stations above the dresser and on both sides of the beds, no one will need to argue about who gets to use the charger first at Wilderness Lodge. Kids will also love the adjustable light geode wall feature that looks cool in both the bathroom and bedroom wall.
Disney's Wilderness Lodge Nature Fireworks View Balcony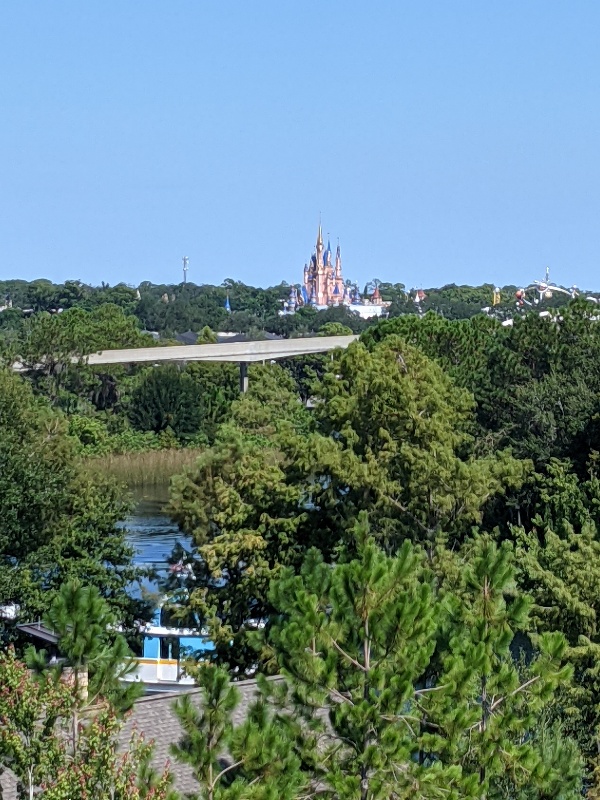 I was excited for a Disney Wilderness Lodge nature view room, but was blown away by our upgraded nature fireworks view. The unobstructed view of Cinderella Castle and much of Magic Kingdom Tomorrowland was incredible both day and night.
Our Disney Wilderness Lodge nature fireworks view balcony was extremely private with walls blocking us off from neighboring rooms. Two chairs and a small side table complete the balcony area.
Our Disney's Wilderness Lodge Nature Fireworks View room had the following great features:
Laminate floors
Tons of outlets and charging areas
Split bathroom with double sinks and door to bedroom area
Cute details like Chip and Dale
Rustic but upscale design
Mini fridge
Wilderness Lodge In Room WiFi
WiFi is included in your Disney World resort stay. Our room had decent WiFi, but connectivity varies depending on your exact room.
Disney's Wilderness Lodge Parking
There is one main lot for Wilderness Lodge, Boulder Ridge, and Copper Creek while two smaller lots provide parking closer to the Cascade Cabins. Guests can self park for $25 per night or $33 per night for valet parking.
Wilderness Lodge Transportation To Parks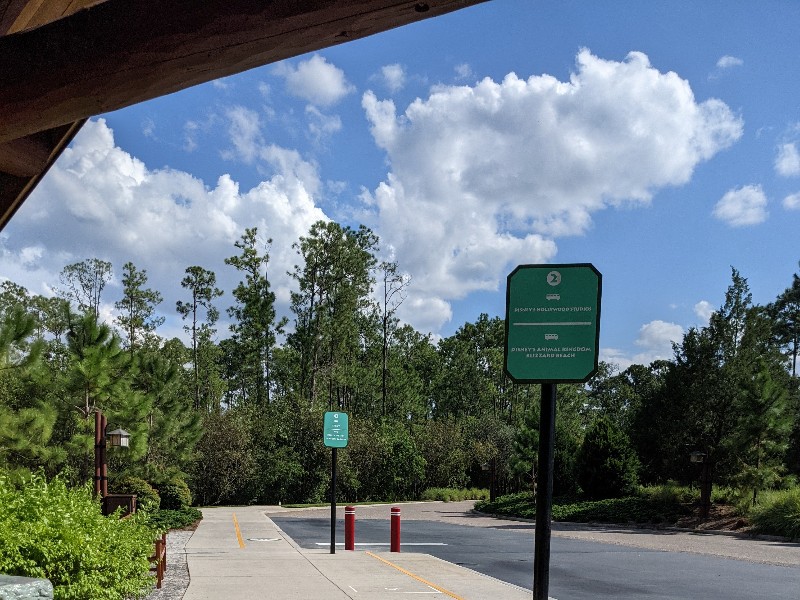 The main transportation option at Disney's Wilderness Lodge is the Disney World bus system. Take a bus from Disney's Wilderness Lodge to Animal Kingdom, Epcot, Hollywood Studios, Magic Kingdom, and Disney Springs.
Find the bus stop out to the left and down a walking path when exiting the lobby. During our trip Wilderness Lodge bus service was disappointing. Buses were inconsistent and often had long waits, so we opted for Lyft on a couple of occasions.
Guests of Disney's Wilderness Lodge can also take a ferry boat to and from Magic Kingdom. The boat dock is past the Copper Creek Springs Pool area along a boardwalk walkway.
Overall Impression Of Disney's Wilderness Lodge Nature Fireworks View Rooms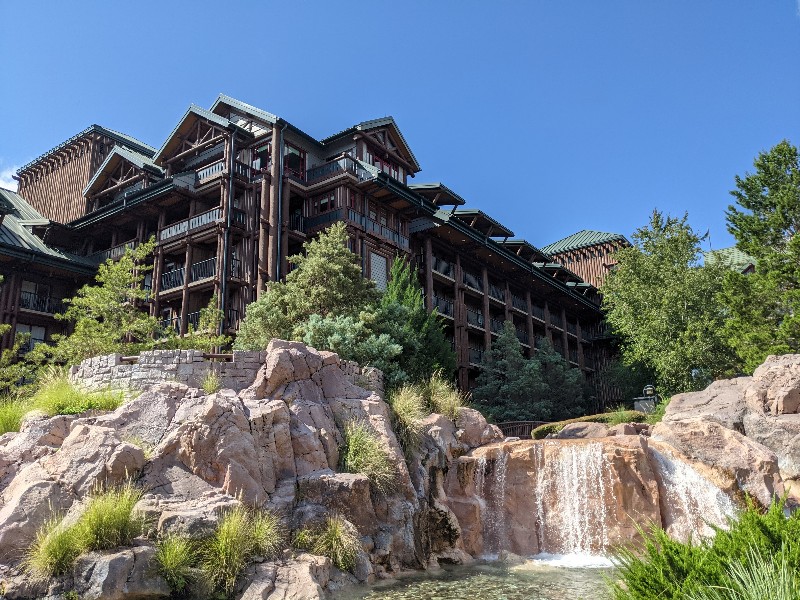 I love the atmosphere and decor of Wilderness Lodge, but limited transportation and small rooms sizes make it one of our least favorite Disney World deluxe resorts.
The stunning view from our Disney's Wilderness Lodge nature fireworks view room was a highlight of our stay, and I would re-book this room category when staying at Wilderness Lodge again.
Curious if a different Disney World resort is better for your trip? See the pros and cons of each Disney World deluxe resort or our favorite resort in each price category to help you plan your next vacation.
Pin it for later: