I thought I knew what to expect from Disney World moderate resorts, but Coronado Springs Gran Destino Tower is so much more than a typical moderate. Our Gran Destino Tower water view room provided a beautiful oasis that felt more like a deluxe, but was priced like a moderate resort.
Gran Destino Tower Location
Coronado Springs Gran Destino Tower is considered an Animal Kingdom area resort.
Coronado Springs Gran Destino Tower Resort Overview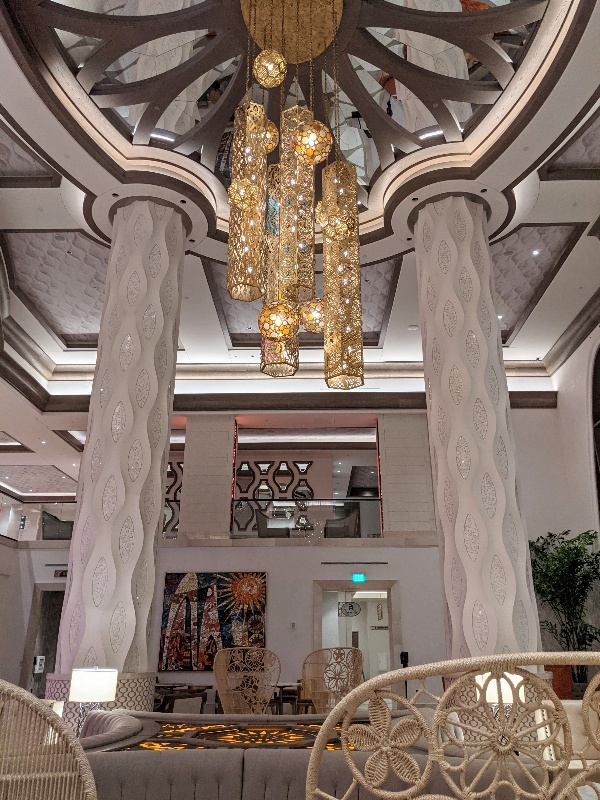 Gran Destino Tower immediately whisks you away from a day at the parks. Sweeping views of a lake framed by incredible Spanish inspired decor provides a calming respite. The lobby is bright and airy with lighted custom walls unlike any Disney World moderate resort we've ever seen.
A large staircase brings you downstairs to a stunning seating area. This lower level is decorated in ivory, sleek furniture, and has a delicious coffee bar in the morning. The comfortable seating area also has a huge, intricately designed golden chandelier as the focal point of the room.
Coronado Springs Pools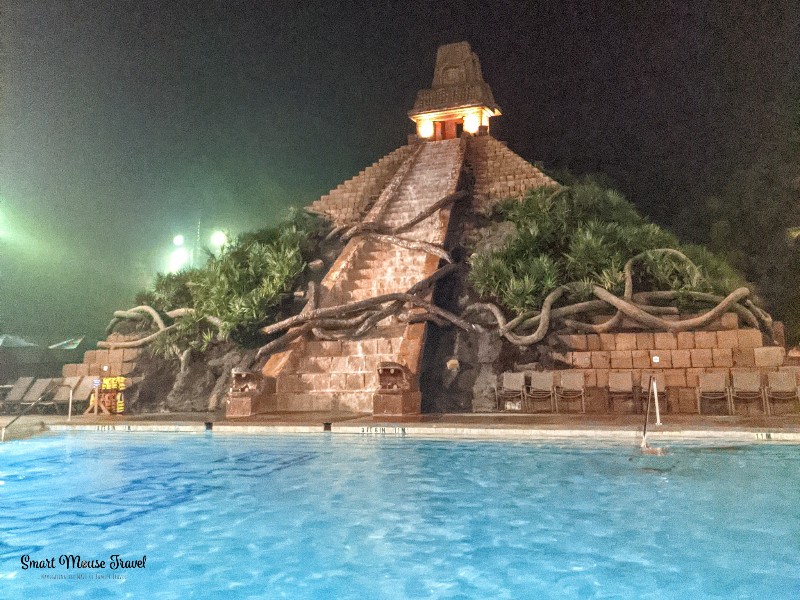 The Dig Site is the breathtaking main pool at Coronado Springs. A 50-foot Mayan pyramid covered in vines immediately catches your eye entering the pool.
Lost City of Cibola pool sits in front of the pyramid and is the landing place of those daring enough to brave the 123-foot-long (37-m) water slide. A separate area just to the side has a splash pad with ankle-high water perfect for toddlers.
Guests looking for a less energetic pool experience can use one of the three Coronado Springs leisure pools. One pool is located near each of the Casitas, Ranchos, and Cabanas building areas.
Gran Destino Tower shares the same pools with all of Coronado Springs Resort. This means the walk from a Gran Destino Tower water view room to The Dig Site is long but worth it.
Coronado Springs Gran Destino Tower Dining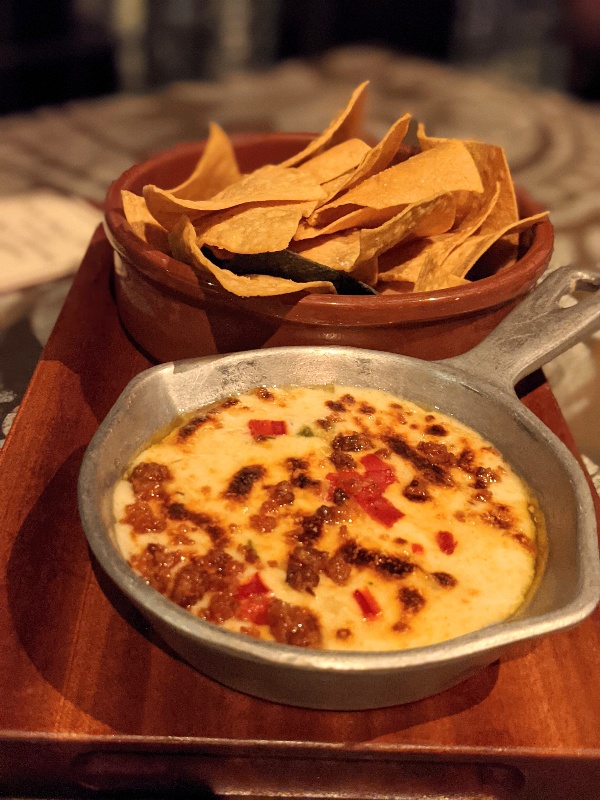 Our favorite Coronado Springs Gran Destino Tower dining option gets its name from the three bridges that connect it to the resort.
Three Bridges Bar and Grill at Villa del Lago has delicious cocktails and delightful dining options. An added perk of a late meal is watching Epcot fireworks from the outdoor dining area.
Inside Gran Destino Tower are three dining options: Barcelona Lounge, Dahlia Lounge, and Toledo. Barcelona Lounge serves high quality coffee drinks, like cortados, and a handful of grab-and-go items during the morning.
Dahlia Lounge is a rooftop bar with a handful of tapas and an extensive beverage menu. Toledo, currently closed, is a full restaurant on Gran Destino Tower's roof with signature items and a beautiful view.
A short walk through an indoor area provides even more dining options like El Mercado de Coronado, quick service, and Rix Sports Bar and Grill, table service.
Gran Destino Tower Water View Room Review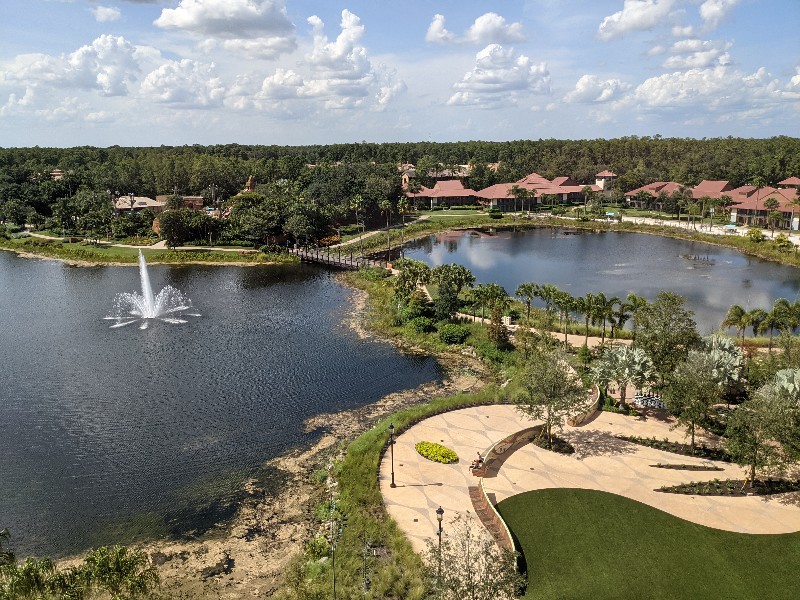 I rarely splurge on an upgraded view but decided to try a Gran Destino Tower water view room. The view of the water, The Dig Site Pool, and Three Bridges was well worth the small price difference.
While I expected beautiful views during the day, our Gran Destino Tower water view room was even better at night. While getting ready the first night, we saw incredible views of Magic Kingdom fireworks which made the upgrade even better.
A Gran Destino Tower standard view will have the same great styling as ours but have views of courtyard, landscaping, or parking areas.
Choose between two different bed options at Gran Destino Tower, either two queen sized beds or a single king bed.
This review is for the Gran Destino Tower rooms, not the traditional Coronado Springs rooms. Coronado Springs rooms are different in design and location.
Gran Destino Tower Room Entryway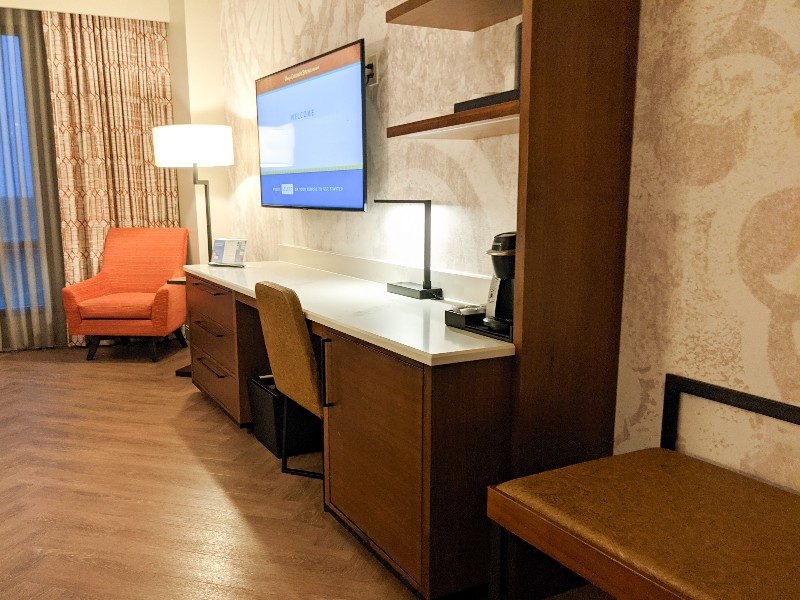 Amazing design and clean lines continue from the lobby all the way into Gran Destino Tower rooms. Open the door and find light laminate floors and a spacious entryway.
An armoire acts as the Gran Destino Tower room closet. Shelving and the in-room safe take up part of the closet, but there is still room for a few full length items.
I loathe the Cuisinart pod coffee makers common to Disney value and moderate resorts. Imagine my excitement finding our Gran Destino Tower room included a rare Keurig coffee maker. Having a Keurig is just one more reason Gran Destino Tower feels more like a deluxe resort than moderate.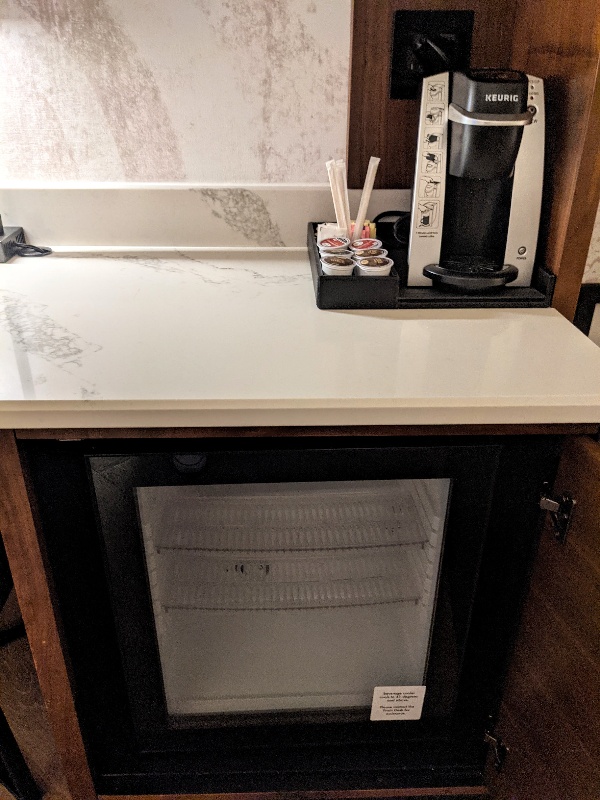 Like most updated Disney World rooms, the Gran Destino Tower room mini fridge is now a beverage cooler. Although these coolers are smaller than a traditional mini fridge, they are good enough for a short stay. We kept a few water bottles, yogurt, and a half-gallon of milk cool in this small mini fridge.
Coronado Springs Gran Destino Tower Bedroom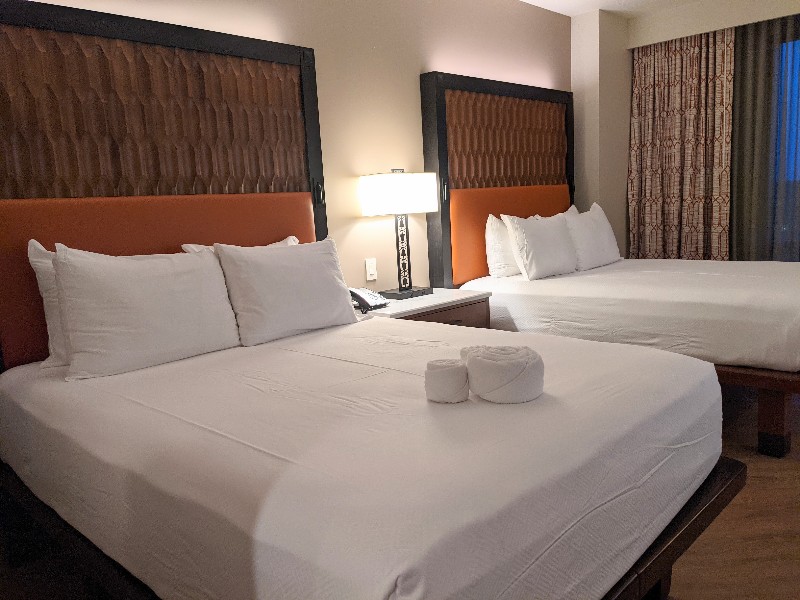 Tall, mixed material headboards draw your eye with a pop of orange color while the crisp, white bed linens keep the room bright and airy. Two comfortable queen beds don't overwhelm the room and leave space for a combination dresser and built-in desk.
The three dresser drawers easily hold several medium and large packing cubes. While not tons of space, it was enough for two people for several nights. A full family of four would probably need to use both the dresser and closet space for storage.
A comfy orange side chair with table provides a place to relax or a good spot for a quick pre-park breakfast.
Gran Destino Tower Bathroom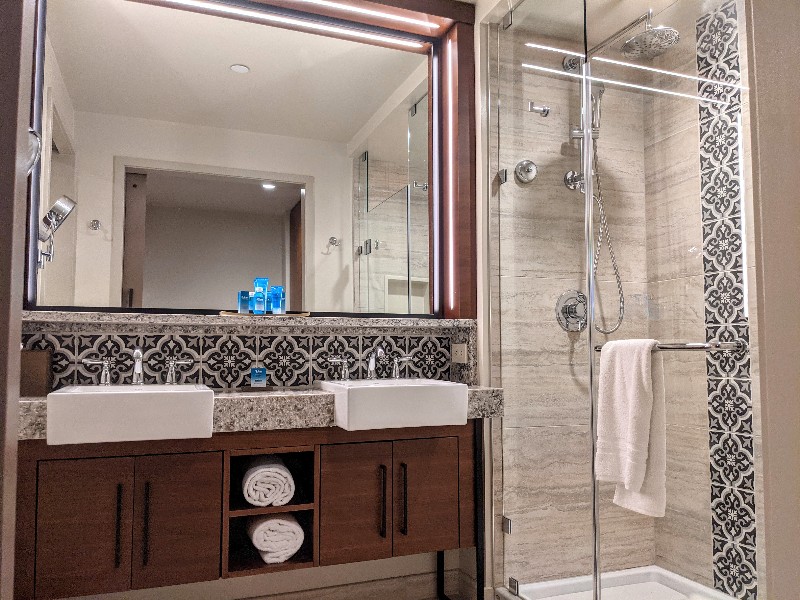 Gran Destino Tower bathrooms have a sliding barn door separating the bathroom from the rest of the room. This is a step above other moderates which usually have blackout curtains. A real bathroom door is perfect for letting some of the group sleep while others get ready.
Double sinks with storage cabinets underneath mean plenty of space for everyone's toiletry bags. The spacious shower with rain or handheld showerhead has stunning accent mosaic tiles which gives a high end feel.
In line with Disney's eco-friendly goals, individual toiletries are instead replaced with bulk items. Shampoo, conditioner, and body wash mounted in large bottles are attached to the shower wall. Supplies are replenished through your stay as needed.
Gran Destino Tower rooms have a spacious split bathroom design. The toilet has its own small room with a pocket door closing it off from the shower and sink area. This design lets multiple people get ready at once while also providing some privacy.
Our Gran Destino Tower water view room had the following great features:
Laminate floors
Comfortable queen sized beds
Blackout curtains
Split bathroom with double sinks
Beverage cooler
Incredible views
Room that feels more like a deluxe resort
Gran Destino Tower In Room WiFi
I was able to use the free in room WiFi for work and some video calls, but it wasn't a consistently strong connection.
Coronado Springs Gran Destino Tower Parking
Parking is complimentary for resort guests while valet parking costs $33 per night at Disney's Coronado Springs Resort.
Disney Coronado Springs Gran Destino Tower Transportation To Disney World Parks
Getting from Gran Destino Tower to the parks uses Disney World bus transportation. Magic Kingdom, Epcot, Animal Kingdom, Hollywood Studios, Disney Springs, or water parks all require a bus ride.
There are four bus stops at Disney Coronado Springs resort. The Gran Destino Tower stop is conveniently located just steps from the front door. Depending on which park you are going to, the Gran Destino stop is either the first or last one on the loop.
Overall Impression of Our Gran Destino Tower Water View Room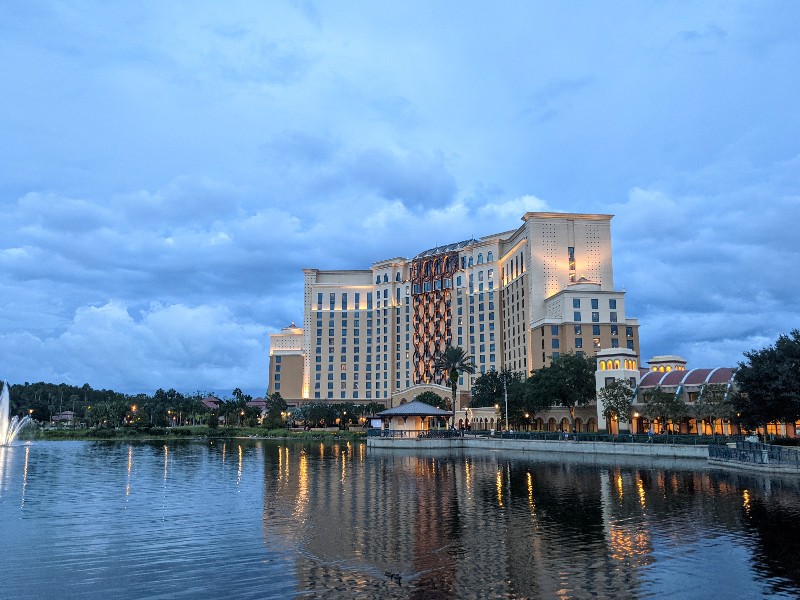 The beautiful ambiance, delicious dining, and luxurious room make Gran Destino Tower a Disney World hidden gem. Our Gran Destino Tower water view room was worth the upgrade for incredible views during the day and fireworks at night.
The split bathroom, double sinks, comfortable beds, laminate flooring, and stylish design will easily sway me to stay at Gran Destino Tower again. Gran Destino Tower rooms are now my favorite Disney World moderate option, moving Port Orleans French Quarter to second place.