Disney's Boardwalk Villas transports you back in time to a beautiful seaside resort within walking distance of two Disney World parks. Find out more about the resort and why Disney's Boardwalk Villas 1-bedroom villa is a great option for families visiting Disney World.
Want to know more about Disney's Boardwalk Inn rooms? Check this article instead.
Disney's Boardwalk Villas Location
Located between Epcot and Hollywood Studios, Boardwalk Villas are part of the Disney Boardwalk Inn and Villa complex.
Boardwalk Villas Resort Overview
Welcome signs greet you over the entrance to Boardwalk Inn and Villas before transporting you to an upscale seaside Coney Island inspired resort. A stunning chandelier of gilded carousel horses above a miniature carousel catches the eye of entering guests.
The lobby is large and welcoming with bright white wainscoting and seafoam green walls. The comfortable, classic furniture in greens, tans, and blues instantly makes you feel at home. Golden frames adorn artwork and crystal chandeliers glitter above the Boardwalk lobby.
A hall on each side of the Boardwalk lobby directs guests to either Boardwalk Villas or Boardwalk Inn rooms. Double doors at the back of the lobby lead onto a covered porch with padded white wicker chairs perfect for relaxing. Take the steps down to explore everything the Boardwalk has to offer.
Boardwalk Villas Pools
Luna Park Pool is the main pool at Boardwalk Villas with an on-site bar, 200-foot (60-m) water slide, and water spouting elephant statues. The overall styling of the pool area is inspired by old time carnivals and some areas are quite adorable. A new Disney character mural wall now frames the exit of the water slide.
Two all ages quiet pools are also available to guests of Disney's Boardwalk Villas and Inn. These pools tend to be less crowded but won't have a water slide or other amenities.
Dining
Boardwalk Villas has easy access to many quick service and table service restaurants on the Boardwalk. A short walk to Disney's Yacht and Beach Club provides even more restaurant options.
Disney's Boardwalk Villas 1 Bedroom Villa
When entering our Boardwalk Villa 1-bedroom villa there is a large closet and several hooks on the wall. These hooks are perfect for hanging park bags or MagicBands for an easy visual reminder to grab them on the way out of the room each morning.
From the foyer the room splits into three general areas, the bathroom, bedroom, plus kitchen and living room.
Boardwalk 1 Bedroom Villa Living Area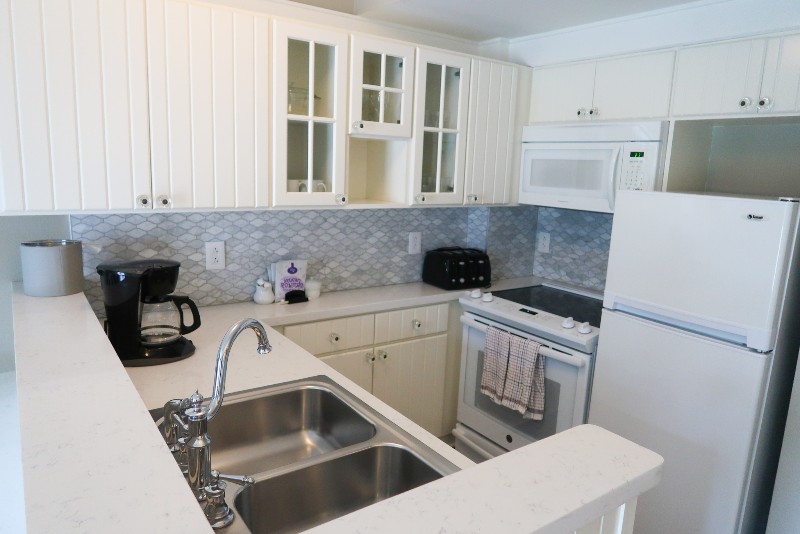 Disney's Boardwalk 1-bedroom villa has a compact but full kitchen set up. A small refrigerator has both a refrigerator and freezer, microwave, an electric stove with burners and oven, plus a dishwasher to wash all the dishes you'll find neatly stacked in the cabinets.
Order groceries through Garden Grocer or make a grocery stop if taking Tiffany Towncar to your resort. Having groceries in our Boardwalk 1-bedroom villa saved us a lot of money since we cooked and ate several meals in the room.
There is a round table with two chairs plus two more chairs along the peninsula where guests can eat. The living room has a fold out queen-sized couch, full dresser, TV, side chair, and ottoman with additional storage.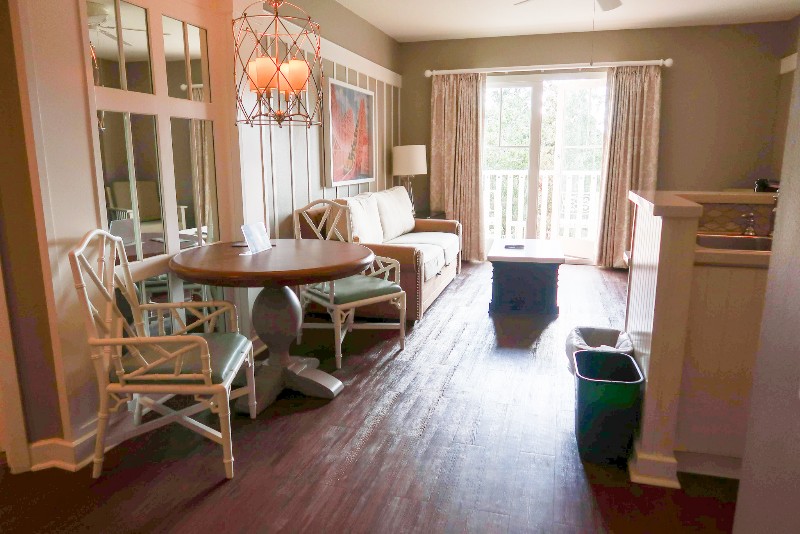 Past the living room is a narrow balcony, or patio if your room is on the first floor. The Boardwalk Villa 1-bedroom rooms have one long balcony accessed through locking patio doors in the living room and bedroom. Four patio chairs and two small side tables make the balcony a great place to have a cup of coffee or a cocktail at night.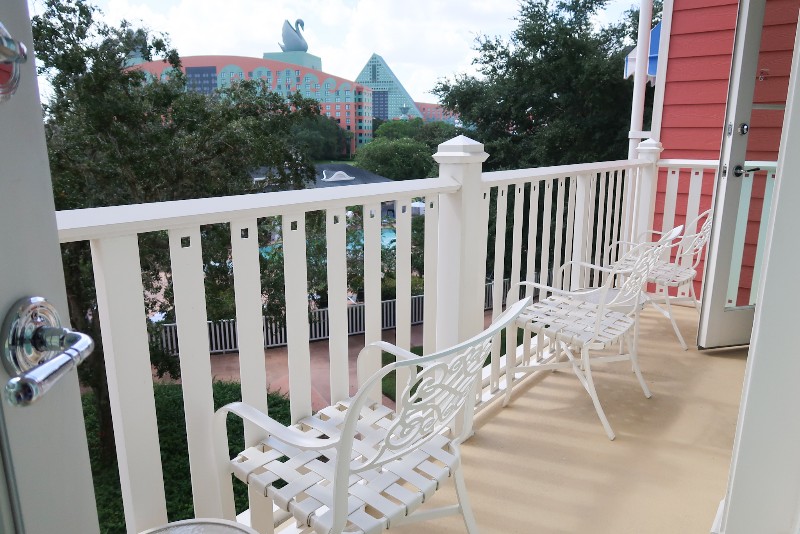 A small closet near the bathroom disguises a stacked washer and dryer which is perfect for longer stays or packing light.
Disney's Boardwalk 1 Bedroom Villa Bathroom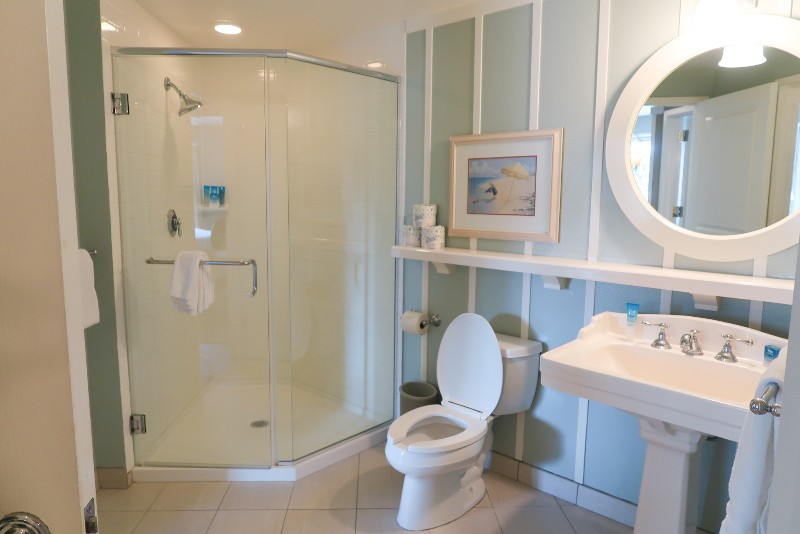 At first I wasn't sure how I felt about the Boardwalk Villa 1-bedroom bathroom's unusual design. The bathroom is split into two different areas. One side has a pedestal sink, the toilet, and a corner shower. The other bathroom area has the closet, a soaking tub, plus a sink with large counter top.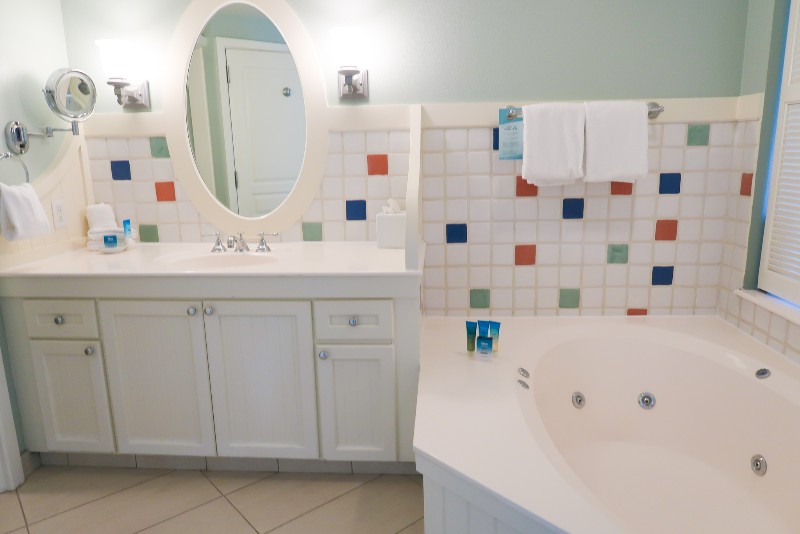 After spending several days in the villa I really came to appreciate the design. One person could get ready in one bathroom area while others got ready in the second area. Real doors also provide sound and light barriers, so getting ready in the bathroom didn't wake up anyone sleeping on the fold out couch.
Boardwalk 1 Bedroom Villa Bedroom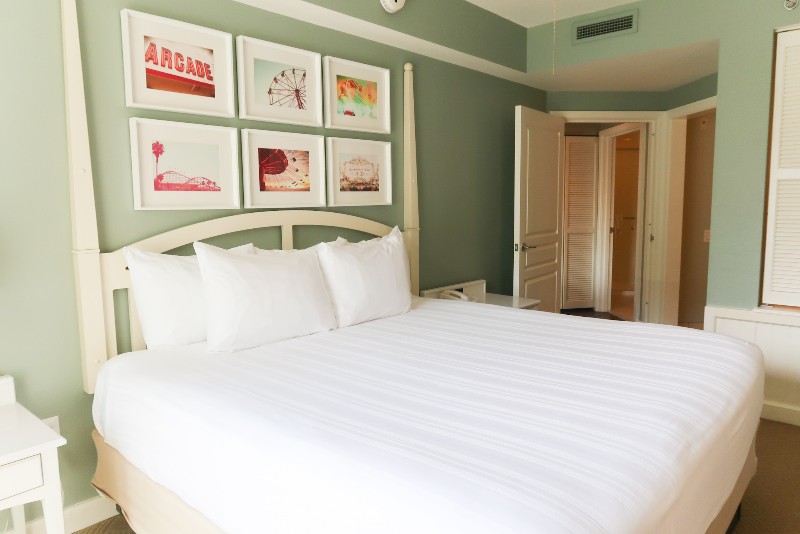 A king-sized bed with two nightstands is the focal point of the bedroom. A large dresser provides a ton of additional storage space plus a corner chair for extra seating. The bedroom was a good size and I really liked the gallery wall of carnival inspired prints over the bed.
The Boardwalk Villa 1-Bedroom Villa has the following great features:
Full kitchen that is completely stocked
Laminate floors in living room and kitchen
A ton of storage space
Blackout curtains
Split bathroom
In-room safe
Great location
In-Room WiFi
Disney's Boardwalk Villas has free WiFi for all hotel guests.
Disney's Boardwalk Villas Parking
Parking is complimentary for resort guests while valet parking costs $33 per night at Disney's Coronado Springs Resort.
Take a virtual tour of our Disney Boardwalk Villa 1 Bedroom:
Transportation To Parks From Disney's Boardwalk Villas
Epcot
Boardwalk Villas is within walking distance of Epcot's International Gateway. It takes about 10 minutes to reach the International Gateway entrance from most rooms at Boardwalk Villas.
Hollywood Studios
It is about a 15-minute walk to Hollywood Studios main entrance from Boardwalk Villas. Sometimes boats also connect Boardwalk Inn and Villas to Hollywood Studios. The boats take longer but save some steps for your day at the park.
Magic Kingdom, Animal Kingdom, Water Parks, and Disney Springs
Boardwalk Villas are connected to Magic Kingdom, Animal Kingdom, water parks, and Disney Springs via bus service. The bus stop is a short walk from the front entrance of the resort.
Overall Impression of Disney's Boardwalk Villas 1 Bedroom Villa
We had a great stay in our Disney's Boardwalk Villas 1-bedroom villa. The split bathroom makes it easy for multiple people to get ready simultaneously and we used the full kitchen to cook several meals in the room.
The room was spacious, comfortable, and had a large amount of storage space. A great room plus easy walking distance to Hollywood Studios and Epcot makes Disney's Boardwalk Villa an excellent choice when visiting Disney World.
Pin it for later: