A family friendly Colorado dude ranch vacation has been on our travel bucket list for a long time. Rawah Ranch provided us a fun, family friendly dude ranch experience plus an amazing sense of community.
Rawah Ranch: Colorado Dude Ranch Experience
Nestled in Roosevelt National Park and along the banks of the Laramie River is Rawah Guest Ranch. The moment we arrived Tim greeted us with a bright smile and a wave. Check in was easy and within a few minutes of arriving at Rawah the staff guided us to our cabin.
Rawah Ranch Lodging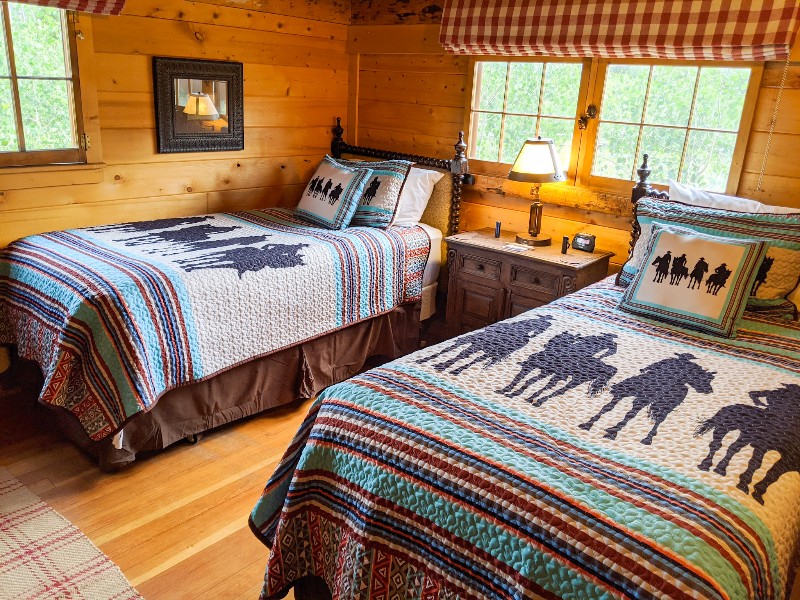 A variety of rustic cabins are home during your stay at the ranch. Most cabins have unique configurations and sizes which can sleep two to ten guests. We stayed in Mack Ward Cabin during our visit to Rawah Ranch.
Mack Ward is a relatively large cabin with two bedrooms, a bathroom, living room, and small kitchen area. The master bedroom has a king-sized bed while the second bedroom holds two twin beds with adorable cowboy themed quilts.
The bathroom is small, but completely functional with several wall-mounted storage shelves. Mack Ward has a shower, but no bathtub so it may work better for families with older children.
The living room is perfect for lounging during your downtime with two great leather arm chairs and a comfy couch. A wood burning stove provides a bit of extra warmth on chilly nights or mornings at the ranch.
The kitchen has a large refrigerator, but no freezer. There is also a Keurig coffee pot, small sink, and bistro table for two.
The only downside to Mack Ward is the location. From Mack Ward it is about a 5 minute walk to the stables and main lodge. I didn't mind the walk most of the time. This was especially true because we ate so well I was happy for the extra steps.
Ranch Activities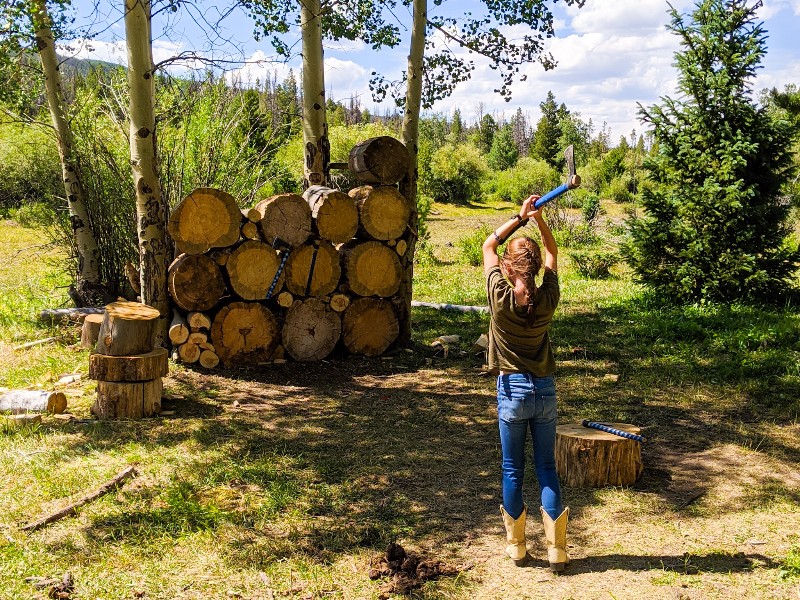 The schedule at Rawah Ranch reminds me a lot of a cruise ship. Lots of options, but ultimate flexibility in choices. At Rawah there is a morning and afternoon activity for each full day of your vacation.
Every night at dinner the activity book is passed around to each guest. Choose your preferred morning and afternoon activity for the next day before heading out for the group evening activity.
Rawah Ranch has several daytime activity options for guests. Horseback riding, fly fishing, archery, tomahawk throwing, a shooting range, and hiking are available each full day of your stay. You can mix and match any subset of these activities to design your perfect vacation.
Fly fishing is the only limited option at Rawah. A half-day of fly fishing is included in your stay. If you want more than that you'll need to upgrade to the Angler Retreat package.
After dinner each night there are optional group activities. These evening activities range from a traditional bonfire complete with s'mores to games like capture the flag or movie nights.
Rawah Ranch Dining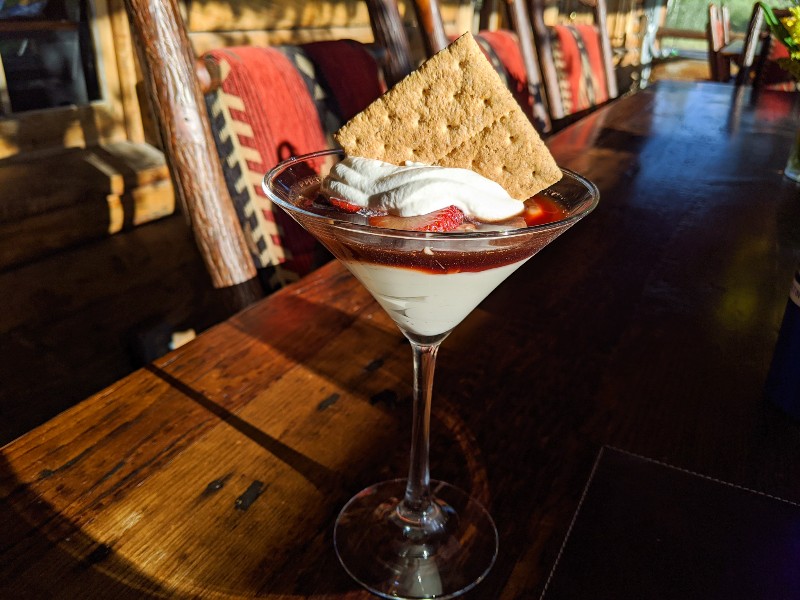 The food at Rawah Ranch is more gourmet fare than campfire basics. Each morning we started our day with a coffee cart delivery of fresh brewed coffee and a delicious pastry. After getting ready, we would head down to the main lodge for a fresh cooked made to order breakfast.
Lunch had the same basic offerings each day, but plenty of variety to make each lunch different if that's important to you. Dinner usually consisted of a choice of two main entrees except for pizza night. Cooked in a woodfire pizza oven just along the river and served buffet style, the pizza was a hit with guests.
Food Allergies At Rawah Ranch
My daughter has food allergies which is always a concern when traveling. I alerted the staff to her food allergy well before our arrival. They were able to plan for safe options in advance for Elizabeth. Advance notice of food allergies is important since the nearest store is over an hour away from Rawah.
The on-site chef did a great job modifying meals and providing safe options for every meal we had at Rawah. The ranch did an incredible job of dealing with Elizabeth's food allergy and happily answered any questions I had about ingredients.
Rawah Ranch Tips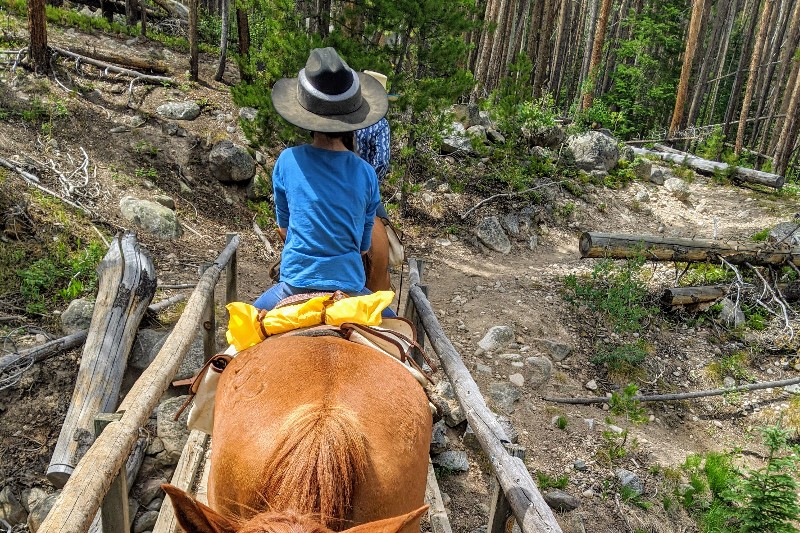 We were complete dude ranch novices on this trip to Rawah Ranch. Here are a few tips to help you have the best time possible on your ranch vacation.
No Phone Signal
There is no phone signal around Rawah for many miles. Make sure you print or otherwise download a map to the ranch ahead of time.
Not having a mobile phone signal and super intermittent WiFi was a little worrisome at first, but actually made for a better family bonding experience at the ranch. We were able to fully focus on our activities, make new friends, and have fun together without the normal phone distractions.
Layers Are Crucial
The temperature swings can be huge at the ranch. On our July trip the daytime highs were abnormally high, near 80 degrees, while nighttime lows averaged around 50 degrees. Pack varying layer options so you are ready for anything the weather throws your way.
Pack For Function, Not Fashion
Outdoor activities take a toll on clothing. Bring comfortable, functional clothing to a Colorado dude ranch. We lived in layers of jeans, t-shirts, and fleece jackets during our vacation. If you plan on fly fishing, pack athletic gear, not denim, since you can't wear jeans or denim shorts in the waders.
Boot Barn To The Rescue
Cowboy boots are required on all horseback rides. If you don't happen to have cowboy boots for yourself or your family there is a whole boot barn at Rawah. They have boots in tons of sizes from young kids through adults. Although not what I would have picked for style, the boots I found fit well and worked perfectly for our vacation.
Pack Sunscreen and Insect Repellent
High in the mountains it is easy to get sunburned. We are always conscientious about applying sunscreen, but missed our hair part on fly fishing day. Our scalp got very burned, but our sunscreen protected skin remained healthy.
Insect repellent is a must on the ranch, especially if you are usually the first one to get bitten. Using bug spray meant that I could focus on fun and not on itchy bites.
Take Advantage of Coffee Service
I wasn't sure I needed coffee service in the morning and almost declined it at check-in. However, coffee service each morning was the perfect way to start my day. A tray with a coffee carafe and fresh baked treat seemed to magically appear on the deck every morning. This meant I had a warm cup of coffee while we got ready and a snack for later in the day.
Make New Friends
Our Colorado dude ranch experience at Rawah Ranch was amazing for so many reasons, but the most important one was the sense of community. The staff treats guests like family and we found it easy to make connections with the other guests, too. This community feeling is one of the best things about a Rawah Ranch vacation.
Rawah Has A Children's Program
Families with younger kids can take advantage of Rawah's children's program. Counselors entertain kids while parents, grandparents, and older kids experience other ranch activities.
Find Time For Moose Viewing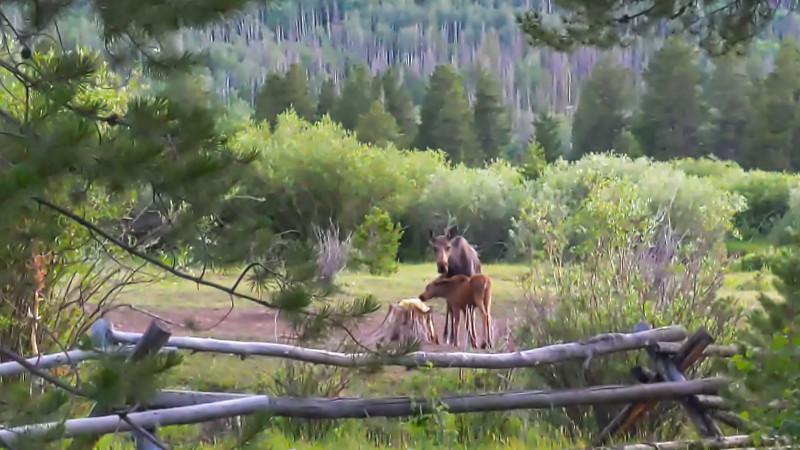 A salt lick is set up behind the Cowboy and Indian cabins. Each evening at dusk we were able to see several moose. We've never seen moose up close before and it was an amazing experience. Be slow and quiet when approaching the area plus maintain a good distance from the animals to be safe.
Final Thoughts On Rawah Ranch: A Family Friendly Colorado Dude Ranch
Visiting Rawah Ranch was a highlight of our summer. The rustic and comfortable cabins, fun activities, delicious food, and amazing staff make this Colorado dude ranch a great family friendly vacation option.  And while you are in the area make sure you make time to visit Rocky Mountain National Park, too.
Pin it for later: