I love to travel and especially love visiting Disney. However, I hate packing. Thankfully after packing for dozens of Disney World trips over the last 10 years, I have finally perfected my Disney World packing list. Use this packing list, plus matching free printable Disney World checklist, to make packing for your Disney World vacation easy.
Disney World Packing Tips:
Don't Be Afraid To Over-Pack (Just a Little)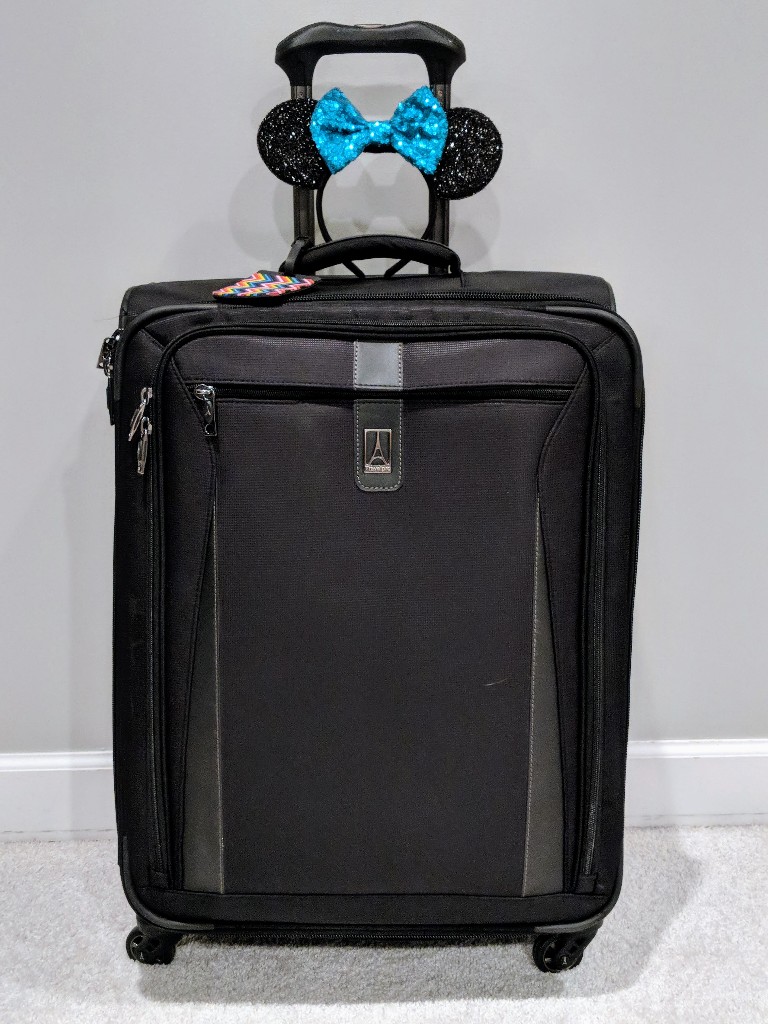 I normally advise against over-packing. It can make your suitcase messy and heavy, and you may never need the item. However, when I stay on-property at Disney World I always over-pack, just a little.
I usually pack 2 extra shirts and an extra bottom, for example jeans or shorts, for each person. When the weather is borderline it's worth packing an extra pair of jeans, shorts, or a sweatshirt.
We once had a trip where forecasted highs were in the mid-70's so I didn't pack any shorts. The weather ended up being much hotter than expected and I regretted not over-packing a little by adding a pair of shorts.
It's also nice to have a spare shirt or pair of pants just in case one you intended to reuse gets soiled.
Plan Outfits In Coordinating Colors
Packing clothes in coordinating colors makes it easy to mix and match your pieces. A simple color scheme provides the greatest flexibility in outfit combinations while on vacation.
Start Packing A Few Days Before You Leave
Several days before leaving, I begin packing for our Disney World trips. Our spare bedroom acts as a staging area where I work on packing one set of items at a time.
My goal is to be completely packed at least 3 days before leaving. This has saved me many times because I always seem to remember something random between "final packing" and leaving for the airport.
Use Packing Cubes
I was way late to this packing trend because I figured packing cubes couldn't be that great. Wrong, wrong, wrong!
Packing cubes make it incredibly easy to unpack (just throw your cube inside a drawer) and then repack (throw cube back into suitcase). Packing cubes also help keep everything organized.
For example, I usually have pajamas in one cube, undergarments in another, and then one large cube for each person's clothing.
I have purchased these packing cubes twice (affiliate link: buy it on Amazon) and am still very happy with them. We've used our packing cubes constantly over the last few years and even after washing on delicate multiple times they have held up great.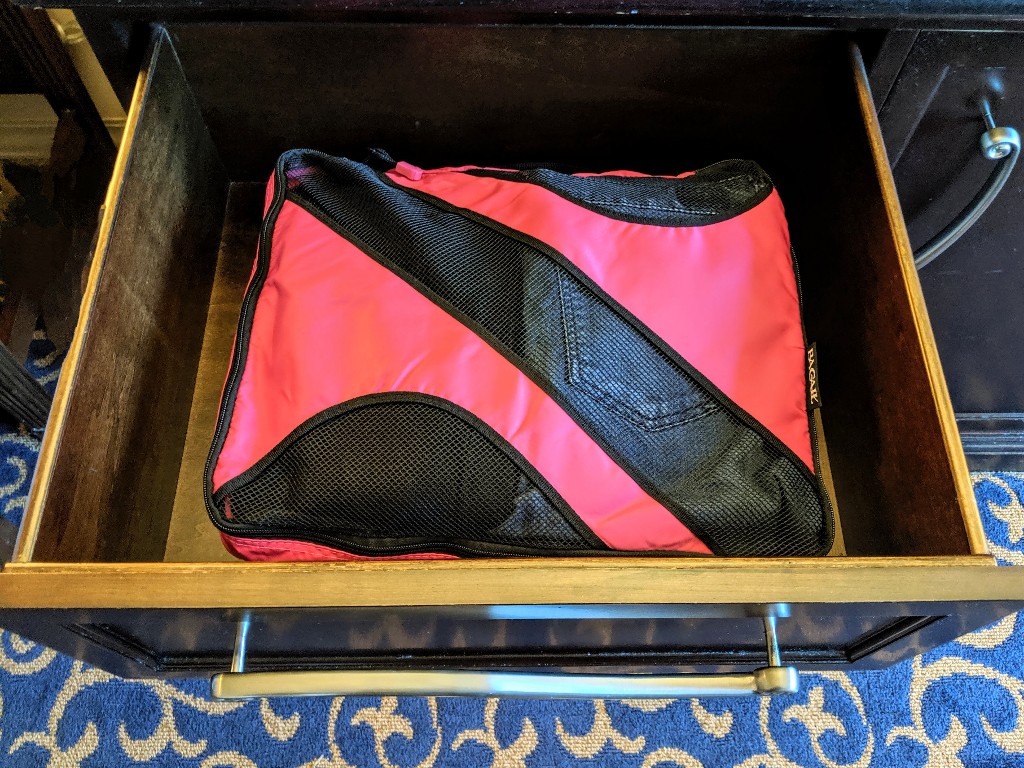 I pack our swim gear in reusable, washable, and waterproof bags from The Sweat Mate (affiliate link: buy it on Amazon). These bags keep damp swimsuits from damaging our other clothes when packing to go home.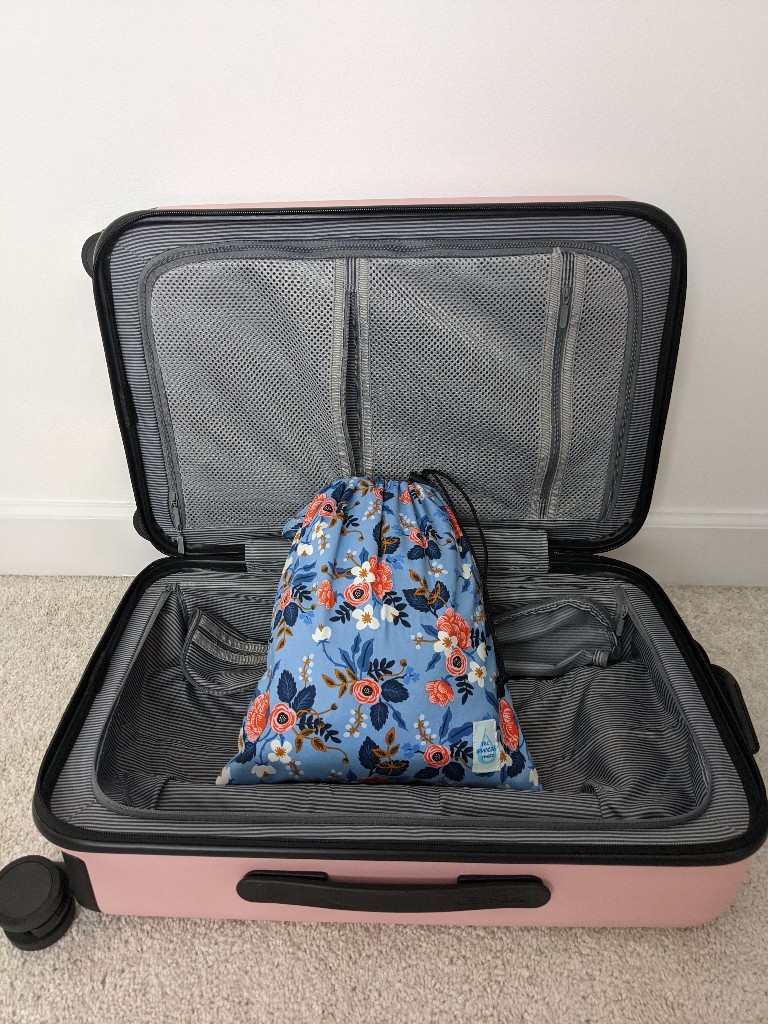 Plan For The Weather
Depending on the season, or sometimes just the day, Disney World can have a large range in weather. We have been at Disney World in every weather scenario: pouring rain for days, unbearable heat and humidity, record breaking cold, and perfect sunny 70 degree days.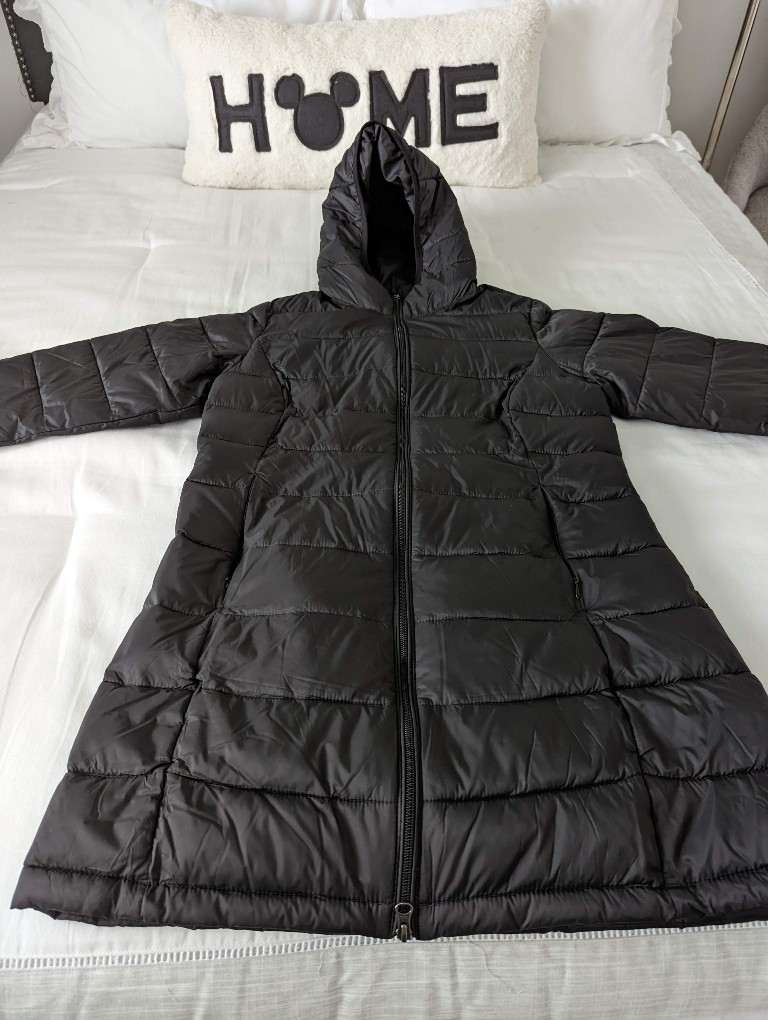 Each type of weather requires slight packing modifications. For example, in spring or summer pack light layers which are perfect during cool mornings or nights and when the bus air conditioning is frigid.
During the rainy season, which is much of the year, bring extra shoes and socks. Fresh socks and dry shoes are a treat after walking in squishy shoes all day.
If visiting Disney World during winter, pack warmer items like gloves and coats in case the temperatures start to dip.
Pack Chargers For Disney World
At the end of Disney World days I find myself searching for electrical outlets. While the number of charging stations has improved at Disney World resorts, the demand for outlets outpaces these improvements.
I've started packing charging blocks that require one electrical outlet, but then provide charging to multiple devices simultaneously. This Anker 4-Port USB Wall Charger (Affiliate Link: Buy on Amazon) perfectly charges our Magic Band+ each night and only requires one outlet.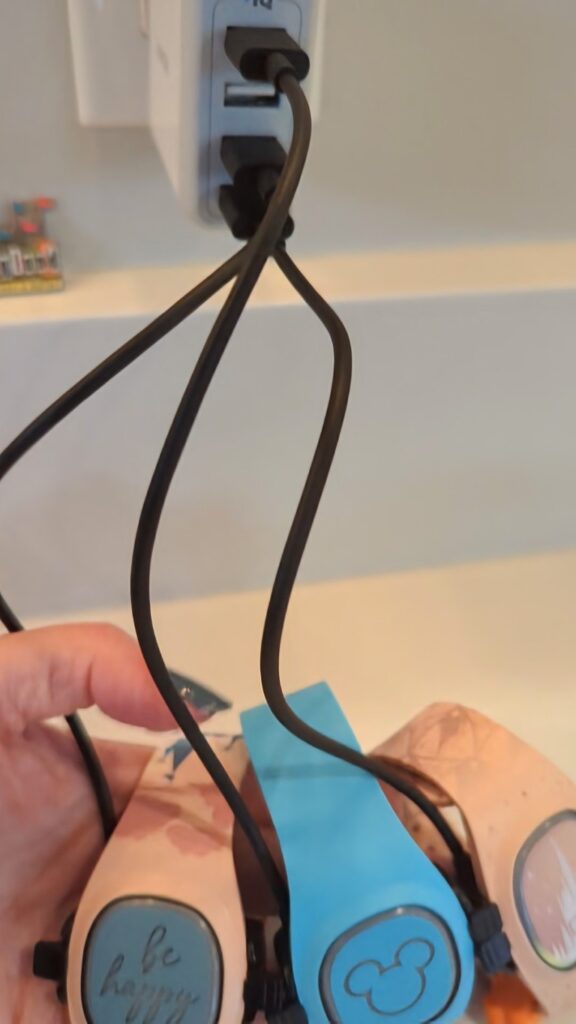 My daughter's Apple watch and iPhone easily charge with this dual port Anker USB-C charger (Affiliate Link: Buy on Amazon). And when she's not using it, my phone and laptop can use the same block.
Don't Forget A Disney World First Aid Kit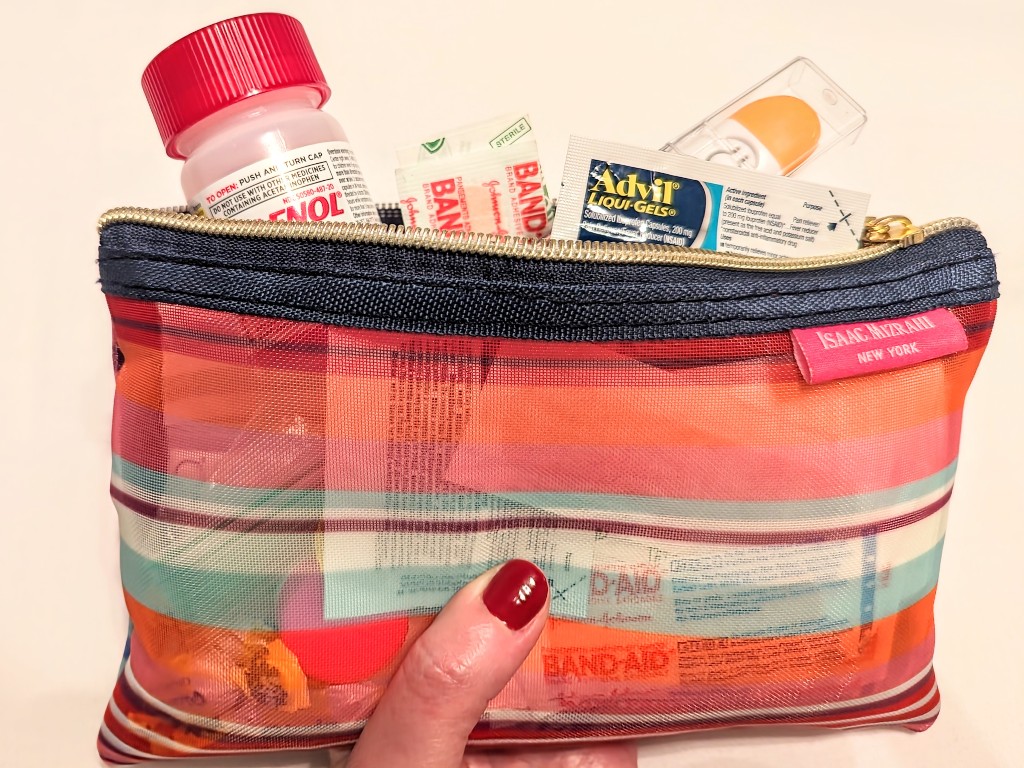 Being sick is terrible, but even worse when on vacation and without easy access to medicine.
After a trip where Elizabeth spiked a high fever in the middle of the night, I always pack a small number of emergency medications in a Disney World first aid kit.
Pack children's and adult acetaminophen or ibuprofen, cough and cold medication, Band-aids, and Sea-Bands or other anti-motion sickness medicines.
I use a small pouch as my first aid kit and always pack it in my carry-on, not checked, luggage.
Put Kids' Clothes Into Zip-Top Bags
I was not good at packing for Disney World on our first couple of trips. In fact, during our first trip we somehow managed to use items for an outfit that I had not planned on going together.
The first outfit looked fine, but the two leftover items left much to be desired as far as matching was concerned. Thankfully that time we just threw a costume over the questionable outfit.
For many trips after that I would pack my daughter's full outfit (top, bottom, undergarments, and socks) into a zip-top bag. This made getting ready in the morning much easier with a toddler.
Have a List With Last-Minute Items
I always have a checklist of last-minute items, like teddy bears, makeup, and phone chargers, that I use the day we leave. This keeps me from forgetting an item that I cannot pack ahead of time.
Pack A Smart Disney World Carry-On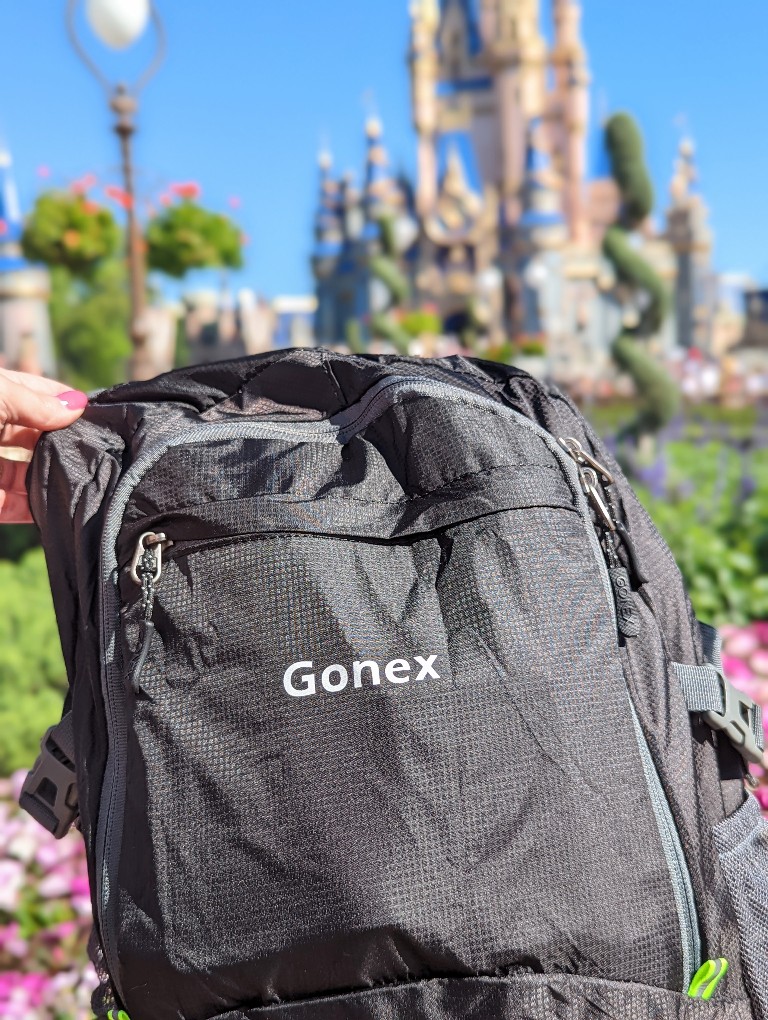 Although we often do carry-on only trips, here I'm referring to using a carry-on as an emergency back up for lost or delayed checked luggage.
I always have one or two outfits per person, spare socks/undergarments, all prescription medications, pajamas, brush/combs, and any essential toiletries in my emergency carry-on bag. Hopefully you never need these supplies, but you'll be very glad you have them if the worst happens.
If we are arriving early and heading straight to Disney World theme parks, I pack my park bag and use it as my personal item on the plane.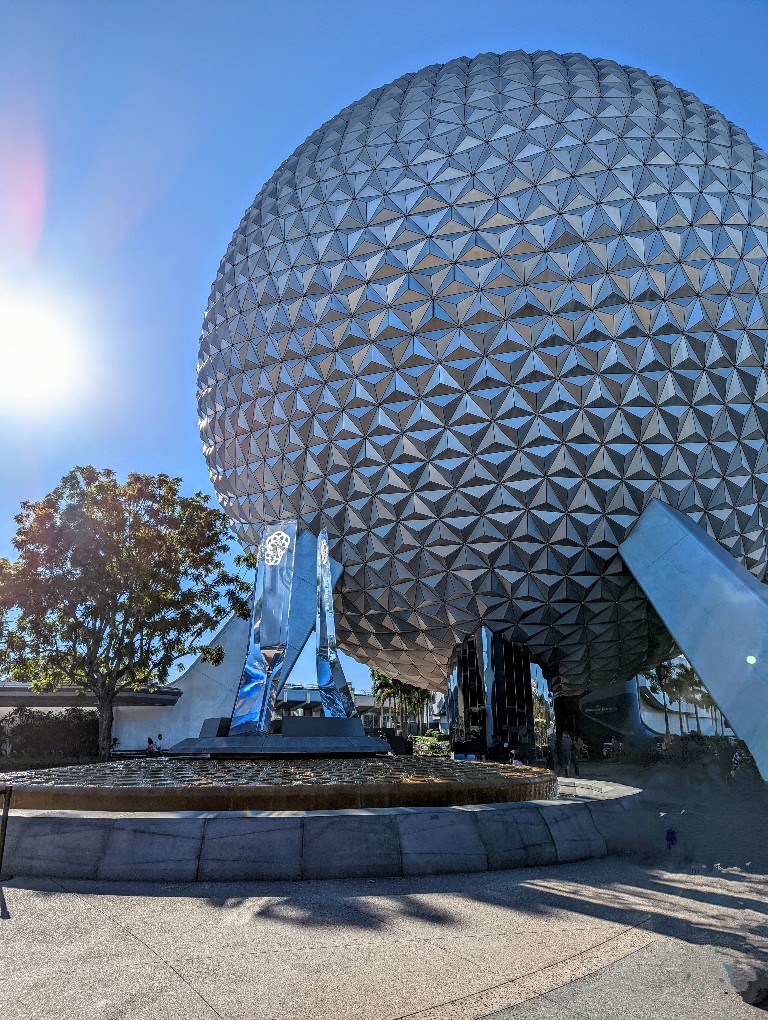 Complete Disney World Packing List
Find our very comprehensive packing list below. Those who prefer Disney World vacations with a carry-on only should use this pared down packing list instead.
Clothing/Accessories
When packing clothing I plan for enough clothing to last me the number of days we are at Disney World. Then I add 2 tops and 1 extra bottom to reach my final number of clothing items. I always make sure to pack extra socks and undergarments, too.
Shirts
Shorts
Pants
Sweatshirt/Jacket
Hat/Ears
Belts
Underwear/Bras
Socks
Shoes
Costumes/Bounding outfits
Pajamas
Slippers
Swimsuit
Swim cover up
Flip flops/water shoes
Sunglasses
Glasses
Contact Lenses
Toiletries
Toothbrush/toothpaste
Shower gel
Shampoo/conditioner
Razor/shaving cream
Deodorant
Sunscreen
Lip balm
Face wash/face cream
Make up/make up remover
Lotion
Nail polish/remover
Nail file/nail clipper
Tweezers
Brush/comb
Hairspray
Curling iron/straightener
Ponytail holders/headbands/bobby pins
Electric shaver
Feminine hygiene
Plane/Car Trip Items
Wet Ones wipes/hand sanitizer
Clorox wipes
Blanket/teddy bear/etc
Snacks
Crayons and coloring book
Sticker book
Cell phone/charger
Tablet/charger
Headphones
Water bottle
Medicine/First Aid
All prescription medications
Adult ibuprofen or acetaminophen
Children's ibuprofen or acetaminophen
Band-aids
Antibiotic ointment
Hydrocortisone cream
Thermometer
Cough/cold medicine (adult and children's)
Sea-bands or other anti-motion sickness medication
Body glide (for blisters/chafing)
Technology/Travel Documents
Charging station
Magic Band+/Magic Bands
Mobile phone with Disney World app installed
Boarding passes
ID/insurance cards
Cash/credit cards/gift cards
Miscellaneous Items
Nightlights
Gum (none sold on property)
Baby Items
Bottles/sippy cups
Pacifiers and clip
Formula/food
Bibs
Disposable placemats
Burp cloth
Baby wipes
Diapers
Disposable changing pads
Baby sunscreen
Washcloth
Bath shampoo/wash
Carry On
One full outfit for each family member
Extra undergarments/socks
Pajamas
Essential toiletries
Prescription medications
Brush/comb
A Note About What Seems Random on My Packing List
There are the usual items you expect to see on a packing list, but I have a couple that are a little strange. The first is nightlights. No matter the age of your travel party, having a nightlight in a hotel bathroom is amazing.
Some newly renovated Disney World resorts have built in nightlights, but I still always pack one just in case.
You may also notice gum is on my packing list. Although it seems odd, pack your own gum since it is not sold anywhere on Disney World property.
Printable Disney World Packing Checklist
Find a printable version of our Disney World packing list here.
Final Thoughts On Disney World Packing
Packing for a Disney World trip can feel overwhelming, but doesn't have to be hard. Use our Disney World packing tips and printable packing list to get your packing done quickly so you can get back to planning the fun parts of Disney World vacations.
More Disney World Planning Resources
Do you need more help planning your Disney World trip? Check out other Disney World tips and tricks in my Disney World Guides.
Pin it for later: