This article is out of date, but a completely update version can be found here.
Christmas at Disney World is my absolute favorite time of year. We love the resort decorations, Mickey's Very Merry Christmas Party, and the special events at the parks and Disney Springs. Disney Springs is a popular rest day destination with year-round shopping and restaurant choices. During the Christmas season, Disney Springs adds several Christmas activities to their offerings. One of their biggest Christmas offerings is the Disney Springs Christmas Tree Trail.
For 2020 the Christmas Tree Trail has transitioned to the Disney Springs Christmas Tree Stroll. The same beautifully decorated Christmas trees are now located throughout the Disney Springs shopping center.
Disney Springs Christmas Tree Trail
What Is The Disney Springs Christmas Tree Trail?
The Christmas Tree Trail is a seasonal area where beautifully decorated Disney-themed Christmas trees are showcased.
The trail winds its way through almost two dozen Christmas trees with pretty lighting, Christmas music, and occasional "flurries" to get you in the Christmas spirit. For the 2019-2020 Christmas season there are 23 Christmas trees along the trail.
Where Is The Disney Springs Christmas Tree Trail?
Disney Springs is a large complex with several areas. The Christmas Tree Trail starts near Once Upon A Toy in the Marketplace of Disney Springs.
When Is The Disney Springs Christmas Tree Trail Open?
The Disney Springs Christmas Tree Trail generally opens in early November and runs until about the first week of January.
We've toured the Christmas Tree Trail on opening weekend and also after New Years. Having the trail open after the New Year allowed us to grab dinner at Disney Springs and visit the Christmas Tree Trail before our Disney Cruise in early January. On the other hand, visiting the trail in early November got us excited for the season ahead. Who doesn't love stretching out Christmas by starting early or ending late?
Can I Meet Santa In The Disney Springs Christmas Tree Trail?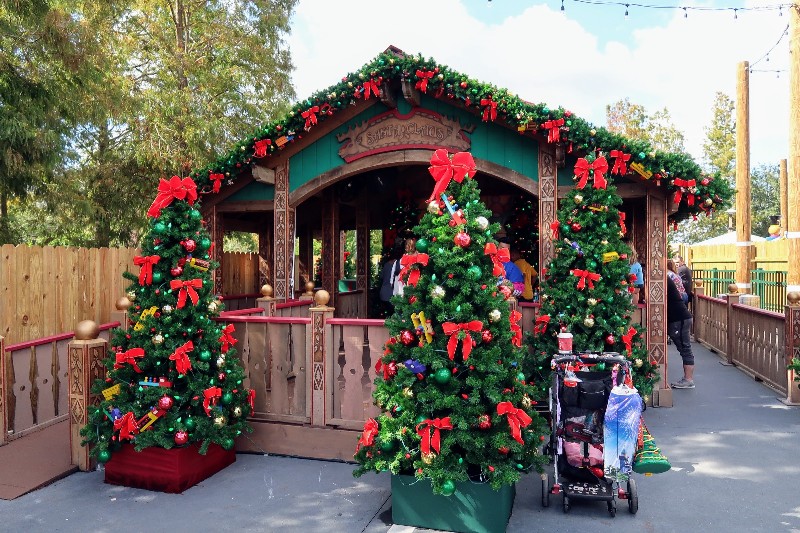 Normally this is a popular place to meet Santa at Disney World. However, in 2020 Santa and Mrs. Claus wave to guests from a pontoon boat on Lake Buena Vista.
Usually Santa has a cute chalet where he meets guests inside the Christmas Tree Trail. Unlike most Disney meeting opportunities this one has a virtual queue which is incredibly convenient.
Just outside the trail entrance is a small kiosk. A cast member takes your mobile phone number at check-in and then you can explore the trail, shop, or grab something to eat until it is your time to meet Santa. A text message alerts you when it is time to return.
The wait times for Santa at the trail can get quite long, for example it was 120 minutes on our last trip. I highly suggest you check into the virtual queue right when you arrive at Disney Springs. This way you know how long you have to shop and explore before meeting Santa.
Our Favorite Disney Springs Christmas Trail Trees
The 2019 Christmas Tree Trail has almost two-dozen trees featuring favorite Disney movies and characters. Each themed tree has a ridiculous amount of detail and thought put into the decorating.
There is also a special ornament in a lantern on each tree showcasing ones that are available for purchase at Disney Springs. This way you can take some of the Christmas Tree Trail magic home for your own tree.
Walt Disney World Theme Parks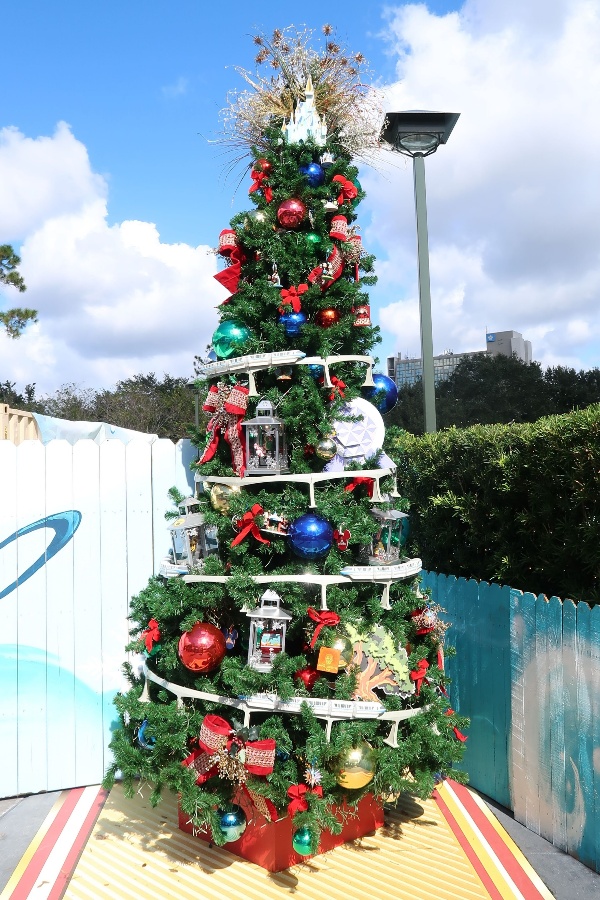 This adorable tree is the first one you see entering the trail. Cinderella's Castle takes the spot of a tree star and each park is represented on the tree. Our favorite detail was the monorail tracks used in place of garland and the model monorails on the tracks.
Mickey treat ornaments decorate the tree and are available for purchase at a small shop inside the trail. We also liked the Disney Skyliner gondola ornaments.
The Little Mermaid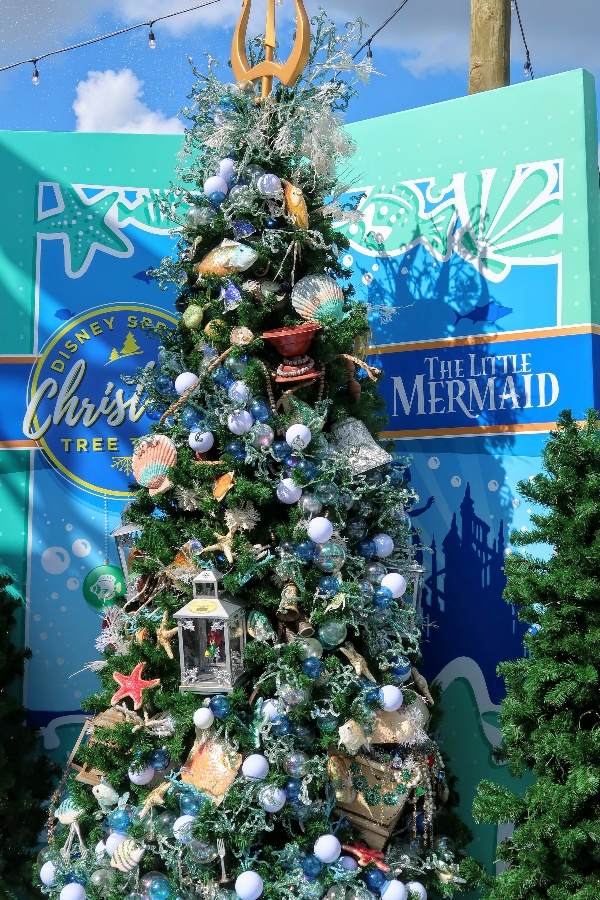 Check out the top of The Little Mermaid tree and you'll see King Triton's trident instead of your more traditional star or angel. There are ornaments in the shape of fish, shells, coral, and even iridescent ball ornaments that resemble bubbles. We thought the treasure chest full of baubles and rope used as garland were great touches to finish off the decorations.
Frozen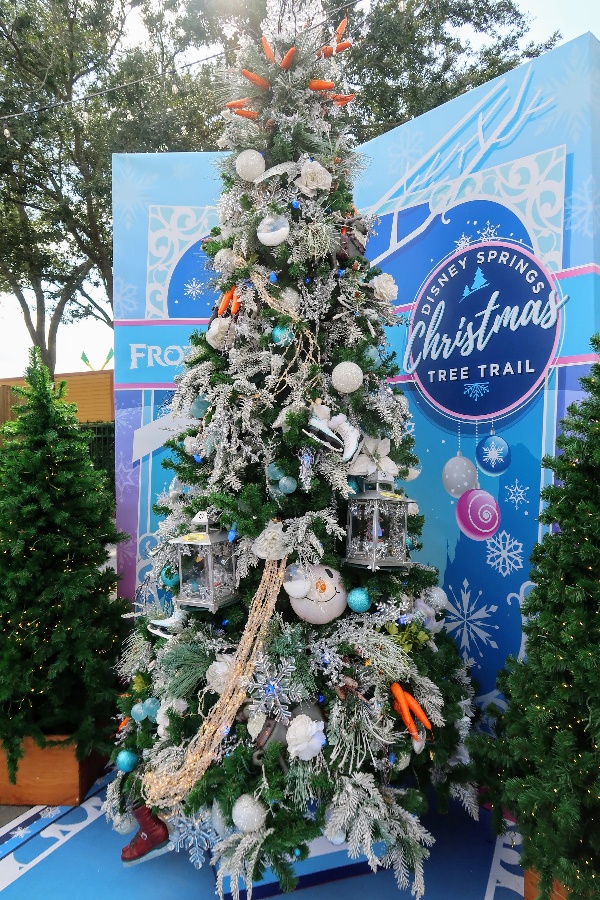 Snowflakes, "ice" coated decorative branches, and ice skates are featured on this tree inspired by Elsa and Anna from Frozen. I love that in addition to white lights there are also some blue lights to give it an extra Frozen feeling. There are also snowman globe ornaments, carrots, and reindeer ornaments to remind us of Olaf and Sven.
Snow White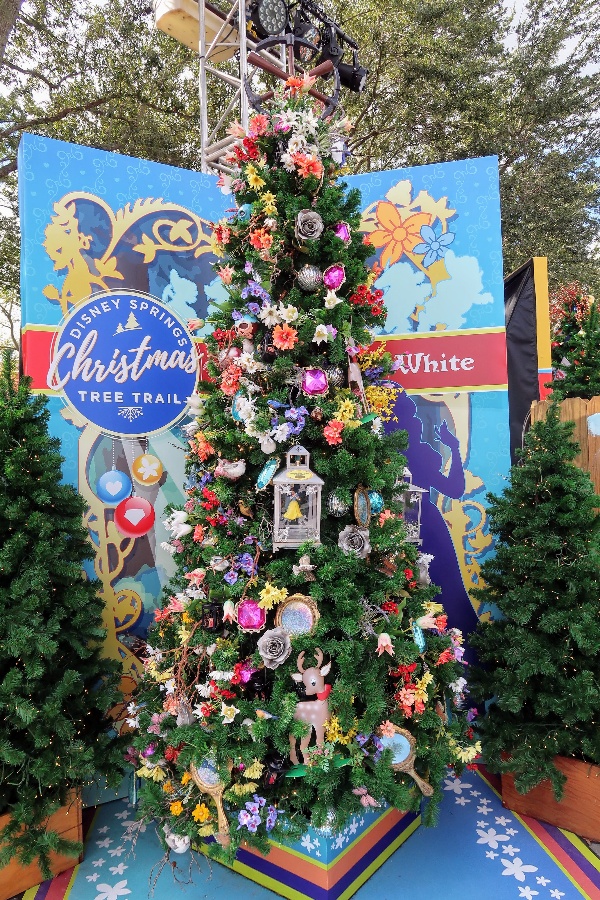 Snow White's tree has so many fun details. There are poison apple and magic mirror ornaments to represent The Queen. There are also glittering jewels indicating the seven dwarfs mine. Flowers and woodland creatures are scattered all around the tree. The "star" is even 3 pickaxes that form a snowflake-like circle.
The Haunted Mansion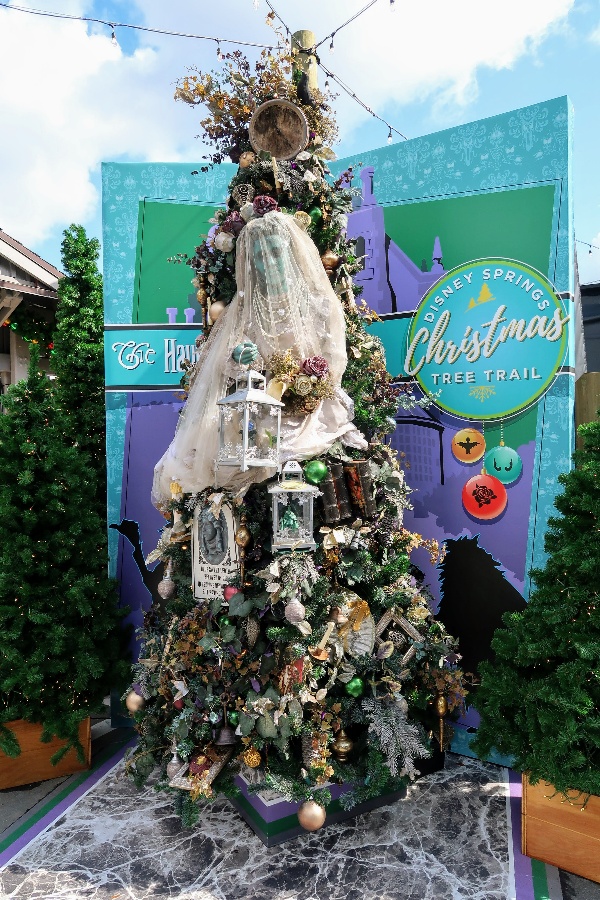 This spooky attraction now has a specially decorated tree. The first thing you'll notice is the large, eerie Constance mannequin, but if you look closer there are several interesting details. The Christmas tree is almost covered in ivy, dried flowers, and what appear to be decaying leaves. A replica Leota headstone also hangs on this unusual tree.
Dumbo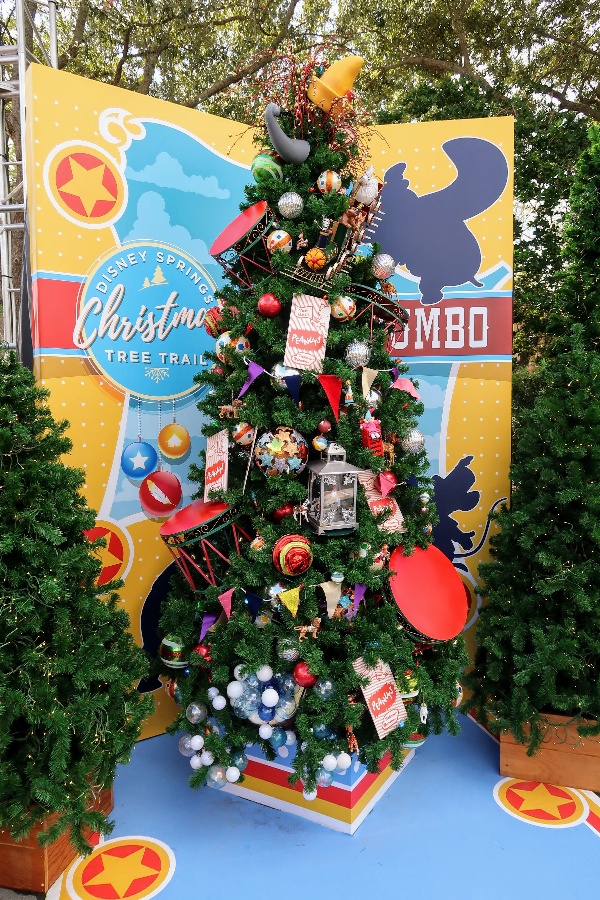 The Dumbo tree starts strong with Dumbo's hat at the top and a peek of his trunk in between the branches. There is also a train to represent the Casey Jr. Circus Train, peanut boxes, and circle stands that look like the platforms the animals perform on during the movie.
Mary Poppins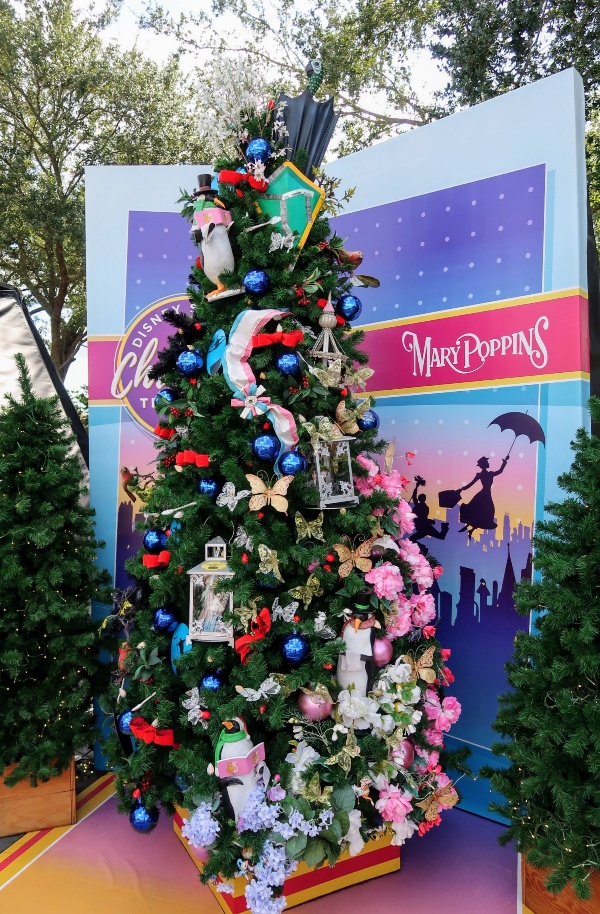 The Mary Poppins tree is practically perfect in every way. In fact, it is still my absolute favorite tree on the Disney Springs Christmas Tree Trail. This tree has so many nods to the iconic movie that I'm sure I missed some of the details.
The repaired kite and Mary's memorable umbrella are two of the biggest decorations on the tree. We also spotted part of Mrs. Banks' suffragette sash, penguins, a carousel horse, and a spoonful of sparkly sugar.
Complete List Of Disney Springs Christmas Trail Trees:
Walt Disney World Theme Parks
Mickey & Minnie Mouse
Beauty & the Beast
Sleeping Beauty
Aladdin
Frozen
The Princess & The Frog
The Little Mermaid
Mulan
Haunted Mansion
Snow White
Pinocchio
Toy Story
Disney Villains
Dumbo
Cinderella
Robin Hood
Star Wars
Peter Pan
Tangled
The Lion King
Mary Poppins
Fantasia
Final Thoughts On Disney Springs Christmas Tree Trail
Visiting the Disney Springs Christmas Tree Trail is a great Christmas time Disney World rest day option or a fun way to extend a holiday celebration before a early January Disney Cruise.
It's important to note the exact theme for the trees and the decorations vary year to year. We found some of our previous favorites missing, but new detailed trees in their place.
Walking the Disney Springs Christmas Tree Trail and meeting Santa is a fun and free way to celebrate the Disney World Christmas season. See some of our other favorite Disney World Christmas activities like Mickey's Very Merry Christmas Party or general tips for visiting Disney World at Christmas.
Do you need more help planning your Disney World trip? Check out other Disney World tips and tricks in my Disney World Guides.
Pin it for later: