If you ask around, chances are you know someone who has stayed at Port Orleans French Quarter or Riverside for a Disney World trip. These two moderate resorts are popular places to stay at Disney for very good reason, but Port Orleans French Quarter has several unique features that differentiate it from its sister resort. This Port Orleans French Quarter review will walk you through the entire resort and our French Quarter Garden View room.
Port Orleans French Quarter Resort Location
Port Orleans French Quarter is considered a Disney Springs area resort and is located within walking distance of Port Orleans Riverside Resort.
Overview Of Port Orleans French Quarter Resort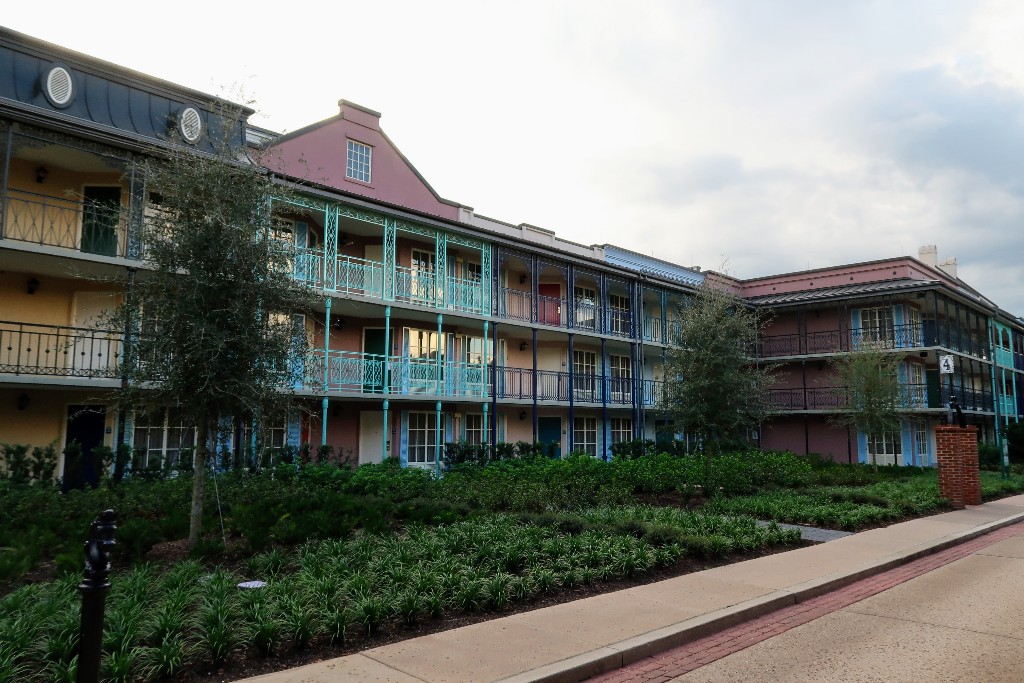 Disney's Port Orleans French Quarter is designed to look like the French Quarter in New Orleans with colorful buildings and ornate iron balconies. There are "streets" between the buildings, and street signs mark the different lanes. A large courtyard hosts movies on select nights and a fire pit for s'mores are nestled in between buildings.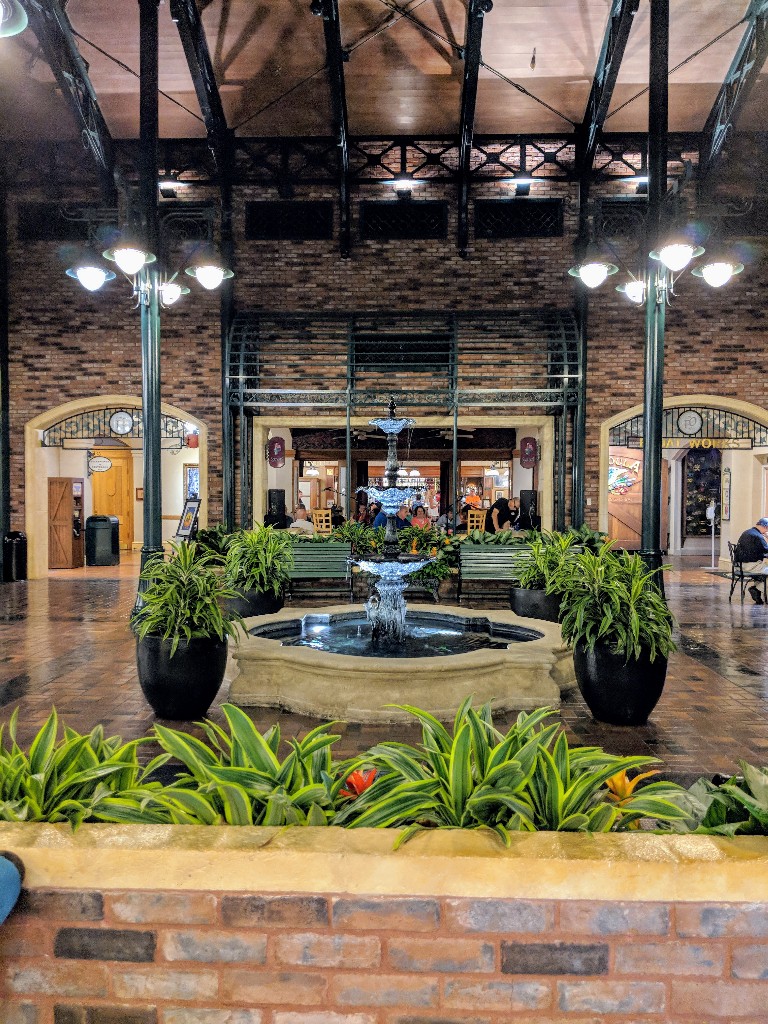 The main building is small, but has everything you need with a lobby,  a quick service restaurant, a bar, and an arcade. This main building is within easy walking distance of even the furthest Port Orleans French Quarter rooms.
The lobby has a pretty, multi-tier fountain welcoming you to the resort and Mardi Gras inspired decor all around Port Orleans French Quarter. Some of our favorite decorations are the jazz band alligators just outside the pool area.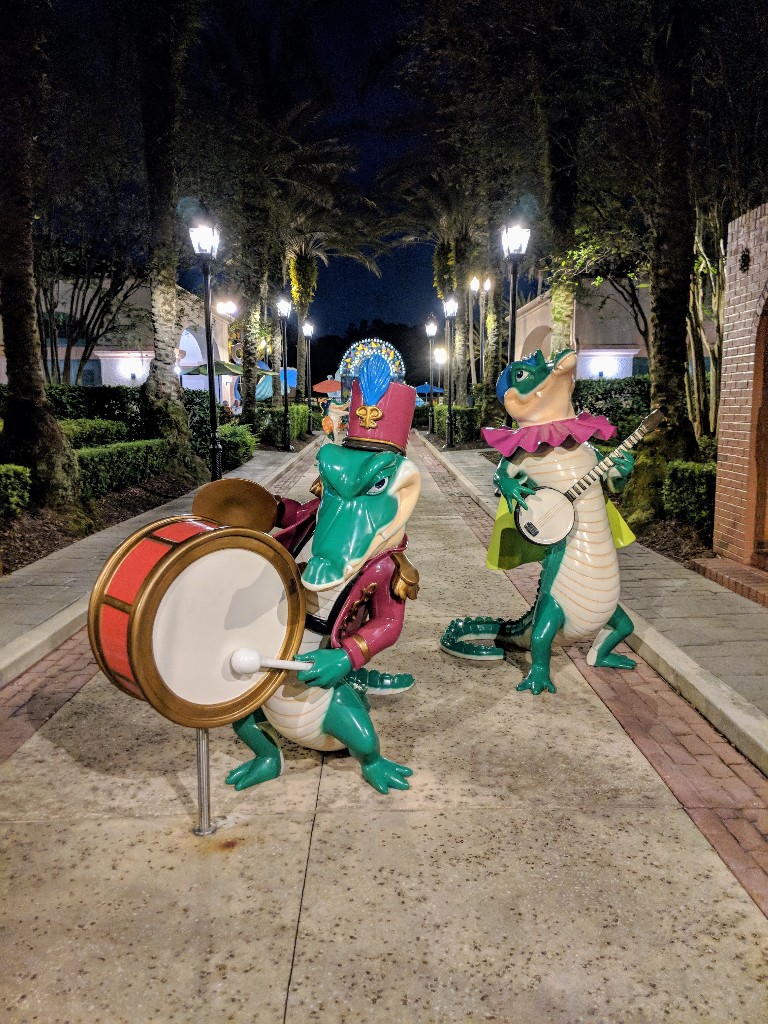 We really enjoyed ambiance of walking around Port Orleans French Quarter. The resort felt like a beautifully planned neighborhood.
Port Orleans French Quarter Pool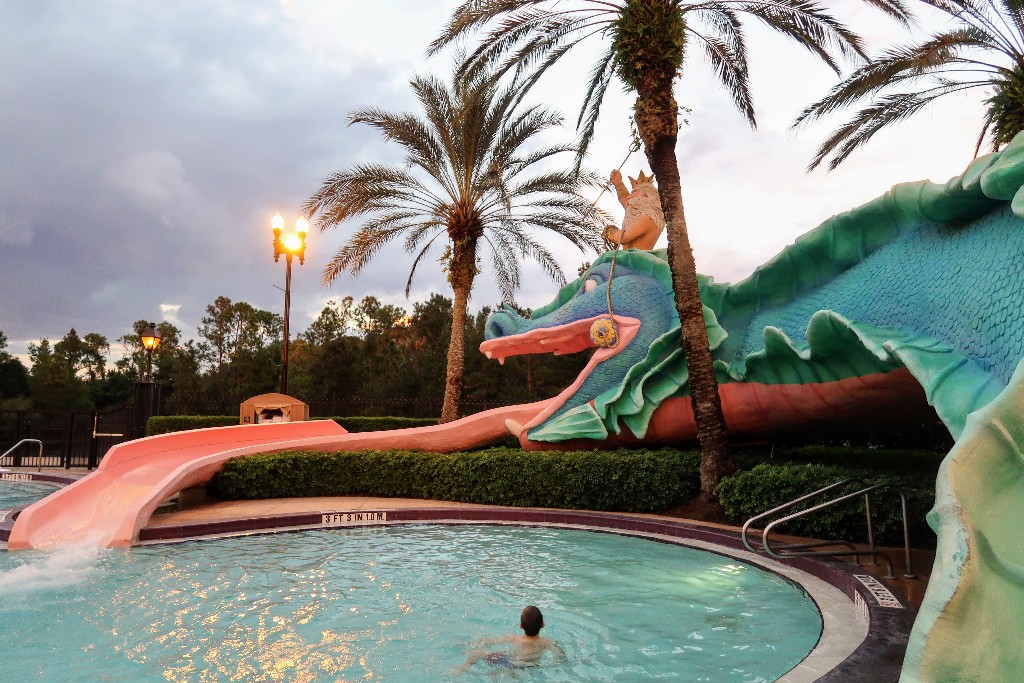 Doubloon Lagoon is the only pool at Port Orleans French Quarter, but you can use the pools at Port Orleans Riverside, too. In addition to the main pool area there is a splash pad play area for kids under 48 inches (120 cm) tall.
Doubloon Lagoon has a small water slide shaped like a sea serpent that Elizabeth enjoyed swooshing down even though I thought it was a bit cool. The good news is that the Port Orleans French Quarter pool water is heated, so she was able to enjoy some pool time on a cool evening.
Dining
Mardi Grogs
Mardi Grogs is right by the pool to grab a refreshing drink or a quick sandwich while you swim.
Sassagoula Floatworks and Food Factory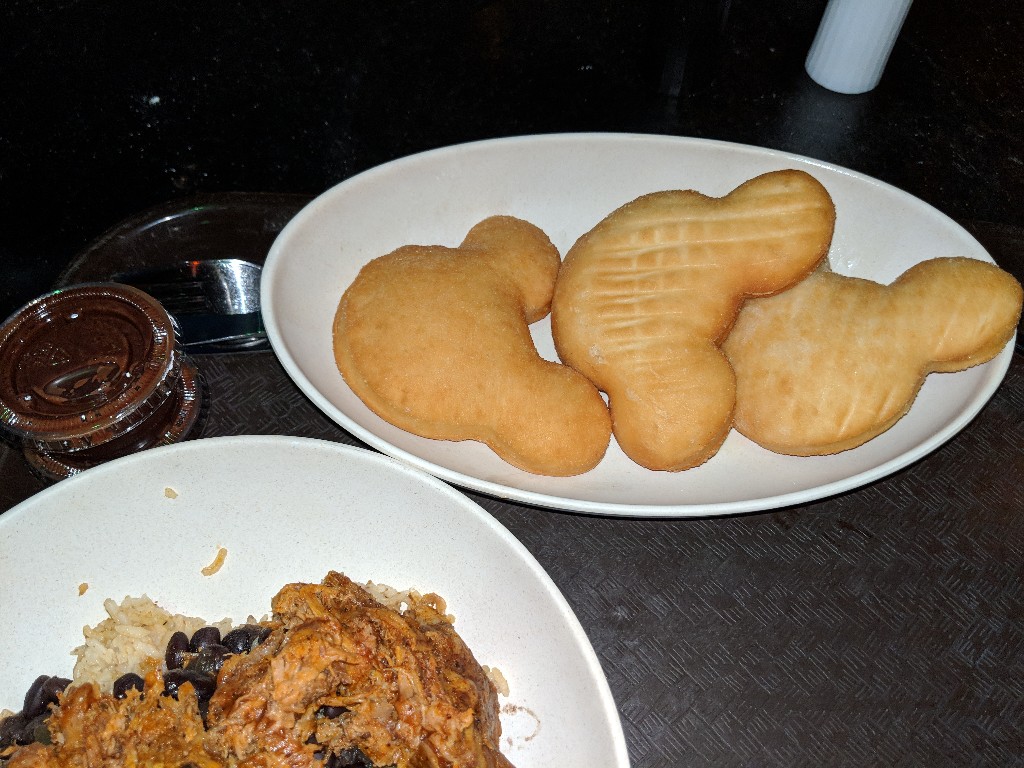 Probably most well known for delicious beignets, Sassagoula Floatworks and Food Factory is a diverse quick service restaurant at Port Orleans French Quarter. There is the usual quick service fare on the menu, plus several unique meal offerings paying homage to the New Orleans inspiration of the resort.
We enjoyed our create-your-own rice bowls on our arrival night. My pulled pork over dirty rice and black beans was spicy and delicious. Elizabeth opted for shrimp, white rice, and black beans and enjoyed hers, too. The portions were big enough we could have probably split one bowl, especially since we had yummy beignets, too.
Sassagoula Floatworks and Food Factory serves breakfast, lunch and dinner daily.
Scat Cat's Club
Scat Cat's Club is a lounge open evenings at Disney's Port Orleans French Quarter Resort. They serve specialty cocktails as well as some small plates. People set up early for the live music at night just outside of the club.
In-Room Dining
Looking for something to eat in the comfort of your room? Order pizzas and other late night snacks from evening until after midnight.
Port Orleans French Quarter Review Of Garden View Room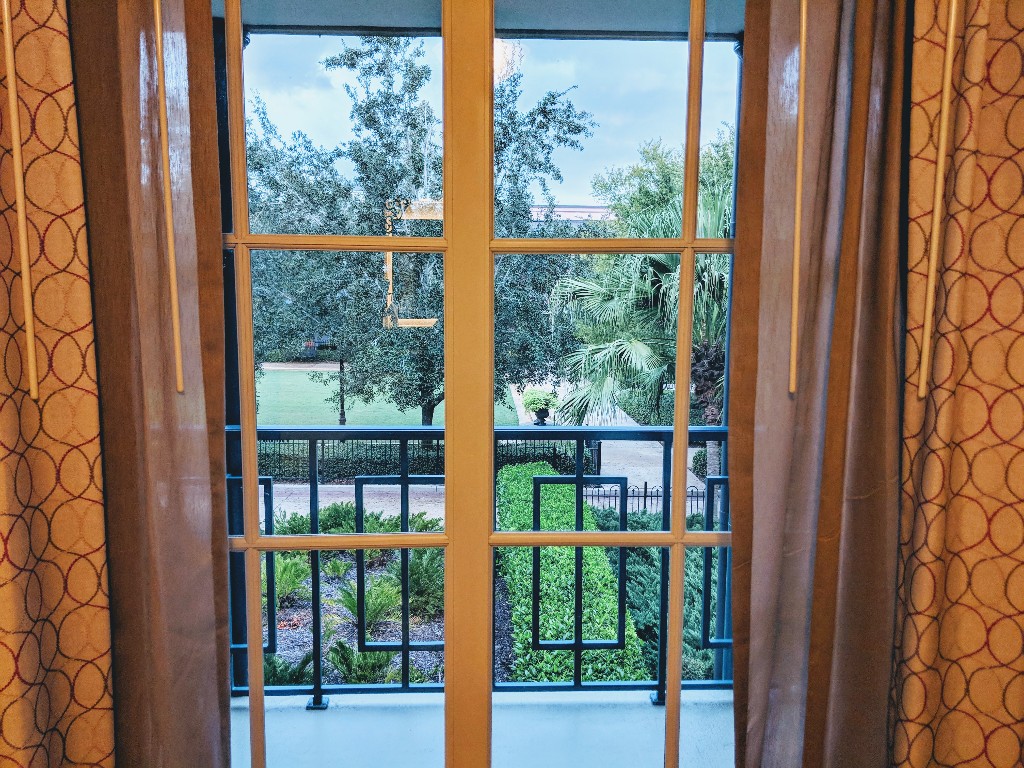 We opted for a Port Orleans French Quarter Garden View room. I liked how our room overlooked the quiet French Quarter green. Our room in building 5 was close to the pool and main building but far enough away we didn't have a lot of foot traffic or noise near our room.
Port Orleans French Quarter Bedroom Area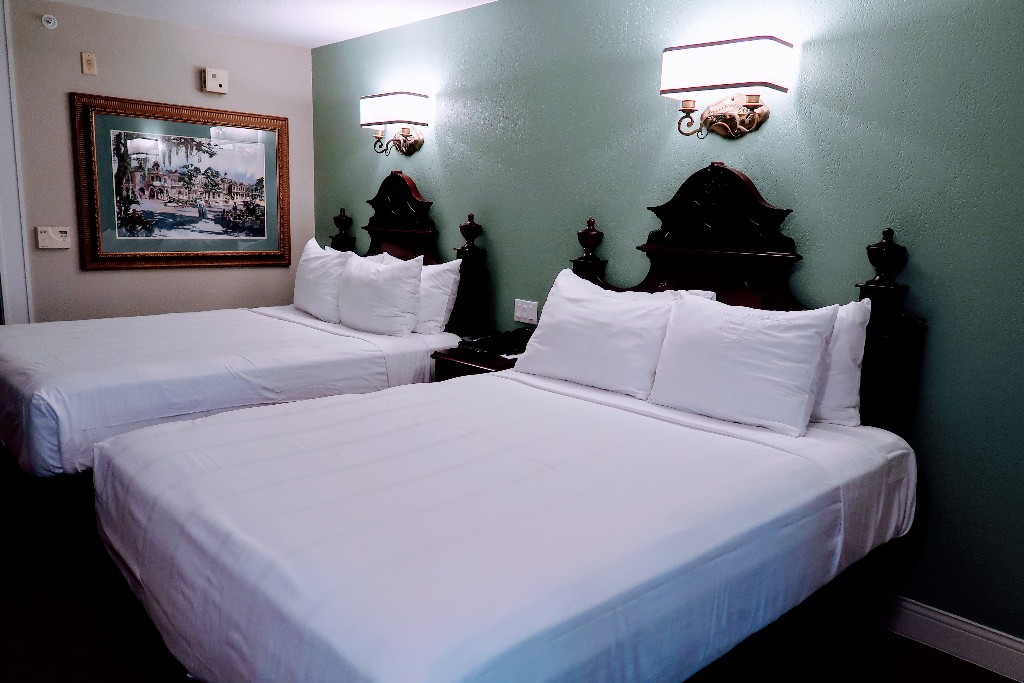 Our Port Orleans French Quarter Garden View room had a two-queen-bed configuration. The room is a pretty standard hotel room set up with some nice touches.
The bedroom area holds two queen beds, a small table with two chairs, the dresser, and a nightstand. The two chairs and table were perfect for Elizabeth and my breakfast in the room each morning of our stay.
One half of the dresser acts as clothing storage with several large drawers that easily accommodated our items. The other half houses the mini-fridge where we stored our groceries delivered by Garden Grocer. A small single- or double-cup coffee maker is also stored on the dresser.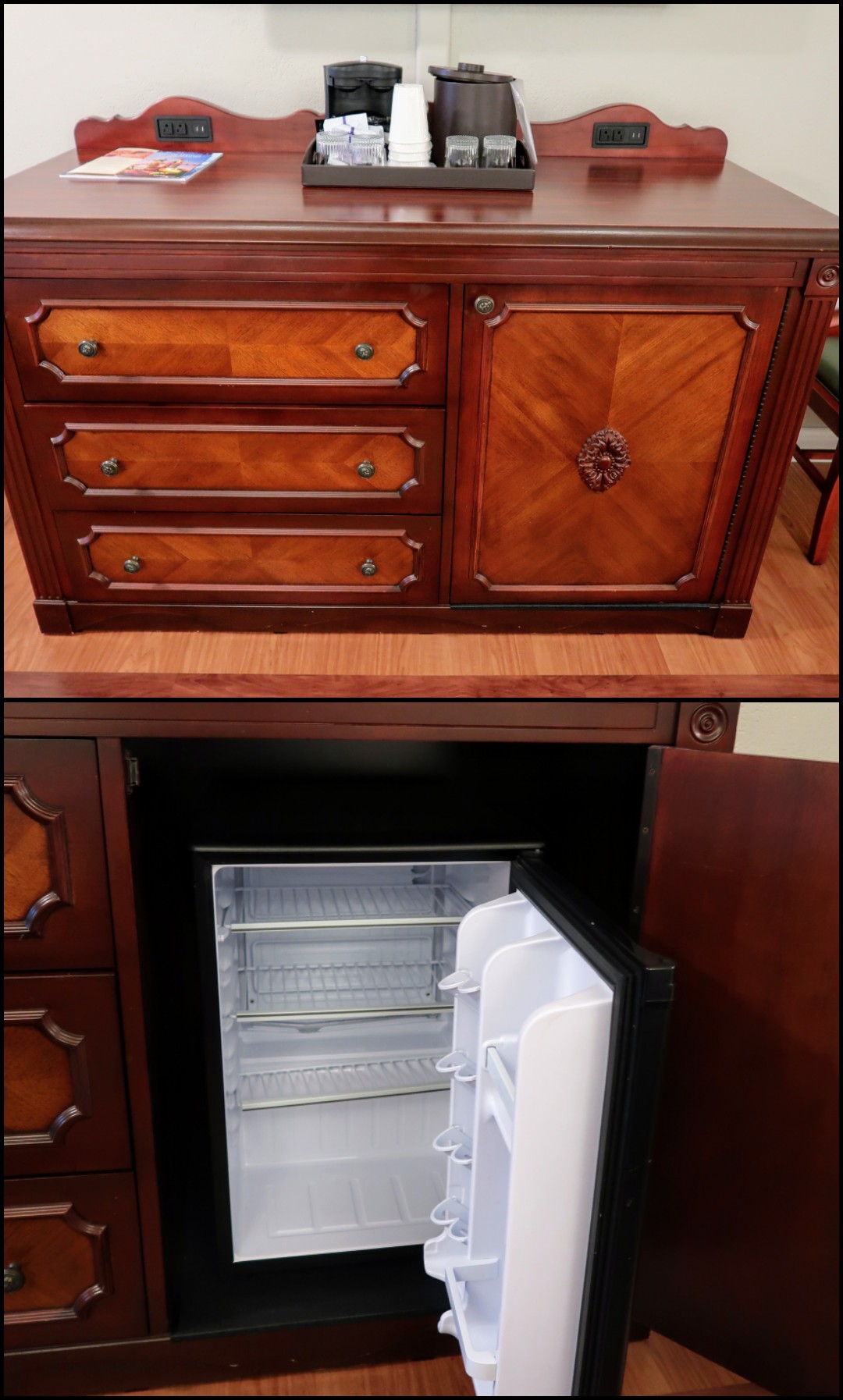 Bathroom Area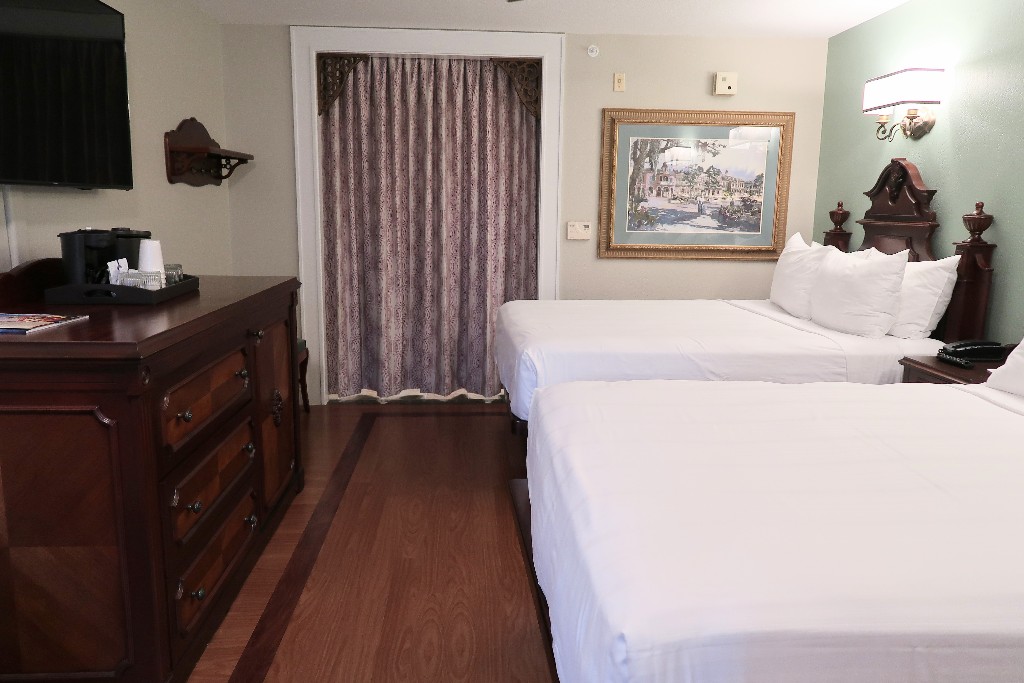 Our Port Orleans French Quarter Garden View room had a blackout curtain separating the bedroom from the sink area. This was a great feature, since I would get up earlier than Elizabeth and could start getting ready while she was still sleeping. When I turned on the lights, only a little filtered into the bedroom area.
There is no closet in the room, but there is an area near the sinks and in-room safe to hang clothing. We liked that our Port Orleans French Quarter room had double sinks and a split bathroom. The sinks were in one area, and the shower/tub and toilet were in a separate room.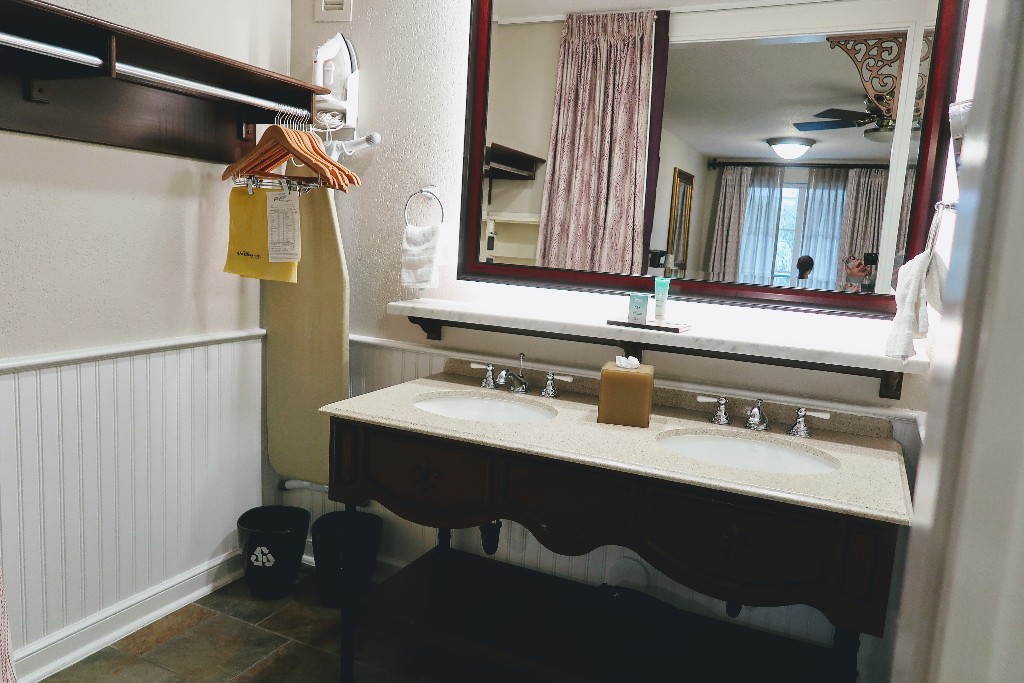 The only thing I didn't like about the bathroom setup at Port Orleans French Quarter was that the shower and toilet area was very small. However, we made it work, and having the larger area by the sinks helped alleviate the cramped feeling of that area.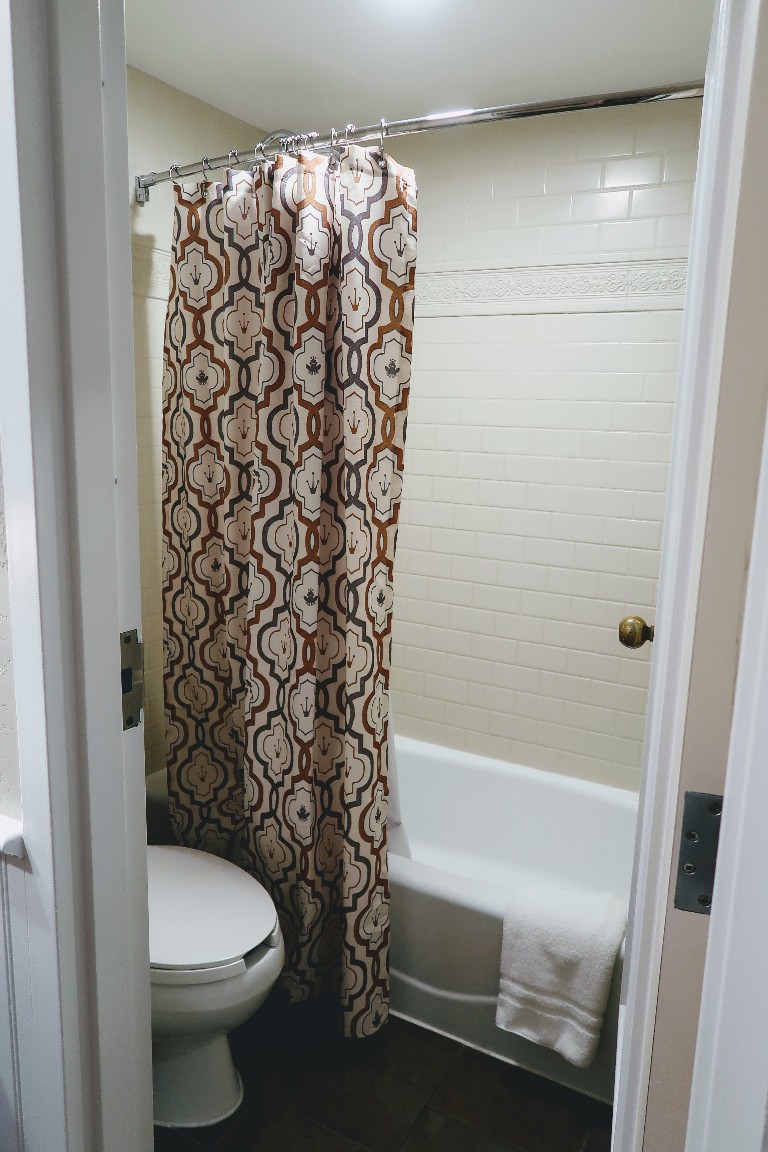 Port Orleans French Quarter rooms have the following great features:
Laminate flooring
Mini fridge
Blackout curtain between bathroom and bedroom area
Bathroom with double sink
Split bathroom
Programmable in-room safe
Built-in nightlight near sinks
Things I Didn't Love About Our Port Orleans French Quarter Room
Overall we had a great stay in our Port Orleans French Quarter Garden View room before moving to Port Orleans Riverside for our split stay. There were only a couple of things that I didn't care for in our room.
One minor inconvenience is the toilets are really loud. In fact, I could tell when people were getting up in the morning because I could hear the surrounding toilets start flushing.
Another thing that I didn't love is the doors and windows face outside toward a walkway. I felt like I couldn't open the curtains in the morning when we were getting ready, because people would be able to easily look in the windows.
We tend to stay out late and sleep in on our Disney trips, so blackout curtains are a big plus in our opinion. I liked that Port Orleans French Quarter had blackout curtains, but since the window is over the air conditioner they let in some light at the bottom.
In Room WiFi
Free WiFi is available for Disney's Port Orleans French Quarter Resort guests at no charge. Disney's free WiFi works well for checking email or social media accounts, but not for things like streaming video.
Parking
Registered guests of Port Orleans French Quarter Resort have complimentary self-parking.
Transportation To Parks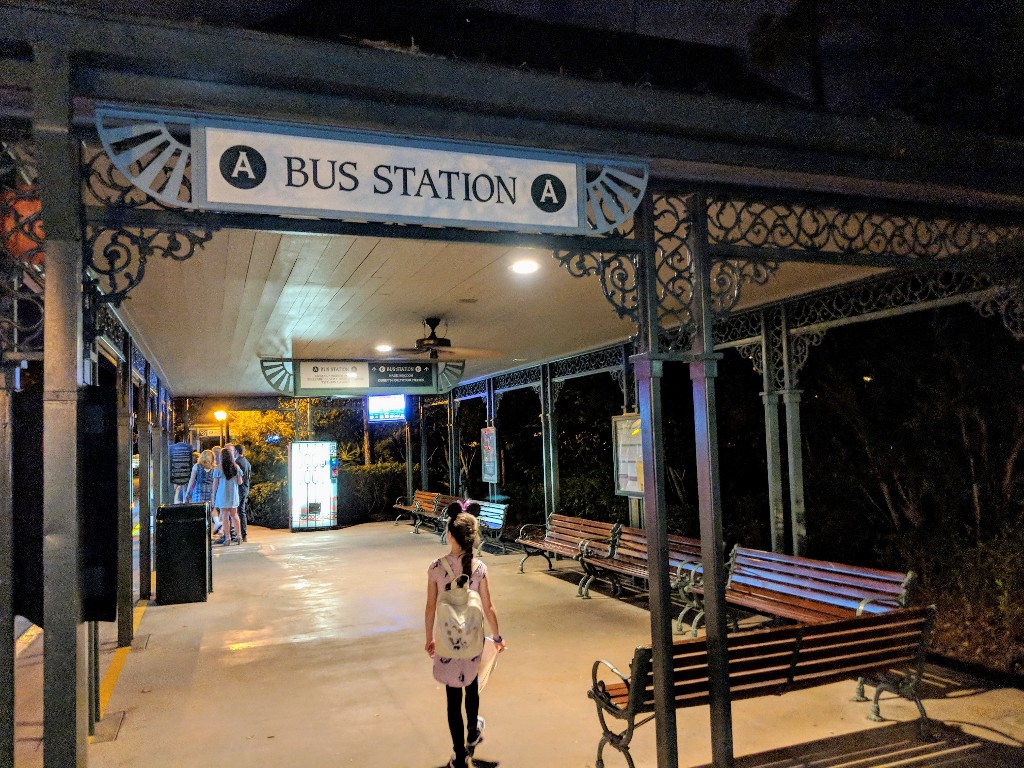 Port Orleans French Quarter To Magic Kingdom, Epcot
,
Hollywood Studios, Animal Kingdom, Typhoon Lagoon, or Blizzard Beach
Transportation from Port Orleans French Quarter to most of Disney World is via the Disney World bus system. Although bus is my least favorite transportation option, I was impressed with how regularly the buses ran. Between being able to check estimated bus arrival times from our room (find out more in this article) and some luck we very rarely waited more than a few minutes for a bus to or from our destinations.
There are two bus stops located next to each other at Port Orleans French Quarter. These bus stops split the service to Magic Kingdom, Hollywood Studios, Epcot, Animal Kingdom, and the water parks (via a connecting bus). The bus stops are found just outside the main entrance of the main building.
Port Orleans To Disney Springs
Access to Disney Springs is provided via small boats. The boat dock is located at the back of the property behind Doubloon Lagoon.
There are three boat docks at Disney Springs. The boats from Port Orleans French Quarter dock at the Marketplace Dock.
Each boat that docks at Marketplace Dock will have a flag at the front of the ship to indicate which resort it services. A purple flag indicates the boat is for French Quarter. Sometimes you will see a flag that is both yellow and purple. This means that the boat will stop at both French Quarter and Riverside.
Port Orleans French Quarter to Riverside
Disney's Port Orleans Riverside and French Quarter are sister resorts and share some amenities. A paved path along the river connects the two resorts.
A good way to get an overview of both resorts is to participate in the Beignet Dash fun run that takes place each Sunday. The race route winds around the resorts and uses the connecting path for the start and finish of the race.
If you rather not walk to Riverside from Port Orleans you can opt to take a boat between the resorts.
Overall Impression Of Port Orleans French Quarter
Port Orleans French Quarter is an adorable and relatively compact resort. The colorful buildings with iron railings and street-like walkways instantly made us feel at home. The beignets from Sassagoula Floatworks and Food Factory are so good that we ate them three times in just 24 hours!
We stayed in a French Quarter Garden View room and thought it was a great option. The room location was perfect and the little touches like the split bathroom, blackout curtain between room and sinks, and comfortable beds made our stay enjoyable.
Our room was a little bigger and nicer than the one at Pop Century, but not considerably different in overall quality. I did like the resort amenities at Port Orleans French Quarter better than those at value resorts like Pop Century or Art of Animation.
I think Port Orleans French Quarter feels like a nicer resort without the large price increase of a Disney World Deluxe Resort. If you plan on spending time around the resort then the price increase versus a value resort may be worth it for your family.
More Disney World Planning Resources
Do you need more help planning your Disney World trip? Check out other Disney World tips and tricks in my Disney World Guides.
Pin it for later: