When deciding to take our first Disney cruise I spent a lot of time trying to figure out which stateroom would be best for our family. There are so many options to consider when choosing a stateroom!  After much deliberation of price, my preference of mid-ship location, and hope for a quiet retreat we chose a Deluxe Oceanview Stateroom with Verandah and were in room 8082 (category 5B) on Disney Dream.
Deluxe Oceanview Stateroom
Disney Cruise Line is known for spacious cabins compared to other cruise companies, but I wondered if the room would feel cramped in comparison to a traditional hotel room. Imagine my surprise when I found that our Deluxe Oceanview Stateroom with Verandah offered lots of clever design, storage space and areas to relax.
Closet Space
The entrance hall has two closets on one side and the two doors for the split bathroom on the other.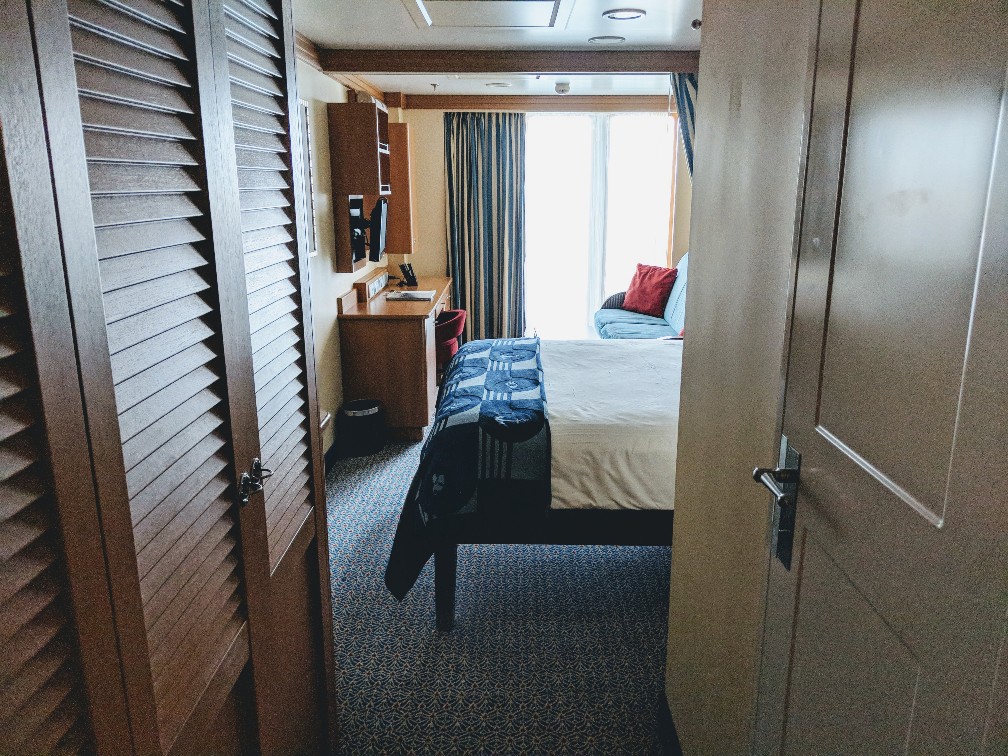 The closets are large and provide lots of hanging space. There are also several shelves inside each closet where we stored most of our items. I have been using packing cubes and this made unpacking easy while still keeping us organized. One closet has a small safe for your valuables.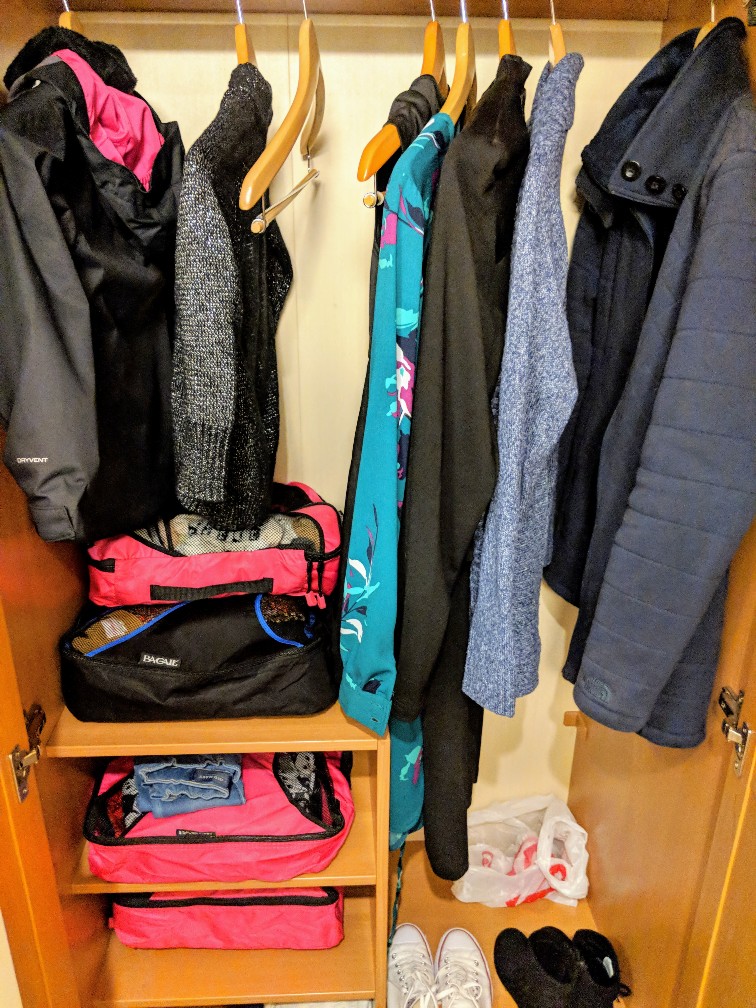 Bathroom
The bathroom is split into two rooms. The first room has the toilet and a sink. This half bathroom has storage underneath the sink area and on the side wall next to the sink.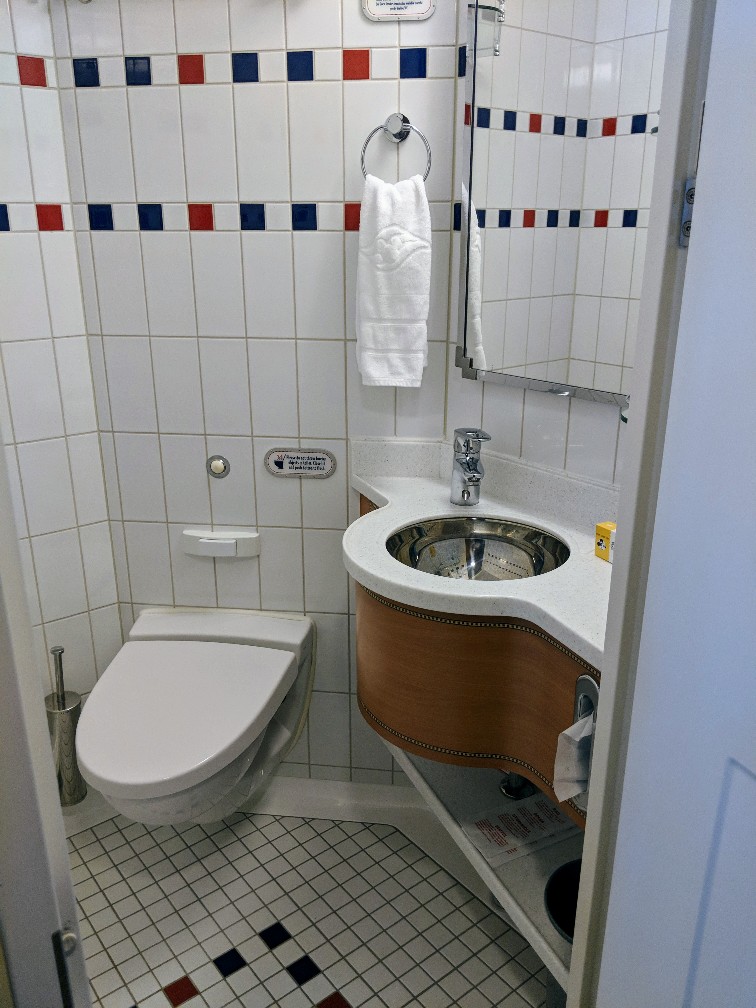 The other room has a shower/tub and a second sink. There are shelves on the wall next to the sink and storage shelves under the sink area. This room had the only electrical outlet (found in the ceiling) that could power items with motors (like an electric shaver).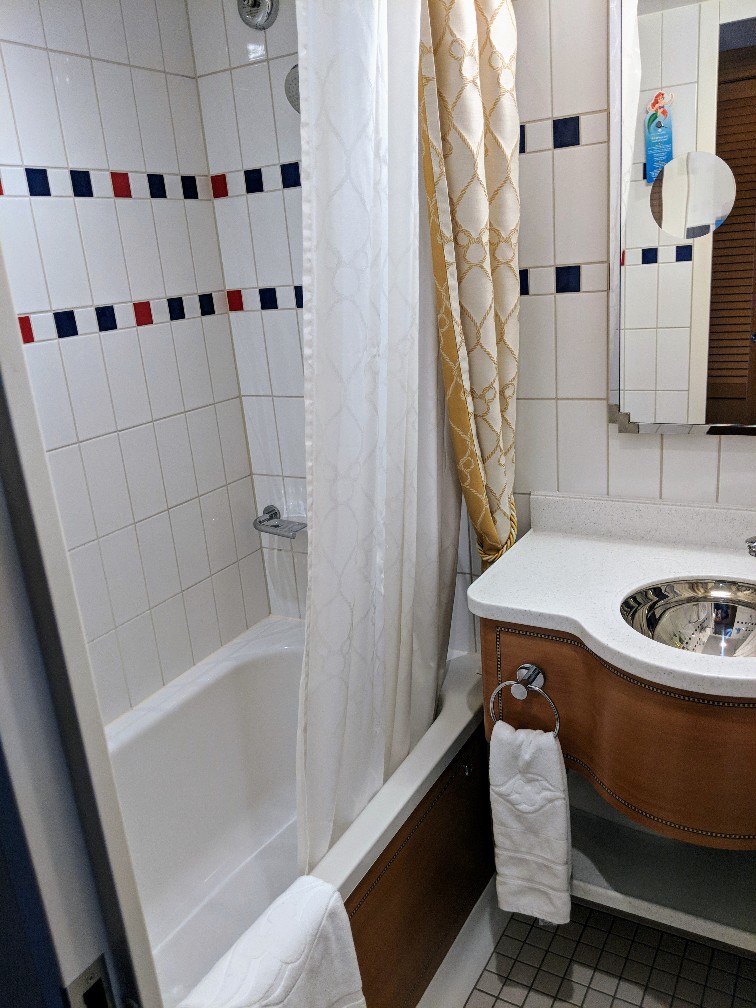 We love the split bathroom set-up. Having two separate rooms meant two people could get ready simultaneously.
Main Area
The main area of the stateroom is quite large and can be considered two different regions. The bedroom area contains a queen sized bed with a built-in nightstand and a light on each side of the bed. There were several cute design touches in our room. My favorite were the lampshades with map designs showing Disney park locations around the world.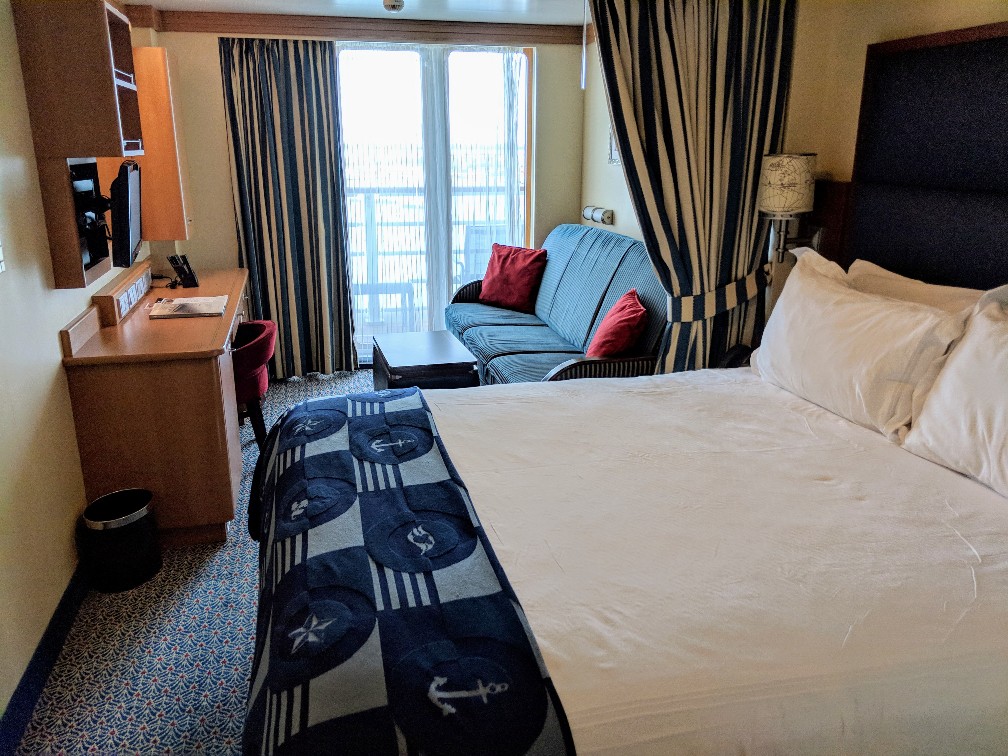 Just past the bed is a living area with a couch (that converts into a bed) and a large desk area. The couch is a super comfortable place to hang out during the day with the large ottoman to rest your feet or use as additional seating. The ottoman also offered even more storage.
At night the room is turned down for bedtime. Your stateroom attendant will transform the couch into a bed with the ottoman for a nightstand.
Please note: our room only accommodated 3 people, but some rooms of this category can sleep 4 with an additional sleeping bunk in the living area.
A full-length curtain can be pulled across the room to separate the bedroom and living area. This was a really nice feature at night, since Elizabeth could go to bed and Mr. Smart Mouse and I could hang out without disturbing her.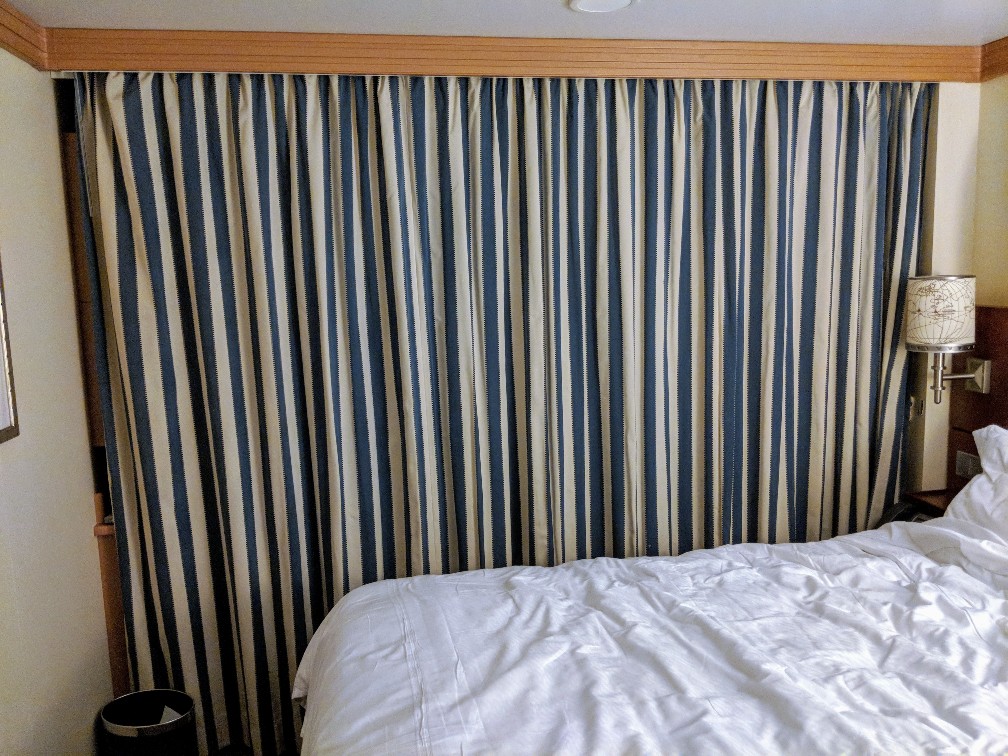 The desk is extremely large, with a mirror and a couple of electrical outlets. One of the outlets is specifically for the hair dryer that is provided with the stateroom. Inside the lower desk area there was a nice sized mini-fridge and several additional storage drawers.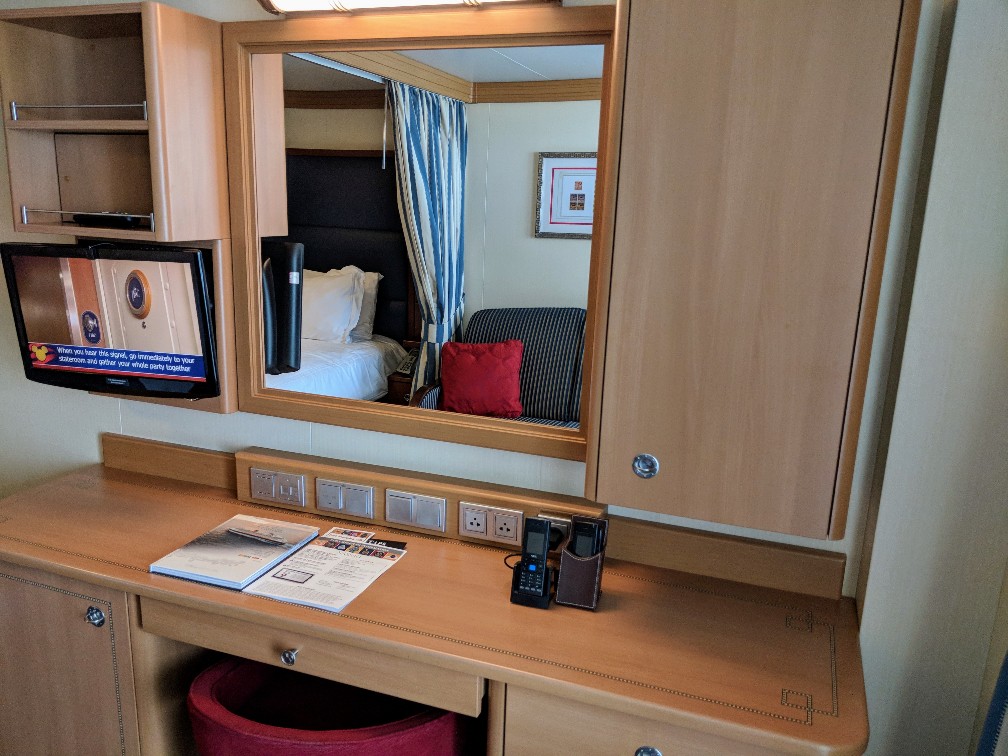 There is a wall-mounted TV with a huge catalog of on-demand Disney movies above the desk. These on-demand movies were a great way to pass what little time we actually spent in our amazing room!
Verandah
Just past the living area, there is a sliding door that leads out to the verandah. Our verandah had two chairs and a small side table. We had the most stunning views of the ocean from our verandah. The additional square footage on the verandah provided another great place to hang out and relax.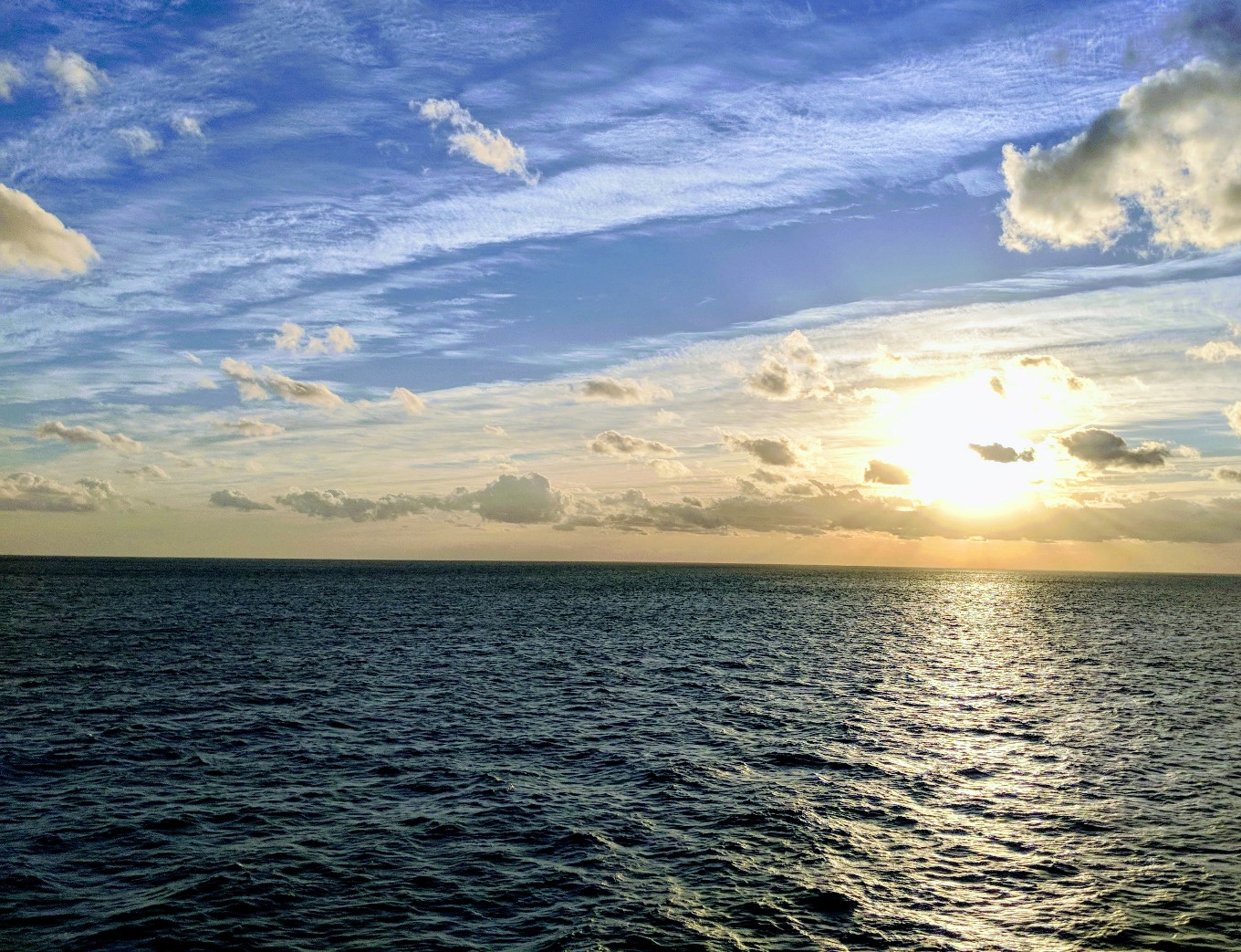 Please note: The sliding door out to the verandah has a lock.
What We Loved About Our Stateroom
Split bathroom
Two large closets
Under bed storage for our suitcases
Tons of clever storage throughout the room
Mini-fridge
Verandah
Built-in nightlight in living area for kids
Privacy curtain
Huge catalog of on-demand Disney movies
Final Thoughts
I felt like our Disney Dream Deluxe Oceanview Stateroom with Verandah was an absolutely perfect room choice. The room, although only 246 square feet (23 m²) including the verandah, never felt cramped. The clever room design, thoughtful touches, and ample storage space made our room feel like a quiet oasis. Want to know more about our Disney Cruise Line experience? Find out more about the ridiculous number of family friendly activities on the Disney Dream or the fourteen things that surprised me on our first Disney cruise.
Pin it for later: