My daughter had to write a book at school about something she is an "expert" at doing. I wasn't surprised she chose to write about how to plan a trip. What did surprise me is how much of an expert she actually is at planning trips! I didn't help her write this since it was an in-school assignment, and only saw the final copy. Here is a copy of Elizabeth's "book" with my notes in italics.
How To Plan A Trip
Research Destinations
Elizabeth says: Researching destinations can be a lot of work. You can stay up late, get up early, and drink an extra cup of coffee. Even though it is tough and causes tiny phases full of stress it pays off for when you need to to decide where to go. The headaches are the down part. The ups are you know what to do there, what trip is good for you, and you also know random facts. You should research attractions, national parks, beaches, and famous sights. Add places that are interesting to your list of destinations.
My notes: I do spend an awful lot of time looking at potential destinations, but I don't find that particularly stressful. Except the part where I have to pick one destination… I always have more trips planned than we can actually take!
Pick A Destination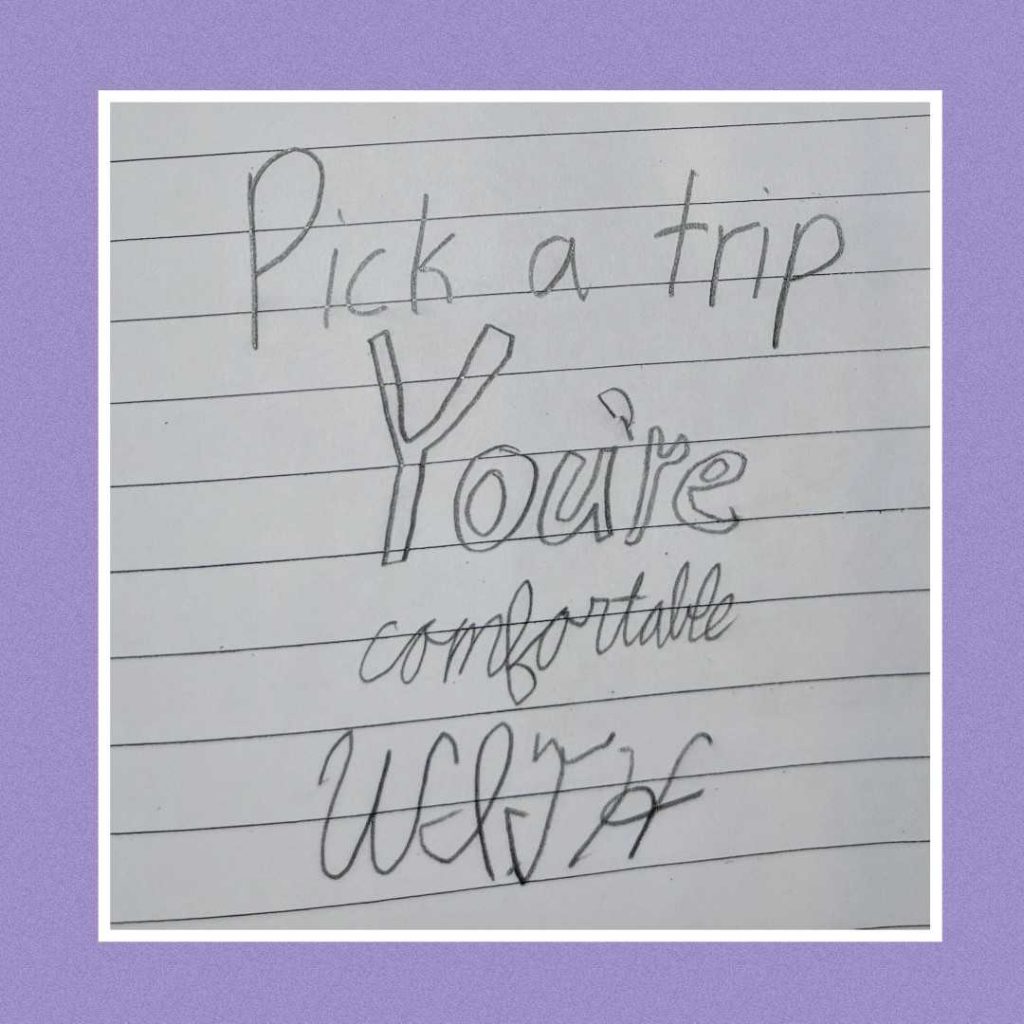 Elizabeth says: Picking a destination can be a process. Take your list of good trips and pros and cons. Weigh the pros and cons until all destinations are weighed. If you like relaxing trips you should pick the Bahamas, a cruise, the beach, or sunny spots. Someone who likes to go-go-go can pick cities, national parks, theme parks, and famous sights.
If you have a pet that needs attention you should plan a short trip or get a petsitter. If you have a busy job, you should use sick and personal days to escape boring meetings.
My notes: I agree with most of this, but perhaps using paid time off instead of sick days is a better idea for long-term career health!
If you are looking for destination inspiration here are links to some of our favorite vacations:
Make An Itinerary
Elizabeth says: Once you have picked your destination it is time to control what you do there. To make your itinerary get your electronic (device) and the app with all the information about your destination.
Check flights for your destination. Check the times you need to get there and come back. Next, it is time to plan around your flights.
Look up fun things to at your destination and on a separate electronic (device) pull up the calendar app. Then, get your list of things to do (at your destination) and put them by the time you want to do them into your calendar until they're gone. Poof! Now you have your itinerary.
My notes: I always make a list of possible activities at our chosen destination. Then I make a rough itinerary and have alternate activity ideas in case the weather is bad, we finish something early, or change our mind about doing something while we are on vacation. On the day of our flights we try to do at least one activity. This way travel days aren't completely wasted, but they are generally short or non-strenuous activities.
Pack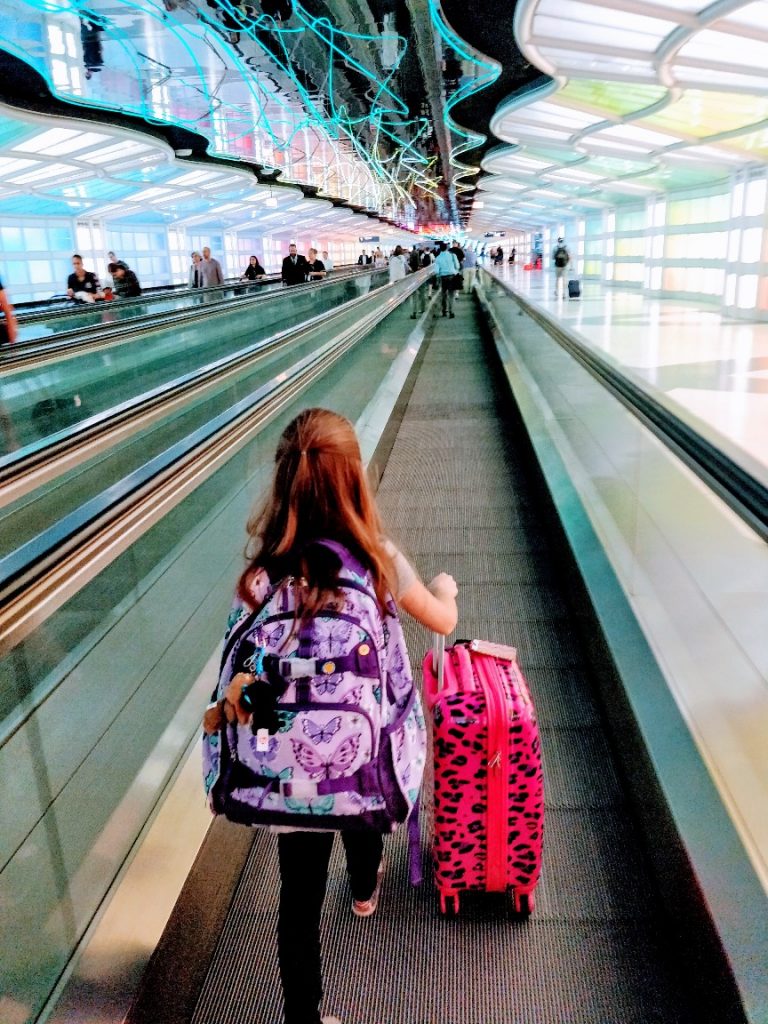 Elizabeth's Packing List:
lotion

shampoo, conditioner, body wash

underpants (gross, but useful)

pajamas

outfits (always bring an extra)

socks (also bring extras)

things to entertain you on your flight

calendar

any tickets

boarding pass

wallet

ID

hair supplies

anti-bacterial wipes
Elizabeth says: If you don't have a suitcase you need to go get one and stat. As you pack each thing you need to check it off (the list). You need to pack your bags neatly, too.
My notes: Before this book came home from school Elizabeth always claimed she didn't know what to pack (which was clearly not true). Looks like she will be doing more of her own packing going forward!
I have some other packing articles for traveling light or packing for Disney World that can help you with this least fun step of travel. Packing cubes are also now a staple for us. I highly recommend packing cubes to keep your bags and hotel room organized.
Why You Should Plan A Trip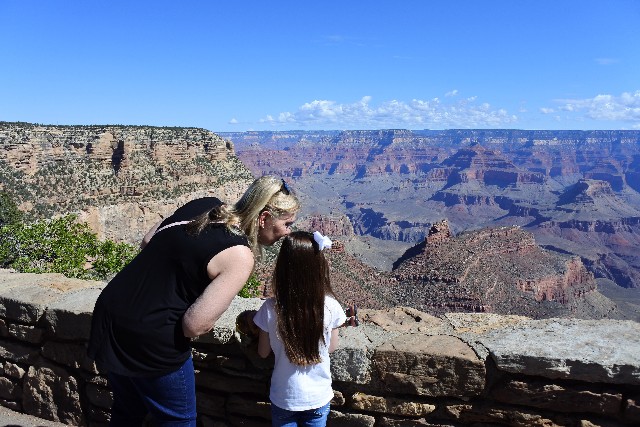 Elizabeth says: Different trips are all good in their own way no matter which one you choose. Each one brings you joy, curiosity, and closer to family and friends. All of them are the same in one way: you'll love it!
That is why I want to help you plan them. So you can share memories with family, friends, and loved ones near and far. Trips give you joyous, happy memories.
My notes: I totally agree with this! Trips of all different types can be a source of great memories for you, family, and friends. All you need for a successful trip is a little planning, some flexibility, and a good attitude.
Final Thoughts
Elizabeth and I agree that planning a family vacation only takes a few important steps: researching a destination, picking a destination, planning an itinerary, packing, and then enjoying the trip. Family vacations are so much fun and planning them can be a family affair. Having the kids help choose activities for vacation makes them more likely to be excited about the trip ahead.
I often get asked why we travel as a family and I think Elizabeth's positive words, "Trips give you joyous, happy memories" sums it up. I hope this advice from my 9-year-old encourages you to plan a family trip and make special memories with your own family and friends!
 Pin it for later: