I never dreamed I would go on a cruise. I like to go-go-go on vacation and thought I would be bored on a cruise ship. The good news is I can admit when I am wrong! In fact, our Disney Dream cruise provided us more activities than I ever imagined. There are so many Disney Dream family activities it is impossible to do them all (if you plan on sleeping). I will try to list all of the options that were available on our cruise and give you specific tips for the ones we did.
Disney Dream Family Activities We Did
Sail Away Party
The Sail Away Party is one of the very first events on your Disney cruise. In front of the Funnel Vision screen on the pool deck Mickey and friends put on a welcome show as you leave the port. This show got everyone excited about the trip ahead!
Pirates League
Starting in the afternoon on Pirate Night the Bibbidi Bobbidi Boutique is transformed into the Pirates League. This allows your budding pirate to be transformed into a true scalawag. The Pirate League is for girls and boys ages 3 years and older.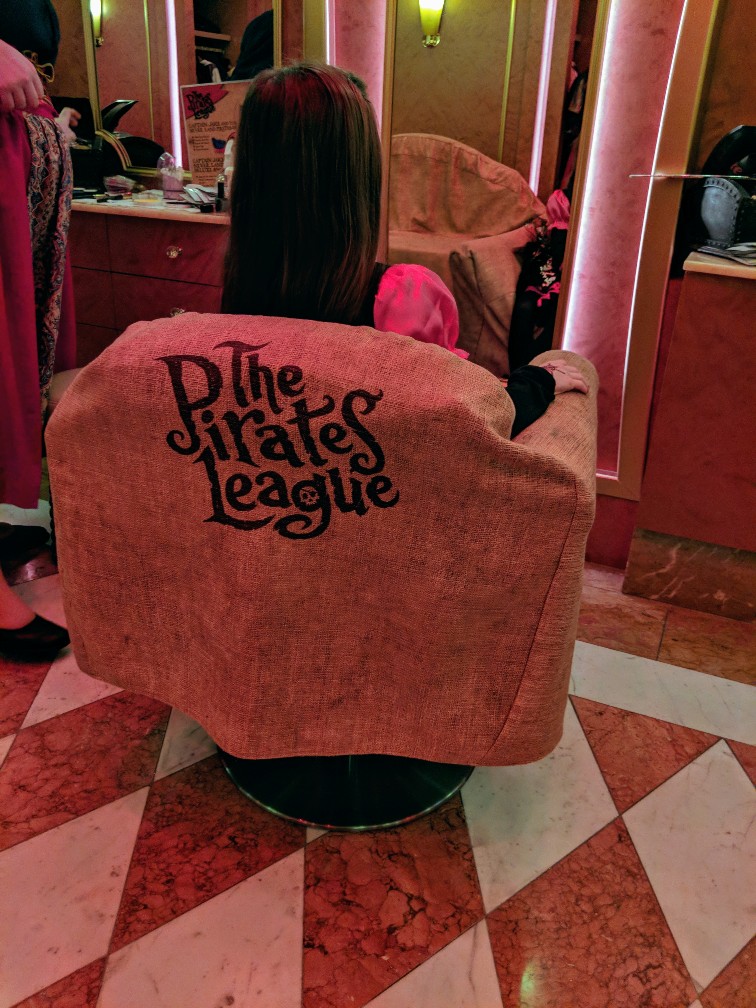 The boys can choose from 3 different make up options with varying guy-liner and facial hair. Girls have one pirate princess option.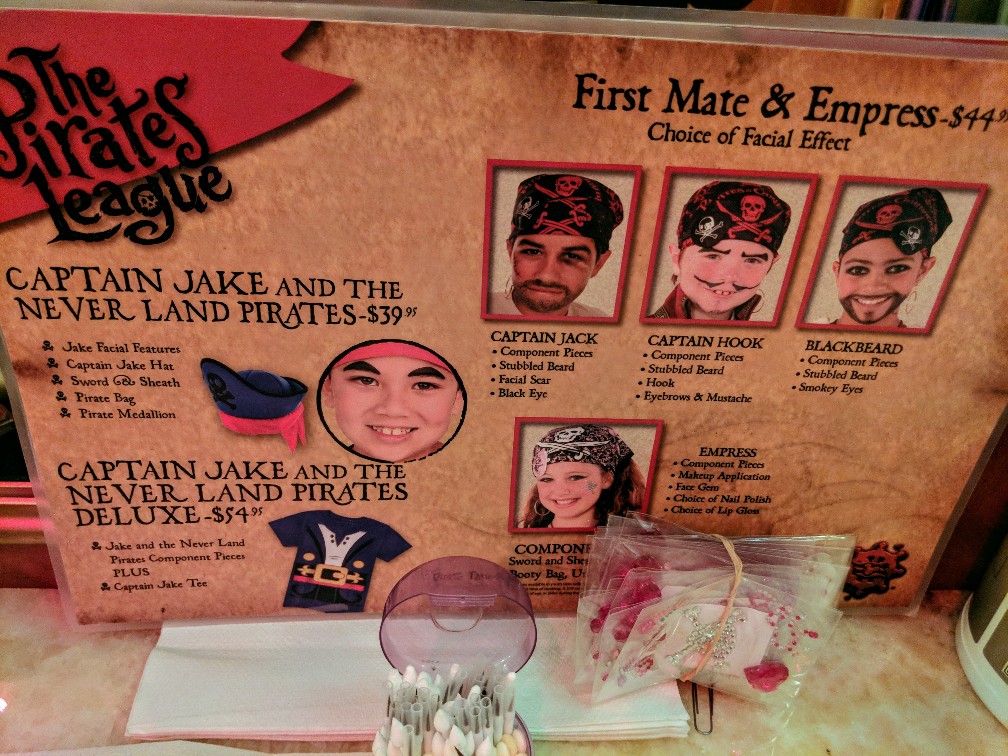 Some packages are makeup and accessories only; others add a costume for an additional charge. We already had a super cute pirate costume for Elizabeth, so she opted for just makeup and accessories.
This pirate makeover was one of Elizabeth's favorite things about the whole cruise!
Pirate Night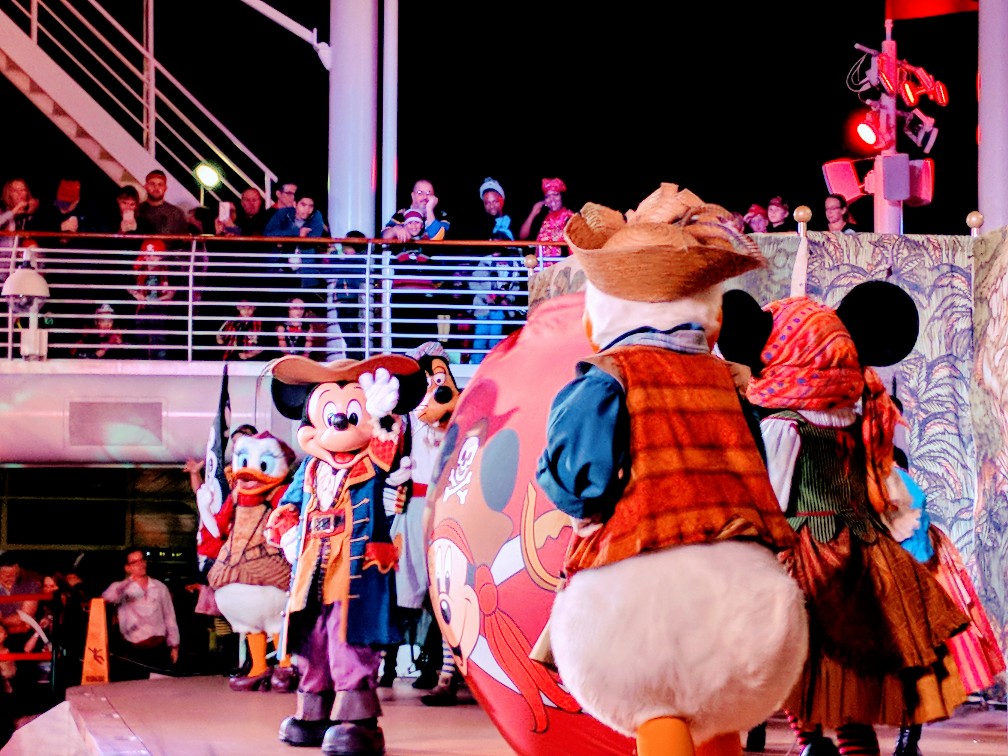 Pirate night occurs one night during cruises in the Caribbean (get it… Pirates in the Caribbean?!). Pirate Night is an event people really get into.
Costumes – 

Adults and kids are allowed to dress up in their best pirate attire, and we saw several large families decked out. Each person in your stateroom will receive a Mickey pirate bandana for optional use for the night's activities.

Shows – 

There are two different pirate stage shows on Pirate night.

The first show features Mickey training his new crew (you) in pirate etiquette. Captain Hook and Smee try to take control of the ship, but Mickey prevails.

The second show features Captain Jack Sparrow and his high jinks.

Buccaneer Blast Fireworks – 

Fireworks are set off over the ocean in this event that takes place after the second pirate show. We were too tired to attend the 10:30 pm fireworks, but after hearing how great they were the next day I immediately regretted missing it. Goals for next time!
Kids Club Open House
I thought the kids clubs were for the kids only throughout the cruise. However, there are various times that the Oceaneer Club is available for family open house. This allows you to enter the kids club and enjoy the activities with them.
We were able to watch Elizabeth participate in Jedi Training: Experience the Force. This cool interactive show has an enthusiastic Jedi wannabe who meets a real Jedi. I won't ruin the show with all the details, but expect the kids to move some items around and Storm Troopers to arrive during the show. It was a lot fun to watch (since we grownups were not allowed to participate).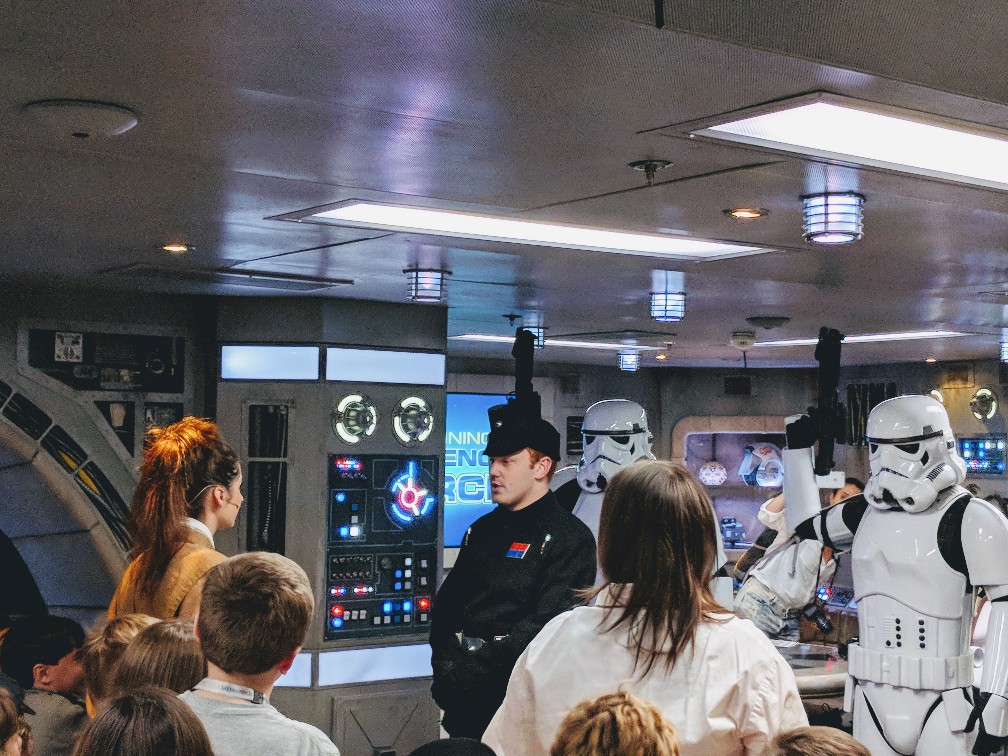 During the Oceaneer Club open house we also got to play Disney Infinity on Xbox in one area, do crafts in Pixie Hollow, and check out our favorite toys from Toy Story in Andy's room. If you have younger kids, It's A Small World Nursery is a nursery/kids club for guests age 6 months to under 3 years old. Read more about it and get other great advice for taking a baby on a Disney cruise at Tear Free Travel. 
Character Meet and Greets
There are characters all around your cruise ship. You can find when and where each character will meet in the daily paper Navigator or on the Navigator App. Many of the characters had costume changes each day. I think I need Minnie's stylist.
Most of the character meet and greets operate like they do in the parks. You line up for the character, and a cast member closes the line when it reaches its maximum length.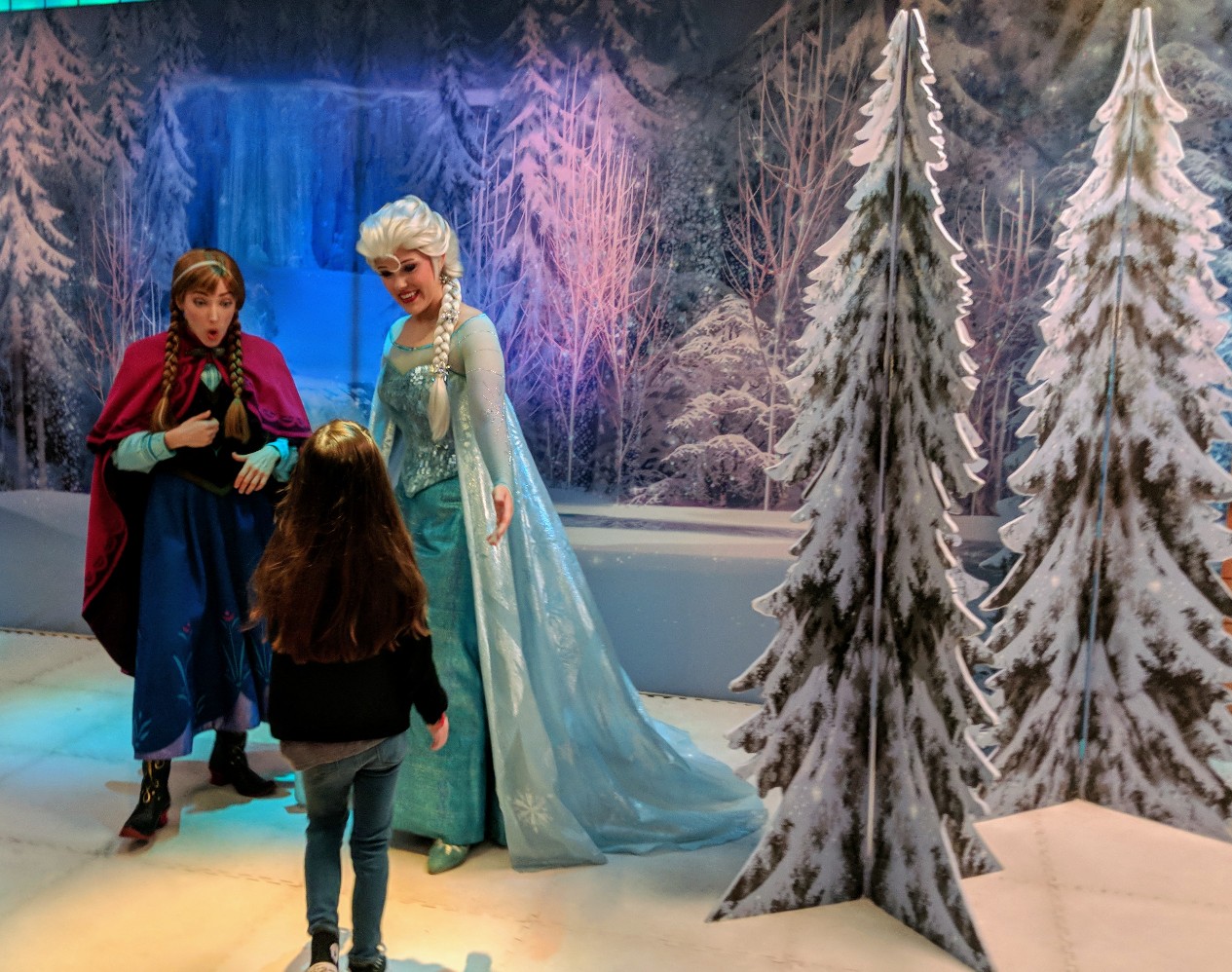 There are some character meet and greet options that you book ahead of time. This scheduling of tickets for character meetings occurs online when you register for excursions and online check in. Tickets are free, but limited, so I recommend you obtain them right when the check in window opens. The two ticketed options on our cruise were Princess Gathering and Frozen Gathering. The Princess Gathering ticket allowed us to meet Rapunzel, Tiana, Belle, and Cinderella in about 15 minutes. The Frozen Gathering ticket allowed us to meet Elsa and Anna in front of a winter scene, but this line took a little longer.
Midship Detective Agency
The Midship Detective Agency is run by Mickey, Donald, and Goofy, but they need your help to solve a case. You can choose from 3 different cases with varying difficulty.
Once you register your badge (which has a QR code on the back) you use a map to find the special interactive paintings around the ship. Each painting will have a different video or sometimes a task you need to complete with your badge. Once you have gathered enough clues you execute a search warrant based on your guess of the villain responsible for the crime. You watch as the villain's room is searched, and then if you are right the case is solved. If you guess wrong you can guess again!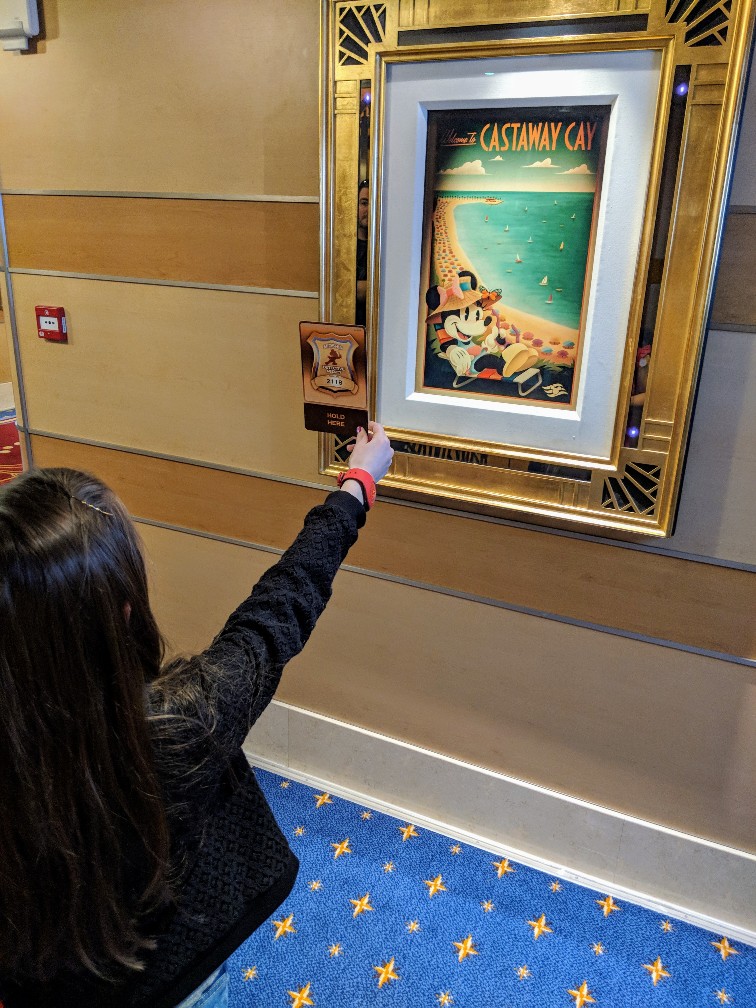 It took us about 45 minutes to complete a case, and we thought the game was really fun.
First Run Movies
Each of the Disney Cruise Line boats has a movie theater on board. This theater shows current releases at no additional charge. While we were on the Disney Dream in January 2018 the movie options were Coco, Thor: Ragnarok, and Star Wars: The Last Jedi.
We walked in right before Thor: Ragnarok began and were able to still find great seats. My favorite part – there was only one trailer before the movie started!
Live Broadway-Style Shows
Each Disney ship has its own live shows that are performed nightly at no additional charge. Generally there are two times for a show each night. Having two showtimes allows people with main or second dining to see a performance.
On the Disney Dream is the new Beauty and the Beast musical. This show uses creative set pieces, live actors, and technology to retell the story from the 2017 live action movie. I was extremely impressed with the performances and so glad we saw this recently unveiled show while on our cruise.
Live Music
There is live music in the lobby atrium most evenings. We saw an extraordinary violinist play one night and a cello-playing singer with a pianist on two of our nights. It was great fun to see people of all ages hanging around the atrium relaxing and enjoying the music.
Goofy Golf
This 9-hole miniature golf course is found on Deck 13 aft on the Disney Dream. You just find the first hole, help yourself to a club and ball then play as many rounds of miniature golf as you please. Not surprisingly, Goofy Golf holes were pretty silly and increased in difficulty as you went along the course. This was a great way to fill in what little free time we had one night before dinner.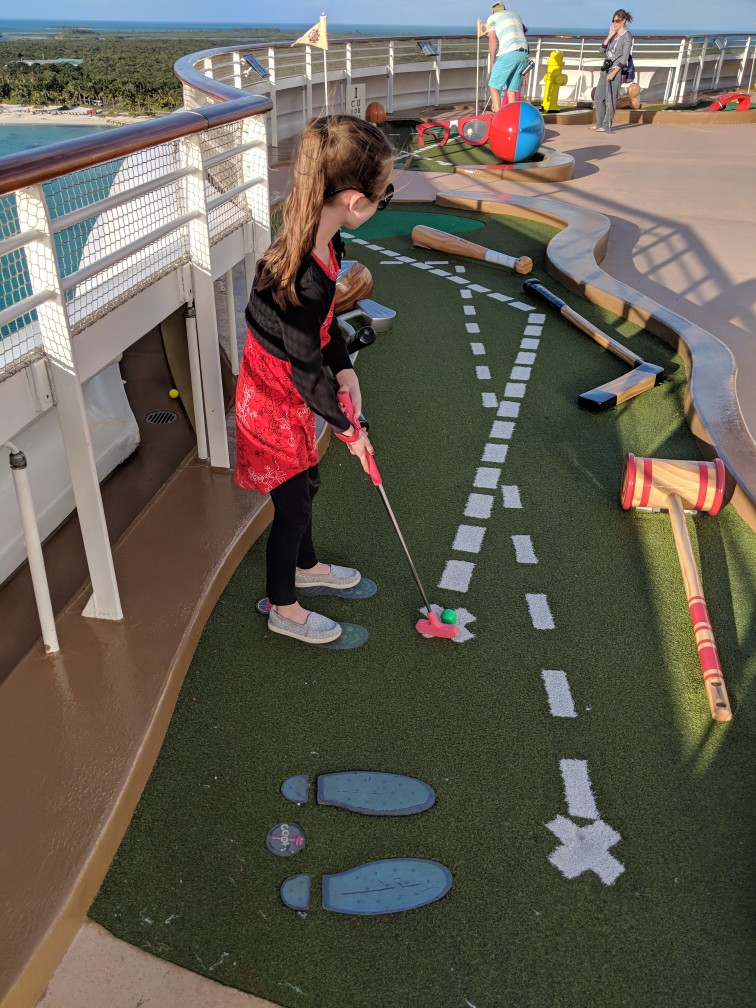 Disney Dream Family Activities We Did Not Have Time To Do
Bibbidi Bobbidi Boutique
Your little princess can get the royal treatment at the on ship Bibbidi Bobbidi Boutique.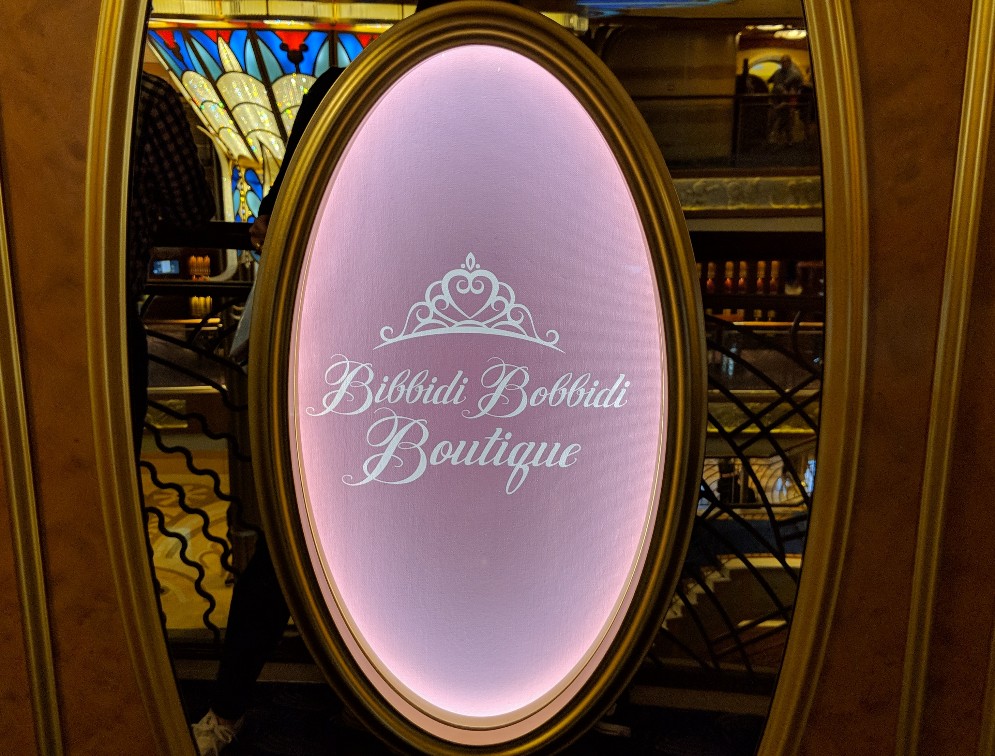 Again there are several packages available some with hair and makeup or others that also include a costume.
Please note: When Elizabeth had makeovers at Bibbidi Bobbidi Boutique in the Disney Parks we always brought our own costume from home.
AquaDuck
This huge water slide, sometimes called a water coaster, winds its way around the Disney Dream and her sister ship Disney Fantasy. Despite the weather on our cruise hovering around 70°F (21°C), there was almost always a line for this fun ride. You must be 42 inches (107 cm) tall to ride.
Swimming/Splash Pads
On the Disney Dream there are many ways to play in the water. You have your choice of Donald's Pool, Mickey's Pool, Funnel Puddle, Nemo's Reef, and Mickey's Slide (in addition to the AquaDuck). I was a little surprised that the pools were on the small side, but having two made this better. There were tons of deck chairs both around the family pools and on the upper deck where you could hang out and enjoy some sun.
Pro tip: Our Disney cruise fan friends also suggest that you wear or pack your swimsuits when boarding the ship. This lets you get right to the pool even if your room isn't ready or luggage has not arrived.
Family Crafts
Several family crafting activities were offered while on our cruise, including make-your-own door hangers. It was on my list, but we didn't end up having a chance to make it. I did see other people's finished products, and they were pretty cute.
Funnel Vision
One of the funnels of the Disney Dream has a huge screen that is used during deck parties like the Sail Away Party and Pirate Night to show what is occurring on-stage. When it is not being used for these events it plays older Disney movies. This allows you to watch some of your favorites while hanging out in the pool area.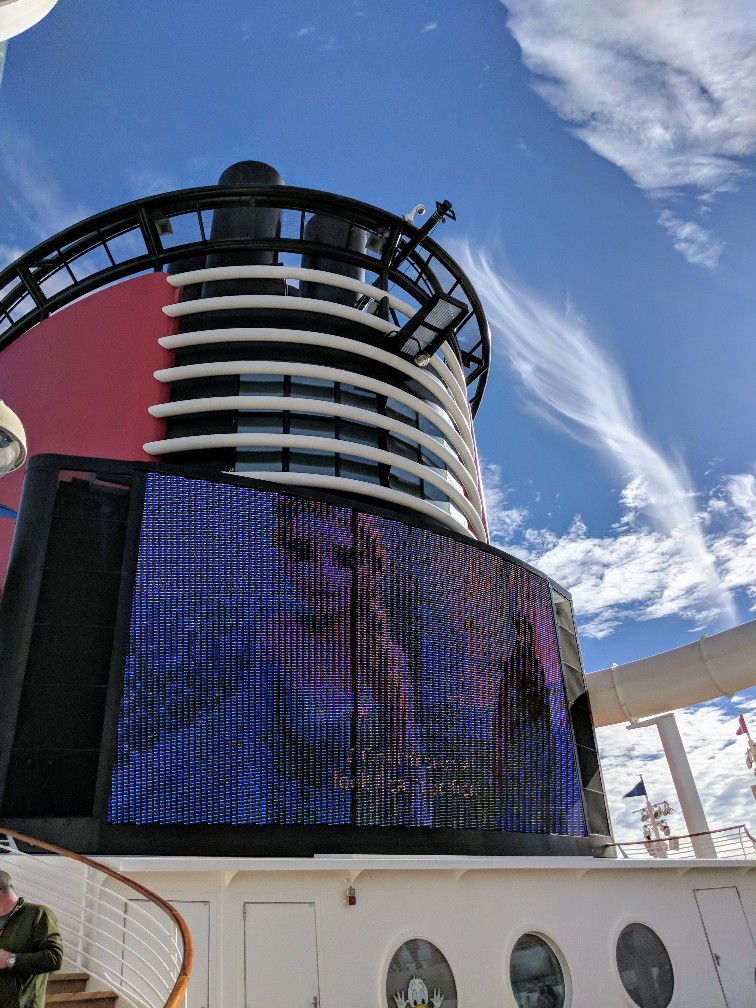 Castaway Cay 5K (ages 10 years and older)
This 5K occurs the morning you dock at Castaway Cay. The course takes you around Disney's private island and gives you a great overview of the property (in addition to some good exercise). You are awarded a Castaway Cay 5K finisher's "medal" for completing the event, which although plastic is still pretty awesome. I totally regretted not packing my exercise gear.
You must sign up to participate once you are on board, not online.
Family Dance and Karaoke Parties
Certain lounges are family friendly on the ship. At different times during your cruise there are opportunities to attend a family dance party or go sing karaoke.
Family Game and Trivia Shows
These lounges also host trivia and game shows. For example, during our cruise there was a family Disney Trivia game as well as the So You Think You Know Your Family? game.
Sports Simulators
Found indoor near Goofy Golf are two sport simulator games. You can choose from golf, baseball, basketball, foootball, hockey, or soccer.
Please note: These simulators on Goofy's Sports Deck are one of the rare extra cost items. Reservations are also recommended.
Final Thoughts
As crazily long as this list is, I know I will have forgotten some family friendly activity on our Disney cruise. There are also tween-, teen-, and adult-only activities that I didn't even include here. That goes to show how many amazing things there are to do on your Disney cruise. Some of these options are specific to our ship, the Disney Dream, but each of the 4 Disney Cruise Line ships have special offerings that are similar. 
Have I, a former cruise skeptic, convinced you to try a Disney cruise yet? Make sure you check this comprehensive guide from VeraVise Travel to learn more about planning a Disney Cruise. If not, what is holding you back? I really do have to admit that I was wrong. We had so much to do and had so much fun on our Disney cruise we have already talked about doing another one. 
Are you curious what a Disney Cruise Line stateroom really looks like? Find our complete stateroom review here. Want to know where we stayed the night before our cruise? Read my full review of Art of Animation family suites.
Pin it for later: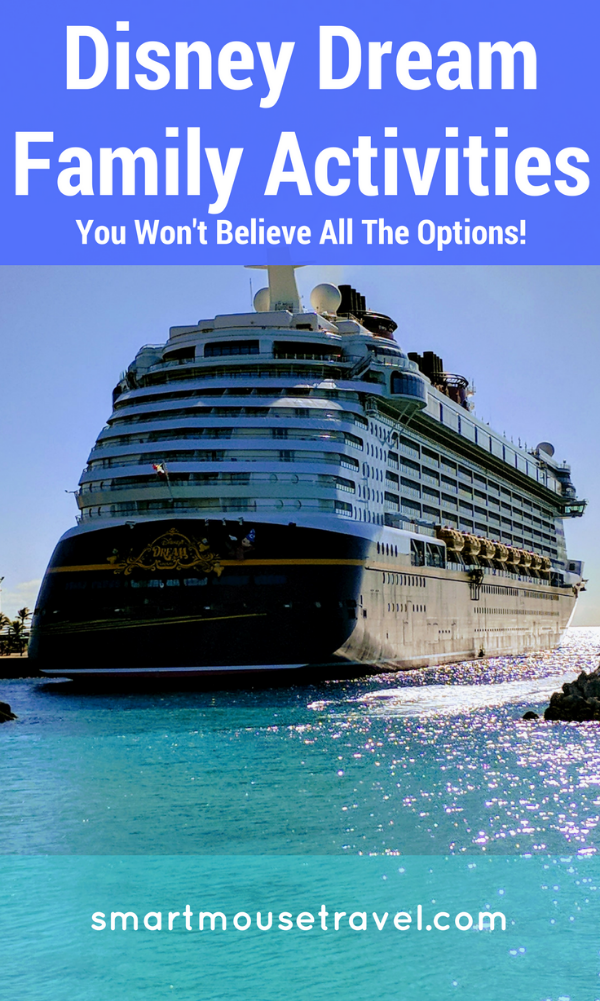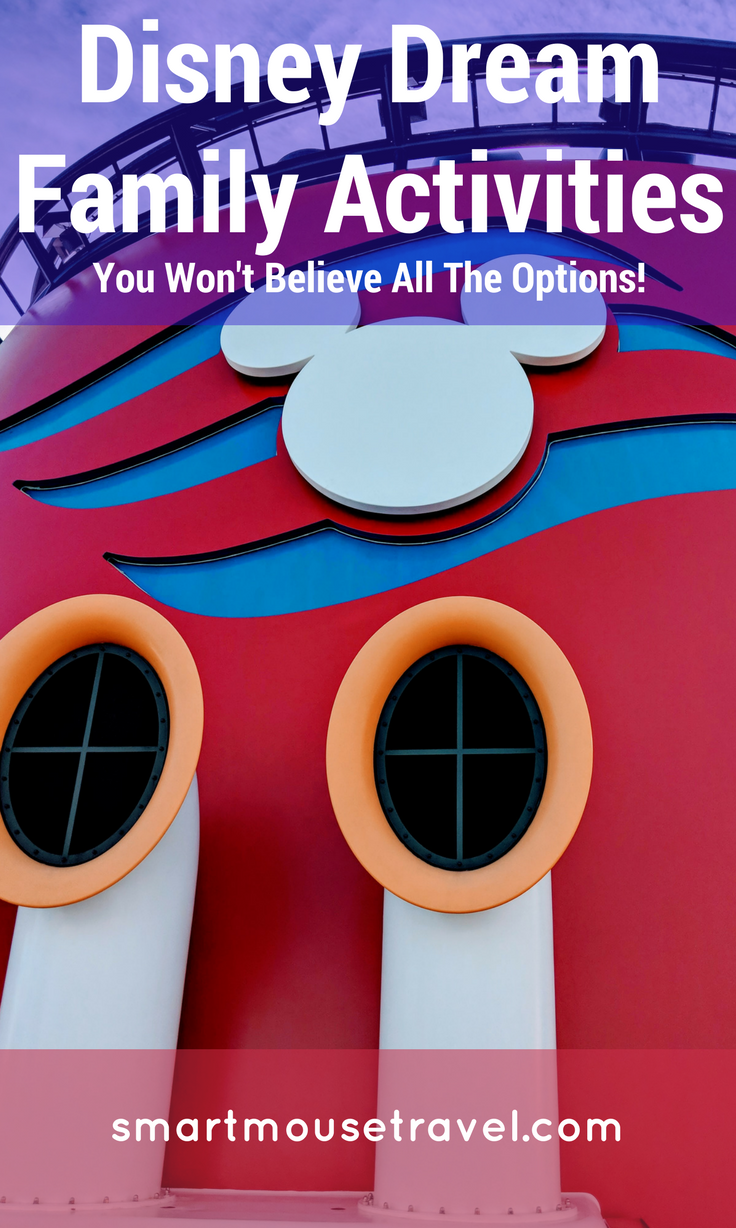 This article was featured in: