Travelling with a food allergy can be challenging and even scary for those with severe reactions. Disney Parks are amazing at dealing with food allergies, which is one of the reasons we love to visit them. I hoped this attention to detail with food allergies would be present on our first Disney cruise, but I was unsure how the process would work on the ship. Our Disney Cruise food allergy experience was excellent and yours can be too (if you know what to do).
Before Your Cruise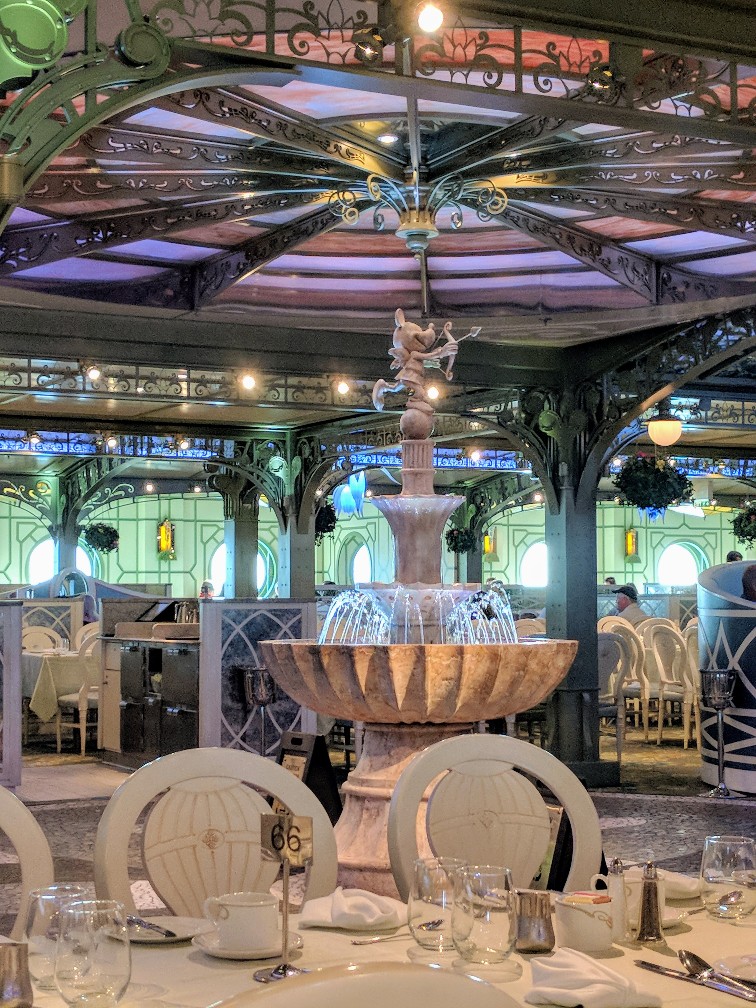 Let Disney Cruise Line Know About The Food Allergy
Notify the Disney Cruise Line representative or your travel agent of your food allergy when booking your cruise. These notes are added into your Disney cruise reservation.
Does your child have a food allergy? Your travel agent or Disney Cruise Line representative needs to make a special note in your child's Oceaneer Club file. Snacks and meals are served in the kids' clubs, and the staff need to be aware of the food allergy.
Do you or your child have a severe or life-threatening food allergy? Call the Disney Cruise Line Special Services Team at +1 (407) 556 3602 as early as possible to notify them.
Please note: Disney says the following on their website "We strive to use reasonable efforts in our food sourcing, preparation and handling procedures to avoid the introduction of the named allergens into your menu choices. While we take steps to prevent cross-contact, we do not have separate allergy-friendly kitchens and are unable to guarantee that a menu item is completely free of allergens."
Pack Some Allergy Safe Foods
I always make sure I have a handful of items that are safe for Elizabeth. Disney does an amazing job of dealing with food allergies, but sometimes it is nice to have something known to be safe on-hand.
Once You Arrive For Your Cruise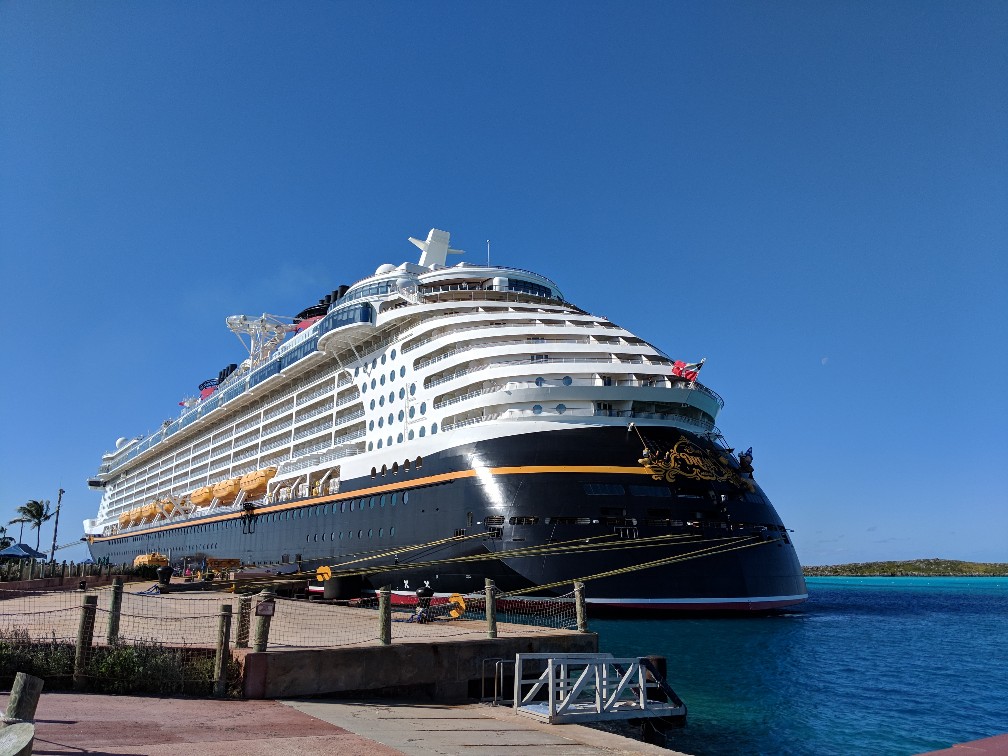 Embarkation Day
On embarkation day your lunch option is generally a buffet (on Disney Dream our lunch was found at Cabana's). When we arrived at the buffet I immediately asked a staff member how to find allergy safe food, and a manager came to consult with us. He asked clarifying questions about the food allergy and what foods she liked on the buffet. Unfortunately, we had not surveyed the buffet! However, another child with a corn allergy had come in to dine just before us. The staff knew the roast turkey, mashed potatoes and steamed veggies were safe (and that meal sounded good to Elizabeth, too). To avoid cross contamination in the buffet line the allergy meal is prepared in the back and brought to your table.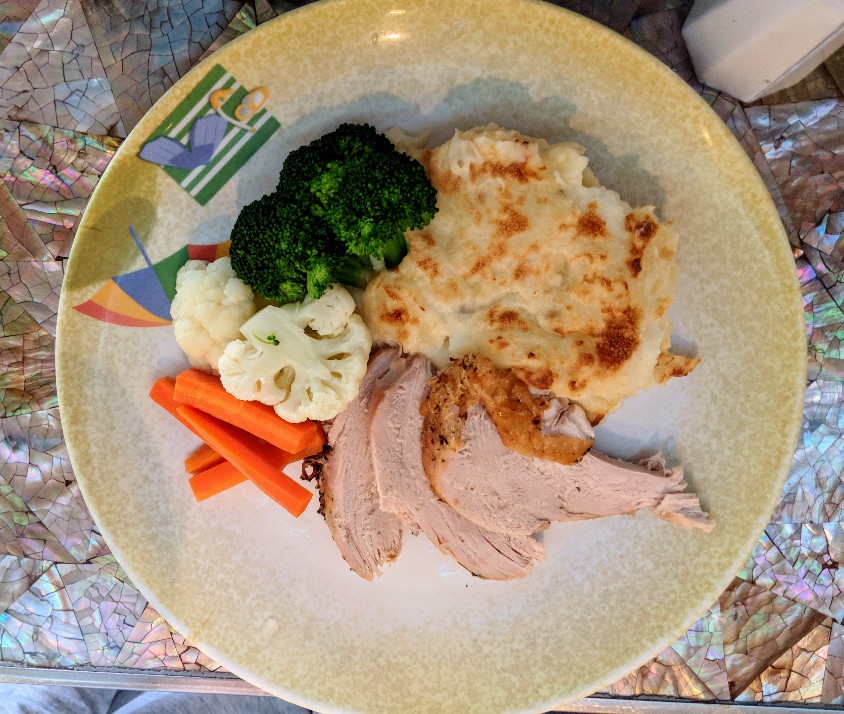 Your First Dinner
Dinner is served in a traditional restaurant style setting. At your first dinner you will meet your service staff (you will have a head server, main server, and an assistant server). These same staff members are with you each night even as you rotate through the different Disney cruise restaurants. This is especially nice with food allergies, since you don't have to explain the food allergy to a different person at each dinner.
Our server was already aware of Elizabeth's food allergy when we sat down for dinner that night, but I suggest confirming with the server. Elizabeth looked over the dinner menu and found a meal she liked. Our server checked with the chef and the meal was safe as listed. The dessert options for kids were not okay for Elizabeth's food allergy, so each night the chef surprised her with a different dessert he cobbled together from available ingredients.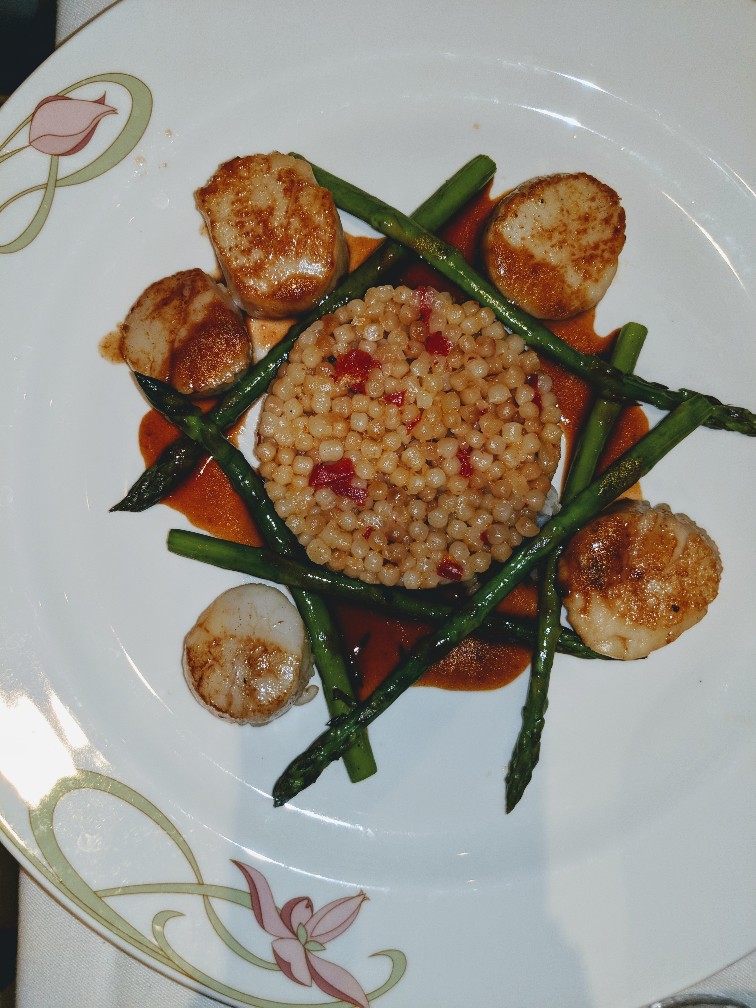 Pre-Ordering The Next Day's Meals
At the end of the first night's meal our server took Elizabeth's dinner order for the following night. This is standard procedure for most food allergies on Disney cruises. Since Elizabeth's allergy is not as common, the server also took a breakfast and lunch order for the next day (in addition to her dinner order) at the end of dinner.
If you have an less common allergen and you have a pre-order for breakfast and lunch you will follow this procedure:
Place your order for breakfast, lunch, and dinner with your server the night before

Your server will write up a special allergy order ticket

The order will be sent to a specific restaurant for the next day (make sure you remember where you are supposed to go)

Check in at the specified restaurant, and let the staff know there is an allergy ticket for your party

The staff will consult the ticket and prepare and bring your allergy friendly meal
Please note: The menu on each Disney Cruise Line ship varies and changes often. The images I shared are meant to be representative of the quality of food our daughter received.
Eating Snacks On The Ship
Disney Dream had several free treat stations (for example a self-serve ice cream station). We avoided eating at these places because there were generally no staff to ask about ingredients.
Elizabeth really wanted a cupcake from Vanellope's Sweets and Treats (a specialty sweet shop where you pay extra for items). We asked the staff about ingredients for the cupcakes, but they did not have an ingredient binder. Instead they called a chef who researched the information and was able to help us find something delicious and safe.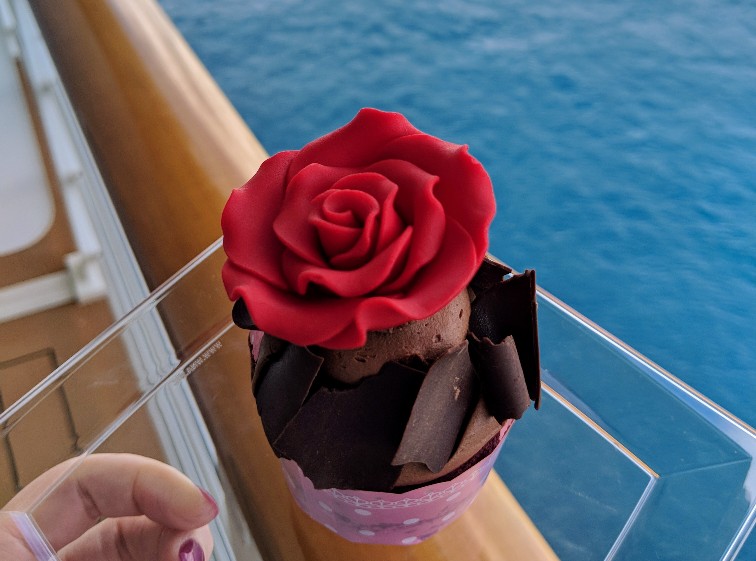 Final Thoughts
Our Disney cruise food allergy experience was very good. Although it sometimes took a little longer than the normal buffet for Elizabeth's breakfasts and lunches, it was well worth it to know that she could eat without fear. The allergy meals were delicious and beautifully prepared. Disney Cruise Line continues our great experiences with food allergies at Disney.
Now that you know how to manage food allergies on a Disney cruise how about finding out more about things that surprised me on our first cruise or the long list of family friendly activities on a Disney cruise?
This article is for informational purposes only and is not a substitute for professional medical advice. Always seek the advice of a physician or other qualified health provider for managing food allergies and other medical conditions.
Pin it for later: