Character meals are a great way to do two of my favorite things: eat and meet characters! On our travel day home from Disney World we like to have a character breakfast as a fun end to our trip. Chip 'N' Dale's Harvest Feast is a popular character meal choice. We wanted to know how a Garden Grill character meal compared to other Disney World character meal options.
Location
Garden Grill is found at Epcot in The Land Pavilion. Not sure where that is? It is the same building that houses attractions like Soarin' and Living with the Land. The Garden Grill restaurant is found on the upper floor towards the back of the building from where you enter.
Garden Grill Restaurant
Garden Grill is a unique restaurant that offers character meals for breakfast, lunch and dinner daily. What makes it unique? The entire restaurant rotates during your meal! Don't be worried about feeling dizzy while eating. Garden Grill rotates very slowly (one rotation seems to take a little over an hour) so we did not feel like the movement was very noticeable.
The seating at a Garden Grill character meal is broken into two areas. There is a lower section with booths facing out. These booths are really cool when you are overlooking the Living with the Land attraction, but can feel a little awkward when you are looking out at people walking around The Land Pavilion. We were seated on the upper level which did not afford great views of the attraction below, but felt a lot like a traditional restaurant.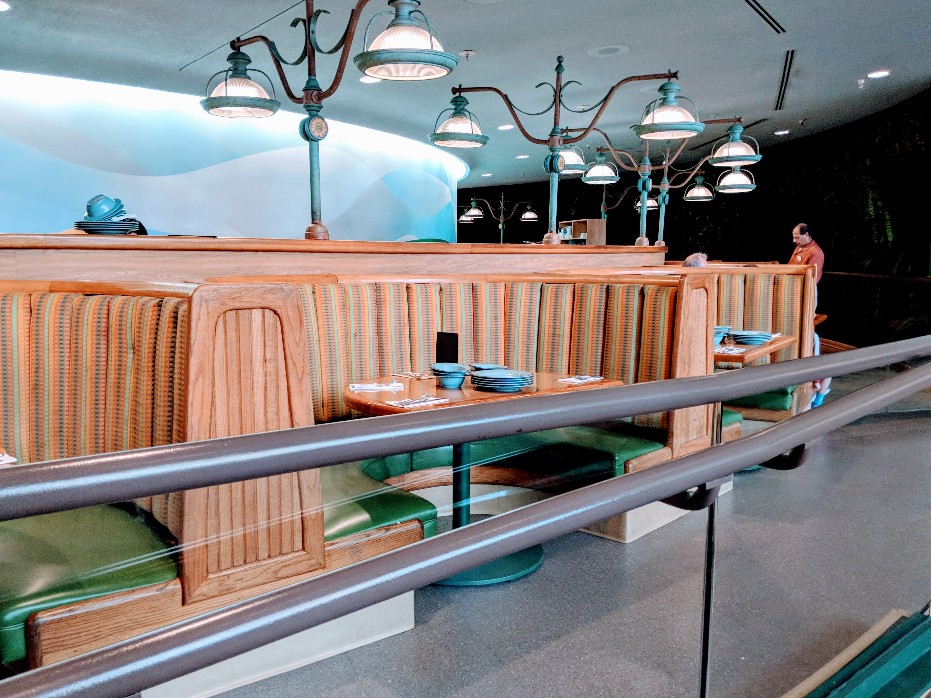 Food
I had mistakenly thought Chip 'N' Dale's Harvest Feast was a traditional buffet. The Garden Grill character meal food is actually served as heaping family platters. The menu varies by meal so check here to see the up to date menus. We thought the food quality was fair and on par with a buffet like 1900 Park Fare.
My breakfast platter had Mickey waffles, fluffy scrambled eggs, hash brown-style potato barrels (basically tater tots), and bacon (you could also have breakfast sausage).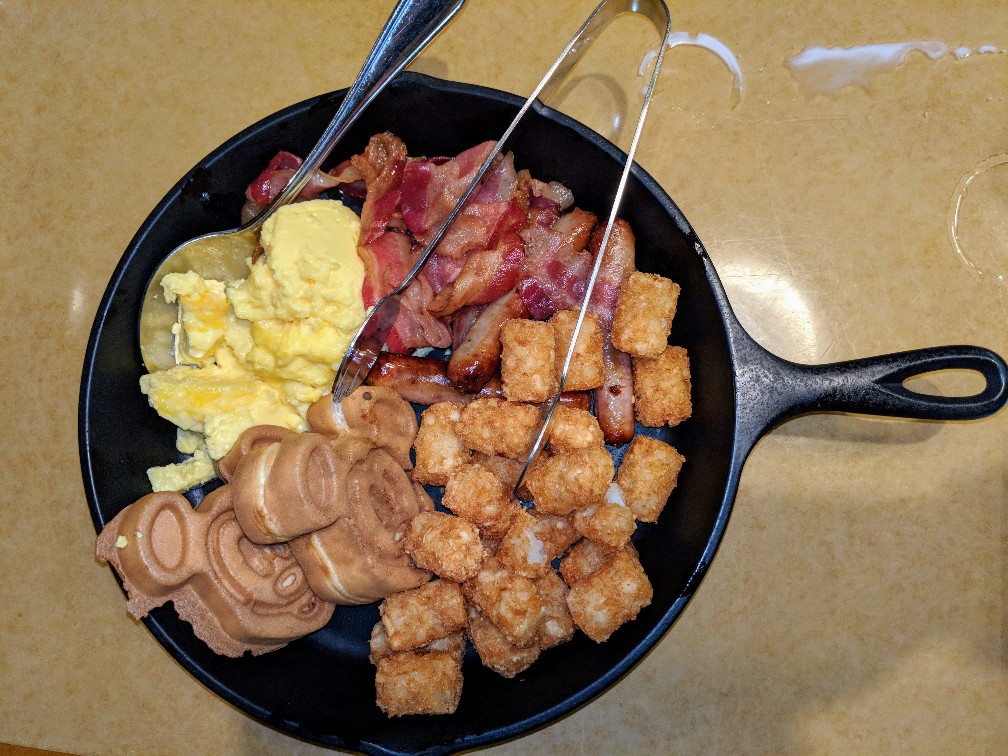 My daughter Elizabeth is allergic to corn and generally Disney is able to accommodate her food allergy well (despite it not being a common allergen). This was the first time we struggled with an allergy meal at Disney World.
Garden Grill has a limited kitchen and supplies compared to other restaurants (according to the chef we spoke to) so finding something safe proved challenging. The only items that ended up working with Elizabeth's corn allergy were fresh fruit, scrambled eggs, bacon and a turkey maple sausage. The chef was very sweet and since neither of the waffle options were safe he baked some rolls that are normally served with dinner. Elizabeth said her food was delicious and ended up eating about half of her large breakfast platter.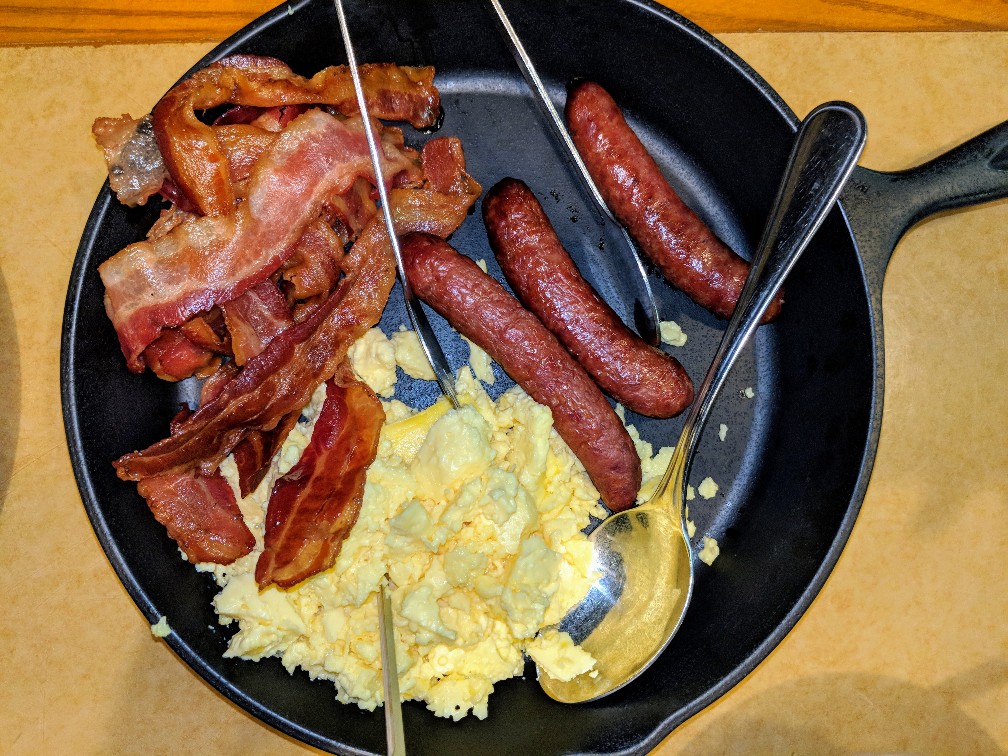 Please note: If you have an allergy to gluten/wheat, milk, and peanut/tree nut there is a special platter that is safe for those allergens. This allergy-friendly breakfast (as of January 2018) offered seasonal fresh fruits, allergy-friendly muffins, scrambled eggs, bacon, sausage links, allergy-friendly waffles, and hash brown-style potato barrels.
Characters
There are generally four characters at Chip 'N' Dale's Harvest Feast at Garden Grill: Chip, Dale, Pluto, and Mickey Mouse. The characters make their way around the restaurant and stop at each table. If a character or server is at your table the second character will skip. This second character will then stop by on their next rotation through that section of the restaurant.
Chip
At our breakfast, Chip stopped by our table first. He was extremely sweet with hugs for everyone (including me).
Pro tip: You can identify Chip by his small black nose. Some say his nose resembles a chocolate chip.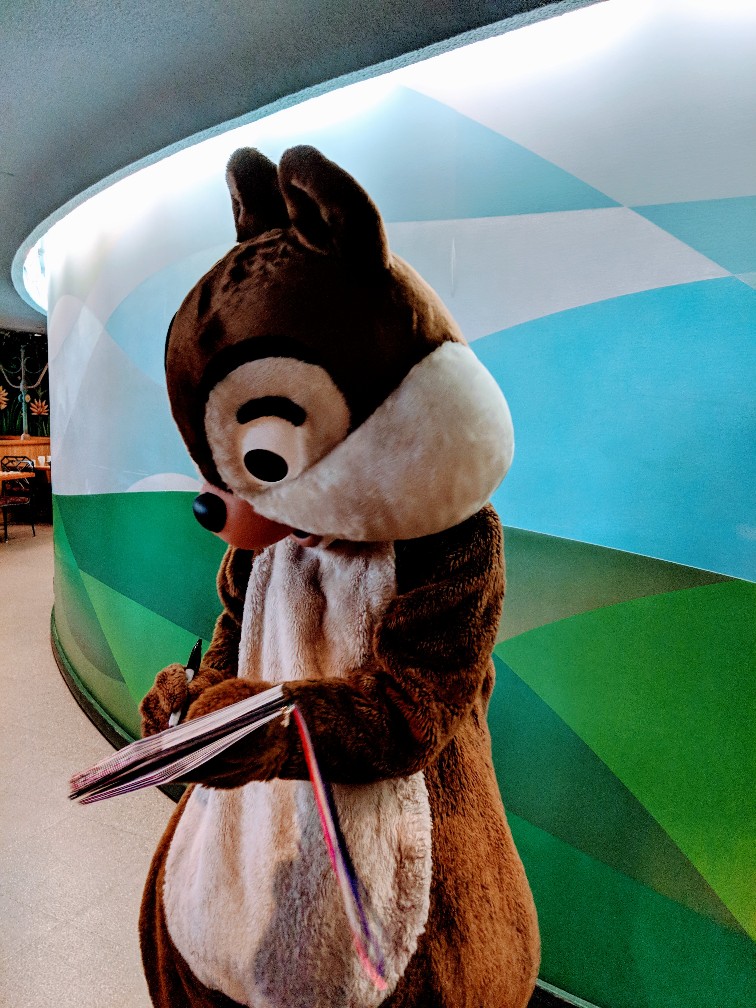 Dale
Dale is Chip's silly sidekick and our interaction with him was quite funny. He seemed so proud after autographing Elizabeth's book, despite writing the "e" in his name backwards. We didn't have the heart to point out his mistake (wink, wink). Dale was also very interested in Elizabeth's ears and insisted on inspecting them closely. After this inspection he gave them a big thumbs up!
Pro tip: Dale's big red nose makes him easy to distinguish from Chip.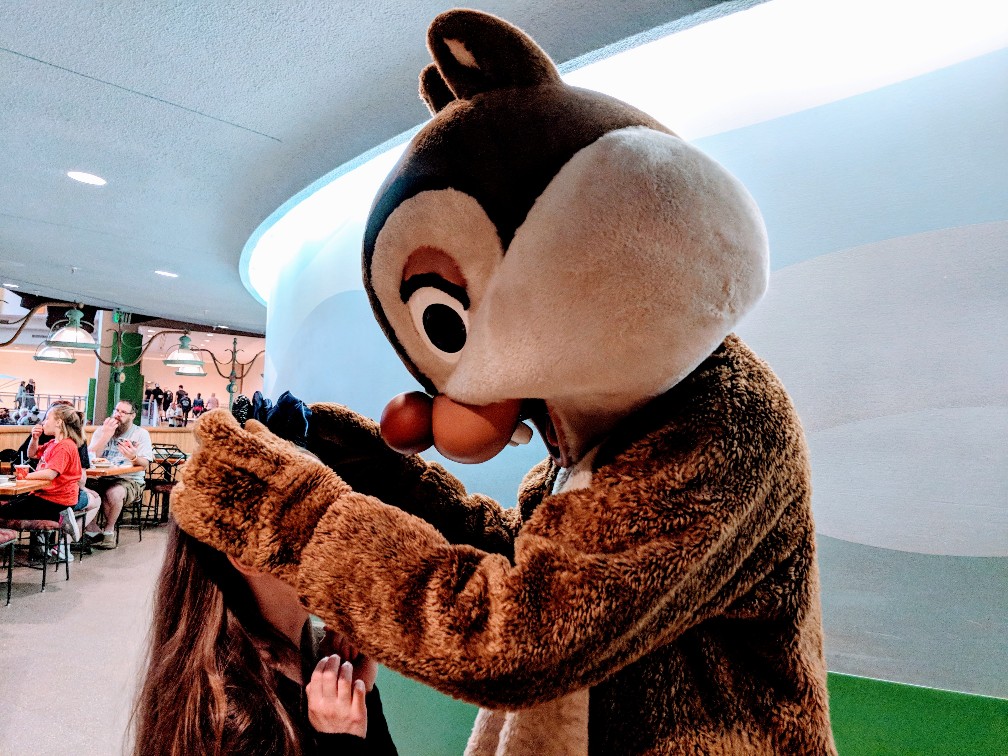 Pluto
I always look forward to seeing this sweet pup. Pluto's nose is so large he uses it as a desk when signing his autographs. After signing our book he showed us a new trick – balancing the autograph book on his nose while he moved around. Make sure you notice Pluto's cute bandanna collar which is not the one he usually wears around the parks.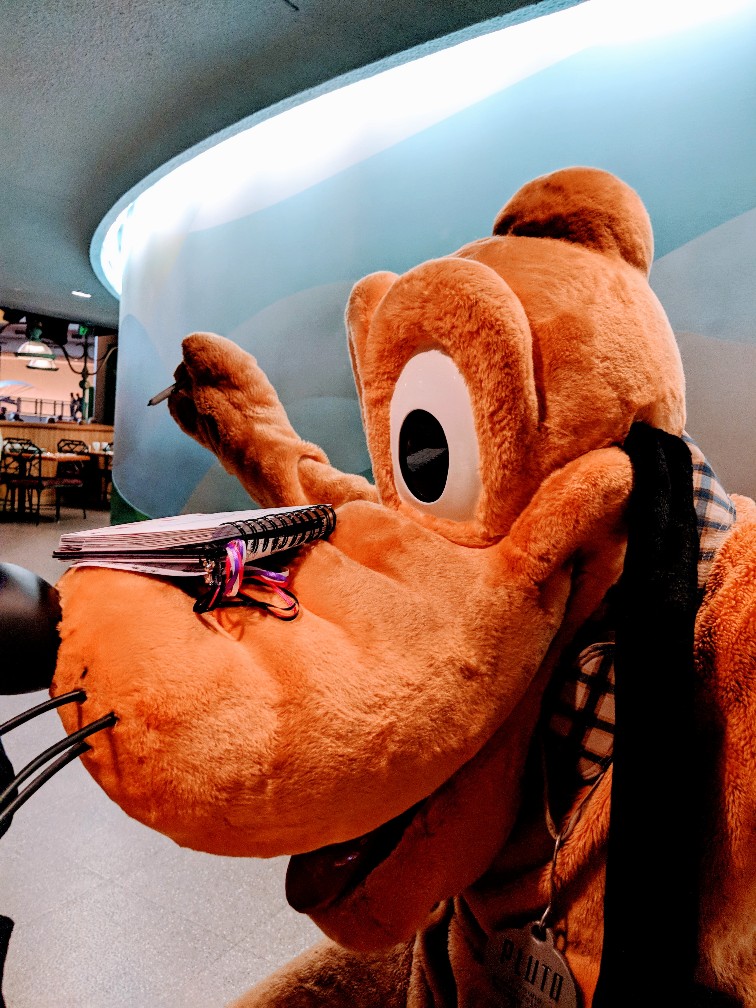 Mickey Mouse
This was one of our sillier interactions with Mickey. Mickey signed Elizabeth's autograph book. After signing Mickey then kept pretending to hand the marker back but moving it just out of reach each time she grabbed for it. This gave us the giggles. Look at Mickey dressed in his farm chic outfit – overalls and a plaid shirt!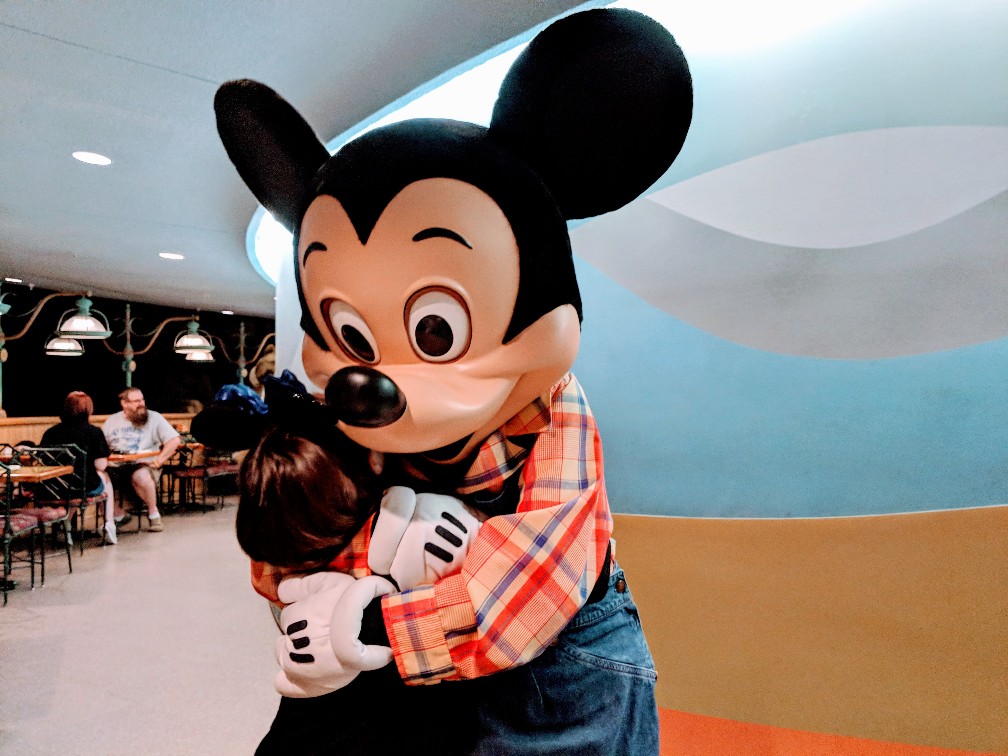 Cost
In January 2018 the price per adult was $32 and $19 per child plus tax and tip. Chip 'N' Dale's Harvest Feast Garden Grill character meal will require 1 table-service credit if you are on the Disney Dining plan.
Please note: Meal prices are always subject to change.
Final Thoughts
We enjoyed our Garden Grill character breakfast. The character interactions were very good and we didn't feel rushed. I really liked the setup of the upper level of Garden Grill because we were able to take many pictures without accidentally catching other families in the background. Our food took longer than usual because of the food allergy adjustments so we actually saw Chip, Dale, and Pluto each twice. All three characters did something with us both times they stopped by the table.
I thought the food was on par with what I would expect from a breakfast buffet. Unfortunately, I did not know beforehand that adjusting the meal to accommodate food allergies other than gluten/wheat, milk, and peanut/tree nut would prove so difficult. The chef worked with us to find some options, but they were far fewer than we have had at other character meals such as Cape May Cafe breakfast with Minnie or 1900 Park Fare dinner with Cinderella, the Prince, the step-sisters and step-mother.
I think Chip 'N' Dale's Harvest Feast is a good option for those looking for a character meal with Mickey (if you can't snag one of the more popular meals like Chef Mickey's). Garden Grill is also a good option if you have a Chip and Dale fan. The Garden Grill and Mickey's Backyard BBQ are the only character meals where you can meet these two silly chipmunks.
More Disney World Planning Resources
Do you need more help planning your Disney World trip? Check out other Disney World tips and tricks in my Disney World Guides.
Pin it for later: