When I was preparing for our first Disney Cruise I was most nervous about the Disney Cruise embarkation and disembarkation procedures. I had never done a cruise before, and the information I found was extremely confusing. Now I realize that the Disney Cruise embarkation and disembarkation procedures are overall very easy, but minor mistakes can turn into big problems. Find out what the Disney Cruise embarkation and disembarkation process is like at Port Canaveral and our tips for making your Disney Cruise embarkation and disembarkation days easy.
Disney Cruise Embarkation Day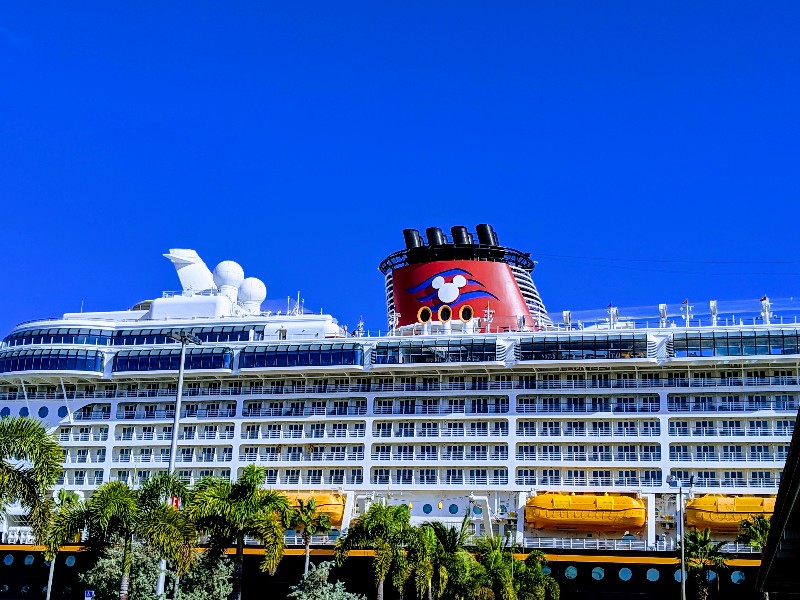 The day has finally come for you to set sail on your Disney cruise. Before walking onto your Disney Cruise Line ship at Port Canaveral you must complete several steps.
Check Your Luggage
You cannot carry all of your luggage on board with you on embarkation day. Staterooms, which are your home for the duration of the cruise, are not usually ready until late in the afternoon. If you used Disney Cruise Line transportation, and left your bags properly tagged outside of your Disney World resort room, these bags will magically show up outside your stateroom door.
If you have driven yourself, or taken a car service like Tiffany Towncar, you will need to check your properly tagged luggage. A porter at the port will collect your luggage before you head to the security line.
Please note the porters do not work for Disney Cruise Line, and tipping is customary when you hand off your bags.
Pro tip: Check pricing for private car service to Port Canaveral. Many times using a company like Tiffany Towncar will cost the same as using Disney Cruise Line transportation, but the Tiffany Towncar service is more convenient and pleasant than taking the coach buses. 
Regardless of how you get to the port it is very important that you have all essential items for the day with you. All checked luggage is inaccessible for several hours.
Passports, driver's licenses, birth certificates, medications, valuables, and other essential items should be packed in your embarkation day bag.
Check this article for Disney Cruise vacation packing tips and what to pack in your embarkation day bag.
Get Pre-Boarding COVID Test
Starting in June 2022 Disney Cruise Line updated their pre-cruise COVID testing requirements. In the US and Canada, vaccinated guests must still take a pre-cruise COVID test, but the specific rules have changed.
Instead of mandating testing be done immediately prior to boarding, Disney now accepts negative results of certain tests taken no more than 2 days before embarkation. These negative results must be uploaded to Safe Passage before midnight the day before embarkation.
All testing for vaccinated guests is now at the guest's expense. For kids under 5 years old they must still pretest 3 days before the cruise at your expense and once again at the port at no charge.
Port test results can take up to 60 minutes. Plan ahead and make sure to pack snacks, drinks, and entertainment to help pass the time while waiting. For the most up to date information consult the Disney Cruise Line website.
Go Through Security Screening
At Port Canaveral there is U.S. airport style screening to enter the port. All bags go through a screening machine. Every person entering the port also passes through a metal detector. This process generally moves quickly with our usual wait time under 15 minutes.
Check-in For Your Cruise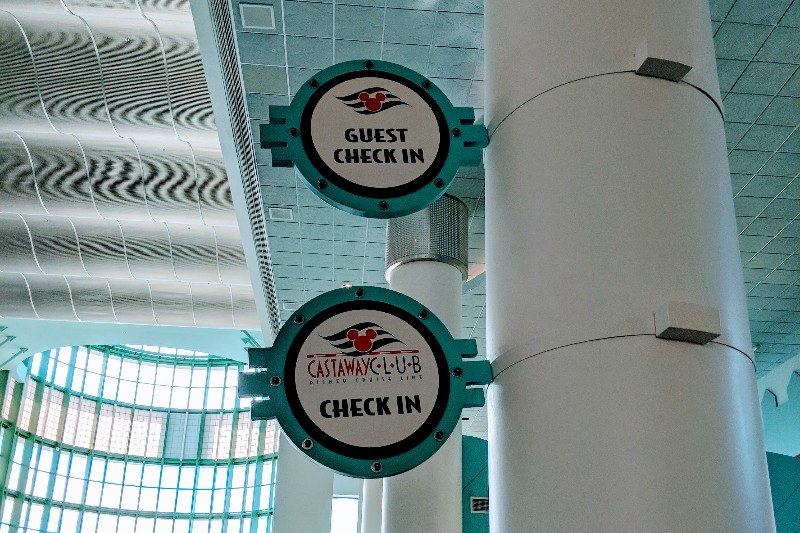 After security it is time to get in line for Disney Cruise Line check-in. Most of your check-in process is completed online in advance of your trip. Having most forms completed online makes the embarkation day process move quickly.
While you wait, staff will provide you a health questionnaire. Complete this questionnaire prior to reaching the check-in desk. Sometimes pens are scarce so it is helpful to have your own.
Once you reach the check-in desk a cast member will pull up your reservation information. They will then ask to see your driver's license, passport or other items that can be used in lieu of a passport. Find out more about documentation requirements for Disney Cruise Line here.
The cast member will review your travel health questionnaire and then take a photo of each member of the group to associate with your on-board account. After this check-in is complete, the cast member will give you a Key To The World Card and boarding group number.
It is very important to keep track of your Key To The World card. Your Key To The World Card is needed for almost everything on your Disney Cruise Line vacation.
Wait For Your Boarding Group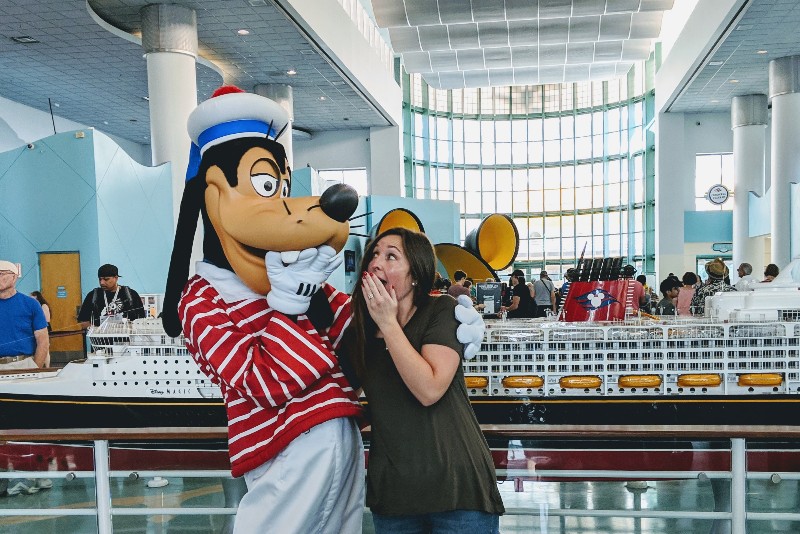 The boarding process is more streamlined now with guests arriving at pre-selected arrival times. This means you should be able to board the ship quickly after screening unlike before when you may have a long wait in the terminal before boarding.
Once your boarding group number is called you enter the gangway to board the Disney Cruise Line ship. Photographers with a background screen of a Disney Cruise ship will take your photo on the way through the gangway.
Please note this character experience may be modified or absent right now. If you have a little time until your boarding group is called you can start the fun by meeting Disney characters in the port lobby. Find out more about meeting Disney characters on a cruise here.
Board Your Disney Cruise Ship
As you approach the doors of the Disney Cruise Line ship a cast member will ask your family name. When it is your turn to enter the ship a cast member introduces you and the staff applaud as you finally enter the cruise ship.
You have now completed your Disney Cruise embarkation, but there is more to do on this first day. Grab something to eat, explore the ship, or go for a swim while you wait for your room to be ready. 
Before leaving dock there is a mandatory safety drill everyone must attend. After that it is time for the Sail Away Party and for your vacation fun to begin.
Disney Cruise Disembarkation Day
The process for Disney Cruise disembarkation begins the night before you depart and continues into the morning of disembarkation.
Place Luggage Outside Your Stateroom The Night Before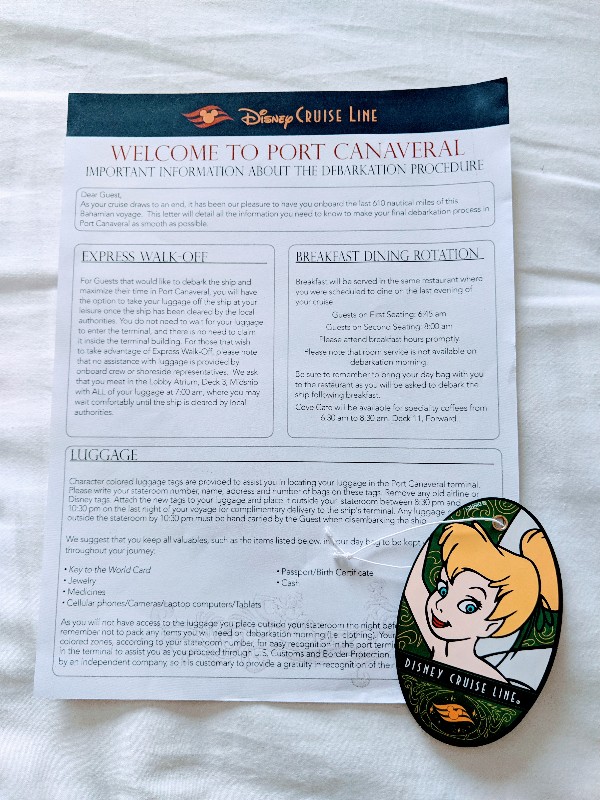 On the evening of your last night on a Disney Cruise your stateroom attendant will place luggage tags and a special paper detailing the Disney Cruise disembarkation process on your bed.
Disney Cruise disembarkation day can be very chaotic. Embarkation is scattered over a longer time whereas disembarking happens around the same time for everyone. Elevators are crowded, and it can be difficult to carry heavy luggage down many flights of steps.
To avoid the challenge of lugging large suitcases on your Disney Cruise disembarkation day you can choose to use special tags and place bags outside of your stateroom the night before disembarking. Your stateroom attendant will load the luggage, and porters will have it ready to pick up outside the ship.
It is important that you keep everything you need for your last night and the next morning with you. The luggage you leave outside the stateroom will be unavailable until after you disembark the Disney cruise ship.
We usually pack everything except pajamas, clothes and shoes for the next day, medications, toiletries, jewelry, passports or other important documents. Then on Disney Cruise disembarkation day we pack all of our remaining items in a carry-on suitcase and our personal items like a backpack or purse.
Disembarkation Day Breakfast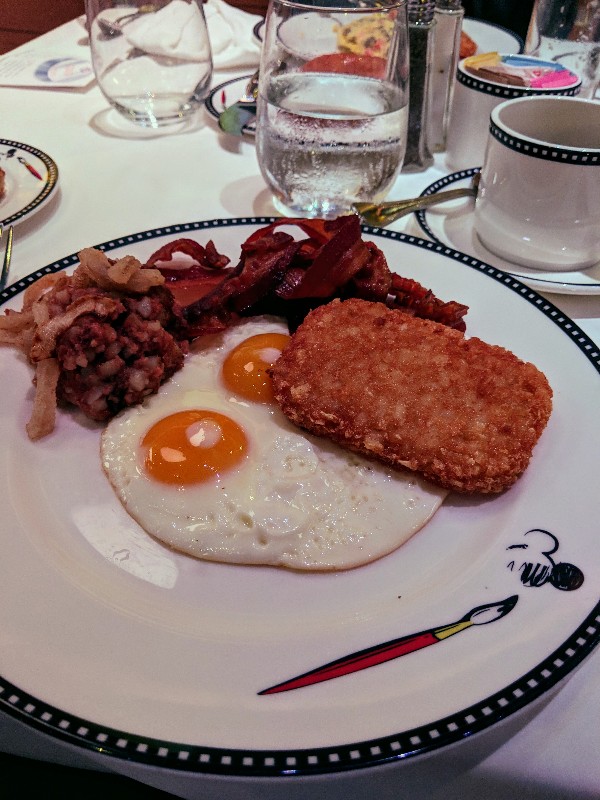 The Disney Cruise Line disembarkation day starts early. If you had first seating for dinner your scheduled breakfast time is 6:45 am. If you are the second dinner seating then breakfast is usually at 8:00 am.
Both of these times can be rather early. This is especially true when you consider everyone needs to be up, dressed, and fully packed prior to going to breakfast. We have done a sit-down disembarkation day breakfast and also done continental style breakfast in our room for disembarkation day.
Eating something quick in the room and then disembarking the ship while others are at breakfast is much easier. Room service is not available on Disney cruise disembarkation day, so plan ahead. Order complimentary room service the day before your Disney Cruise disembarkation day. We've found the best breakfast supplies are fruit, cereal, and milk.
Exiting The Ship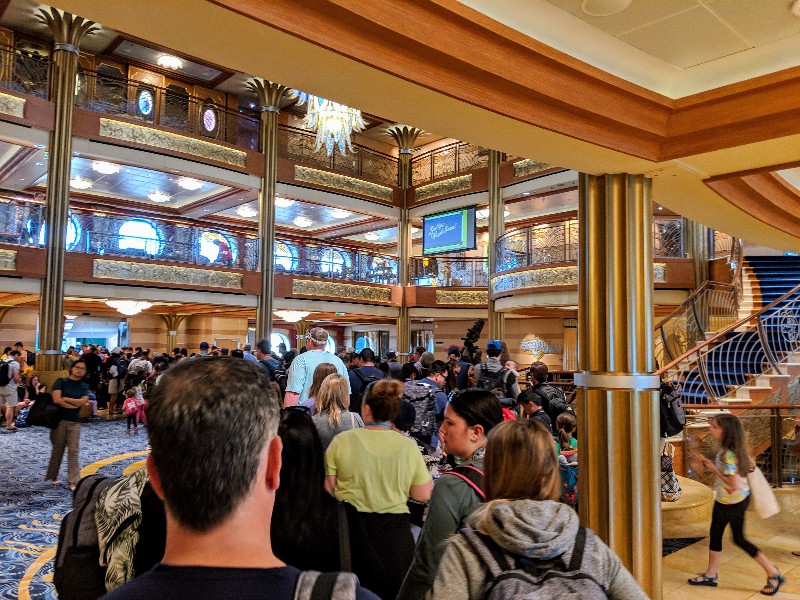 If you have a quick breakfast in your stateroom prior to disembarking your Disney cruise, exiting the ship is likely to be easier. You can time your exit to occur while others are at breakfast. Right after each breakfast group finishes is the worst time to try and exit the ship.
One time when we went to the disembarkation breakfast we had to wait over 20 minutes in line just to exit the ship's lobby onto the gangway. The line on the gangway took even longer.
Each passenger is scanned out with their Key To The World Card when disembarking a Disney cruise. Many people leave their Key To The World Card in their stateroom and then have difficulty disembarking. Keep your Key To The World Card with you at all times even on Disney cruise disembarkation day.
Pick Up Luggage
Any luggage that you tagged and placed outside of your stateroom the night before will be in a large area waiting to be claimed. Each section of staterooms is assigned a color and character luggage tag. This helps you to find the section where your luggage is stored. There are lots of bags, so don't be surprised if it takes a couple of minutes to find all of your luggage.
US Customs and Border Protection
After you have collected all of your luggage, you will enter the line for US Customs and Border Protection. An agent will call you forward and ask to see your passport or other accepted documentation. They will confirm your identity and may ask some general questions before allowing you re-entry in the port.
Final Thoughts On Disney Cruise Embarkation and Disembarkation Procedures
Disney Cruise embarkation and disembarkation procedures are easy once you know what to expect. The most important thing on embarkation day is to arrive with a smartly packed embarkation day bag and all required documents for your trip.
Disney cruise disembarkation day can feel hectic if you don't plan ahead. Leaving non-essential luggage outside of your stateroom the night before and eating a continental breakfast in your room the morning of disembarking alleviates much of the stress.
Remember to bring your Key To The World Card with you when exiting the ship to avoid delays. The Disney Cruise disembarkation process can take a while, so always check with Disney Cruise Line for recommendations before booking flights.
Find more planning resources for your Disney Cruise here.
Pin it for later: