Meeting Disney characters can be an exciting part of the Disney experience. Did you know that you have many opportunities to meet characters on a Disney Cruise? From traditional meet and greets to special events, there are many chances to interact with some of your favorite characters on a Disney Cruise.
Meeting Characters On A Disney Cruise
Meeting Disney Characters Before Boarding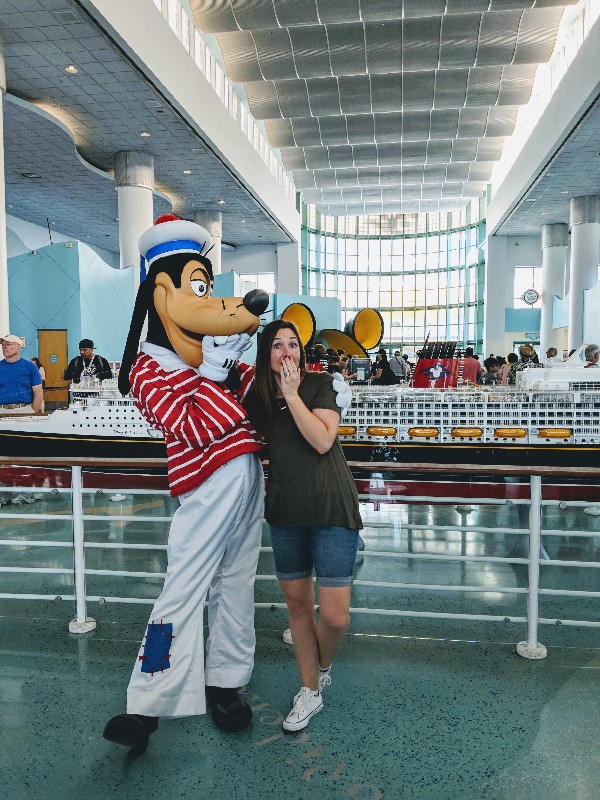 Before our Bahamian Disney Cruises we've had the opportunity to meet classic Disney characters in fun nautical themed attire. Take a quick picture and get an autograph while waiting for your time to board the Disney Cruise ship.
Meeting Disney Characters On The Ship
Traditional Meet and Greet Opportunities
Characters meet guests on Disney Cruises in a way that is similar to the Disney parks. See a character, join the line, and then meet the character. To find specific characters consult your Personal Navigator.
Each day of your Disney Cruise you will receive a paper schedule called the Personal Navigator. This paper tells you exactly what is occurring on the Disney Cruise ship for the entire day.
In the Personal Navigator there is a special section for characters, listing each walk-up meet and greet opportunity. The listing shows the character's name, what time they appear, and where they can be found. There are several chances to meet a variety of Disney characters each day of a Disney cruise.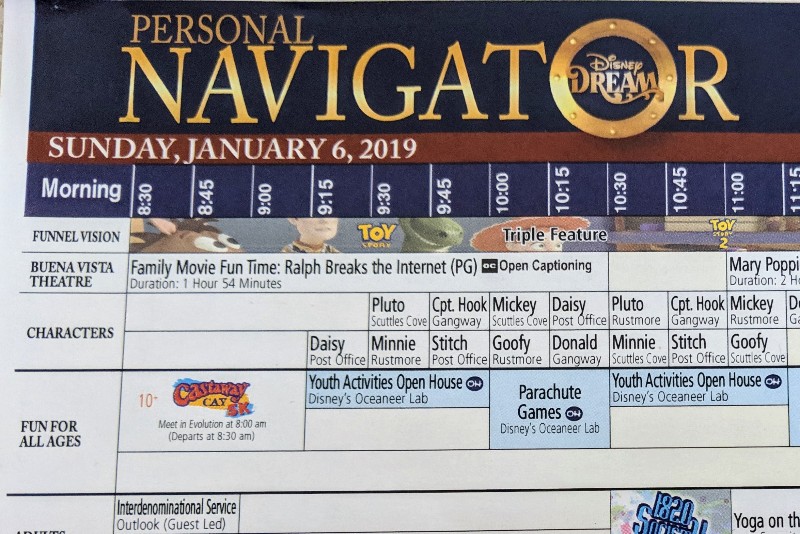 If you are more of a mobile app person, look for the character schedule in the Disney Cruise Line app.
Pro tip: Download the Disney Cruise Line app before your trip, since mobile coverage is often spotty on the ship even in the port. The app doesn't need a data plan to work onboard.
Special Event Reservations For Meeting Disney Cruise Characters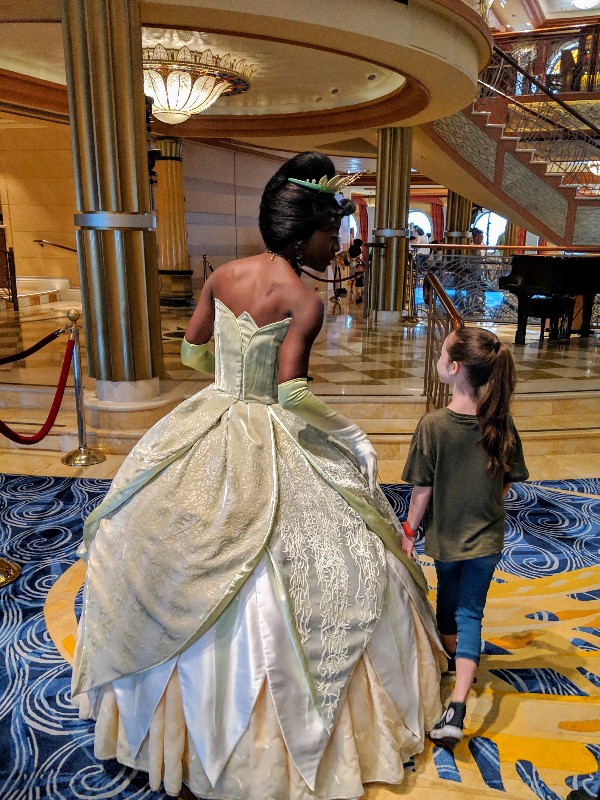 If you want to meet more than one character at a time then scheduling a special character event is for you. There are several options that vary by cruise.
Most Disney Cruises have both the Princess Gathering and Frozen Meet and Greet. To attend Princess Gathering or Frozen Meet and Greet you must reserve tickets on-line under the Reserve Activities page prior to your trip.
At your reserved day and time a cast member will confirm your reservation near the meeting area. After confirming your reservation you are allowed to join the special queue to meet several princesses at once.
Princess Gathering is generally Tiana, Rapunzel, Cinderella, and Belle (characters are always subject to change). The princesses sign autographs and take pictures with guests. A cast member will usually take pictures with your camera while a Disney cruise photographer photographs your interaction.
The Princess Gathering line tends to move quickly and allows you to meet all four princesses in about 20 minutes. This reserved ticket event is a great way to meet several princesses without a long wait.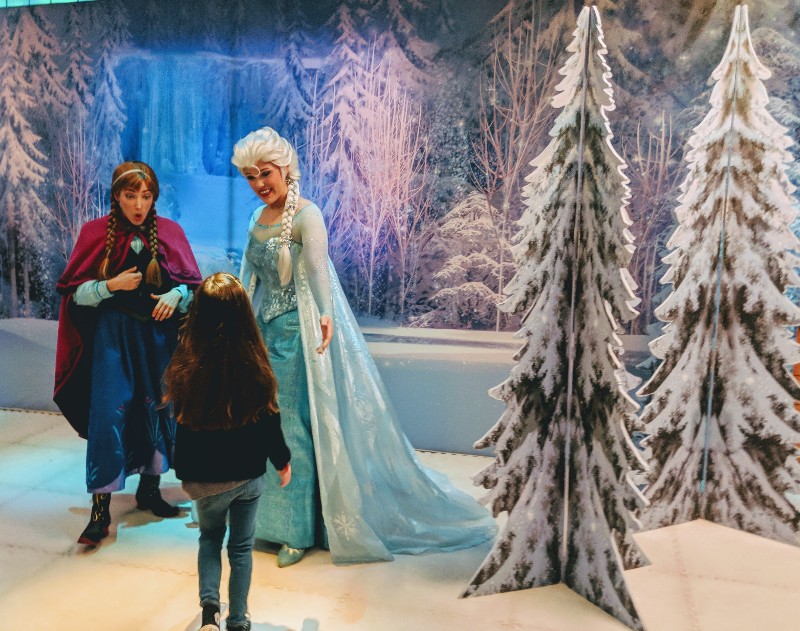 The Frozen Meet And Greet takes place in a different area and requires a separate reservation than Princess Gathering. Here you meet Elsa and Anna together. Elsa and Anna sign autographs and the photo options are the same as Princess Gathering.
Select Disney cruises have special events like Marvel or Star Wars Day At Sea. During Marvel Day At Sea you can meet some of your favorite superheroes during Heroic Encounters. Star Wars Character Experiences during Star Wars Day At Sea allow you to meet some popular characters in a reserved session, too.
Although each of these events above require reservations there is no additional fee to secure your spot for the meet and greets.
See Ya' Real Soon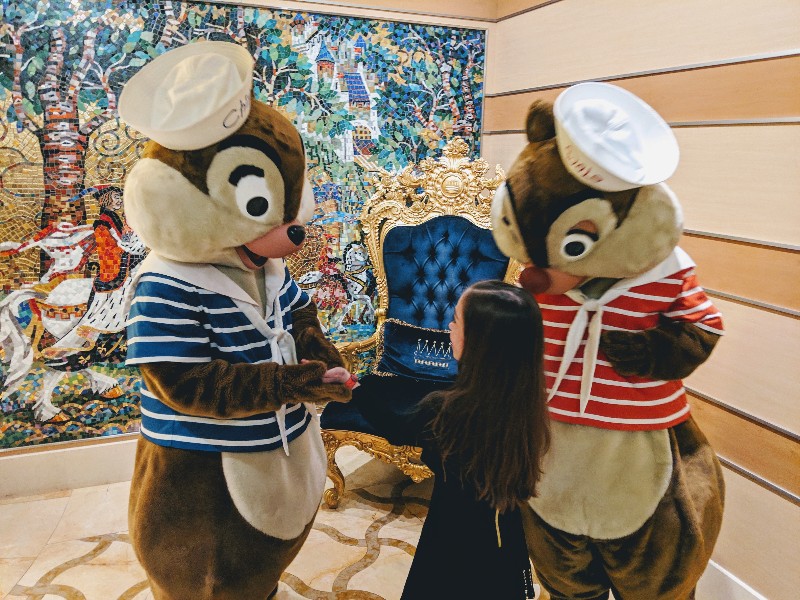 The last night of the Disney Cruise there is something called "See Ya' Real Soon" that takes place in the lobby atrium. "See Ya' Real Soon" is a last chance meet and greet with some of the most popular characters on the Disney Cruise.
Each character is introduced and then makes his or her way to a designated meeting area. During our last cruise Mickey, Minnie, Chip and Dale, Daisy, Donald, Pluto, Goofy, Tiana, Cinderella and Belle were available during "See Ya' Real Soon".
"See Ya' Real Soon" only lasts 30 minutes. Plan on meeting just one or two characters during the event unless the lines are unusually short. Cast members will be in the lobby prior to the event and can direct you to the correct character line ahead of time.
Character Meals
Character meals are available on Disney Cruise Line sailings of 7 nights or longer. These character meals on board do not require additional payment, but reservations must be made on-line. You make these reservations under the Reserve Activities page when doing online check-in prior to your cruise.
Oceaneer Club
Fancy Nancy and Vampirina have new Oceaneer Club activities where kids participating in these special events can meet these Disney Junior characters. Find out more about these new opportunities in the Disney Parks Blog announcement.
Meeting Disney Characters On Castaway Cay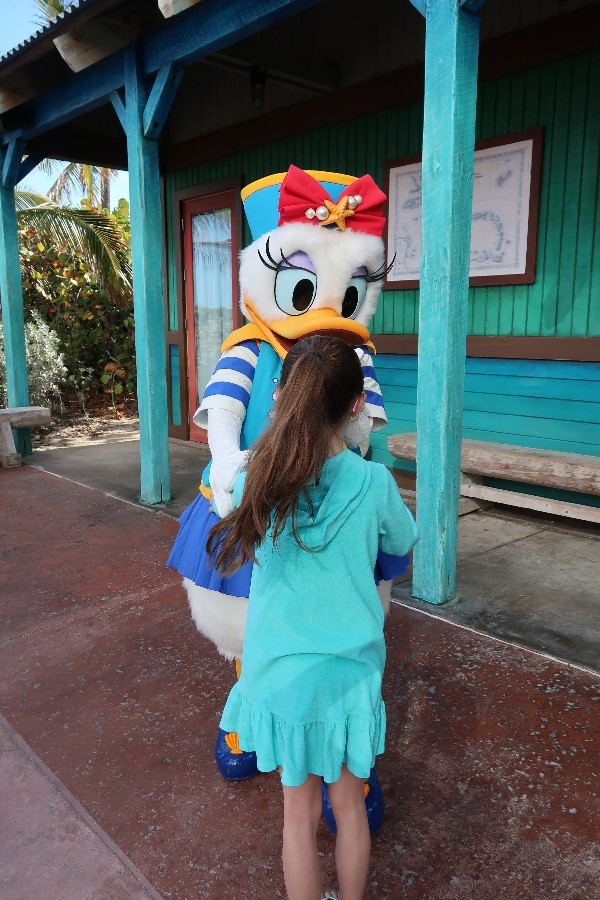 If your Disney Cruise itinerary includes a stop at Disney's private island, Castaway Cay, you have additional chances to meet Disney Characters. Most of the Disney characters meet guests in front of the Post Office or at Mount Rustmore. Both of these locations are easy to find along the walking path from the cruise ship to the beaches.
Some characters also stop by Scuttle's Cove which is the Castaway Cay kids club for ages 3 to 12 years old. The last place to find characters when visiting Castaway Cay is right on the gangway when entering or exiting the ship.
Tips For Meeting Characters On A Disney Cruise
By now you probably know I love meeting Disney characters whether I am at Disney World, Disneyland, or on a Disney Cruise. Here are some of our favorite tips for meeting characters on a Disney Cruise.
Skip The Port Character Experience Before Boarding
People tend to be very excited for this first Disney Cruise character experience and the lines can get quite long. If the line is really long skip this first Disney Character meet and greet option and board the ship sooner. There are plenty of other chances to meet characters on a Disney Cruise.
Take Advantage Of Days At Port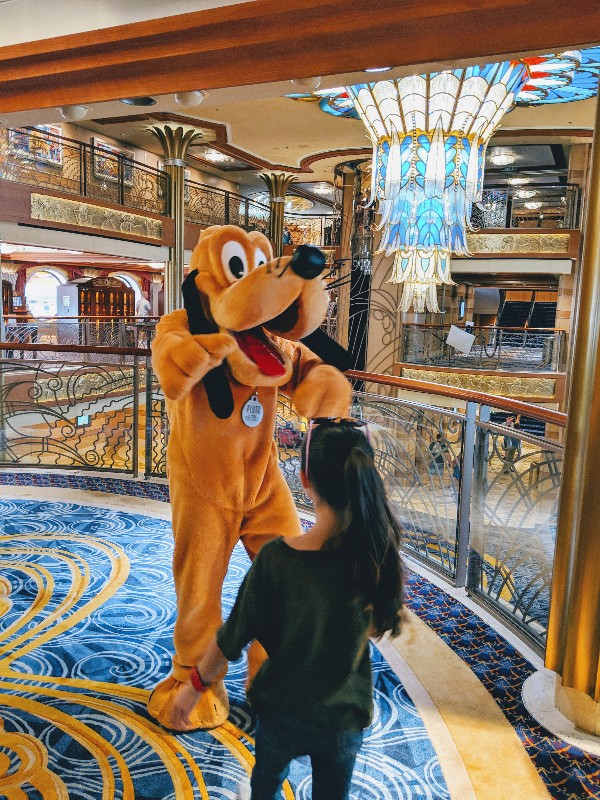 People tend to get off the ship when docked at various locations. This means everything is less crowded on board. We had almost no wait for popular characters on the day we were docked at Nassau.
Reserve Character Meet And Greets
Make reservations ahead of time for Princess Gathering, Frozen Meet and Greet, Heroic Encounters, or Star Wars Character Experiences based on your cruise itinerary. Having pre-reserved times to meet characters has provided us a great character experience with shorter wait times.
Meet The Characters More Than Once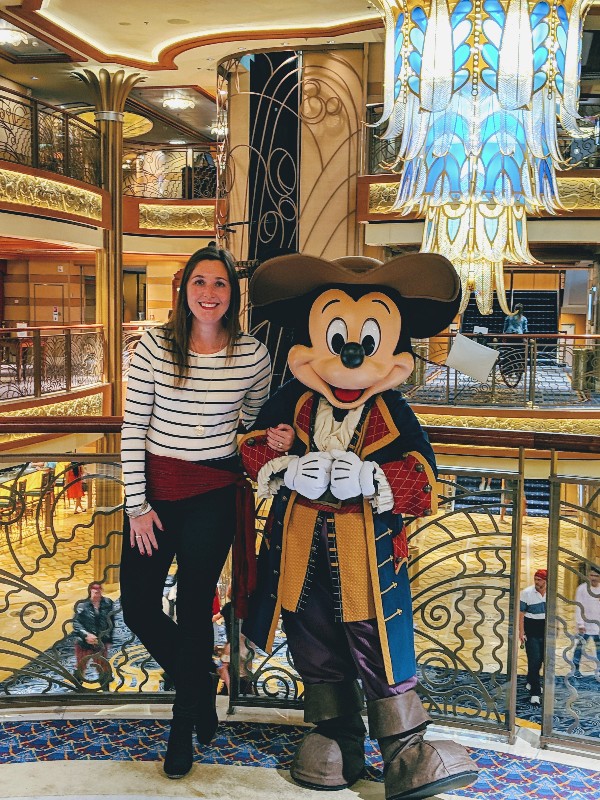 The Disney Princesses are always in their formal gowns, but the other Disney characters change outfits throughout the cruise. We had fun meeting the same Disney characters, but when they were dressed in different clothing.
For example, we saw Mickey dressed as a captain, a pirate, and wearing cruise casual attire all on the same trip. I wore a pirate inspired outfit on our Disney Cruise Pirate Night. This made for a fun themed photo with Pirate Mickey.
Wearing clothes that match the characters is a lot of fun and provides great character interaction. Get creative and have fun with your outfit choices.
Stop By The See Ya' Real Soon Event
This event late the last night of the cruise is a great way to catch a favorite character you may have missed. Just make sure to ask a cast member who will be available and where to queue up to get the most out of the experience.
Final Thoughts On Meeting Characters On A Disney Cruise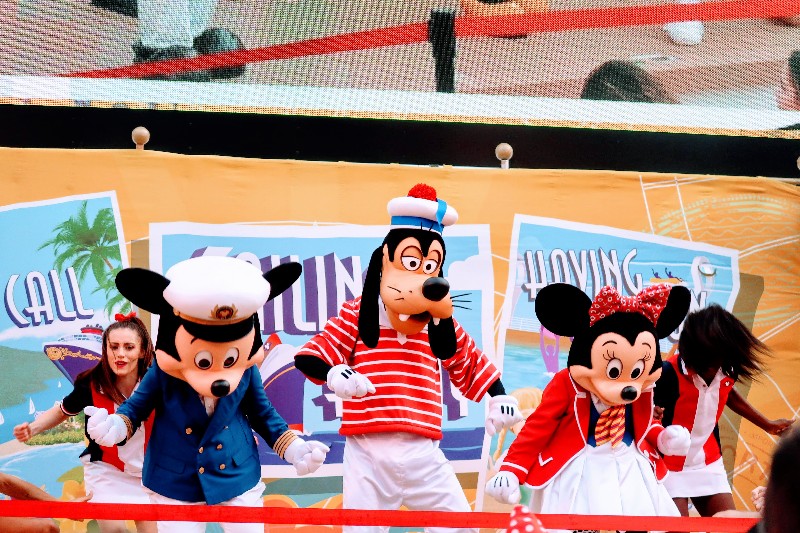 There are a variety of ways to meet characters on a Disney Cruise. I enjoy the generally shorter character meet and greet wait times and love the variety of outfits for many of our favorite Disney characters. The character wardrobe changes can provide fun and unique photo opportunities. Taking pictures with Disney characters at Castaway Cay makes for extra special Disney Cruise memories, too.
Meet and greets aren't the only way to see characters on a Disney Cruise. Characters also participate in the Sail Away Party, Mickey's Pirates in the Caribbean, and other Disney Cruise stage shows. This allows guests to enjoy the fun of characters on a Disney cruise from a distance if they are nervous about a meet and greet.
Want more information about planning your Disney Cruise? Here are some other articles to help you have a fun Disney Cruise vacation.
Pin it for later: