Did you know that you can meet characters at Disney Aulani Resort in Hawaii? Some of your favorite Disney characters like Mickey, Minnie, Daisy, and Moana are available at different Disney Aulani character experiences. Find out where to find characters and what to expect when meeting characters at Disney Aulani.
Disney Aulani Character Experiences
Disney characters are part of the charm of Disney Aulani Resort in Hawaii. You never know who you might see as you wander the beautiful resort grounds. However, meeting characters at Disney Aulani is very different from meeting them on a Disney cruise, at Disney World, or at Disneyland.
Disney Friends Meet and Greets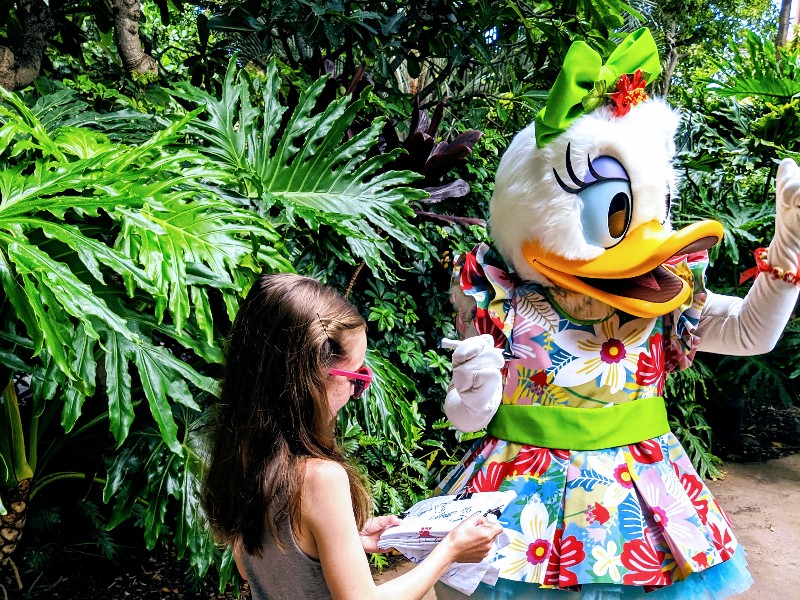 There are traditional character meet and greets at Disney Aulani. A variety of characters appear throughout the day in several resort areas. Each morning you must call the ToonFinder extension from your Disney Aulani Resort room to find out the Aulani character meet and greet schedule. The ToonFinder extension is found in the Daily 'Iwa resort newsletter.
Each day an updated pre-recorded message tells where and what time characters have a meet and greet. The schedule changes daily, but we made the mistake of thinking the same characters are available each day.
However, there is no guarantee that the same character will meet and greet two days in a row or again during your Disney Aulani vacation. If you have a character that is really important to you, meeting them the first day they are mentioned on the ToonFinder message is your safest option.
Tips for Disney Aulani Character Meet and Greets
Arrive early
Lines for Disney characters are long well before the character's scheduled appearance time. If you wait until the official start time to get into line you may or may not make it to the character before they leave.
Have Your Room Key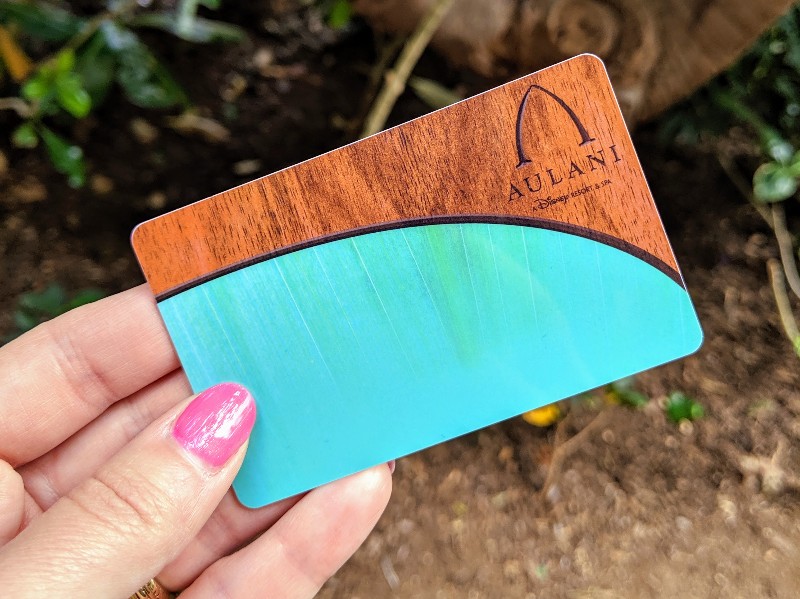 Only registered guests of Disney Aulani Resort can do these walk up character meet and greets. To ensure only guests are meeting characters a cast member asks to see your room key or your pool wristband from that day. If you don't have one of these items you can not wait to meet the character.
Make A Fun Souvenir
We decided to make an autograph pillowcase with character signatures. This fun and easy autograph book alternative made for a great souvenir that my daughter uses regularly and looks great several months later.
Disney Aulani Character Meals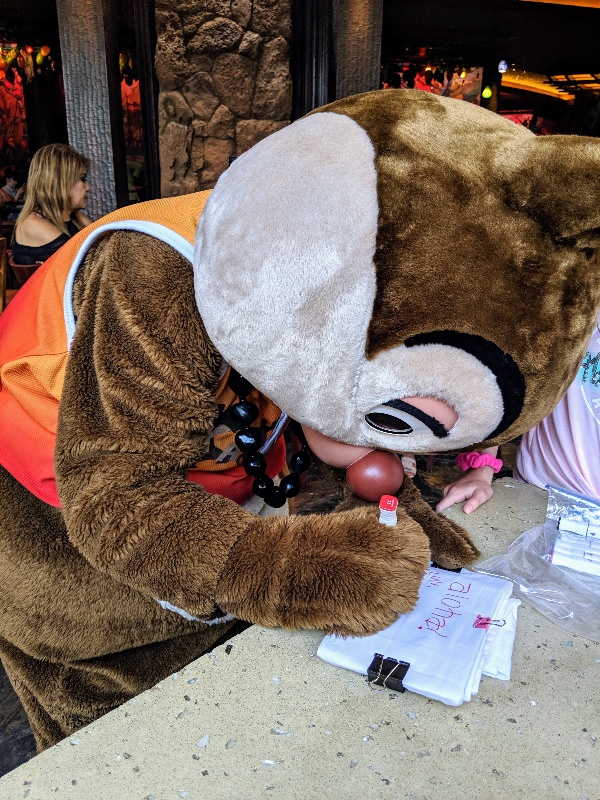 There are two character meals at Disney Aulani resort. The character breakfast buffet is hosted by Aunty, Mickey, Minnie, Pluto, and Goofy. Aulani's character dinner is hosted by a much more mischievous group consisting of Uncle, Donald, Stitch, Chip, and Dale. We attended both meals and enjoyed each for different reasons.
The Aulani character meals operate very much like those at Disney theme parks. A character meets your group for pictures and autographs before you are seated. Then the rest of the characters circulate the restaurant and stop by your table during your meal.
Mo'olelo Firepit Storytelling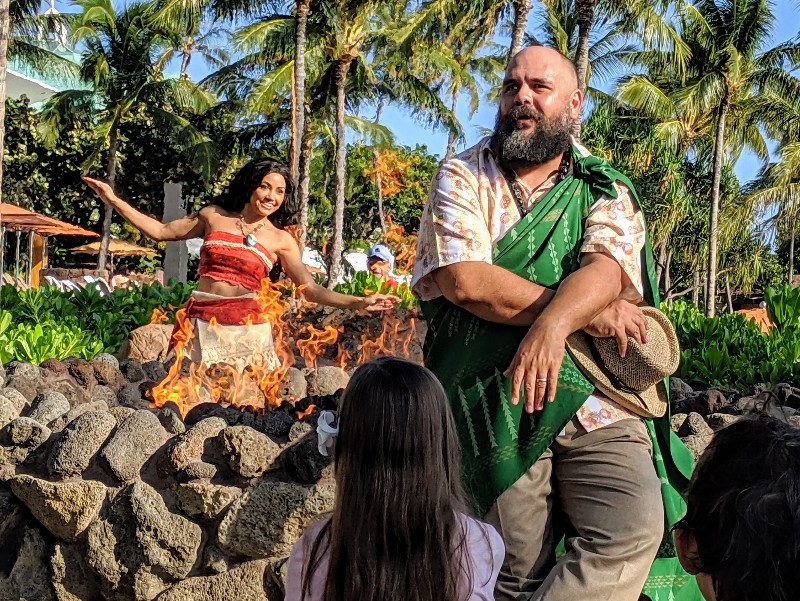 This Aulani event takes place most days at the resort. Mo'olelo Firepit Storytelling is a wonderful free show where Uncle teaches guests about Hawaiian culture through songs and stories. Sometimes, but not always, Moana joins Uncle in telling engaging and animated stories about her friend Maui.
Moana shows up part way through the storytelling and then leaves before the show is over. This means you can't stop Moana for a meet and greet when she is at Mo'olelo Firepit Storytelling.
Disney Aulani Luau
The Aulani Luau is an amazing show where talented performers share stories of those who discovered and ruled the Hawaiian islands plus stories of a familiar demigod, Maui.
Mickey, Minnie, and Moana stop by the luau each evening. However, these Disney characters only make a brief appearance on stage before leaving the luau for the night.
Final Thoughts on Disney Aulani Character Experiences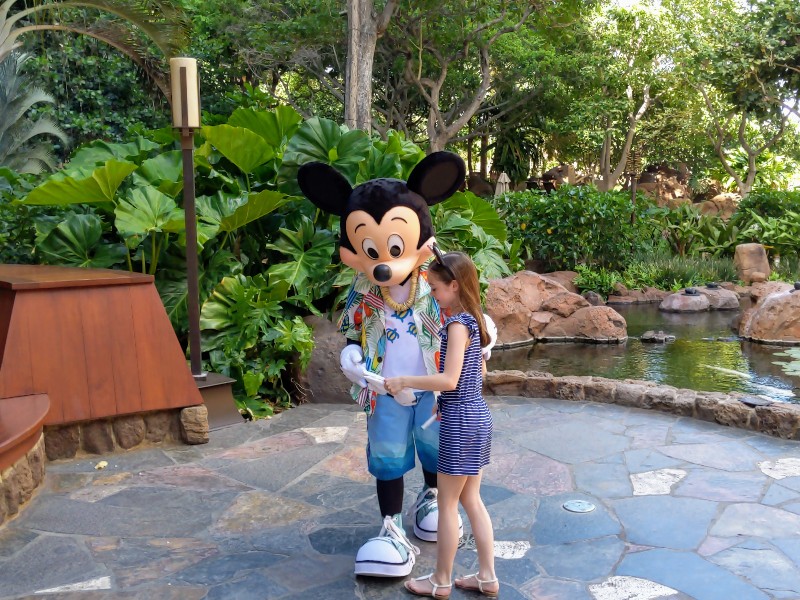 A large part of Aulani's charm is that it is very obviously a Disney property. Being a resort guest gets you excellent customer service, access to traditional Disney character meet and greets, plus use of the wonderful pool area.
The two character meals at Disney Aulani can be reserved by both resort guests and non-guests. These meals give a great opportunity for character interaction at Disney Aulani. Although you can't interact with characters at the luau or Mo'olelo Firepit Storytelling, having them as part of these events provides an extra bit of Disney magic. Find out more about our favorite free activities at Aulani plus a full resort review to help you have a great Disney Hawaiian vacation.
Pin it for later: