New Orleans is probably best known for Bourbon Street and the rowdy French Quarter, especially over the Mardi Gras season. This reputation makes some parents shy away from visiting New Orleans with kids. However, with these Mardi Gras parade tips you can have a fabulous and memorable New Orleans family vacation.
When Is Mardi Gras?
Mardi Gras isn't just the Tuesday before Ash Wednesday. The Mardi Gras season, also known as Carnival, begins on the Twelfth Night, January 6, and continues all the way until Fat Tuesday, the day before Ash Wednesday.
Festivities kick into high gear about two weeks before Fat Tuesday. The parade schedule and crowds grow each day until Fat Tuesday when some of the biggest parades and parties take place.
Our Best Mardi Gras Tips
Download A Parade Tracker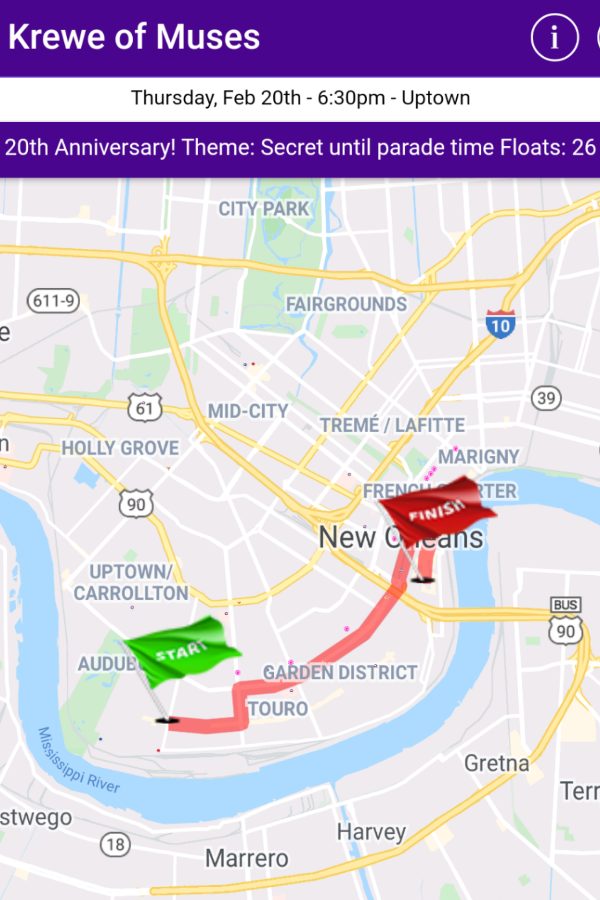 Many of the parade routes are several miles long. This means the parade start time and when it gets to you can be very different. Where we set up along the Uptown parade route the parade rolled through about two hours after kick off. Those further along the parade route waited even longer for the parade to arrive.
The best way to know where the parade is on the route is with the 4WWL Parade Tracker app. A car outfitted with GPS rolls through the parade route just ahead of the krewe floats. This gives a rough idea of how the parade is moving along the route. Download the parade tracker app for Android or for iPhone at the App Store.
Two Weekends Before Mardi Gras Is The Best Time To Visit New Orleans With Kids
Fat Tuesday and the weekend before tend to attract the wilder New Orleans crowds. Two weekends before Fat Tuesday is often referred to as "locals weekend" with lots of New Orleans area families coming in to watch the parades. One of our best Mardi Gras tips is to plan your New Orleans family vacation during this time. It gives you the flavor of New Orleans Mardi Gras parades without the large and rowdy crowds.
Have A Mardi Gras Parade Bathroom Plan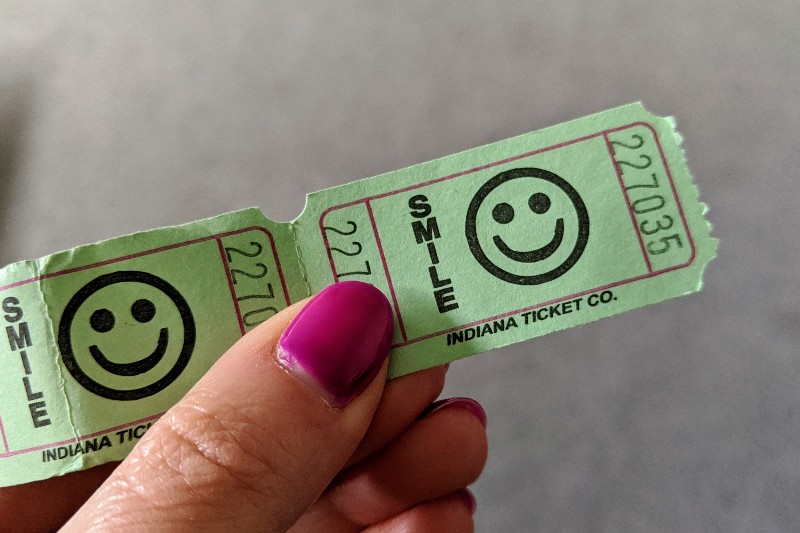 I did hours of research before our multigenerational New Orleans family vacation. The one bit of advice I kept reading but didn't believe was that bathrooms are difficult to come by, especially during Mardi Gras.
Unfortunately, this is all true. Bathrooms are really hard to find, especially along the Mardi Gras parade routes.
For two parades we set up along the Uptown Mardi Gras parade route near a Starbucks. We ordered drinks and snacks while we waited. Before leaving we decided to use the restroom which is in a large shared lobby. I was shocked to find security guarding the restrooms. Security only let people in if they presented a restroom ticket. I had to go back into Starbucks and get tickets from the barista so we could use the restrooms.
Some random restaurants, bars, and stores have signs posted offering bathrooms for a fee, but they are not consistently found. Having a bathroom plan is one of the most unusual Mardi Gras tips, but one of the most important.
Family Friendly Mardi Gras Parade Routes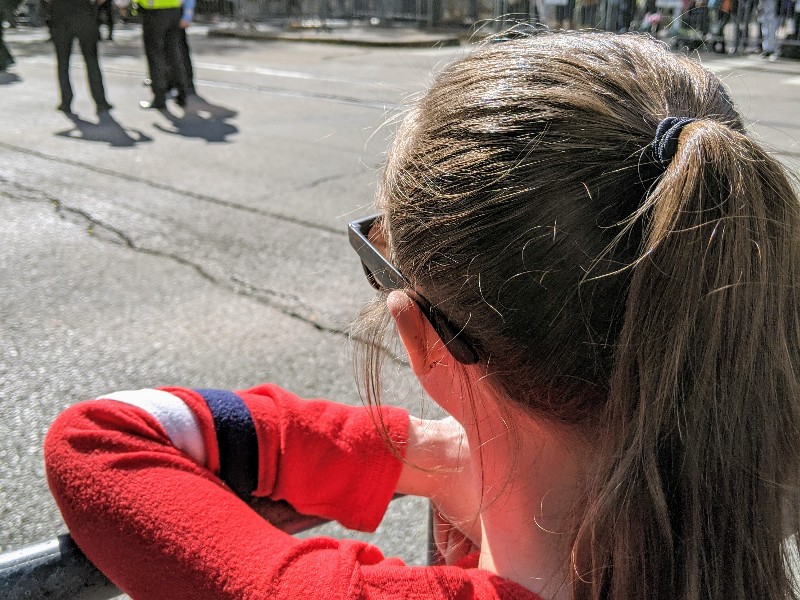 There are several Mardi Gras parade routes in New Orleans and surrounding areas. French Quarter in general has walking parades and tends to be the least family friendly parade route.
On the other hand, the Uptown Mardi Gras parade route is generally very family friendly and easily accessible without a car. Closer to the French Quarter some crowds can spill over onto the end of the Uptown route and make it a little rowdy, but early in the season it is usually fine.
We watched three parades along the Uptown route in two separate areas. One area was in the middle of the route and the other was near Canal Street and the French Quarter. Overall the experience was family friendly in both places on the Uptown route and we saw lots of families enjoying the Mardi Gras parades.
Family Gras is an event just outside of town one of the weekends before Mardi Gras. The parades that roll on that route are also family friendly but harder to reach from New Orleans without a car.
Bring A Bag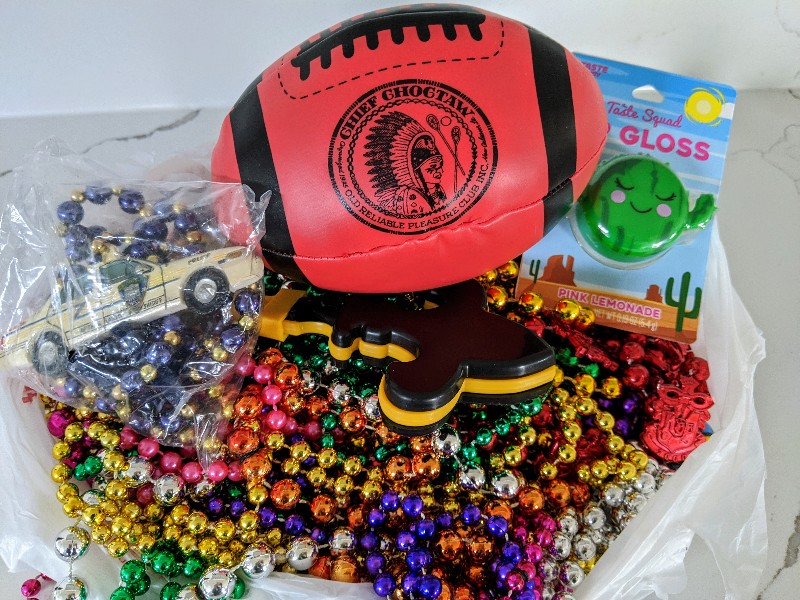 I did not see this Mardi Gras tip anywhere in my research, but you need to bring a bag to Mardi Gras parades. Parade krewes throw beads and lots of other items. Some of the things we caught from floats other than necklaces are footballs, plastic cups, bouncy balls, lip gloss, noise makers, plush toys, and a few small trinkets.
All of these items plus the beads add up to quite the haul. I was glad we had a small bag with us but could have easily filled a larger bag if we kept all of the throws we caught.
Use Sunscreen
To get a premium Mardi Gras parade viewing spot you'll need to set up ahead of time, unless you purchase a reserved bleacher spot. On the Uptown route during the weekend two weeks before Fat Tuesday we got a decent spot about 90 minutes ahead of the first parade.
As it gets closer to Fat Tuesday people secure spots several hours in advance. This means you will be outside for long stretches of time. It is easy to get a sunburn while waiting or watching the Mardi Gras parades. Bring some sunscreen and reapply it often to avoid a sunburn.
Mardi Gras Parades Get Bigger Through The Day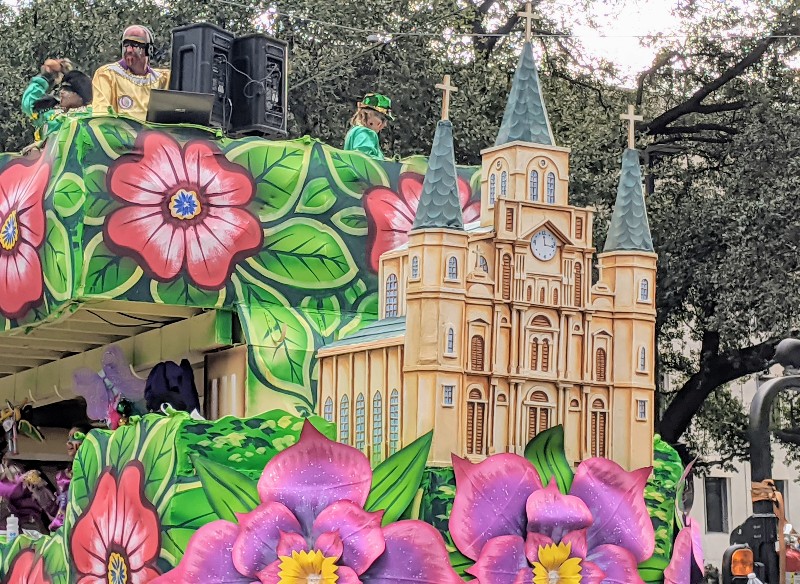 Another Mardi Gras tip I learned while in New Orleans is that the first parade of the day is usually the smallest. Each subsequent parade that day gets bigger until the evening parades with the largest and brightest floats.
Find The Perfect Mardi Gras Parade Spot
The best Mardi Gras parade spots are along the barricade and parallel to the route. These viewing areas make it easy for krewe members to lightly toss beads and other items down into the crowd below.
However, if you can't find a spot along the route barricade you still have a chance to get beads. Some krewe members have a strong arm and toss items well into the crowds.
Be Aware Of Your Surroundings
During Mardi Gras parades throws are raining down from multiple krewe members at once. This makes it easy to get hit by accident if you aren't watching the parade closely. Plus you might miss out on some of the special items handed out by each of the krewes if you aren't paying attention.
Make New Friends
Talk to your neighbor along the parade route. We met some lovely and friendly New Orleans locals who made our family vacation to New Orleans even better. By the time we left the parades we learned a lot about the city and enjoyed wonderful conversations.
Cheer During The Parade
It is easy to cheer for the big floats throwing out beads. However, in between floats there are marching bands and dance troupes entertaining the crowds.
Many of these groups have elementary through high school aged kids. These kids have worked hard and marched for miles along the parade route. Cheer for these groups and see how their faces light up. Your cheering helps keep them going during the long and tiring parade route.
Final Thoughts On Our Mardi Gras Parade Tips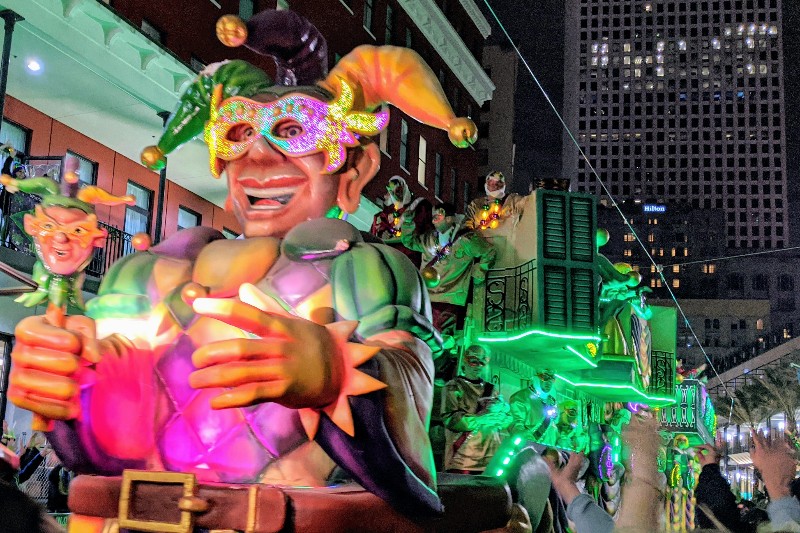 I debated for a long time whether we should go on a New Orleans family vacation during Mardi Gras. Many people advised against it, but I felt I would regret missing the Mardi Gras season.
Visiting over the weekend two weeks before Fat Tuesday is a great time for a New Orleans family vacation. There are lots of parades rolling, but crowds tend to be lighter and full of families.
Our entire multi-generational group loved the Mardi Gras parades and the city of New Orleans. Now that we've gone to visit, I certainly recommend a New Orleans family vacation during Mardi Gras season.
Pin it for later: