Be Our Guest Restaurant at Magic Kingdom has been exceptionally popular ever since it officially opened in December 2012. We have eaten at Be Our Guest for dinners in the past, but I didn't love our experiences. However, when Disney World announced a new prix fixe 3-course menu I knew I wanted to give it another chance. Find out more about the new experience with our Be Our Guest dinner review.
Getting Be Our Guest Reservations
Be Our Guest runs as a quick service restaurant for breakfast and lunch but switches to table service for dinner. All three meals require Advance Dining Reservations.
Getting Be Our Guest dining reservations is difficult. I highly recommend that you wake up early 180 days prior to your Disney World vacation to reserve your Be Our Guest dinner. Find out more about making Advance Dining Reservations in my full guide.
I had been trying to get this reservation for weeks, but had no luck. I kept trying, and just a couple of days before our trip I was able to get a reservation for a Be Our Guest dinner. This last-minute reservation for a Be Our Guest dinner was only available during one of our Mickey's Not So Scary Halloween Party nights.
Please note: I never recommend a long sit-down dinner on a Halloween or Christmas party night, since it uses a lot of your available party time. However, since we have attended many parties we decided that the Be Our Guest dinner review took priority over other party activities this one time.
Be Our Guest Restaurant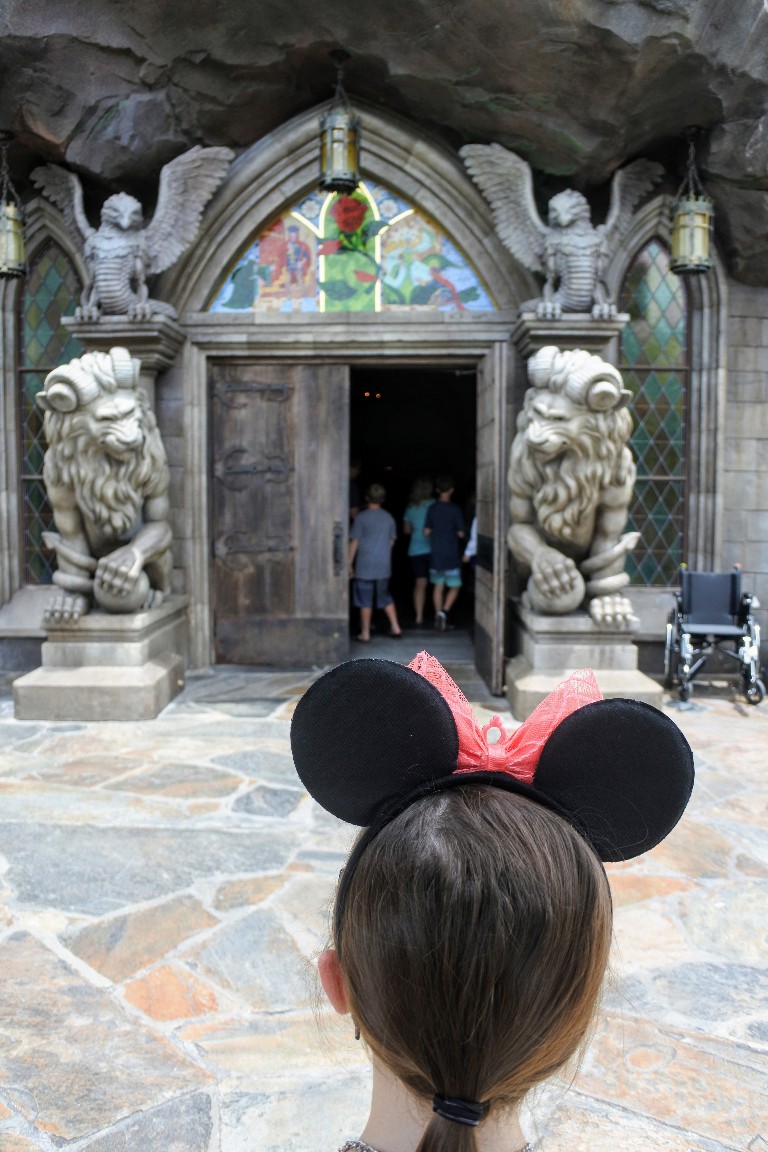 Nestled in the back of Fantasyland in Magic Kingdom is Be Our Guest Restaurant. Before you can step onto the bridge that connects the restaurant to the main walkway, you must first check in with your reservation information.
After checking in with a cast member you can access the bridge. We love practicing our gargoyle faces while we wait next to the statues along the bridge.
There are three dining areas at Be Our Guest: The West Wing, the Ballroom, and the Rose Gallery. Each room has a distinct feel, but all of them have amazing details to admire.
During quick service breakfast or lunch, you can choose to dine in any of the three rooms. At dinner you will be seated in an area based on availability. No matter where you are seated, there is plenty of detail and atmosphere to admire.
The West Wing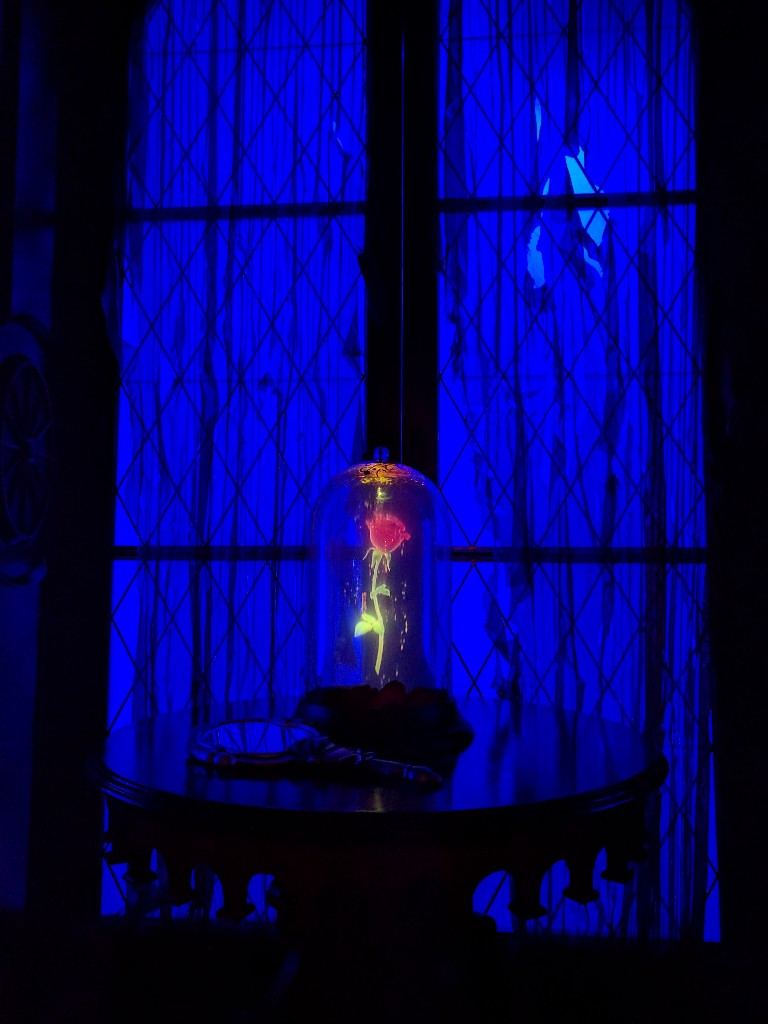 The most ominous of the three dining areas is the West Wing. The room is dark, with occasional thunder and lightning to set the spooky mood.
Tattered tapestries and the damaged portrait of the Beast before the curse adorn the walls. The enchanted rose is on a raised platform in its glass enclosure. Every so often a petal on the rose slowly drifts to the table making it more likely the curse will become permanent.
The Ballroom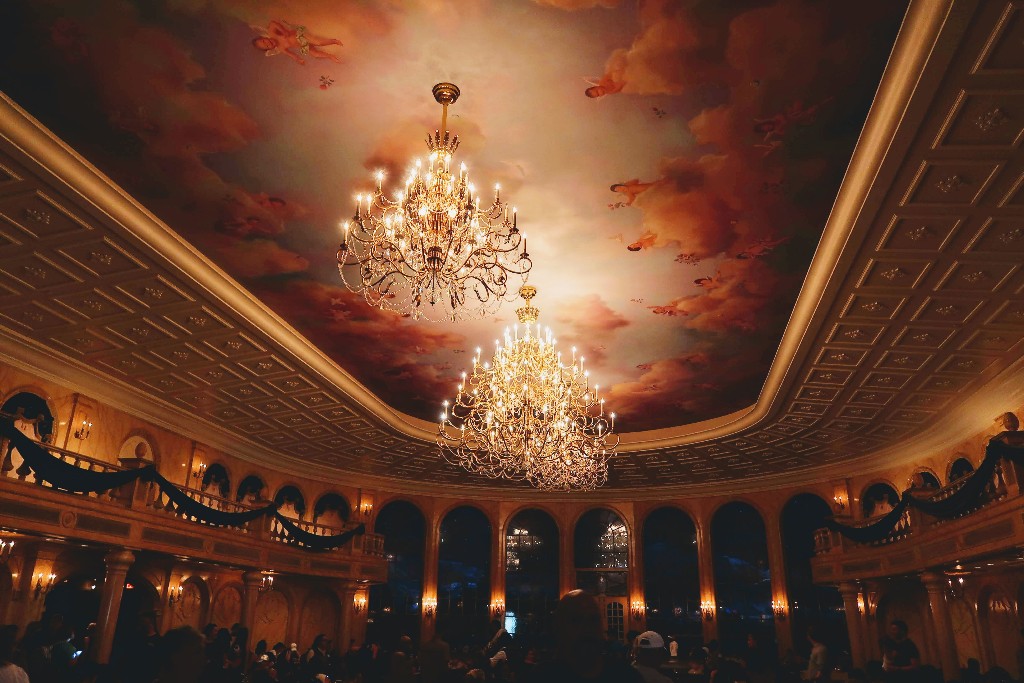 The largest of the dining areas at Be Our Guest is the Ballroom. When you enter the Ballroom you are instantly transported to the night Belle and Beast fell in love dancing under the chandeliers in the grand ballroom. Make sure to admire the high, painted ceilings and the chandeliers that look exactly like those from the movie.
On one end of the Ballroom are floor to ceiling windows overlooking the castle grounds. No matter the weather in Orlando you will see slowly drifting snowflakes outside the windows.
The Rose Gallery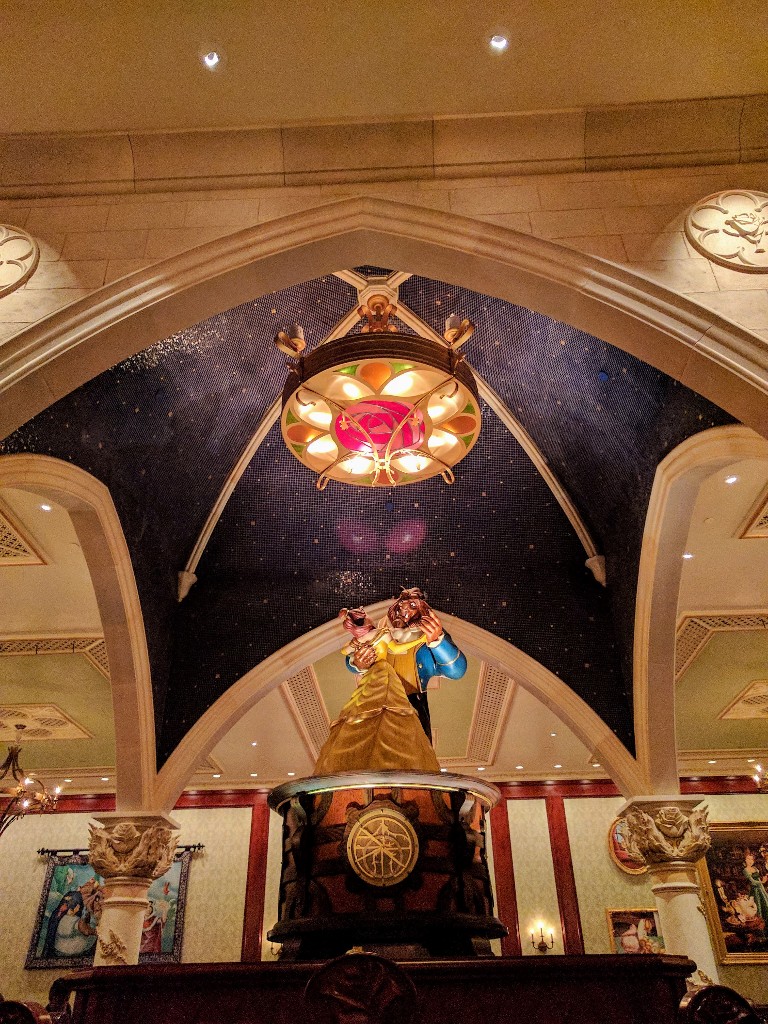 This room is Elizabeth's favorite at Be Our Guest, and she chooses it anytime I let her. The center of the room holds an immense Belle and Beast dancing slowly in a circle.
The walls have bright paintings depicting scenes of Belle and the Beast doing different activities. Some of the paintings look like scenes taken right out of the movie, but some are newly imagined images.
Be Our Guest Dinner Review
The new Be Our Guest dinner is a three course prix fixe menu. Adults get to choose an appetizer and a main course. There is a set dessert sampler to complete the adult meal.
Kids age 3 to 9 years choose an appetizer, entree, and dessert. One non-alcoholic beverage is also included in the price of each child or adult meal.
What We Ate At Be Our Guest
Adult Menu
Appetizer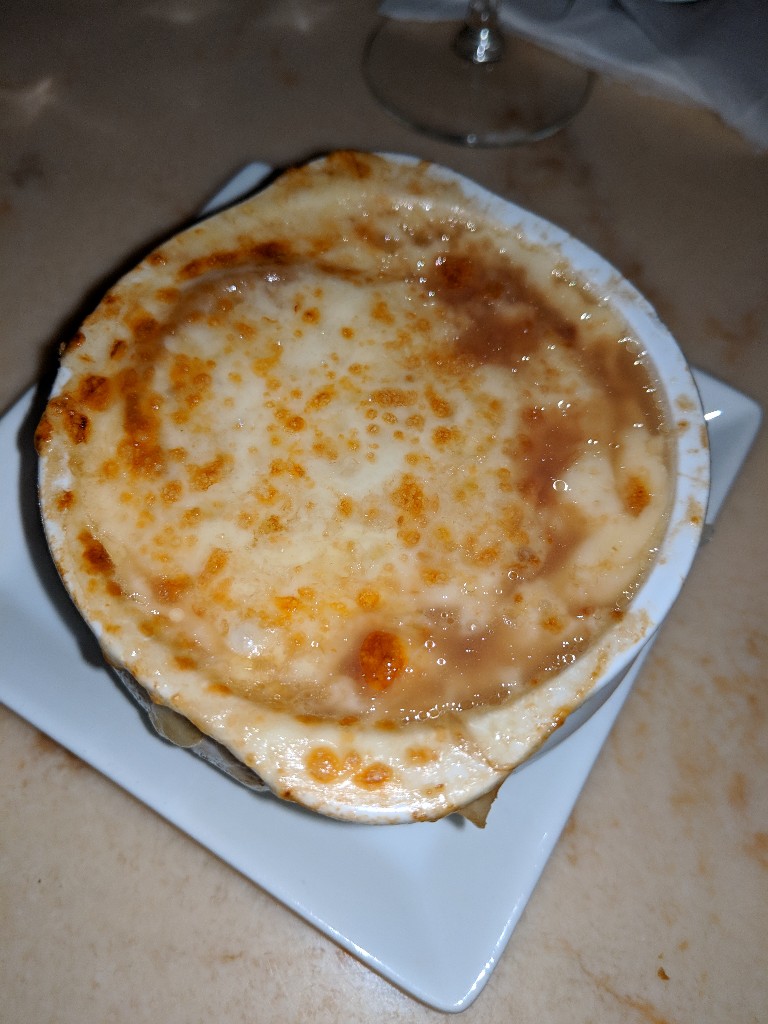 A traditional French Onion Soup.
Entree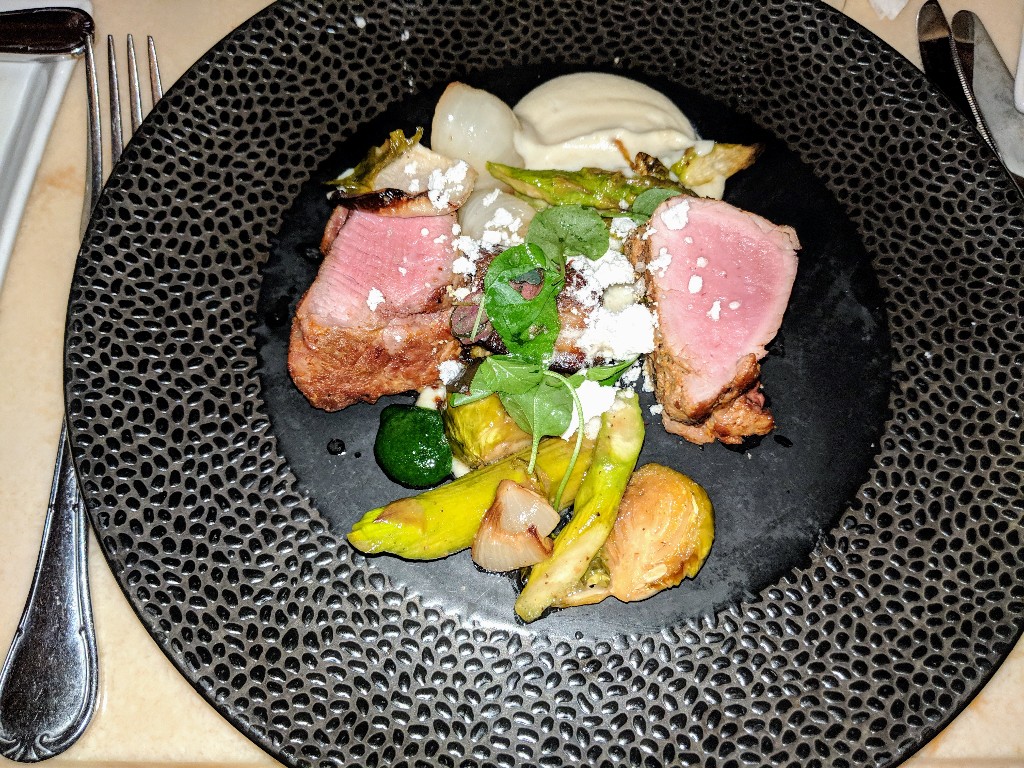 Roasted Pork Tenderloin with crispy Berkshire pork belly, caramelized cipollini, roasted asparagus, Brussels sprouts, cauliflower puree, and sprinkled with bacon dust. 
Dessert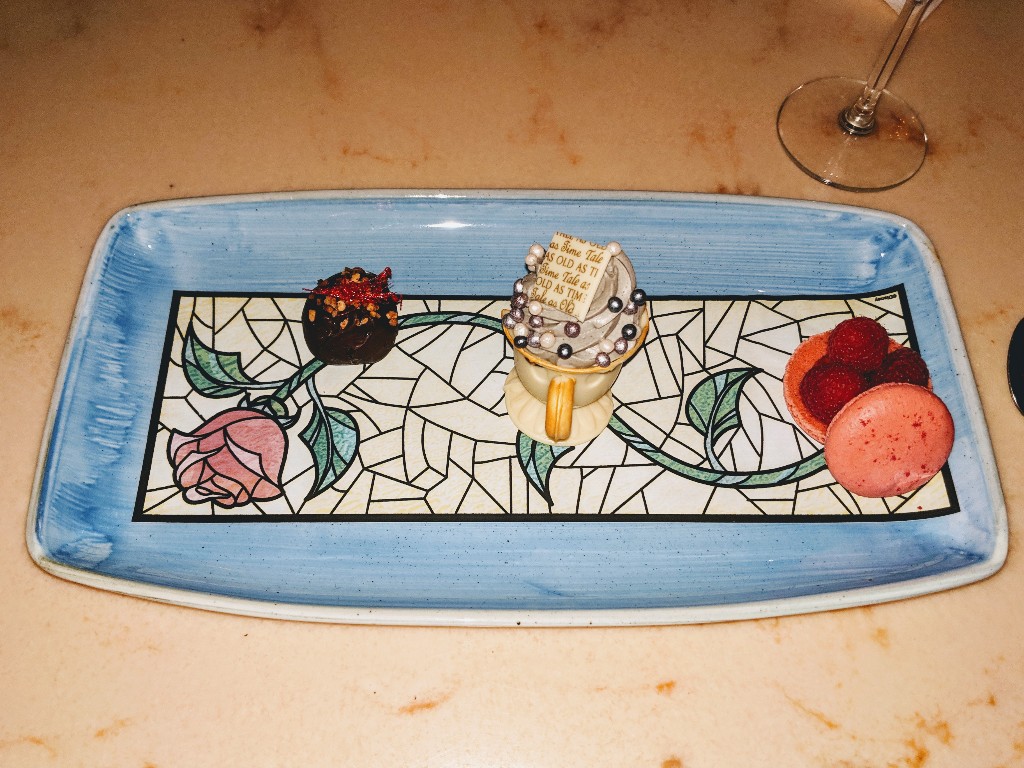 Dessert Trio of almond macaron with lemon jam and raspberries, white chocolate 'Chip' cup with Grey Stuff and crisp pearls, and a dark chocolate truffle filled with dark chocolate Grand Marnier ganache.
Children's Menu
Appetizer
An Iceberg Wedge Salad.
Entree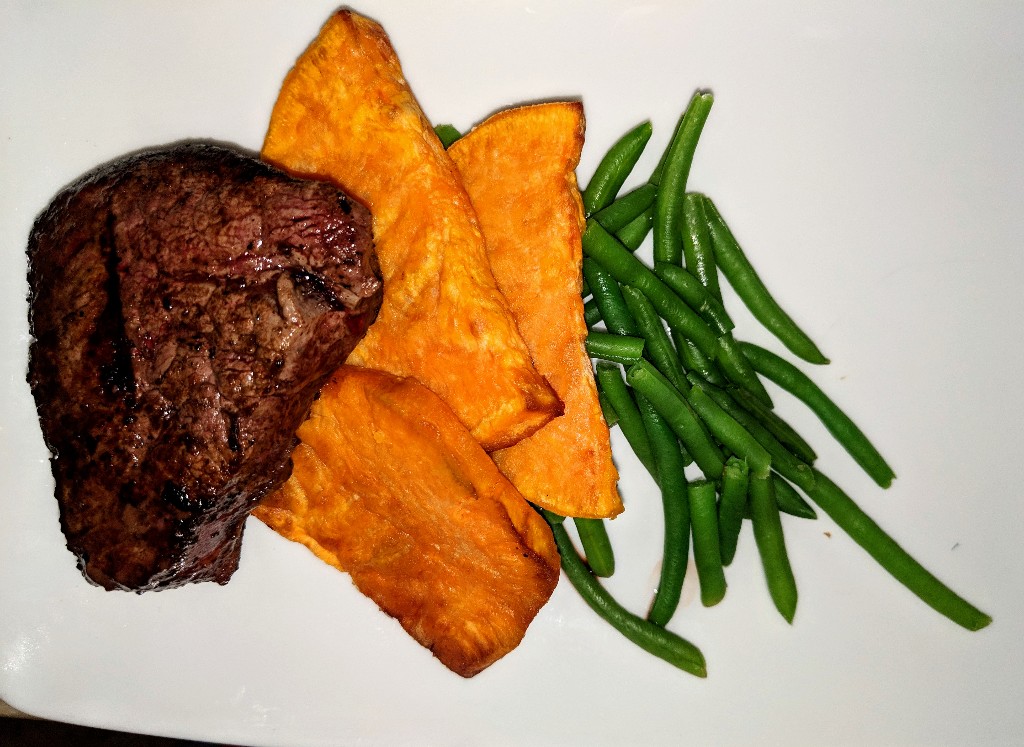 Grilled Beef Tenderloin with steamed green beans and sweet potato wedges.
Dessert 
Because of Elizabeth's food allergy she was not able to have the regular dessert trio. Instead she was surprised when Grey Stuff and an undecorated white chocolate 'Chip' cup arrived. We never dreamed it would be okay. 
What We Thought Of Our Be Our Guest Dinner
Overall, I thought my french onion soup was good, if just a tad salty. The generous portion of melty cheese over the top was delicious. I ended up eating most of it, but didn't finish it since I knew I had more courses to come.
My entree portion of pork tenderloin was cooked to a perfect medium although it was a little small. The richness of the dish, however, was satisfying.
The dessert trio offered a good variety of items. My favorite was the Grey Stuff in the white chocolate 'Chip' cup. The macaron was also very good. The fresh raspberries were firm and sweet with just the perfect hint of tartness. I did not care for the dark chocolate truffle. To be fair, my meal had been very rich so the lighter desserts were a refreshing change for me.
For Elizabeth, her wedge salad appetizer was unremarkable, and she only ate a small amount. However, she did like her entree better. The steak was cooked to medium and the portion size was reasonable. The sweet potato wedges were a nice compliment to the steak and green beans.
The normal dessert options for kids are fresh fruit with yogurt dip or the same dessert trio as the adult menu. Dessert is one of the most challenging things to order with Elizabeth's allergy to corn and corn products. The chef ended up making her a special dessert of an undecorated white chocolate 'Chip' cup and artfully arranged Grey Stuff.
For the most up to date Be Our Guest dinner menu check here.
Be Our Guest Dinner Cost
At time of publishing, the Be Our Guest dinner runs $60 per adult (10 years and older). For those 3 to 9 years old the 3 course meal cost is $36 per child. These prices do not include tax or tip.
If you are on the Disney Dining Plan please note that Be Our Guest dinner is now a signature table service meal. This means a dinner at Be Our Guest will use 2 table service credits.
Be Our Guest Characters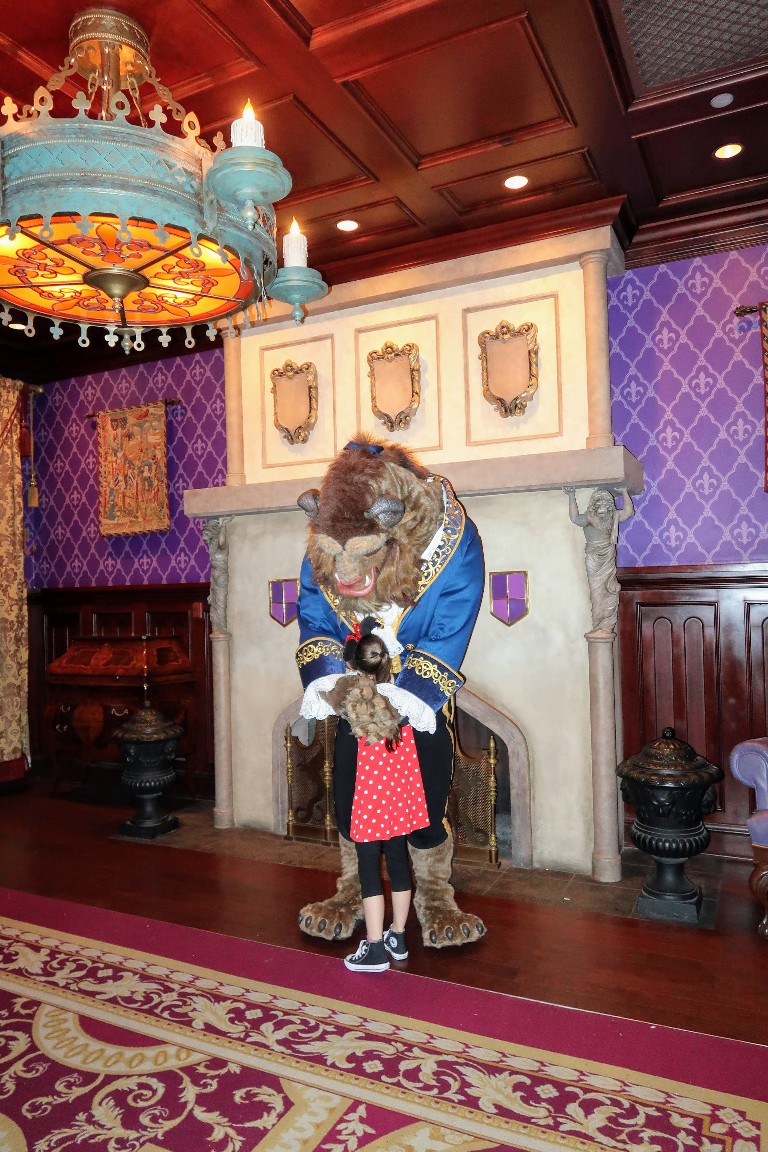 I often get asked if Be Our Guest is a character meal, and the answer is: not exactly. At Be Our Guest breakfast and lunch there are no characters.
At a Be Our Guest dinner you can meet the Beast in his study. The Beast does not roam the rooms or go table to table like a traditional character meal.
At the end of your meal head to the Beast's study. Here there will be a small queue for people waiting to meet the Beast. You may take your own photos or a PhotoPass photographer will be happy to take pictures of you and your group.
Final Thoughts On This Be Our Guest Dinner Review
I thought the new Be Our Guest dinner was an improvement over our previous experiences there for dinner. We enjoyed our meal but wished that it had gone a little faster.
Our meal took nearly two hours, but staff said that was because of extra arrangements made for Elizabeth's food allergy. When I asked a cast member how long people should expect a normal Be Our Guest dinner to take, I was told 60 to 90 minutes on average.
I still think that the best way to experience Be Our Guest is with a quick service lunch. Several lunch choices are delicious (the braised pork is my favorite) and the prices are much lower. At lunch you can experience the beautiful castle and see why Be Our Guest is such a popular venue.
If you really want to meet the Beast or have dinner in the castle then go for it. I think the new Be Our Guest Dinner is better than it was in the past. If you would rather have a non-character table service meal at Magic Kingdom or can't get a reservation for Be Our Guest then I suggest going to my favorite table service place – Jungle Navigation Co. Ltd. Skipper Canteen.
More Disney World Planning Resources
Do you need more help planning your Disney World trip? Check out other Disney World tips and tricks in my Disney World Guides.
Pin it for later: