Walt Disney World in Orlando, Florida is unbelievably immense and operates like a large city. This is not surprising as Disney World is almost 40 square miles (103.6 sq km) large! That's almost the size of San Francisco. There are several transportation options at Disney World depending on resort, park, and personal preference. Understanding Disney World transportation options ahead of time can help ease the confusion once you arrive on property at Disney World.
Disney World Transportation Options
Disney World Buses
Bus is the most common form of transportation at Disney World. Disney World resort buses are the main way guests are transported around the property.
Magic Kingdom, Epcot, Animal Kingdom, Hollywood Studios, Disney Springs, and resort hotels all have bus terminals. The theme parks and Disney Springs have larger bus terminals than the resorts.
Taking A Disney World Bus From Theme Parks Or Disney Springs
Before reaching the bus terminal at the theme parks or Disney Springs there are boards listing all resorts and other bus route options. The other bus route options might include transportation to Disney Springs or from one theme park to another.
For example, if you are going from Magic Kingdom to Boardwalk Resort you would look at the board located before the Magic Kingdom bus area. In this example, Boardwalk buses are using loading area #14.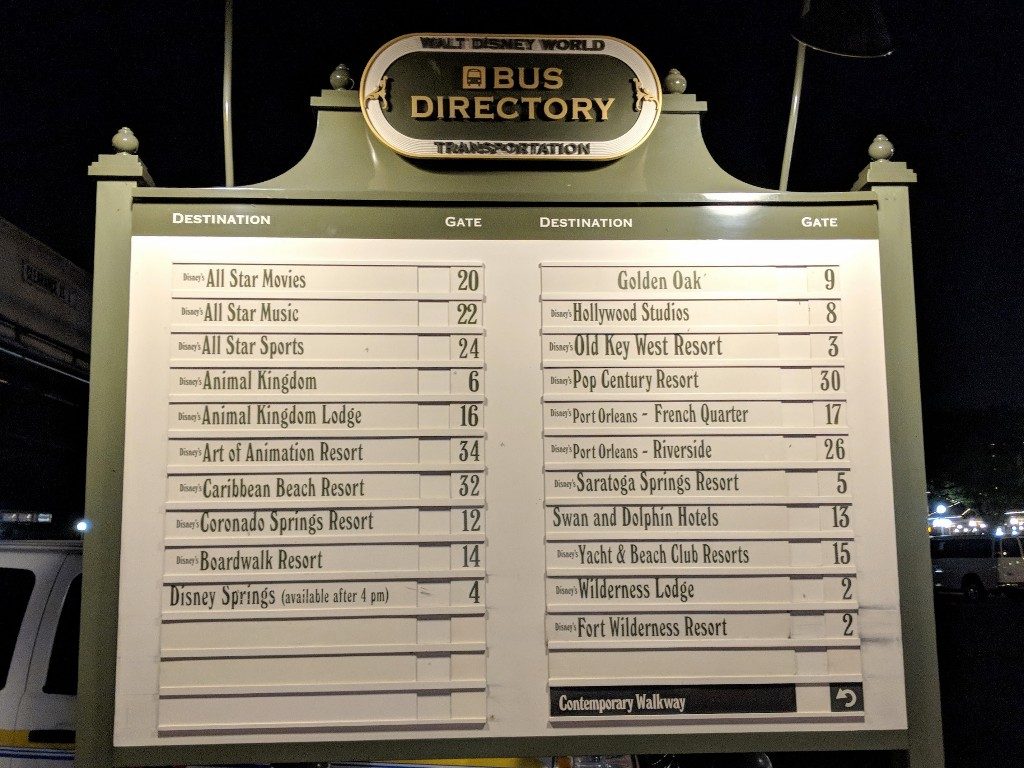 Walk to bus area #14 and wait for the bus to your resort. When the bus arrives for pick-up it will display your resort name on the front and side marquee. This signage can help you make sure you take the right bus.
Information On Taking A Bus From An On-Site Disney World Resort
At each hotel resort there will be a smaller bus pick-up/drop-off area. There are usually a few "stops" located in the area with signs as to where the bus will take you.
There is a great feature on the My Disney Experience App that allows you to check estimated bus arrival times from your room. I loved being able to check when the next expected bus for our desired park would arrive. It saved us from unnecessary rushing out of the room.
To access the estimated bus arrival times you will open the My Disney Experience App and choose your hotel stay. One of the options is "See Bus Times".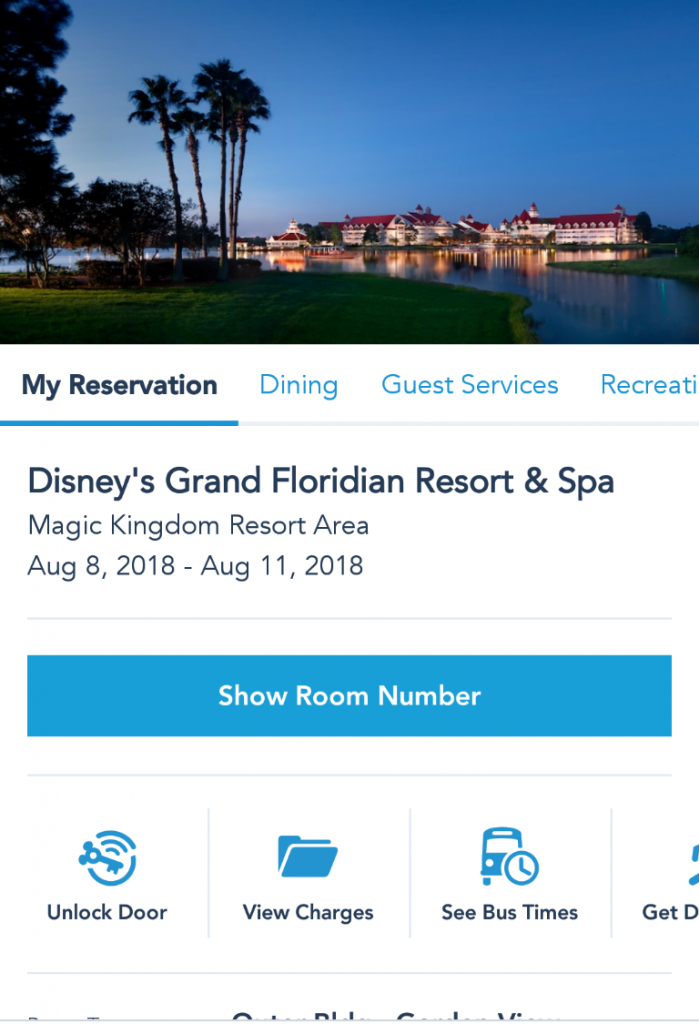 Touch "See Bus Times" and the next screen will show the estimated time the bus will arrive at the hotel. It also shows the estimated time of arrival at your destination park.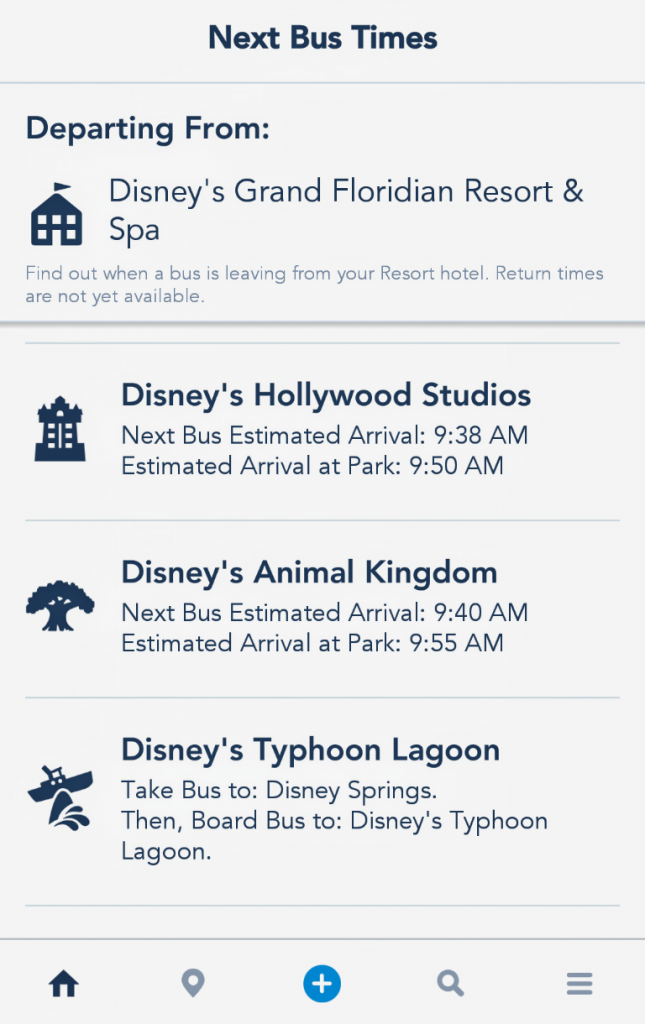 Monitors at the resort bus stop also give an estimated time of arrival for each bus. When the bus arrives at the resort the front and side marquees will say the destination of that particular bus.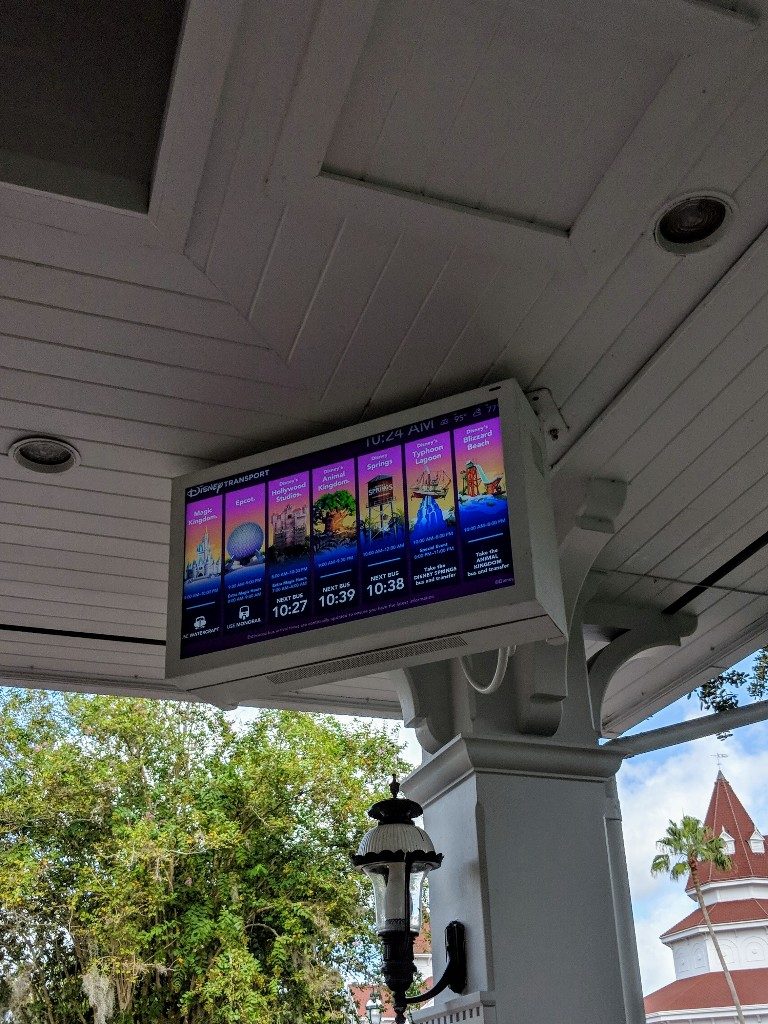 Important information about Disney World Buses
Bus transportation near park opening and park closing is extremely busy and can be quite slow.

The bus drivers will try to fit as many people onto the bus as possible especially during these prime times. This can mean standing room only and very tight spaces.

Strollers need to be folded prior to entering the bus.

Some resorts share bus service. This means that those at certain resorts will stop at other resorts during the ride to or from desired location.

Wheelchairs and scooters are loaded first and secured prior to allowing other guests to enter the bus.
Disney World Boats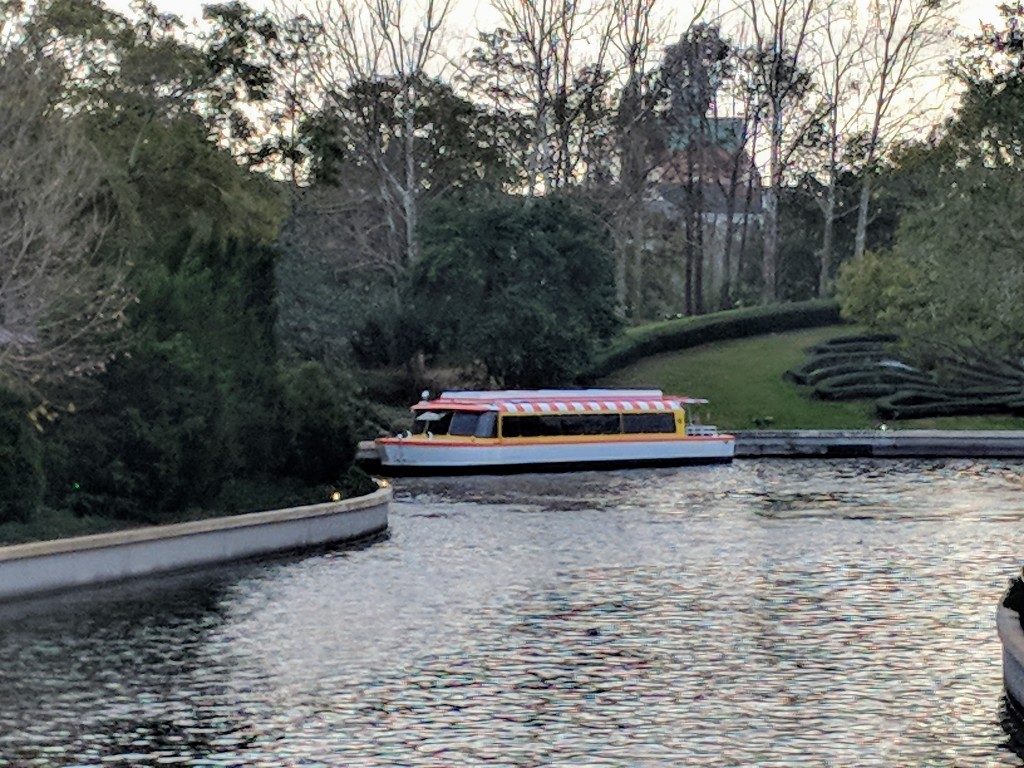 There are several boat transportation options at Disney World. From the parking lot near the Transportation and Ticket Center there is a large ferry that takes people to and from Magic Kingdom.
There are also smaller boats that take guests from resorts to the theme parks. Some examples are boat shuttles from Polynesian Village Resort to Magic Kingdom or Beach Club Resort to Hollywood Studios.
There is also a boat option from Epcot to Hollywood Studios with stops at area resorts along the way. The dock is located at the back of Epcot at the International Gateway entrance/exit.
Monorail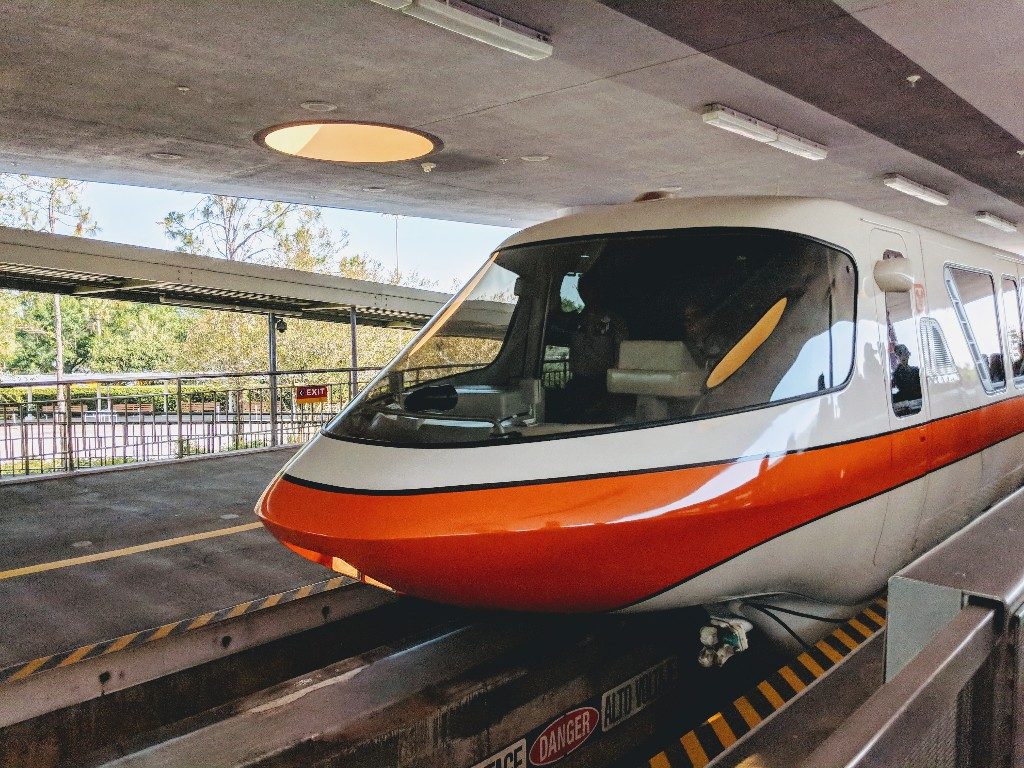 The Disney World Monorail is probably the most iconic form of transportation available. The monorail has three different lines.
The first line runs in a loop past Magic Kingdom, the Transportation and Ticket Center, and 3 Magic Kingdom resorts before arriving back at Magic Kingdom. There is also a line that runs directly from the Transportation and Ticket Center (TTC) to Epcot. The last monorail line runs an express from TTC to Magic Kingdom.
Monorails are available at the following Magic Kingdom resorts: Disney's Contemporary Resort (in fact the monorail track runs straight through the hotel), Disney's Polynesian Resort, and Disney's Grand Floridian. This loop also contains a stop for the TTC and Magic Kingdom.
If you are staying at a monorail resort and want to go to Magic Kingdom or one of the other resorts, just hop on and take the loop to your desired location.
If you are trying to get to Epcot you will need to take the monorail loop to the TTC. At the TTC you will transfer to the Epcot monorail line; this line takes you straight to the front of Epcot.
Disney Skyliner
This  mode of Disney World transportation opened September 29th, 2019 and is the newest way to get from some Disney resorts to theme parks. These high flying gondolas connect Epcot, Disney's Hollywood Studios, Disney's Riviera Resort, Disney's Caribbean Beach Resort, Disney's Art of Animation and Disney's Pop Century Resorts.
Disney Skyliner is undergoing refurbishment January 16 to 27, 2024.
Minnie Vans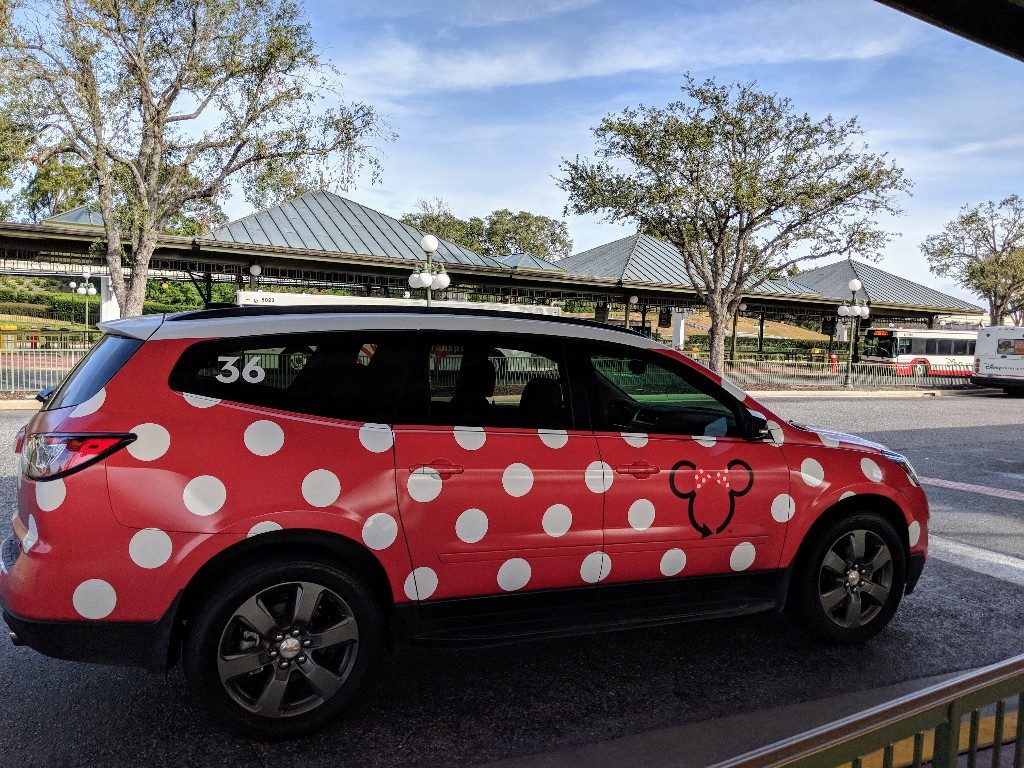 Minnie Vans are a cute and popular way to get around Disney World. We've used Minnie Vans on a several occasions and enjoy the convenience of this Disney ride share option despite the cost. Read our complete review to find out more about this Disney World transportation option.
Rideshare
Both Lyft and Uber drivers are allowed to shuttle passengers around most of Disney World with some exceptions. Rideshare drivers can not pick up or drop off passengers in certain areas, especially near the theme parks. This can sometimes mean a long walk to your ride or the theme park.
Pickup areas are also not well marked with signage at Disney World. Make sure you are comfortable using the ride share app map to find your pick up location.
Final Thoughts On Disney World Transportation
Disney World transportation can seem complex at first, but good signage and helpful cast members make using it easy. Each mode of Disney World transportation has its positives and negatives, but overall gets you where you need to go.
If you have questions about transportation options for your specific resort check out my Disney World Resort Reviews. I include specific information on how to use the Disney World transportation options for each resort.
More Disney World Planning Resources
Do you need more help planning your Disney World trip? Check out other Disney World tips and tricks in my Disney World Guides.
Pin it for later: