Taking a Disneyland Christmas vacation is a wonderful way to make special memories during the holiday season. Disneyland Christmas parades, fireworks, and incredible holiday attraction overlays are just the beginning of what to expect during the Christmas season. Take a tour of everything offered for the holiday season with our 2022 Disneyland Christmas guide.
When Is Christmas At Disneyland 2022?
Disneyland officially transforms into a holiday wonderland November 11, 2022 and the celebration continues all the way until January 8, 2023. Enjoy the holiday season at Disney California Adventure, Disneyland, and on-site resorts.
Disneyland Park Christmas
Haunted Mansion Holiday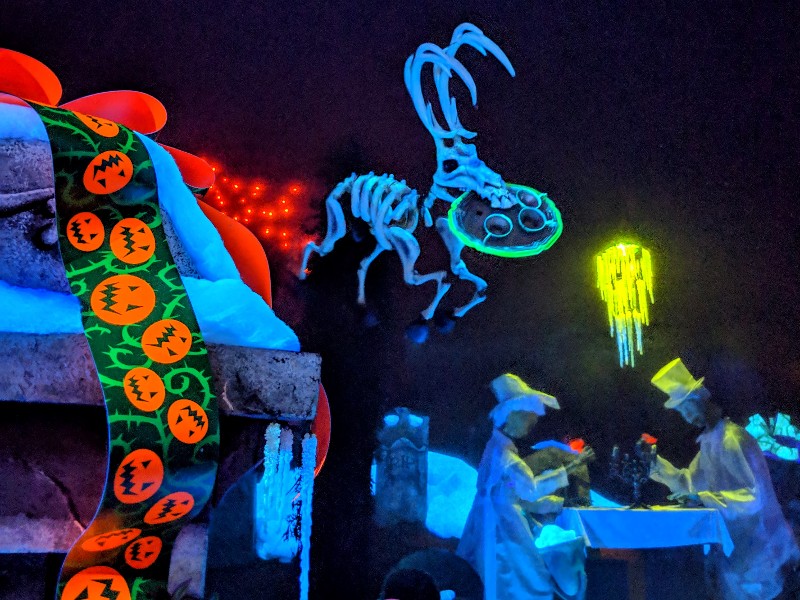 I planned our first Disneyland Christmas trip to experience a combination of two of my favorite things, The Haunted Mansion and The Nightmare Before Christmas. Jack Skellington, Oogie Boogie, and Sally with the help of many friends completely transform the Haunted Mansion.
Haunted Mansion Holiday is usually available from early September and lasts until just after New Years. Since The Nightmare Before Christmas is about what might happen if Halloween took over Christmas preparations the timing perfectly celebrates both holidays.
Almost every facet of the Haunted Mansion Holiday changes for the Halloween and Christmas season. The outdoor area, stretching chamber, and entire ride are beautifully themed to incorporate the Haunted Mansion and The Nightmare Before Christmas.
Haunted Mansion Holiday Outdoor Decor
The mashup experience starts outside with Halloween Town's takeover of the mansion decor. Over 100 flickering jack-o-lanterns, dozens of candles, Jack's coffin sleigh, and Halloween inspired Christmas garland set the mood for what is inside. A countdown to Christmas clock even hangs above the main entrance which is a fun nod to the movie.
Haunted Mansion Holiday Ride Experience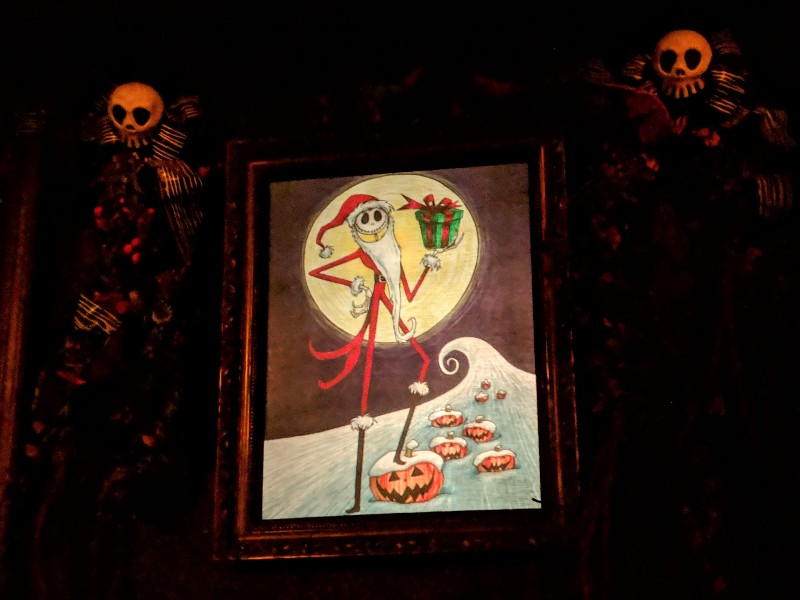 Instead of the normal stretching chamber experience, this one has a special flair. The usual portraits are replaced with The Nightmare Before Christmas characters and a different soundtrack. As a final surprise, Jack Skellington breaks through the stained glass ceiling above you with an enthusiastic, but slightly frightening, holiday greeting.
When exiting the stretching chamber notice paintings along the walls with iconic images from The Nightmare Before Christmas. Keep watching as you walk since these portraits alternate between Christmas and Halloween versions right before your eyes.
Board your "sleigh" and begin your ride through the Haunted Mansion Holiday. There are so many amazing The Nightmare Before Christmas details in Haunted Mansion Holiday that it's nearly impossible to list them all. I could probably ride Haunted Mansion Holiday a hundred more times and still find something new.
Instead of an exhaustive list I'll share some of our favorite parts of Haunted Mansion Holiday. First is Zero floating down the long, dark hall. This friendly ghost pup is a less spooky and more cute experience than the normal Haunted Mansion.
Watch carefully as each year a different immense, gorgeously themed, spooky gingerbread house sits atop the dining room table while ghosts whirl around dancing. Also look for Jack in the cemetery sharing Christmas greetings while Oogie Boogie coaxes you to play roulette at the end of the ride.
"it's a small world" Holiday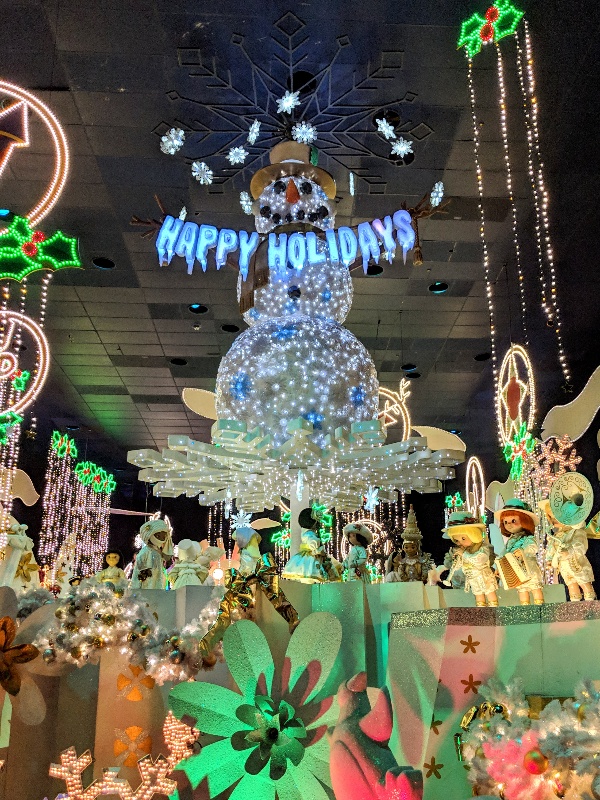 The Haunted Mansion isn't the only attraction that undergoes a huge transformation for the holidays. "it's a small world" gets completely new decorations inside and out for Disneyland Christmas.
During the holiday season each country is decorated with culturally appropriate holiday attire and decor. Twinkling lights hang from the sky and add a special ambiance to the ride. Even the classic "it's a small world" song gets a holiday twist with a mix of the normal soundtrack and Christmas music.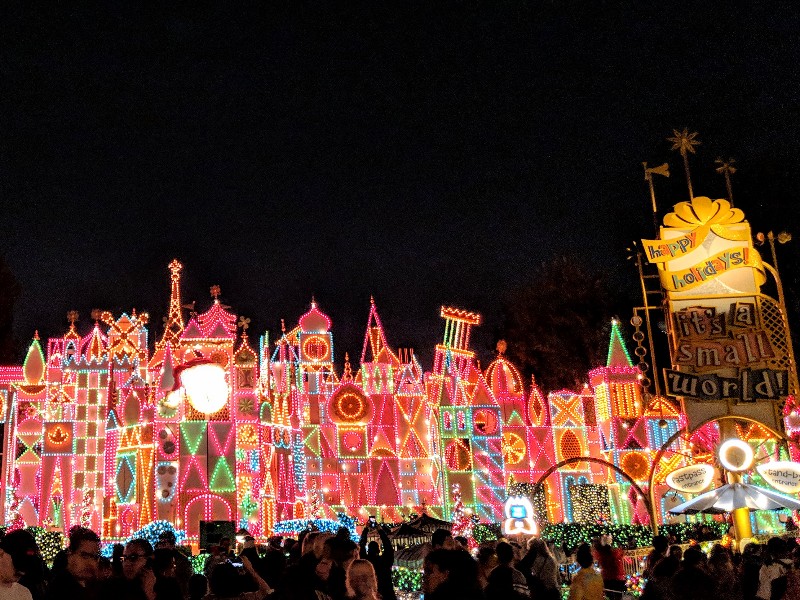 As if the amazing holiday changes inside "it's a small world" Holiday weren't enough, the entire outside of the attraction is covered in roughly 50,000 Christmas lights.
If you ride during the day take a walk back to see the facade of "it's a small world" Holiday all lit up at night. The colorful lights are more breathtaking in person than any photo I could share.
A Christmas Fantasy Parade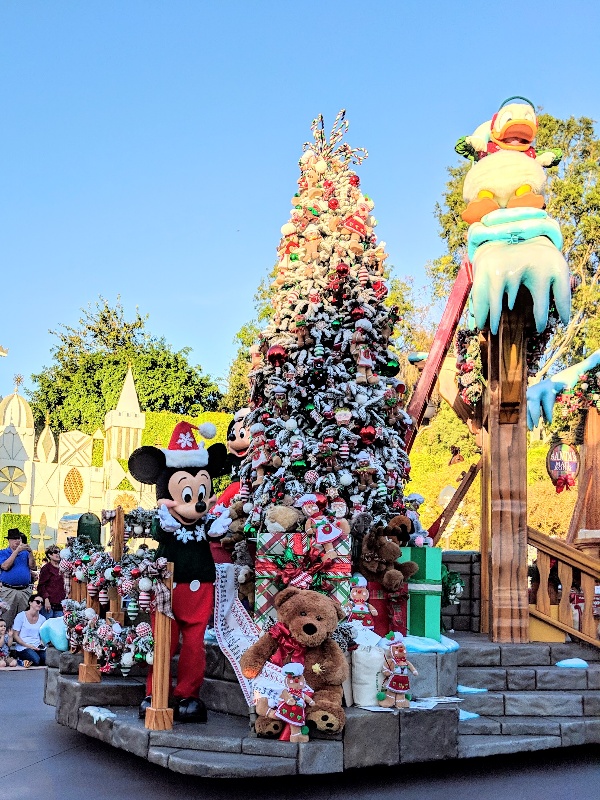 Disneyland is known for extravagant parades and A Christmas Fantasy keeps the tradition alive. A Christmas Fantasy Parade is full of favorite Disney characters dressed in holiday attire on cute seasonally themed floats.
In between the ornate holiday character floats, huge decorated Christmas trees somehow navigate the parade route. Entertainers also dazzle guests with incredible skating and dancing ability.
Santa Claus wraps up A Christmas Fantasy Parade with cheerful Christmas greetings to those along the parade route. The parade is so much fun that the time flies by which is surprising since the parade lasts about 30 minutes.
Sleeping Beauty Castle and Main Street Christmas Decorations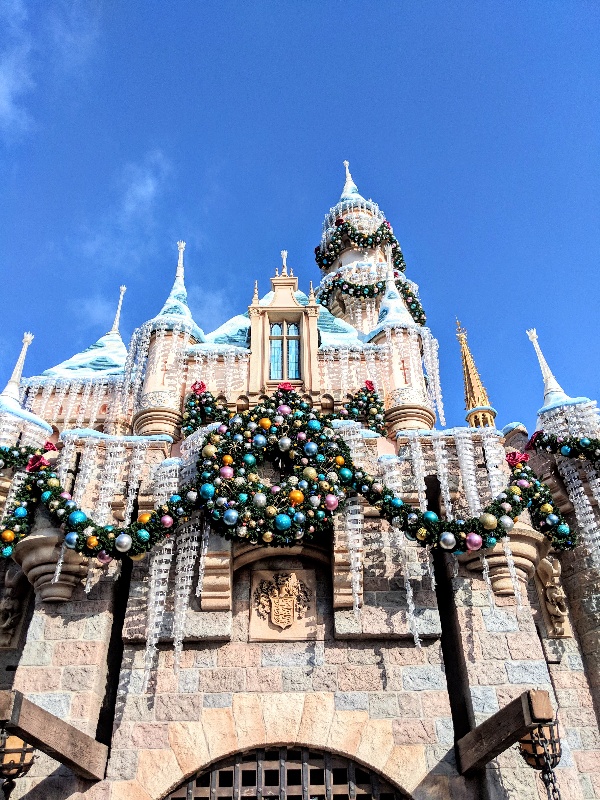 Sleeping Beauty's Winter Castle decor has stunning decorations that are beautiful day or night. A large wreath, ornate garland, and snow capped towers make Sleeping Beauty's Winter Castle a lovely sight to see during the day.
As beautiful as it is in the daytime, the castle is even more stunning at night when hundreds of lights and illuminated icicles bathe the castle in a peaceful glow.
On the other end of Main Street an extravagantly decorated Christmas tree standing 60 feet (18 meters) tall begs you to admire all the special details. All down Main Street garland and lights hang above the street.
Each shop and tree along Main Street is covered in soft white lights. Walking around Main Street at night with the castle on one end and the incredible tree on the other is beautiful.
"Believe…In Holiday Magic" Fireworks Spectacular
Projections on Sleeping Beauty's Castle and Main Street make "Believe…In Holiday Magic" Fireworks Spectacular a Christmas spectacle.
We saw people securing spots in front of the castle two hours before "Believe…In Holiday Magic" Fireworks Spectacular which is much sooner than for similar shows at Disney World.
If you are willing to enjoy the projections on Main Street buildings instead of the castle, grab a decent spot closer to fireworks time. This lets you enjoy other Disneyland Christmas activities instead of waiting around.
Pro tip: Make sure you have a good view of the left side of the castle. Most of the fireworks tend to be on that side.
My favorite part of "Believe…In Holiday Magic" Fireworks Spectacular is at the end when "snow" starts falling over Main Street and a small area around Sleeping Beauty's Castle.
The fluffy "snow" makes for great ambiance and as a bonus it smells like gingerbread. Not surprisingly, I like Disneyland snow a lot better than the real snow we get at home.
Disneyland Sleeping Beauty Christmas Castle Lighting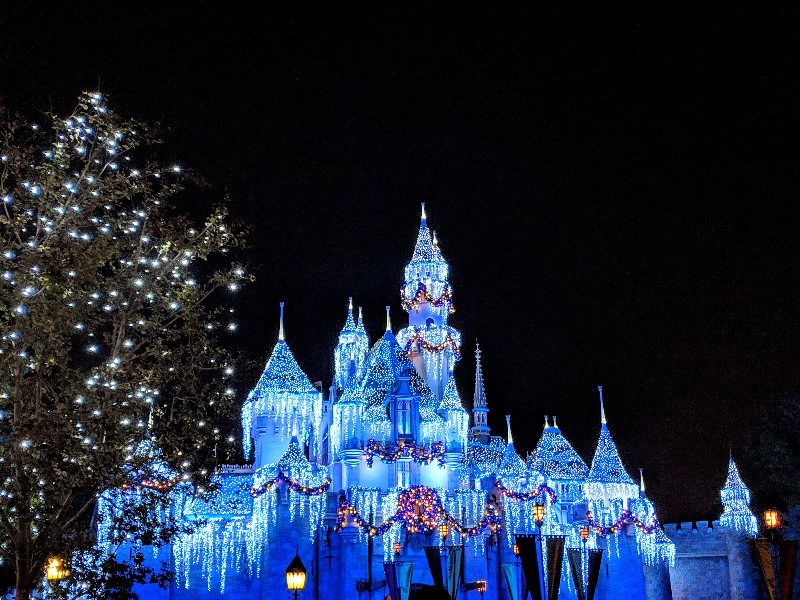 Wintertime Enchantment at Sleeping Beauty's Winter Castle generally occurs twice a night during the holiday season. This show brings the castle from darkness to sparkling beauty with some music and minor castle projections.
Although not a bad show, I did regret spending a lot of time staking out a spot. Don't miss out on the other spectacular Christmas activities to see it, but certainly stop by if you happen to catch the show.
Meet Santa In Disneyland Park
If a quick wave to Kris Kringle leaves you wanting more, stop by Critter Country for another chance to visit with Santa Claus.
Disney California Adventure Holidays
Disney ¡Viva Navidad! Street Party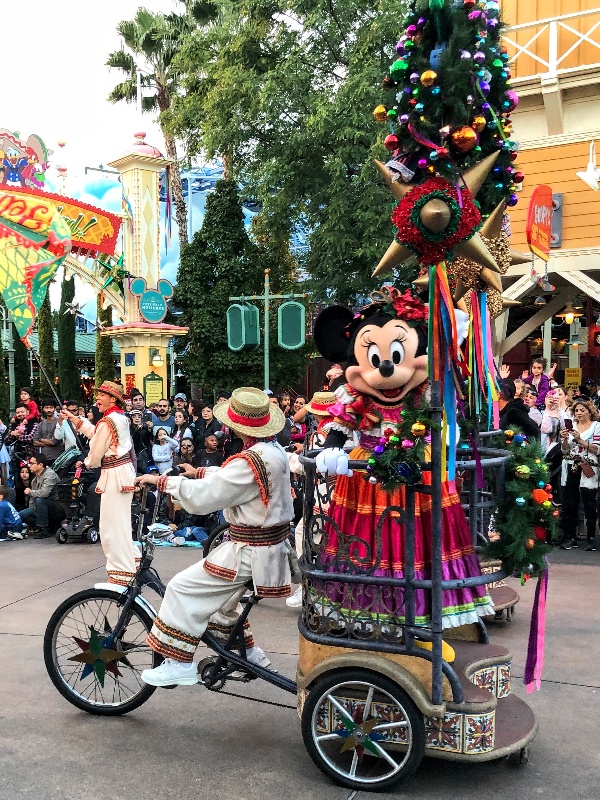 Unique to Disney California Adventure, Disney ¡Viva Navidad! Street Party is a wonderful celebration during the Disneyland Christmas season. This joyful show celebrates Christmas with mariachi and samba musicians, folklórico dancers, and some of your favorite Disney characters.
Don't miss this vibrant street party at Disney California Adventure in Paradise Gardens Park when visiting Disneyland at Christmas.
Disney Festival of Holidays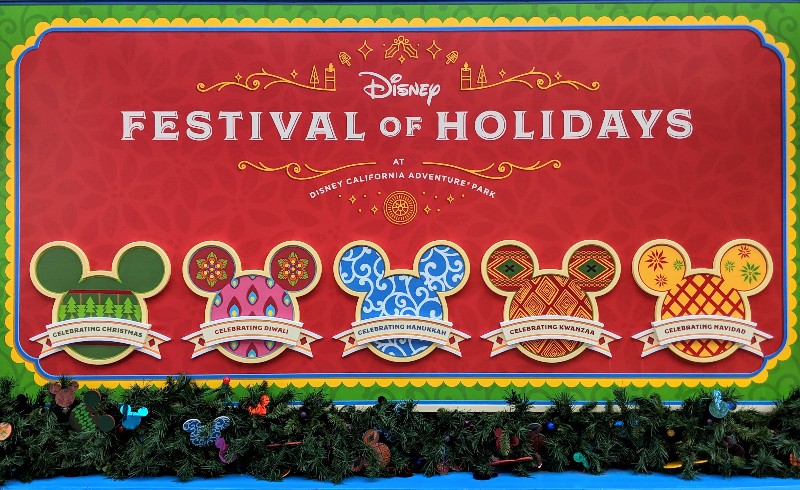 Celebrate the diversity of the holiday season with Disney Festival of Holidays. Expect something special for Christmas, Hanukkah, Diwali, Kwanzaa and Three Kings' Day during Disney Festival of Holidays.
A variety of live performances honor these holiday traditions with music, dancers, and some Disney friends. Enjoy special holiday foods from around the world with Festival Foods Marketplace booths as part of the festival.
Santa's Holiday Visit at Redwood Creek Challenge Trail
Santa returns to Disney California Adventure for a traditional meet and greet in 2022. Tell Santa your Christmas wish list before burning off energy with several holiday themed activities on the Redwood Creek Challenge Trail. 
Christmas In Cars Land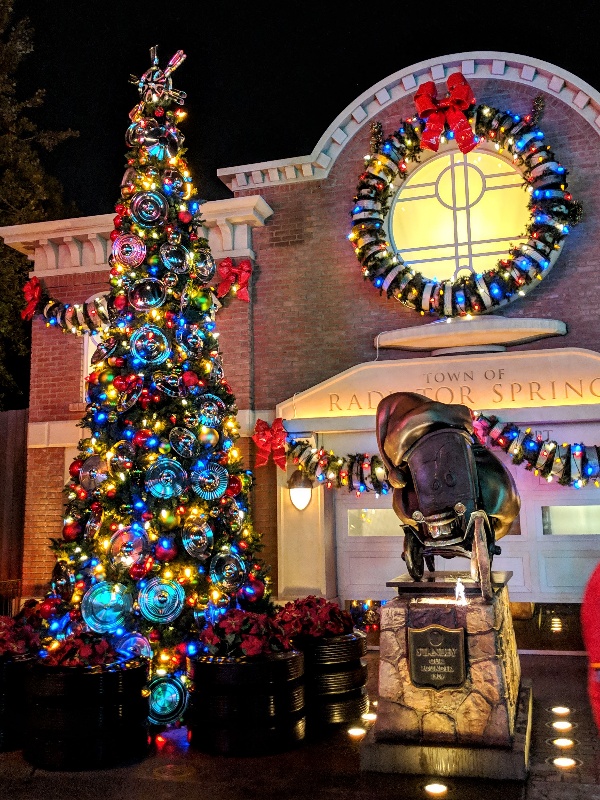 The residents of Radiator Springs go all out for the Christmas season in Cars Land. The transformation begins outside of Cars Land with the addition of Snowy the Snow Car to the iconic Cars Land sign area.
Cars themed garland stretches across Route 66 with each shop is decorated in its own holiday style. Pay special attention to all of the details in the Cars Land Christmas decor. Find whitewall tire wreaths, air filter garland, and wrench snowflakes.
Luigi's Joy To The Whirl
Listen to a holiday soundtrack crooned by Luigi himself during the Christmas season. Hop into a classic car and enjoy the seasonal version of this adorable ride aptly named Luigi's Joy To The Whirl.
Mater's Jingle Jamboree
Not one to be left out, Mater's Junkyard Jamboree gets some fun holiday jokes and a new soundtrack turning it into Mater's Jingle Jamboree.
World of Color – Season of Light
This special version of World of Color has seasonal music and lighting for the holidays. World of Color – Season of Light has a virtual queue for much of the viewing area which guests can join daily at noon.
Disney's Grand Californian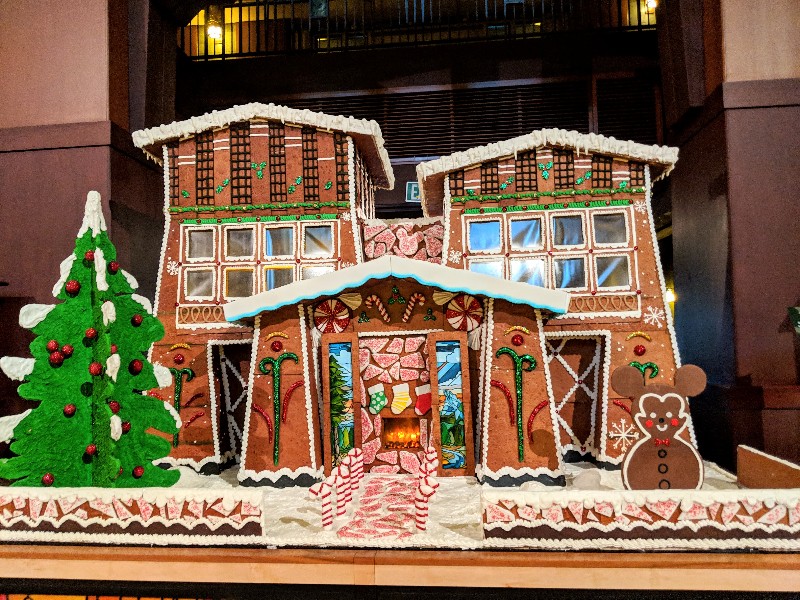 The rustic beauty of Disney's Grand Californian is enhanced by a soaring Christmas tree and detailed gingerbread house. Find both of these seasonal decorations in the lobby of this iconic hotel.
Take time to walk around the Disney Grand Californian gingerbread house. Stunning design and hidden Mickeys make this delicious decor a special experience.
Final Thoughts on A Disneyland Christmas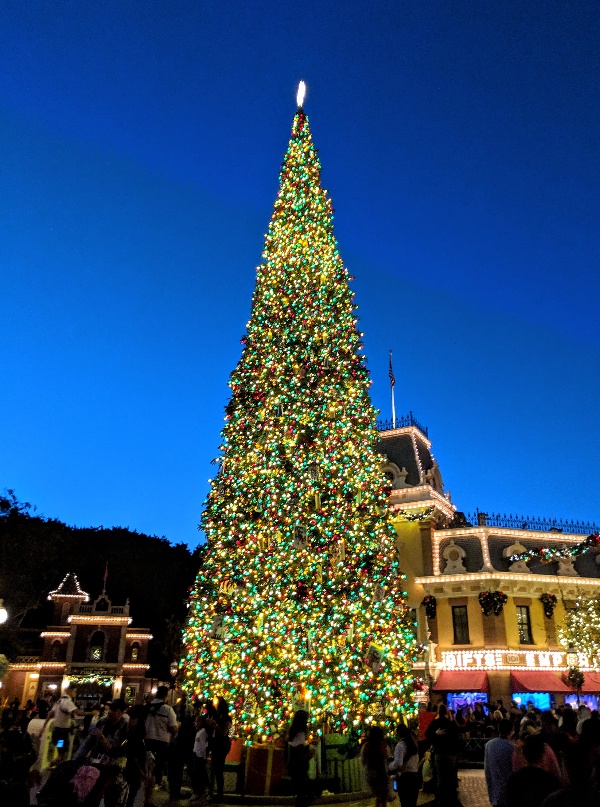 Disneyland Christmas attractions, decorations, and entertainment are unique which keeps us coming back during the holiday season. As an added bonus, most Disneyland Christmas offerings are available to daytime park guests unlike some Disney World Christmas options.
I hope this Disneyland Christmas guide inspires you to find the best activities for your family so you can make wonderful Disneyland vacation memories.