After limiting guests to one park per day for most of 2020, Disney World brought back park hopping in 2021. Disney World park hopping has new rules and limitations but gives guests the option to visit more than one Disney park in a single day.
What Is Disney World Park Hopping?
Park hopping is the ability to visit more than one Disney World theme park in a day.
Starting our day at Magic Kingdom before taking a midday nap was perfect when our daughter was a toddler. When she woke up we would visit Epcot for a delicious dinner and different attractions.
If you have limited days at Disney World, park hopping gives you flexibility and the ability to experience highlights of more parks.
Is your family cranky and ready to leave before you've done everything you wanted? Knowing you can hop back over to a park for something you missed on another day is freeing. We felt stressed being limited to one park per day after COVID reopening.
Do I Need A Special Ticket To Park Hop?
Yes. You have to purchase a Disney World ticket with the park hopper option, or have an annual pass that includes park hopping, to visit more than one park in a day.
What Are The New Rules For Disney World Park Hopping?
Make Park Reservations For First Park Of The Day
You still need to make a reservation for your first park of the day, and you must visit the first park where you hold a Disney World park pass reservation. After visiting the first park, guests can check park hopping availability for that day.
Check When Park Hopping Hours Begin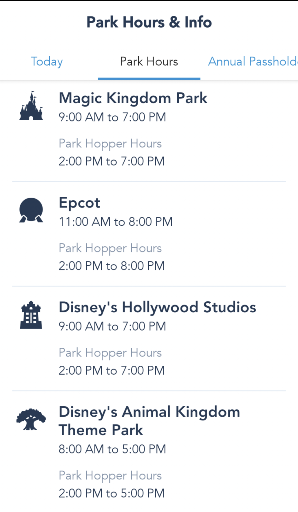 Disney World Park Hopper hours generally begin at 2:00 pm each day and continue until the park's closing time, but the hours can vary by day or by park. For up-to-date information, check Park Hopper Hours on the My Disney Experience app or call +1 407 560-5000 to check same-day park hopping availability.
Park Hopping Depends On Crowd Levels
The new Disney World park hopping rules are designed to keep parks at a safe capacity level. Low crowd levels mean park hopping with ease, while popular parks or high crowd days will limit availability.
A new feature on the My Disney Experience app sends a notification if a park has reached capacity. This way you know which parks are unavailable for park hopping.
If you plan to take Disney bus transportation between parks, cast members scan your Magic Band or ticket to confirm proper ticket type and availability at the desired next park.
Don't Make Dining Or Experience Reservations Outside of Primary Park
Disney World dining reservations or experiences like Droid Depot or Savi's Workshop do not guarantee park access. You only have guaranteed access to the Disney World park you reserved for the day.
For that reason, avoid reserving dining or experiences outside of your reserved park for the day. You are not guaranteed entrance to a second park and could miss your reservations. Once you have successfully hopped to another park you can then use the My Disney Experience app to join virtual waiting lists for dining.
Final Thoughts On Return Of Disney World Park Hopping
We are beyond excited that Disney World park hopping is back. No park hopping was one of the things we liked least when we visited after COVID reopening. As 2022 continues we are excited to see what other things return to Disney World.
Pin it for later: