Height requirements are just part of finding the best Disney World rides for toddlers. There are several rides without height requirements, ahem Haunted Mansion, that may not be a great choice for toddlers at Disney World. After testing dozens of attractions, these make the cut for the best rides and shows for toddlers at Disney World.
What Can Toddlers Do At Disney World?
Toddlers can do more than you may expect at Disney World. Kids as young as 2 and 3 years old can ride many attractions, watch shows, and see favorite Disney characters. The best part is kids under 3 years old don't need park tickets or park reservations which saves families money on their Disney World vacation.
I'm including the best Disney World rides that either have no height requirement or a minimum of 32 inches (80 cm) since most 2- and 3-year-olds are that tall. I'm also factoring in the shorter attention span of toddlers plus scare factors when choosing the best Disney World rides for toddlers.
Magic Kingdom with Toddlers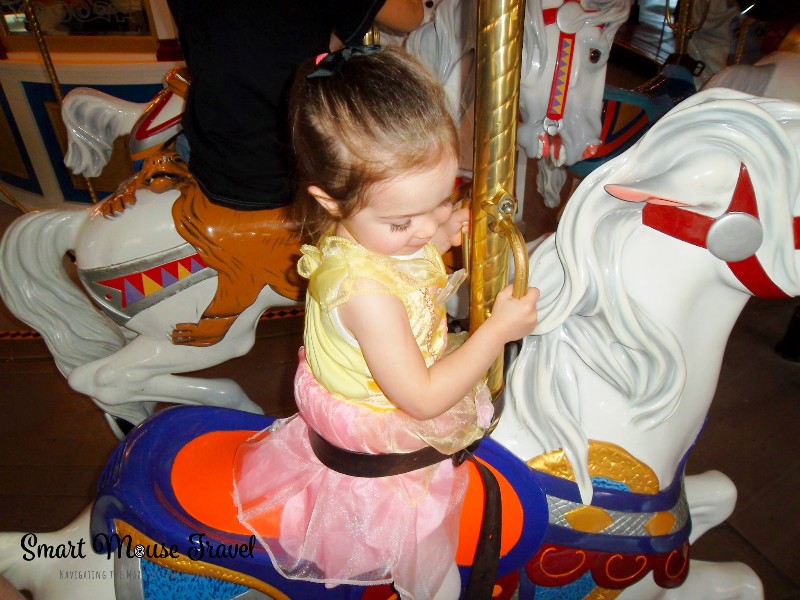 Visiting Magic Kingdom with toddlers is a slam dunk. Most rides are perfect for kids and have no height requirement.
Best Magic Kingdom Rides For Toddlers
Buzz Lightyear's Space Ranger Spin
Dumbo the Flying Elephant
"it's a small world"
Mad Tea Party
Magic Carpets of Aladdin
The Many Adventures of Winnie the Pooh
Peter Pan's Flight
Pirates of the Carribean
Prince Charming Regal Carrousel
Under the Sea – Journey of The Little Mermaid
Fantasyland
Every toddler needs a quick ride on Dumbo the Flying Elephant complete with a traditional selfie to commemorate the experience. If you are in the moment and forget the picture, don't worry. There is a Dumbo ride vehicle just outside the exit perfect for recreating your special moment.
Mad Tea Party is another toddler approved ride at Magic Kingdom. Spin fast or slow and enjoy this classic Disney World commercial moment with your kids.
Fans of Ariel will want to go on Under the Sea – Journey of The Little Mermaid. This adorable clam shell ride retells the classic tale with colorful animatronics and songs from the movie. I have a shocking number of secretly recorded videos of my daughter and niece singing along while on the ride that make my heart happy.
The Many Adventures of Winnie the Pooh is an adorable ride whisking toddlers through snippets of several Winnie the Pooh stories. Toddlers will love feeling like they are bouncing with Tigger or floating along water in this sweet attraction.
Soar through the sky to Neverland on Peter Pan's Flight. This attraction has been a guest favorite since Magic Kingdom opened in 1971. Walk through the Darling family's nursery complete with hidden details and Tinkerbell projections which are sure to keep toddlers entertained while waiting.
Prince Charming Regal Carrousel, although nothing special, is always a hit with toddlers at Magic Kingdom. I love the looks of joy on their faces with a background of Cinderella's Castle plus carousel versions of Disney songs. Be aware that loading time is long for Prince Charming Regal Carrousel. Even a short line means at least a 15-minute average wait.
Last, but not least in Fantasyland, is "it's a small world". Described as "The Happiest Cruise That Ever Sailed", "it's a small world" boats wind through scenes depicting cultures from around the world. This ten-minute ride is a relaxing break for toddlers if you don't mind having the classic song stuck in your head.
Adventureland
If your toddler loved Dumbo, Magic Carpets of Aladdin is basically the same ride in Adventureland.
While you are in Adventureland hop aboard a pirate ship and prepare to get another ride song stuck in your head. Pirates of the Caribbean is a slow boat ride, but has lots for toddlers to see along the way.
Pirates of the Caribbean tips: A word of warning, near the beginning of the ride is a small drop in a dark tunnel so hold on tight to your toddler. At the end of Pirates of the Caribbean pick up your toddler to carry them out or be prepared for them to grab everything in the gift shop.
Tomorrowland
Toy Story fans will be excited to fight Zurg on Buzz Lightyear's Space Ranger Spin. The ride vehicle seats 3, but only has two guns. When Elizabeth was little she preferred to have control of the spinning mechanism anyway. This made shooting harder, but totally worth it when hearing the giggles.
Hollywood Studios with Toddlers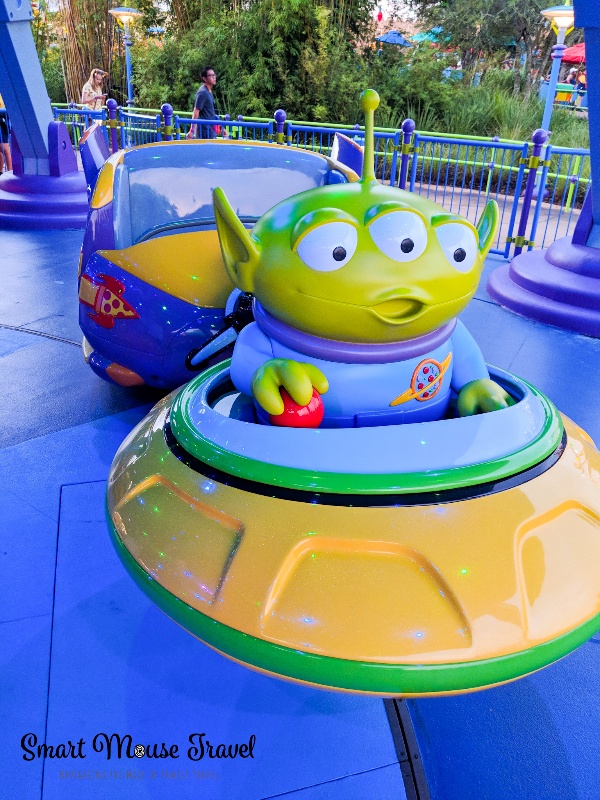 Hollywood Studios has long been considered a half-day park, but that's changed after several new attractions opened. However, most rides at Hollywood Studios have a minimum height requirement of 38 inches (97 cm). Families with toddlers who want to do everything together may only need a half-day for rides at Hollywood Studios.
Best Hollywood Studios Rides For Toddlers
Alien Swirling Saucers (Must be 32″ tall)
Mickey and Minnie's Runaway Railway
Toy Story Mania!
Best Hollywood Studios Shows For Toddlers
For the First Time in Forever: A Frozen Sing-Along Celebration
Lightning McQueen's Racing Academy
Disney Junior Play and Dance!
Hollywood Boulevard
Walk straight down Hollywood Boulevard and you can't miss the flashing neon sign for Mickey and Minnie's Runaway Railway. Hop aboard a train with Goofy as the engineer and expect the unexpected.
Mickey and Minnie's Runaway Railway tip: In the tropical themed room there is a slight drop. However, the tiny drop seems more exciting because the surrounding screens make it feel bigger.
Echo Lake
Although most toddler parents cringe at the idea of hearing the songs from Frozen again, this show is actually a must see at Hollywood Studios. For the First Time in Forever: A Frozen Sing-Along celebrates songs from the hit movie, but through a giggle-inducing bad retelling of the story. Parents and kids alike will love this live show.
Toy Story Land
Toy Story Land shrinks you down to toy size upon entering Andy's backyard. Wave hello to Woody at the entrance and take a family picture, too. Spy Andy's huge footprints along the path, life size statues of familiar characters, plus cute toy inspired buildings.
Board a spaceship with an adorable alien as your driver on Alien Swirling Saucers. This attraction takes you on a fun ride that spins and suddenly shifts directions all around a large colorful area. Kids will love the giant statue of Buzz just outside the attraction entrance, too.
Put on some 3-D glasses and play a round of Toy Story Mania! Use a unique shooting tool as this ride swings you through several virtual carnival games.
Sunset Boulevard
The best part of Lighting McQueen's Racing Academy is seeing a truly life-like model interact with the story. The show itself is about 12 minutes long and not overly compelling, but some air conditioning, benches to rest your legs, and an unbelievable Lightning McQueen on stage can be a good rest time.
Animation Courtyard
Disney Junior fans will enjoy the chance to see favorite characters on stage plus get out some wiggles. This is another air conditioned venue which is nice on a hot day. The Disney Junior Play and Dance! show is also a great way to keep toddlers entertained while some of the family hits bigger rides like Tower of Terror or Rise of the Resistance.
Epcot with Toddlers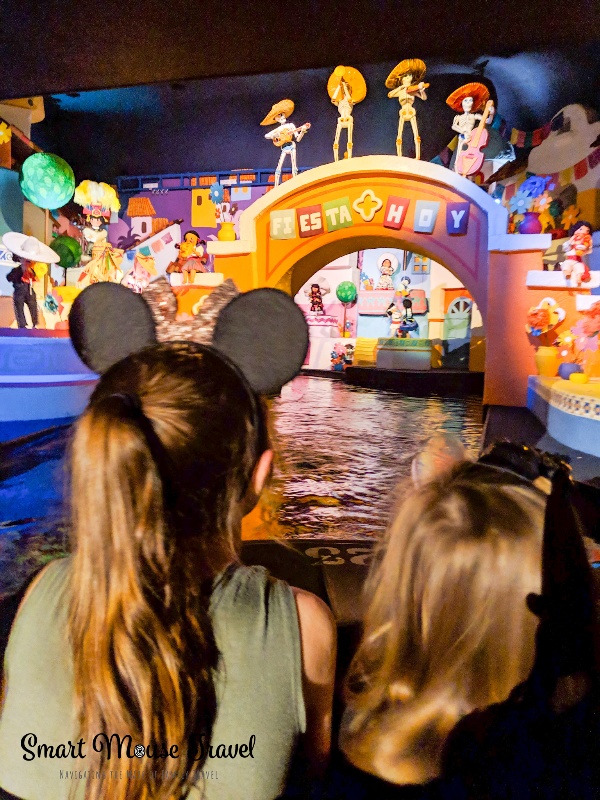 Often thought of as the most boring Disney World park for toddlers I'm here to tell you that simply isn't true. My daughter fell in love with Epcot as a toddler and we grown-ups always enjoy it, too.
Best Epcot Rides For Toddlers
Frozen Ever After
Gran Fiesta Tour Starring The Three Caballeros
Journey Into Imagination with Figment
The Seas With Nemo and Friends
Spaceship Earth
Best Epcot Entertainment For Toddlers
The Coral Reef Aquarium and Bruce's Shark World
Future World
Spaceship Earth is the iconic silver golf ball that symbolizes Epcot. Take a slow ride up into the sphere and learn about the history of human advancement from cave people to the first space mission before descending backwards to current day.
Stop at the Bubblegum wall on your way out of Spaceship Earth for an Instagram worthy photo backdrop.
What toddler doesn't love Nemo? The Seas with Nemo & Friends is a slow moving clam shell ride that makes you part of Nemo's adventure.
The Seas with Nemo & Friends tip: Warn your toddler that an angler fish is lurking in a dark tunnel to avoid a scary surprise.
Exiting the ride you'll find yourself in a huge aquarium. Toddlers will love exploring this two story aquarium with sharks, manatees, and tons of other fish.
Explore the fun of using your imagination with a cute purple dragon on Journey into Imagination with Figment. I fell in love with Figment as a kid, and toddlers are sure to love his playful spirit, too.
World Showcase
Enter a Mesoamerican pyramid in the Mexico pavilion at Epcot and be transported to a vibrant marketplace. Tucked in the back is our family favorite ride at Disney World which is vibrant, fun, and usually has a short wait time.
In Gran Fiesta Tour Starring The Three Caballeros, Donald Duck, enticed by the endless activities of Mexico, is missing before a big show. José Carioca and Panchito Pistoles chase Donald before ending with a final concert.
Head over to Norway and feel like part of the story on Frozen Ever After. A boat winds through beautiful scenes and life-like animatronics of favorite Frozen characters. There is a slight drop as you escape Snowball, but is otherwise a tame ride for toddlers at Epcot.
Animal Kingdom with Toddlers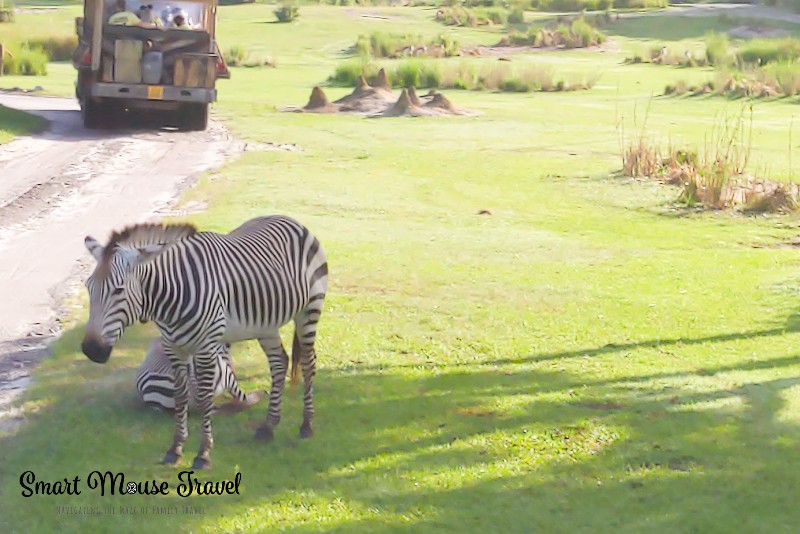 Animal Kingdom is the most beautifully styled Disney World theme park and does an incredible job furthering Disney conservation goals. Forested areas, up close views of animals, and a relaxed vibe make Animal Kingdom a great half-day park with toddlers.
There are only a handful of rides at Animal Kingdom for toddlers and limited shows to entertain little ones. Here are the best options for toddlers at Animal Kingdom.
Animal Kingdom rides for toddlers
Na'vi River Journey
Kilimanjaro Safaris
TriceraTop Spin
Animal Kingdom live shows
Festival of the Lion King (returns summer 2021)
Pandora
Enter an alien world when stepping into Pandora at Animal Kingdom. Floating mountains, lush landscape, and nighttime luminescence make Pandora an immersive experience.
There are two attractions in Pandora. Avatar Flight of Passage is an incredible ride on the back of a banshee, but is intense and has a height requirement of 44 inches (110 cm).
The other attraction, Na'vi River Journey, is a mild boat ride through the forest of Pandora with no height requirement. Toddlers will love the dark forest with brightly lit plants plus alien animals.
DinoLand U.S.A
You know what would be great? Another Dumbo type spinning ride, but this time in a dinosaur theme. Although nothing fancy, toddlers will enjoy a whirl on TriceraTop Spin.
Africa
Hop aboard and explore animal habitats up close and personal on Kilimanjaro Safari. This unusual attraction drives through several different animal habitats for incredible animal viewing.
The best part of Kilimanjaro Safari is that each ride experience is different based on time of day, weather, and how the animals feel that day. Your toddler will love getting stopped by giraffes crossing the path and zebras munching along the side of the road.
An energetic live show, Festival of the Lion King, returns in summer 2021. Adults and toddlers alike will be in awe of the acrobatic feats and musical retelling of the Lion King story.
Final Thoughts On Best Disney World Rides For Toddlers
Disney World is a toddler's paradise with tons of rides, characters, and shows to immerse them in their favorite Disney experiences. Toddlers can enjoy much of what Disney World has to offer, but are free if under 3 years old. This makes bringing toddlers to Disney World lots of fun, but more economical that you might expect. Here are more tips on what to expect when visiting Disney World with toddlers plus the best Disney resorts for toddlers!
Pin it for later: