Dreaming of taking your little one to Disney World, but aren't sure what to expect when staying in Disney World hotels with toddlers? Getting kids to sleep in a Disney World resort can be stressful, especially if travel is new for your family. Our tested sleeping tips plus list of best Disney World resorts with toddlers will make your Disney World vacation enjoyable and restful for the whole family.
Tips For Getting Toddlers To Sleep At Disney World
Bring A Snuggle Item From Home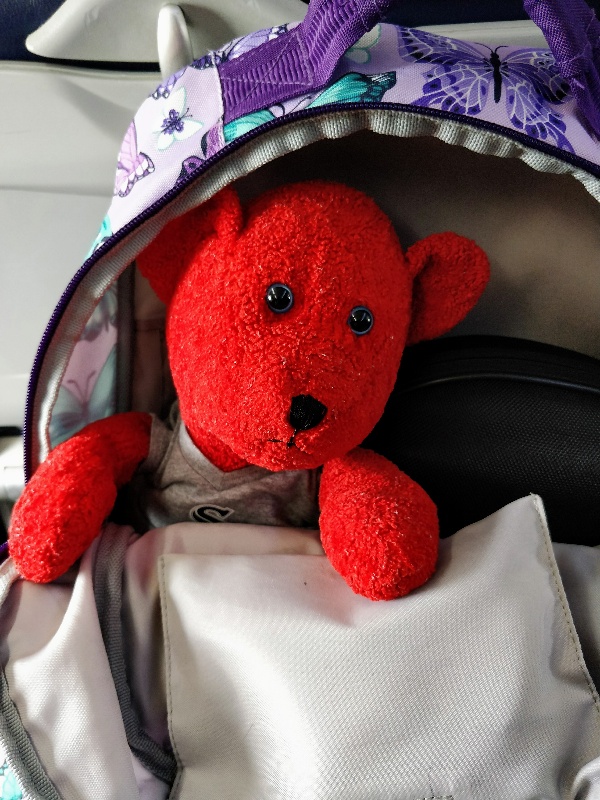 Most toddlers and small kids have a special sleep item, for example a blanket or soft toy that is essential for sleep. Taking a comforting, beloved item to Disney World soothes your toddler and gets them to sleep easier.
Be warned, frantic packing as you rush out the door on check-out day risks forgetting this special snuggle item. Set a packing reminder alarm on your phone for the morning of check out. There is nothing worse than arriving home and realizing Teddy is still at Disney World.
Avoid Connecting Rooms At Disney World
Connecting rooms can be great when traveling to Disney World with a large group. However, having random strangers with a different schedule talking loudly or blow drying hair at 2:00 am is not ideal when traveling with toddlers or small children. There is always a chance of noise between resort rooms, but in our experience the connecting rooms are much noisier.
If you end up in a connecting room with loud neighbors contact guest services. Sometimes they can move your room to a quieter area. If it is the middle of the night we've used folded towels to dampen sound coming under the doors.
White Noise Helps Toddlers Sleep
Sleeping somewhere new means unfamiliar sounds which makes it difficult for some toddlers and preschoolers to sleep. We've found using a white noise app on our phones or a travel white noise machine (affiliate link: buy on Amazon) makes sleeping easier at Disney World hotels.
Pro tip: Test the white noise apps at home. This way you know if the app drains your phone battery while running and charging overnight.
Bring Nightlights When Staying In Disney World Resorts With Toddlers
Nightlights are essential packing for us on every trip, but especially when Elizabeth was little. Nightlights are great for a few reasons. Having a bit of light right by your toddler's bed is comforting to them. Nightlights make it easier to check on kids during the night, too.
Some remodeled Disney World rooms have built-in nightlights in the bathroom light switches, but not all will. This is why I always pack two nightlights for a standard Disney World room or three for a one-bedroom villa just to be safe.
Where Will My Toddler or Small Child Sleep In A Disney World Resort?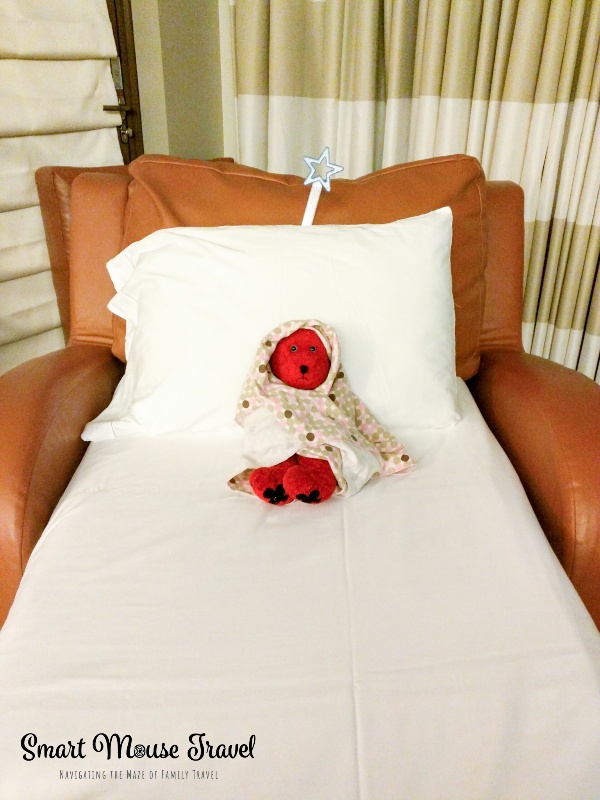 There are a few different options for where your toddler or small child can sleep in Disney World hotels. Pack and Plays are available by request at all Disney World resorts. These foldable beds are a popular option for babies and toddlers, plus can be stored when not in use.
Guests staying at Disney World resorts with toddlers can also request bed rails added to a bed. Unfortunately, bed rails have limited availability and are not guaranteed even if requested in advance. When Elizabeth was used to sleeping in a bed with rails at home, we used extra pillows to surround her at Disney. This technique may not work for every family. Be careful using pillows if you have a wild sleeper.
We used to bring our own inflatable toddler bed (affiliate link: buy on Amazon) with crib sheets to Disney World resorts when Elizabeth was a toddler. The bed weighs under 8 pounds (4 kg) with the compressor and folded into a size that took about one-third of a large suitcase. Although not exactly packing light, it worked well for our toddler that was still in a low-frame toddler bed at the time.
Families staying in some Disney Villas like Bay Lake Tower have foldout chairs that turn into twin beds. The chair arms act like bed rails and are another great sleeping option for small kids at Disney World.
Keep A Modified Bedtime Routine
Bedtime routine and a Disney World vacation don't seem like an obvious pair, but it makes life easier with toddlers. When traveling with toddlers and preschoolers, we keep modified bedtime routines. For example, instead of the normal leisurely bath, snack, TV, then bedtime at home we do each step, but speed up the routine.
Having a similar bedtime routine helps young kids fall asleep more easily. If you have a toddler that can sleep anywhere, congratulations, your Disney World resort experience will be a breeze.
Have Some Snacks In Your Room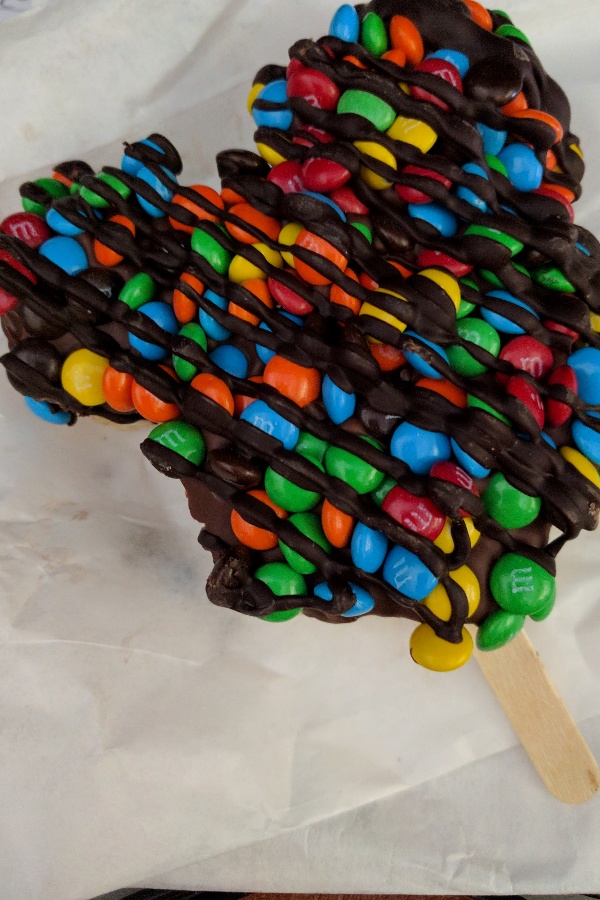 No matter how well you eat during the day, toddlers always need one more snack at night. I keep a stash of snacks brought from home, bought from Garden Grocer, or specialty treats from a day at the park. All Disney World resorts have at least beverage cooler in resort rooms. This means cold juice or milk for your toddler at night or first thing in the morning.
Avoid Pool View Rooms With Light Sleepers
If your toddler is a light sleeper, I recommend avoiding the preferred pool room category. Disney World resort pools are often open late, have outdoor bars, and on some nights movies play on a screen near the pool.
Which Disney World Resorts Are Best For Toddlers?
Location, room type, transportation, and amenities all factor into deciding which Disney World resort is best for toddlers. I'll share our favorite Disney World resorts for toddlers in each resort price category.
Best Disney World Value Resorts For Toddlers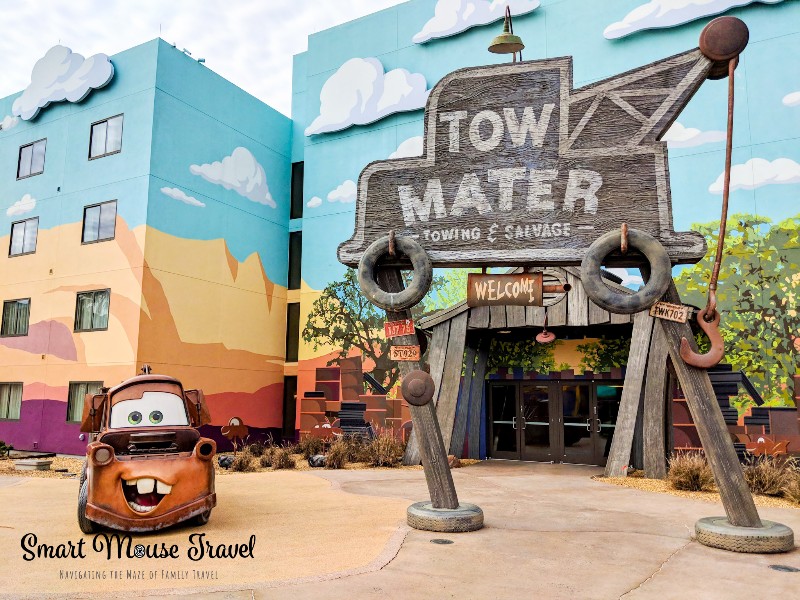 Disney World value resorts have over-the-top Disney decor with stylized characters and bright colors all around. Seeing a life sized Mr. and Mrs. Potato Head or Tow Mater is fun for toddlers and preschool age kids.
Disney's Art of Animation Family Suite
Choose a Cars, Lion King, or Finding Nemo family suite at Disney's Art of Animation Resort. These spacious rooms with two bathrooms and a separate bedroom are a great option for families who don't want to spend the money on a Disney Deluxe Villa.
Pop Century
Looking for an inexpensive, but good Disney World resort for toddlers? Disney's Pop Century fits these requirements perfectly. Pop Century rooms have a king- or two-queen-bed option. The best part of the two-queen option is one of the beds folds up into a two-person table when not in use.
We've had Pop Century rooms with shower only and also rooms with a bathtub. If a bathtub is important, request one when booking.
Best Disney World Moderate Resorts For Toddlers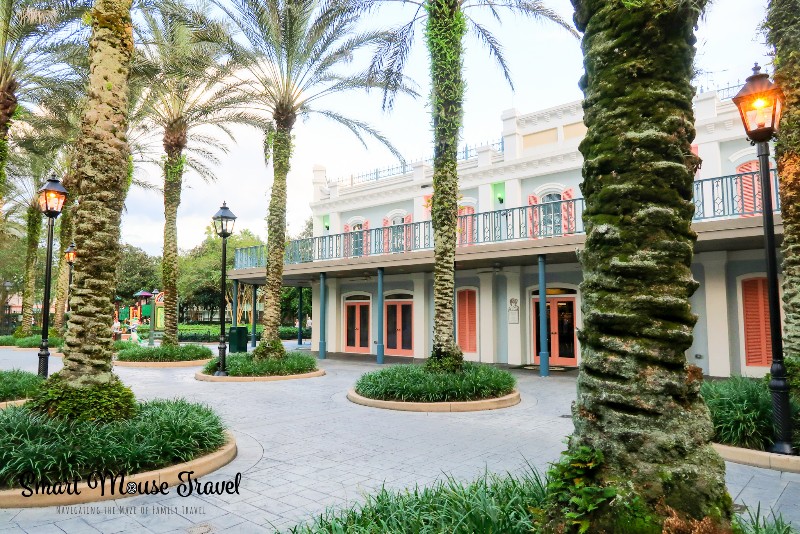 Disney World moderate resorts generally have more on-site dining options and nicer pools which appeal to many families.
Caribbean Beach Resort
Disney's Caribbean Beach Resort has a good pool area, rooms that sleep five, and access to the Disney Skyliner. The bathroom's sliding barn door closes it off from the rest of the room. This means parents can get ready without light or noise waking up sleeping toddlers.
Port Orleans French Quarter
Beignets anyone? Port Orleans French Quarter is a compact resort with one bus stop, delicious quick service, and classic French Quarter aesthetics. This is our favorite Disney World moderate resort, and we hope it reopens soon.
Best Disney World Deluxe Resort For Toddlers
Disney World deluxe resorts mix luxury style and nicer amenities with easy access to the parks.
Yacht Club
Spacious, sleek rooms and an easy walk to Epcot and Disney Skyliner put Disney's Yacht Club at the top of our Disney World resorts for toddlers. Add in a nightly ice cream treat from Beaches and Cream or a dip in Stormalong Bay and your kids will never want to leave Yacht Club.
Grand Floridian
Sweeping views of a bright multi-level lobby, one of the largest standard rooms at Disney, plus a new walkway to Magic Kingdom make Disney's Grand Floridian a great resort for toddlers. This new walkway also connects Grand Floridian to Polynesian and Transportation and Ticket Center.
Best Disney World Deluxe Villa Resort For Toddlers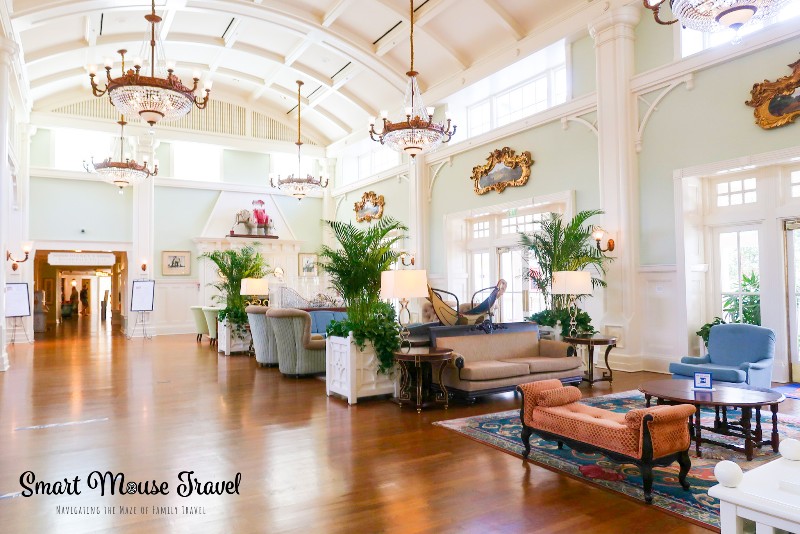 Disney World deluxe villas are the most spacious and expensive option. Larger villas offer full kitchens, separate bedroom, large bathrooms, and a washer/dryer. Normally paired with a deluxe resort, these villas share many of the benefits of staying at deluxe resorts.
Boardwalk Villas
Disney's Boardwalk Villas is a great Disney World resort for toddlers. One bedroom Boardwalk villas are comfortable, have a great split bathroom, and the resort is walkable to both Hollywood Studios and Epcot.
Walking distance to parks is always great with toddlers. It reduces time spent on transportation to and from the parks, which is crucial when you have mid-day naps to consider. Boardwalk is also easy walking distance to Disney's Yacht and Beach Club. This means more dining options plus ice cream take-out from Beaches and Cream.
Bay Lake Towers
One of my favorite Disney World memories when my daughter was a toddler is from Disney's Bay Lake Tower. Her joy watching brilliant Magic Kingdom fireworks from the bathtub is forever seared in my memory.
Bay Lake Towers one-bedroom villas have a full kitchen, a fold-out twin chair which works well for little ones, and is only a short walk to Magic Kingdom. Easy access to Magic Kingdom is great when kids need to go back to the room for a mid-day nap.
Although we love staying at Bay Lake Towers I will warn that it is nearing refurbishment. This means some of the furniture may look worn and in need of refresh.
Final Thoughts On The Best Disney World Resorts With Toddlers and Sleeping Tips
Regardless of age, Disney World is a fun-filled and busy family vacation. I hope these personally tested tips help your pre-schooler or toddler sleep well in the best Disney World resorts for toddlers. In our experience, well-rested families have more fun at Disney World!
Here are more tips for taking toddlers to Disney World!
Pin it for later: