Minnie's Seasonal Dining is a Hollywood Studios character meal at Hollywood and Vine restaurant. This character lunch and dinner has four different themes representing different seasons throughout the year.  Favorite Disney characters dressed in their finest attire rotate through the restaurant.
Minnie's Seasonal Dining Location
Minnie's Seasonal Dining is a character lunch and dinner option at Hollywood and Vine in Hollywood Studios. The restaurant is in the Echo Lake area and next door to 50's Prime Time Cafe.
Minnie's Seasonal Dining at Hollywood and Vine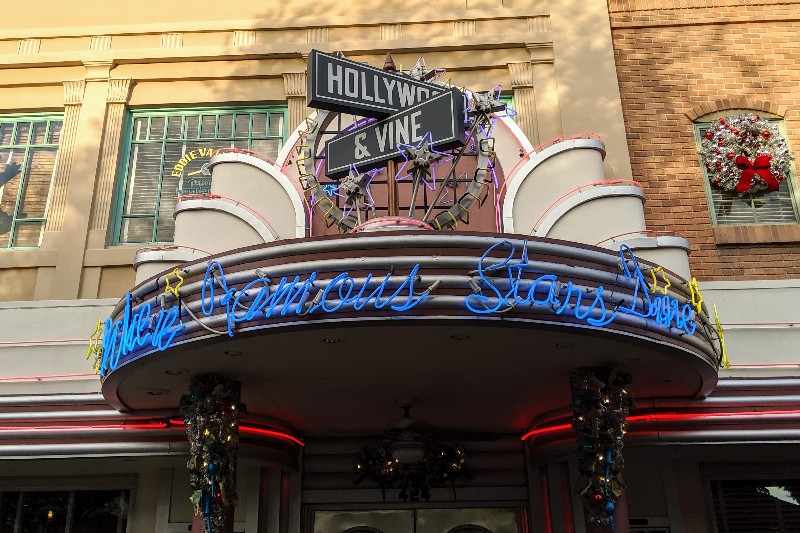 Hollywood and Vine normally hosts two different character meals. Minnie's Seasonal Dining takes place at lunch and dinner, while Disney Junior characters used to take over the breakfast time slot.
As part of exploring Disney World Christmas options we thought Minnie's Holiday Dine was a perfect fit. We checked in right on time for our dinner reservation, but it took about 15 minutes before we were called for seating.
Even before entering Hollywood and Vine we could see Goofy in a full Santa suit posing in front of a backdrop with seasonal accents. This got us very excited to see what everyone else was wearing for the holiday season.
We were escorted to our table, and shortly after sitting down our server came to introduce herself. I alerted her to my daughter's food allergy, and she offered to have a chef consult us.  Check here for the most up to date menu.
Minnie's Seasonal Dining Food Options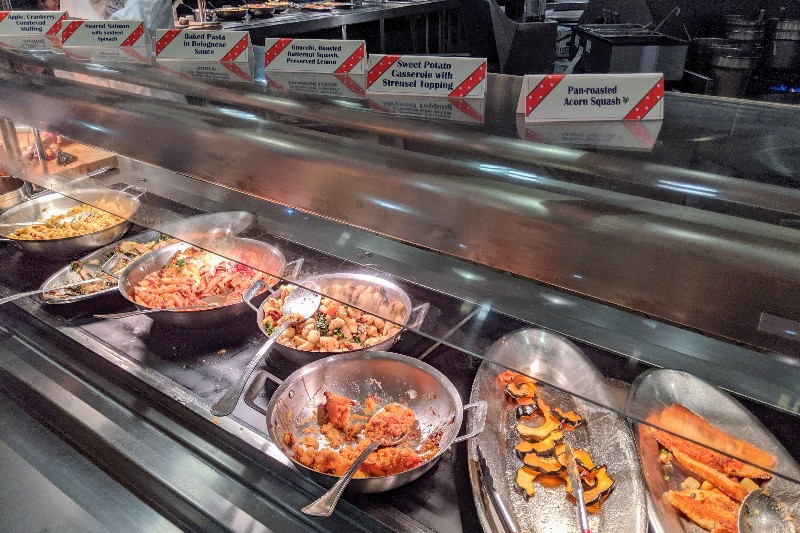 Minnie's Seasonal Dining at Hollywood and Vine has returned to a buffet meal. Find options such as oven roasted  herbed chicken, caramelized brussel sprouts, and olive oil herb-crusted potatoes.
Minnie's Holiday Dine With Food Allergies
The chef came out and discussed which foods were safe for Elizabeth on the buffet line. I had to follow up with a few questions in the line, but was able to get the information I needed. This was the first time the chef did not offer to walk through the line with us or offer a plate made from the back to avoid cross-contamination.  This may be less of a concern for guests now that Minnie's Seasonal Dining is served family style.
Of the many dessert options there was only one considered safe for my daughter, but it was not something she liked. Based on our previous Disney World food allergy dealings I knew the kitchens often keep Enjoy Life cookies on hand for situations like these. The server was great about checking in and bringing back safe cookies that Elizabeth gratefully gobbled up.
Minnie's Seasonal Dining Characters
We attended Minnie's Holiday Dine which is a Christmas themed character meal at Hollywood and Vine.  Mickey, Minnie, Donald, and Daisy rotate through the restaurant while Goofy meets guests in front of a backdrop.
There are four Minnie's Seasonal Dining options: Springtime Dine, Summertime Dine, Halloween Dine, and Holiday Dine. Please note that exact characters at Minnie's Seasonal Dining are subject to change without notice.
Our Minnie's Holiday Dine Character Experiences
Minnie Mouse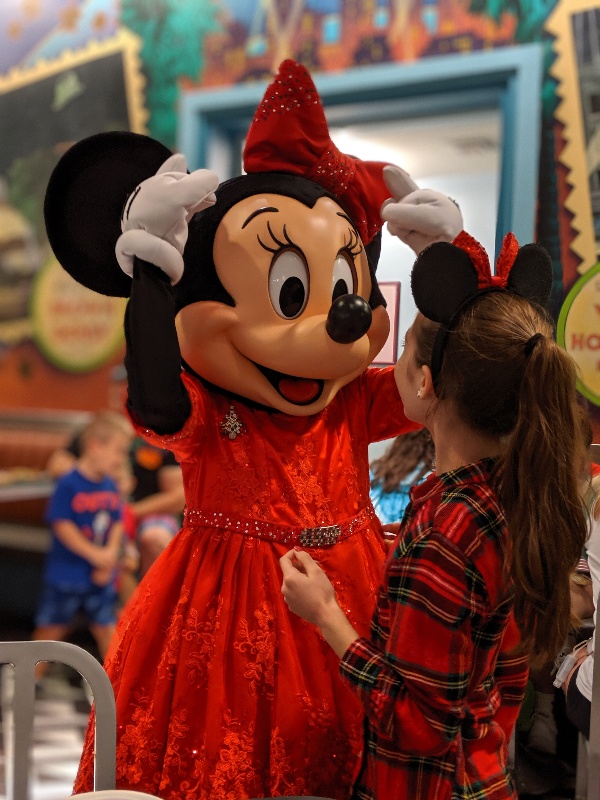 Never one to disappoint, Minnie's holiday style was adorable. Minnie arrived at our table in a red lace and sequin dress, signature heels, a sparkly bow, and a retro inspired Christmas tree brooch. She was sweet and did a great job signing a plastic globe ornament despite her thick gloves.
Mickey Mouse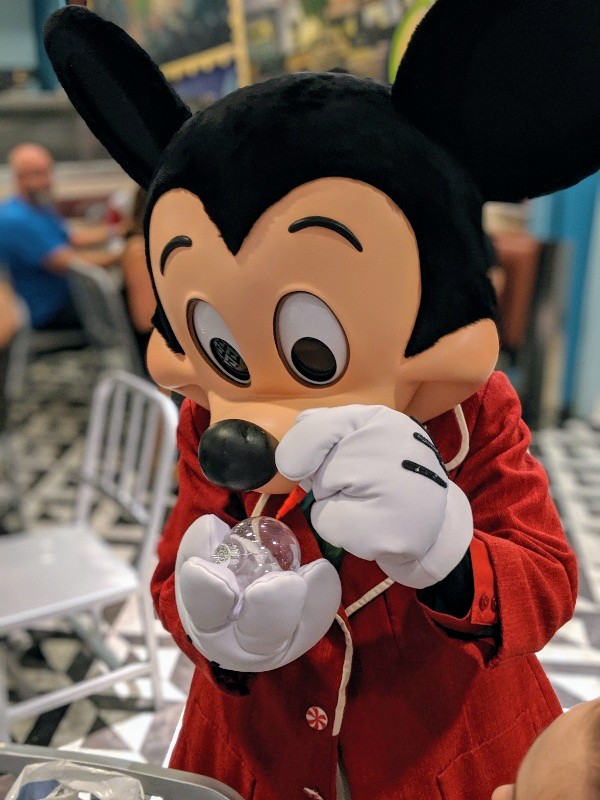 Mickey arrived and excitedly greeted us. He also did a great job of signing the ornament even though it was a challenging task. Mickey's holiday outfit is adorable, but not quite as amazing as Minnie's. His red blazer and green shirt were a great seasonal pop of color.
Daisy Duck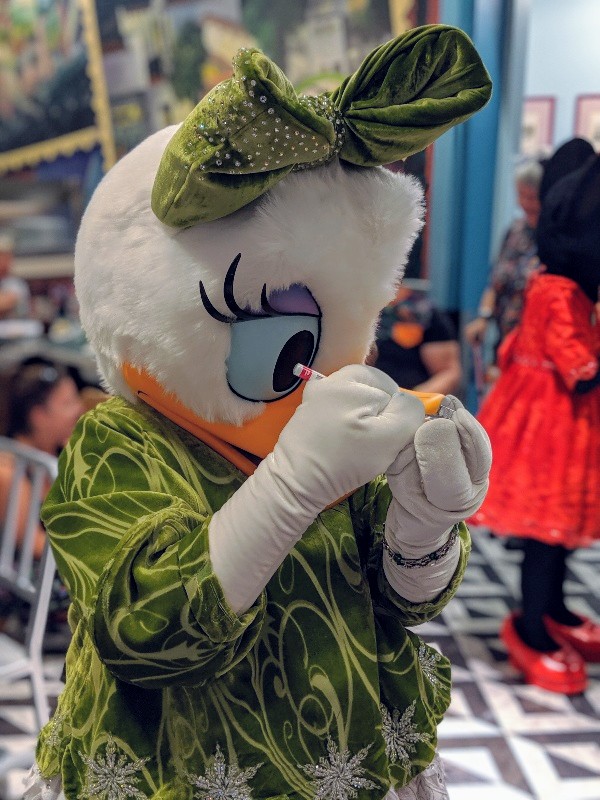 I think Daisy is often an underappreciated Disney character. She is just as sweet as Minnie, but certainly has a side of sass. She knew she looked good in her peridot color velvet top with crystal accents and wasn't afraid to show it.
Donald Duck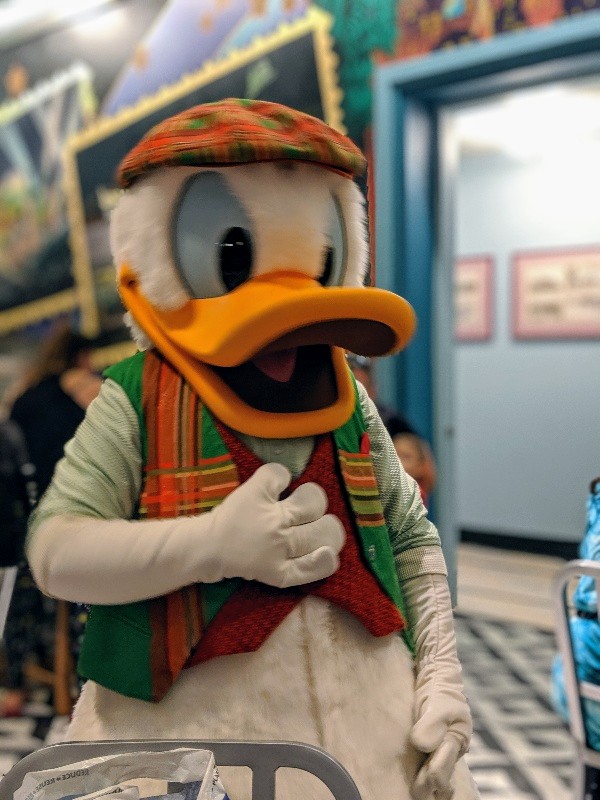 Donald arrived and immediately started hugging each of our group before happily signing "Donald Duck #1" on our ornament. He then posed in his adorable Christmas tartan plaid flat cap and vest flashing his signature #1 pose.
Goofy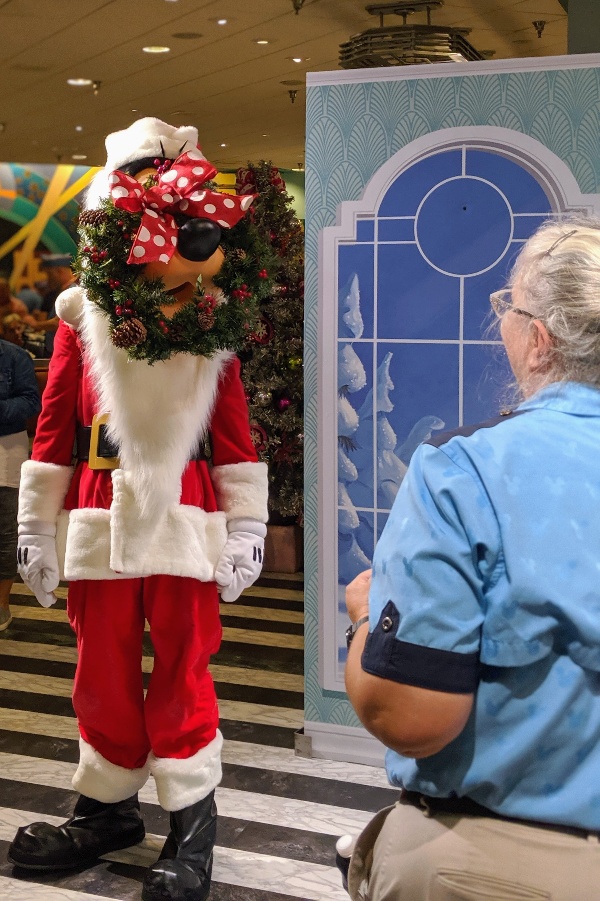 All of the rotating characters were great at Minnie's Holiday Dine, but Goofy went above and beyond. Goofy usually meets guests in a special area with a winter background during Minnie's Holiday Dine.
During our meal, I kept an eye on the line to meet Goofy as it was long at times. Once we were in line I figured out why Goofy seemed to have a line at all times: he went out of his way to have an extensive interaction with every set of guests.
At one point Goofy excitedly greeted a guest, knocked down a Christmas wreath, and struggled to hang it back up. Eventually Mickey came over to help which somehow evolved into a brief dance-off between the two.
When it was our time, a cast member warned Goofy he needed to relax so he could sign our precious ornament. Goofy took this advice quite seriously and began yoga exercises before meditating.
Minnie's Seasonal Dining Cost
The cost of Minnie's Seasonal Dining as of January 2023 is $59 per person age 10 years and older and $38 for children ages 3 to 9 years old. This cost does not include tax or gratuity, so the actual cost is a bit higher per person.
Final Thoughts on Minnie's Holiday Dine Character Meal
Minnie's Holiday Dine character dinner character interactions were very good. Each character did a great job of "chatting" with us throughout the meal. The Christmas season outfits were so cute I now want to go back to see each Minnie Seasonal Dining outfit collection.
Although the characters were fabulous, the food was at best mediocre. However, this is not unusual since character meals are usually more about the convenience of seeing multiple characters than the actual food.
Check our Complete Guide To Disney World Character Meals for additional character meal reviews.
Pin it for later: