The Biltmore Estate in Asheville, North Carolina has many special on-site experiences. When looking through the options before our trip, the Biltmore Falconry experience was one of the most unique activity choices available. I was nervous about interacting with birds of prey, but Elizabeth did a great job of convincing me to try something new. Our Biltmore Falconry review will help you understand more about the experience and tips I wish I had known before our trip.
In fact, our first experience was so amazing we brought my mom back for a falconry experience on another girls' Biltmore trip!
As an Amazon Associate I earn from qualifying purchases.
Location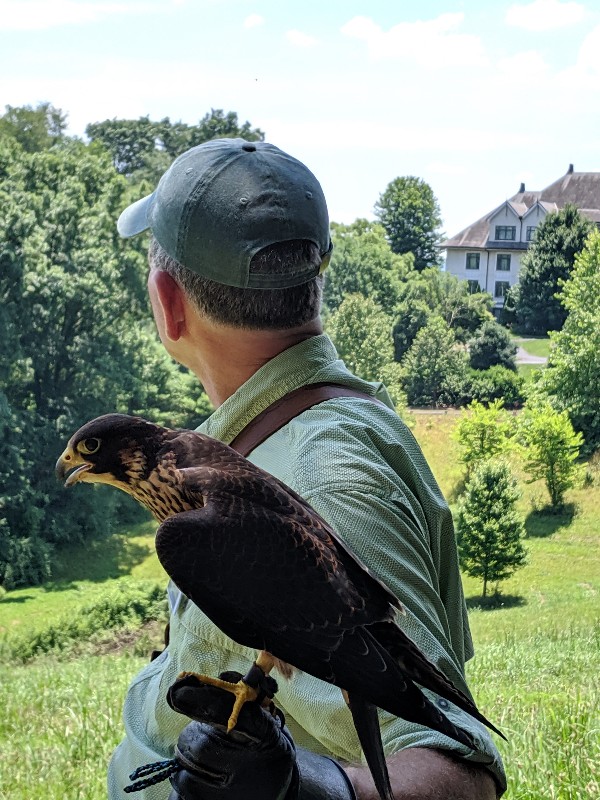 The Biltmore Falconry experience takes place on a small hill near the Inn on Biltmore Estate. Arrive 15 minutes prior to your scheduled time to meet the falconers inside the lobby at The Inn. It was very easy to spot our falconer, Jeff, since he entered the lobby with a Peregrine falcon on his arm. 
After introducing themselves, our falconers guided us out of The Inn and up a hill across the street. The path was steep, but only about a quarter of a mile (400 m) long. The hawks are kept at the top of the hill in a shaded, wooded area.
Biltmore Falconry Review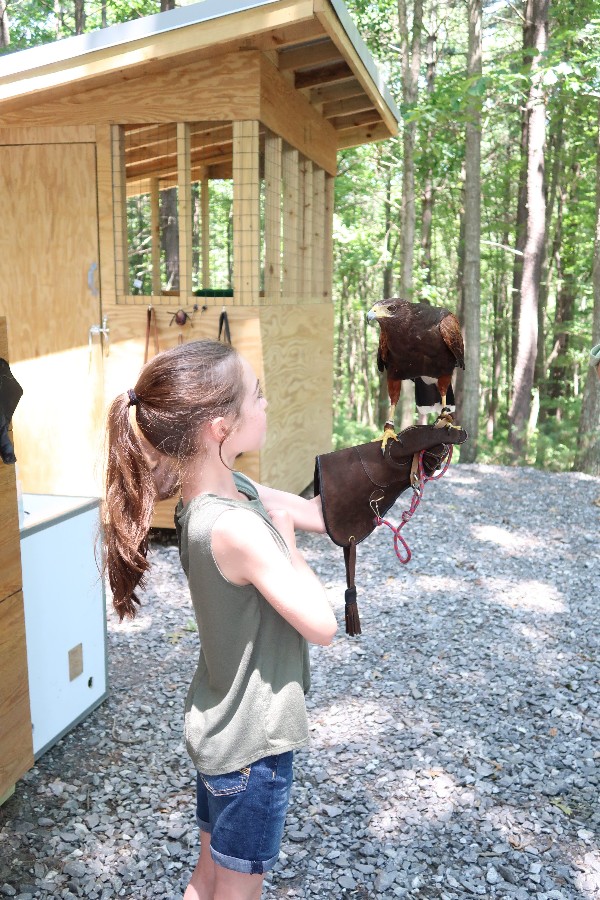 Falconry is the ancient art of using birds of prey to hunt, dating from 2000 BC. Before interacting with the birds, we learned about falconry and how the birds are trained. Our falconer focused on the Harris Hawk and Peregrine Falcon, since those are the types of birds that are part of the Biltmore Falconry experience.
After learning some basic concepts, our falconer explained how to interact with the birds, the types of gloves used to handle them, and how to make your hand a comfortable spot for the birds to rest. Then it was time for each of us to hold a Harris Hawk and get used to the feeling.
After each person in the group was comfortable interacting with the hawk, we were ready for the free flying experience. Free flying means the bird is completely free and can fly to where it likes.
Our hawk was content to stay near our initial spot on the hill. When it came time for me to hold a bit of meat and have the hawk fly to me, I was extremely nervous. However, the bird was so fast and landed so gracefully on my arm I barely had time to worry.
Each person in our group had a couple of chances to have the Harris Hawk fly to them. After the Harris Hawk interactions it was time to admire the Peregrine Falcon. Pisgah, the Peregrine Falcon, demonstrated some incredible high flying skills. He was coaxed to dive with a special device that piques his interest while flying above. The speed and grace of Pisgah was truly stunning.
Things To Know Before You Go For Biltmore Falconry
Book Early
Biltmore Falconry is one of the most popular activities on Biltmore Estate, but is limited to a very small group. There were six in our group, and most of the group booked several months in advance of their Biltmore trip. I was very lucky to get the last spots for Biltmore Falconry about one month in advance.
Biltmore Falconry Required Attire
Wear comfortable, closed toe walking shoes to make the trek up the hill. We were advised to wear natural color clothes, nothing brightly colored or patterned. Bright colors can sometimes interfere with the hawk's interaction with a guest.
Bring Your Camera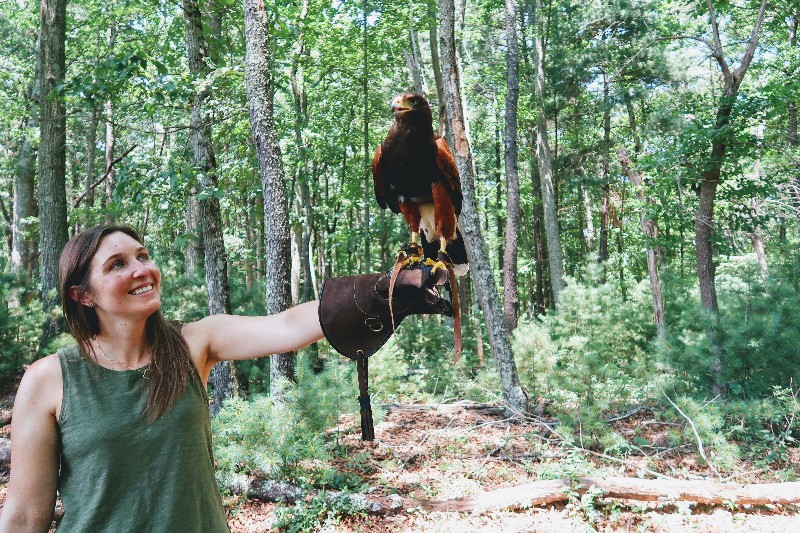 The falconers were amazing at giving advice on getting an incredible video of the Biltmore falconry experience. In my case, the assistant falconer even took pictures and video of me when I held the hawk and the hawk flew to me. Biltmore Falconry is one of the most incredible activities I have done on a trip. I'm very grateful to have great pictures and video to remember it.
Wear Sunscreen and Insect Repellent
Some of the Biltmore Falconry experience takes place in a shaded, wooded area, but there can be quite a bit of time in direct sunlight depending where the hawk chooses to free fly. Not surprisingly the wooded area had some insects, and I was glad we were wearing repellent. These are the Off insect repellent wipes I always pack (affiliate link: buy it on Amazon).
You Need A Paid Admission To The Estate
To access the falconry experience you must have a paid admission for the day to Biltmore Estate. If you are an on-site guest of the Village Hotel on Biltmore Estate or The Inn, you have daily admission to the estate (not the house) included in your stay.
Final Thoughts On Our Biltmore Falconry Review
The Biltmore Falconry experience is one of the most unique activities I have had on a vacation, and I was extremely impressed with our experience. I know I wasn't alone, since our entire group discussed how Biltmore Falconry was such an incredible experience. Although I was nervous I am grateful Elizabeth talked me into this memorable Biltmore Falconry experience.
Find more tips for visiting the Biltmore with kids here and a review of our stay at Village Hotel on Biltmore Estate here.
Pin it for later: